Spices bring life to Indian cooking! Spices are not just used to add heat to a dish, they bring flavor, aroma, and make each dish unique. Read on to know about the most essential Indian spices and herbs you will need to cook Indian food at home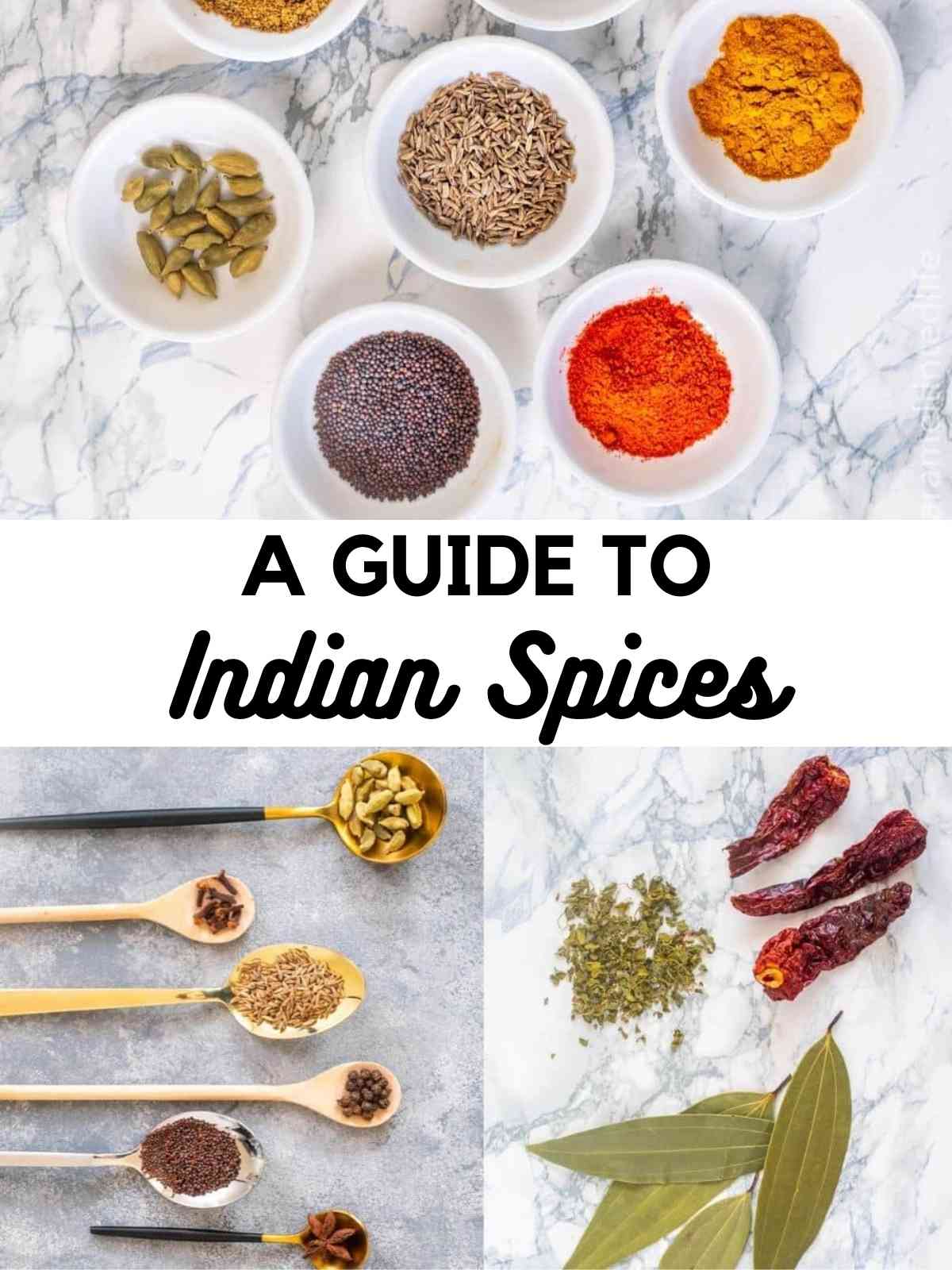 There are so many different ways in which spices can be used in Indian cooking. Spices can be used in their whole form (think whole cardamom, a cinnamon stick, or bay leaves) or in their powdered form (turmeric powder, coriander powder, red chili powder) or in a spice blend such as garam masala or sambar powder.
Some spices can be added while the dish is cooking, others are added to the dish at the end - as a tempering. Think of each spice as having its own unique personality that it adds to a dish! Let's get to know Indian spices better...
Jump to:
What are the 7 Indian spices?
In Indian kitchens, it is common practice to use a 'masala dabba', or a spice tin with little sections for each of the 7 essential Indian spices. These essential spices can vary from household to household. A typical masala box (box used to store 7 spices) or masala dabba in an Indian kitchen can include these spices:
Turmeric, Cumin Seed, Cardamom, Coriander Seed, Garam Masala, Red Chili Powder and Black Mustard Seeds.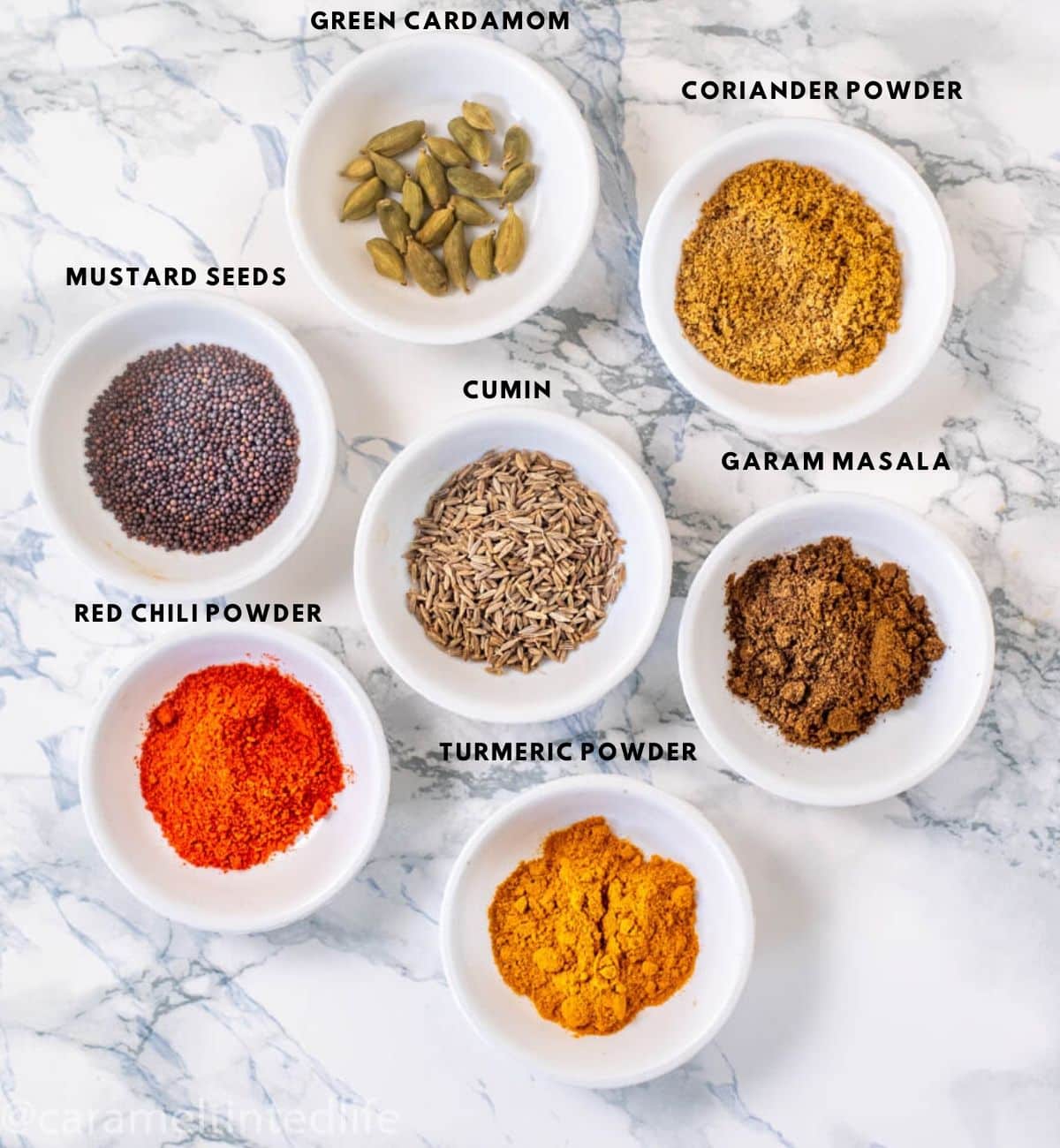 However, in South Indian kitchens, the essential spices that go into a masala box can be different. The masala box is also called as 'Anjari petti' in Tamil and the spices that go into it are:
Mustard seeds, Cumin seeds, Coriander seeds, Fenugreek seeds, Black peppercorns, Dry Red chilies, Urad dhal
Why are spices used in Indian cooking?
In Indian cooking, spices have been used for years due to their medicinal Ayurvedic benefits. Spices are a natural way to add flavor and aroma to many dishes in Indian cooking, without adding fat or too much additives.
Spices such as turmeric and cumin are known to aid in digestion and reduce inflammation. Others, such as bay leaves, cloves, Kasuri methi, elevate a dish and enhances its flavor profile. Marinate your meats in turmeric, garam masala, Kashmiri chili powder to pack in punches of flavor!
How do you use spices when cooking?
While there is no rulebook on the order of adding spices while cooking, it depends on the recipe you are following and the type of dish you are making! However, in most recipes, you will find a general order to the way the spices are added to most dishes.
For example, the whole spices will be added usually when you begin to make the dish, so that they release their flavors - for example, in this recipe for Malai Kofta, the spices are added in Step 1. In my recipe for butter chicken, the spices powders are added as part of the chicken marinade.
However, some spices are added at the end of the dish, for example, in this recipe for Shrimp Masala, a tempering of mustard seeds and curry leaves in hot oil is added as a garnish.
Here are some guidelines for using Indian spices
Add whole spices (such as cumin seeds, cardamom, cloves, bay leaves, etc.) at the beginning of cooking the dish. Heat some oil, and once the oil is hot, add the whole spices. The spices will release their aromas and crackle once they are heated. Take a look at this recipe for saag paneer, where bay leaves are added at the beginning of the recipe.
Whole spices can also be added as a finishing or garnish to some dishes to heighten their flavors – this is called a 'tadka' or tempering - such as in this South Indian fish curry. Dals can be finished with a tempering of some cumin and whole red chilis heated in oil. Sambar (lentil stew) and chutneys can be finished with a tadka of green curry leaves, urad dal, and mustard seeds.
Add spice powders during the middle or towards the end of the dish, for example, in dishes like Chicken Tikka Masala. Some spice powders such as garam masala are added towards the end of a recipe, to heighten the flavors of the dish. Some recipes call for a finishing of roasted cumin powder.
Most herbs are added as a finishing touch – fresh coriander is added as a garnish in many Indian dishes, and Kasuri methi (dried fenugreek leaves) are added towards the end of the cooking process - such as in Paneer Tikka Masala.
What are whole Indian spices?
Whole spices are dried seeds, barks, or leaves that are packed with flavor that releases when they are crushed or heated. Spice powders and spice blends are usually made by roasting whole spices and powdering them. For maximum flavor, keep whole spices handy and powder them in small batches when you need them - whole spices are always much more aromatic and concentrated than packaged spice powders.
Whole spices are also used by themselves in the whole form, usually as a tempering added at the end of a dish, but also in dishes like Biryani, where rice is cooked with whole spices such as cloves and bay leaves.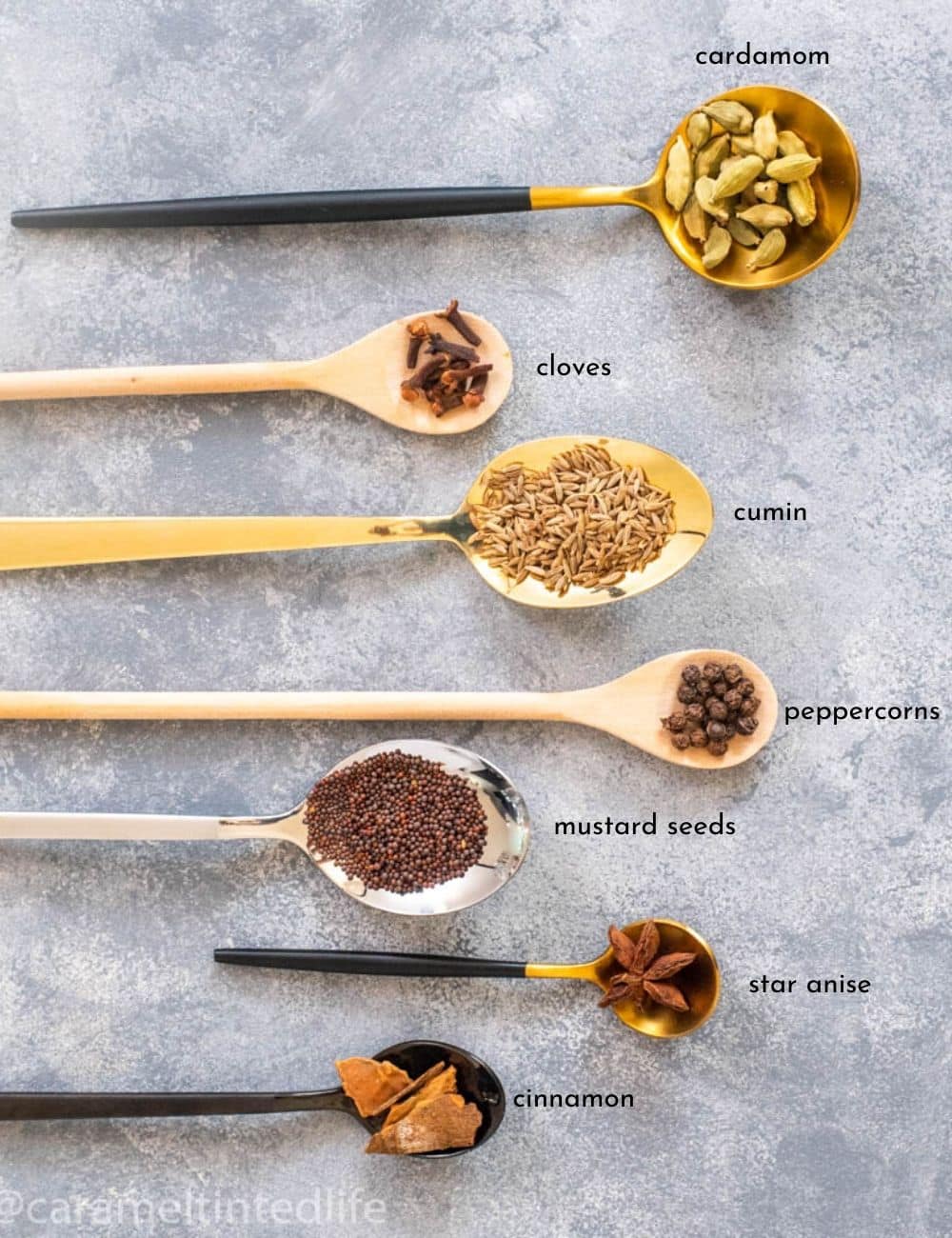 Mustard Seeds (Rai) – These black seeds are used in many curries, such as my recipe for South Indian Fish Curry, sambar, especially in South Indian cooking. Always heat them in oil first to release the aromas. Once they pop and crackle, you can add them to temper your curries.
Cardamon (green elaichi) - The sweet scent of cardamom adds life to rice dishes such as biryani. It is also used in meat dishes and to flavour Indian desserts such as gajar halwa and kheer. Use it whole, or remove the skins and crush the seeds to a powder, to use in its powdered form.
Coriander Seeds - One of the most common spices in an Indian spice rack, coriander is known to be an aromatic spice, and is used for most curries, in its powdered form. To make your own batch of coriander powder, get coriander seeds in their whole form, and lightly roast them on a pan until they are fragrant. Then grind them and store them in an air-tight jar.
Black Cardamom - Do not confuse it with green cardamom! Used in their whole form, black cardamom is a powerful and potent spice, unlike green cardamom. It can used in lentils and rice dishes and also also used in spice blends such as garam masala.
Cinnamon (Dalchini) - The bark of the cinnamon tree is a mild, sweet spice used either whole, or in powdered form.
Whole Black Peppercorns (Kali Mirch) - Used to add heat to Indian curries and rice dishes (such as biryani), when used in their whole form. Add freshly ground black pepper to curries.
Cloves - With their anise-like scents , cloves are quite a strong spice and need to be used in moderation. Use them in rice dishes such as biryanis.
Cumin (Jeera) – Used in many Indian curries both meat and vegetable-based dishes. Has an earthy flavor to it. Also used as part of tadka or tempering. Cumin if sometimes confused with fennel or anise - cumin is more brown in color and has a more smokey, earthy taste.
Shahi Jeera - These seeds are easily confused with cumin, but are very different. They are also known as black cumin, and have a distinctive smoky flavour. Add it to your rice dishes (biryani, pulao) and meat-based curries to give them a richer aroma, and also use them in garam masala spice blend.
Fennel (saunf) - Adds a fresh, anise-like aroma. Used as a breath freshener, and good for digestion. Ideal for use in garam masala spice blend and as part of the meat marinade in Instant Pot Chicken Biryani.
Fenugreek seeds (methi) - The musky taste of mustard seeds are essential to spice blends such as sambar powder, and the very common Madras curry powder. On their own, fenugreek seeds have a very strong, almost bitter scent that can be overpowering, so do not go overboard!
Nutmeg and mace - Mace is the dark-red outer covering of the nutmeg. Fresh nutmeg is processed by removing the pulpy outside and sliding off the mace. Just like with black pepper, keep the whole spice nutmeg handy and use a grater to grind fresh nutmeg to round off your dishes.
Nigella Seeds (Kalonji) - These have a nutty taste, and are commonly used in an Indian spice blend - 'panch phoren'. Nigella seeds are very common to regional Bengali cooking.
Ajwain (Bishop's weed) - Flavour similar to thyme, with a taste similar to anise. It is used to make samosa pastry casings, parathas, in Green Chutney and in temperings for dal and curries.
Which Spice Powders are used in Indian Cooking?
Turmeric – The golden spice, used to added a lovely color to the dish, has mild flavor. Known for boosting immunity and reducing inflammation. Can be used to make immunity boosting drinks such as ginger-turmeric tea.
Kashmiri Red Chili Powder - There are several varieties of chilies in India, and just as many varieties of red chili powder. if you are stocking your pantry and are loking for one red chili powder - go for Kashmiri Chili powder. This spice gives the dish a beautiful red color, but imparts very little heat. A close substitute is paprika powder - although paprika is sweeter in taste.
Garam Masala – This classic blend of whole spices is a much beloved Indian spice blend. There are many versions of garam masala in Indian cooking. Essentially, it is a blend of roasted whole spices and usually includes cardamom, cloves, star anise, cinnamon, fennel, black peppercorns and bay leaves.
Sambar powder - Sambar is a South Indian lentil stew that is made with its own special spice blend. A blend of mustard seeds, fenugreek (methi) seeds, red chillis and coriander seeds, Sambar powder is often confused for Madras Curry Powder.
Chaat Masala - This zingy, sour, sweet, tangy spice blend that adds that special something to Indian street-food - chaat! A blend of dried ginger powder, black salt, cumin, pepper and dried tamarind powder, this spice blend is also sprinkled over fruit salad to pep it up. Used commonly in street-style chaat such as bhel puri, sev puri, dahi papdi chaat, etc.
Amchur or amchoor - Aka, dried mango powder, amchoor is made by grinding up sun-dried, unripe, green mangoes. It adds tang and is used as a souring agent in curries such as Indian pickles, chutneys, and some dals.
Herbs Used in Indian Cooking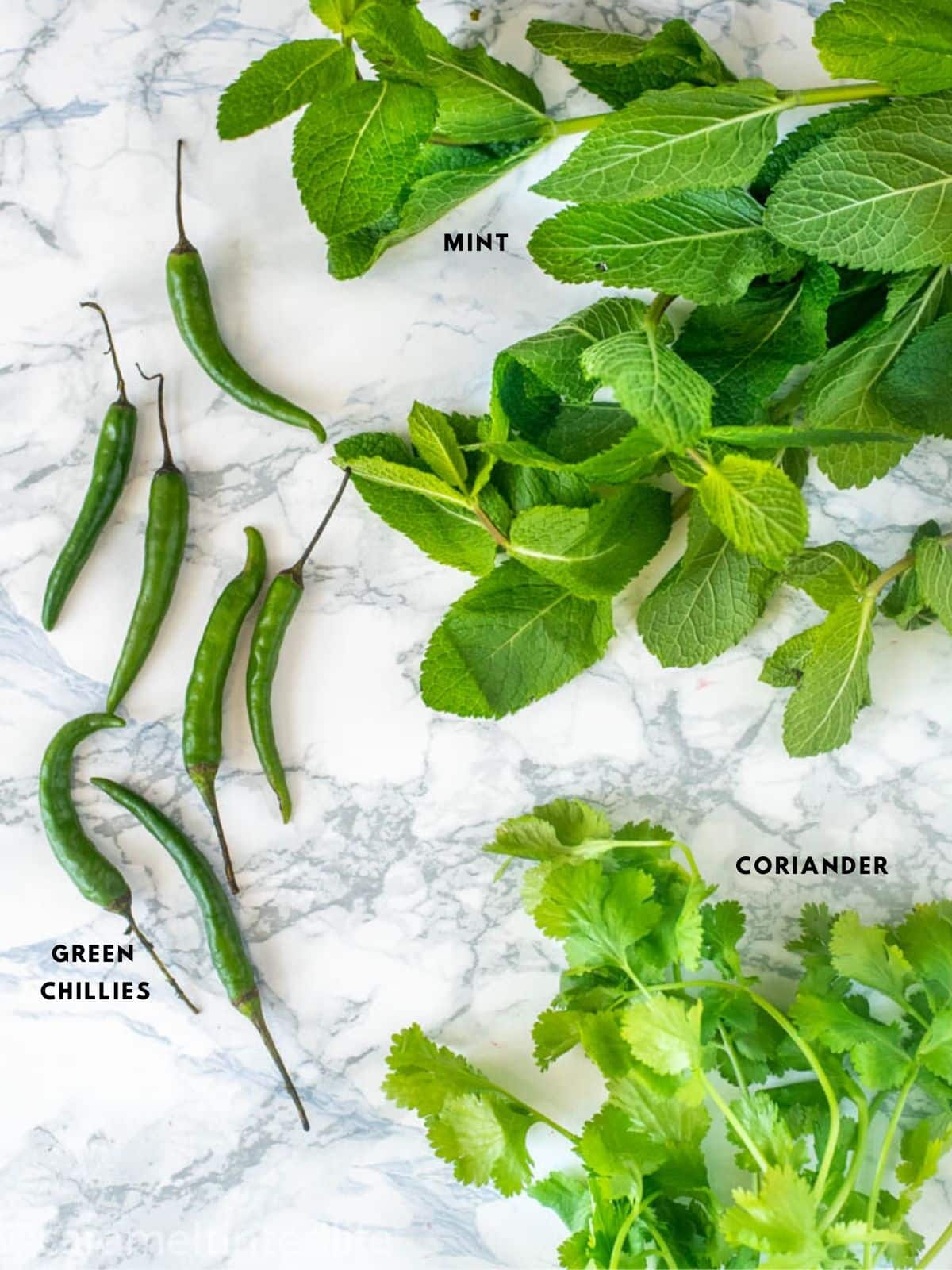 Dhaniya or Coriander leaves – Coriander leaves, sometimes substituted with cilantro, are added fresh as a garnish to many curries, salads and rice dishes. I also love using chopped coriander as a meat marinade, especially when I'm making Chicken Biryani. Coriander is one of the main ingredients used for Green Chutney.
Kasuri Methi or dried fenugreek leaves - If you grab a fistful of kasuri methi and inhale the aroma, they smell bitter and have a distinctive earthy smell. It offsets the richness of rich sauces, and enhances their flavours. Use it to enhance the the flavours of the sauce in butter chicken, paneer tikka masala, etc. To use kasuri methi, lightly crush some in your palms and add it to the curries towards the end of the cooking cycle.
Mint or Pudina - A herb that is a staple in almost every household, mint is known for its cooling properties, and adds freshness and zing to many dishes. Use it to make green chutney, or in a marinade for meat-based dishes such as in chicken kabab.
Curry Leaves – Curry leaves - the leaves of the curry plant (not to be confused with the generic term 'curry') can be used fresh or dried. They have a nutty flavor and are used in tempering mostly in South Indian cooking. Can also be used as a garnish and for finishing dishes such as South Indian fish curry.
Bay leaves or Tej Patta - Dried bay leaves are very common to Indian rice dishes. remember to remove them when you're eating - just like with all other whole spices! They add aroma and flavour to curries and are very commonly used in biryanis and pulaos.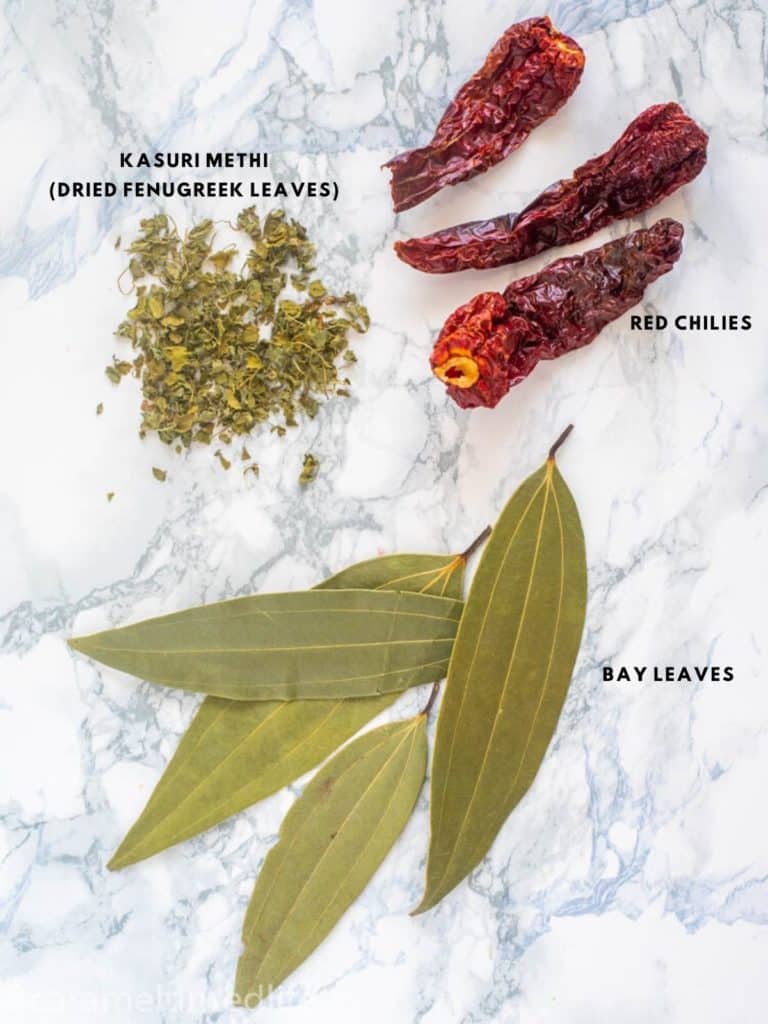 Saffron - The most expensive spice in the world, saffron is said to be more valuable by weight than gold. This ingredient adds colour and spice to briyani or dessert. Saffron is expensive but come with health benefits and a delicate fragrance and floral undertones that it lends to dishes. Use it to flavor Indian desserts such as Badam Peda or Gajar Halwa. Use it in a non-traditional desserts such as peach, balsamic and saffron jam, for instance.
Asafeotida (Hing) - Asafoetida is a yellow powder that is derived from a gum or sap of the 'Ferula' plant. It has a very strong pungent smell, some people find the smell almost foul or rotting. It is used extensively in Indian cooking and added in dals and curries with pulses, to aid in digestion. and prevent bloating. The strong smell of asafeotida vanishes while cooking.
Should I use Curry powder or Garam Masala?
Lets talk a little about curry powder - what is it and how does it compare to garam masala? Is it really needed for Indian cooking?
Curry powder - that you see in supermarkets is sold as a blend of Coriander, Fenugreek, Cumin, Turmeric, Bay Leaf, Nutmeg, Cloves, Onion and Back pepper. In Indian households, there is no such thing as 'curry powder '- curry powder is a generic mix of Indian spices that are marketed as a one-size-suits all product. Sure, you can use it if you are looking for a shortcut to making your favorite 'curry' at home.
But just as the word 'curry' is a generic term for all Indian sauce-based dishes, 'curry-powder' is a generic blend of spices that are perhaps more suitable to beginner cooks.
Garam masala on the other hand, is a blend of some spices that add warmth - such as cloves, cinnamon, fennel, star anise, etc. Unlike curry powder, which has turmeric that gives it that yellow hue, garam masala is all about the intense aroma of the roasted whole spices. There is no turmeric in garam masala. I highly recommend that you pass up on that store-bought curry powder and stock up on some of the basic Indian spices mentions above.
How to store Indian Spices?
Whole spices should be stored in air-tight containers such as these, away from direct sunlight and heat and moisture. You don't need to keep them in a refrigerator.
For spice powder, try to buy whole spices (cumin, cloves, fennel, coriander seeds) and grind them at home rather than buying pre-ground spice powders from the store. To grind your spice powders, toast the whole spices in a pan (lightly heat them without oil) for a couple minutes. This releases their natural fragrance. After they cool down, grind them using a spice grinder or coffee grinder. Grinding whole spices at home keeps them so much more flavourful and potent that buying ready-made spice powders.
Spice powders will lose their potency after 6 months, you will need to replace them every 6 months. Whole spices can last for upto a year. I highly recommend making a small batch of freshly ground spice powders and spice blends- that lasts you a couple of weeks or so - rather than keep a large batch for months on end.
Where can I buy Indian spices?
Indian spices and fresh herbs are available at your local Asian grocery store. You can also buy them online on Amazon.com.