Aromatic and flavorful one-pot Chicken Biryani, a delicious, and satisfying meal made with rice and chicken marinated in spices, can be made with ease in the Instant Pot!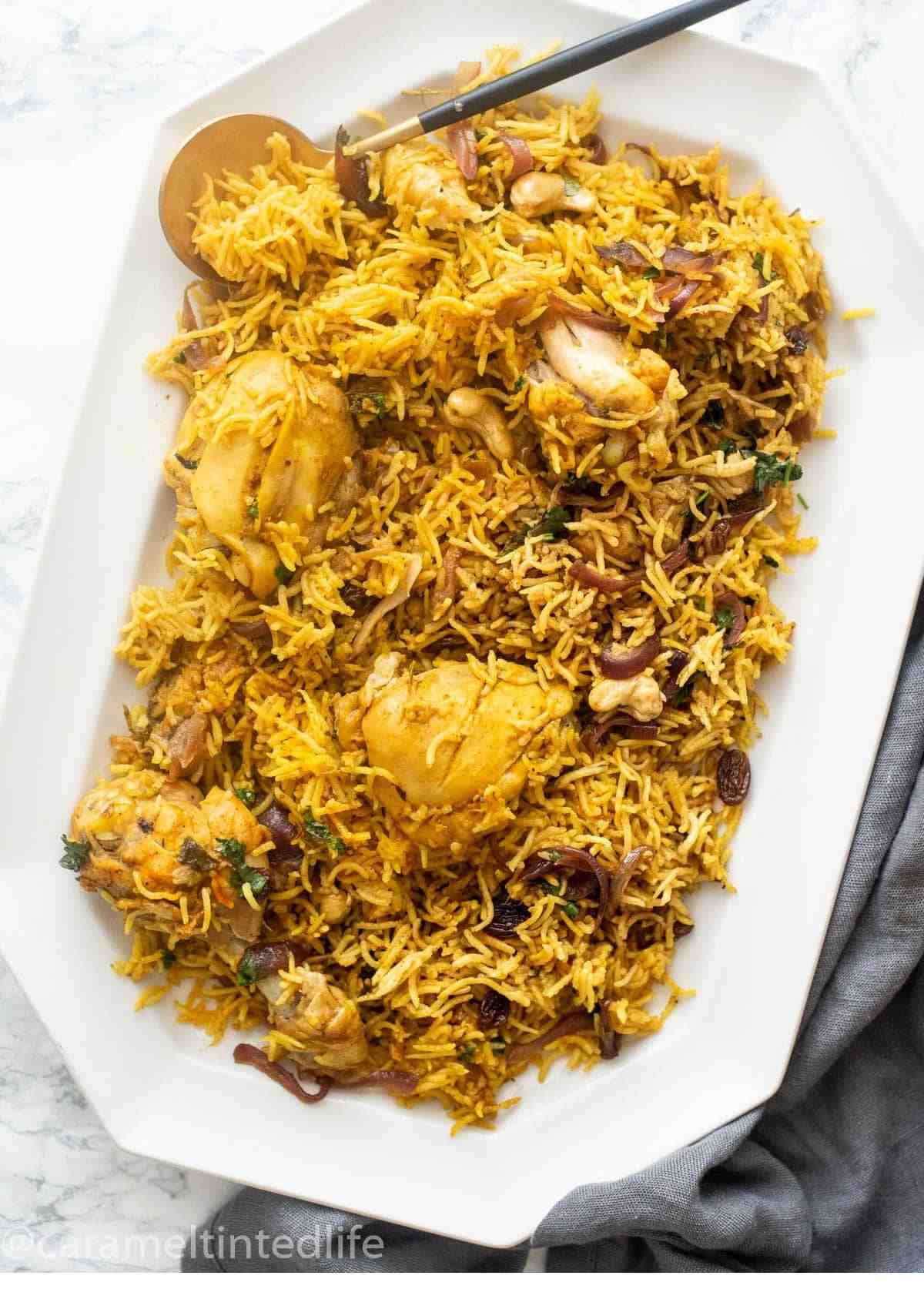 Jump to:
If we were to play a game of word association, and you said the word 'feast', I would respond with 'biryani'! Biryani is poetry on a plate, a dish that is complex in flavour, inviting and indulgent, fragrant and aromatic, a tease to all the senses.
Making biryani may be intimidating to some, with its many ingredients and multiple steps and processes involved, and it does feel like the entire kitchen gets taken up in the process, leaving you with no clean counters, and a sink piled with dishes. But it all comes down to that moment when the lid of a pot of biryani is opened, releasing the flavors within, a testament to this rhapsody in meat, rice, and spices. And that moment is completely worth it!
The traditional method of cooking the biryani is on 'dum', a method of sealing the pot with dough, and letting the biryani cook in its own steam. Some versions, like my Chicken Dum Biryani recipe uses the pukka method of making chicken biryani - the rice and chicken are partially cooked separately and then finished together in the oven. However, for ease of cooking and convenience, I often make this Instant Pot Chicken Biryani.
Why make biryani in the Instant Pot?
For a quick version of my favorite rice-based meals, I often use the Instant Pot to cook up a midweek treat - some of my favorite rice-based one-pot meals are Instant Pot shrimp biryani, Instant pot rice and veggies, and Vegetable Pulao.
The traditional biryani involves quite a few steps and more than a couple of dishes get dirty in the process. This is why the Instant Pot makes cooking chicken biryani a breeze - it all comes together in one-pot!
The Instant Pot replicates the 'dum' technique of making chicken biryani. The Instant Pot is suited perfectly to achieve the right consistency of cooked rice - each grain of rice is left intact if cooked correctly. The Instant Pot inherently operates at a lower psi (pressure) than a stove-top pressure cooker, and this lets the rice and meat cook well, without reducing either to a mush.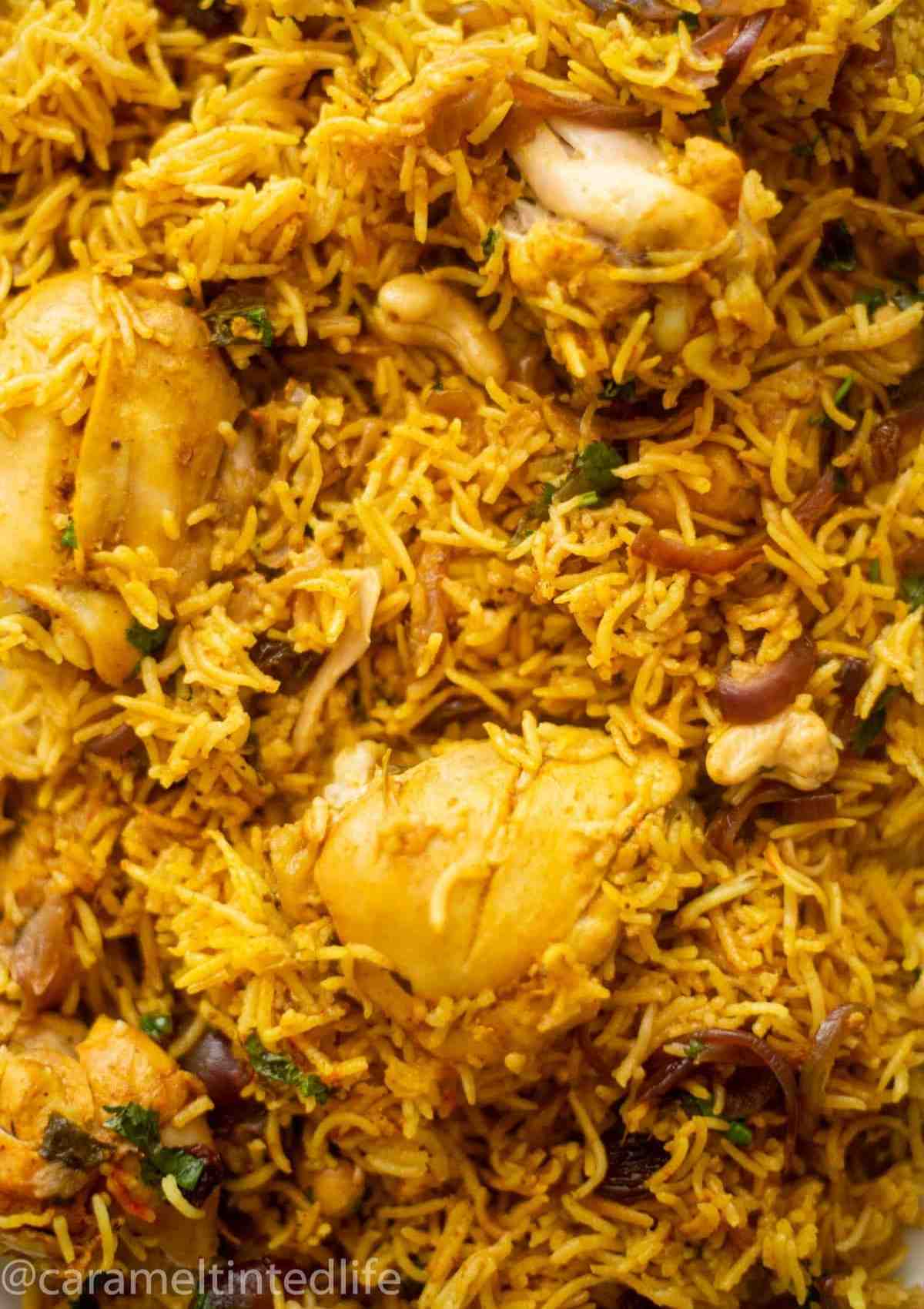 List of Ingredients
Here is all that you would need to make the perfect Instant Pot chicken biryani: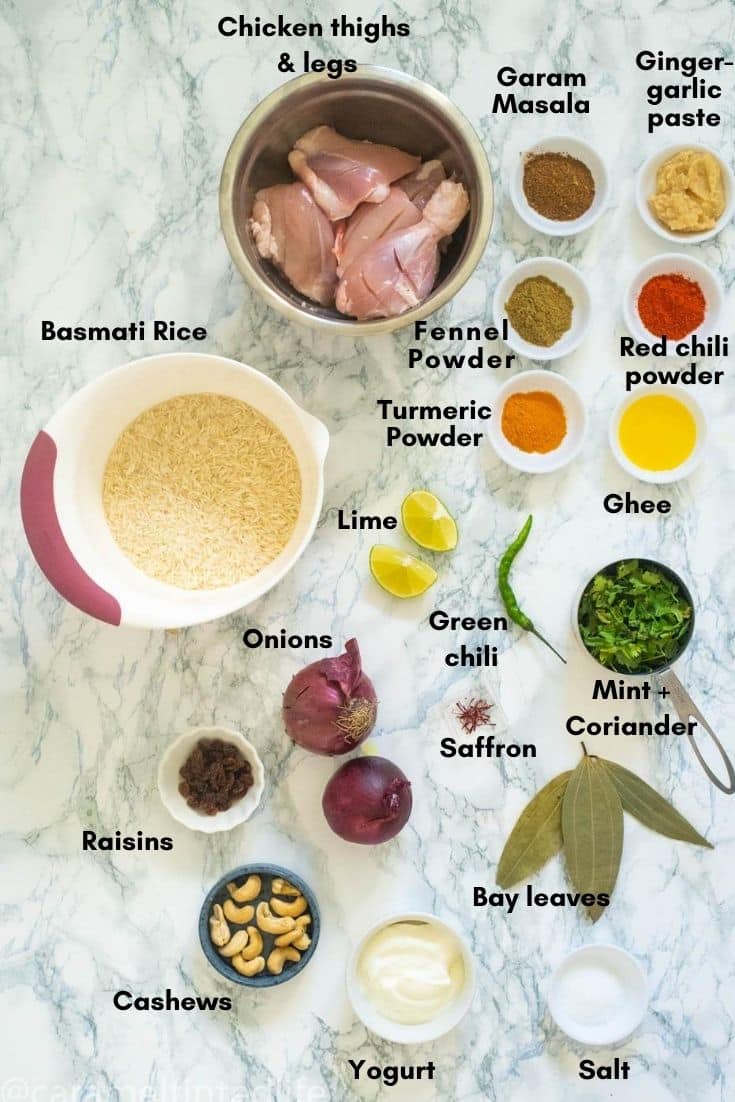 Chicken legs and thighs - Use bone-in chicken for maximum flavor, make small slits in the chicken before marination
Long-grained Basmati rice
Onions
Bay leaves
Saffron - This is optional, but gives flavor and color for an authentic chicken biryani experience
Fresh mint and coriander leaves
Lime juice
Ginger-garlic paste - optionally, use grated ginger and garlic
Spices - Garam masala, fennel powder, turmeric powder, red chili powder
Ghee
Yogurt - This is used for the marination to make the chicken tender
Raisins and cashews - These will be used for the final garnish
Salt for seasoning
Step-by-step instructions
Start by soaking the basmati rice in cold water for 20-30 minutes. This step helps in keeping the long grains intact. Soak saffron strands in 1/3 cup warm milk and keep aside. Marinate the chicken pieces in a mixture of yogurt, ginger and garlic, fresh mint and coriander, ghee, salt, lime juice and the following spices – garam masala, turmeric, red chili powder and fennel powder (fennel is key for an authentic biryani. You can also add chopped green chilies (or jalapeno) if you like a spicier biryani.
Now, onto the Instant Pot. Start in the 'Saute' mode, heat some ghee, and add bay leaves and sliced onions. Saute until the onions are caramelized.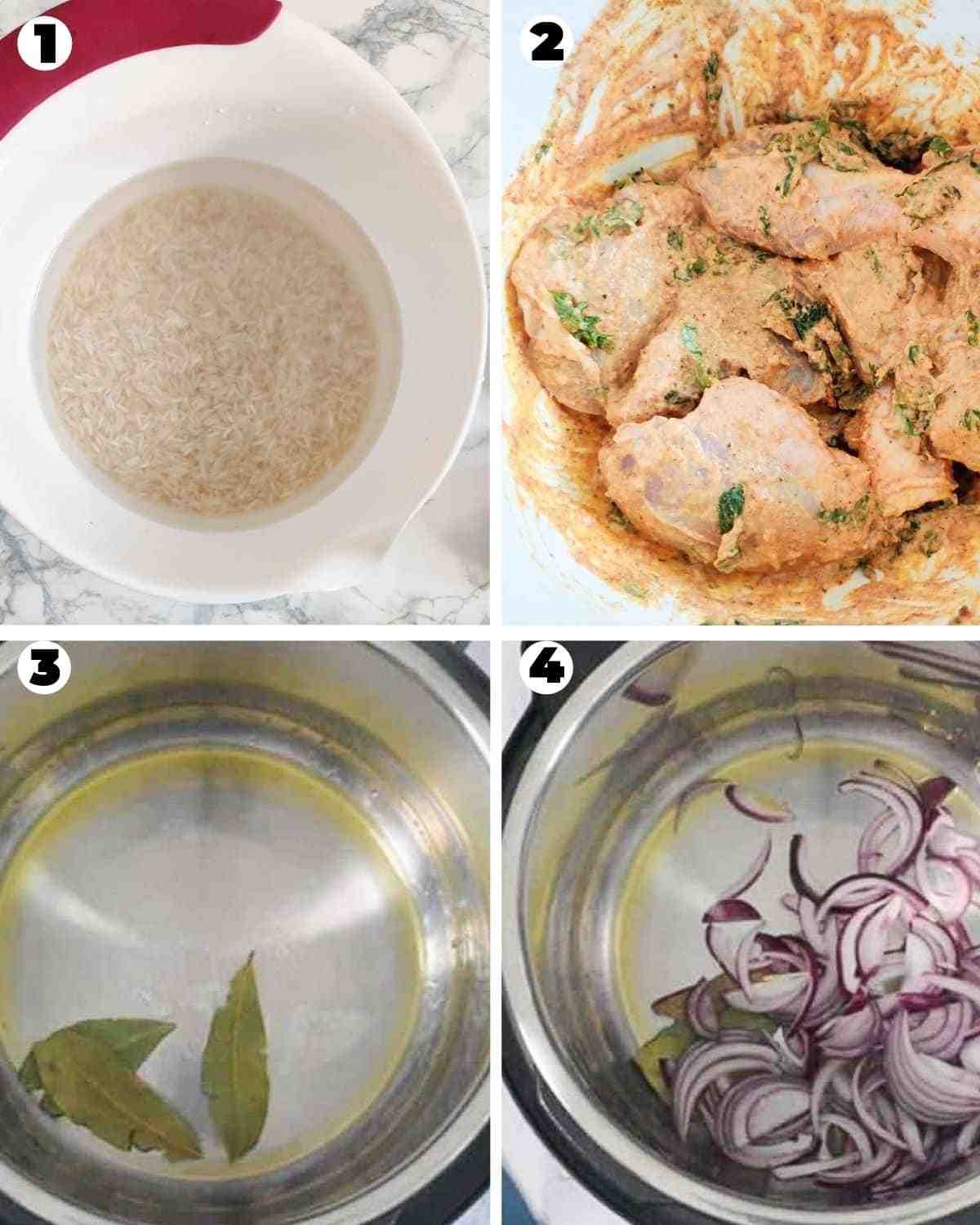 As the onions are caramelizing, I like to divide the onions and add cashews and raisins to one half (see image 5). Reserve this half of the onions for later. Now hit 'Cancel', and add 3-4 tablespoons of water. De-glaze the pot, make sure there is no brown residue at the bottom of the pot.
Add the marinated chicken pieces over the onions (ensure there is a little liquid . Pressure cook for 4 minutes and perform a quick release of pressure after 4 mins.
Open the lid, add the soaked basmati rice, after rinsing and draining the water. Add 1.5 cups of water mixed with 1 teaspoon of salt . Add pre-soaked saffron as well. You know you have the right amount of water when all the rice and chicken are just under the level of water (see image 12).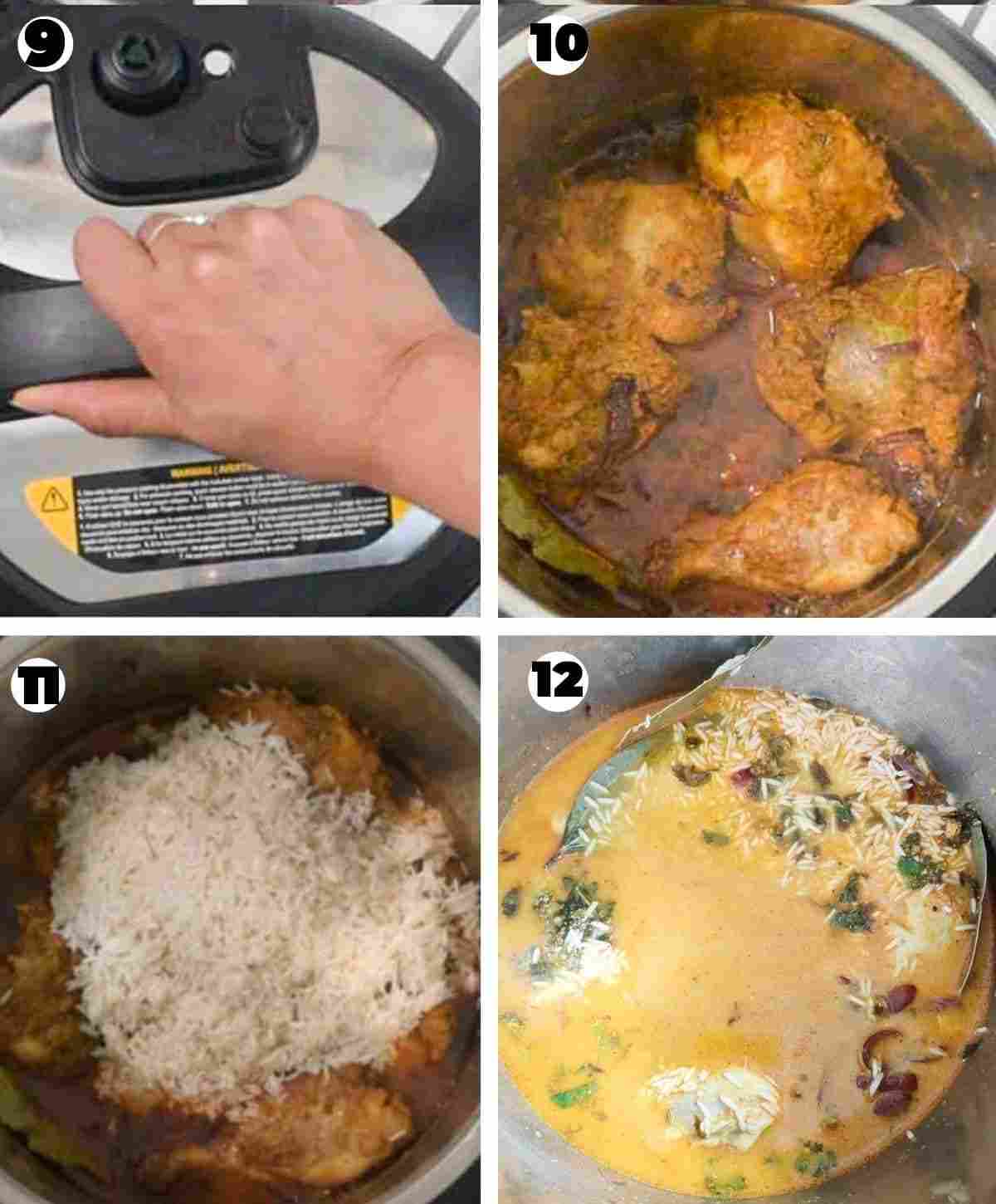 Pressure Cook for 5 minutes, let the pressure release naturally for 10 minutes and then manually release pressure. Open the lid. Garnish with the reserved onions, cashews, raisins, and fresh coriander and mint.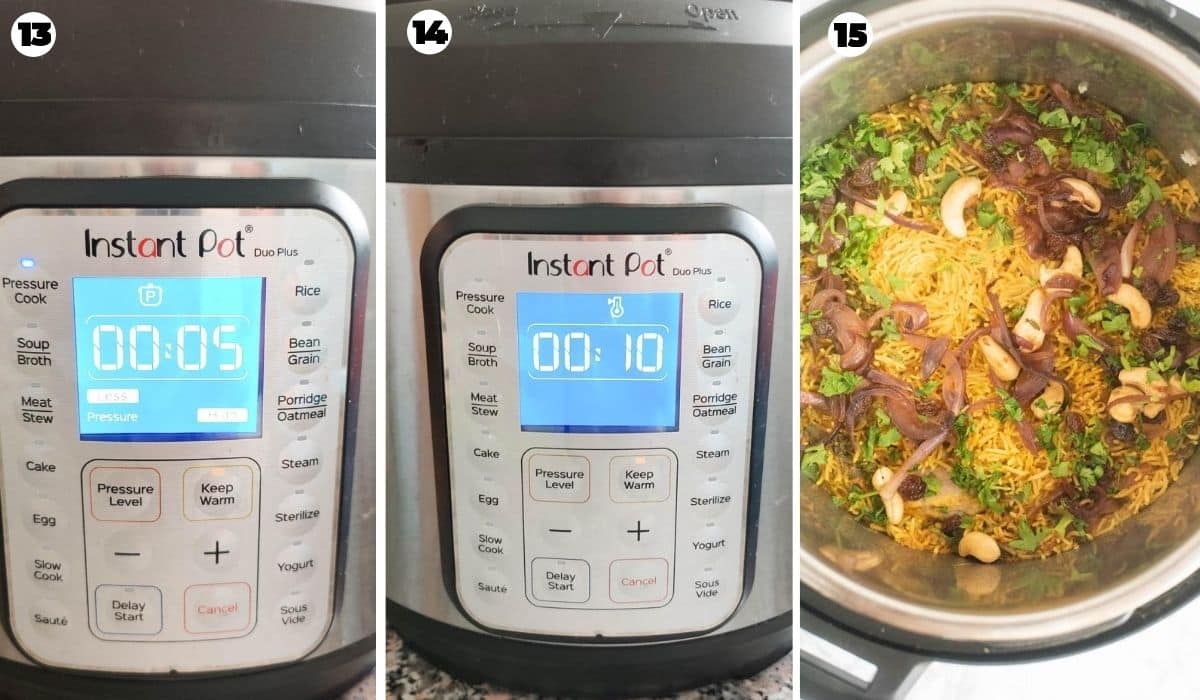 How to avoid the 'Burn' error in the Instant Pot
After testing this recipe a few times based on feedback from readers, I've realized that making biryani in the IP can be compared to baking a cake in the oven – the instructions have to be followed closely and the model of Instant Pot you are using also matters.
Just like some ovens tend to have hot spots, older models of the IP can have hot spots that can cause the contents to stick to the bottom and build residue. Older models of the Instant Pot and newer ones work slightly differently. We have noticed that older models of the IP Duo are less sensitive than newer versions. Newer models are designed to trigger the 'Food Burn' error quickly.
To avoid the Burn error, you must ensure that there the bottom of the pot is deglazed and that there is enough liquid to cook the ingredients, as the recipe calls for. If you do get a 'Burn' error while in 'Pressure Cook' mode, you must:
Release pressure, open the lid and check the bottom of the pot
If the contents have stuck to the bottom of the pot, take out the contents and keep aside
Add more liquid and deglaze the pot, making sure nothing is sticking to the bottom
Add the contents back and continue cooking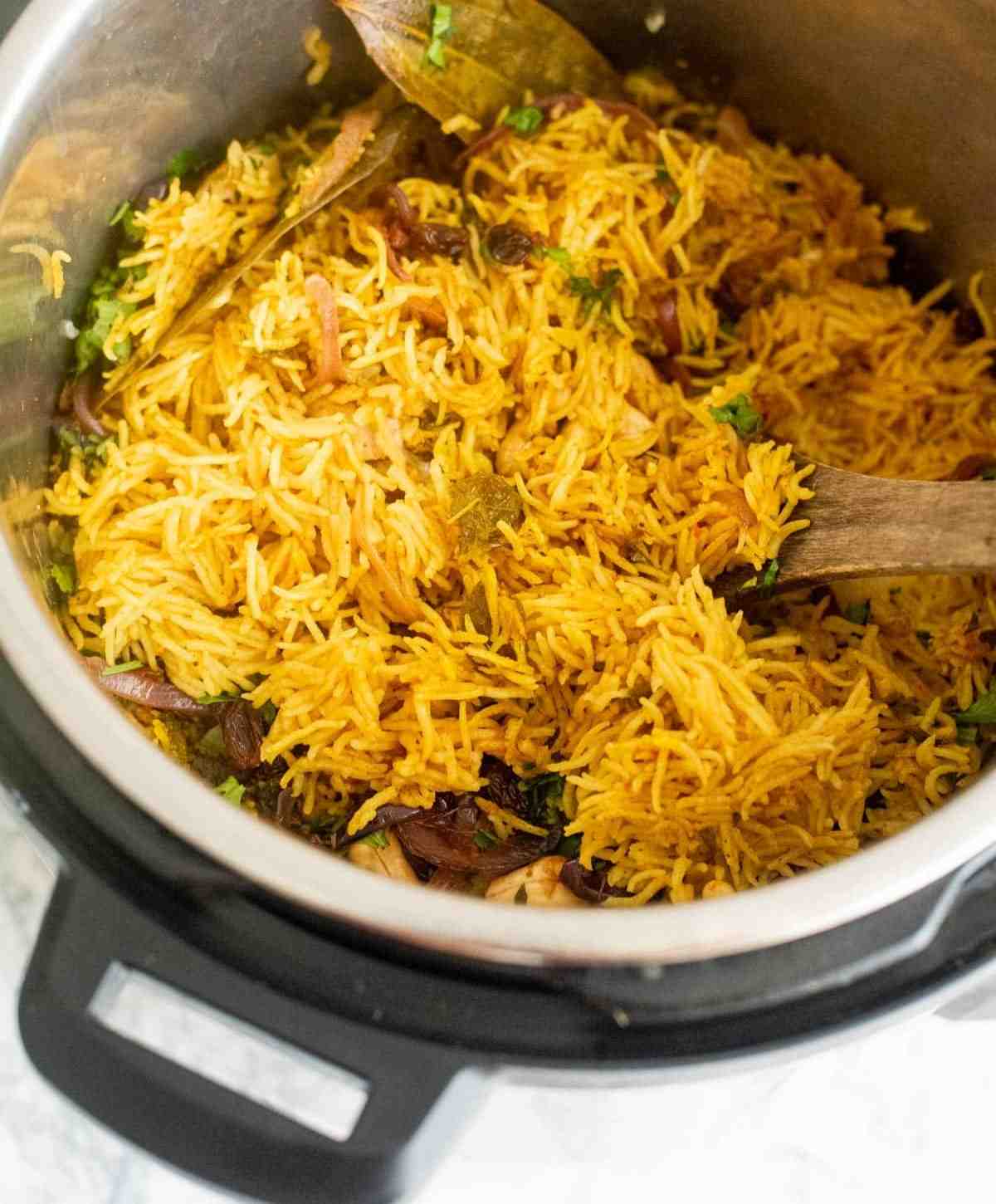 Expert Tips for Perfect Instant Pot Biryani
Meat: You can use either bone-in or boneless chicken to make biryani, however, I recommend using bone-in chicken pieces as they are a lot more flavourful than boneless chicken pieces.
Ghee: There is really no substitute to ghee (clarified butter) in a biryani. Use butter if you must, but ghee is the real deal!
Rice: Use good-quality long-grained basmati rice for your biryani. To achieve fluffy rice, with each grain intact, soak the rice for 20-30 minutes.
Spices: Use fresh whole spices, and preferably, freshly-ground garam masala. It does make a difference. This is my go-to recipes for garam masala: In a pan on the stovetop, dry-roast (without oil) the following spices: 2 tablespoons fennel seeds, 5-6 cardamoms, 6-7 cloves, a 2-inch piece cinnamon, 2-3 pieces of mace. Once the spices are heated, grind them in a high power blender, or coffee grinder. Store the ground spice mix in an air-tight jar and use as needed.
A good biryani is one that is self-sustaining and doesn't need anything other than a little yogurt or Biryani Raita on the side. So, get out your Instant Pot and whip up this satisfying, and soul-nourishing meal, a feast like no other!
More Instant Pot Rice recipes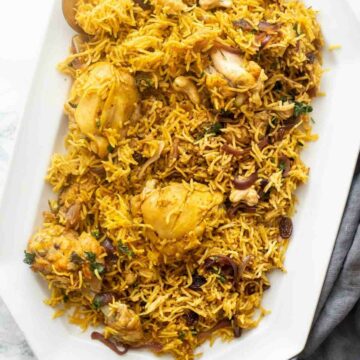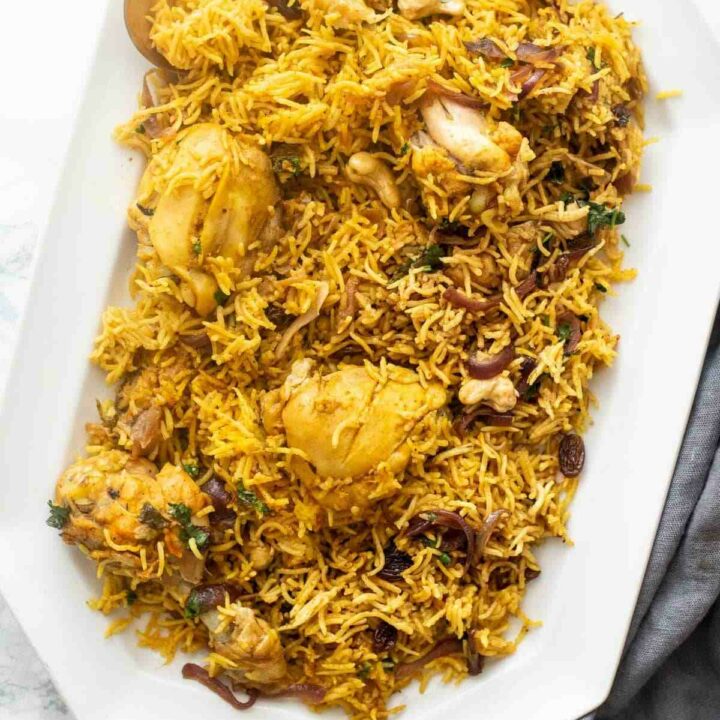 Instant Pot Chicken Biryani
Chicken Biryani is a delicious, flavorful and immensely satisfying Indian dish made with chicken and rice. Make it in the Instant Pot in under 1 hour.
Ingredients
2

cups

Basmati rice

1 cup=250ml

Water for soaking the rice

570

grams

Chicken legs and thighs

5-6 chicken pieces, bone-in

A few strands saffron

¼

cup

warm milk

to soak the saffron

2

onions

thinly sliced

1.5

tablespoon

ghee

3-4

bay leaves

1.5

cups

water

½

teaspoon

salt

¼

cup

raisins

¼

cup

cashews
For the chicken marinade:
Instructions
Start by combining all the marinade ingredients along with the chicken, in a large bowl. Let the chicken marinate in the fridge for 20-30 minutes.

Let the rice soak in water for 20-30 minutes. Keep aside

Soak the saffron strands in a little warm milk. Keep aside

Turn on the Instant Pot to 'Saute' mode. One warm, add the ghee, bay leaves and the onions into the IP. Saute for around 6-7 minutes, untill onions are caramelised. Add the raisins and cashews and toast until slightly brown.

Take out half the caramelized onions with raisins and cashews and keep aside for later.

Hit 'Cancel' and add 3-4 tablespoons of water. Deglaze with a ladle, ensure that no residue is stuck to the bottom of the Instant Pot.

Add the marinated chicken to the Instant Pot, over the onions.

Cover the Instant Pot with the lid, Pressure Cook for 4 minutes, followed by a quick release of pressure.

Drain the rice that has been soaked in water and add the rice over the chicken.

Now add 1.5 cups of water mixed with little salt, and make sure that water is enough to just cover the rice + chicken. Add the soaked saffron.

Over with lid, Pressure Cook for 5 minutes. Let pressure release naturally for 10 minutes, followed by quick release of pressure.

Garnish with fresh coriander and mint, and the reserved caramelised onions, raisins and cashews.

Serve with a side of yogurt or raita (lightly seasoned yogurt).
Video
Notes
You can use either bone-in or boneless chicken to make biryani, however, I recommend using bone-in chicken pieces as they are a lot more flavorful than boneless chicken pieces.
To avoid the Burn error, you must ensure that there the bottom of the pot is deglazed and that there is enough water to cook the ingredients. Add

3-4 tablespoons of water

before you add the marinated chicken.
If you do get a 'Burn' error while in 'Pressure Cook' mode, follow these steps:
Release pressure, open the lid, and check the bottom of the pot
If the contents have stuck to the bottom of the pot, take out the contents and keep aside
Add more liquid and deglaze the pot, making sure nothing is sticking to the bottom
Add the contents back into the pot and continue cooking
Nutrition
Calories:
567
kcal
Carbohydrates:
73
g
Protein:
18
g
Fat:
22
g
Saturated Fat:
8
g
Cholesterol:
81
mg
Sodium:
807
mg
Potassium:
417
mg
Fiber:
3
g
Sugar:
3
g
Vitamin A:
178
IU
Vitamin C:
5
mg
Calcium:
55
mg
Iron:
2
mg