These days, when I browse through Pinterest and my favorite blogs all I see are pictures of delicious turkey, pumpkin pie, cranberry sauce and all things Thanksgiving. I drool over these, and tell myself, although we don't celebrate Thanksgiving, that I should make a pecan-pumpkin pie, or at least bake some Hasselback potatoes, if not a whole roast chicken (turkey still intimidates me). What is the point of being a food blogger if one can't take inspiration from the food that is trending in the season? But laziness got the better of me, and I didn't get anywhere beyond pinning several Thanksgiving recipes to my Pinterest board.
So, today's post is a recipe from my tryst with curry over the weekend. A promise I made to myself, to keep me inspired and get me out of my routine of fail-safe recipes on weekends - I am attempting a curry a weekend, deriving inspiration from recipes from all parts of India.
This past weekend, I went with a recipe that I am very familiar with, Koftas or fried, ball-shaped patties made of Indian cheese (paneer) dunked in a luscious gravy made with tomato pulp and cream.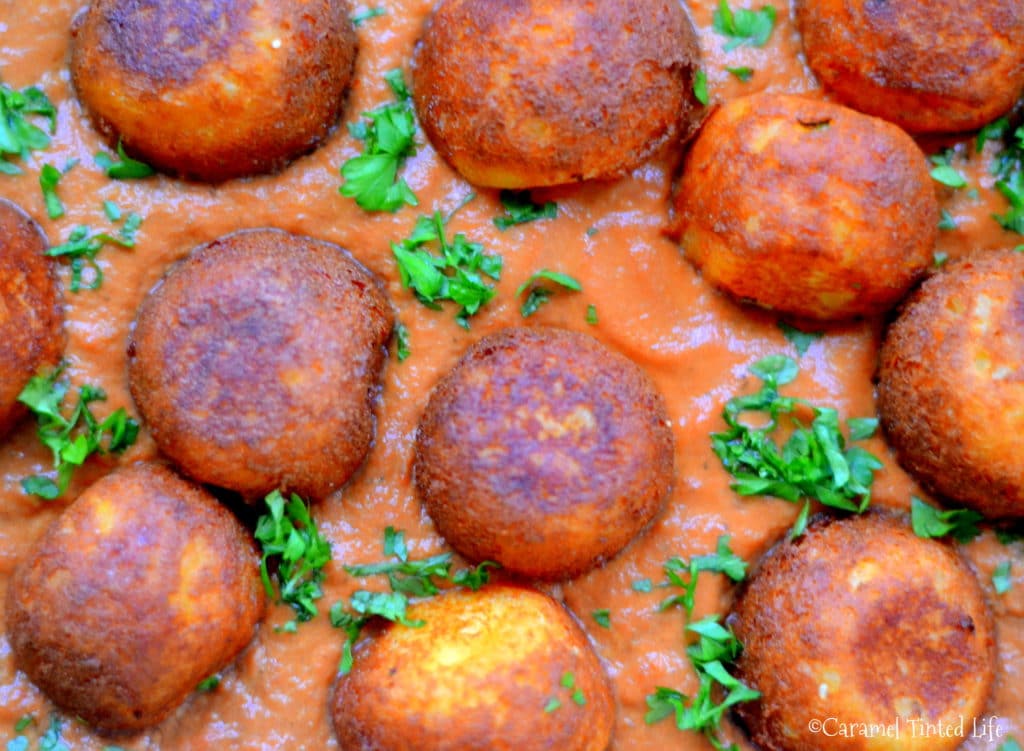 Over two centuries of Mughal rule in India, led to the invaders leaving behind a rich legacy of Mughlai food. This kofta dish, also called as malai kofta, originated from Mughlai kitchens, and is said to have traces of Turkish and Persian influence as well.
The dish itself is prepared in three stages, which may sound like a long process but when broken down, is actually fairly simple.
The paneer is made from milk that is curdled with a liquid with acidic properties. My acid of choice is lime juice, vinegar is a good alternative. The curds (paneer) that separate from the whey are collected and mixed with boiled and mashed potatoes and seasonings. In the second step, little lemon-sized balls are formed of this mixture. Traditionally, dry fruits are added to the center of these balls, which are then deep-fried. Finally, the gravy is prepared, using a base of tomato, cream and ground cashews or almonds. This is definitely a dish that lives up to its royal origins.
My version is a simplified one, I skipped the dry fruits and made a rich gravy, very similar to the one I made for this butter chicken recipe. Even in its simplified form, these koftas are quite sumptuous. Have them with naans or basmati rice, and dine like them Mughals used to!
Malai Kofta
Luxurious malai koftas made with paneer and potato balls, dunked in a creamy tomato gravy
Ingredients
For the Koftas:

1.5

litre full fat milk

1

lemon

or 1 tsp white vinegar

2

large potatoes

boiled and mashed

1

tsp

garam masala

1

tsp

turmeric powder

1

tsp

Kashmiri chilli powder

or paprika powder

1/2

tsp

chaat masala

1/2

tsp

salt to taste

Oil for deep frying

For the Gravy:

1

cup

tomato pulp

or canned tomato

1

onion

ground to a paste

1

tsp

ginger paste

1/2

tsp

garlic paste

1

green chilli

ground to a paste

1/4

tsp

turmeric powder

1/2

tsp

garam masala

1/2

cup

cream

1/2

cup

ground almonds

or ground cashews

1

tsp

dried fenugreek leaves

methi leaves

Salt to taste
Instructions
Start by preparing the paneer:

Cook the milk in a pot with high sides, letting the milk come to a rolling boil

Add the juice of 1 lime (or 1 tsp vinegar) and reduce heat to a simmer

Stir the acidic juice/ vinegar and let the milk cook for a minute more

The milk will curdle and the solids will separate from the whey

Turn off the heat, and let it cool

Using a fine meshed sieve (or a muslin cloth),strain the whey from the solids

The milk solids or paneer, is now ready to be used

To the milk solids, add the potatoes, and the seasonings listed in the ingredients for the koftas

Make small lemon-sized balls out of this mixture

Deep-fry these balls and drain the excess oil on a kitchen napkin

To prepare the gravy:

Start by sauteing ginger, garlic and green chilli past in oil in a large saucepan

Add the turmeric powder, garam masala and continue sauteing for a minute

Add the onion paste and cook for 3-4 minutes

Add the tomato pulp and ground almonds, and let this come to a simmer

Reduce the heat, and the cream and fenugreek leaves and cook for another couple of minutes

Add salt to taste

Serve with some freshly made naan, or basmati rice
Notes
The whey can be reserved to be used for cooking pulses or in kneading dough