Chicken Hariyali Tangdi Kabab are succulent chicken legs that are marinated in a spiced green herb and chickpea flour marinade and oven-grilled to perfection.
If you've never been lucky enough to partake of the pleasures of charcoal-grilled kababs, then life has dealt you a hard one, dear reader. Few meals are as satisfying as those made on a charcoal grill or clay 'tandoor'. One of my guilty pleasures when eating out at a fine dining restaurant back in India used to be chicken hariyali tangdi kababs, made in the 'tandoor'. Translated to 'green chicken leg' kababs, this is a classic recipe that uses bone-in- chicken legs, unlike the more popular variants of kababs which are boneless.
I've tried to replicate the recipe for the kabab back at home. Although I've not been lucky enough to own a charcoal grill, I've tried this recipe out several times in my kitchen oven, and steadily over some time, I'm happy to have put together a recipe that can make me and my kabab-loving groupies at home very, very happy!
This recipe uses skinless, boneless chicken thighs, which in themselves are delicious and remain moist and tender, when grilled in the oven. The real deal in this recipe, though, is its marinade. These kebabs are made with a marinade that renders it tender and succulent without drying it out. Green herbs such as coriander and mint leaves impart flavor and the green color that gives these chicken legs their name ('hariyali' is a Hindi word that translates to 'greenery'). But the true star here, the 'secret sauce', is the use of roasted chickpea flour. This gluten-free flour is fantastic to add a full-bodied, nutty taste to the meat.
If you have a chargoal grill, then fire it up this spring-summer, and try these 'chicken hariyali tangdi kababs'. If you do not, then fear not, your trusty oven can do a fine job on its own!
If you like this recipe, pin here for later: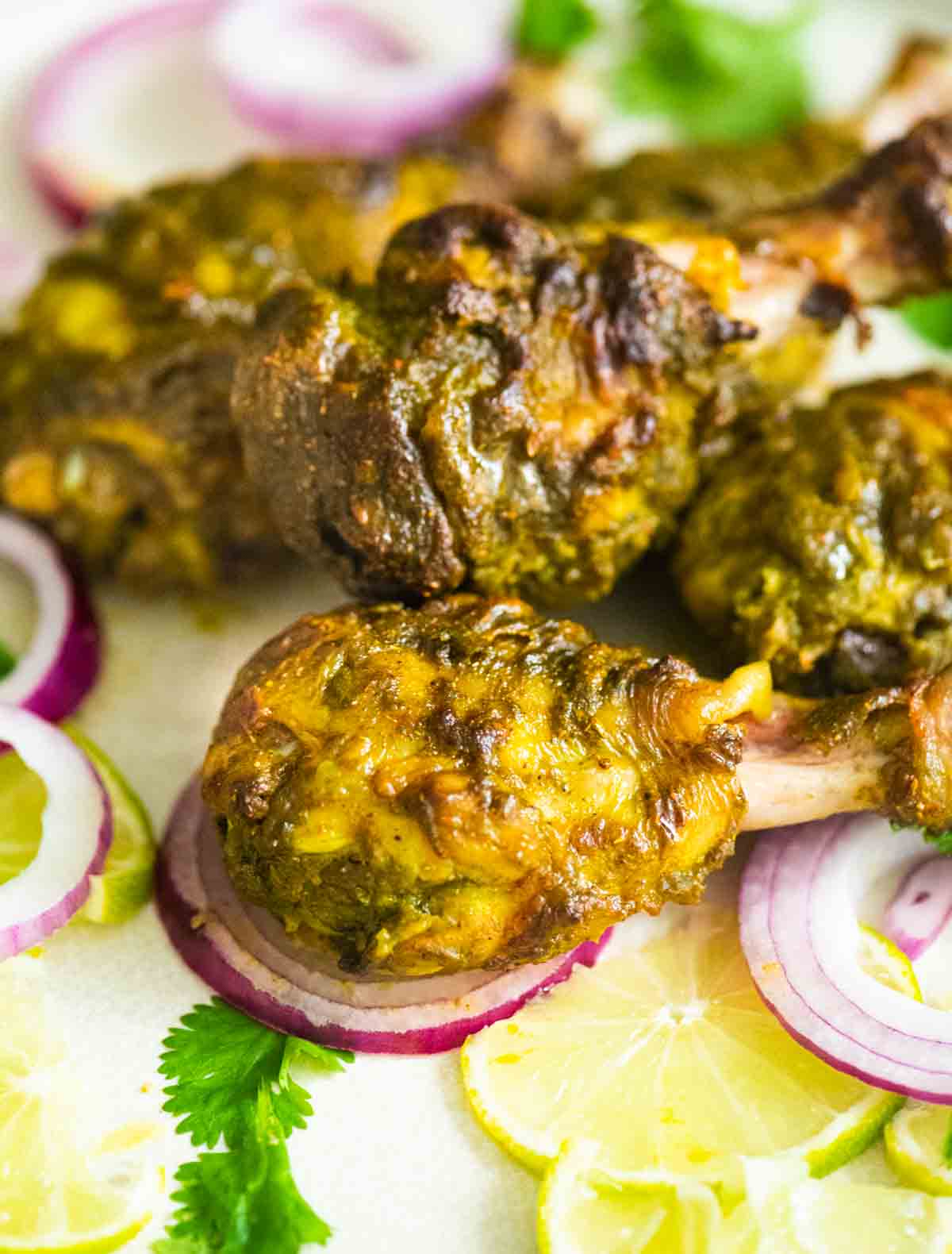 Chicken Hariyali Tangdi Kabab
Chicken Hariyali Tangdi Kababs are succulent chicken legs marinated in a spiced green-herb and chickpea flour marinade and oven grilled to perfection
Instructions
Start by lightly roasting the chickpea flour. Take care to roast it on a pan on low to medium heat and turn off the heat once you smell the nutty aroma of the chickpea flour. Do not overheat or burn the flour.

In a blender or spice grinder, grind together the herbs with the lime juice.

Make slashes in the chicken, to allow the marinade to penetrate deeper.

Add all the ingredients and marinate in a zip lock bag for at least 1.5 hours. Best overnight.

Grill for 40 mins on 180 C turning it once midway.

Brush some ghee on the chicken at the midway mark (20 minutes) midway and continue to grill.

At the 35 minute mark, turn up the heat to 200 C and grill for 5 minutes more.

Let the grilled chicken rest for around 5 minutes before serving.
Notes
Serving suggestion: A sprinkling of lime and 'chaat masala' over the kababs will add a nice touch to finish off the recipe. You could cover the tips of the chicken legs with aluminium foil to prevent it from over-browning.
If you like this recipe, take a look at more chicken recipes here:
Grilled Chicken Tikka Drumsticks
Sheet Pan Honey Garlic Chicken
Instant Pot Thai Chicken Curry and Rice
If you liked this recipe, do comment below and rate the recipe! If you make this recipe, please post a pic on INSTAGRAM -tagging @carameltintedlife and follow along on FACEBOOK and PINTEREST