Crispy, crunchy golden-brown chicken pakoras are the perfect snack or party appetizer. An easy, delicious pakora recipe with a secret ingredient that makes it stay super crispy for longer!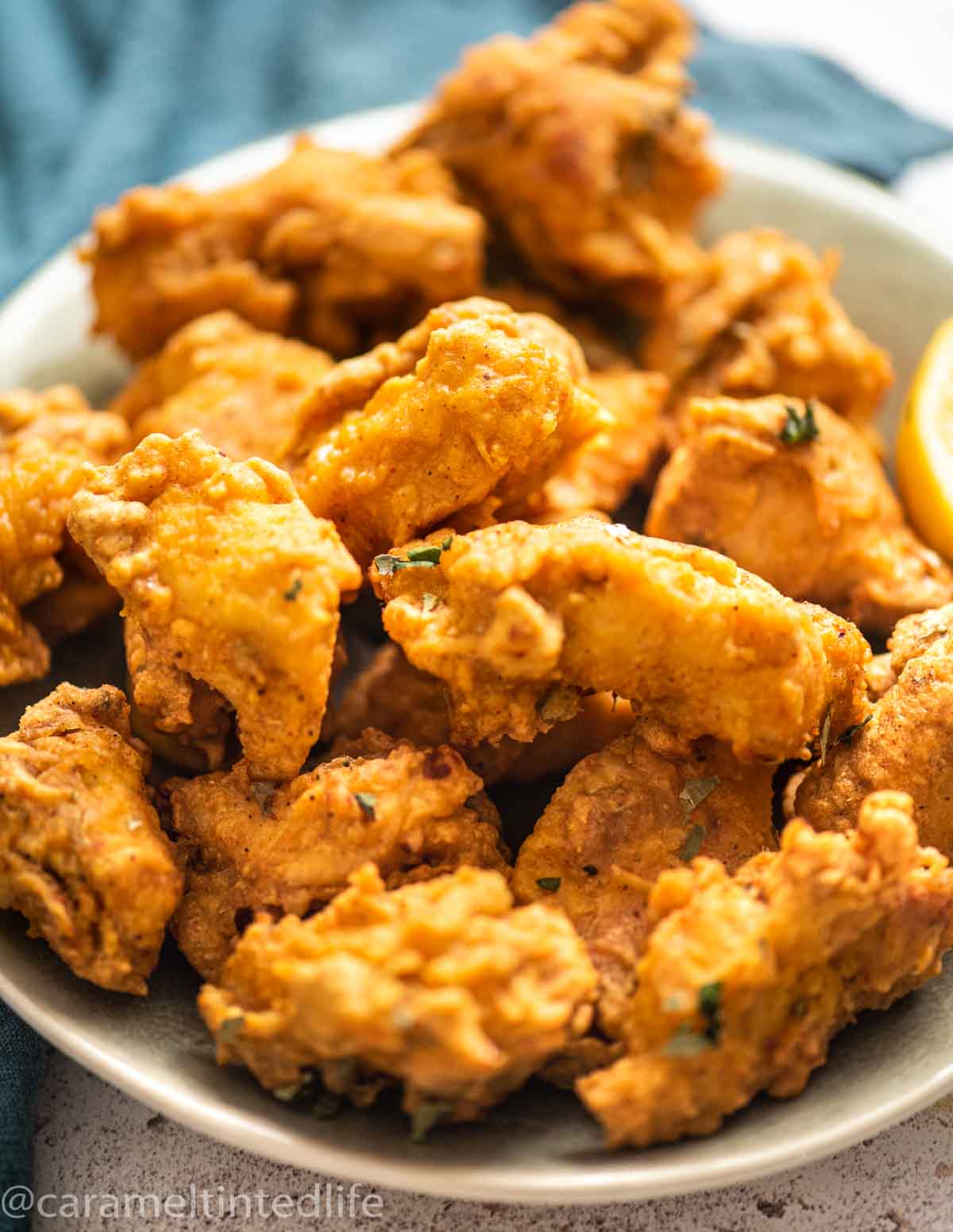 Jump to:
What are Chicken Pakoras?
Chicken pakoras are bite-sized batter-fried chicken fritters. They are the perfect party food, we love having these crispy bite-sized spiced chicken fritters by themselves, with a squeeze of lime or with some homemade green chutney. These little batter-fried chicken pieces are spiced with a mixture of masalas and seasoning.
Homemade chicken pakoras and vegetable pakoras taste so much better than what you get at most Indian restaurants! I love to dig into pakoras when it's a rainy day, or if there's a nip in the air. I absolutely must have them with my cuppa Masala Chai!
I do not often deep-fry food at home – but there are some exceptions and some occasions that absolutely demand some crunchy fried nibbles! Let me know if you think so too.
Secret Ingredient for Crispy Chicken Pakoras
The one big issue most people have with pakoras is that they lose that crunch factor if they are left on the counter for a while. To remedy this here is a tip I picked up from my mom - rice flour is the secret to all that crispness! Adding rice flour to your batter will give you super crispy pakoras that stay crisp for long!
To give this pakora recipe a South Indian twist, I have added dried curry leaves in the batter for more flavor. Let me tell you more about this recipe...
Why you will love this recipe
An easy and fuss-free Indian appetizer recipe
Authentic South Indian flavors in the pakora batter
Rice flour makes the pakoras stay crispy for long!
Gluten-free
List of Ingredients
To make chicken pakoras, you will need:
Chicken Pieces – Use boneless pieces of chicken (thigh or breast fillets) cut into 1-inch cubes
For the chicken pakora batter
Rice flour – Rice flour gives the pakora its much sought-for crispness. I use rice flour in the batter for my beetroot tikkis recipe as well, to give it a hint of crispy texture. Don't skip the rice flour when you are making pakoras!
Besan (gram flour) – Besan or gram flour is the primary flour used in pakora batter. Gram flour adds a unique, almost nutty flavor to the pakora batter, and it also helps that it is higher in nutrition when compared to other flours.
Corn Starch – A little corn starch will help to bind together the batter together.
Egg – Beaten egg will help bind the batter together, and it also adds flavor to the batter.
Seasonings – For seasoning the batter, we will use Kashmiri chili powder, coriander powder, garam masala, salt and cumin
Curry Leaves – I use dried curry leaves, that I crush up into bits and add to the batter. You can use finely chopped fresh curry leaves as well, they do tend to be more flavorful. (Read more in my guide to Indian spices)
Ginger garlic paste – Use ginger garlic paste or minced ginger and garlic. This will tenderize the chicken and keep the pieces moist, even after deep-frying.
Step-by-Step Instructions
Making the chicken pakoras is super easy and fuss-free! Start by preparing the batter:
In a large mixing bowl, break in the egg, add the salt and ginger garlic paste, and beat gently.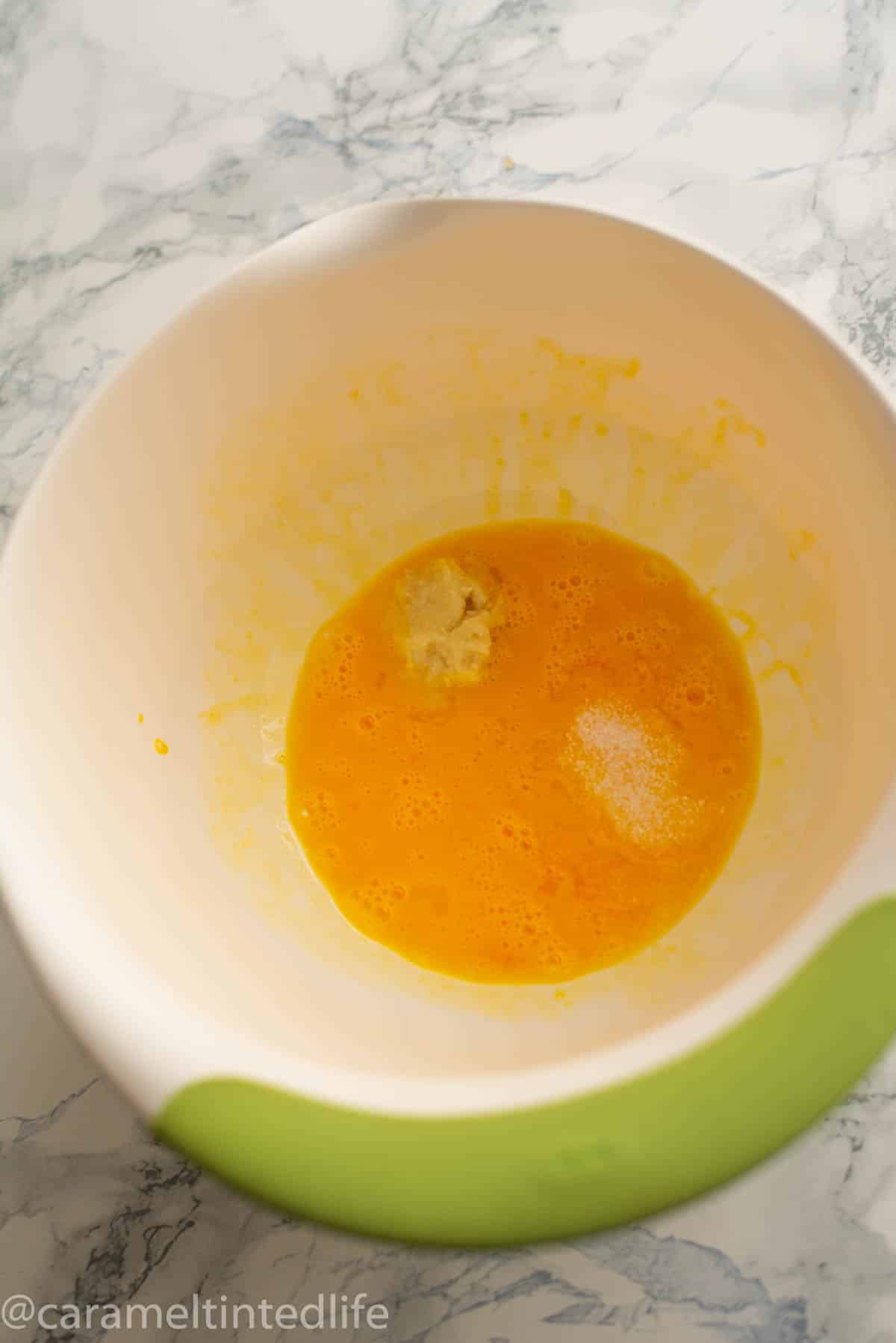 Then add the spice powders, followed by the finely chopped up or crushed up curry leaves. Add the chicken pieces and mix well, using a fork.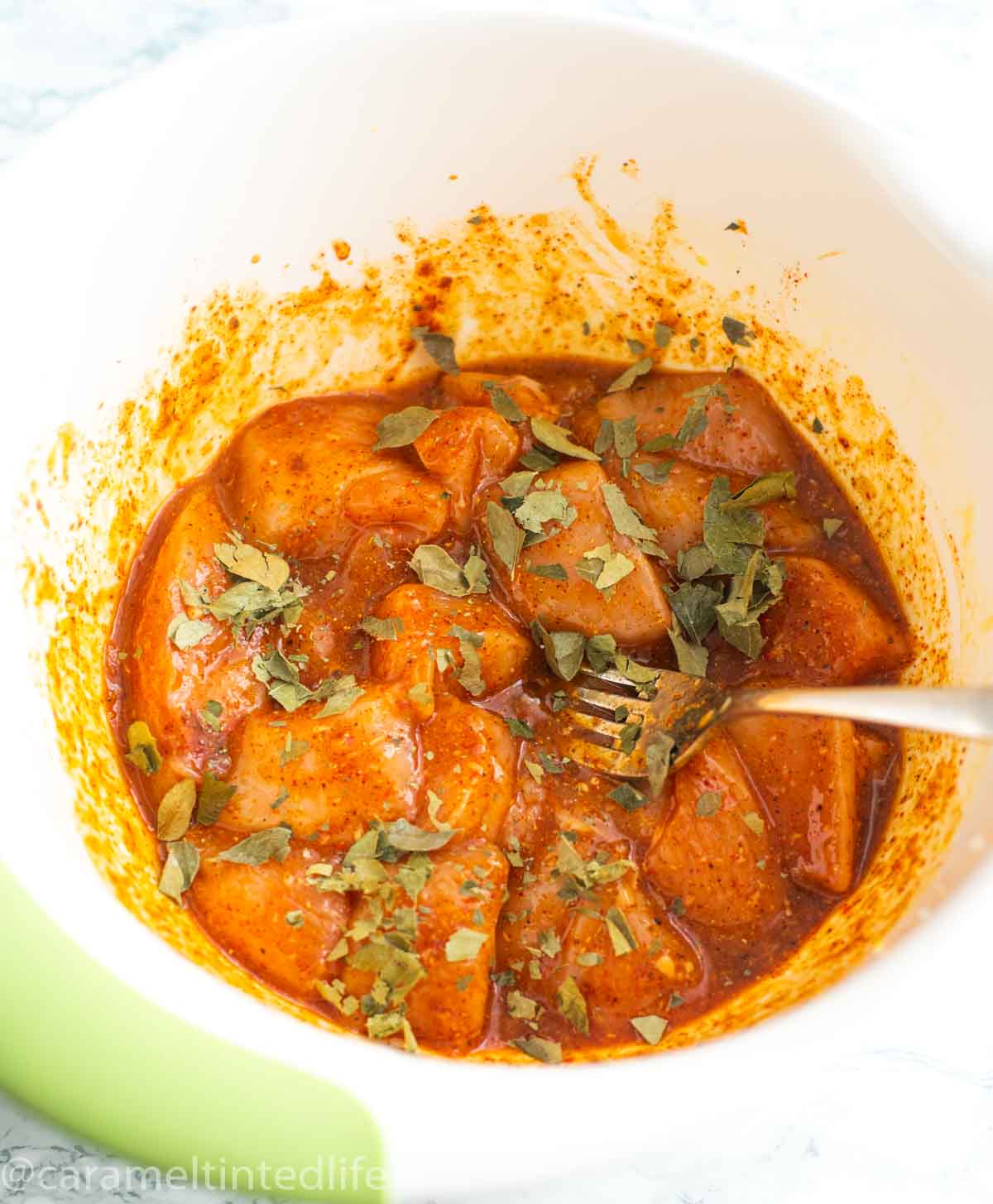 In a small bowl, mix together the flours, and then add the flour mixture into the bowl with the egg.
Then add the chicken pieces into the mixing bowl and combine so that the chicken pieces are well coated with the batter. At this stage, you can add 1-2 tablespoons of water if the batter feels too dry.
I find that using my hands to do this is so much easier than using a fork or any kitchen tool! So get your fingers in there and coat the chicken in the batter before frying the pakoras.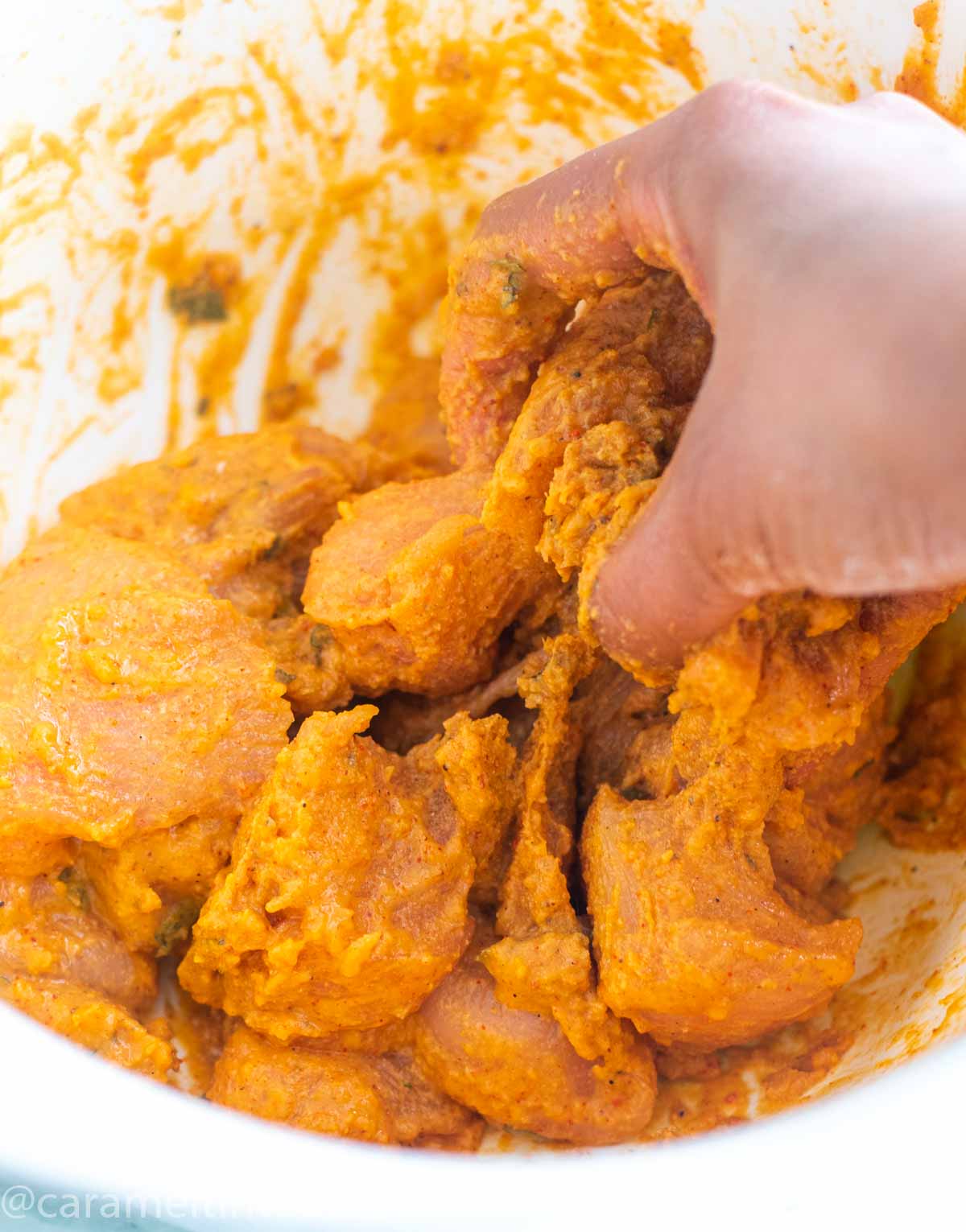 Meanwhile, heat the oil in a wok or frying pan with high sides. Once the oil is hot, add a little drop of batter to test the temperature. If the batter bubbles to the surface, the oil is hot enough. Add the chicken pieces one by one, without overcrowding the pan.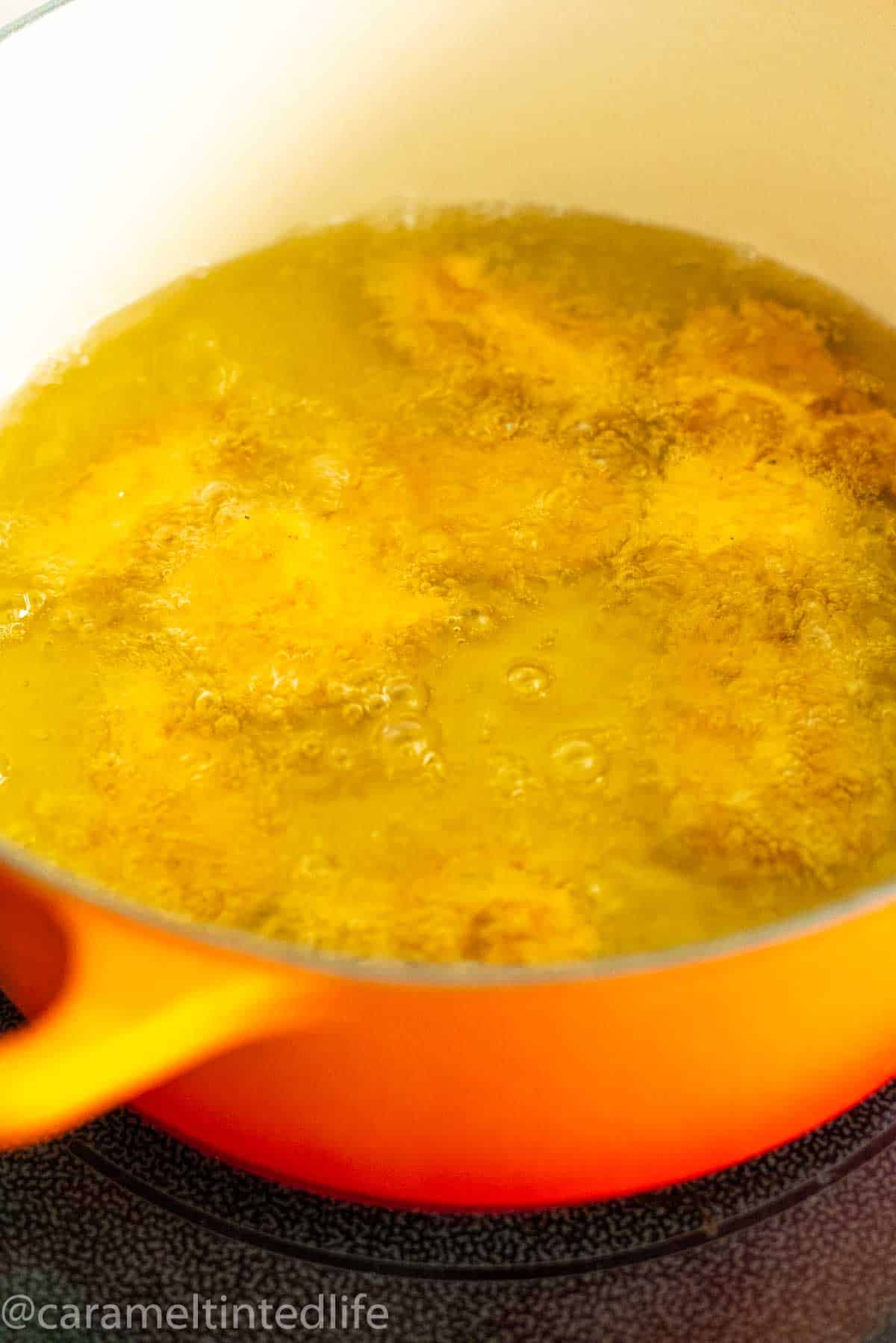 Fry for around 5-6 minutes, flipping the pieces over midway, to fry the chicken pakoras evenly. The pakoras should be golden brown when you sieve them out of the oil. Transfer to kitchen paper to soak up excess oil. Serve the chicken pakoras hot, with a side of ketchup or green chutney.
To garnish, you can squeeze lime on top and sprinkle more chopped curry leaves.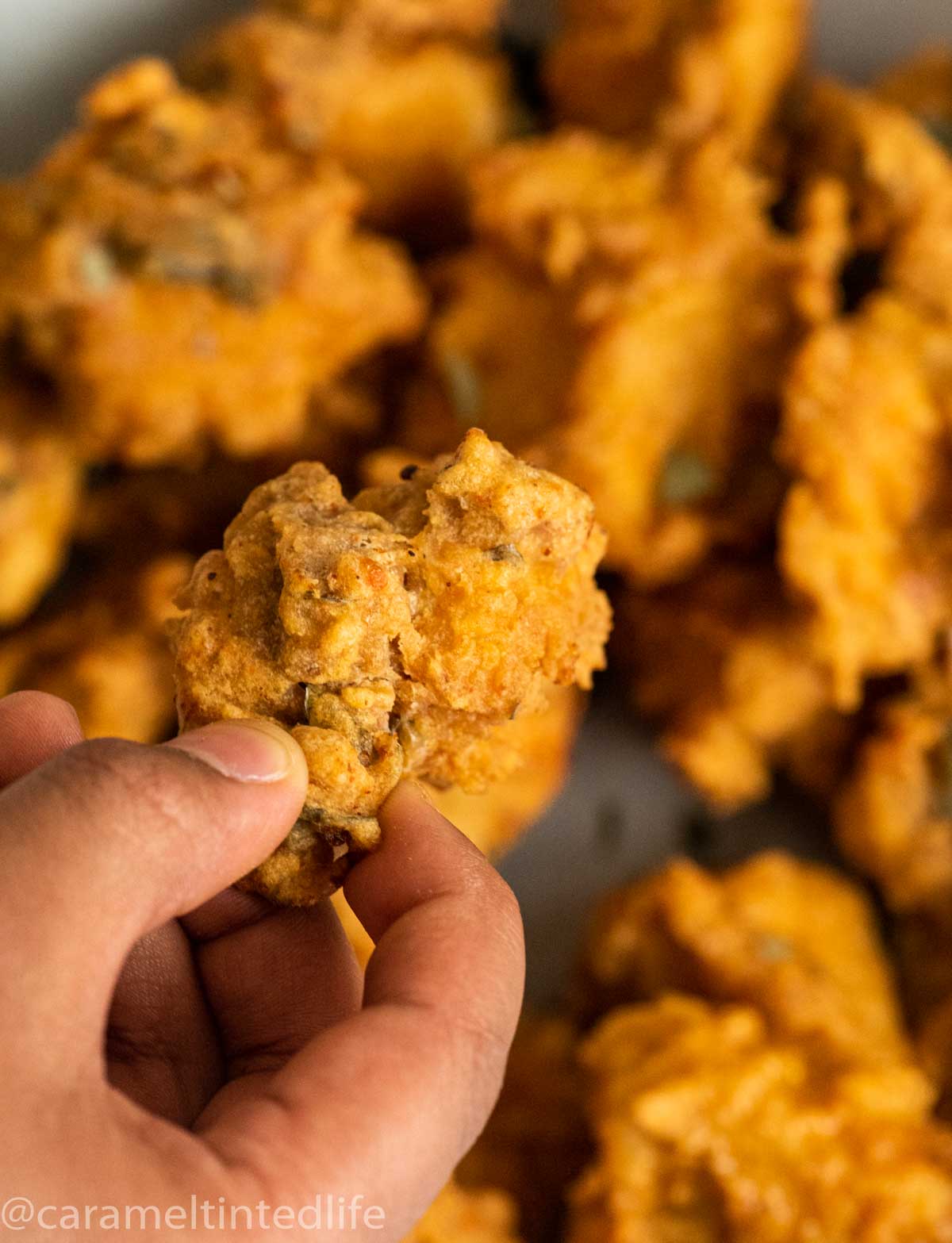 FAQs and Expert Tips for making Pakoras
What is chicken pakora made of?
Chicken pakoras are made with chicken pieces, coated in a spiced batter, and then deep-fried. The batter is where all the magic lies - the seasonings are a blend of spices from red chili powder to crushed up curry leaves, to cumin, and ginger garlic paste is used to keep the chicken meat tender. Egg is also used in the batter as a binder.
How can I make my pakoras crispy for a long time?
Chicken pakoras are best enjoyed fresh off the fryer, but you can also keep them on the counter for more time and they will stay crispy with this recipe! The secret is in using rice flour in the batter. Rice flour is always used in pakora batter to give it that characteristic crispness.
Are pakoras gluten-free?
Yes! There is no gluten in this recipe and all the flours used - corn starch, rice flour, gram flour are gluten-free.
Serving Suggestions
Pakoras are best served with just the bare minimum sides – I recommend a light drizzle of lemon on the chicken pakoras or you could also sprinkle a little chaat masala over the pakoras. Serve them with a side of ketchup (nothing wrong with that!) or hot chili sauce, or if you're like me, you could whip up a small batch of green chutney and serve it as a dip for your hot pakoras.
Pakoras can also be served as an accompaniment to masala chai – a cup of hot chai and fresh-of-the-wok pakoras is a match made in heaven! A classic combination that is best had on chilly days or rainy days.
Chicken pakoras can also be served as part of an Indian meal, along with classic mains such as chicken biryani or shrimp biryani.
More Indian Appetizers and Snacks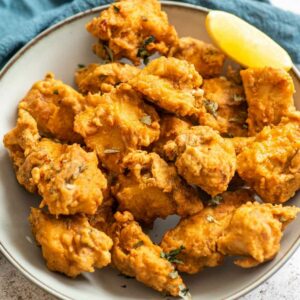 Chicken Pakora Recipe
Crispy, crunchy golden-brown chicken pakoras are the perfect snack or party appetizer! An easy, authentic recipe that is flavorful and stays crispy for long
Ingredients
500

grams

chicken pieces boneless thighs or breast fillets

4

tbsp

Besan

Gram Flour

3

tbsp

Rice Flour

1

tbsp

Corn starch

¾

tbsp

Chili Powder

½

tbsp

Garam Masala

½

tbsp

Cumin

½

tbsp

Coriander powder

¼

cup

Curry Leaves dried or fresh

1

egg

¾

tbsp

Ginger garlic paste

Salt to season

Oil – for deep frying
Instructions
Cut the chicken pieces into approximately 1-inch sized pieces.

In a large mixing bowl, break in the egg. Add salt and ginger garlic paste. Beat lightly.

Add in the spices (cumin, coriander, garam masala, chili powder) and mix with a fork.

Crush the dried curry leaves in your palms and add them (or use finely chopped up curry leaves).

Add the salt to season and then the chicken pieces. Using a fork, gently mix the chicken pieces in the egg-mixture.

In a small mixing bowl, add the gram flour and rice flour and mix together. Add this flour mixture to the chicken in the mixing bowl.

Now using your fingers, mix the chicken in the batter to coat the chicken properly. Add 1-2 tablespoons of water if the batter gets too dry (add a little water and check - batter should be thick, not runny).

Prepare your frying pan - add the vegetable oil to the wok or a frying pan with high sides. The oil should be around 2 inches deep. Heat the wok on the stovetop.

Once the oil is hot enough, add a drop of batter to the oil to see if it bubbles and rises to the top. The oil is now hot enough for deep frying the chicken pakoras.

Add the chicken pieces one at a time with your fingers, carefully, without spattering the hot oil.

Do not overcrowd the oil. Fry in batches, frying each batch of pakoras for 5-6 minutes (timing will vary by the size of the pakora) until pakoras are golden brown.

Drain the pakoras with a slotted spoon onto a kitchen paper to soak up the excess oil.

Garnish the pakoras with a drizzle of lemon juice and more crushed dried curry leaves and serve hot.
Notes
Rice flour is key to the crispness of the chicken pakoras. For a crispy batter, follow the ingredient proportions as mentioned above.
Always fry your pakoras in hot oil. If the oil is not hot enough, the pakoras will soak up the oil. Test a little amount of batter to see if it bubbles to the surface before you add your chicken pieces to the oil.
Nutrition
Calories:
83
kcal
Carbohydrates:
2
g
Protein:
3
g
Fat:
7
g
Saturated Fat:
1
g
Trans Fat:
1
g
Cholesterol:
17
mg
Sodium:
17
mg
Potassium:
47
mg
Fiber:
1
g
Sugar:
1
g
Vitamin A:
102
IU
Vitamin C:
1
mg
Calcium:
6
mg
Iron:
1
mg