Ginger Garlic Paste is used as a tenderizer and to add flavor to many Indian recipes. You can make homemade ginger garlic paste, refrigerate or freeze it and use it as needed!
Jump to:
Ginger garlic paste is an absolutely essential ingredient for most Indian recipes. You will see that many of my recipes call for ginger-garlic paste and I've received so many questions about it, whether it can be substituted with minced ginger and garlic and so on…So this article on ginger garlic paste is to help you get familiar with this pantry staple.
What is Ginger Garlic Paste?
A jarred bottle of ginger garlic paste is a replacement for freshly minced ginger and garlic. You can make it by blending together ginger and garlic along with a little oil or salt. You can add it to your curry base or use it as a marinade.
If you cook a lot of Indian recipes, you'll want to make and keep a small bottle of this in the fridge – it will come in handy for so many recipes – some of my most popular curries, such as butter chicken, paneer tikka masala, etc., call for ginger garlic paste as part of the curry base. In other recipes such as chicken biryani and paneer tikka – the marinade is made with ginger garlic paste.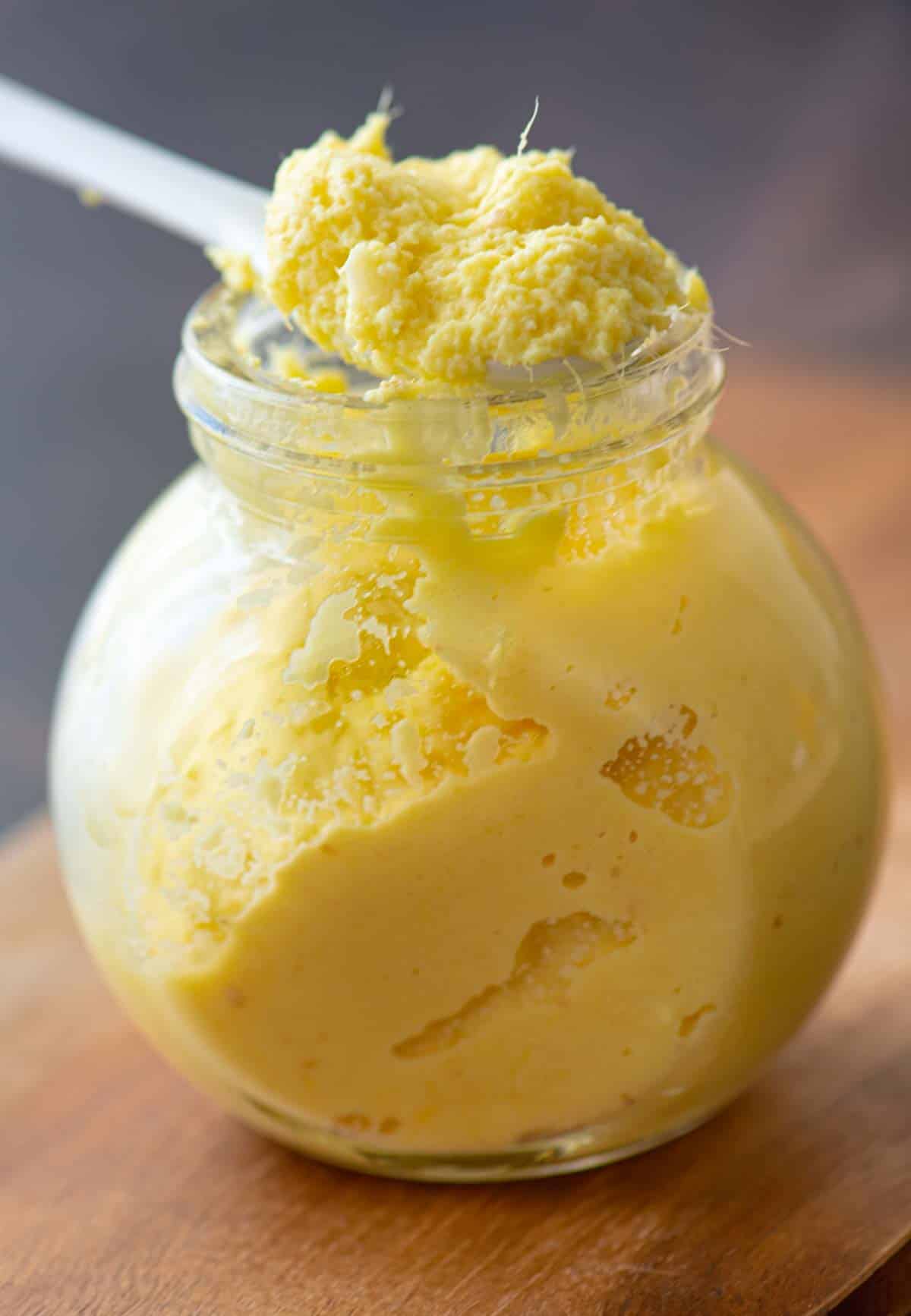 Why should I make ginger garlic paste at home?
Healthier and fresher than store-bought ginger garlic paste, which contains additives
Super convenient, keep a small batch of ginger-garlic paste handy in the fridge, and use it for so many Indian recipes - from curries to appetizers to rice dishes such as biryani.
Adds so much flavor to a dish, helps in tenderizes meat dishes, and is also good for digestion
Ingredients
To make ginger garlic paste, you will need:
Organic ginger
Garlic cloves
Vegetable oil - Use any neutral vegetable oil (such as sunflower oil)
How to make garlic ginger paste at home
Start by peeling the ginger and garlic. I find it easiest to peel ginger with a paring knife - you can also peel it with a teaspoon by scraping the teaspoon along the skin. Another option is to simply leave the skin on (use organic ginger if you want to leave the skin on). Wash the ginger thoroughly and then use it.
For making ginger garlic paste, I prefer to use more ginger than garlic . I have used 200 grams of peeled ginger and 150 grams of peeled garlic to make this recipe.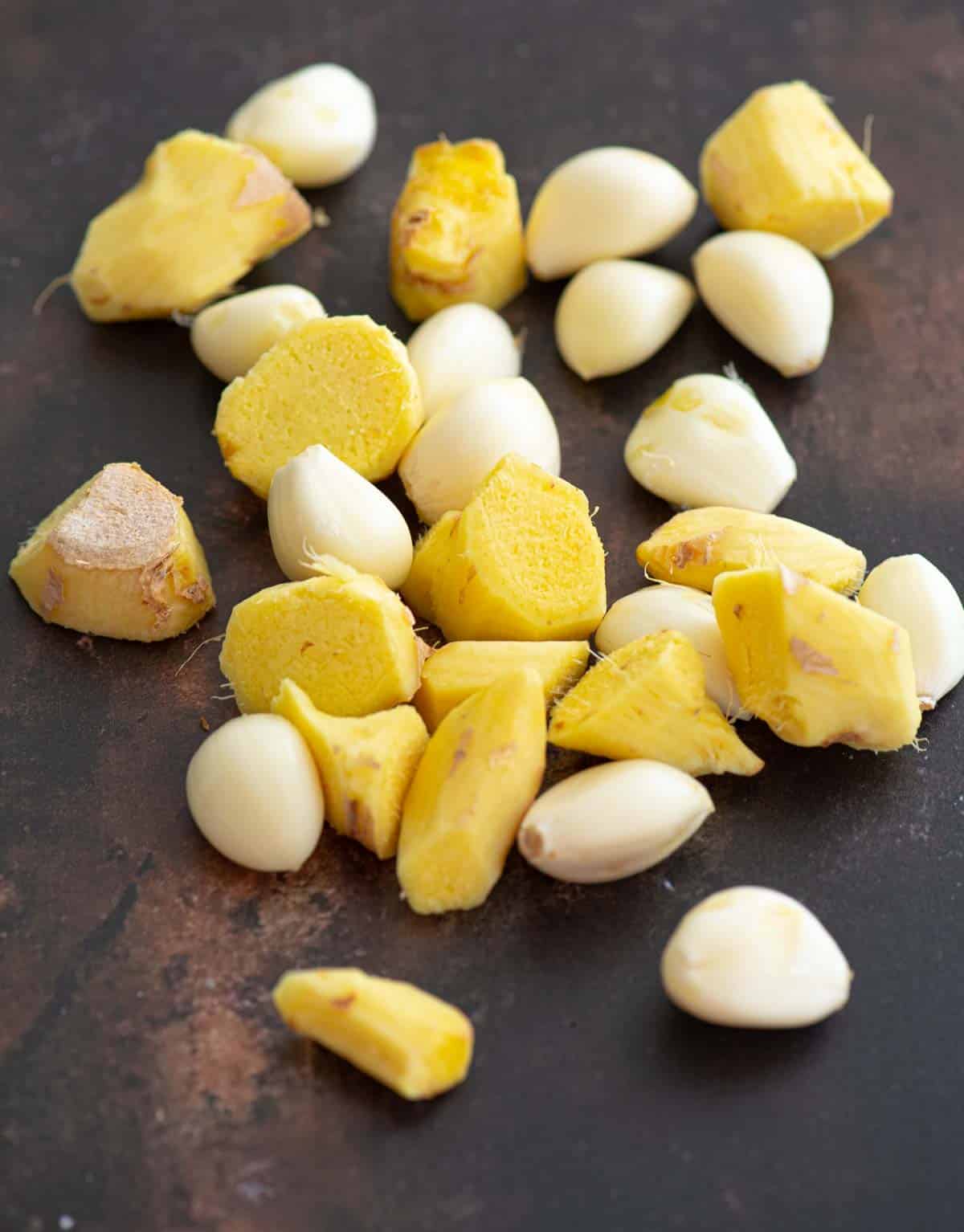 Add the peeled ginger and garlic to a blender jar. Add a teaspoon of vegetable oil. Blend until you have a uniform paste.
How to store Garlic Ginger Paste
Now you could either transfer the garlic ginger paste into an air-tight glass jar to store in the fridge or transfer the paste to an ice cube tray to freeze in the freezer.
I kept half the batch in the fridge in a glass jar and transferred the rest into an ice cube tray to freeze. After the ginger garlic paste is frozen overnight, you can transfer the cubes into a ziplock back and keep the bag in the freezer. This will keep for several months.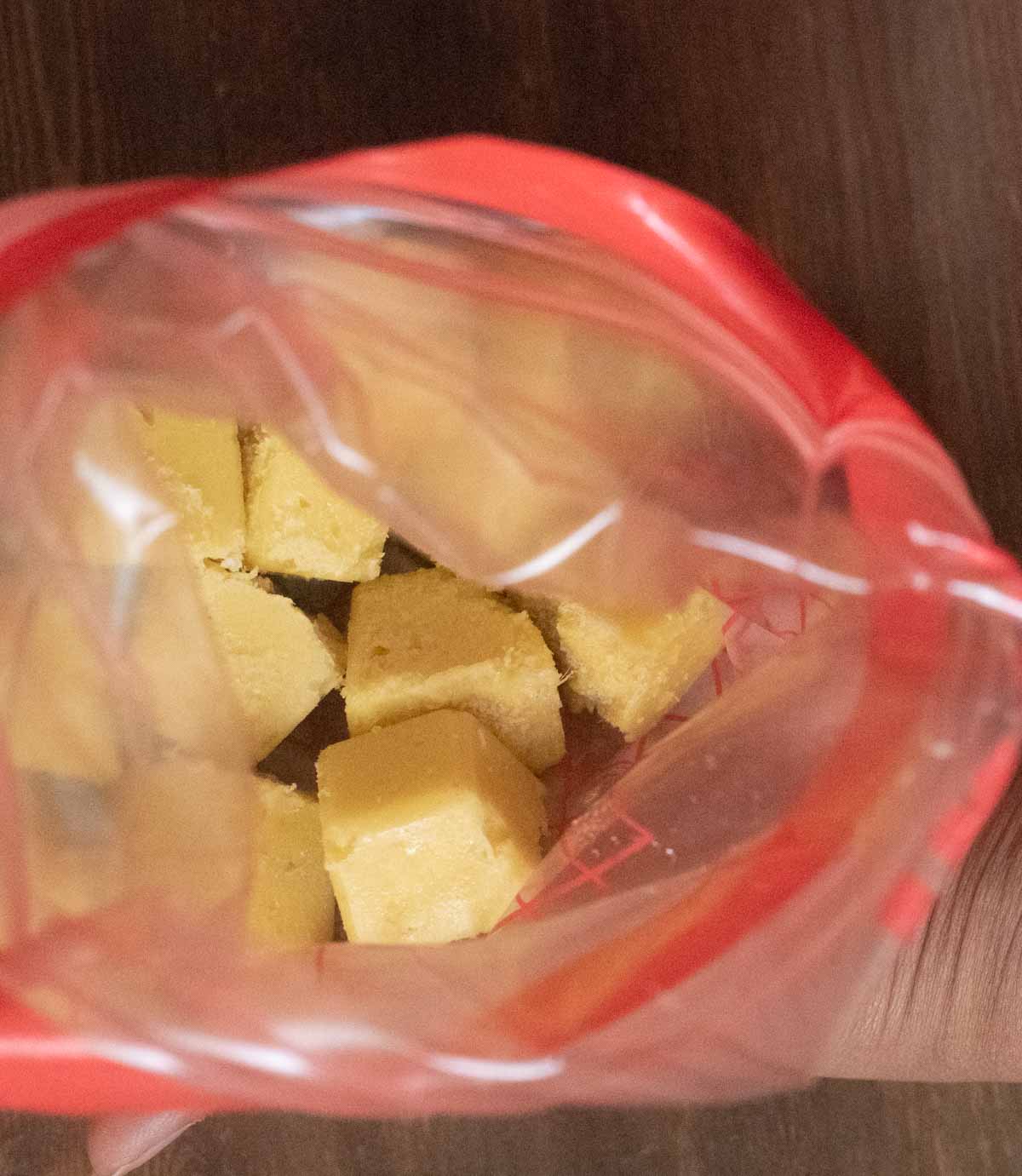 Use ginger garlic paste as needed add a teaspoon of paste as needed to your recipes, you can also a frozen cube of ginger garlic paste to your curries without the need for thawing it in advance.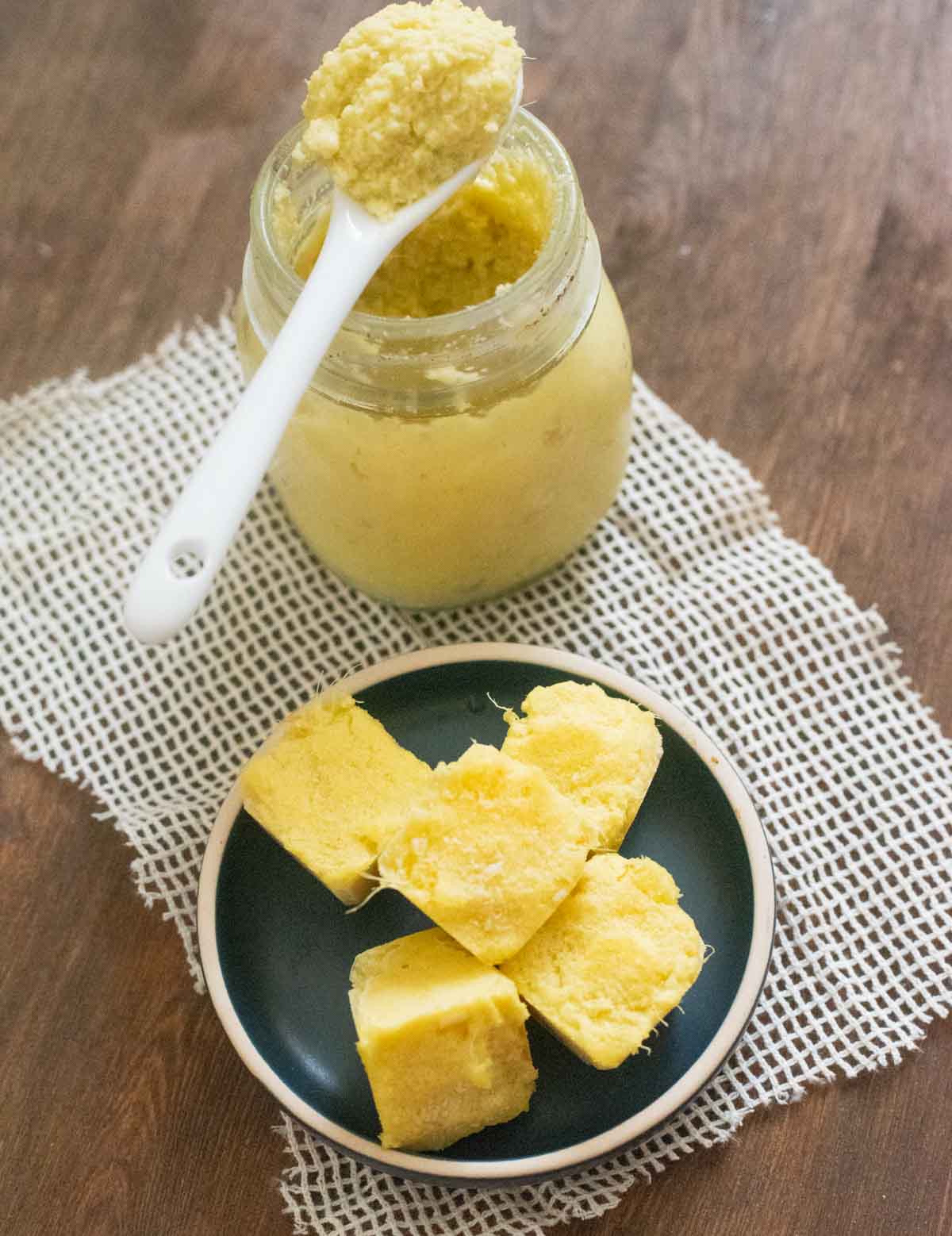 Frequently Asked Questions
What is ginger garlic paste used for?
Ginger garlic paste is used for tenderizing ingredients and giving them an added depth of flavor. It used to form the base of many curries and stews. Most recipes will call for adding it at the beginning of the recipe, along with other aromatics. Take a look at this recipe for Chicken Korma, where the chicken pieces are marinated in ginger garlic paste before adding it to cook in the gravy.
How long does ginger garlic paste last?
Ginger garlic paste can stay for up to three weeks in the fridge if kept in an airtight glass jar. You can also transfer the paste to an ice cube tray and freeze it for several months. Transfer the frozen cubes into a ziplock bag for easy access.
What can I use instead of ginger garlic paste?
Ginger garlic paste is a handy substitute for recipes that call for both ginger and garlic. You can use either pounded or minced fresh ginger and garlic in recipes that call for ginger and garlic. Do not use ginger or garlic powder as a substitute are they are not as potent.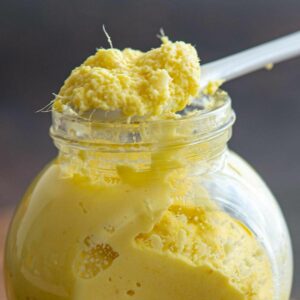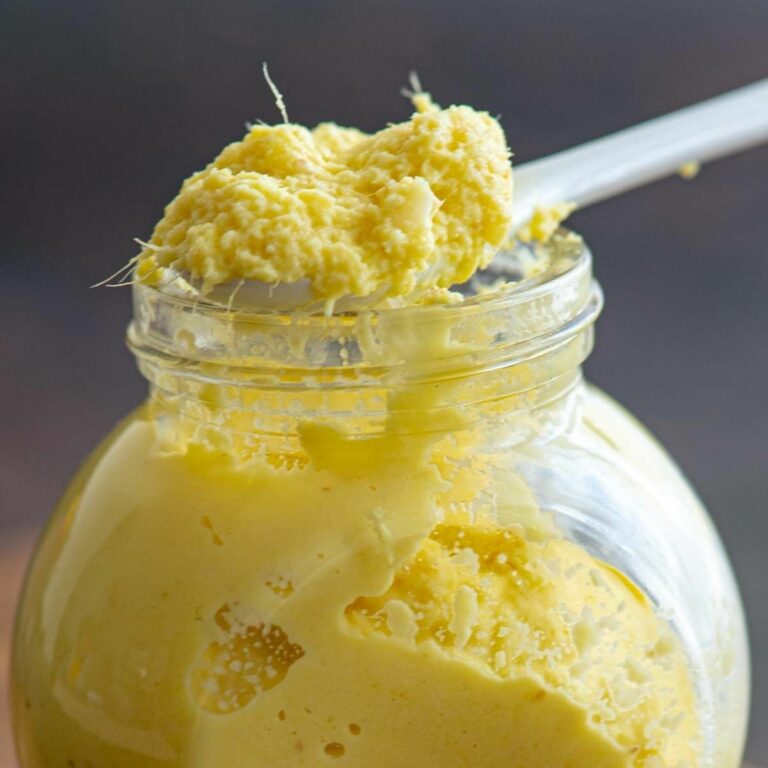 Ginger Garlic Paste
Ginger and garlic paste is used for adding flavor to most Indian recipes. Use it to form a base for curries or for marinades.
Ingredients
200

grams

Ginger root

see notes

150

grams

Garlic

1

tsp

vegetable oil
Instructions
Peel the ginger root (or leave the peel on if you are using organic ginger root), peel the garlic. Rinse and pat dry.

Add the ginger, garlic, and oil to a blender jar.

Blend until it forms a uniform paste. There is no need to add water.

Transfer to an airtight glass jar or to ice cube trays to freeze.
Notes
You can also keep the ginger peel on if you are using organic ginger. Make sure the ginger root is rinsed well with water before using it.
You can add salt to the ginger and garlic paste, however, it is not necessary. Oil and salt both act as preservatives and keep the paste for longer.
Nutrition
Calories:
14
kcal
Carbohydrates:
3
g
Protein:
1
g
Fat:
1
g
Saturated Fat:
1
g
Sodium:
2
mg
Potassium:
48
mg
Fiber:
1
g
Sugar:
1
g
Vitamin A:
1
IU
Vitamin C:
2
mg
Calcium:
10
mg
Iron:
1
mg