Mulled wine or Glühwein is made with red wine simmered in whole spices, citrus, sugar, and served hot. It is popular across Christmas markets in Europe and around the world.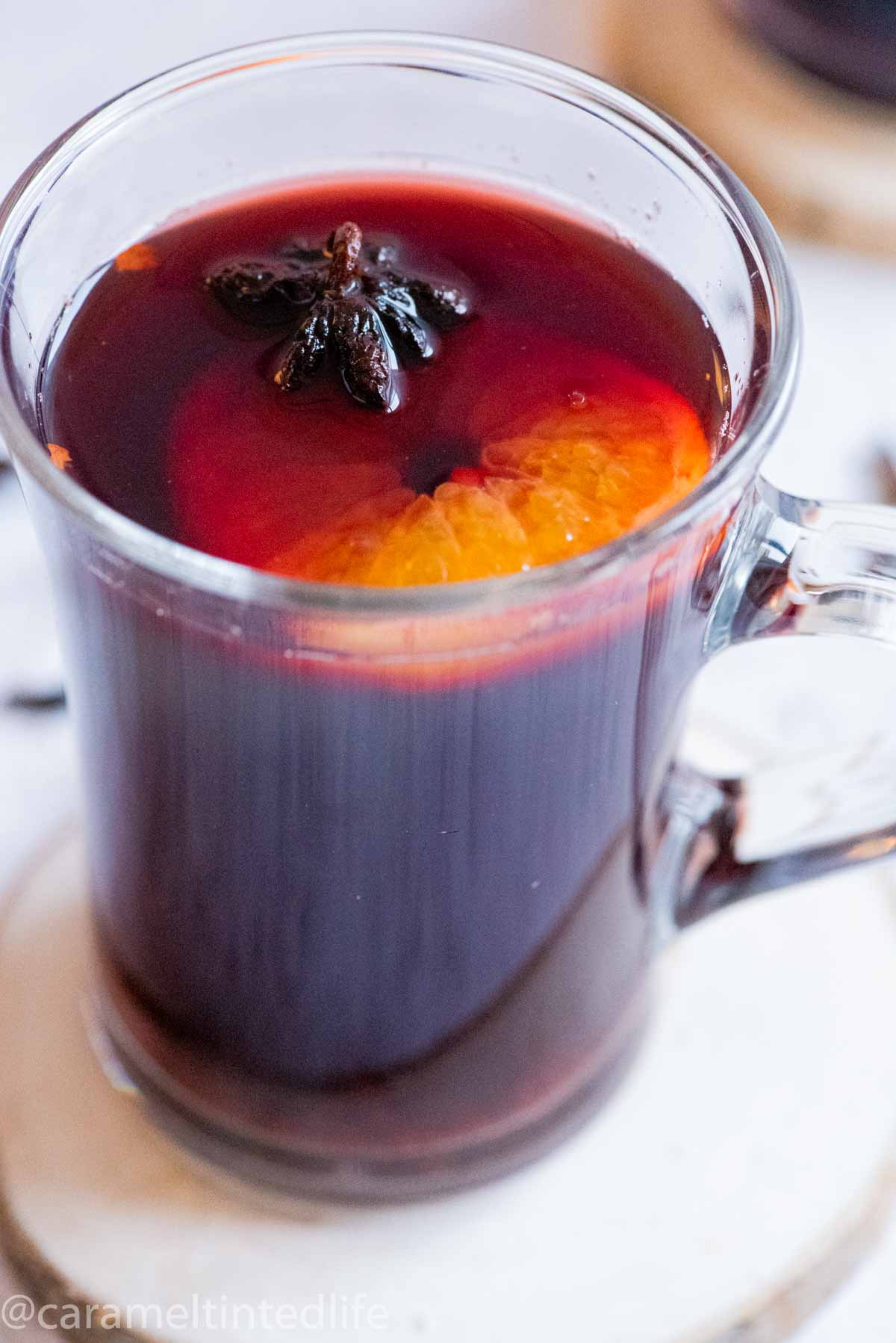 In my 7 years of living in Europe, no Christmas has been complete without a stroll through the Christmas markets, jostling the crowds, worming up myself with a steaming-hot cup of gluhwein, eating some of my Christmas markets favorites – Raclette, Älplermagronen, roasted chestnuts, etc.
All Christmas markets are truly special, but the ones in Zurich are particularly special to me. The 'Weihnachtsdorf' or the Christmas village in Zurich, by the lakeside, has something of a magical quality about it.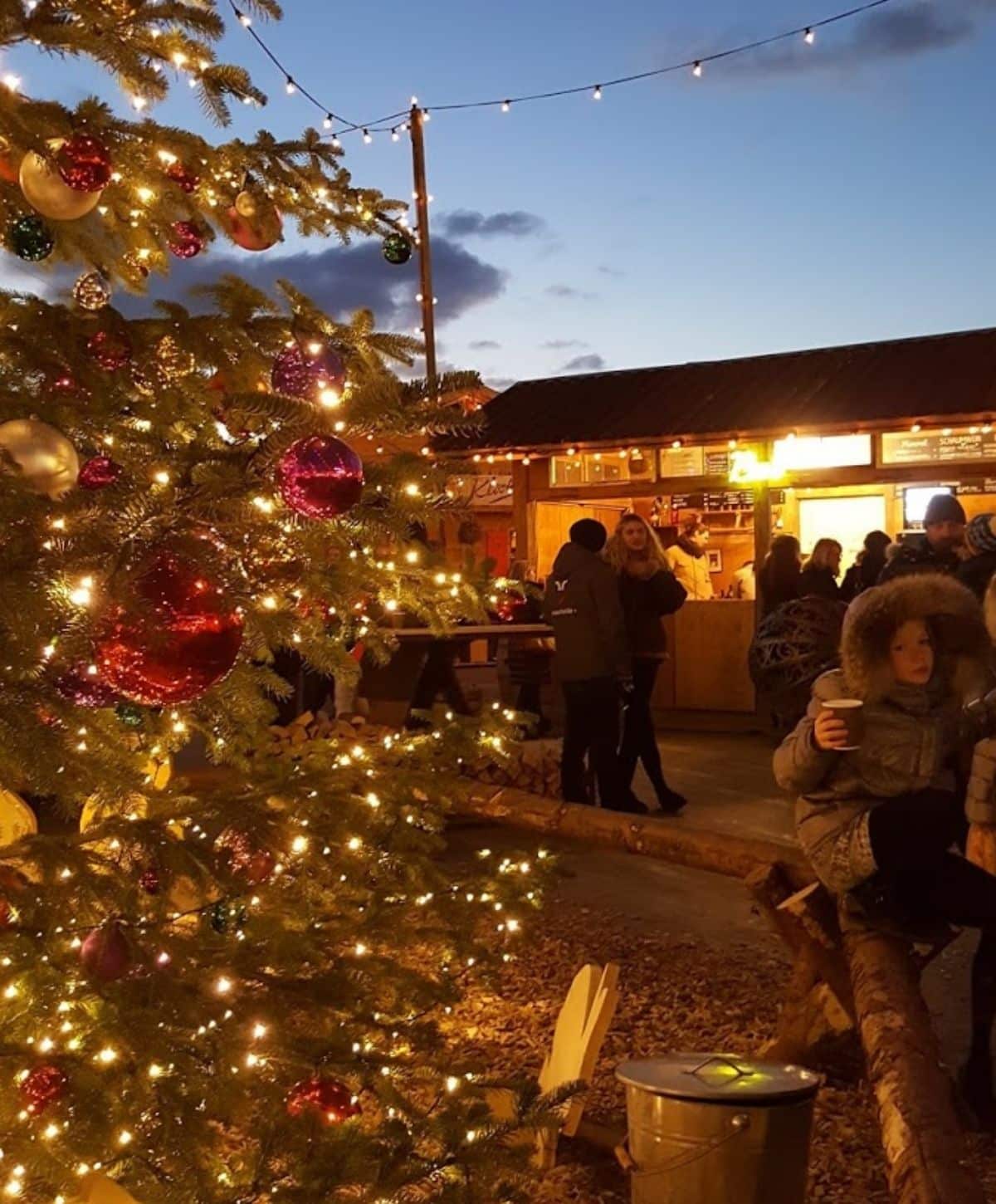 The wooden fondue huts, rustic wooden benches, local vendors selling hand-crafted ornaments and gifts, artisanal meat and sausages, along with the food vendors who serve up some of the best street food I've had in Zurich. The highlight for me, each year, is the 'singing Christmas Tree' - a choir of school kids who sing popular and traditional carols, just off the high street. This being a one-of-a-kind year, the Zurich Christmas markets are conspicuous by their absence.
Gluhwein is an integral part of Christmas markets around the world, but especially so in Europe. Here, you can have your Gluhwein 'mit schuss' - or 'with a shot' - spiked Gluhwein with run or vodka. The larger Christmas markets dole out gluhwein in ceramic mugs that you pay a deposit for and return or choose to keep (these mugs are perfect keepsakes, we love collecting them from different markets!).
I love adding small, yet significant rituals each year to our Christmas celebrations. This year, we began a new ritual of having family raclette dinners at home to rekindle some of that Christmas market charm. For many years now, we have been making several batches of gluhwein at home during the month of December, a tradition that we have slowly incorporated into our Christmas celebrations over the years.
Homemade gluhwein is so easy to make, and if you are using a crockpot or Instant Pot, you can make a large batch and keep it warm, and keep refilling your cup with hot gluhwein. Make yourself a batch, pour yourself a cup, and warm up this winter with your favorites Christmas songs on loop!
Why this recipe works:
Easy to make, very little prep involved
Made with inexpensive ingredients – no premium wine necessary
Easy to customize – add more whole spices or add liqueur or rum or brandy – there's no strict rules!
Bonus - Makes your house smell so good!
List of Ingredients
To make gluhwein, you will need: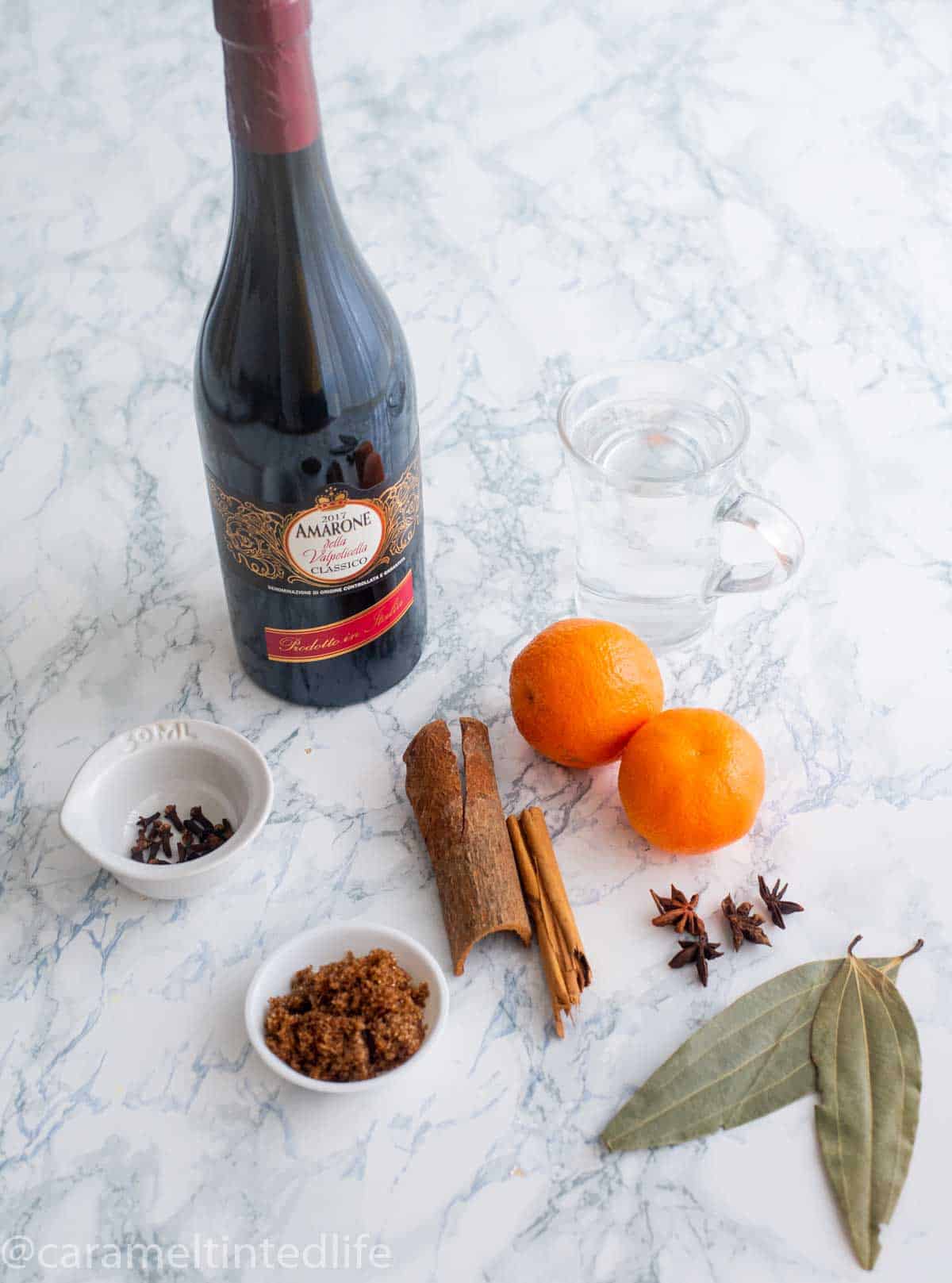 Red wine – Use any red wine of your choice, I like using local wines such as Valpolicella Ripasso or even Pinot Noir or Cabernet Souvignon. Other wines that are well suited for gluhwein are Zinfandel, Merlot, etc.
Whole Spices – This is my preferred combination of spices for making mulled wine – Cinnamon stick, whole star anise, cloves, and bay leaves. On occasion, I also add cardamom pods, whole black pepper, nutmeg and sometimes, ginger (which makes it spicier but is so good for your gut and immunity, like this ginger-lemon tea)
Oranges – I used clementine for this recipe, but you can use regular oranges as well.
Brown Sugar – Although white sugar or even honey can be used as a sweetener, I prefer brown sugar for the added hit of molasses.
Step-by-Step Recipe
Start by add water to the Instant Pot. Add the whole spices and zest and juice of two oranges. Bring to a simmer and cook in Saute mode for 5 minutes, or optionally, Pressure Cook at '0' minutes, and let the pressure release naturally. On the stovetop, simply add the ingredients to a large saucepan and bring to a simmer. Keep cooking for 5 minutes.
After the pressure valve comes down, open the lid, and add wine. Switch to Saute mode, and continue to cook for 2 minutes. Just when the wine starts to bubble, turn off the Saute function and switch to 'Keep Warm' mode.
Serve the gluhwein hot, with a soup ladle. You can keep the Instant Pot in Keep Warm mode until all the gluhwein is served.
Expert Tips
Use a separate sealing ring for the Instant Pot - If you are using an Instant Pot, I recommend you use a separate sealing ring to pressure cook desserts and non-savory dishes. I keep a white separate sealing ring for desserts and non-savory cooking and use a red sealing ring for all savory cooking. This simple system helps me keep my desserts from smelling of spices and masalas!
Do not over-cook the red wine - Do not boil the wine else the alcohol will evaporate, and the drink will lose its potency! Turn off the Instant Pot or saucepan (on the stovetop) as soon as you see the gluhwein start to bubble.
Customize your Gluhwein - For an extra spicy kick, add fresh ginger, cardamom, black pepper, or nutmeg. Add vanilla extract or vanilla pod for more flavor, or raisins and honey instead of brown sugar for sweetness. Or you could add rum or vodka or brandy and take it up a notch. Gluhwein is very customizable!
FAQ's
What's the difference between mulled wine and Gluhwein?
Gluhwein (or more correctly, Glühwein), is the same as mulled wine, there is no real difference. Mulled wine is the British term for the German 'Glühwein', and the same drink is also known as vin chaud in France and in the Nordic countries, Glögg. There are several variations of the drink all over Europe, although the basic recipe (red wine + whole spices + citrus) remains the same.
What is the best wine for Gluhwein?
Use any variety of red wine that you have on hand or that you like. I recommend using a budget brand, instead of a premium variety. I use local Valpolicella Ripasso - a wine that I like to drink on its own, or even Cabernet Sauvignon. You can also use Shiraz, Pinot Noir, Merlot, or Malbec. There is no strict rule here.
Can you reheat mulled wine?
I have never had an instance of leftover mulled wine/ Gluhwein! However, if you happen to have some leftover mulled wine on hand, simply store it in the refrigerator and to reheat it in a saucepan, cook on low-to-medium heat without bringing it to a boil.
More Winter recipes for your Instant Pot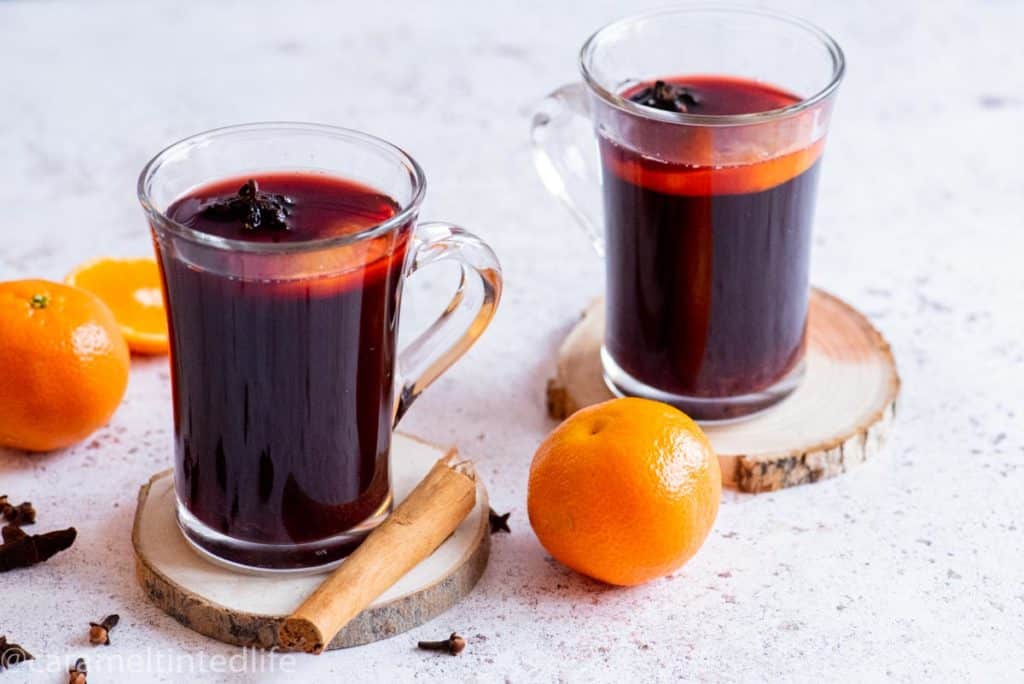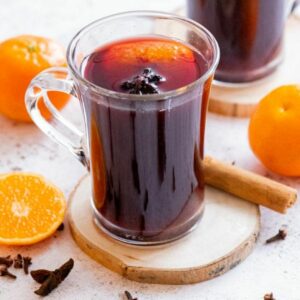 Gluhwein (mulled wine)
Mulled wine or Glühwein is made with red wine simmered in whole spices, citrus, sugar, and served hot. It is popular across Christmas markets in Europe and around the world.
Ingredients
750

ml

Red Wine

(See notes)

1¼

cups

Water

2

Oranges

Juice and Zest

2

Cinnamon Stick

10-15

Cloves

2

tbsp

Dark brown sugar

Or use light brown sugar

2-3

Star Anise

pinch

Nutmeg

(Optional)
Instructions
Instant Pot Method
Add the water to the Instant Pot, followed by the whole spices and zest and juice of 2 oranges.

Seal the lid of the Instant Pot, and Pressure Cook for '0' minutes. Let the cooking cycle complete and let the pressure valve come down on its own.

Open the lid of the Instant Pot and add the red wine and brown sugar. Stir to dissolve sugar.

Switch to Saute mode and bring to a simmer. Once the liquid starts to bubble, hit 'Cancel' and then switch to 'Keep Warm' mode.

Keep the IP on 'Keep Warm' mode until all the gluhwein has been served.
Stovetop Method
In a large sauce pan, add the water followed by the whole spices and zest and juice of 2 oranges.

Let the water come to a boil, reduce the heat and simmer for 4-5 minutes.

Add the red wine and the brown sugar and store to dissolve. Simmer.

Once the liquid starts to bubble, reduce the heat to low and serve the gluhwein hot.
Notes
Do not cook the red wine for too long, as the alcohol will evaporate and the drink will lose its potency. Just simmer until it bubbles and then serve hot.
Use any red wine of your preference - stick to a budget brand, there is no need to invest in a premium wine!
Use organic oranges as we will be using the zest. Make sure you do not use grate the pitch of the orange else it will be slightly bitter.
Optional spices that you can add: Cardamom, Nutmeg, Ginger, all-spice, black pepper.
Honey can be used to replace brown sugar
Nutrition
Calories:
220
kcal
Carbohydrates:
21
g
Protein:
1
g
Fat:
1
g
Saturated Fat:
1
g
Sodium:
15
mg
Potassium:
357
mg
Fiber:
3
g
Sugar:
13
g
Vitamin A:
147
IU
Vitamin C:
35
mg
Calcium:
70
mg
Iron:
1
mg