Matar Paneer aka Mattar Paneer masala is a deliciously rich curry made with cubes of paneer and peas cooked in a tangy, spicy, flavor-packed gravy. It pairs best with rotis (Indian flatbread) or Naan.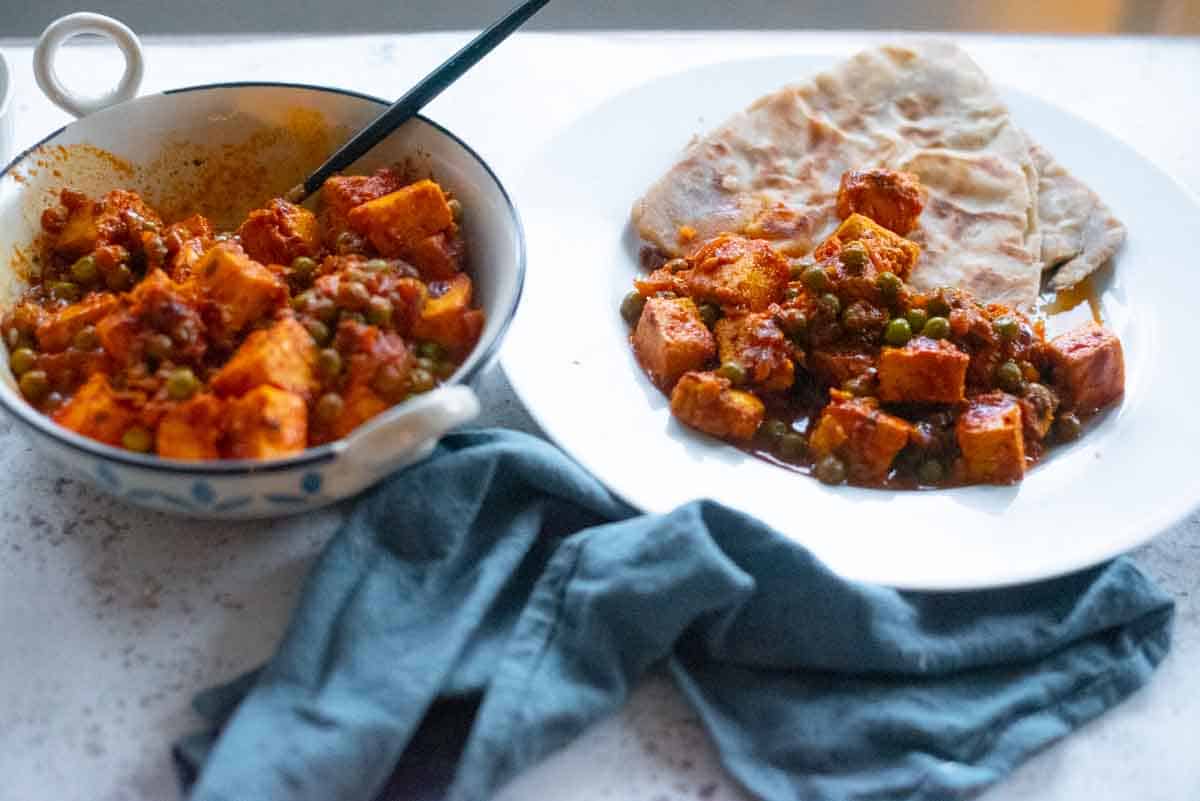 At most wedding buffets and restaurants, it is common to see mattar paneer on the menu. It's a caterer's favorite - everyone loves it, and it's also super easy to make, with very little active prep involved - literally the only chopping necessary here is to cut the block of paneer into cubes and dice the onions.
With a flavor base similar to Aloo Matar, this dish is a mix of tangy, spicy, slightly sweet, and salty flavors with a richness that comes from the Paneer. Another popular paneer recipe that is always on restaurant menus, Paneer Tikka Masala, is usually made with either cashew or almond paste which gives the gravy richness. However, Mattar Paneer is milder, with a gravy made with mostly tomatoes and onions, and no nuts or added dairy.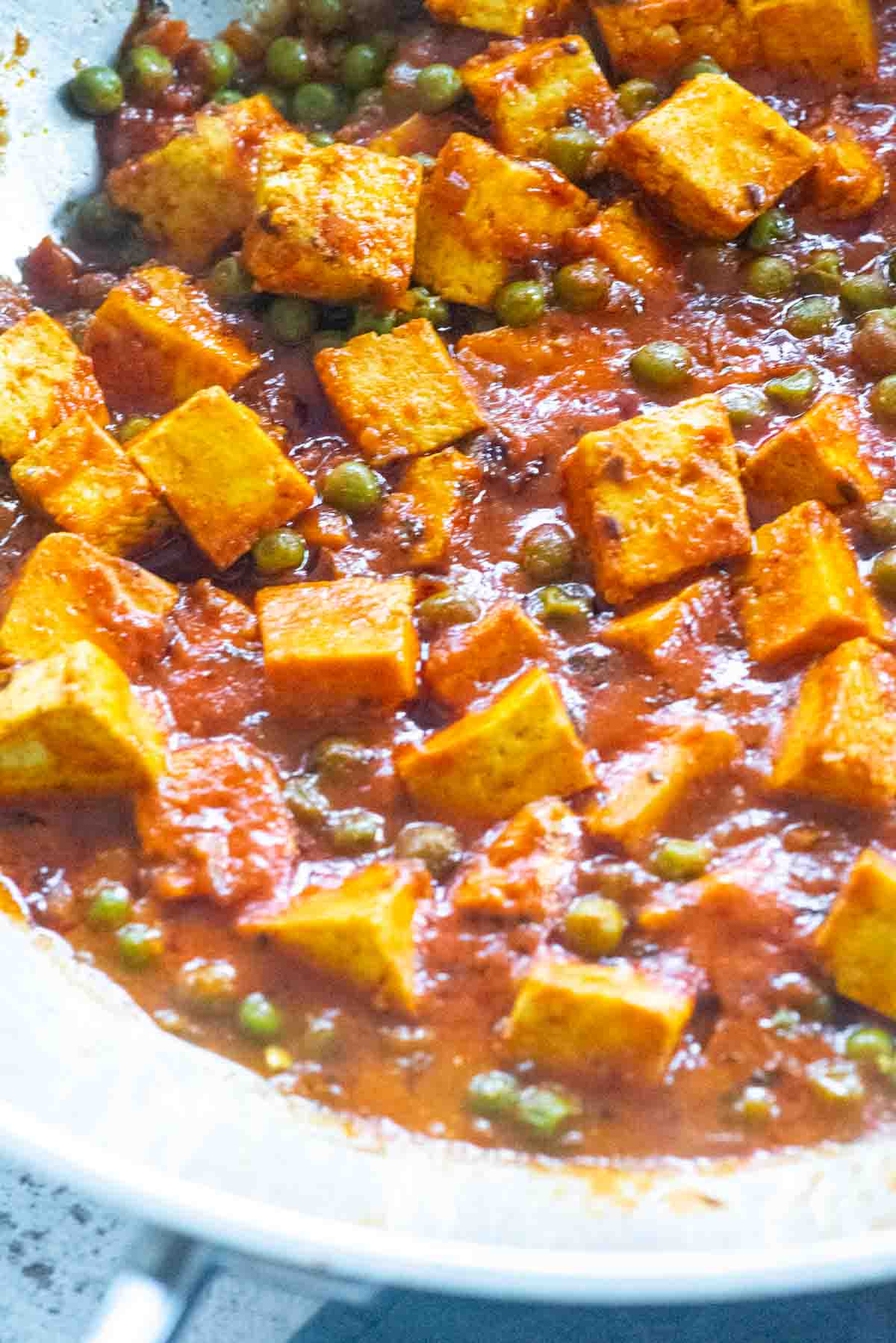 How to make Matar Paneer (step-by-step)
To begin, start by dicing the onions and keep them aside. Chop up the paneer into bite-sized cubes. If you are using fresh ginger and garlic and not ginger garlic paste, grate the ginger and garlic and keep aside.
In a wok, heat vegetable oil, or you could also use ghee for more flavor. Add the ginger and garlic and fry until aromatic (under 1 minute). Then add the chopped onion and whole cumin and saute until the onion is translucent.
Then add the tomato puree, and a splash of water to think out the puree. You could also use fresh, diced tomatoes instead of puree. If using fresh tomatoes, cook them until they are soft and mushy.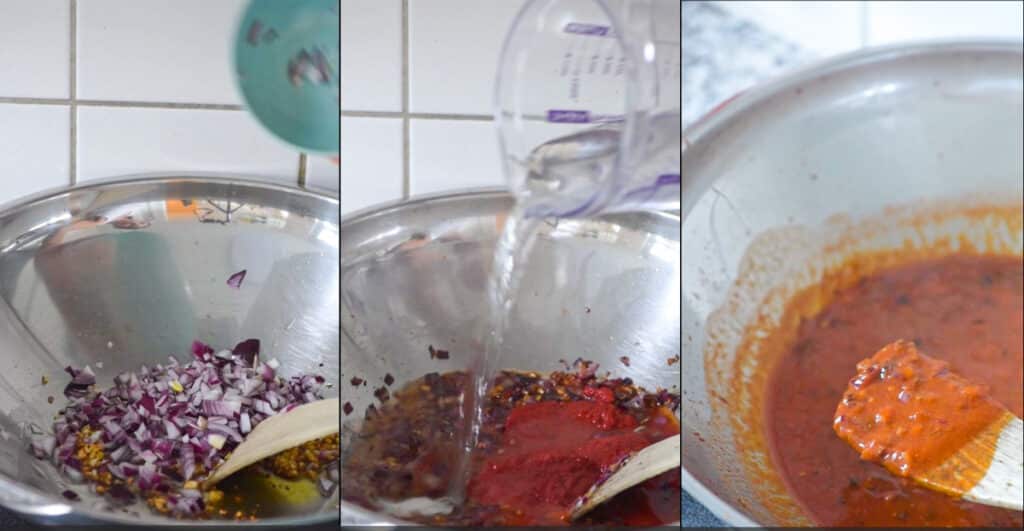 Add the spice powders, frozen peas. In the palms of your hands, crush the kasuri methi (dried fenugreek leaves) and add them. Add the cubes of paneer and mix well. Season with salt.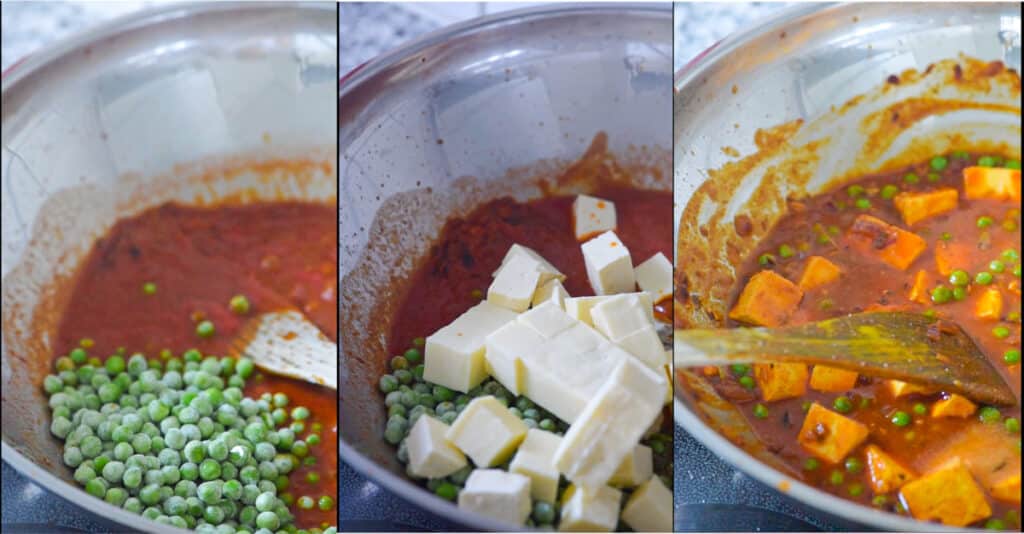 Add water if needed, to think out the curry. Over the wok with a lid and let the curry simmer for 8-10 minutes on medium heat. Serve warm, with rotis or parathas or naan.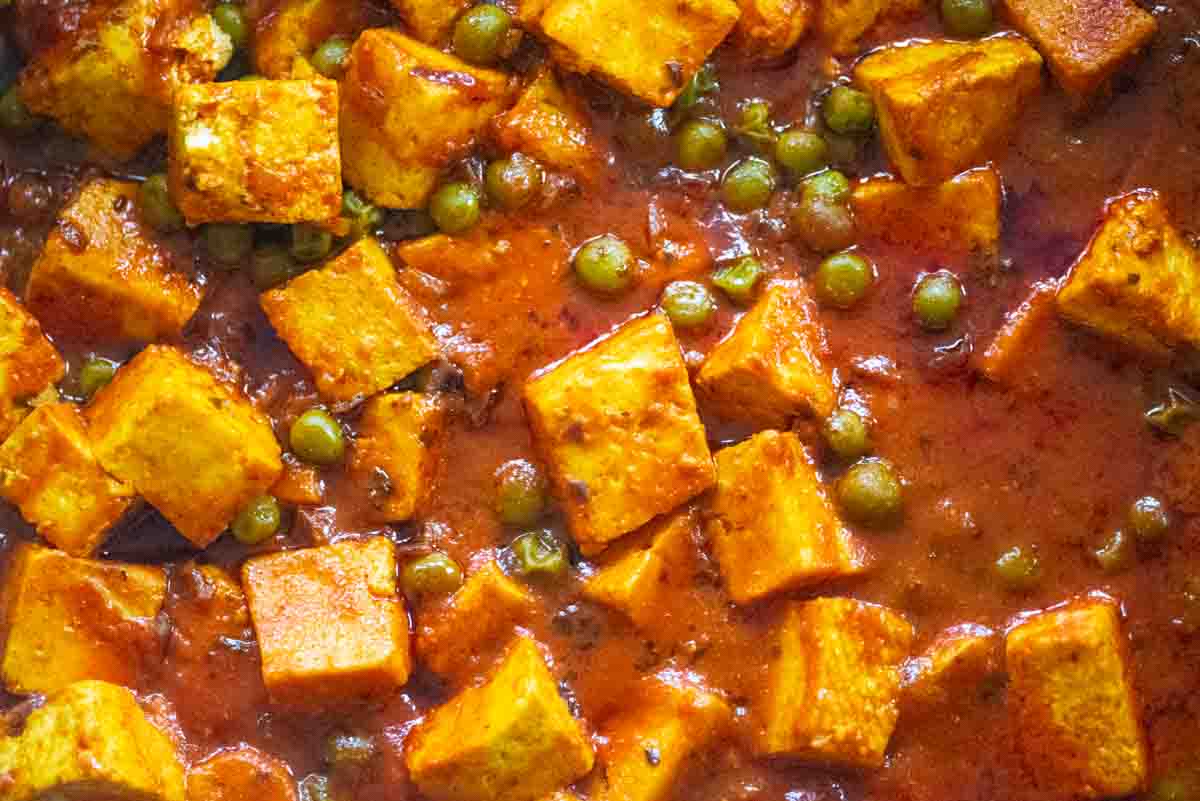 Are you a fan of Paneer? Try making our Kadai Paneer recipe or try making Paneer Pizza at home!
Ingredients, notes, and substitutions
To make this easy Mattar Paneer recipe, you will need the following ingredients:
Paneer - I get blocks of paneer from my local Indian grocer. To make your paneer extra soft, here's a tip - soak the block of paneer in warm water for 30 -40 minutes before you cook it. After soaking, drain the water, squeeze the paneer between kitchen paper to absorb excess water, and then use the paneer as needed in the recipe. For a vegan version of this recipe, you could also use Tofu instead of paneer to make matter tofu masala.
Peas (Matar / Mattar) - Frozen peas work perfectly well for this recipe. Preferably, look for the organic large frozen peas in your supermarket.
Tomatoes - I prefer to use a good quality tomato puree for my recipe. I find this more convenient, and also concentrated in flavor as compared to fresh tomatoes. You can, of course, fresh tomatoes instead of puree. Diced tomatoes will need to be be cooked until mushy, before adding the matar and paneer.
Ginger and garlic - For most Indian recipes, I find it handy to keep a jar of homemade ginger garlic paste to use as needed. As an alternative, you can also freshly grate ginger and garlic to use for this recipe.
Spices - You will need Garam Masala, Haldi (Turmeric powder), Kashmiri Red Chili powder, and whole cumin seeds for this recipe.
Kasuri Methi - Kasuri methi or kasoori methi are dried fenugreek leaves. Sprinkle it into curries that use dairy or cashew paste and it will balance out the richness with a slightly earthy, bitter taste. You will find kasuri methi at all Indian grocery stores.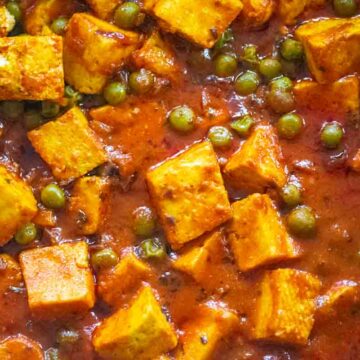 Matar Paneer aka Mattar Paneer Masala
Matar Paneer or Mattar Paneer Masala is made with cubes of paneer and peas simmered in a tangy, mildly spicy curry.
Instructions
Start by prepping the ingredients. Chop the paneer into cubes, and finely dice the onion.

In a wok or kadai, heat vegetable oil. Add the ginger garlic paste and saute for a minute until aromatic. Add the chopped onion and whole cumin (jeera) and saute until onion turns translucent.

Add the tomato puree, along with 1/2 cup water, mix and simmer on medium heat for 2 minutes.

Add the spice powders, followed by peas.

Crush the kasuri methi in your palms and add it.

Finally add the paneer, followed by salt to season.

Mix it all well, and if the gravy is too thick, add a little water.

Cover with a lid, and let it simmer for 8-10 minutes.

Once the gravy is cooked, serve it hot with rotis or parathas or naan.
Nutrition
Calories:
424
kcal
Carbohydrates:
14
g
Protein:
21
g
Fat:
32
g
Saturated Fat:
19
g
Polyunsaturated Fat:
0.2
g
Monounsaturated Fat:
0.1
g
Cholesterol:
83
mg
Sodium:
53
mg
Potassium:
301
mg
Fiber:
4
g
Sugar:
5
g
Vitamin A:
593
IU
Vitamin C:
20
mg
Calcium:
627
mg
Iron:
2
mg