Easy cashew chicken, served with jasmine rice, tastes absolutely delicious, and is a much lighter version of the original takeout Chinese recipe!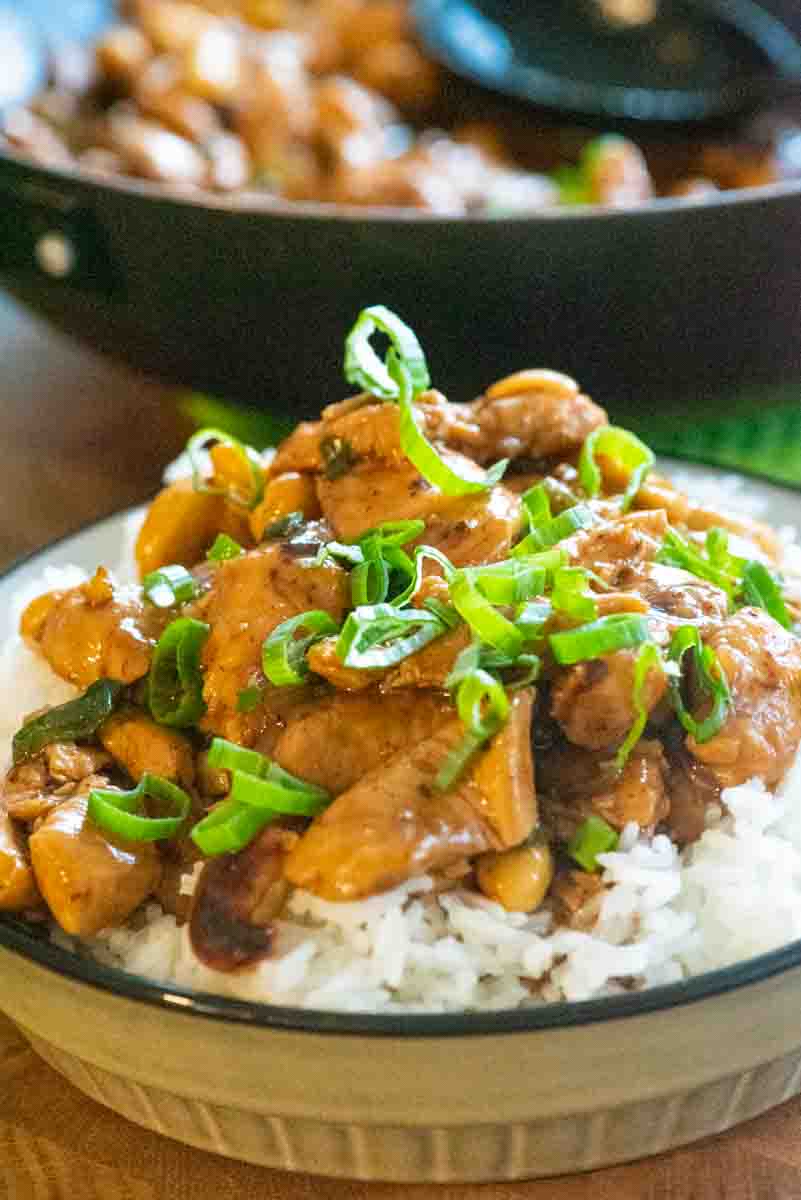 Raise your hands if you've ever trawled the internet, looking for a simply weeknight dinner recipe? Of course you have! We all have. Much as I like to make a nice and elaborate meal, and follow recipes that often begin with ' browning the onions' and approximately 20 steps later, end with 'layering the rice, meat and browned onions', I like keeping my weeknights simple. As do many of us.
I have a weakness for Chinese food, and back when we lived in India, Chinese takeout used to be a much-awaited Friday night meal, at the end of a hectic work-week.
In the Swiss town that we live in, Baden, there are a handful of Chinese takeaway places, none of which come anywhere close to the Chinese restaurants we were so content to order from, back in India. And Chinese takeout at Swiss prices - that's a story for another day. So, to summarize, Chinese take-out isn't really a viable option here. But the cravings need to be satisfied, and with a few pantry supplies, on a rainy day this week, this meal came together to satisfy all those longings for a nice little Chinese-inspired meal.
Here are a few tried and tested takeout-style dishes that we have came to love!
What do I need to make this Easy Cashew Chicken?
If your pantry supplies include soy-sauce, oyster sauce and rice vinegar, you don't have to stress a bit. Whip up a Chinese-takeout style cashew chicken in under 30 minutes, without breaking a sweat. Serve it with jasmine rice and sit back and enjoy a delicious meal.
A healthier version of takeout cashew chicken
This easy cashew chicken is also pretty good for you. Now I'm no nutrition expert, but it has chicken, veggies and nuts. And rice. And its made with low-sodium soy sauce. That makes it healthy enough in my books!
If you'd like more weeknight recipes with chicken, here are a few you could try. I guarantee they are delicious!
Chicken cooked in spinach (Saag Murgh)

Chicken with za'atar and pomegranate molasses
If you liked this recipe, do comment below and rate the recipe! If you make this recipe, please post a pic on INSTAGRAM -tagging @carameltintedlife and follow along on FACEBOOK and PINTEREST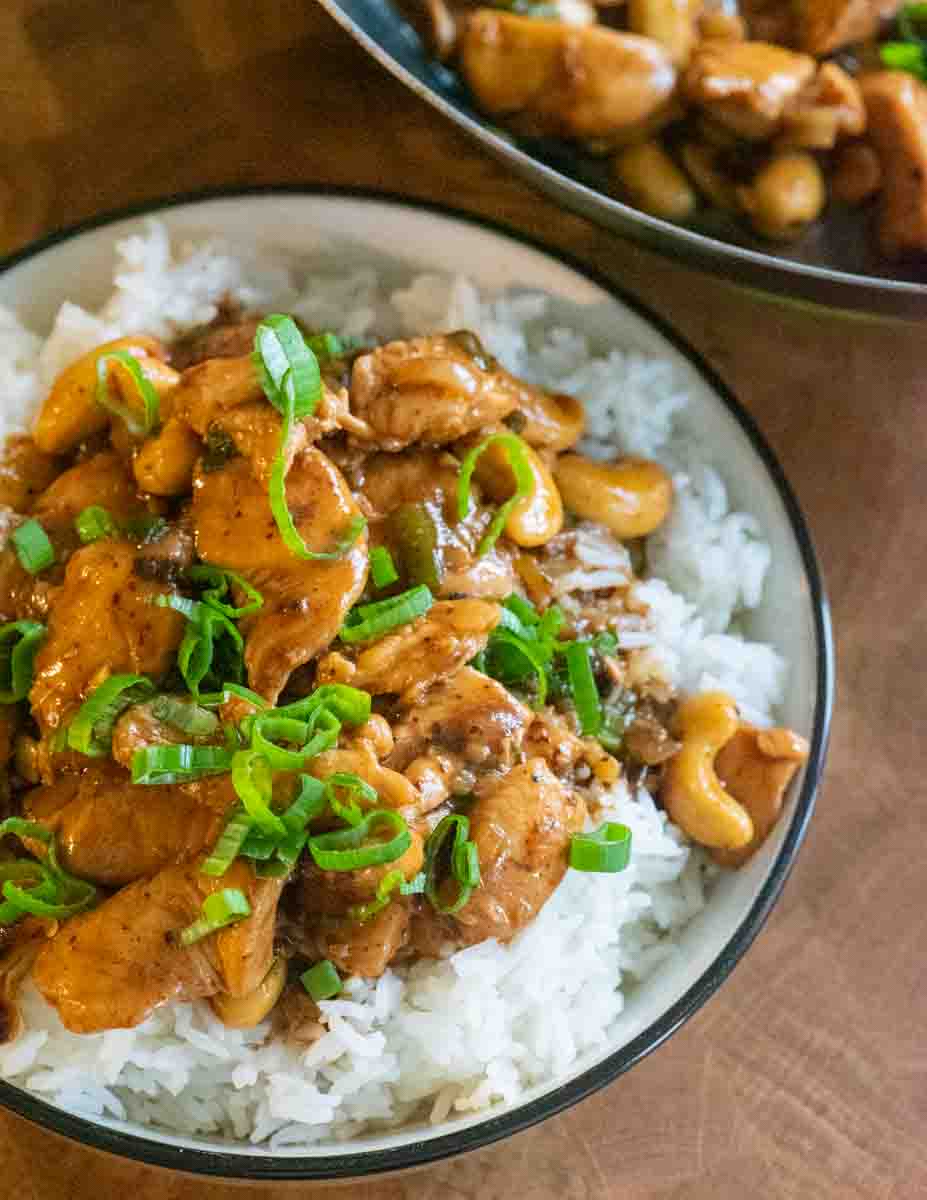 Easy Cashew Chicken
Easy cashew chicken, served with jasmine rice, tastes absolutely delicious, and is a much lighter version of the original takeout Chinese recipe!
Ingredients
20

lbs

(600 grams) skinless chicken breasts

cut into small cubes

2

large bell peppers

chopped into cubes

1/2

cup

peanut butter

1

tablespoon

finely chopped ginger

1

tablespoon

minced garlic

1

teaspoon

sesame oil

3/4

cup

cashews
For the sauce:
1

teaspoon

sesame oil

3

teaspoons

oyster sauce

3

teaspoons

low-sodium soy sauce

1

teaspoon

rice vinegar

1

teaspoon

honey

1

teaspoon

cornstarch
To serve:
Cooked Jasmine rice

cook as per instructions on the pack

2

scallions or spring onions
Instructions
Start by pre-heating the oven to 200C (390 F)

In a large mixing bowl, mix together the chicken cubes, chopped bell peppers, peanut butter, sesame oil, ginger and garlic. Give it a good mix, so that the chicken and the veggies are well coated with the condiments.

In a large baking sheet lined with foil, turn out the well-coated chicken and veggies, and bake for 5 minutes at 200 C (390 F).

After 5 minutes, take out the sheet. The juices from the chicken will be running in the pan. Give the chicken and veggies a good mix with a spatula, add the cashews and return to the oven. Bake for a further 5 minutes.

While the chicken, veggies and cashews bake, make the sauce.

Turn up the stove to medium heat and in a sauce pan, and all the ingredients listed under 'sauce'.

Give it a good stir and let it come to a simmer. Turn off the heat once it starts to simmer. The sauce would have thickened.

Once the chicken-veggies and cashes are done, take out the baking sheet and place on the counter top to let the chicken rest.

When you are ready to serve, combine the baked chicken, veggies and cashew nuts with the prepared sauce and serve with jasmine rice garnished with chopped scallions.
Notes
You could add more salt depending on your preference. The sauce has sufficient salt, as does the peanut butter and hence I choose to not add additional salt.
You could also top the chicken with some chopped peanuts and red chili flakes for added texture and spice.