Takeout-style cashew chicken is a much lighter version of the original takeout Chinese recipe! It tastes best when served over jasmine rice.
What is Cashew Chicken?
Cashew chicken is a popular dish in both Chinese and American cuisine that typically consists of stir-fried chicken, cashews, and vegetables in a savory sauce. It is said that the dish has its origins in the Hunan province of China and was brought to the United States by Chinese immigrants who settled in the Midwest. Today, cashew chicken is a staple on many Chinese restaurant menus in the United States and is also a favorite of home cooks looking for a quick and delicious meal.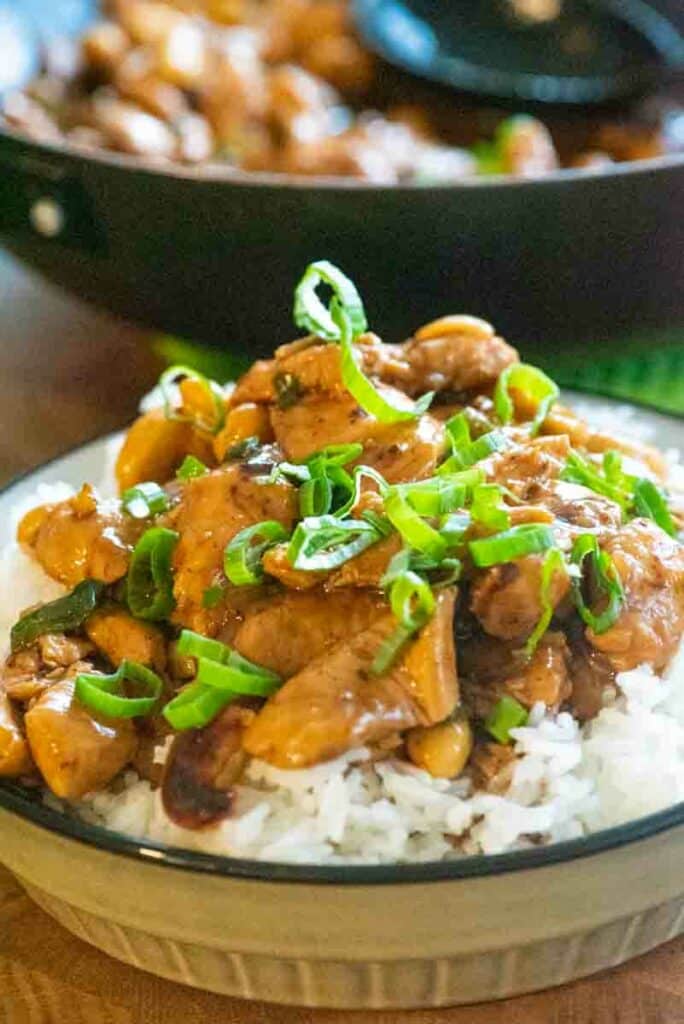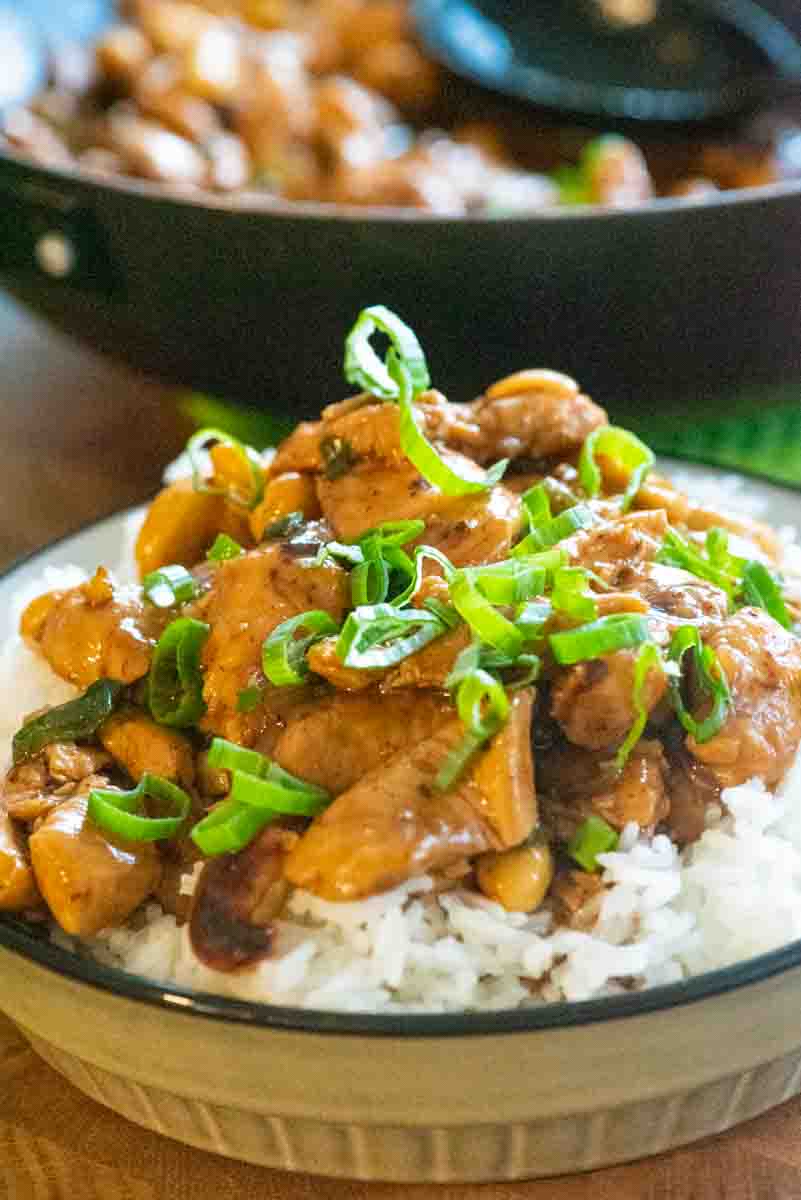 One of the reasons why cashew chicken has become such a beloved dish is its versatility. The combination of tender chicken, crunchy cashews, and a flavorful sauce can be adapted to suit a wide range of tastes and dietary preferences. For example, for a vegan cashew chicken version, you can substitute tofu for chicken. Additionally, you can spice up the dish by making the sauce with dried red chilies. I skip this, as I usually make a kid-friendly version, without the chilies.
You can easily substitute the vegetables used in the dish and change them depending on what is in season or what is available in the pantry.
Another reason why cashew chicken works so well is that it is relatively easy to make. The dish can be prepared in under 30 minutes and requires only a handful of ingredients. My version is a lighter take on the classic - there is no deep frying of the chicken pieces, instead, the chicken is sauteed in a wok. This doesn't compromise the flavor though!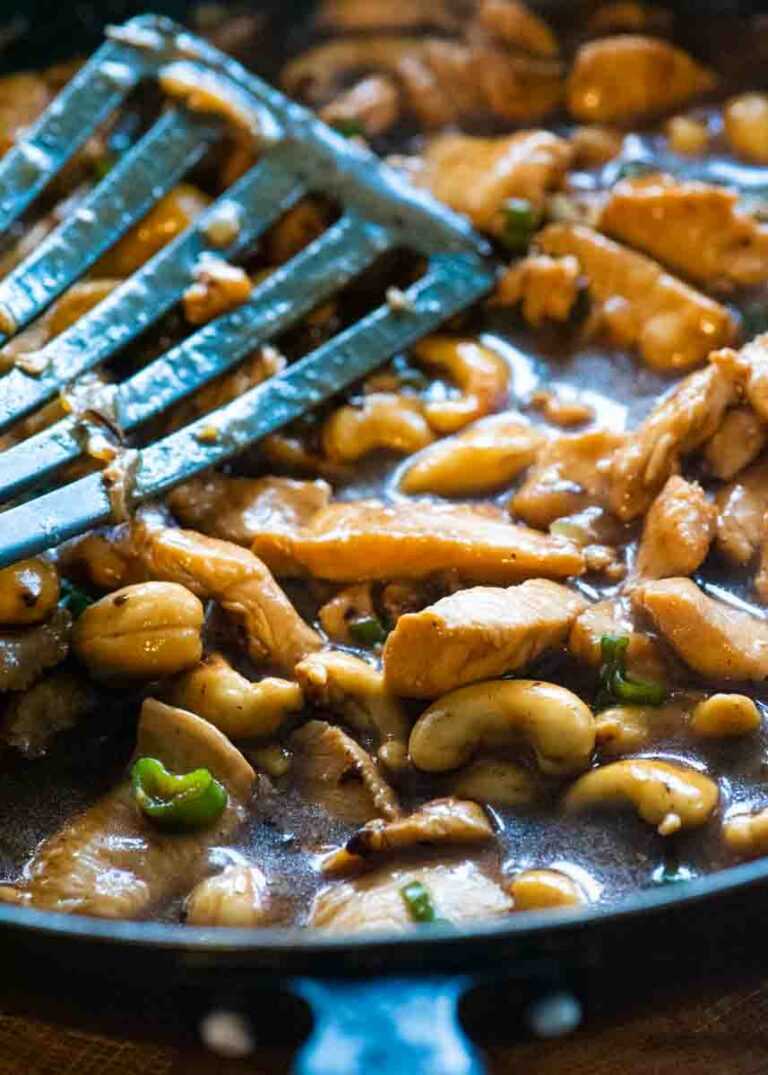 Ingredients and Ingredient Substitutions
If your pantry supplies include some essentials that can be used for making Chinese-style stir fry and sauces, then you probably are already set!
Ingredients for the sauce
Light soy sauce - For a gluten-free version, use Tamari sauce - a type of soy sauce that is similar in flavor to traditional Japanese soy sauce, but it is usually gluten-free and has a slightly richer taste. Tamari sauce can be used as a 1:1 substitute for light soy sauce.
Rice vinegar - Rice vinegar is a common ingredient used in Chinese cooking, and it is made by fermenting rice. It has a mild and slightly sweet taste, and it is less acidic than other types of vinegar. In Chinese cooking, rice vinegar is often used as a seasoning and a flavor enhancer. It is commonly used in marinades, salad dressings, and dipping sauces.
Hoisin sauce - Hoisin sauce is a thick, dark sauce commonly used in Chinese cuisine. It is made from a combination of soybeans, sugar, garlic, vinegar, and various spices, including star anise, cloves, and chili peppers. Hoisin sauce has a sweet and savory flavor with a hint of umami, and it is often used as a marinade for meat dishes, such as stir-fry, roasted meats, and barbecued ribs.
Oyster sauce - Oyster sauce is often used in stir-fry dishes, marinades, and as a dipping sauce for dumplings and other appetizers. It is also used as a seasoning in soups, stews, and noodle dishes. Its rich umami flavor can add depth and complexity to a variety of dishes.
Chicken broth (optional) - To enhance the flavor of the sauce, you can add chicken broth or bouillon to the sauce. This is entirely optional, but why skip the chance to sneak in some flavor?!
Other ingredients
Chicken - For the most flavorful cashew chicken, I prefer to use chicken thighs and not breasts. Chicken thighs are known for their rich, juicy, and flavorful meat. They have more fat than breast meat, breast meat, which helps to keep the meat moist and tender during cooking. The dark meat of chicken thighs also has a more intense flavor than the white meat of chicken breasts. It is also less likely to dry out during cooking than chicken breasts.
Cashews - Use unsalted raw cashews. These will be sauteed in the wok to make them crunchy before the sauces are added to the cashew chicken.
Cornstarch - Around 2 tablespoons of cornstarch help in thickening the sauce.
Sesame oil - Sesame oil has a distinct nutty and slightly sweet flavor that adds depth and complexity to stir-fry dishes, and adds that's distinct taste to Chinese stir fry. If you don't have sesame oil, you can substitute it with peanut oil, or any neutral oil of your choice.
Grated ginger and garlic - Use freshly grated ginger and garlic or, you could also make your own ginger garlic paste to store and keep. It comes in handy for so many Asian recipes.
If you liked this recipe, do comment below and rate the recipe! If you make this recipe, please post a pic on INSTAGRAM -tagging @carameltintedlife and follow along on FACEBOOK and PINTEREST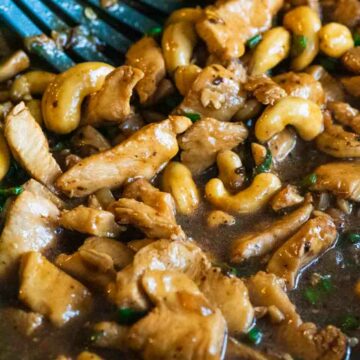 Takeout Style Cashew Chicken
A lighter version of the original takeout Chinese recipe, served over Jasmine rice
Ingredients
700

grams

Chicken thighs

cut into 1 inch pieces

1

cip

Raw Cashews

a handful

2

tbsp

Cornstarch

cornflour

2

tbsp

Sesame oil

1

tbsp

Grated ginger and garlic

2

Spring onions

diced, whites and greens separated.
For the sauce:
2

tablespoons

Light soy sauce

1

tablespoon

Rice vinegar

1

tablespoon

Hoisin sauce

1

tablespoon

Oyster sauce

½

cup

chicken broth

optional
Instructions
In a bowl, mix together chicken pieces in the rice vinegar, sesame oil and add 1 tablespoon cornstarch. Keep aside while you prepare the rest of the ingredients.

Heat sesame oil in a wok, add the cashews and sauté till lightly browned. Keep aside in a bowl. Add the chicken and sauté until just cooked. Keep chicken aside.

In the wok, sauté the garlic, ginger, spring onion whites and add the sauces along with 1 tablespoon cornstarch.

Add back the chicken and cashews and let it simmer. After 5 mins, turn off the heat. The sauce will thicken as it cools.

Serve hot over Jasmine rice.
Notes
For a gluten-free version, substitute soy sauce with Tamari
For extra spice, you can saute the cashews with dried red chilies. Then mix in the red chilies with the cashews at the end, with the sauce.
Nutrition
Calories:
387
kcal
Carbohydrates:
6
g
Protein:
24
g
Fat:
29
g
Saturated Fat:
7
g
Polyunsaturated Fat:
7
g
Monounsaturated Fat:
12
g
Trans Fat:
0.1
g
Cholesterol:
138
mg
Sodium:
749
mg
Potassium:
333
mg
Fiber:
0.3
g
Sugar:
1
g
Vitamin A:
158
IU
Vitamin C:
1
mg
Calcium:
20
mg
Iron:
1
mg