Instant Pot Jasmine rice comes out perfectly every single time with this recipe! , This fragrant rice is the perfect side for any main, especially your favorite Asian-style mains.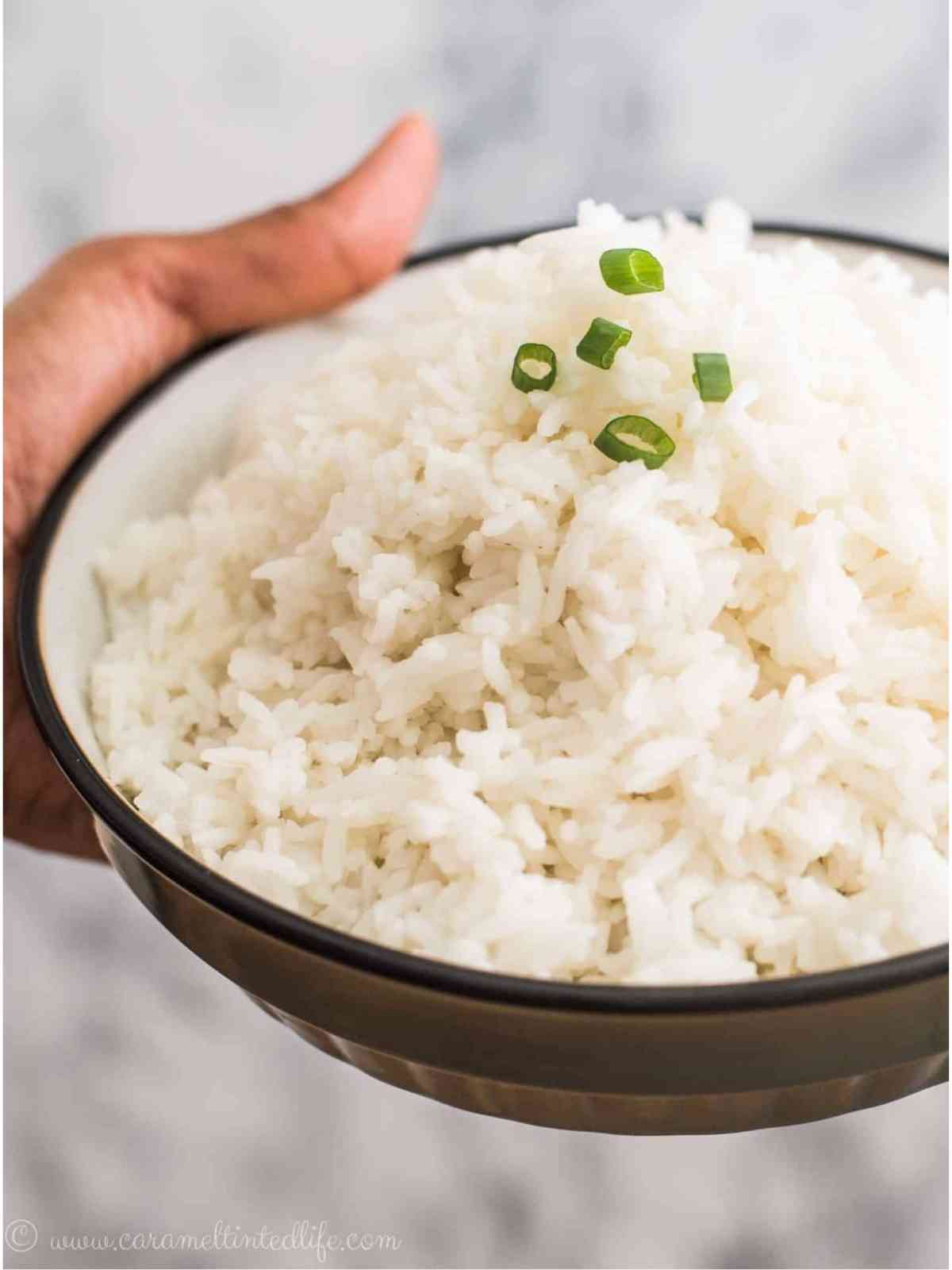 Jump to:
What is Jasmine Rice?
Jasmine rice is a floral-scented rice that is native to Thailand, and most parts of South East Asia. It has a slightly sticky texture after being cooked.
Jasmine rice is sometimes confused with Basmati rice - which is also an Asian long-grained fragrant rice variety.
One key difference between Jasmine rice and Basmati rice is that Jasmine rice doesn't need to be soaked in water before cooking, however, Basmati rice needs to be soaked for 20 mins - 30 minutes before cooking - this helps the grains of rice to retain their shape.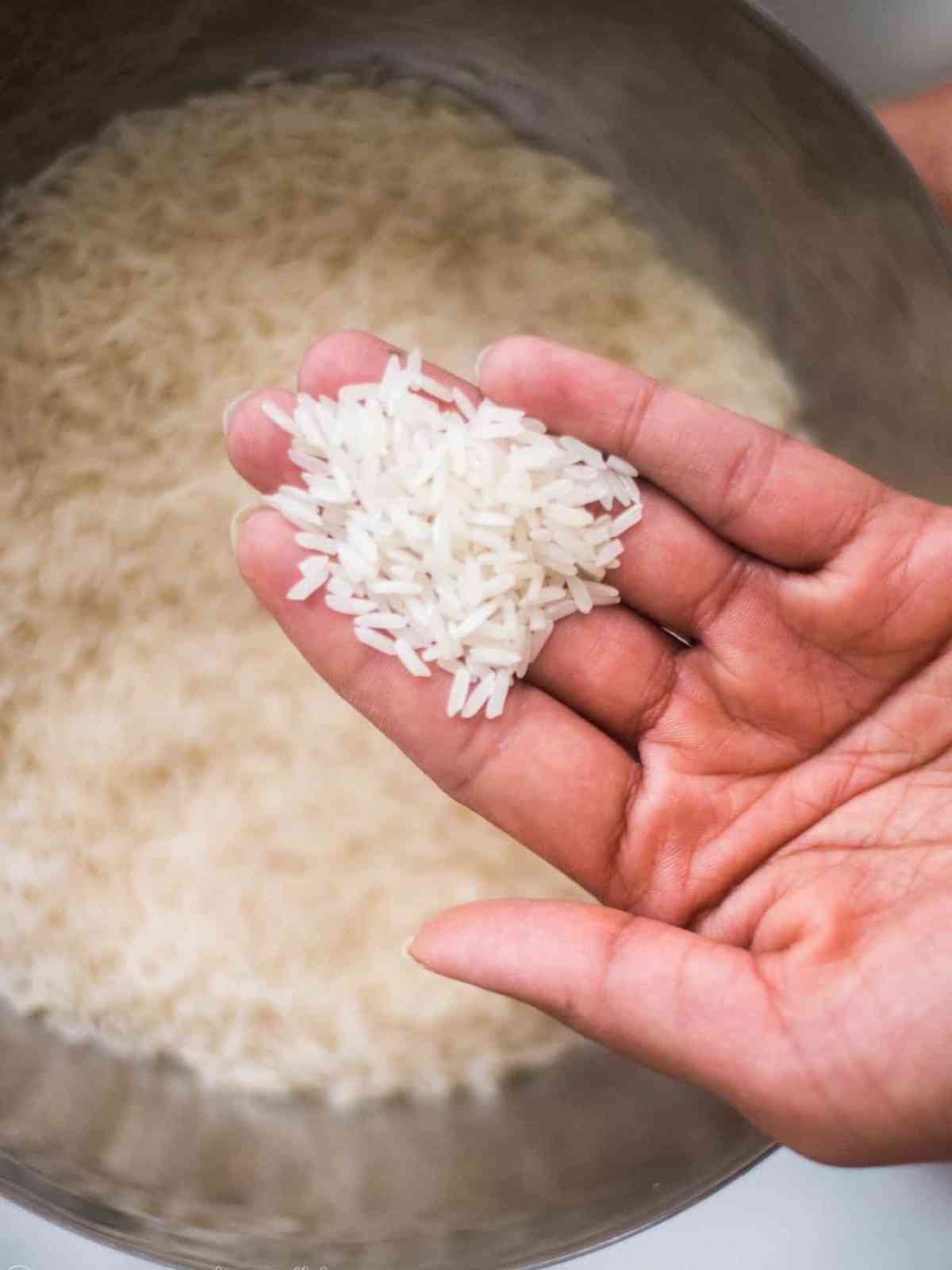 Jasmine rice pairs very well with any Asian dish, particularly dishes with gravies and curries such as Thai chicken curry, Ginger-Sesame chicken, and Sweet and Sour Cauliflower. Instant Pot Jasmine rice is the perfect rice to use for authentic-tasting fried rice.
Why this recipe works
Cook Jasmine rice in the Instant Pot to yield perfectly cooked grains of rice
No monitoring needed!
Perfect for a variety of Asian recipes, and for meal pairings
Ingredients
Jasmine Rice - Use any good quality brand of white Jasmine rice
Water - In the Instant Pot, you need to use water and rice in a 1:1 ratio
Optional ingredients - Olive oil or sesame oil, salt
Step-by-Step Instructions
Making Instant Pot Jasmine rice couldn't get any simpler than this! Start by washing the rice - like most varieties of white rice, Jasmine rice needs to be rinsed under cold water to get rid of excess starch, until the water runs clear.
Use a fine-mesh strainer to rinse the rice and let the excess water drain. Note that there is no need to soak the rice in water.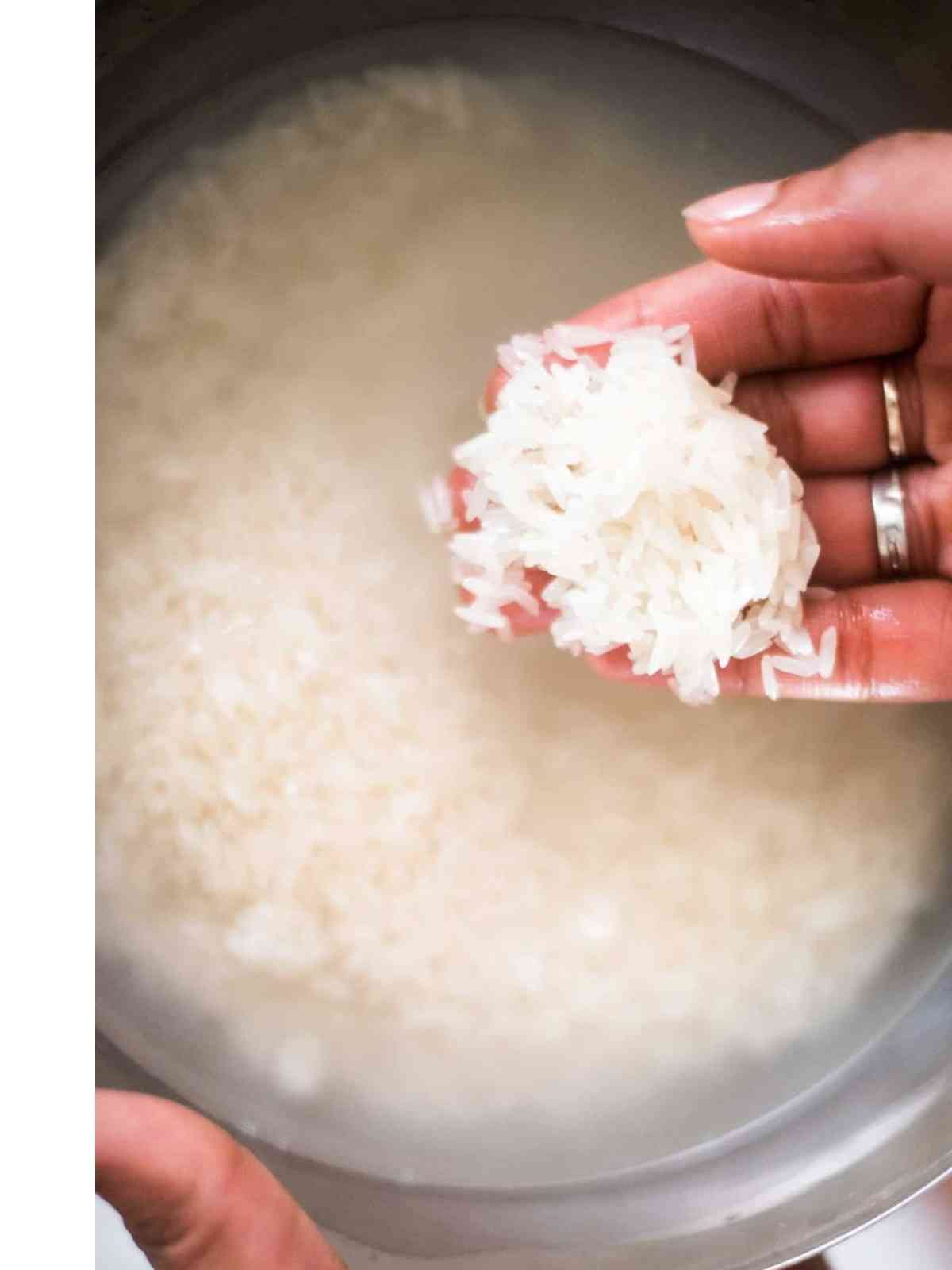 After rinsing the rice, add the rice to the Instant Pot along with an equal quantity of water. The Instant Pot has a pre-programmed 'Rice' mode which works well for parboiled or long-grained rice, however, the rice mode is based on the volume of rice in the Instant Pot, and might not give you the right results with Jasmine rice. I prefer using the 'Pressure Cook' or 'Manual' function to cook Jasmine rice.
Jasmine rice takes lesser time to cook than most other varieties of rice, you need to cook it for just 4 minutes, followed by 5 minutes of natural pressure release time. Then release the remaining steam manually. And that's it - the rice is done! Fluff it up with a fork and serve alongside your favorite curries or main dishes.
Pro tip: To reduce the stickiness of Jasmine rice, you can add a teaspoon of oil to the rice before cooking it. Any oil will do, but use sesame oil if you can – it enhances the flavor of Jasmine rice and reduces the stickiness. You can also add a little salt to enhance the flavor of the rice.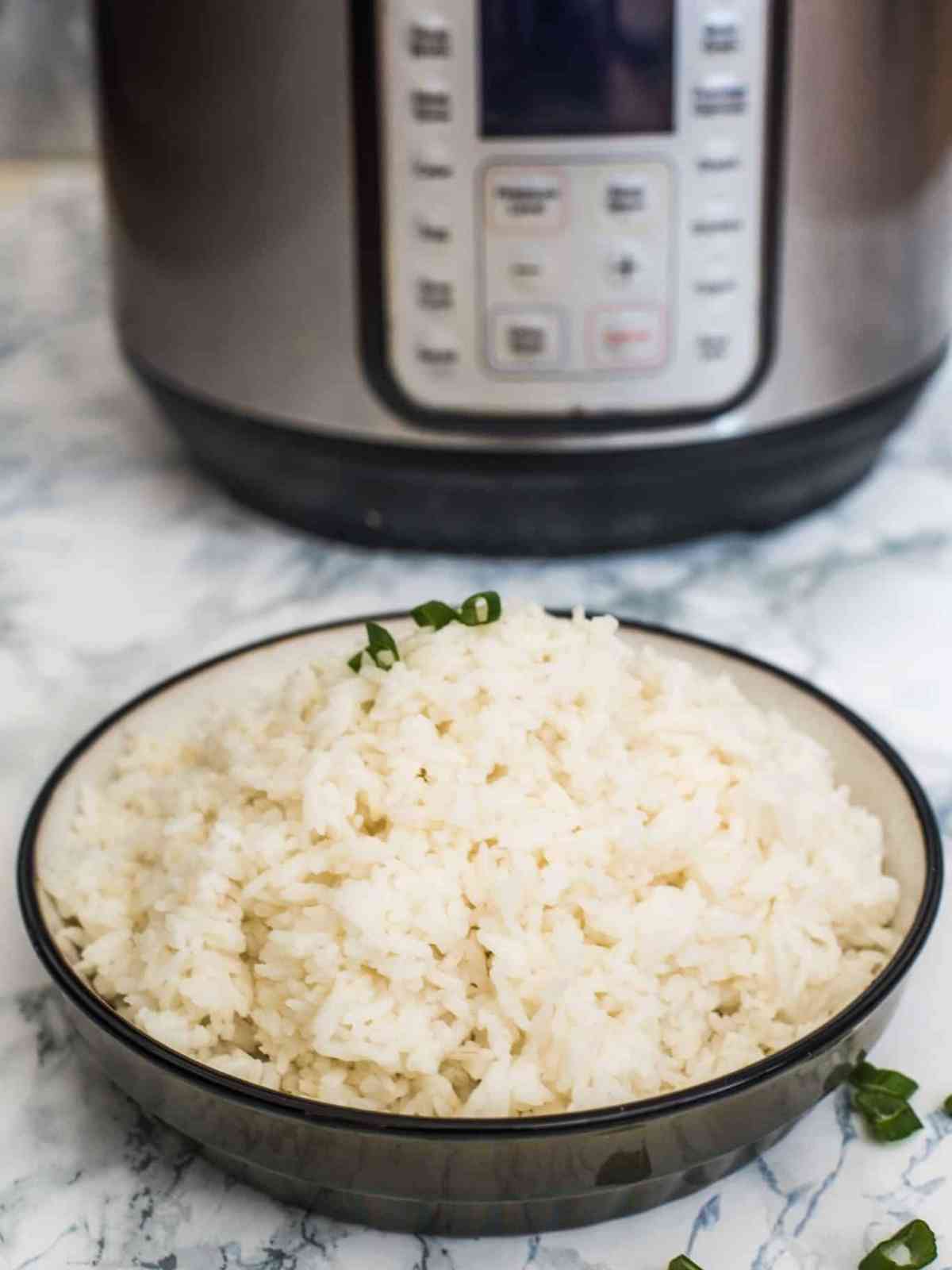 Instant Pot Rice Cheat Sheet
Here is a handy Instant Pot Rice cheat sheet that you can save for later: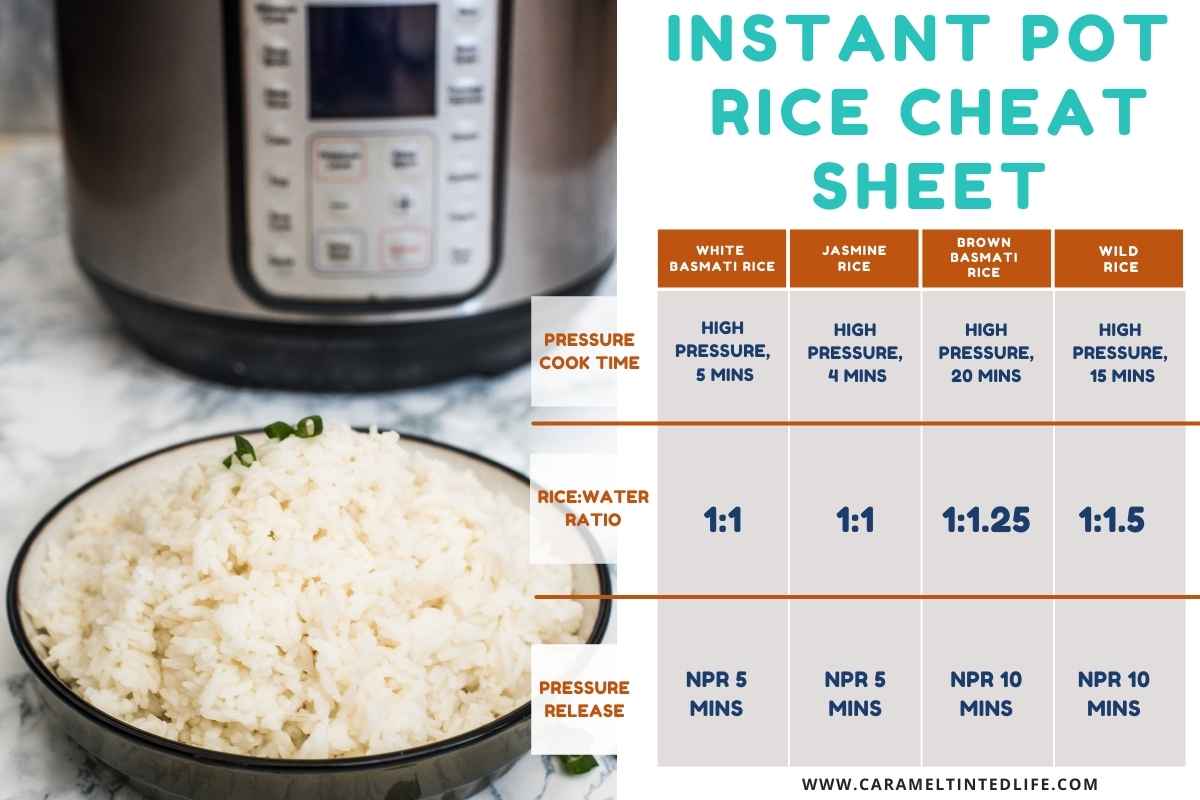 Expert Tips & Serving Suggestions
Use it to make Fried Rice: I love using Jasmine rice to make fried rice. My Basil Fried Rice and Easy Fried recipes are tried and tested and we enjoy them on their own, or with a little side dish.
Make it Pot-In-Pot: Pot-in-pot or PIP is a method of cooking one dish inside a larger vessel, usually a pressure cooker. You can cook the Jasmine rice PIP inside the Instant Pot, while you make a curry simultaneously in the Instant Pot. For detailed instructions, check out my recipe for Thai Chicken curry and Rice cooked PIP in the Instant Pot.
Serving Suggestions: Jasmine rice is best enjoyed when paired with Asian-inspired recipes such as Spicy honey garlic shrimp, or this easy chicken and broccoli. I also like to pair Jasmine rice with coconut milk-based Indian curries such as chicken curry, south Indian fish curry, or vegan korma curry.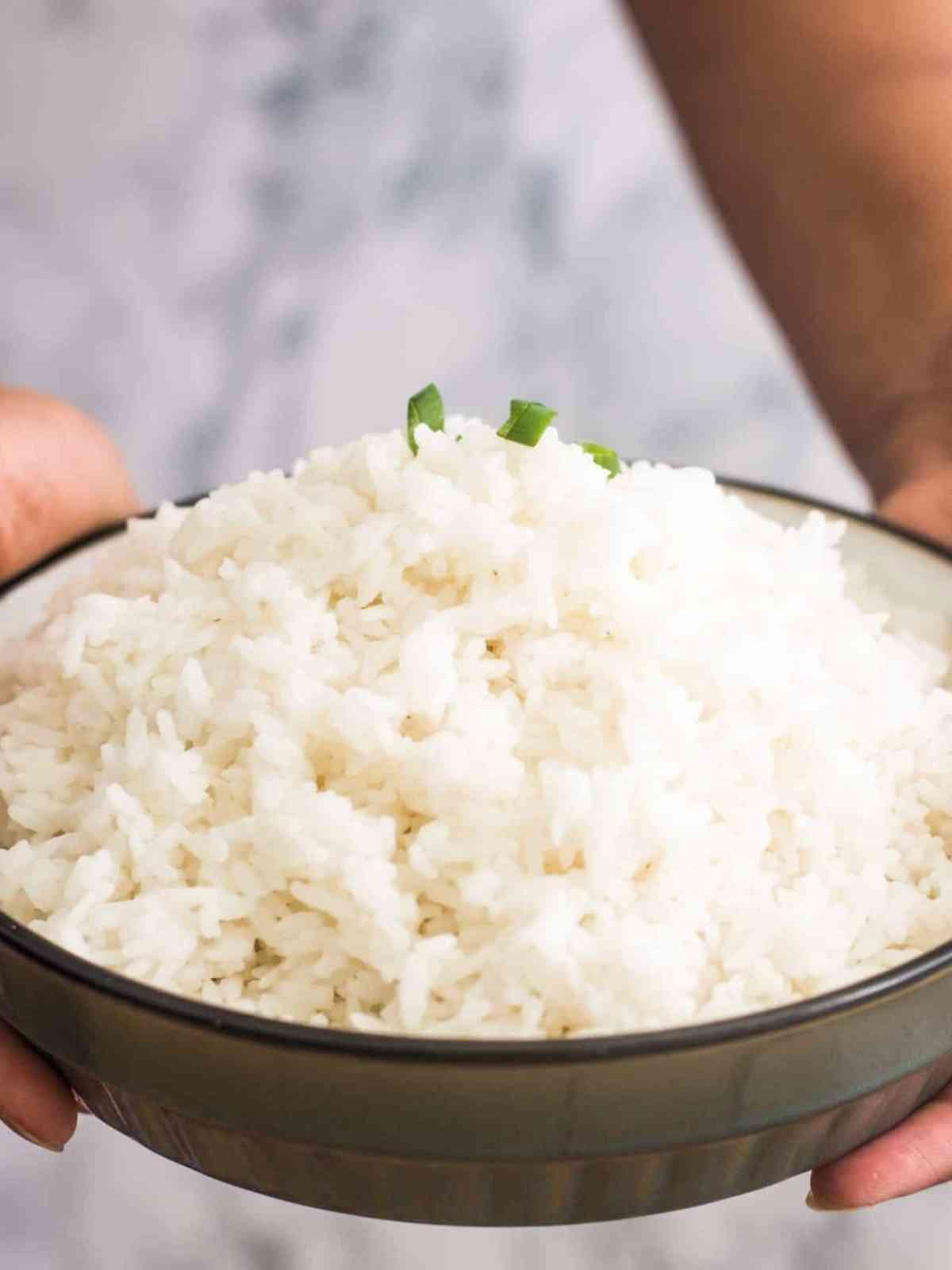 Frequently Asked Questions
What is the ratio of Jasmine rice to water ?
To cook Jasmine rice on the stovetop, you will need 1.5 cups water to every 1 cup of rice. However, in the Instant Pot, the amount of water can be reduced. To make Jasmine rice in the Instant Pot, I find that 1:1 ratio of water rice works best.
Should I rinse the Jasmine rice before cooking?
Rinsing the rice before cooking it will get rid of the debris and excess starch on the rice. This is not required in case of rice varieties such as risotto or sushi. In case of Jasmine rice, rinsing will help to clean the rice and give you fluffy, intact grains of rice. Rinse the rice 2-3 times until the water isn't cloudy. Then cook it as shown in the instructions.
How long does jasmine rice take in the Instant Pot?
Jasmine rice needs 4 minute of active pressure cooking time. After the cooking cycle is complete, allow the pressure to release naturally for 5 minutes before you manually release the steam. This will give you Jasmine rice that has the perfect texture.
More Instant Pot Rice Recipes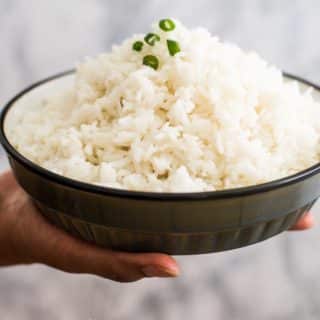 Instant Pot Jasmine Rice
Instant Pot Jasmine rice comes out perfectly every time! Learn about the right water-to-rice ratio, tips to make perfect Jasmine rice in your Instant Pot.
Instructions
Rinse the rice under cold water to get rid of excess starch. One the water runs clear, transfer the rice to the Instant Pot.

Add 1 cup of water to the Instant Pot and close the lid.

Hit 'Pressure Cook' or 'Manual' and set the time for 4 minutes. Let the IP come to pressure and complete the cooking cycle.

Once the cooking cycle is complete the IP beeps and switches to the default 'Keep Warm' setting. Let the IP stay in this setting, for 5 minutes more. Then hit 'Cancel' and manually release pressure.

Open the lid of the Instant Pot and fluff up the rice with a fork. Serve with your favorite Asian curries.
Notes
You could also add 1 teaspoon of oil to the rice and water before cooking, to reduce the natural stickiness of Jasmine rice. Sesame oil works best for Jasmine rice, but you can use any oil you have on hand.
Optionally, you could also add a pinch of salt to season the rice before cooking.
This recipe was created using a 6 Quart Instant Pot Duo Plus
Nutrition
Calories:
169
kcal
Carbohydrates:
37
g
Protein:
3
g
Fat:
1
g
Saturated Fat:
1
g
Sodium:
5
mg
Potassium:
53
mg
Fiber:
1
g
Sugar:
1
g
Calcium:
15
mg
Iron:
1
mg