Peach jam made with added saffron and balsamic can be enjoyed all year round! This is an easy recipe for making peach jam at home
The problem with summer is that the excess sunshine plays with my mind... and makes me believe that anything is possible! You know, things like managing a beautiful balcony garden, throwing a grill party or making and canning enormous quantities of jam. So I've learnt a few things the hard way...for instance, I can keep my indoor plants alive (barely) but I think I'm better off maintaining a garden just on my Pinterest board. As for a grill party - I still live in the hope of hosting one, right after I finish setting up our apartment, get those light fixtures installed, unpack that last box which has stoically remained unopened after our move, and get those pictures framed and up on the walls. I think I should be done by December!
As for making jam, I start out with plenty of enthusiasm. Every summer I buy a large batch of stone fruit and start with reading up on the process of canning. When I get to the part about sterilization of the jars, I take a step back, and try to reason with myself. Who needs that much jam anyway? And I then change tracks mid-way and make a batch of freezer jam. This has happened for the last three years now. Some day I might gather the patience to sterilize those canning jars and jam like the pros do it, but for now, I am very happy with my fuss-free freezer jam!
Jam-making is really quite simple, and freezer jam keeps well for up-to a year if done right. Just grab a few jars with air tight lids (I love the Ikea glass jars for this), your fruit and get started. Use pectin if you like you're jam well-set. Thanks to my friend who pointed out that sugar with added pectin is available in local Swiss supermarkets, this one from the local Migros is what I use for making jam now. I made this jam this past week, right in time for the Swiss National Day. It goes perfectly well with traditional Swiss bread, Augustweggli which is baked especially for the national holiday and decorated with little Swiss flags.
This is the best part about jam-making at home - you can go all out with the flavor combinations. I used peaches, saffron and added some raspberry balsamic vinegar that I picked up in Spain. The year before, I made a nectarine and ginger jam that remains one of my favorites. Do you make jam at home? What flavor combinations do you love?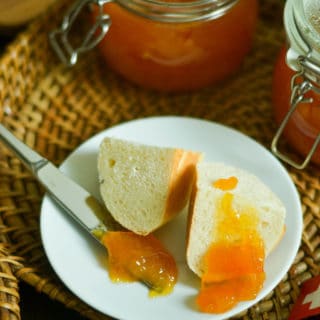 Peach, Balsamic & Saffron Jam
Peach, saffron and balsamic jam that keeps well when frozen, and is perfect for those days when you want to be reminded of glorious summer.
Ingredients
1

kilo chopped and peeled peaches

500

grams

sugar with added pectin

you could also use commercially available pectic

2

tablespoons

of fresh lemon juice

a few saffron strands

3-4

tablespoons

balsamic vinegar

I used raspberry balsamic
Instructions
Start by keeping a saucer in the freezer to check for done-ness of the jam (this step is important if you are not using pectic to set the jam. You could avoid this if you are using pectin)

Transfer the peaches, sugar, lemon juice, saffron and balsamic to a heavy bottom pan, and cook on medium heat for around 10 minutes.

As the peaches are cooking, mash them up to the consistency you prefer, using a masher or a whisk. I like the consistency to be non-uniform and have a few lumps of fruit.

After around 10 minutes, the mixture should have thickened and is well on its way to being set.

If you are not using pectin to set the jam, check for done-ness of the jam with the saucer test: Test your jam by taking out the saucer. Spread a small spoonful of liquid jam on the saucer. Run your finger through the jam. If it forms a channel, the jam is set. If the jam feels runny, let it cook a little more.

Once done, let the jam cool. A little scum can form on the surface of the jam, which you can skim off easily with a spoon.

Divide the jam between the jars leaving at least 1/4 inch room at the top.

Tightly seal the jars and let sit at room temperature for 24 hours before freezing or refrigerating.

Freezer jam can keep up-to a year in the freezer.
Notes
Pectin is naturally occurring gel which is essential to the setting of jam and gives it that characteristic jelly-like consistency. Many fruits contain pectin, and some like apples, quince and most citrus fruit contain more pectin than others. These fruit do not need added pectin, and they set well with just sugar and a long cooking process. the amount of pectin you use can be reduced, depending on your preference - whether you like runny or firm jam.
Cutting down on the amount of sugar used in jam-making will both reduce the shelf-life and the consistency of the jam. The sugar is essential to the formation of pectin strands, and also helps preserve the jam. If you are using sugar with added pectin, follow the instructions as specified on the pack. I used fruit and sugar in a ratio of 2:1, but you would need to add more sugar if you are using no added pectin.
Pin this recipe here for later: