This delicious Vegan Chickpea Salad is made with chickpeas, cucumber, cherry tomatoes, and onions dressed in a fresh, light salad dressing. A protein salad that is easy to make and super healthy!
(This recipe was first published in June 2020 and has been updated)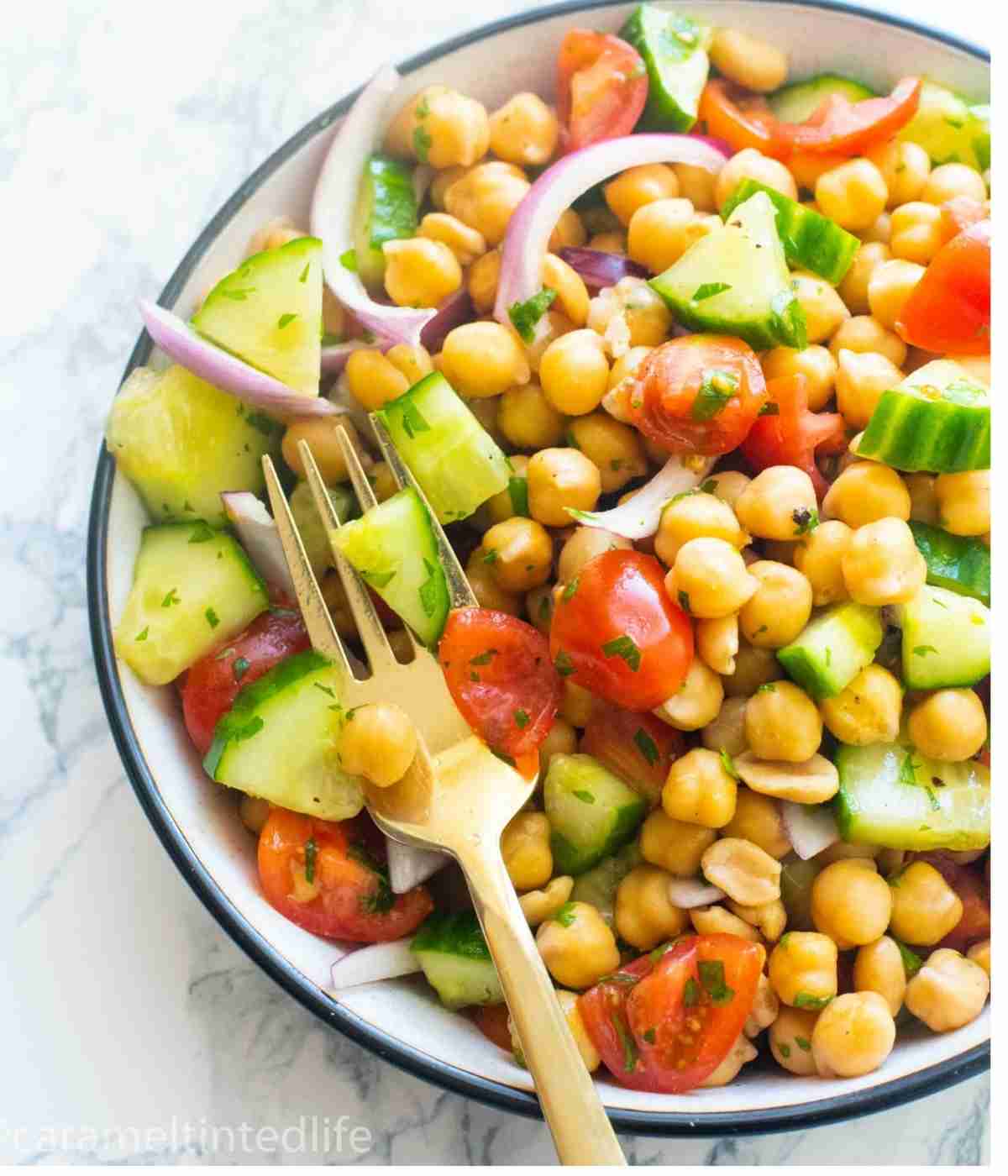 Jump to:
I can't get enough of salads that are a meal in themselves. Some of my favorite salad recipes include my Pesto Potato Salad, and my summer favorite, Mango Salad. All fresh, hearty, and perfect for lunch or dinner! I especially love using chickpeas (aka, garbanzo beans) in my salads. They are hearty enough to serve as an entire meal and are an excellent source of plant-based protein as well. I highly recommend having chickpeas as part of regular meals if you're on a vegan or vegetarian diet.
Chickpeas are one of my pantry staples at home, and I often make Chickpea Coconut Curry or Chickpea Tagine with them. This Vegan Chickpea Salad recipe is a great way to pack protein into a salad without the need for meat protein. What's more, it tastes delicious and the dressing is so good! This chickpea salad dressing is light, and citrussy but also has a little twist with a hint of spice from cumin.
Why this recipe works
A protein-packed salad that is perfect for a vegan or vegetarian diet.
The dressing is super flavorful - a touch of spice in the salad dressing takes it from good to great
Super easy to customize - make an avocado chickpea salad or add cooked quinoa to make it a chickpea quinoa salad, or use this recipe to make a smashed chickpea salad sandwich. So many possibilities!
Recipe Ingredients
To make this Easy Chickpea Salad, you will need the following ingredients: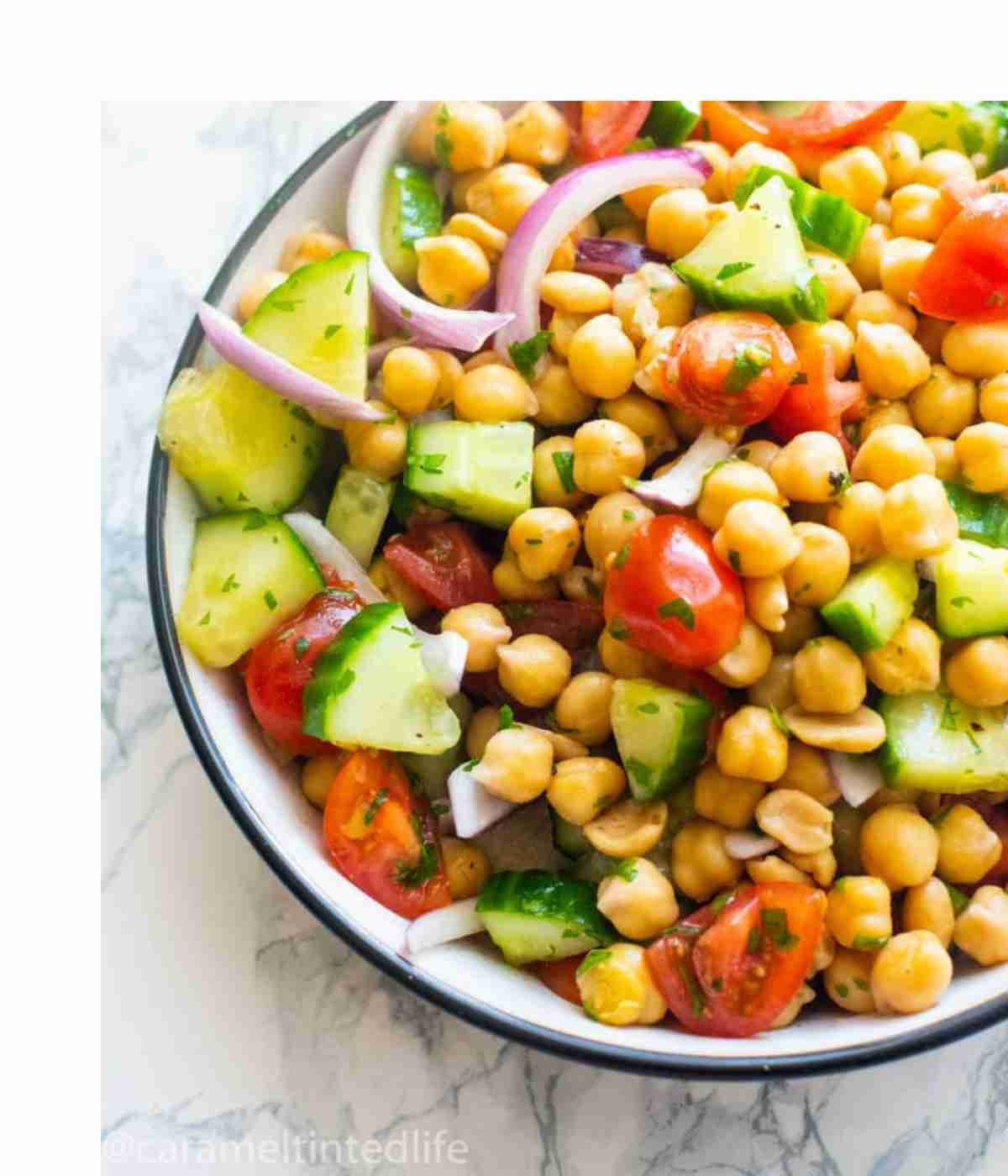 Chickpeas - Preferably use dried chickpeas instead of canned chickpeas (see below, for tips on cooking dried chickpeas)
Cucumber
Cherry tomatoes
Onions – To reduce the sharp taste of red onions, you can soak them in water for 5 minutes before using them in the salad.
Peanuts – these are optional and you can totally skip peanuts if you have a nut allergy, but I love adding them for that extra crunch!
Ingredients for the salad dressing
Lemon juice
Honey
Salt
Vinegar
Fresh cracked black pepper
Cumin Powder
Fresh parsley
Step by Step Instructions
You could make this salad with canned chickpeas or dried chickpeas. I prefer to use dried chickpeas in my salads. Dried chickpeas are a staple in my pantry and I use them to make so many meals.
Canned chickpeas come with added salt and preservatives that can easily be avoided if you simply cook dried chickpeas at home! Dried chickpeas are also so much cheaper and more flavorful than canned chickpeas.
Cooking dried chickpeas at home needs just a bit of early planning – you will need to soak the chickpeas in water for a minimum of 4 hours before you cook them. I usually soak my chickpeas overnight the day before I cook them, but 4 hours also works fine.
This is what the chickpeas look like after soaking for 4 hours in water:
Cooking chickpeas on the stovetop
I highly recommend using a pressure cooker to cook your chickpeas – cooking them without a pressure cooker is definitely possible but time-consuming. To cook chickpeas on the stovetop (if you don't have a pressure cooker), simply add the soaked chickpeas to a pot with twice as much water. Bring the pot to a boil and let this cook for 1 hour, until the chickpeas are tender.
Cooking chickpeas in the pressure cooker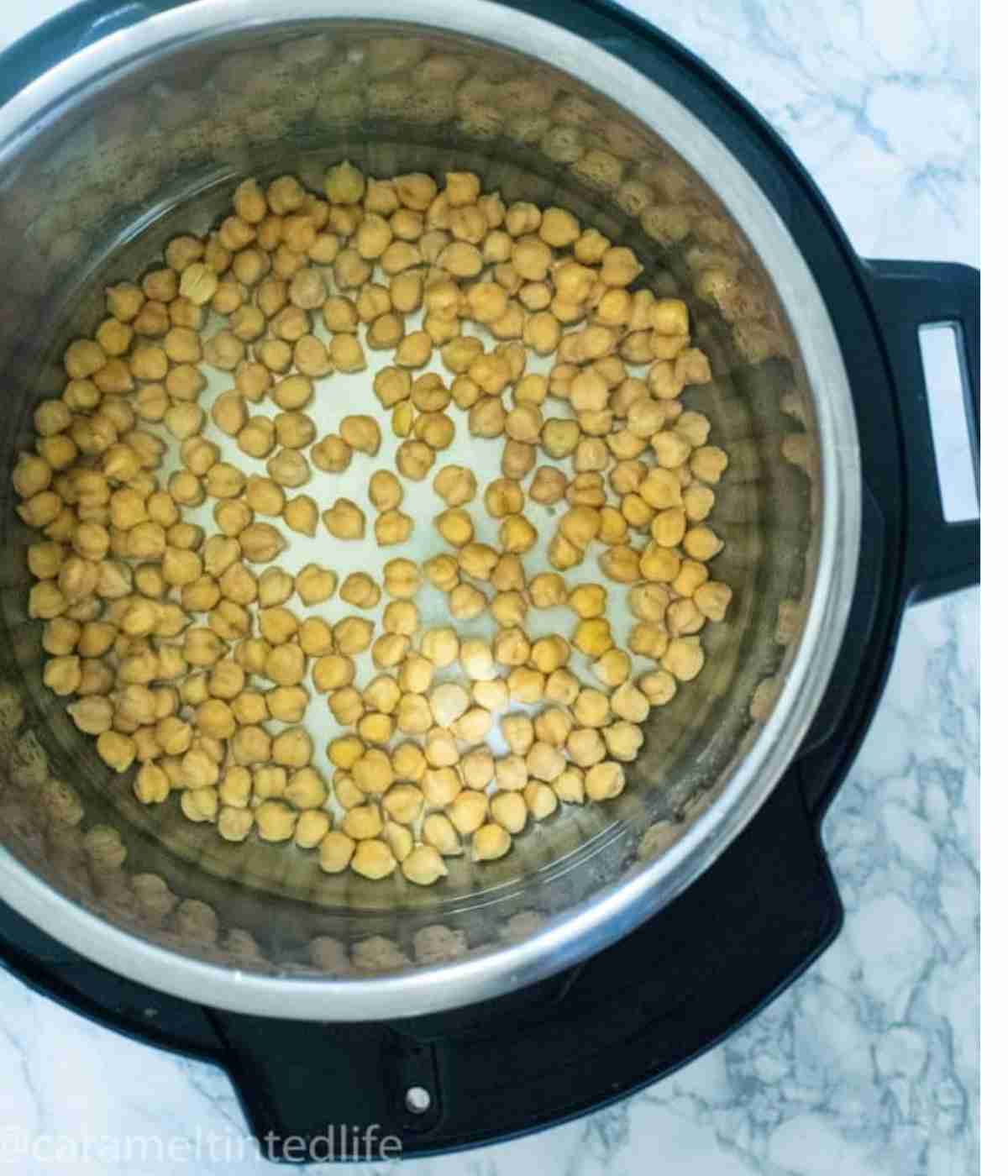 The easier method of cooking chickpeas is in the pressure cooker. Drain the soaked chickpeas and add them to the pressure cooker. Add twice as much water and a teaspoon of salt to taste. If you are using an Instant Pot, Pressure Cook on High for 15 minutes, and let the pressure release naturally. You could also cook dried chickpeas in the pressure cooker without soaking them, but you will then need to pressure cook the chickpeas for 50 minutes instead of 15.
Once the chickpeas are cooked, cool and keep aside for the salad.
To make the salad, simply mix together all the main ingredients - chickpeas, sliced onions, cherry tomatoes, and cucumbers, and add the salad dressing over it. Mix to combine well. Serve at room temperature or chilled.
Your easy Vegan Chickpea Salad is now ready!
Recipe Variations
This chickpea salad is super customizable! You and add ingredients such as avocado, Halloumi, Feta cheese, etc and make it to suit your tastes and preference.
Avocado chickpea salad - Add chopped avocado to the chickpea salad
Fava bean chickpea salad - Add fava beans to the chickpea salad
Chickpea Quinoa Salad - Mix cooked quinoa with the salad to make a nutritious chickpea quinoa salad.
Halloumi Chickpea Salad - Add grilled cubes of Halloumi to the salad and toss.
Mediterranean Chickpea Salad - Add crumbled Feta cheese, chopped kalamata olives, and toss together.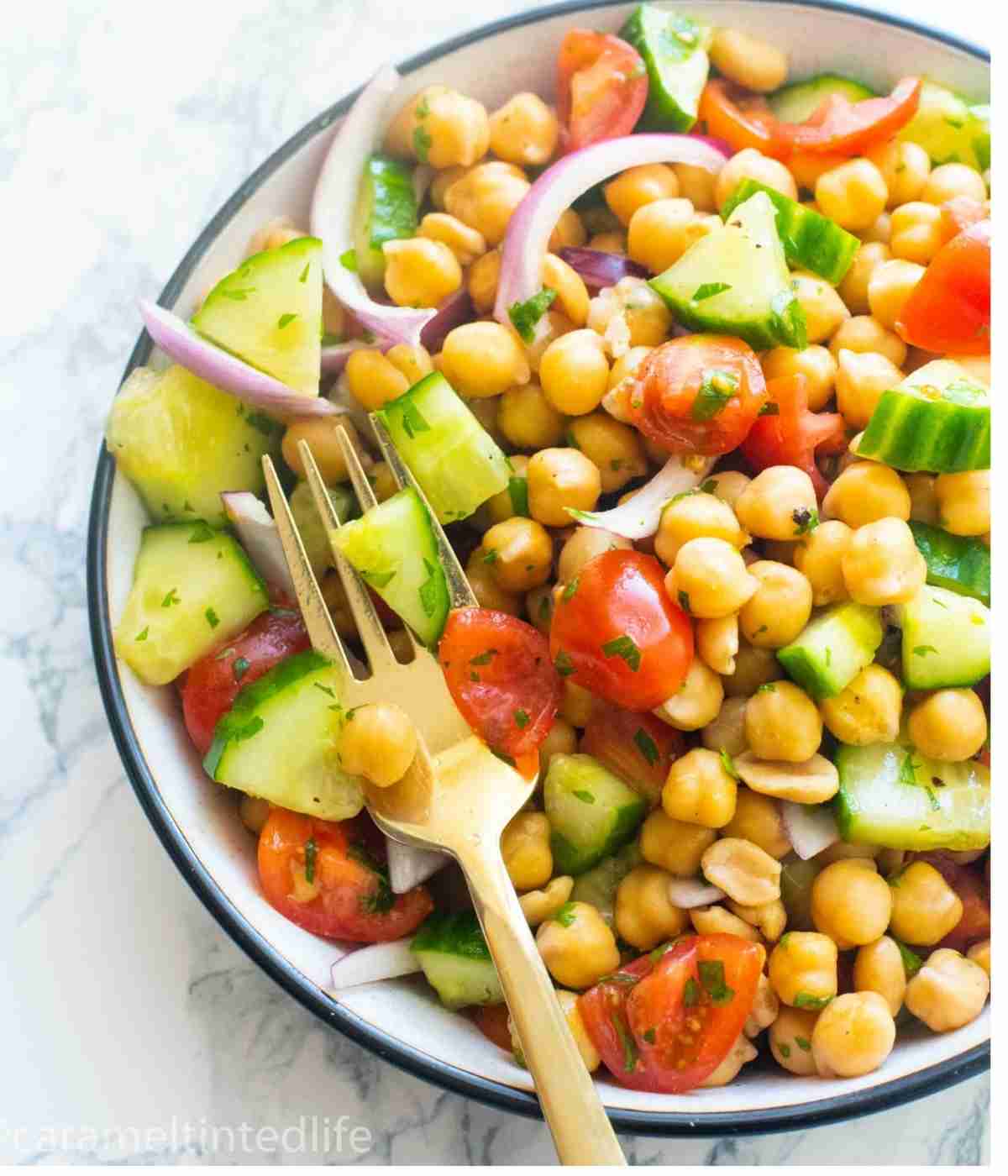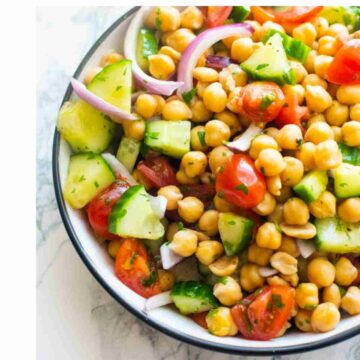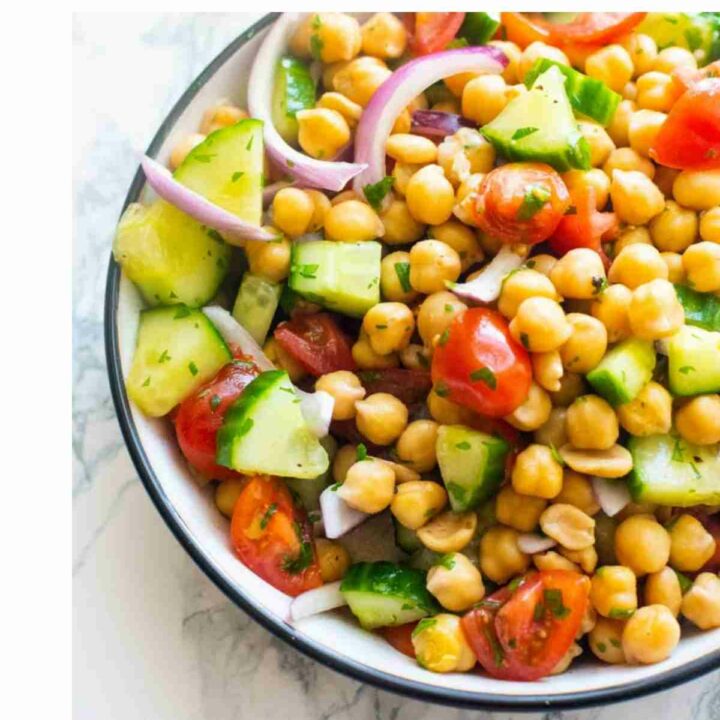 Spiced Chickpea Salad
This delicious vegan chickpea salad is made with chickpeas, cucumber, cherry tomatoes and onions dressed in a fresh, light vinaigrette – perfect for summer. You will love the hint of spice in the dressing!
Ingredients
For the salad
¾

cup

dried chickpeas (soaked for at least 4 hours)

or substitute with canned chickpeas

½

cup

cherry tomatoes

sliced into quarters

½

cup

chopped cucumber

½

red onion

sliced thin

¼

cup

salted peanuts

(optional)
For the dressing
½

Lemon

1

tablespoon

honey

pinch

salt

½

teaspoon

apple cider vinegar

½

teaspoon

Freshly cracked black pepper

½

teaspoon

Cumin powder

1

teaspoon

Fresh parsley

finely chopped
Instructions
To cook the chickpeas (if using dried chickpeas)
Drain the soaked chickpeas, and add it to the pressure cooker. Add double the amount of water and pressure cook on High for 15 minutes, along with a teaspoon of salt. Let the pressure release naturally. Drain the chickpeas and keep aside to cool.

Once the chickpeas are cooled, add to a large mixing bowl together with the rest of the vegetables (leave the peanuts for the end).
Prepare the dressing:
Add all the ingredients for the dressing in a small jar witha lid. Close the lid and shake well to prepare the salad dressing.
Assemble the salad:
Add the salad dressing to the vegetables and chickpeas, and toss well using a fork. Once the dressing is well combined, add the peanuts and lightly toss. Serve immediately.
Nutrition
Calories:
222
kcal
Carbohydrates:
33
g
Protein:
10
g
Fat:
7
g
Saturated Fat:
1
g
Sodium:
52
mg
Potassium:
501
mg
Fiber:
8
g
Sugar:
10
g
Vitamin A:
116
IU
Vitamin C:
14
mg
Calcium:
55
mg
Iron:
3
mg