This easy Vegan Instant Pot Chickpea Coconut Curry recipe is a delicious fuss-free meal that the entire family will love!
(This recipe was first published in June 2020 and has been updated)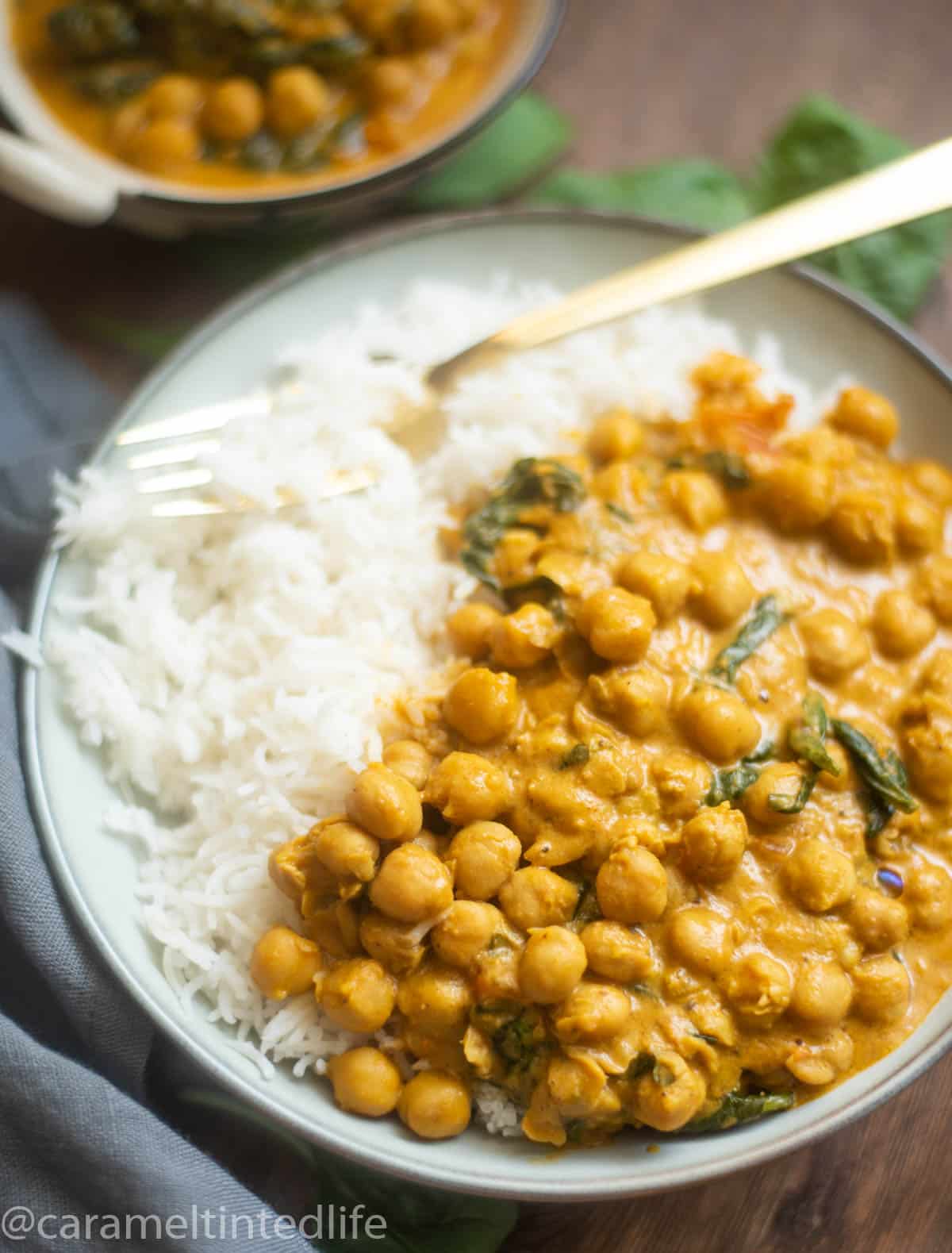 Jump to:
How many recipes can you safely declare to be family-friendly? By that I mean, a meal that your toddler, 7-year old, your spouse and yourself can eat and enjoy? I'm not counting pasta (which is always an option to fall back on) - but there's a limit to the number of times I can eat pasta in a week!
I'm working on passing on my love for all things curry to my kids, and this chickpea coconut curry is definitely one that scores on all fronts - super easy to make in the Instant Pot, nutritious (there's spinach, chickpeas, coconut - all winners in my book) and most importantly, it is all kinds of delicious!
My Chana Masala (Indian Chickpea Curry) and Saag Paneer recipes, also made in the Instant Pot, are also high in nutrition and easy to make for a family meal.
Jump to:
Why this recipe works
A one-pot meal in the Instant Pot
Nutritious meal for the entire family
An easy, fuss-free recipe
List of Ingredients
For this coconut chickpea curry recipe, we will need the following ingredients: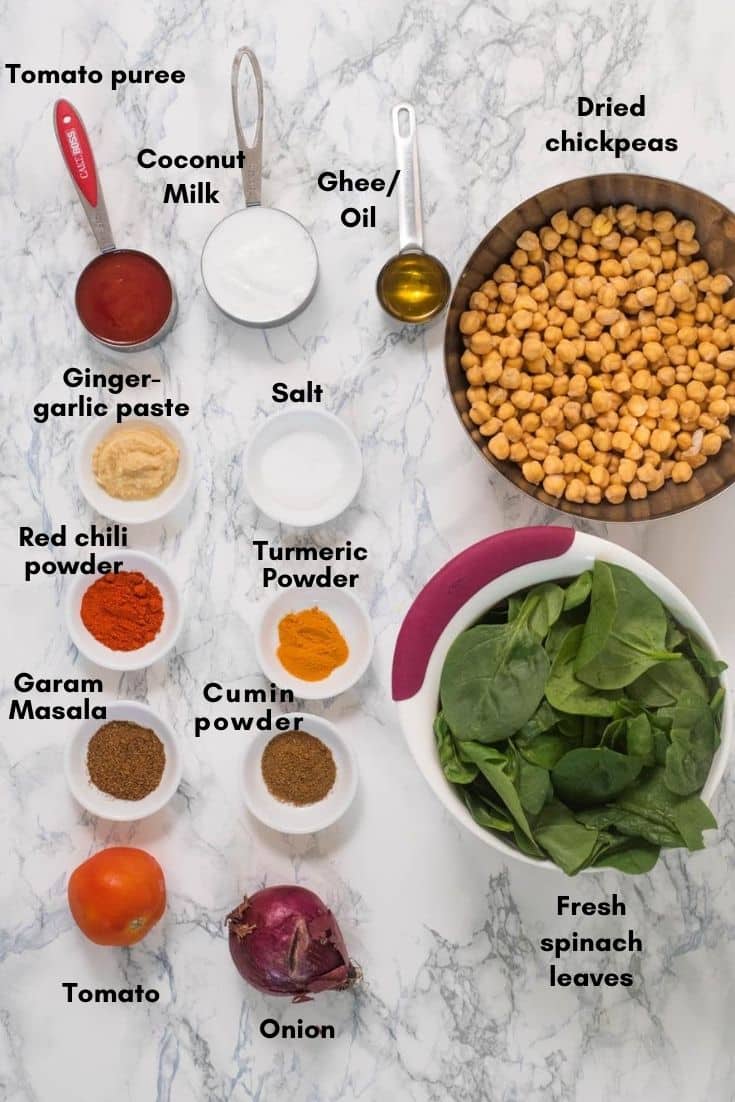 Dried chickpeas (soaked for 3 hours or up to overnight) - I prefer to use dried chickpeas for this recipe - they are low in sodium, free of preservatives, and taste better than canned chickpeas. But if you are looking for a quick meal, substitute canned chickpeas for dried chickpeas.
Spinach - Use fresh baby spinach or regular spinach or frozen spinach
Coconut milk - Use thick coconut milk, not coconut cream
Tomato puree
Onion
Tomato
Ghee or oil - I prefer using ghee for the added boost of flavor, but you can use any oil of your preference
Ginger-garlic paste - I use a store-bought ginger garlic paste, but you can use grated ginger and garlic as well.
Spices:

Garam masala (if you don't have garam masala, you can substitute with curry powder)
Turmeric powder
Cumin powder
Red chili powder (use Kashmiri red chili powder for best results, or paprika if you can't find red chili powder)

Salt for seasoning
Step-by-step instructions
In your Instant Pot, hit 'Saute' and add the oil or ghee. Once it is hot, add the chopped onion. Saute the onion for around 5 minutes, until it starts to turn translucent. Then add the chopped tomato. Saute the tomato until it turns soft.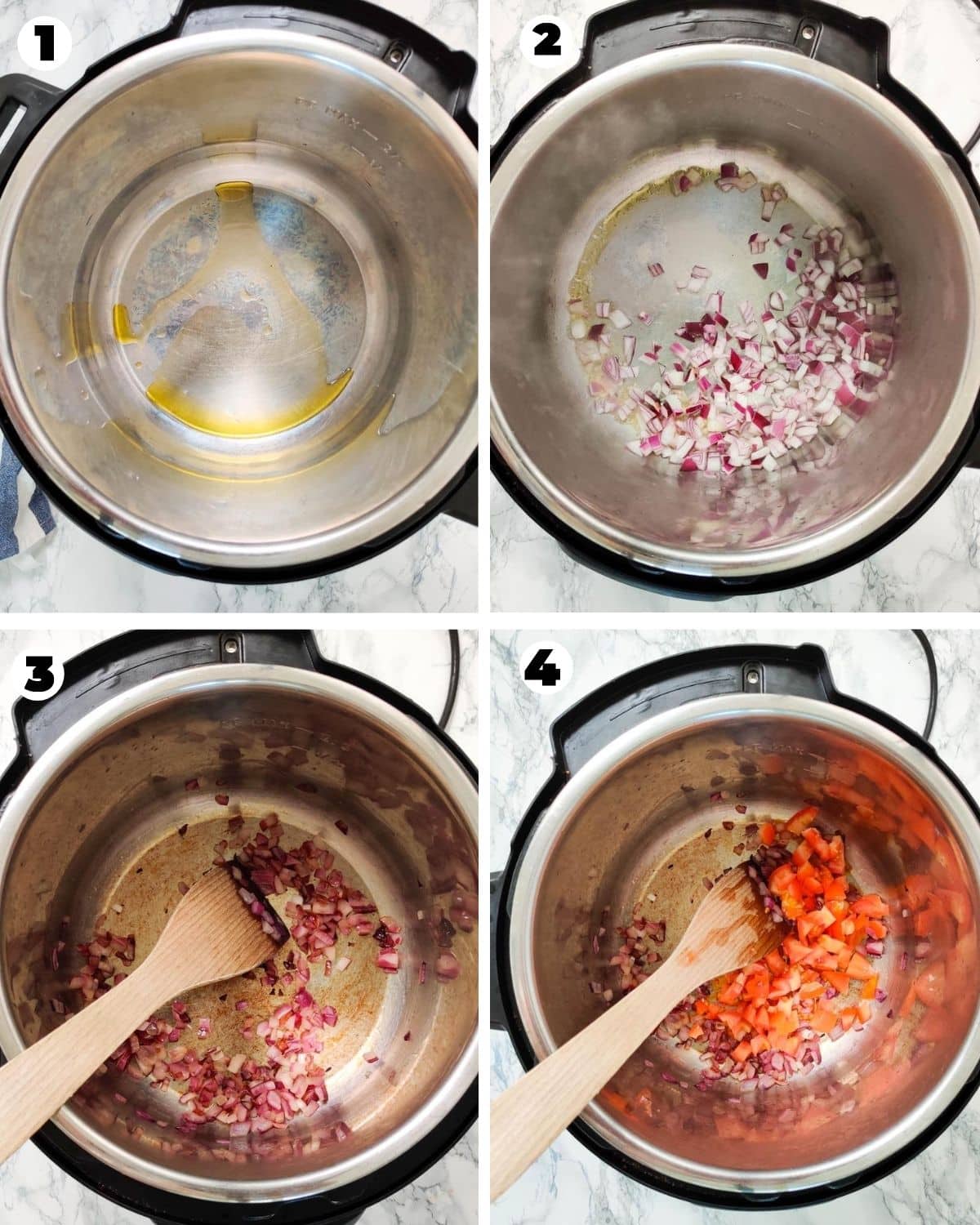 Hit the 'Cancel' button and add all the spice powders (if the pot is too hot, the powders can burn). Add the soaked chickpeas followed by enough water to just submerge all the chickpeas. Add the salt.
Cover the Instant Pot with the lid and hit 'Pressure Cook' ( In some models of Instant Pot this is the 'Manual' setting). Set the time for 20 minutes.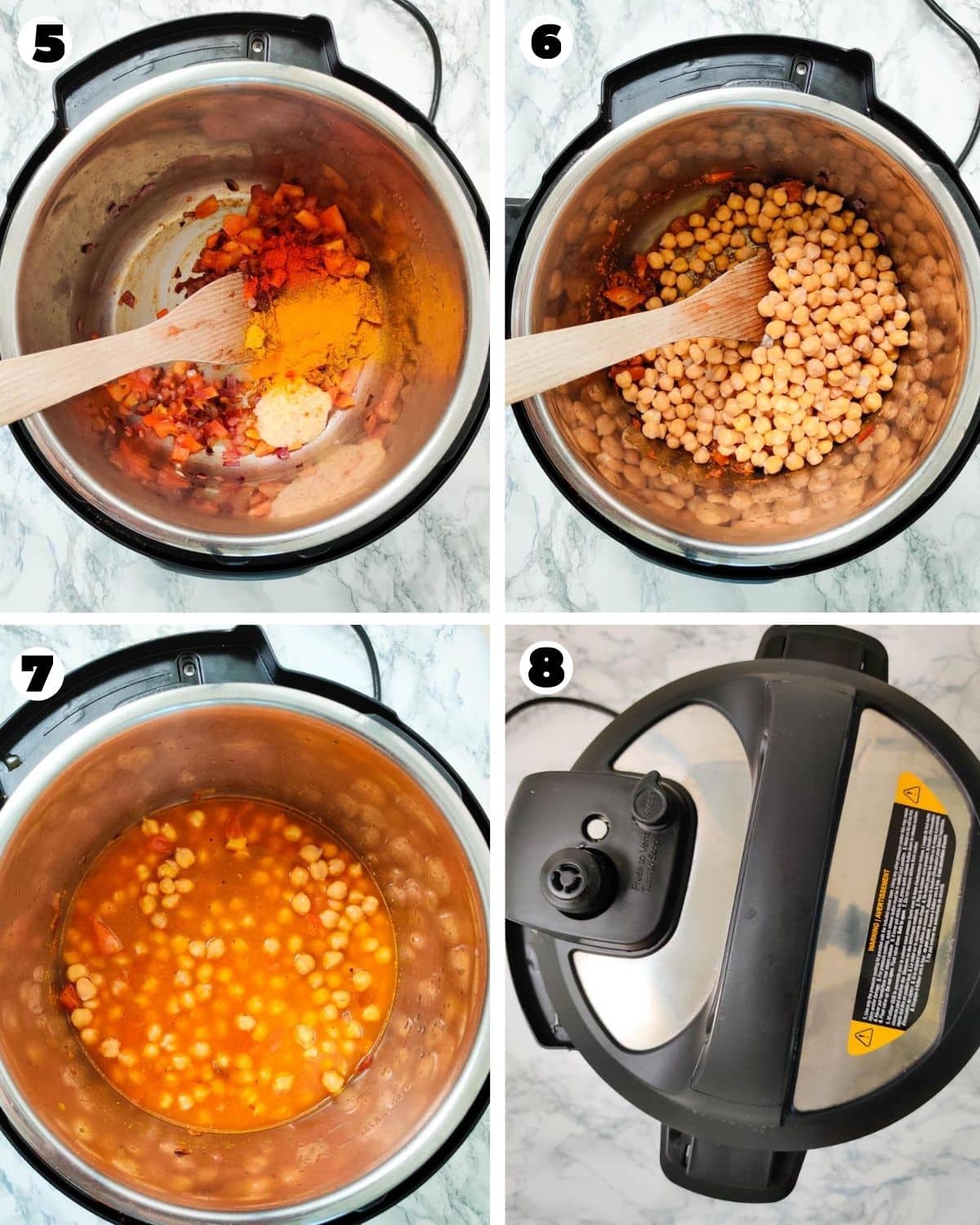 Let the Instant Pot complete its cooking cycle. It will switch to 'Keep Warm' by default. Leave undisturbed for 10 minutes more. After 10 minutes, hot 'Cancel' and manually release pressure from the vent. Open the lid. The chickpeas will have cooked perfectly. Add the spinach, followed by the coconut milk and tomato puree.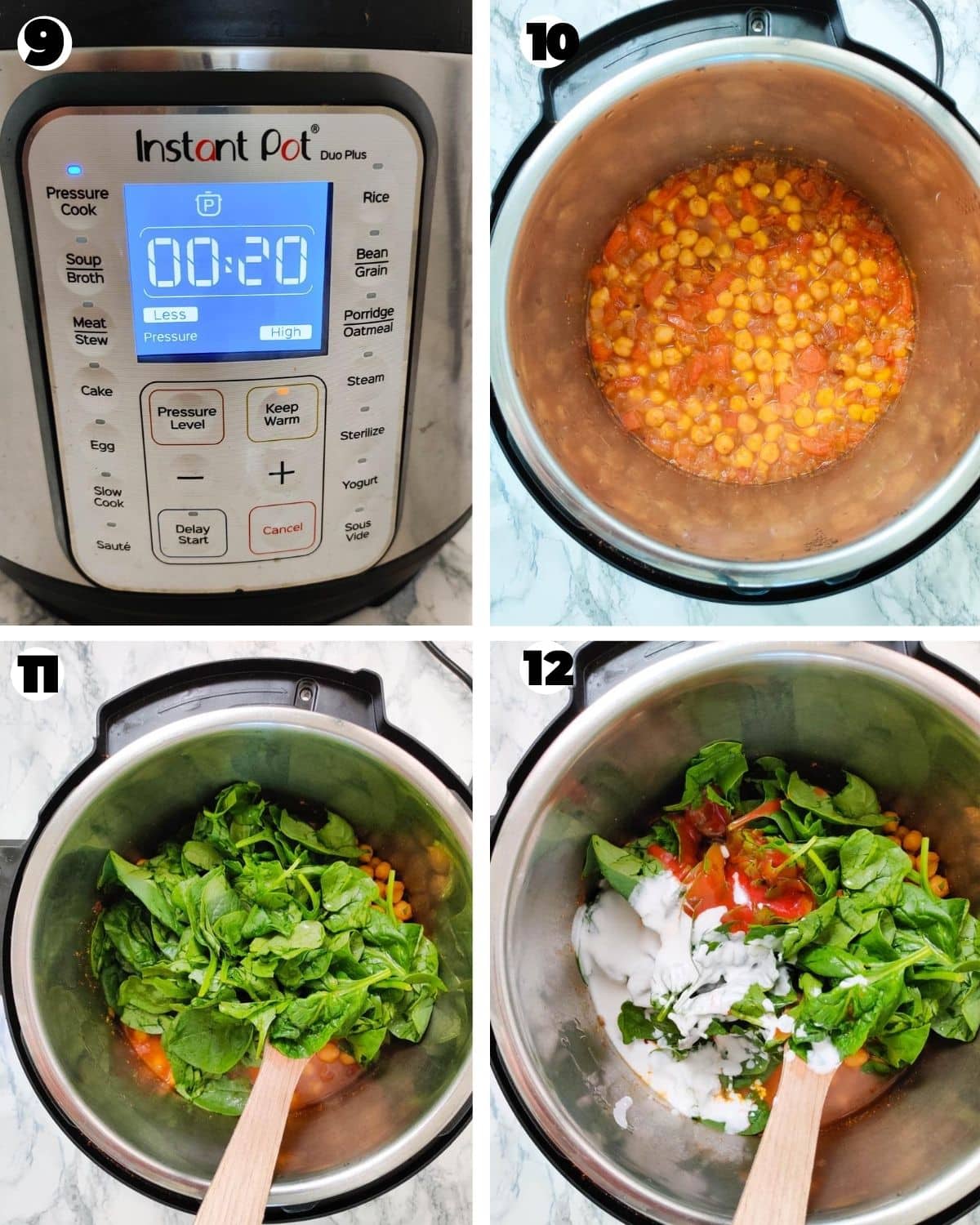 Mix well. Hit 'Saute' and let the curry simmer for 5 minutes. Add a squeeze of lime to finish. Check the seasoning and add salt if required.
And that's it! Your chickpea coconut curry is ready to be enjoyed! Serve it over Instant Pot Jasmine rice, or Instant Pot Basmati Rice.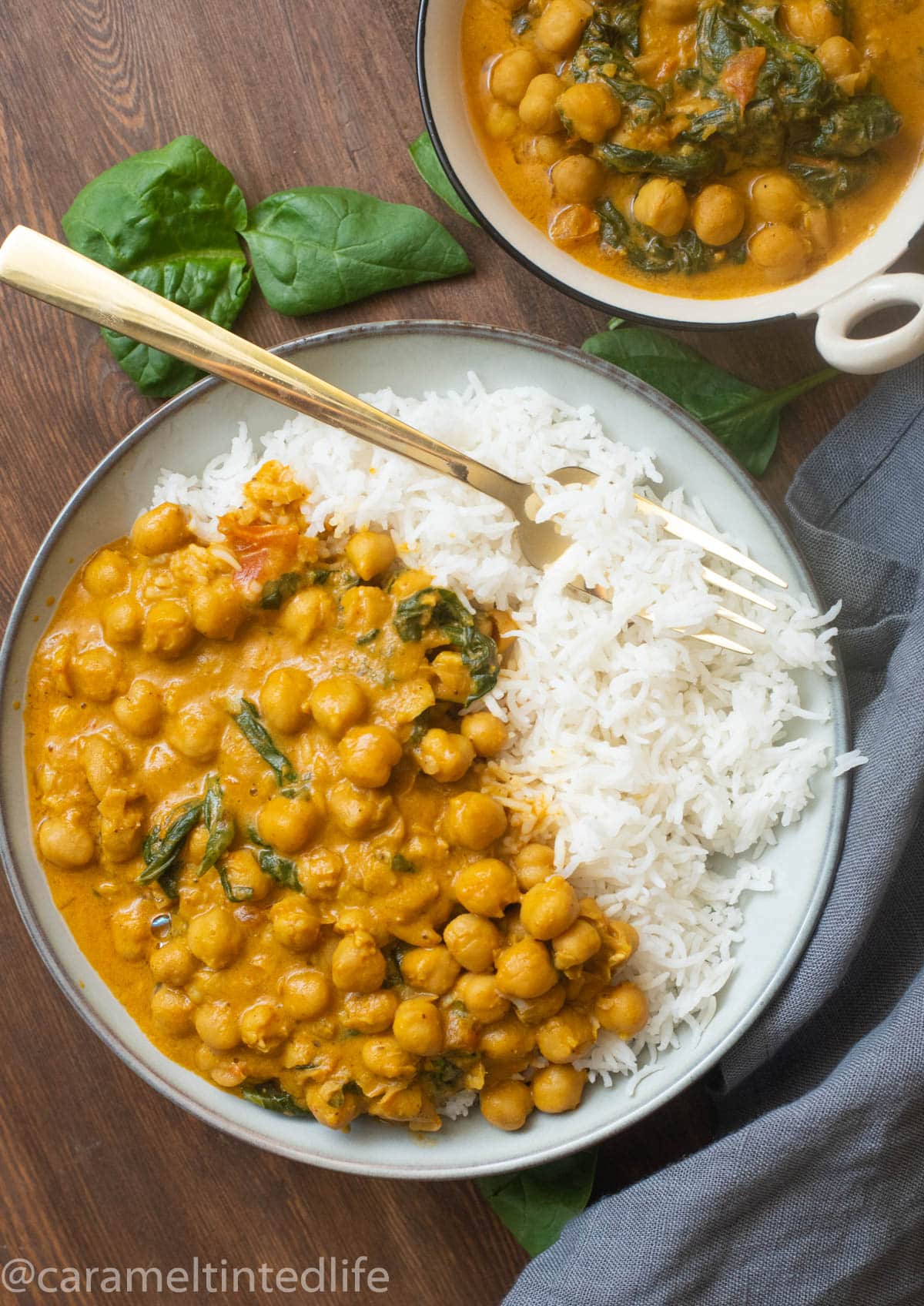 Tips and Recipe Variations
This Instant Pot chickpea coconut curry is such a fuss-free recipe, and can be adjusted to suit your preferences. As with most curries, the flavors improve over a day or two, making it perfect to make in advance and store. Meal planners, you can rejoice!
Canned chickpeas: You can use canned chickpeas instead of dried chickpeas. My personal preference is to use dried chickpeas after soaking them for at least 3 hours. However, if you are looking to make this recipe on the stovetop, then use canned chickpeas in a pinch!
Add veggies: Add frozen vegetables while simmering the curry (after the chickpeas are cooked) to make this a mixed-vegetable curry, similar to my recipe for vegan korma curry.
More greens!: Add kale or your choice of greens along with spinach or in place of spinach.
Storing the curry: This is a perfect meal prep recipe, as the flavors of the curry mature over a day or two. You can prepare it in advance and store it in the refrigerator for up to 3 days or freeze for up to a month.
More Indian Recipes
Cauliflower Curry (Aloo Gobi Matar)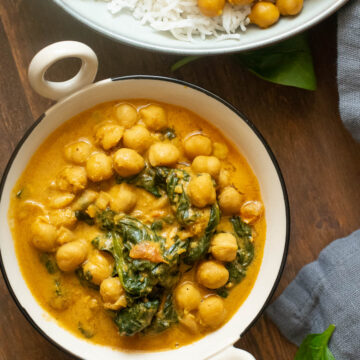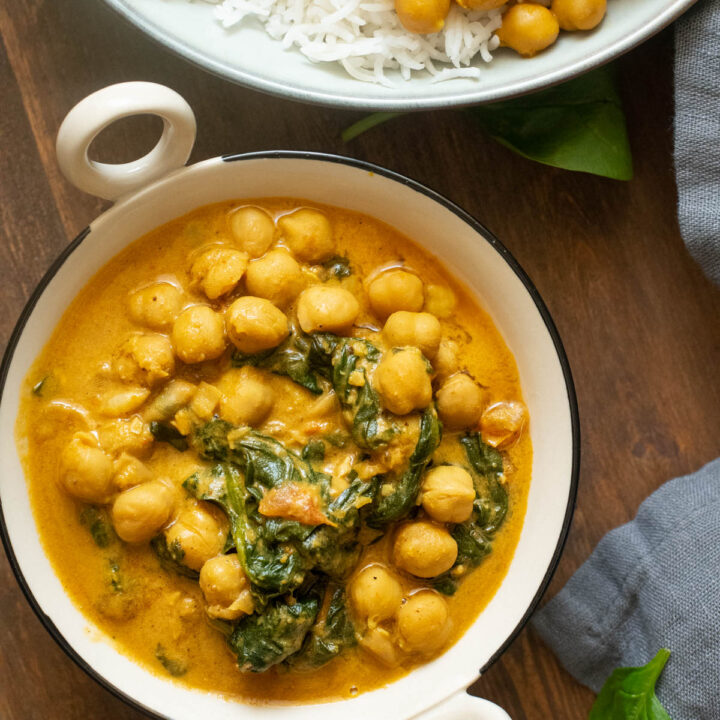 Chickpea Coconut Curry
Easy Vegan Instant Pot Chickpea Coconut Curry recipe is a delicious meal that the entire family will love!
Instructions
Hit Saute on the Instant Pot. Add the oil or ghee and heat for a minute. Add the chopped onion.

Saute for 4-5 minutes until onions are translucent. Add the chopped tomato and continue to saute for 2 minutes until tomoatoes begin to soften. Hit Cancel.

Add the turmeric, garam masala, cumin and red chili powder along with the ginger-garlic paste.

Add the soaked chickpeas, followed by enough water to just immerse the chickpeas. I used 2+1/3 cups of water.

In Pressure Cook (or Manual) mode, set the time for 20 minutes and pressure cook.Once the cooking cycle is complete and the Instant Pot starts beeping, let it stay in 'Keep Warm' mode for 10 more minutes. After 10 minutes, manually release the steam. (NPR for 10 minutes, followed by quick release)

Open the lid of the IP and add the spinach leaves (or frozen spinach, if using) and coconut milk and tomato puree. Mix well, hit Saute and let the curry simmer with the lid off for 5 minutes more.

Once the curry has thickened a little, switch off the IP.

Finish with a squeeze of lime, and serve over basmati or jasmine rice.
Nutrition
Calories:
164
kcal
Carbohydrates:
18
g
Protein:
5
g
Fat:
9
g
Saturated Fat:
7
g
Sodium:
616
mg
Potassium:
534
mg
Fiber:
5
g
Sugar:
5
g
Vitamin A:
1992
IU
Vitamin C:
17
mg
Calcium:
75
mg
Iron:
4
mg