Appams are soft, pillowy cakes and crepes made with a fermented rice and coconut batter. Here are two ways to make appams with one basic batter!
(This recipe was first published in June 2020 and has been updated)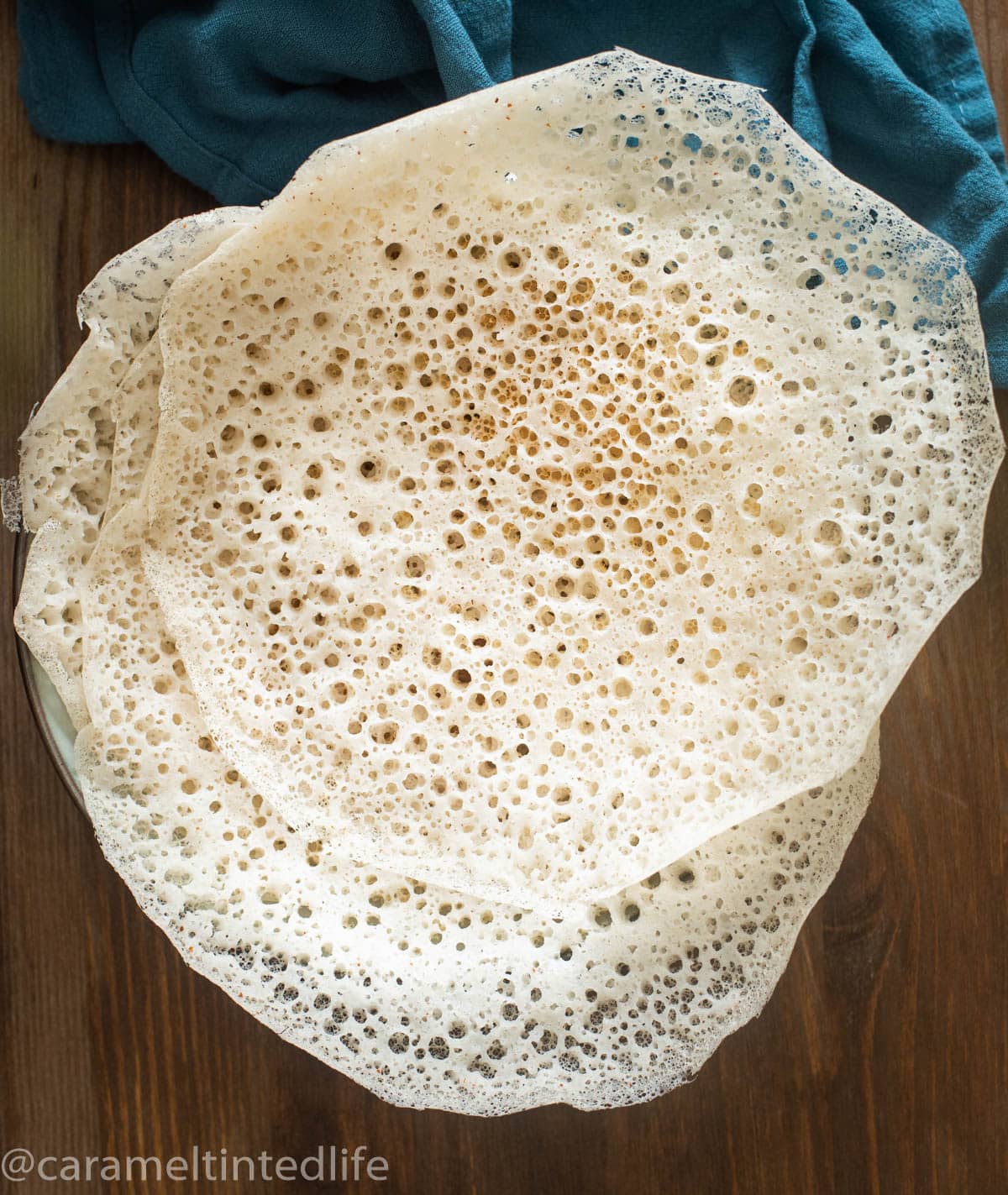 (This recipe was originally publish in February 2020, and has been updated with detailed instructions and images)
Jump to:
I'm surprised I haven't written about appams earlier, considering how much our family love them! Appams, or hoppers as they are known in some parts of the world, are a staple in our home, and often have them for breakfast or lunch. If you haven't heard of appams before, read on to know more about this much beloved rice-based crepe-pancake!
What are appams or hoppers?
To put it simply, appams are lacy crepes made from a fermented rice and coconut batter. Appams are very commonly made in the state of Kerala in India and in Sri Lanka (where they are also known as hoppers). Classic appams or hoppers are made in a round cast iron pan, where they emerge as lacy crepes, with crispy edges and soft, almost spongy centers. There are also other versions of appams, aside from hoppers, all of which use rice and coconut in various forms and proportions:
Velayappam or Vella Appam (white appam) or hoppers – Classic lacy pancake made from a fermented rice flour and coconut batter. These are traditionally made in an 'appachatti' – a cast iron frying pan shaped like a bowl.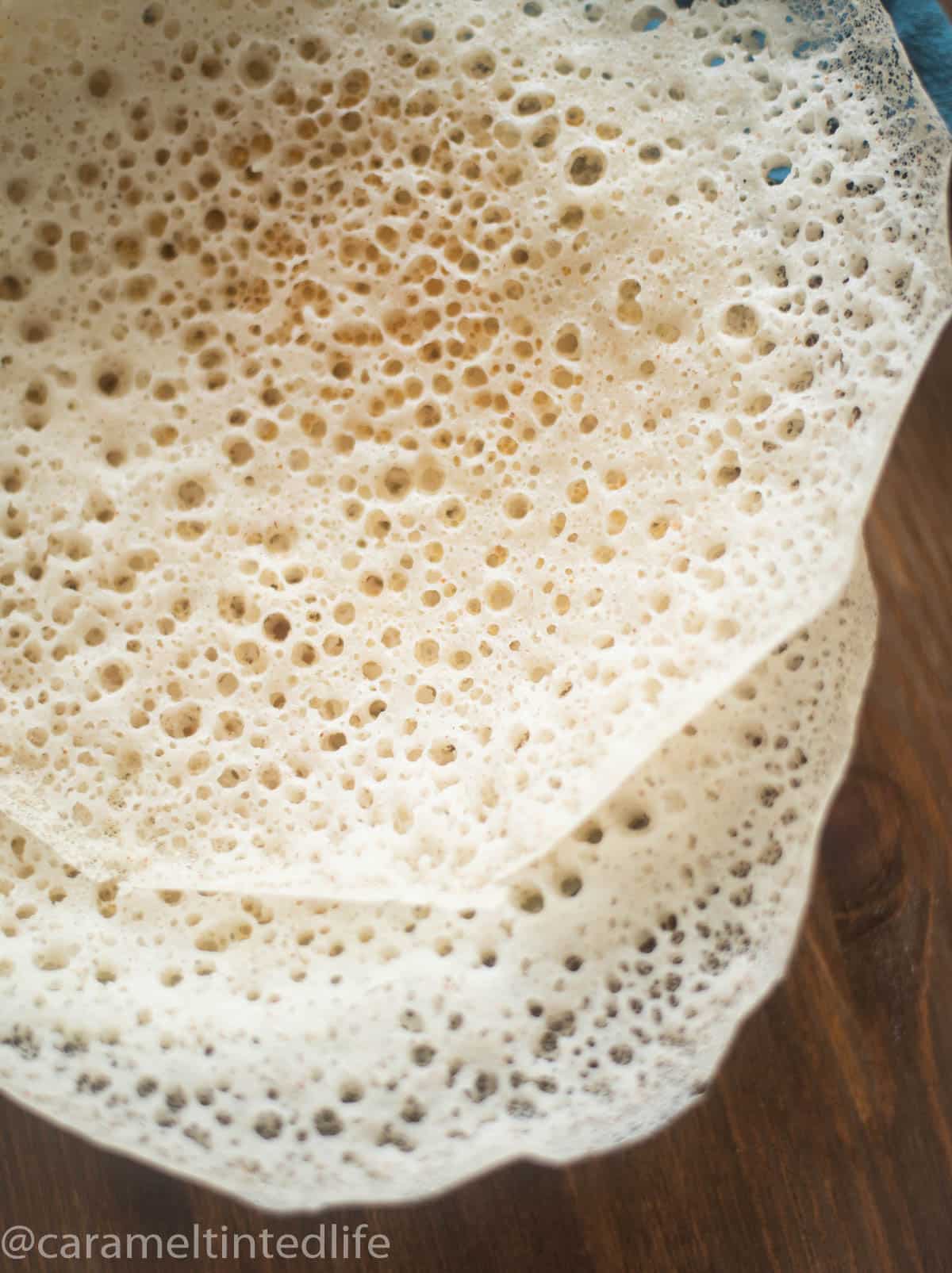 Vattayapam - A sweeter cake-like version of the appam, made with a sweetened fermented rice and coconut batter, often flavored with cardamom. Vattayapams are made by steamed the rice batter, resulting in soft and spongy cakes.
Iddiyapam or string hoppers – Iddiyapam can be described as rice 'noodles', made by steaming a rice flour-based dough.
Achappam – A fried sweetened rice dough ball, flavored with cumin and cardamom.
What is appam eaten with?
Usually eaten for breakfast, brunch or lunch, classic unsweetened appams or hoppers pair very well with savory curries such as chicken curry, egg curry, black gram curry, fish curry, vegetable korma and chicken stew, sambal, etc. Appams are also enjoyed with chutneys, and some people like it simply dipped in coconut milk.
The sweetened version of appams - Vattayapams are best enjoyed on their own. Make then in a mini-mold and you have individual rice that are a great snack option by themselves.
List of ingredients
There are several ways in which appam can be made, but for the sake of simplicity, I am sharing my mother's recipe for making appam at home. This appam recipe is the closest to the traditional way of making appams, and I love how soft, spongy and light these turn out!
Ingredients used to make appam batter:
Raw rice – You can use most varieties of rice to make appams. However, I recommend using idli rice, sona masoori or basmati rice in this recipe.
Grated coconut – Use fresh or frozen grated coconut
Sugar – Use refined white sugar, avoid using cane sugar or brown sugar, we are aiming for a white batter.
Yeast – Yeast is needed for fermenting the batter. Traditionally, appams were prepared with palm 'toddy' – a fermented drink made from the sap of the coconut tree, and in many parts of Kerala, toddy is considered to be the best way to ferment appams.
Step-by-step instructions
To make the batter for appams or hoppers, we follow 3 broad steps:
Soaking
Grinding
Fermenting
We begin by preparing the appam batter well in advance – much like dosa batter, appam batter needs a little advance planning. The appam batter is made by soaking the raw rice in water for at least 4 hours, or best overnight. In a separate bowl, soak some flattened rice (poha) for around 20-30 minutes. The poha gives the appams a softer texture.
Once the raw rice and the flattened rice are soaked, we grind them together along with the grated coconut and a little water. I use the same basic batter to make both classic appams or hoppers (velayappams ) and rice cakes (vattayapams). The only difference is that, to make vattayapams, we need to add sugar and cardamom powder to the batter.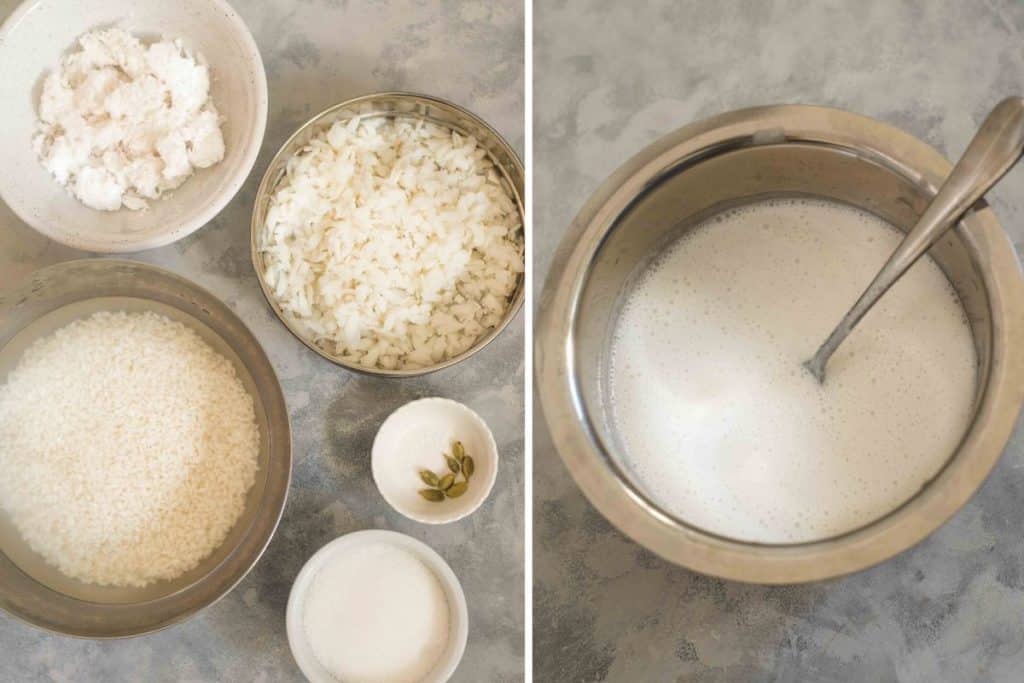 To the ground ingredients, we add the activated yeast. Use either active dry yeast or instant yeast for this appam recipe - just follow the instructions to activate the yeast and continue with the rest of the steps.
Once the yeast is added to the batter, we move on to the fermentaion process. To speed up the fermentation process, I like to use the Instant Pot in the 'Yogurt' mode. In the Instant Pot, the batter will ferment in 90 – 120 minutes. If you are not using an Instant Pot, let the batter ferment for at least 3 hours.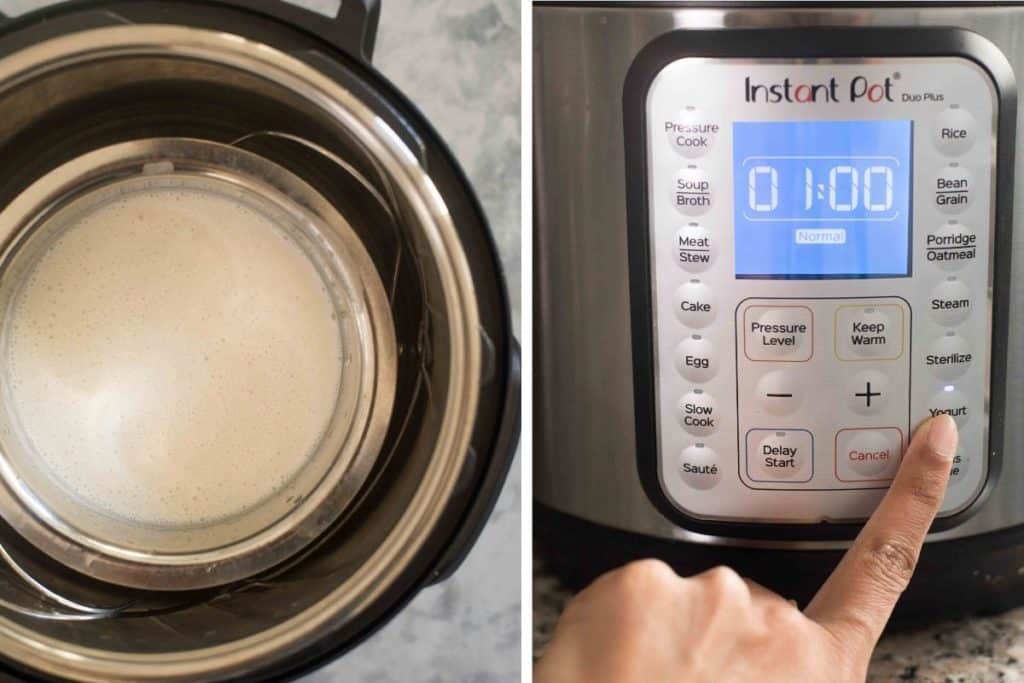 To prepare classic appams or hoppers, we cook the appam batter on a pan on the stovetop, much like you would regular pancakes. Use an appam pan (or appachatti) such as this one, if possible. If you don't have access to an appam pan, just use a regular cast iron skillet.
To prepare the sweet rice cakes or vattayappams, we steam the fermented batter in a lightly oiled cake tin or mold. The process is similar to making idlis – you could use an idli mould as well. I like to use my Instant Pot and steel stacking pans to steam the appams. I also use a silicone mould to make mini vattayappams that are a huge hit with the little ones!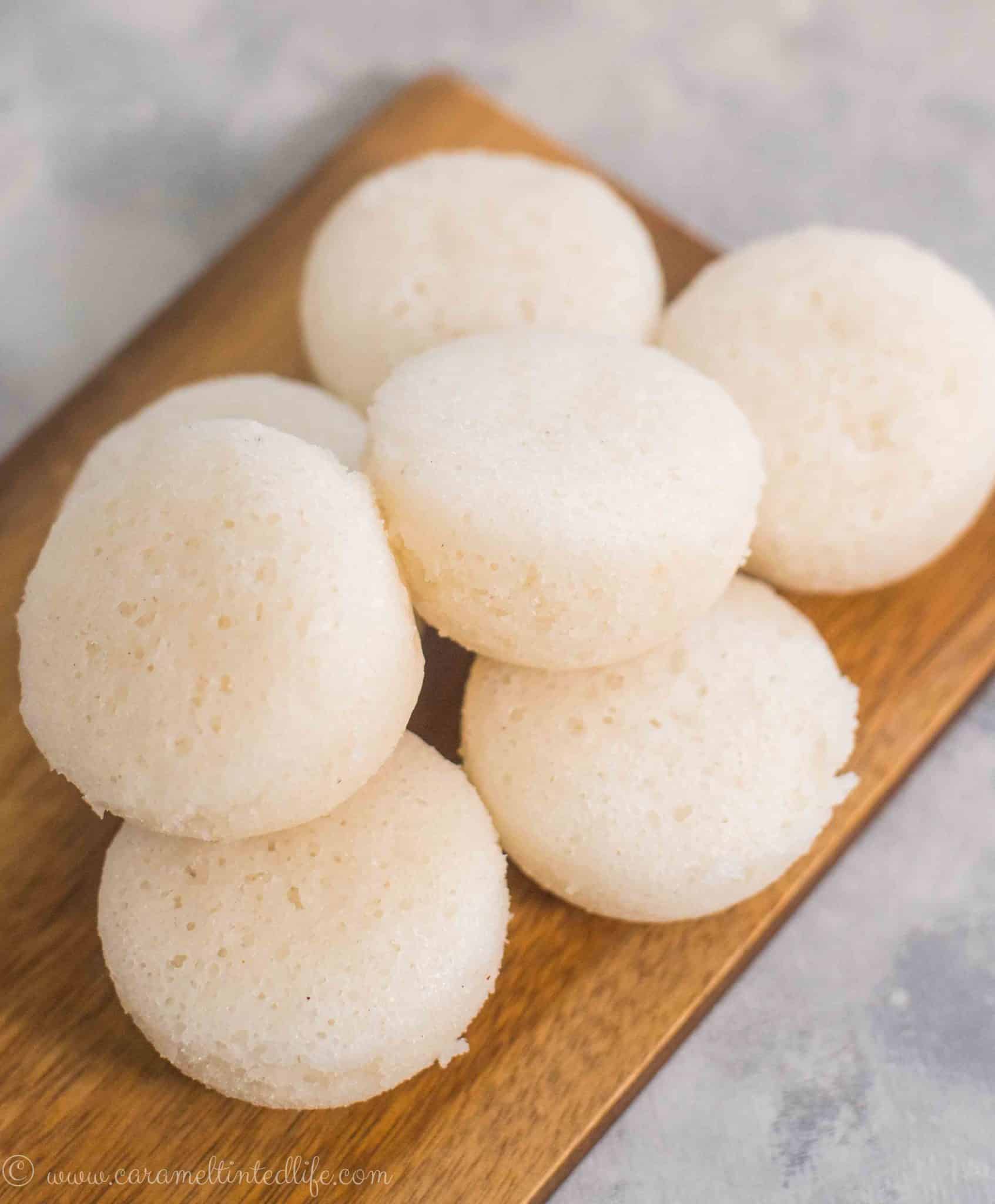 FAQ's
Can appam batter be kept in the fridge?
Yes, appam batter can be kept in an airtight foodsafe container for upto 4 days in the fridge. Before using cold batter, just give it a few whisks and then use the batter as you normally would.
How do you ferment appam batter in cold countries?
Appam batter is fermented with yeast, and usually left in a warm place to ferment – the process takes around 4-5 hours. I prefer to use the Instant Pot to speed up the fermentation process. This works for the Instant Pot models with the 'Yogurt' function.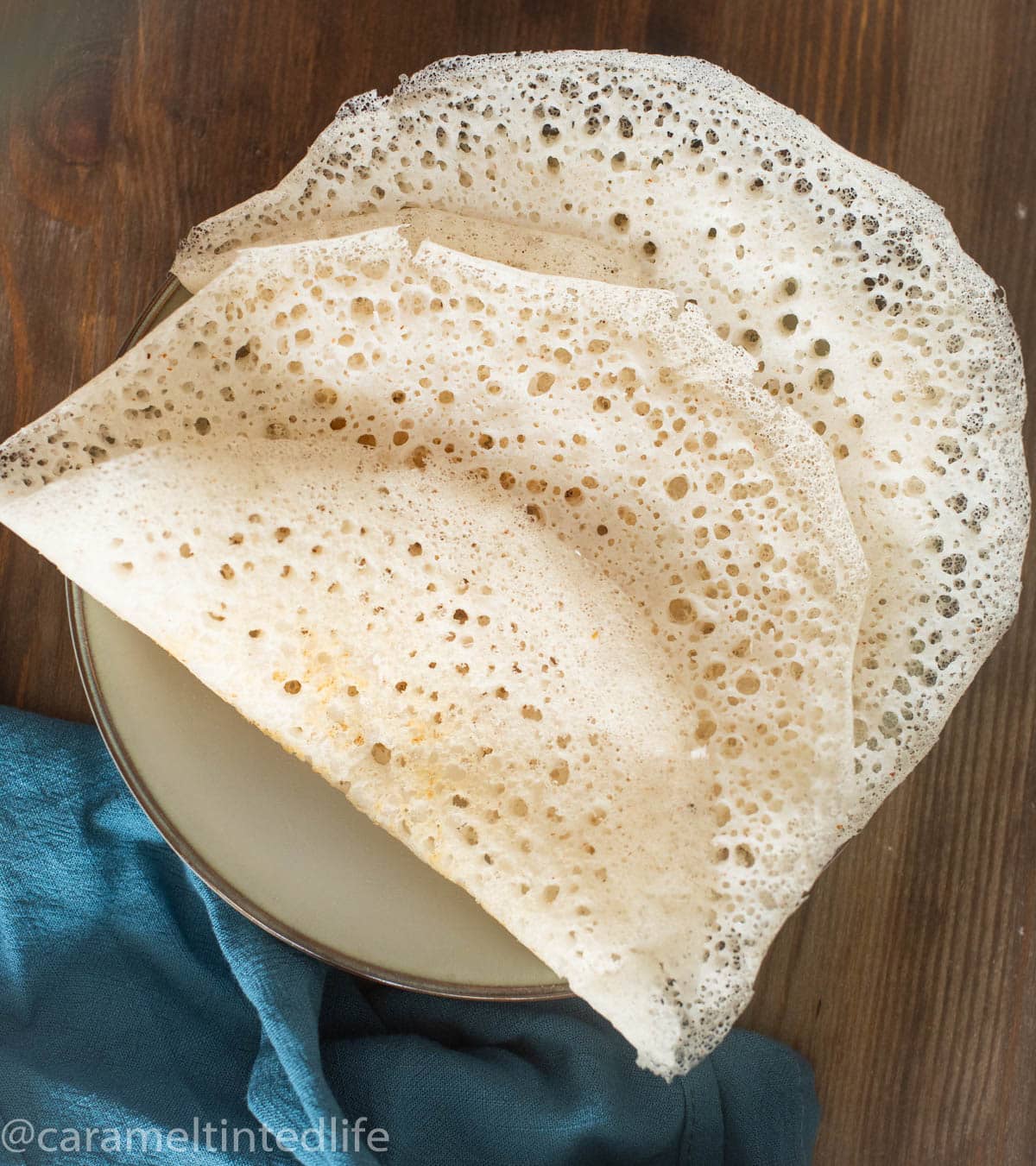 Serving Suggestions
Appams pair very well with curries or traditional South Indian stir-fries. Here are some mains that go well with Appams: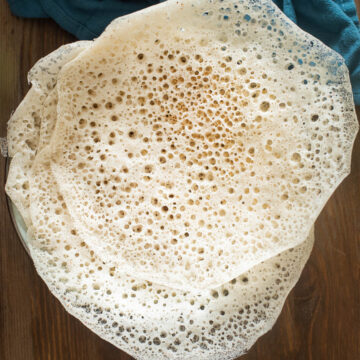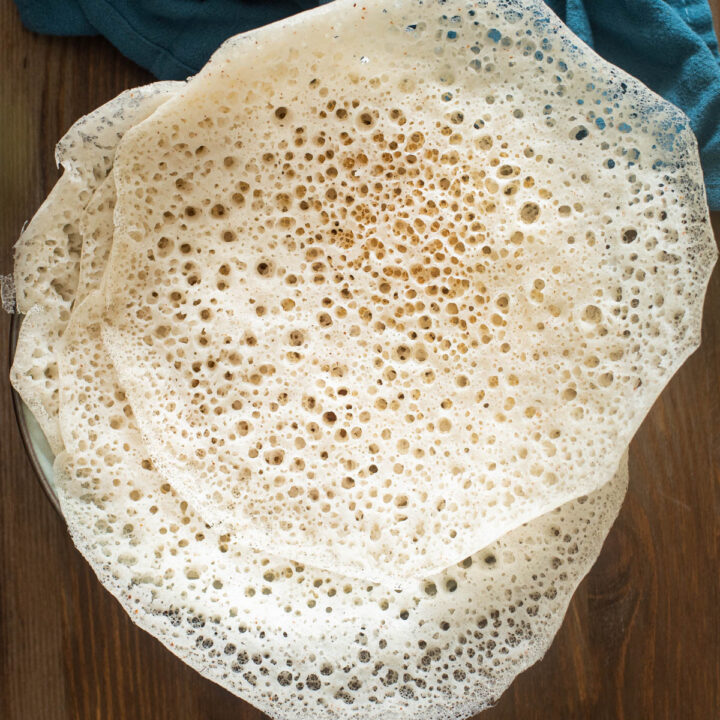 Appam Recipe
Appams are soft, pillowy crepes made with a fermented rice and coconut batter. Here are two ways in which appams can be made!
Ingredients
1

cup

flattened rice

(poha), soaked for 30 minutes

2

cups

idli rice

soaked for at least 3 hours

1

cup

grated coconut

use fresh or frozen

1

teaspoon

yeast

active dry yeast

Salt

a pinch
Additional ingredients for Vattayapam (steamed rice cake)
Instructions
To make the batter:
Let the yeast activate in 2 tablespoons slightly warm water for 5-8 minutes until frothy. Grind the rice and coconut together along with 1.5 cups water to form a runny batter. Add poha (flattened rice) and grind again until a smooth batter is formed.

Add the activated yeast and salt and mix well. Keep it in steel vessel for fermentation.

To ferment the batter in the Instant Pot, set the IP to the 'Yogurt' mode for 2 hours. If you are fermenting it without an Instant Pot, keep it covered in a warm place for 4 hours.

Once fermented, we have the basic batter for both hoppers and vattayapams.
Additional steps for vattayapam (steamed rice cakes)
To the basic batter, add sugar and cardamom powder. Mix well to dissolve the sugar. The vattayapam batter is ready to use.
To make the classic appams / hoppers on the stove-top
To the basic batter that you just prepared, add 3-4 tablespoons of water and mix to combine. The batter should be runny, but thick enough to coat the back of a spoon.

To make the appams, preheat a cast iron pan or a well-seasond wok on the stovetop. You can also use an 'appachatti' if you have one.

Add a ladle-ful of batter to the heated pan and spread it out into a circle like a crepe. Cover with a lid. Let the batter cook until you see a lace-like pattern forming and the appam can be easily lifted from the pan. Once cooked, use a spatula to lift the appam. Keep aside and continue with the rest of the batter.
Cooking vattayapams:
To steam the appams, use either a silicone egg bite mold or a lightly oiled steel pan or a greased cake tin. Pour in enough batter (around 3 cms deep).

Prepare the Instant Pot for steaming the appams: Pour 1 cup of water into the Instant Pot. Hit the 'Steam' function, make sure the vent in in 'Venting' position and set the time for 5 minutes. Use an external timer or set an alarm for 10 minutes (the Instant Pot will not count down as it does in the Pressure Cook / Manual mode). Once 10 minutes are up, perform a manual release of pressure and carefully take out the mold/steel pan/cake tin.

Let the rice cake cool and gently take out the rice cake once it has cooled a little.
Notes
To steam the vattayapams, use a lightly greased steel stacking pan, or cake tin or a silicone mold for egg bites. Keep in mind that when the Instant Pot is in the 'Steam' function, with the vent in 'Venting' position, the Instant Pot doesn't keep time.
Nutrition
Calories:
340
kcal
Carbohydrates:
67
g
Protein:
5
g
Fat:
6
g
Saturated Fat:
5
g
Sodium:
7
mg
Potassium:
121
mg
Fiber:
2
g
Sugar:
21
g
Vitamin C:
1
mg
Calcium:
18
mg
Iron:
1
mg
Shop this recipe: