A traditional, authentic recipe for Delhi-style Lamb Korma
Delhi, India's capital city, can be split into two distinct areas - New Delhi and Old Delhi. New Delhi is the more well-planned part of the city, known for its majestic architecture, designed during the British reign of India in the 1920's. This part of the city is more modern and urban . Shopping centres, office buildings and apartments jostle for space with diplomats' bungalows with spacious gardens, the houses of Parliament, the India Gate.
In contrast, Old Delhi seems like a whole different world altogether, with its origins dating back to the Moghul reign in the 1600's. The history of Old Delhi is captured very well in the book 'City of Djinns', part-travelogue, part-memoir, in which author William Dalrymple paints Delhi with an aura of mystery, throwing in dervishes, eunuchs and more such characters into the mix. Old Delhi is all that and more, a place where every lane seems to have several centuries worth of stories to tell.
The very efficient Delhi metro connects New Delhi to Old Delhi but once in the old city, cycle rickshaws are the best way to get around. Although the area is chaotic and extremely congested, several of the traditions and customs remain the same. The history and traditions of the 'City of Djinns' can be experienced just by eating in its busiest market. Old Delhi is home to Asia's largest spice market, 'Kharo Baoli, as well as 'Chandni Chowk', one of the oldest and busiest markets in Old Delhi.
For more authentic Indian Lamb recipes, take a look at my Lamb Bhuna, Karahi Gosht, and Mughlai Lamb Curry.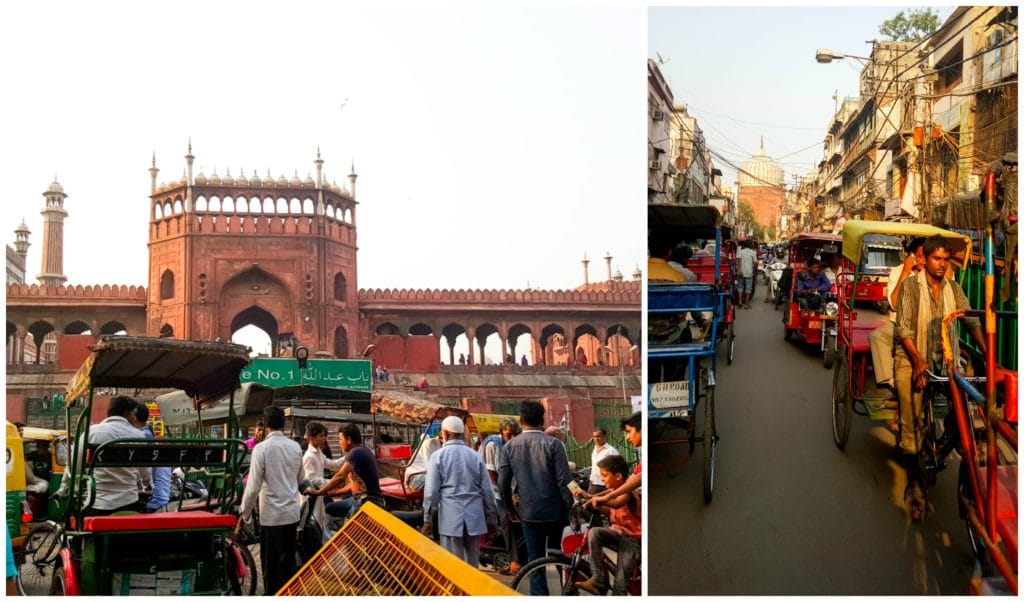 Chandni Chowk, which translates to "moonlit square" which it might very well have been back when it a significant thoroughfare, with canals flowing through. Chandni Chowk was designed by a Mughal princess, no less. Now though, the streets of Chandni Chowk have descended into mayhem. There is a buzz of traffic, masses of people and in all this, the magnificent Jama Masjid (pictured above), stands tall amidst the whirl of activity all around.
Last year, my husband and I braved the heat of the June sun and walked around Chandni Chowk, eating and clicking our way through Delhi's oldest and busiest labyrinth of a market. We ate at the famous 'Parathe wali galli', sampled sweets from roadside street vendors, and gulped down 'lassi' from a store that was older than our combined selves. Once done with all the eating, we hailed a cycle rickshaw and set off to the one place that was the primary reason for which we were in Chandni Chowk - 'Karim's'.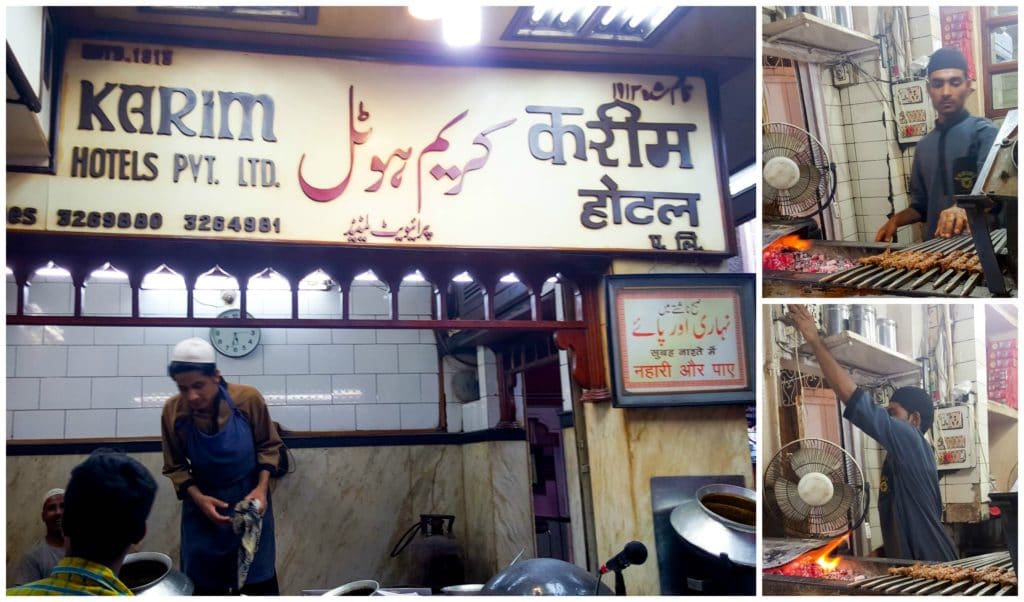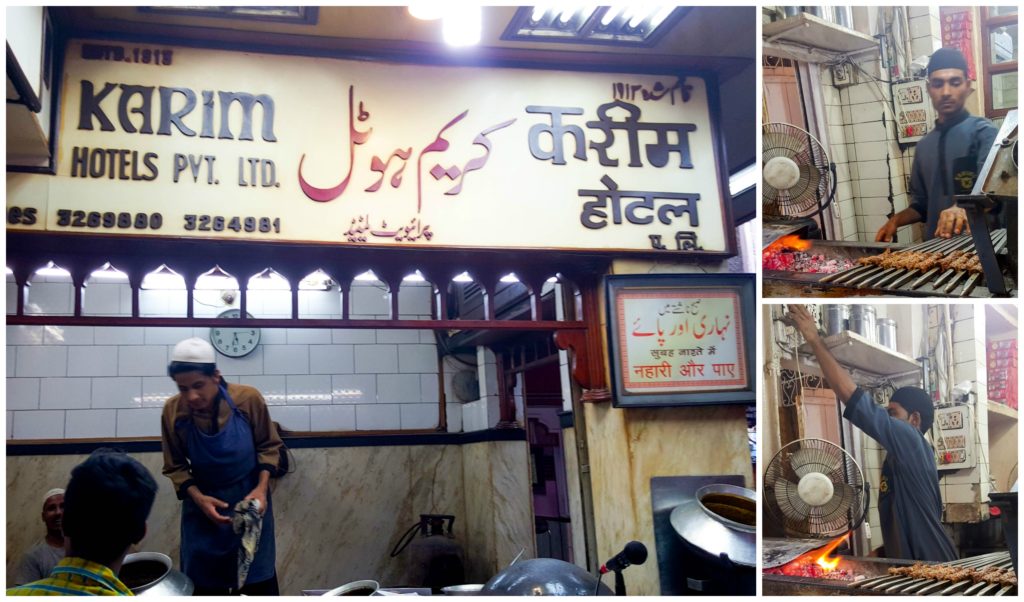 The restaurant Karim is a culinary legend, and is credited with being the establishment that put old Delhi on the world map. This no-frills restaurant in the heart of Old Delhi turned 100 years a few years ago, and serves dishes that were originally made in the royal court of the Mughals. This is a place where food, not ambiance calls the shots. Customers seat themselves around large marble-top tables, plastic chair and are served in basic melamine plates.
Much has been made of the menu at Karim's, which boasts of timeless legends dishes such as 'Mutton Burra' (marinated goat meat that is roasted and charred in the tandoor, or clay oven), breakfast specialties such as Nahari (meat slow-cooked with bone marrow) and Paya (stew made from trotters or the feet of a goat). Although I'v not been lucky enough to make it for their breakfast, I have heard that the spectacular breakfast itself is worth a trip to Old Delhi.
One of the classics at Karim's is a 'Mutton Qorma' or goat meat slow-cooked in yoghurt and spices. Its been nearly a year since our visit to Karim's, and I was tempted to have some succulent lamb korma. I looked around and discovered a wonderfully detailed recipe for mutton korma here, and was inspired to make a similar korma using lamb. I followed the recipe in most part, only omitting the mace and cinnamon.
The result was an utterly delicious dish, which was worth the extra time spent in the kitchen. Don't let yourself be daunted, this korma is a simple, albeit time-consuming dish to make, and is easy enough with a little prep work in advance. I urge you to try this recipe, if you want to have a taste of Mughal food that takes you to the narrow lanes of Old Delhi...an experience like no other!
More Indian Recipes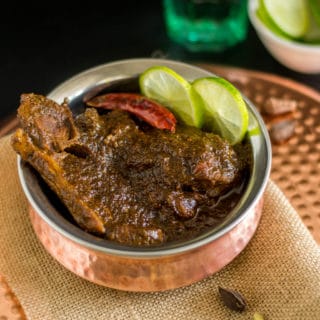 Lamb Korma - Old Delhi Style
A delectable lamb korma, redolent of the spices originally used in dishes common the Mughal royal court
Ingredients
500

grams

lamb

chops with the bone-in

2

Onions

finely sliced and deep fried (see notes)

2

tsp.

Rose Water/Kewda Water

Ingredients for Marination:

1

Cup

yogurt

hung and strained for at least 20 mins

1/8

tsp

Nutmeg powder

1/8

tsp

cinnamon powder

1/2

tsp

turmeric powder

1/2

tsp

Kashmiri chili powder

3 parts paprika to 1 part cayenne pepper

1/2

tsp

cumin seed powder

1

tsp

coriander seed powder

3

tsp

ghee

For the dry spice mix

grind in a grinder (spice grinder or coffee grinder):

2

whole black cardamom pods

4-5

whole green cardamom pods

5-6

cloves

5-6

peppercorns

For the wet spice mix

grind together the following in a mortar and pestle or in a grinder:

1-

inch

piece of ginger

peeled and diced

4

garlic cloves

2

green chilies
Instructions
Begin by washing the lamb and pat the pieces dry.

Grind the fried onions to a paste and keep this aside.

Prepare the dry spice mix by grinding together the cardamom pods (green and black), cloves and peppercorns.

Prepare the wet spice mix by grinding together the ginger, garlic, chilies. In a heavy-bottomed vessel, place the lamb along with the strained yogurt, ghee and all the prepared ingredients for marination. Add salt to taste, and mix the lamb thoroughly in the marinade mixture.

Let the lamb marinate for around an hour, or overnight if possible.

Once you are ready to cook, heat the vessel on a medium flame, cooking for 10-15 minutes until you see the fat escaping the sides. At this point, add 4 cups of water and lower the heat.

Add the fried onion paste to the vessel and give it a stir, continuing to cook on low to medium heat, stirring occasionally for another 25 minutes until the lamb is cooked, and the water reduced.

Lower the heat add the rose water, and turn off the heat.

Serve with lime wedges, raita (spiced yoghurt) and rice or naan (flatbread).
Notes
1) To prepare the fried onions, slice them finely and deep fry the sliced onion in vegetable oil. Using a slotted spoon, strain the fried onions and drain them on paper towels. Fried onions are called as 'birista', and popular in Mughal and Pakistani cooking. They are great as a paste in kormas, and as a garnish in biryanis and pulaos
2) Straining the yoghurt (especially if you are using low-fat yoghurt) will help prevent splitting while the korma is cooking
Pin here, if you like this recipe!