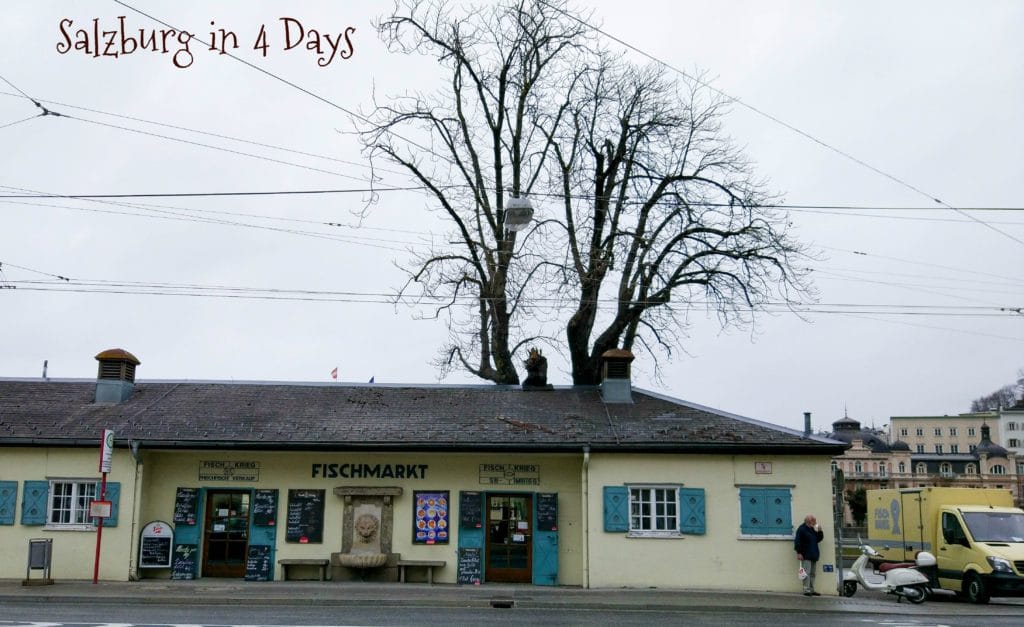 We visited Salzburg, Austria in late February this year, and after 4 days in the city, we left thinking this was definitely a place worth a second visit. I have posted before about our experiences (read Part 1 here and Part 2 here). We also ate around quite a bit (but of course!) and enjoyed nearly every meal we had. We ate at places recommended to us by our local friend, preferring to eat like the locals do, and avoiding fancy restaurants. Side note - Of all the cities in Austria, Salzburg has the highest concentration of gourmet restaurants, including Michelin-star restaurants. So I'd say, Salzburg has something for every budget, with several good eating options for families. Here's a selection of places we enjoyed eating at:
Bierheuriger Gastronomie, Gaisbergstraße, Salzburg: On our first day, we had dinner at Bierheuriger, a bar and beer garden in Gaisbergstraße, some distance from the old town centre. The place is quite popular in the evenings and is well known for its selection of ribs to go with the beer. We had their mixed ribs platter, which was fantastic, so much so that we came back and ordered this for dinner the next evening as well. This platter has three portions of ribs in three of the house special flavours - honey roasted, mango chutney and garlic. It comes with three sauces, garlic bread and buttered corn on the cob. And at €14.90 for a platter, I can't recommend it enough. We also had their spinach dumplings in ham and cheese sauce and small portion of goulash with bread, both of which my three-year-old loved.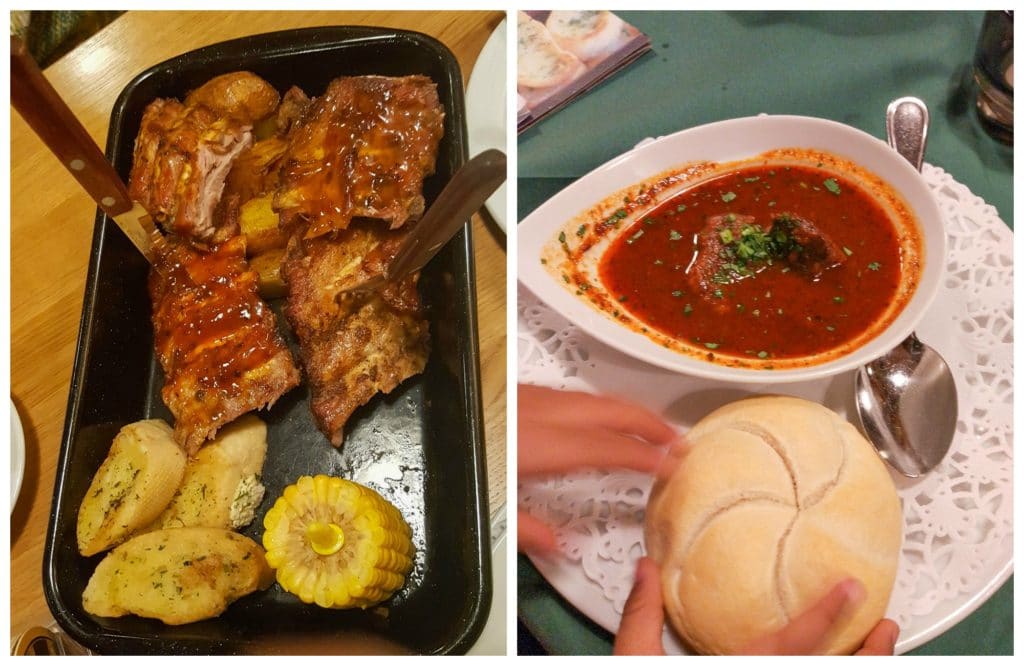 My friend ordered Kaiserschmarrn mit Zwetschkenröster (below, left), which are quite popular in Austria. Kaiserschmarrn is something like a shredded pancake, served with a side of plum sauce. I would have loved to have at least two of these for my breakfast! We also had a chocolate cake served with caramel sauce and whipped cream (below, right), which was just about okay.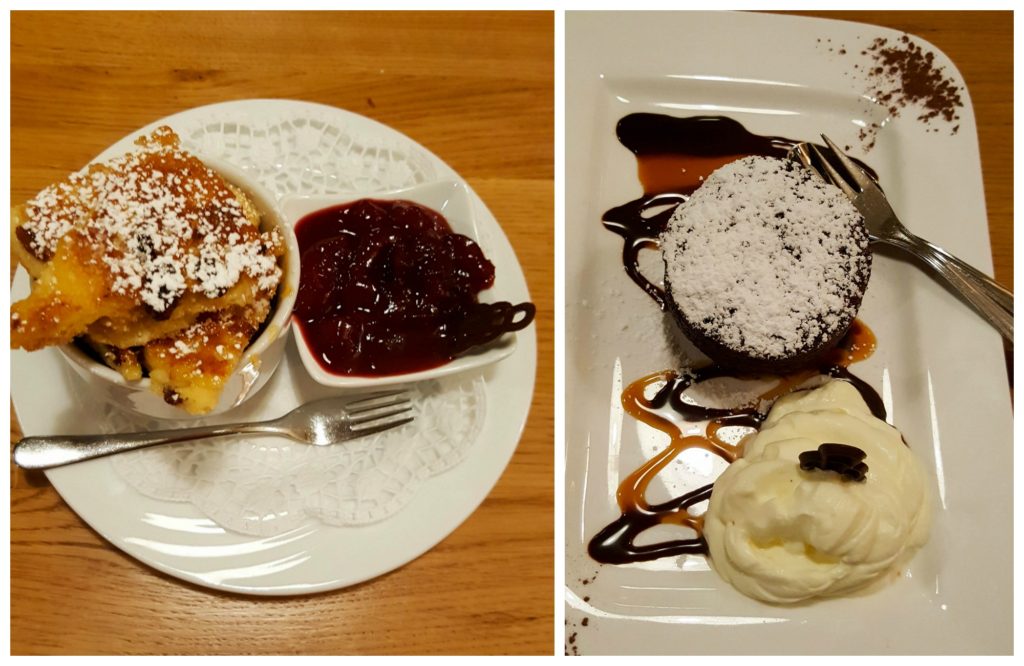 Crepes at the Konigsee, Berchtesgaden, Germany: One of the meals I thoroughly enjoyed was during our time at the Konigsee, by the lakeside. The area is rather touristy, and we were expecting to see several vendors selling bratwurst, crepes, etc, and were certainly not disappointed. We stopped for crepes at this stall, and I can honestly say these were the best crepes I have ever had! You may be thinking 'how vastly different can one crepe with Nutella be from another'? Believe you me, these were quite special.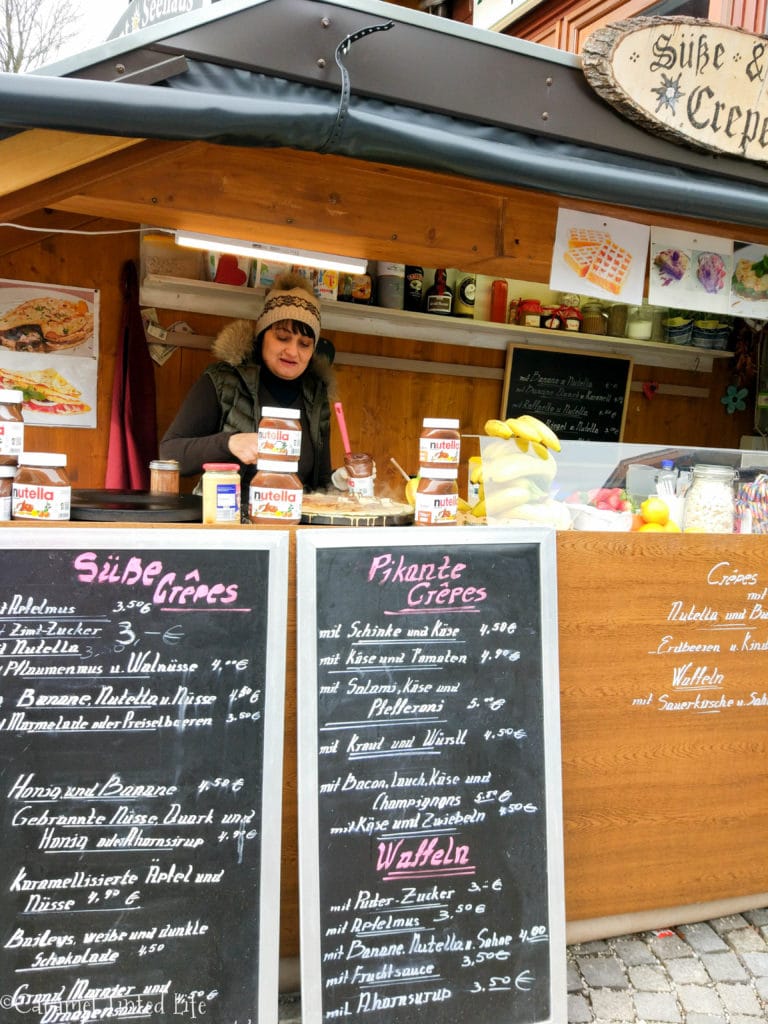 Here's what we ate: Sweet crepes with caramelised apples and walnuts and banana and strawberries with Nutella. Those are some seriously large crepes for those prices! And perfectly enjoyable too. If you are planning to visit the Konigsee (summer is the perfect time because you get to take the boat too) you must stop at this little crepe stall on the road that leads to the lake. You will not regret it!
Daimler's Bar & Grill (Giselakai, Salzburg): Our friend took us to this place close to the city center, overlooking the river Salzach, one night for dinner. Said to have the best burgers in town, Daimler's has several different burger variants and also offer hot dogs, finger foods, steaks and a good selection of drinks. It is styled like an American diner, perhaps a little rough around the edges, but its friendly staff and great food trumps everything else.
We ordered their pulled pork slider, shrimp burger, and a grilled chicken burger, along with beer and some cocktails. While the burgers were very good, the pulled pork slider was the stand-out for me. A word on the bun they use for the burger - it is made with an 'Eat the Ball Hockeypuck'. Eat the Ball is an Austrian company owned by a former Red Bull manager. Eat the Ball was started as a healthier alternative to commercially available bread, and what's unique is that it is sold is several ball shapes - including the hockey puck variant that we had. The company uses a fermenting technique to make the bread, resulting in a longer shelf life without the use of preservatives. The fries that come with the burger deserve a special mention. They were so good! I asked for fries with parmesan cheese and truffle oil. You definitely can't wrong with that!
I noticed that Migros has very recently made Eat the Ball available in stores in Switzerland. So, naturally, I am tempted to pick some up and make my version of pulled pork sliders with truffled fries!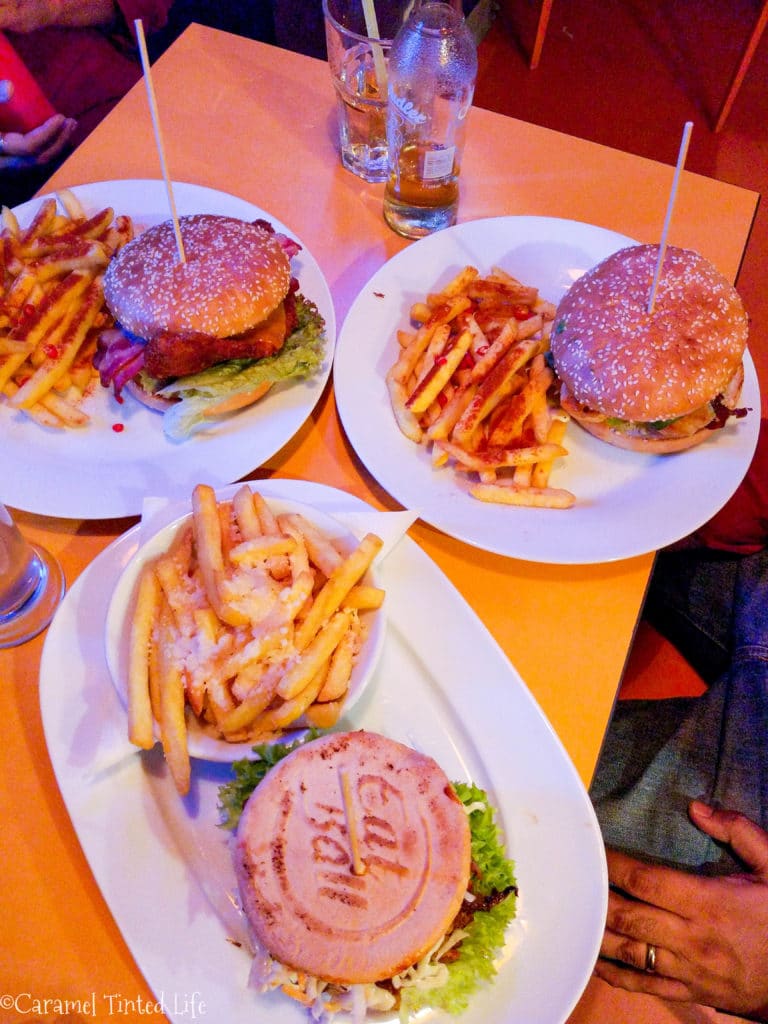 Fisch Kreig, Ferdinand-Hanusch-Platz, Salzburg: We had a meal at this fish market, which is more like a fish wholesaler /distributor with space inside having been converted into a no-frills, cafe-style restaurant. A lovely team of ladies take orders behind a counter. The service is pleasant, the seafood is fresh and ridiculously reasonably priced. They serve coffee, wine and beer as well, and a restaurant is a fantastic option for simply made fresh seafood, with a view of the river as a bonus.
I had a whole fillet of salmon with a potato salad, and for under €12, I think it made for an extremely satisfying meal. Hanush Platz, where the Fisch Kreig is located, is right off the Altstadt, and we literally walked straight from the Salzburg Castle, right into the restaurant for lunch. It is a very budget friendly place, family-friendly and perfect for lunch after a morning of sightseeing.
Stiftsbäckerei St Peter, Kapitelplatz, Salzburg: We stumbled upon this bakery, while walking around Kapitelplatz, the central piazza in the Old Town. It sounds cliched, but it was the smell of bread baking that drew us and many more people inside. It is said that in the 12th century, the monastery built a flour mill at the junction where the water flows out of the hill just below the Salzburg Castle. The bakery built then exists till this date. This bakery has been operating for more than 700 years, producing quality sourdough loaves from a wood-fired oven. There are no tables or chairs, there is a place where you can pick up the bread and eat on the go. There are benches where customers can sit down and wait for their order. Even on a Monday mid-morning, when we were there, there was a reasonably long queue of customers. We picked up a couple of warm-from-the-oven- raisin buns from here and happily munched away as we walked up the hill to the Salzburg Castle.