Gobi Manchurian or Cauliflower Manchurian is an Indo-Chinese dish made with crispy cauliflower florets coated in a spicy, tangy sauce that's infused with ginger, garlic, soy sauce, and green onions.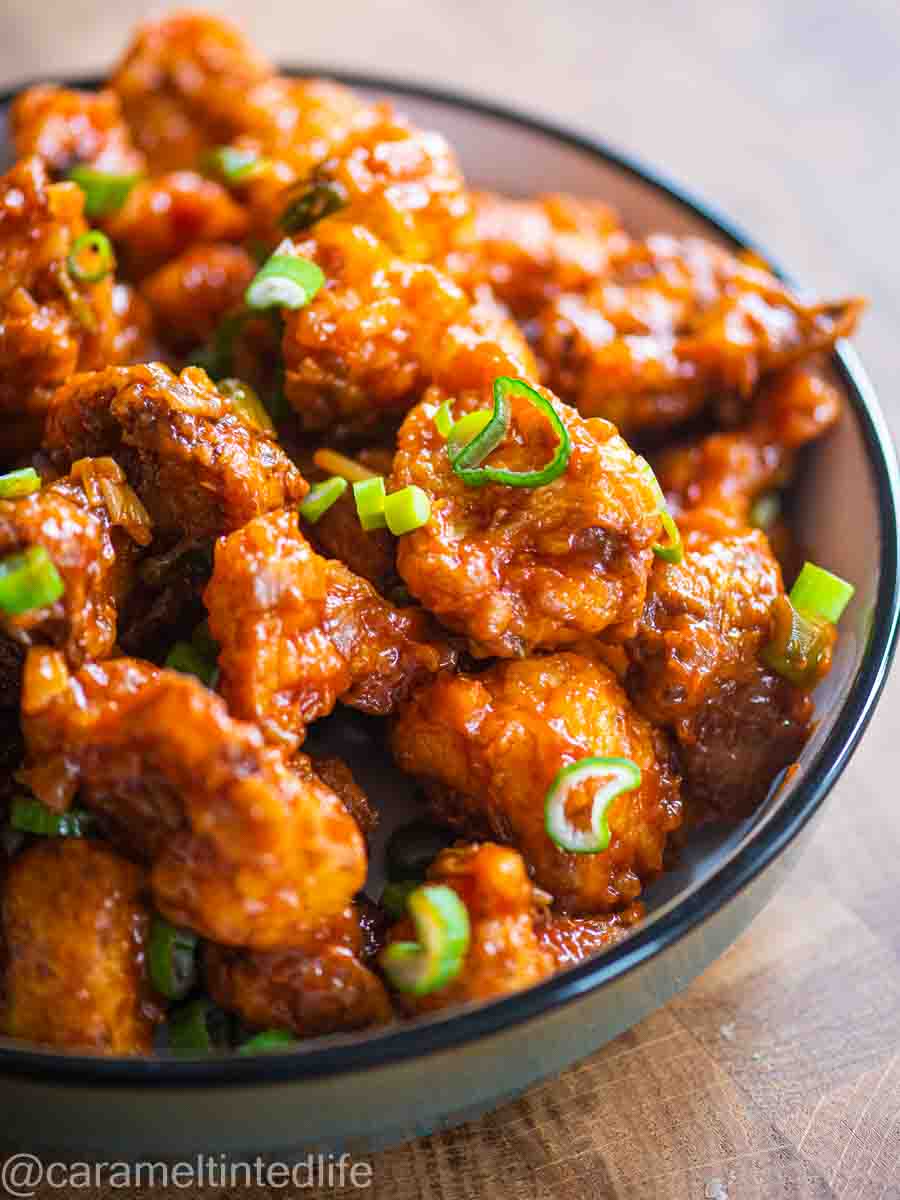 Jump to:
About this recipe
Gobi Manchurian is a popular Indo-Chinese dish that originated in the Indian subcontinent and is now enjoyed in many parts of the world. It is believed to have been created by Chinese immigrants living in Kolkata, India, during the early 20th century. They adapted their traditional Chinese cooking techniques and ingredients to the Indian palate, resulting in a unique fusion cuisine, known as Indo-Chinese cuisine.
Gobi Manchurian is typically made with cauliflower, but variations can also be made with chicken, shrimp, or paneer. Today, Gobi Manchurian is a popular street food in India and is also served in restaurants. It is often eaten as an appetizer or as a side dish with fried rice or noodles.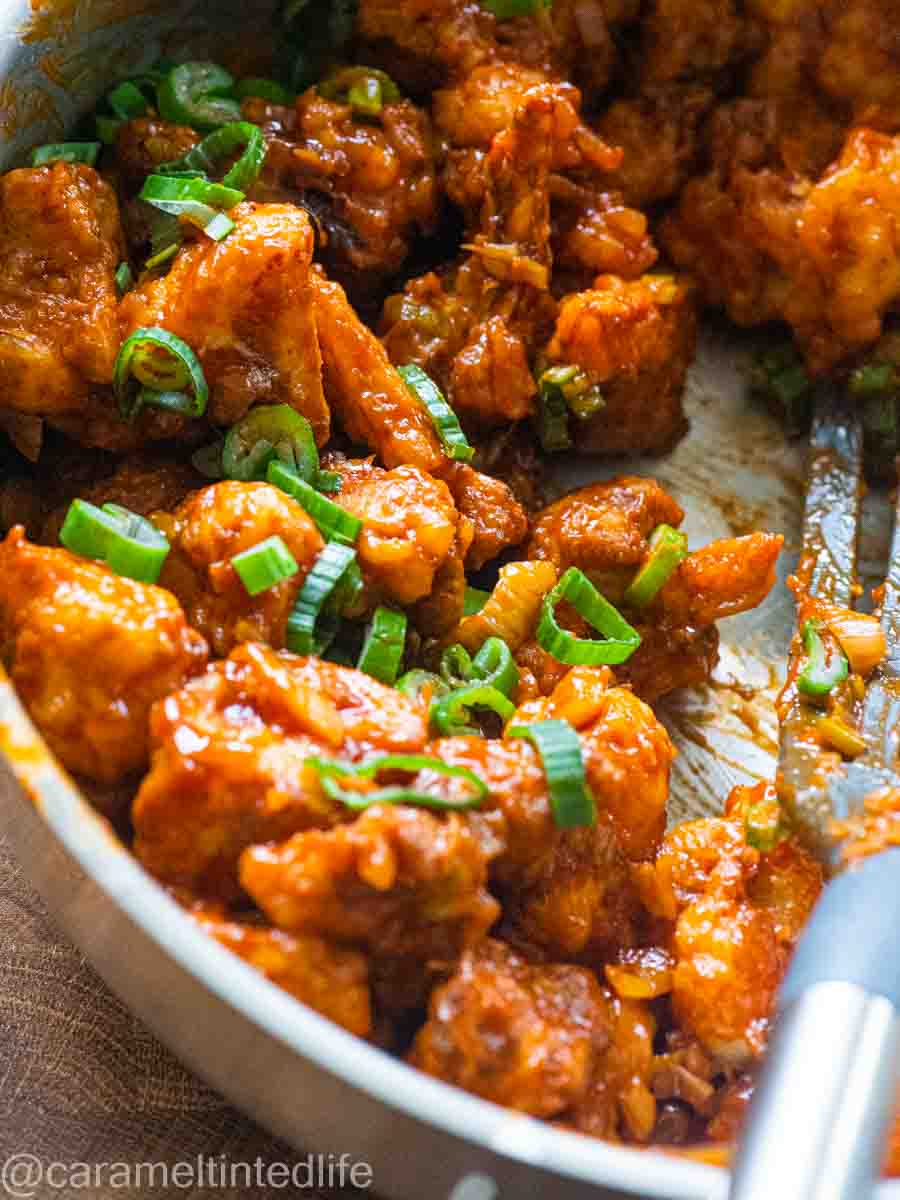 In this recipe, we're aiming for street-style Gobi Manchurian made with deep-fried batter-coated cauliflower. There are versions of Gobi Manchurian that are made with air-fried cauliflower or baked cauliflower. However, if you're looking to get as close to the authentic version of Cauliflower Manchurian, deep-fried is the way to go! Nothing beats the crispy batter-fried florets, which stay crunchy even as they get tossed up in the Manchurian sauce.
Ingredients and Substitutions
Here's all you need to make Gobi Manchurian that tastes just like your favorite street vendor version: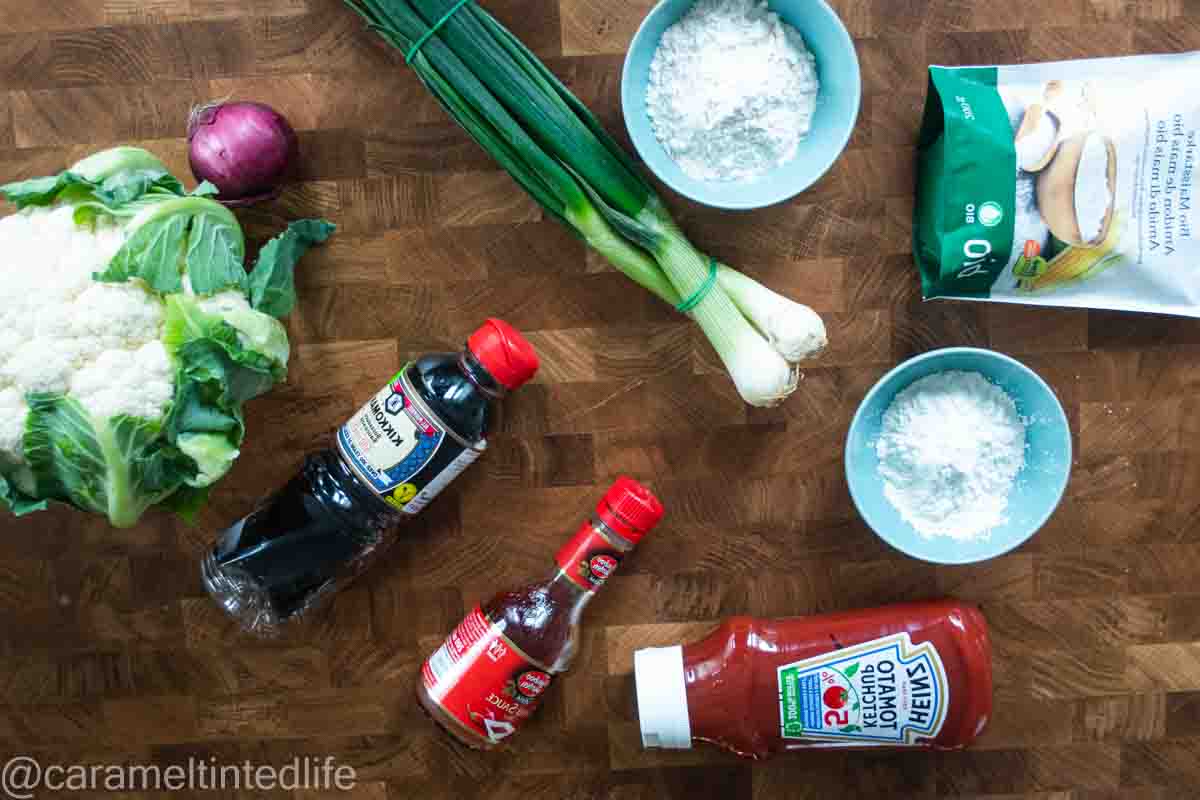 Cauliflower: You will need one medium-sized cauliflower, cut into small bite-sized florets for frying.
All-purpose flour (maida): Used to make the batter to coat the cauliflower florets before frying.
Cornflour: Cornstarch or cornflour is used to crisp up the batter. Use equal portions of all-purpose flour and cornstarch for the batter, to make it perfectly crispy in texture after deep frying.
Ginger-garlic paste: This adds flavor and aroma to both the batter and the sauce. You can either use pre-made ginger garlic paste or freshly minced ginger and garlic.
Red chili powder: Add a little red chili powder for mild heat, this is totally optional. I prefer to use Kashmiri Chili powder, which also adds a nice depth of color.
For the sauce:
Ginger-garlic paste: This adds flavor and aroma to the sauce.
Onion: You will need one medium-sized onion, chopped.
Green Bell pepper: You will need half a cup of finely chopped bell pepper (green capsicum). This adds color and texture to the sauce.
Soy sauce: Classic light soy sauce is perfect for this recipe.
Tomato ketchup: Authentic Gobi Manchurian is always tossed up in a sauce made with tomato ketchup, which adds a hint of sweetness to the sauce and balances the tang from the soy sauce.
Chili sauce: This adds some heat and flavor to the sauce. I like to add some green chili sauce, however, you can skip it for a milder version of Gobi Manchurian
Cornflour / Cornstarch: Make a little slurry of cornstarch with cold water to thicken the sauce, .
Black pepper powder: Freshly ground black pepper is used to add some heat and gives Gobi Manchurian more flavor.
Spring Onions / Green Onions: use the white part of the green onions for the sauce, and chop the green part to dress up the Manchurian before serving.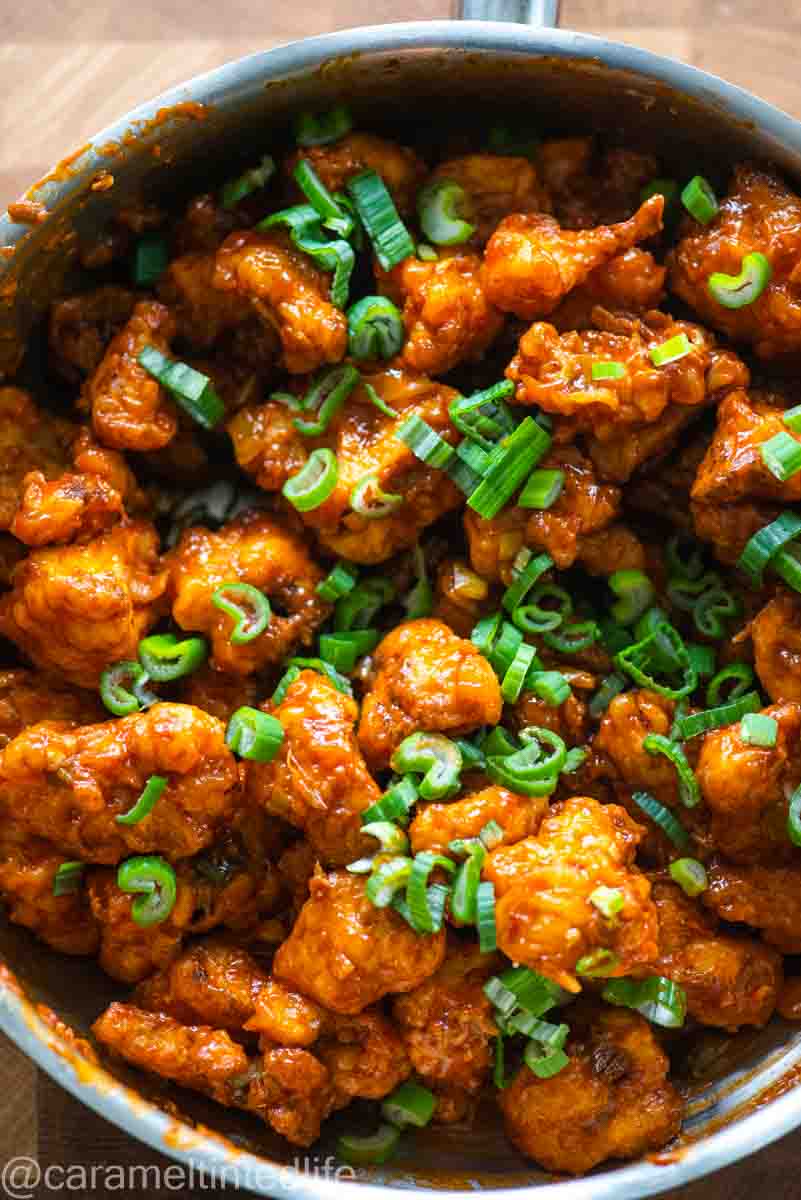 Tips and Tricks
Here are some tips and tricks to get that perfect street-style Gobi Manchurian:
Tip 1: Do not pre-cook the cauliflower florets
Pre-cooking the cauliflower is not necessary. In this recipe, the cauliflower florets are double-fried for extra crunch. The gobi (cauliflower) doesn't need to be cooked before it is deep-fried. This can make them soggy, and we are aiming for cauliflower with a little bite to it.
Tip 2: Double-fry the cauliflower
Frying the cauliflower twice gives it extra crunch. In the first fry, the batter-coated cauliflower is fried until light brown and in the second fry, also called as flash frying, the batter-fried cauliflower is added back into the reheated hot oil for a few seconds to get the batter to become crisp.
Frequently Asked Questions
Why is my Gobi Manchurian not crispy?

There could be several reasons why your gobi Manchurian is not crispy:
Batter consistency: If the batter is too thin, it won't coat the cauliflower florets properly, leading to a soggy texture. On the other hand, if the batter is too thick, it may not cook evenly, making it raw in the center. Make sure the batter is of the right consistency by adding water little by little to achieve a thick and smooth consistency.
Hot Oil: If the oil is not hot enough, the cauliflower will absorb more oil and won't get crispy. Conversely, if the oil is too hot, the batter will burn quickly, leaving the cauliflower undercooked. The ideal temperature for frying gobi Manchurian is around 350-375°F (180-190°C). If you have a food grade thermometer, use it to check the right temperature. Or you can drop a small amount of batter into the oil to test the temperature.
Overcrowding the pan: If you add too many cauliflower florets at once, they will lower the temperature of the oil, resulting in a soggy texture. Make sure to fry the florets in small batches, allowing enough space for them to cook evenly and become crispy.
Moisture in the cauliflower: If the cauliflower has excess moisture, it will steam instead of fry, resulting in a mushy texture. To remove excess moisture, pat dry the cauliflower florets with a paper towel before dipping them into the batter.
What is the difference between Veg Manchurian and Gobi Manchurian?
The key difference between Veg Manchurian and Gobi Manchurian is the primary vegetable used in the dish. While Veg Manchurian uses a mixture of finely chopped vegetables, Gobi Manchurian is made with cauliflower florets.

Unlike Gobi Manchurian which is made with cauliflower, Veg Manchurian is typically made with mixed vegetables like carrots, cabbage, beans, and bell peppers that are finely chopped, mixed with spices, and formed into small balls. These balls are then deep-fried until crispy and served in a tangy, spicy sauce made with ingredients like soy sauce, tomato ketchup, garlic, ginger, and chili paste.
Can I eat Gobi Manchurian during pregnancy?

It is generally safe to eat Gobi Manchurian during pregnancy, as long as it is cooked properly and hygienically. However, it is always a good idea to check with your doctor or a registered dietitian before making any significant changes to your diet during pregnancy.

Bear in mind that Gobi Manchurian is a high-calorie and high-sodium dish due to the deep-fried cauliflower and the spicy sauce used. Eating too much of it can lead to excessive weight gain, high blood pressure, and other health issues. Therefore, it is best to consume it in moderation and as part of a balanced and healthy diet during pregnancy.
How do you reheat Gobi Manchurian?
To reheat Gobi Manchurian, follow these simple steps:
1. Preheat your oven to 350°F (175°C).
2. Take the leftover Gobi Manchurian out of the refrigerator and allow it to come to room temperature.
3. Spread the leftover Gobi Manchurian in a single layer on a baking sheet or a baking dish.
4. Place the baking sheet or dish in the preheated oven and bake for 10-12 minutes or until heated through. You can also cover the baking sheet or dish with aluminum foil to prevent the Gobi Manchurian from drying out.
Once heated through, remove the baking sheet or dish from the oven and allow the Gobi Manchurian to cool for a few minutes before serving.

Remember that reheating Gobi Manchurian can make it less crispy and soggier, so it is best to consume it fresh.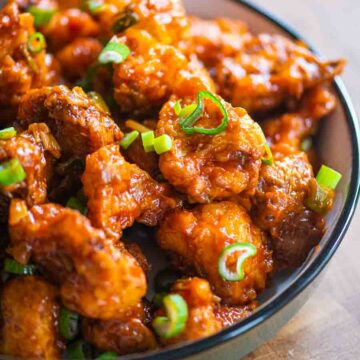 Gobi Manchurian
Gobi Manchurian or Cauliflower Manchurian is made with deep-fried cauliflower florets coated in a batter made of cornflour, all-purpose flour, and spices.
Ingredients
For the manchurian sauce
1

tablespoon

Sesame oil

1

teaspoon

ginger-garlic paste

1

medium-sized onion

finely chopped

1/2

cup

green bell pepper (capsicum)

finely chopped

1½

tablespoon

soy sauce

1½

tablespoon

tomato ketchup

1

teaspoon

chili sauce

Salt

to taste

2

Spring onions (green onions)

whites and green separated and chopped

Black pepper powder

to taste
Cornstarch slurry
1

tablespoon

cornflour

1

cup

water
Optional Ingredients
½

tsp

Garam Masala

1

tbsp

Coriander leaves and stems (cilantro)

finely chopped
Instructions
Cut the cauliflower into small florets and wash them thoroughly. Drain the water, pat dry the cauliflower on kitchen paper.

In a large mixing bowl, combine cornflour, all-purpose flour, ginger-garlic paste, red chili powder, and salt (follow the proportions mentioned in the ingredient list above).

Add water little by little to make a thick batter. Using a whisk, beat the batter to add air, the batter should be thick enough to coat the back of a spoon.

Dip the cauliflower floret in the batter, and mix them until they are well coated in the batter.

Heat oil in a pan for deep-frying. Once the oil is hot, test it by dipping a drop of batter in the hot oil. The batter should rise to the top.

Then dip the battered cauliflower - a few at a time, and fry until golden brown. Do not crowd the pan. Remove from the oil and set aside.

Increase the heat to high and wait for the oil to get very hot. Drop the fried cauliflower florets again into the hot oil and fry them for a few seconds until they turn crispy and golden brown. This double frying will make the cauliflower extra crispy.

To make the sauce, heat oil in a pan and add ginger-garlic paste. Saute for a few seconds.

Add chopped onion, the chopped-up white part of the spring onions and bell pepper. Saute until the onion turns translucent.

Add soy sauce, tomato ketchup, chili sauce, salt, black pepper powder, cornflour slurry and water. Mix well and cook until the sauce thickens.

Optionally, you can add 1/2 teaspoon garam masala and chopped coriander leaves to the sauce for added flavor.

Add the fried cauliflower florets to the sauce and mix well until the florets are coated with the sauce. Garnish with chopped up green onion.

Serve hot as a snack or as a side dish with rice or noodles.
Nutrition
Calories:
201
kcal
Carbohydrates:
31
g
Protein:
2
g
Fat:
7
g
Saturated Fat:
1
g
Polyunsaturated Fat:
2
g
Monounsaturated Fat:
4
g
Trans Fat:
0.03
g
Sodium:
300
mg
Potassium:
79
mg
Fiber:
1
g
Sugar:
2
g
Vitamin A:
607
IU
Vitamin C:
24
mg
Calcium:
7
mg
Iron:
1
mg