Sweet potato and pea samosas are baked and not deep-fried. Best had on a chilly evening with a hot cup of your favorite brew, and are super simple to make!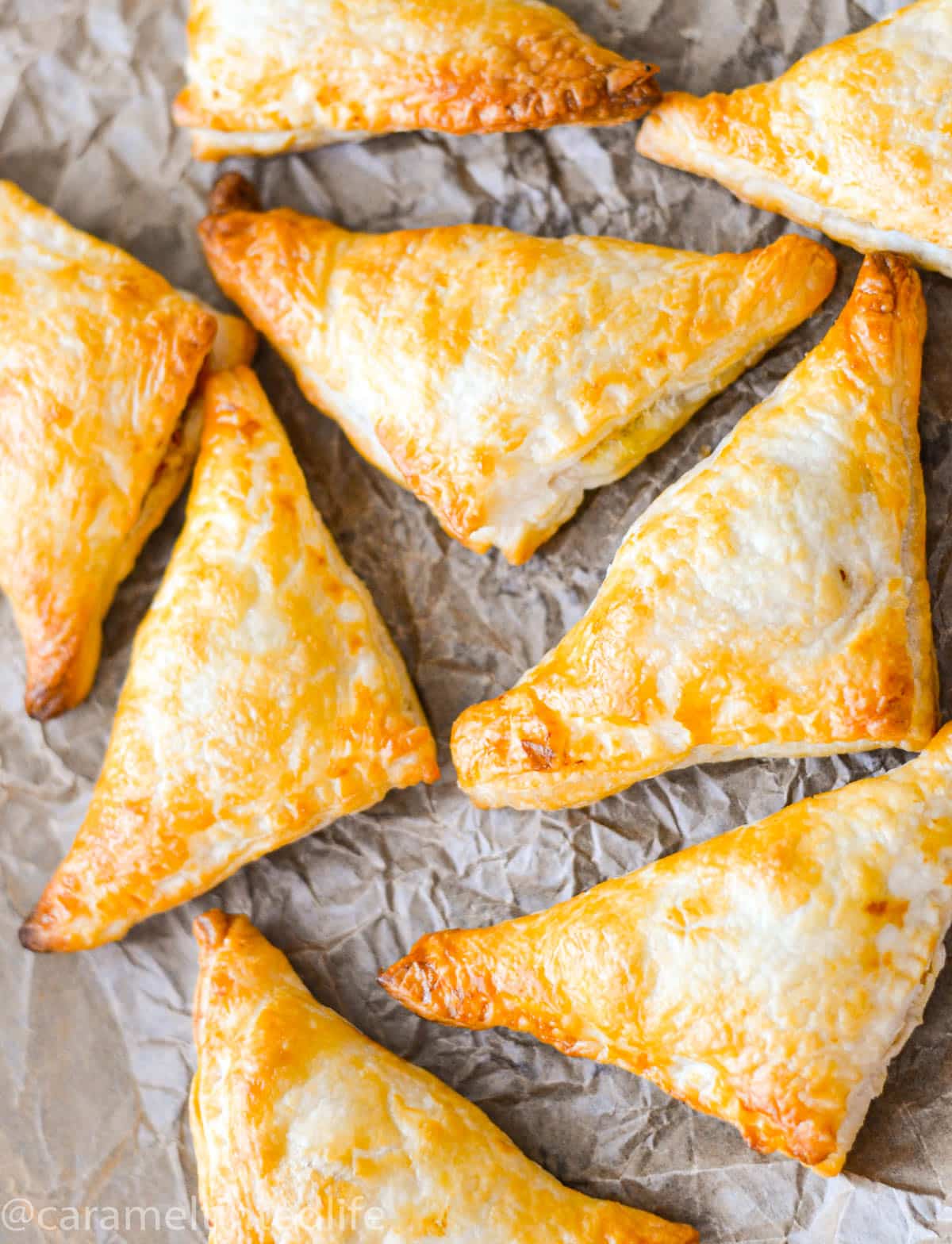 Jump to:
In India, the classic samosas - legendary deep-fried potato and pea - stuffed pastry parcels, are available at every corner . An authentic samosa is made with a savory flour-and-oil-based pastry flavored with carrom seeds and stuffed with a spiced vegetable filling, and then deep-fried to a flaky goodness. Samosas are best enjoyed with a hot cup of masala chai.
Here in Switzerland, I've made these at home on a few occasions, making the pastry from scratch, and deep-frying them in a wok on the stove top. For sure, making samosas is a laborious process - from making the pastry dough to rolling it, making the stuffing, and then shaping the samosa to finally deep-frying it.
In the October chill, I can't let a single day go by without my evening cuppa tea brewed with ginger, and a hot snack to munch on. For those days that I need a quick and easy samosa fix, I'd much rather use store-bought puff pastry and fill them up with a simple potato filling. I used sweet potatoes and peas and used a mix of spices from the pantry, and they turned out such a treat!
List of Ingredients
To make these easy baked sweet potato and pea samosas, you will need the following ingredients:
Puff pastry sheets
Sweet potato
Peas
Spices: Cumin, Turmeric Powder, Chaat masala, Ginger, Garlic Powder, red chili powder or chili flakes
Egg - for egg wash (this is optional)
Salt to season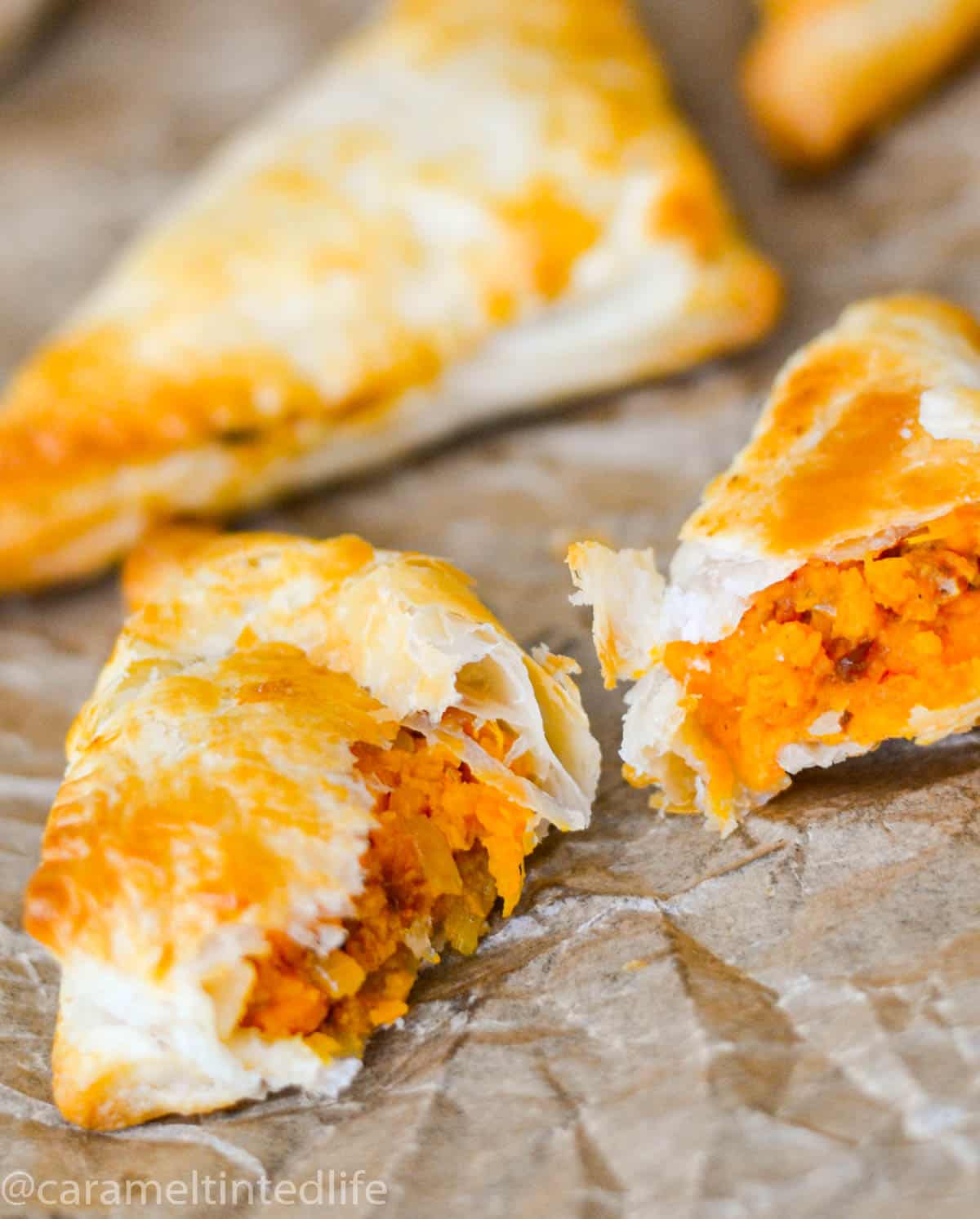 Tips for making samosas
Use chaat masala: I highly recommend stocking up on some 'chaat masala', this is key to the unique blend of sweet-spice-sour taste in many Indian savory snacks.
Serving Suggestion: Serve your samosas with either date and tamarind chutney or ketchup which are perfect accompaniments to samosas.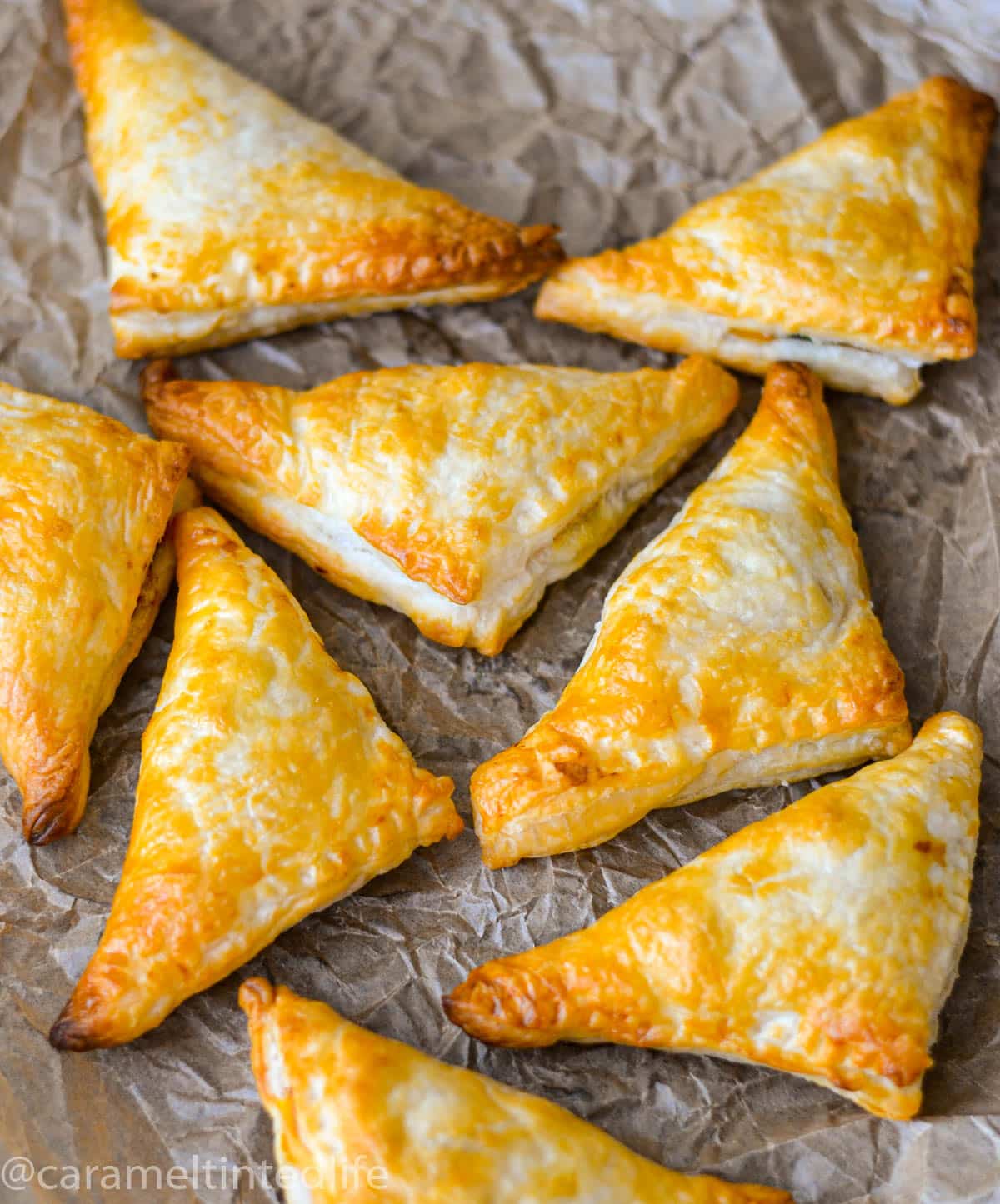 More Indian Snack Recipes
If you, like me, need your Indian snack fix from time to time, I recommend these recipes for you:
Kerala-bakery inspired egg puffs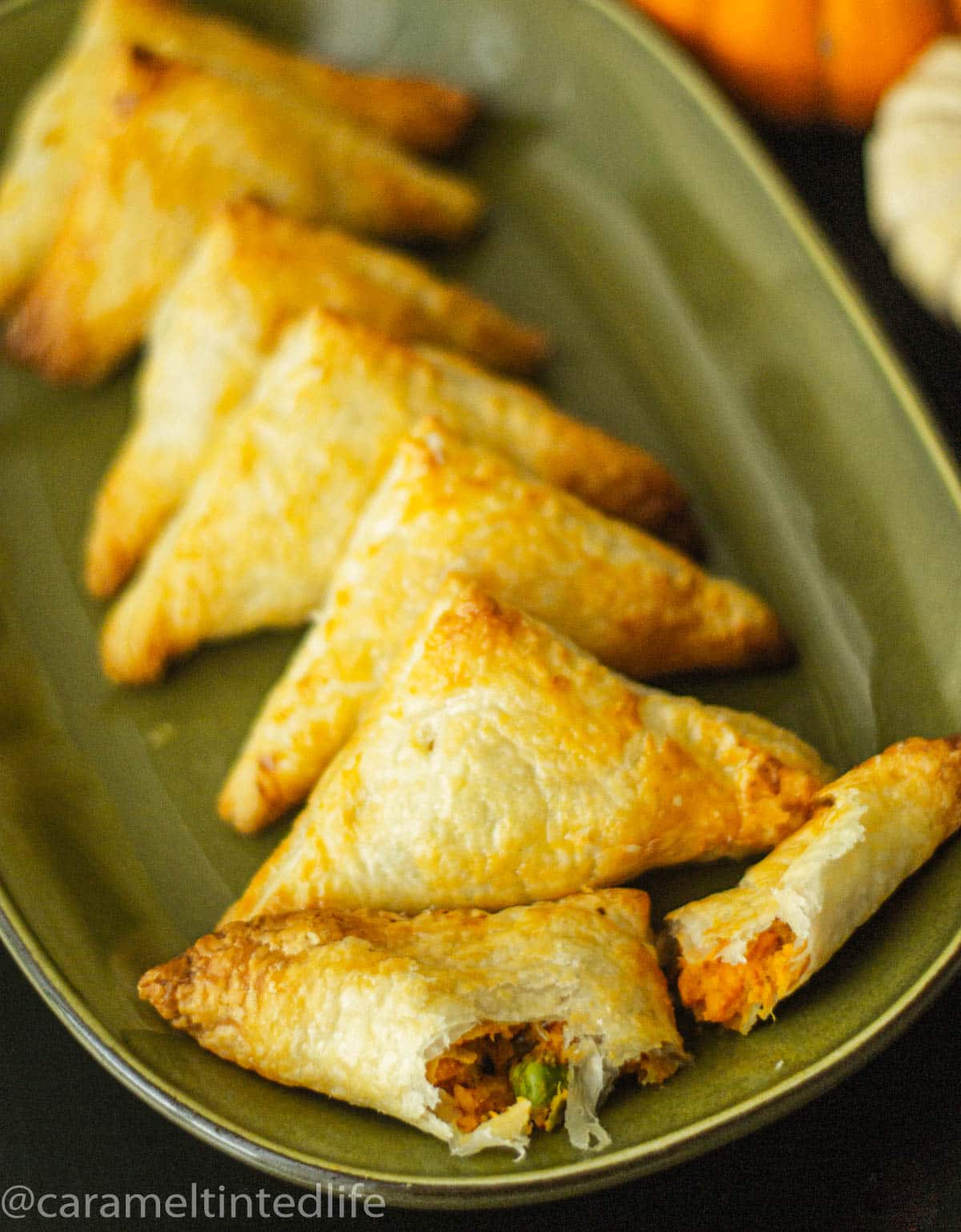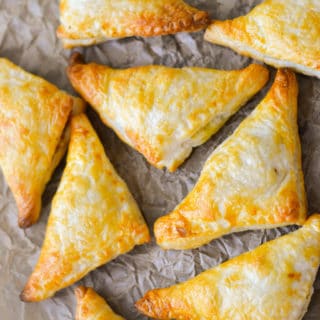 Sweet Potato and Pea Samosas
Sweet potato and pea samosas are best had on a chilly evening with a hot cup of your favorite brew, and are ridiculously simple to make.
Ingredients
3

medium to large sweet potatoes

peeled and chopped into cubes

1

cup

peas

I used frozen peas

1

teaspoon

vegetable oil

1/2

teaspoon

turmeric powder

1/2

teaspoon

chaat masala

found in Indian stores

1/2

teaspoon

garlic powder

1

teaspoon

red chili flakes

1/2

teaspoon

cumin powder

1

inch

piece of ginger

grated

Salt to season

1

puff pastry sheet

I used 1 sheet of Blätterteig, available in Swiss supermarkets

1

egg

beaten, for the egg wash
Instructions
Start by preparing the filling. In a pot filled with water, cook the sweet potato cubes until they are soft, around 8 minutes. Drain the water and let the potato cubes cool down.

Mash the potatoes coarsely, using a fork or a potato masher, and add the peas to it. Give it a good mix.

In a pan, add the oil, and heat it on low heat. Add the turmeric powder, chaat masala, garlic powder, red chili flakes, cumin powder, ginger and saute this for a minute.

Turn off the heat and add the potato-pea mixture.

Add salt to season.

Give the mixture a good stir, so that all the ingredients are well distributed.

Pre-heat your oven to 180 C or 350 F.

Roll out your puff pastry sheet and cut out equal-sized squares.

Place a heaped tablespoon of the filling into each square and fold the side over, forming a triangle.

Press down the sides, sealing in the filling.

Using a pastry brush, brush a little egg wash on the puff pastry.

Transfer the sealed samosas parcels onto a parchment-lined baking sheet and bake it at 180 C for 10 minutes, until the puff pastry is golden and baked through.

Serve your samosas with chutney or relish of your choice.
Notes
Chaat masala is a unique spice blend that is key to many Indian savory snacks. It is a combination of mango powder, ginger powder, rock salt and a few spices, and lends a distinct tangy, sweet and spicy kick to any dish. In Switzerland, you could buy it online at www.swissrasoi.com or in a local Indian or Sri-Lankan store.
Caramel Tinted Life is a participant in the Amazon Services LLC Associates Program, an affiliate advertising program designed to provide a means for us to earn advertising fees by advertising and linking to amazon.com and affiliated sites.