Pav is an Indian bread made with very basic ingredients! Follow this easy recipe for the softest, pillowy pavs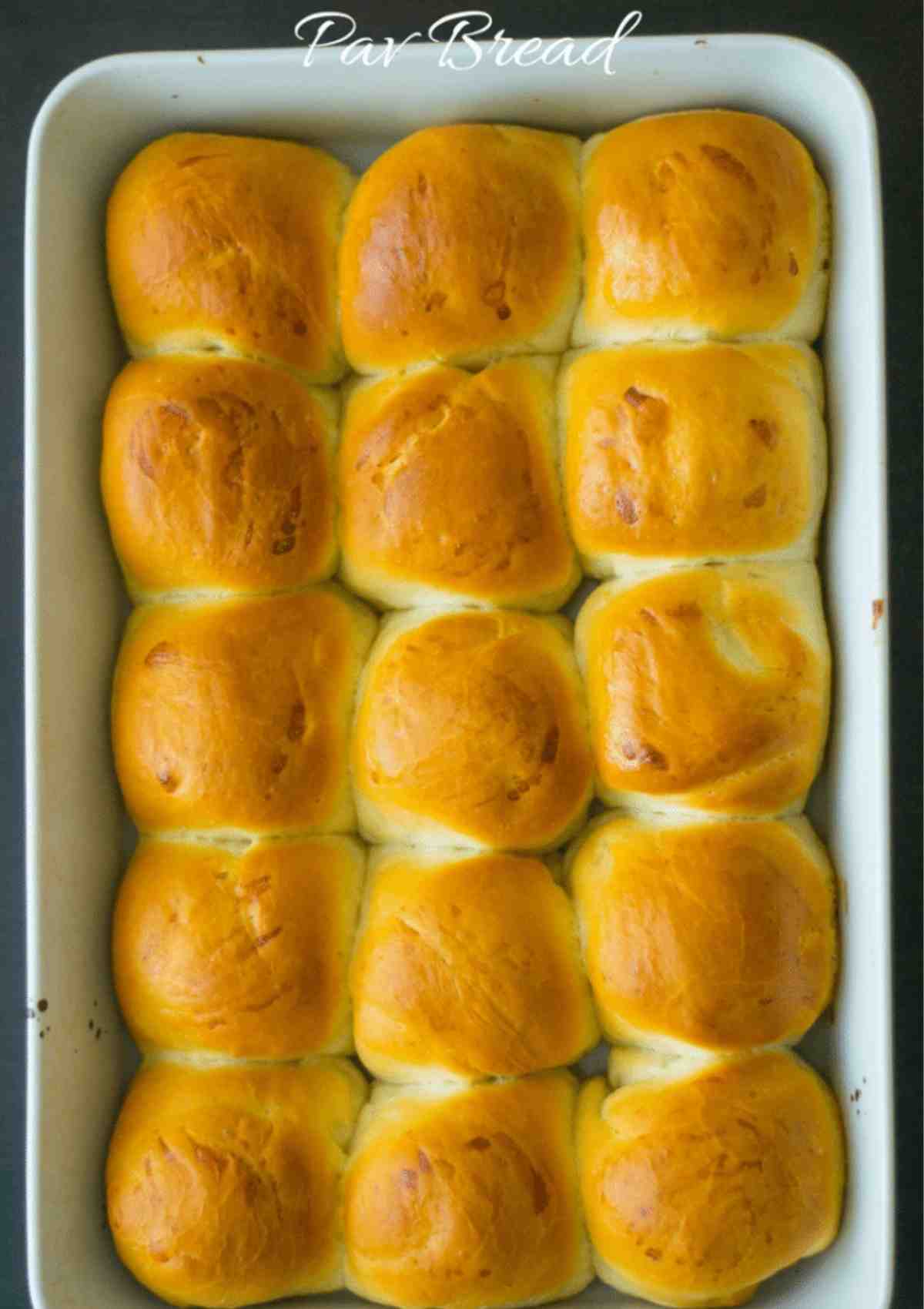 Street food is a great leveler, and Indian street food is one of the greatest levelers of all time. Whether you are a Bollywood star or a regular person off the street, you cannot resist the allure of some of Mumbai's finest meals sold from street carts. Pav Bhaji, was sold originally as a meal for mill workers in 1960's Mumbai. The legend goes that textile mill workers who couldn't spare time for a long lunch break found sustenance in the humble pav bhaji. The dish was originally made by resourceful street vendors with leftover vegetables. Soon, it became hugely popular all over Mumbai and took over the rest of the country.
What's not to love? Its quick to make, hearty, wholesome, and if you ignore the large pat of butter that it comes with, it is actually the perfect way to combine veggies into a flavor-packed meal.
What is 'Pav' or 'Pav Bread'?
'Pav' is the bread that goes with the bhaji, and is quite unlike anything you get in stores. Pav bread is very popular in the Western coastal states of India.
'Bhaji' is literally a thick stew of sorts that is made of mashed potatoes, cauliflower, tomatoes and varying amounts of other vegetables such as peas and green bell peppers. One recipe that I love and follow very often is this one.
In Goa where I come from, pav is firmly embedded in the food culture. Every village has at least one family-run bakery that bake batches of pav, which the baker (called as 'poder') then sells on his cycle, honking away to notify customers. As kids, we would wait in anticipation at the street corner to hear the poder's horn, and turn in our coins for some warm loaves of pav. There is something about the smell and taste of this wholesome bread, made with simple and basic ingredients, that warms you up from the inside.
The texture and smell of a freshly baked loaf of pav bread cannot be found in store-bought bread. I have been making this bread for some time now, and this recipe is what I am happiest with. It is a slight deviation from traditional pav bread which uses only flour, water and yeast (and some strong kneading), which is understandable as this is made for the masses. I add a little bit of milk to my recipe....because I am extravagant like that! No really, I find it improves the flavor quite a bit. The addition of milk does make them similar to a classic dinner roll, but you could omit the milk and replace it with water if you like.
Pav is perfect vehicle for the bhaji, and pairs well with most Indian dishes which are on the spicier side. Pair it with a Goan chicken cafreal, have it with Indian-style masala scrambled eggs or have them plain hot from the oven, either way, you will love it!
How to make Pav at home
Pav is one of the easiest breads you can make at home. It is similar to dinner rolls, except that dinner rolls use both milk and eggs to enrich the dough. Pav bread typically uses only flour, water, yeast and salt but I like to add some milk to make the bread softer in texture. Here is how you make them:
Measure out 500 grams of flour - use bread flour for best results. If you are using active dry yeast (sold as packets of 'hefe' in Switzerland), let the yeast activate in 1/2 a cup of slightly warm milk with a teaspoon of sugar dissolved in it. Use 7 grams of active dry yeast yeast for 500 grams of flour. Let the yeast sit in the milk for around 8 minutes until it is frothy.
You could use instant yeast as well, in which case you simply add instant yeast to the flour directly.
We will also need 50 grams of butter at room temperature and 1/2 a cup of water. Mix together all the ingredients, using your hands or in a stand mixer.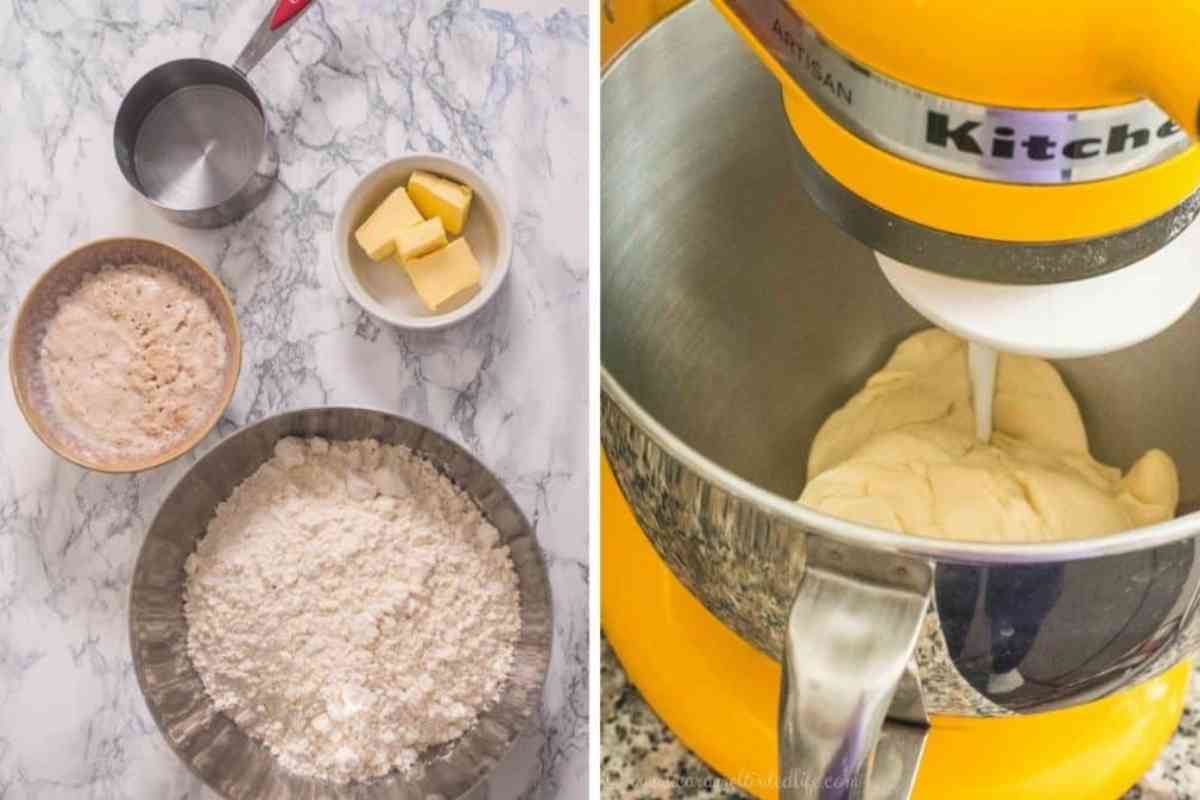 After the dough is kneaded well, we will let the dough proof for the first time. To speed up this process you could use an Instant Pot in the 'Yogurt' setting. Let the dough proof for 50-60 minutes, until the dough has doubled in size.
If you are not using an Instant Pot, simply keep the dough in a greased bowl covered with a clean towel, for 90 minutes, until the dough is double in size.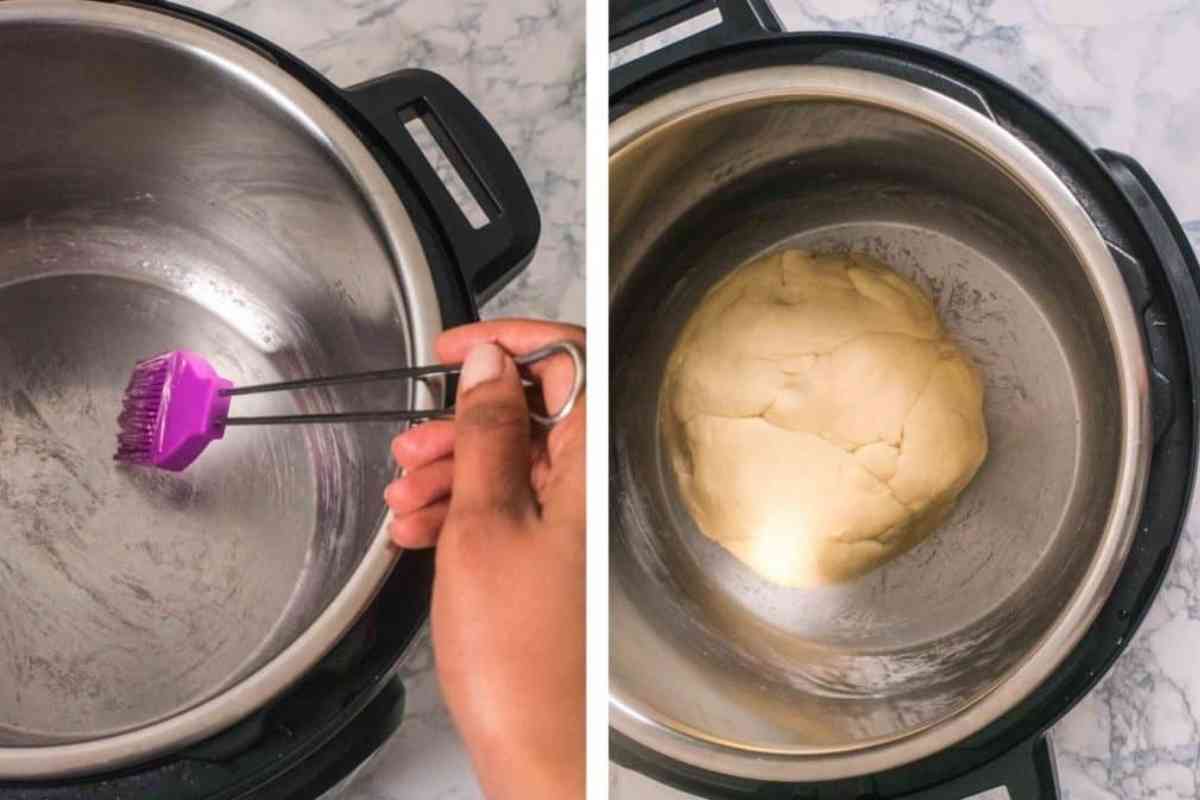 After the dough has doubled in size, knead it again, knocking the air out of it.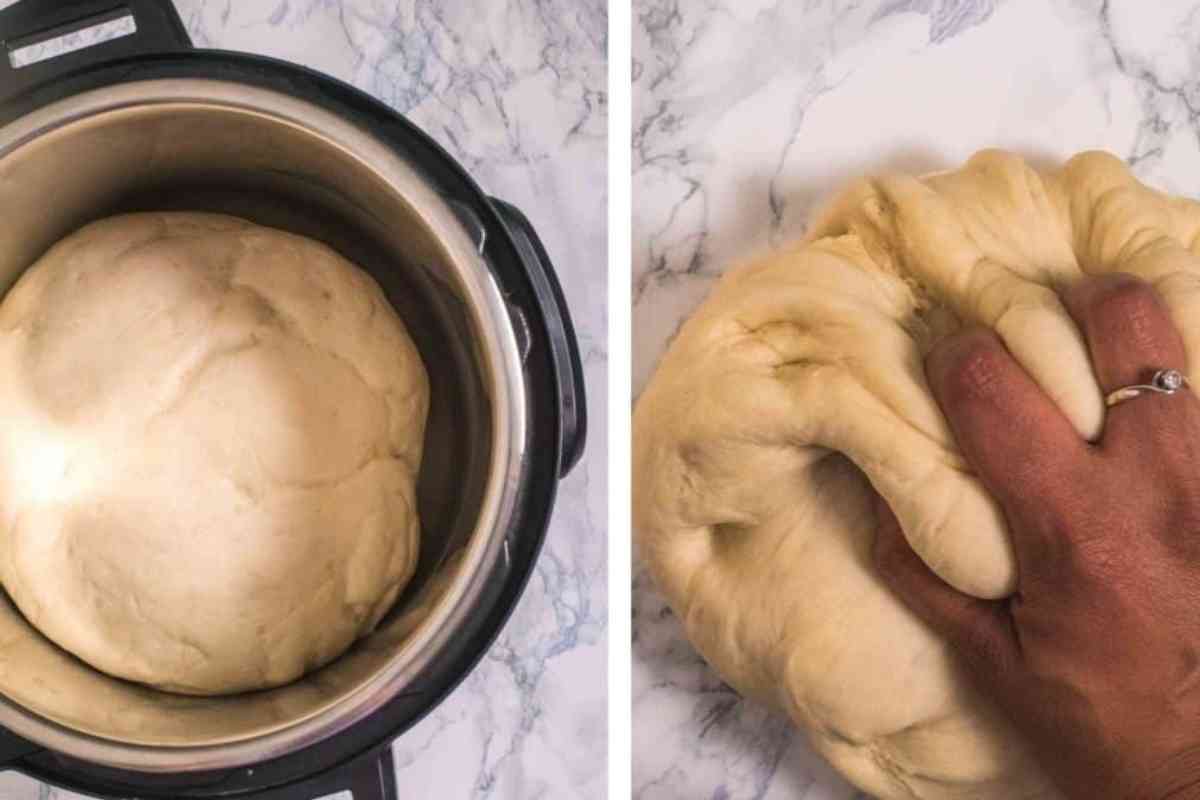 Portion out the dough into 12 equal pieces. Knead and shape into ball-shaped portions and place in a greased baking dish. Let the dough proof for the second time, in a warm place for around 40-45 minutes. Once the dough has risen again, brush the top of the dough-balls with a mixture of milk and melted butter.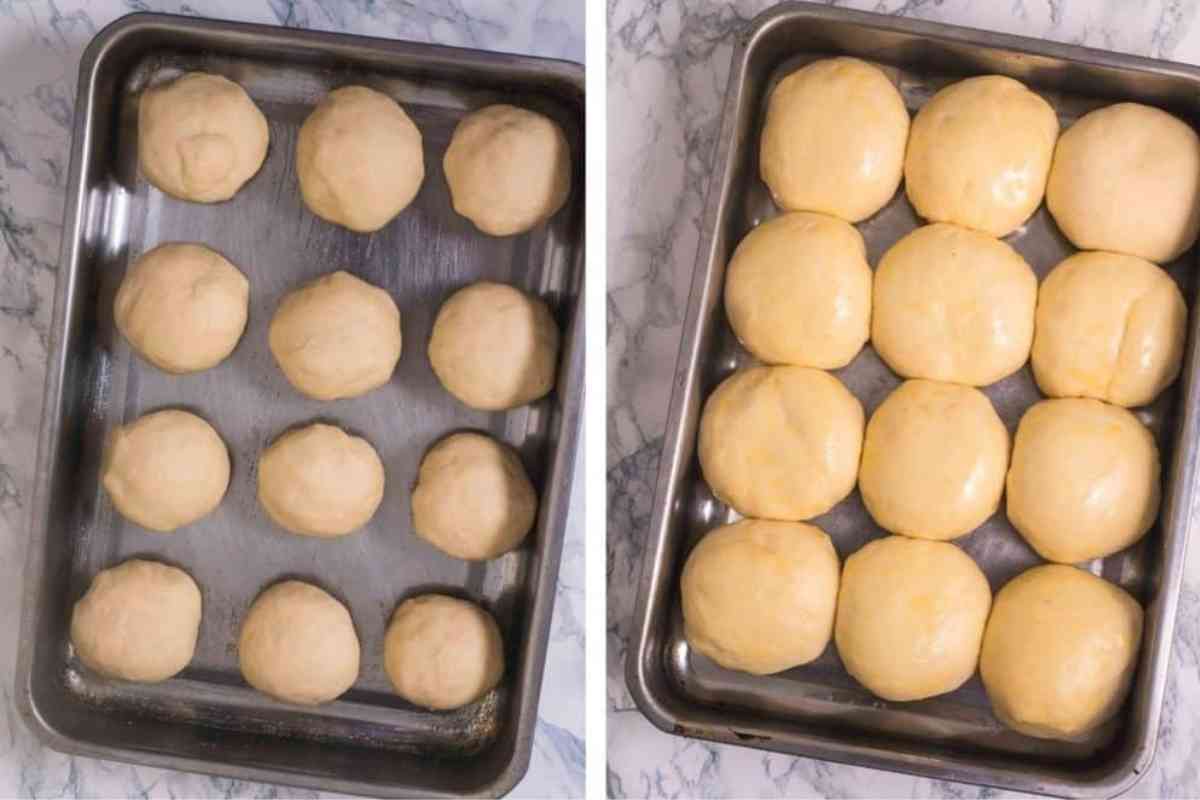 Bake the dough in the oven at 180C for 20 minutes. Once done, take out the tray and brush the tops with some melted butter for a glossy finish. Serve warm.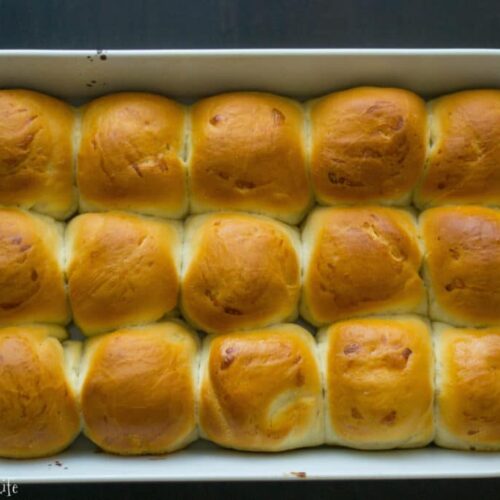 Pav bread
Ingredients
Instructions
Warm the milk very slightly and let it reach lukewarm temperature.

Add the yeast and sugar and stir.

Let the yeast sit for 8-9 minutes until frothy.

In the bowl of a stand mixer, add the flour, salt and the yeast-milk mixture.

Mix on low speed for a minute, or so, untill the dough just comes together.

Add the softened butter to the mixture and continue mixing, and add the water a little at a time untill the dough comes together and doesn't stick to the sides.

This is perhaps the most important stage, gluten formation. The dough has to be mixed just long enough for the gluten to develop. If you are kneading by hand, knead for at least 8 - 10 minutes. I used a stand mixer and let it mix for 5 minutes.

After kneading/mixing, test the dough by stretching it a little. if the dough doesn't tear and is translucent when stretched, the dough is ready to be proofed.

Let the dough sit in a bowl covered by a dish cloth for around 90 minutes, or until it doubles in size.

This step can be speeded up, by using an Instant Pot in the 'Yogurt' setting. If you are using an Instant Pot, lightly brush the steel pot with butter and place the dough inside. Cover with a glass lid, and hit the 'Yogurt' setting. After 50-60 minutes, take out the dough, which should have doubled in size.

After the dough has doubled in size, take out the dough and knead with your hands on a greased counter-top for 5-8 minutes.

Keep a rectangular baking dish ready by brushing it with softened butter.

Divide the dough into 12 equal portions. I find it helpful to weigh the portions on a weighing scale so that they are almost equal in size.

Roll each portion into a ball and place all 12 rolled dough portions into the baking dish, leaving space between the portions.

Cover the tray with a dish cloth and let it sit for 40-45 minutes. This is the second proofing, just before the dough is baked.

Preheat your oven to 180C.

After 40-45 minutes, the dough would have risen and is ready for the oven

Brush the top of the dough with a little milk mixed with melted butter.

Bake the dough in the oven at 180C for 20-25 minutes until the top of the bread is golden brown.

Once done, take out the tray and brush the tops with some more melted butter and serve warm.
Nutrition
Calories:
190
kcal
Carbohydrates:
31
g
Protein:
6
g
Fat:
4
g
Saturated Fat:
2
g
Cholesterol:
10
mg
Sodium:
230
mg
Potassium:
61
mg
Fiber:
1
g
Sugar:
1
g
Vitamin A:
121
IU
Calcium:
19
mg
Iron:
1
mg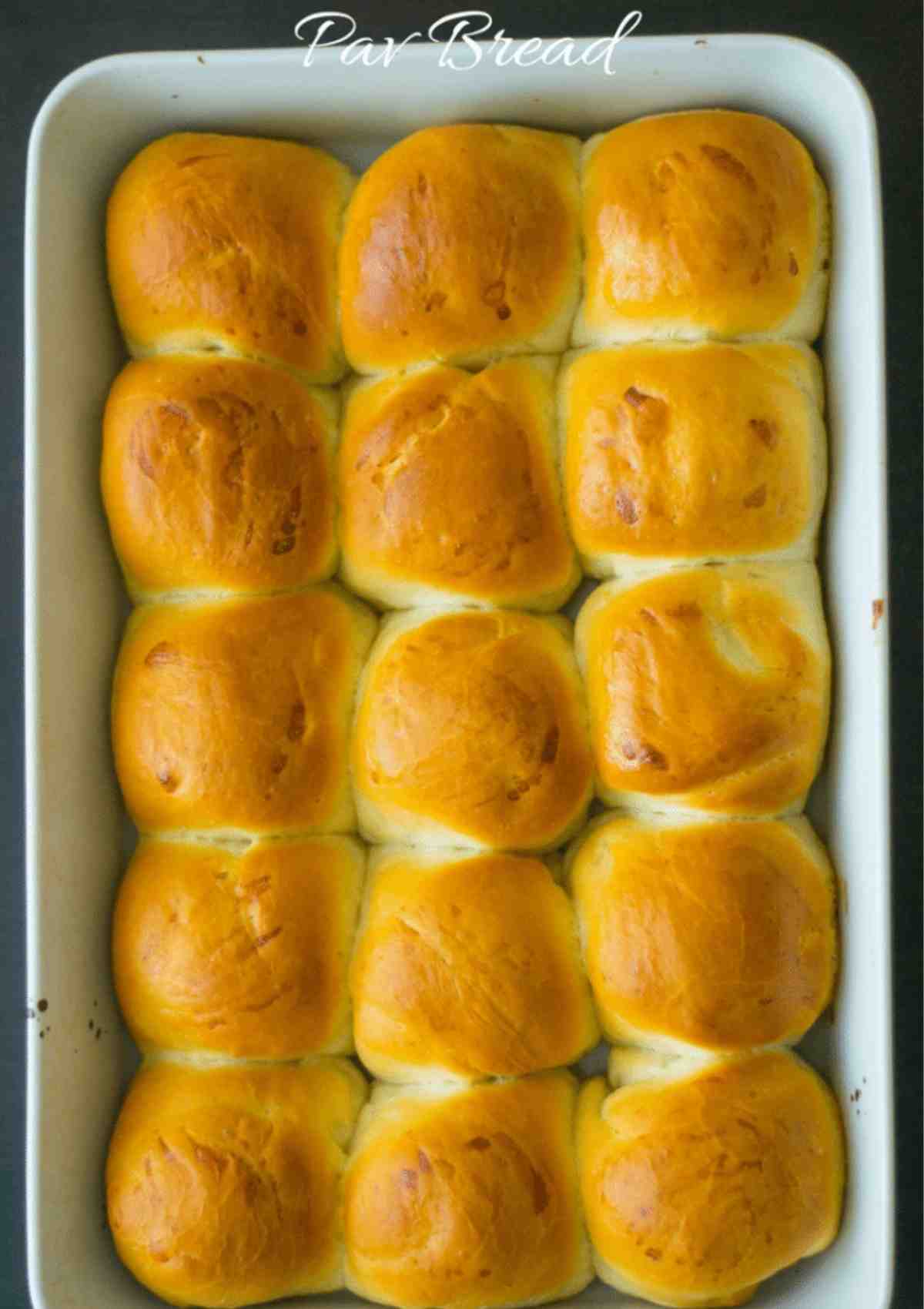 Caramel Tinted Life is a participant in the Amazon Services LLC Associates Program, an affiliate advertising program designed to provide a means for us to earn advertising fees by advertising and linking to amazon.com and affiliated sites.