An easy South Indian Fish Curry recipe that can be made with simple ingredients and comes together in under 40 minutes. Fuss-free and flavourful, serve it with steamed rice for a curry that sings with flavor!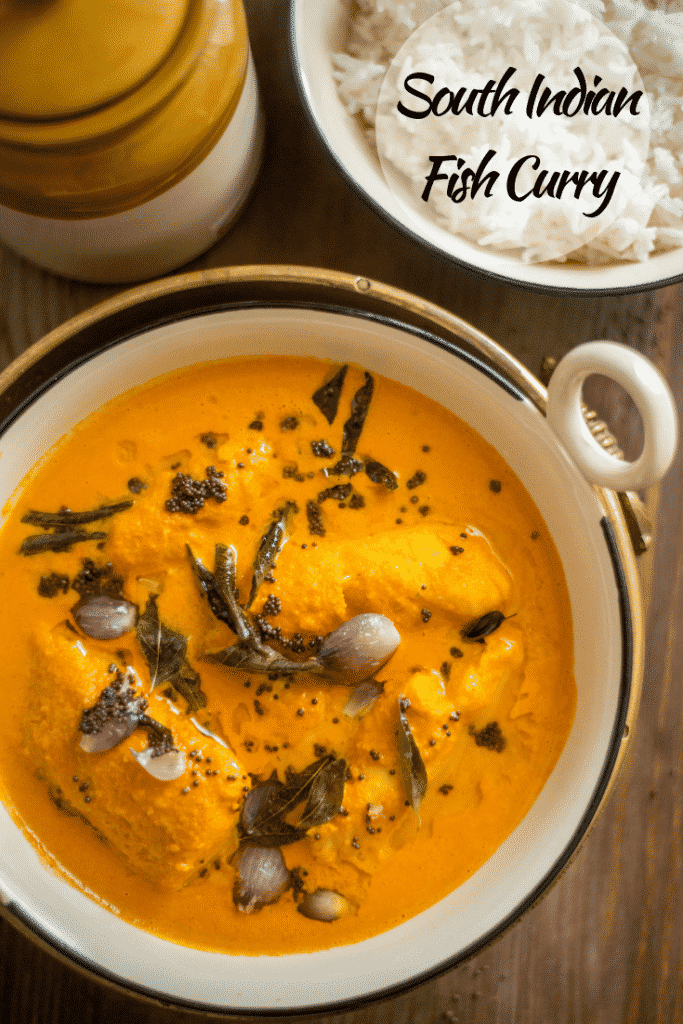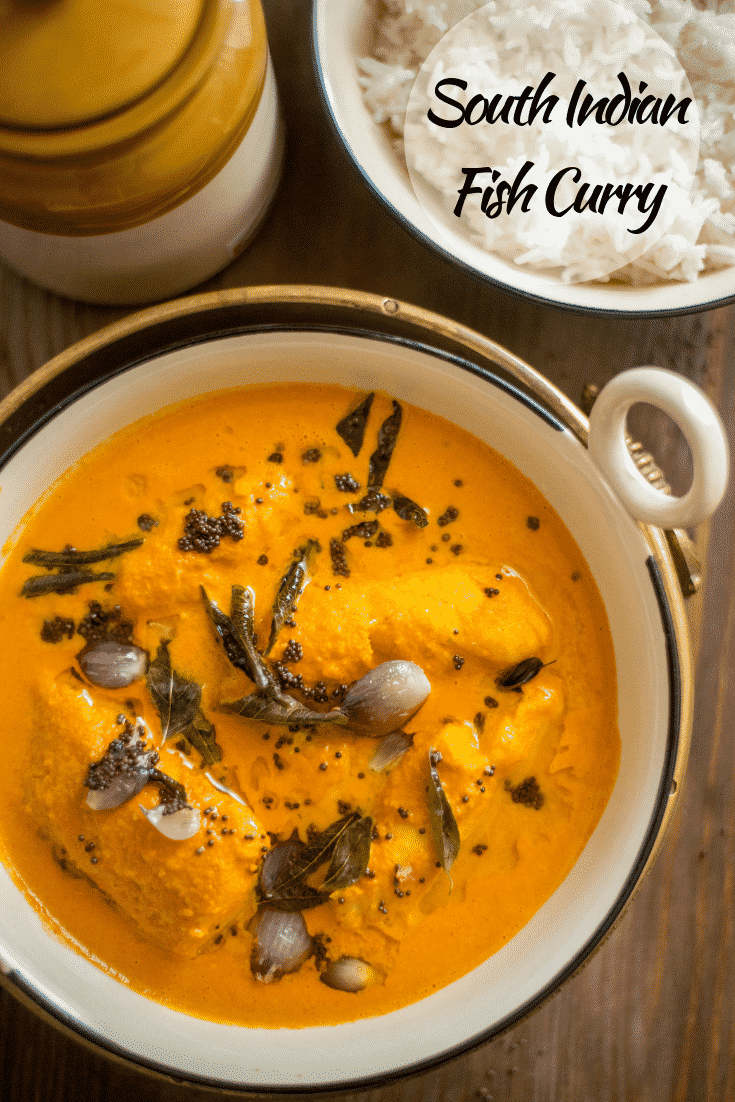 Growing up in the coastal state of Goa, India, I was lucky to have access to the best of seafood in the country (yes, I'm biased!). Fish curry and rice is a staple meal in Goa, very close to my idea of a perfect meal! Taking this humble meal several notches higher, is the Goan fish thali – a platter of sorts – which always comes with a piece of fried fish, a bowl of fish curry and a few vegetable sides, pickles and a digestive drink made with coconut milk. A Goan fish thali is nothing short of heaven on a platter.
This South Indian Fish Curry is a homage to all the regional fish curry recipes that are so unique and special to southern parts of India. The gravy base is a medley of spices, tomatoes, coconut milk, and the tempering, which is added after the fish is simmered in the gravy, borrows from the style of cooking in Kerala (where my family originates from).
Typically, a south Indian fish curry has a souring agent added to the gravy, which can differ from region to region. For example, in Goa, a commonly used souring agent is 'kokum' which lends a vibrant reddish colour to the dish and makes it tart as well. In Kerala, 'Kudampuli' is commonly used to a similar effect. In several parts of India, tamarind is used to lend a tart-sourness to curries. You can choose a souring agent that is easily available to you and, you're well on your way to making the fish curry of your dreams!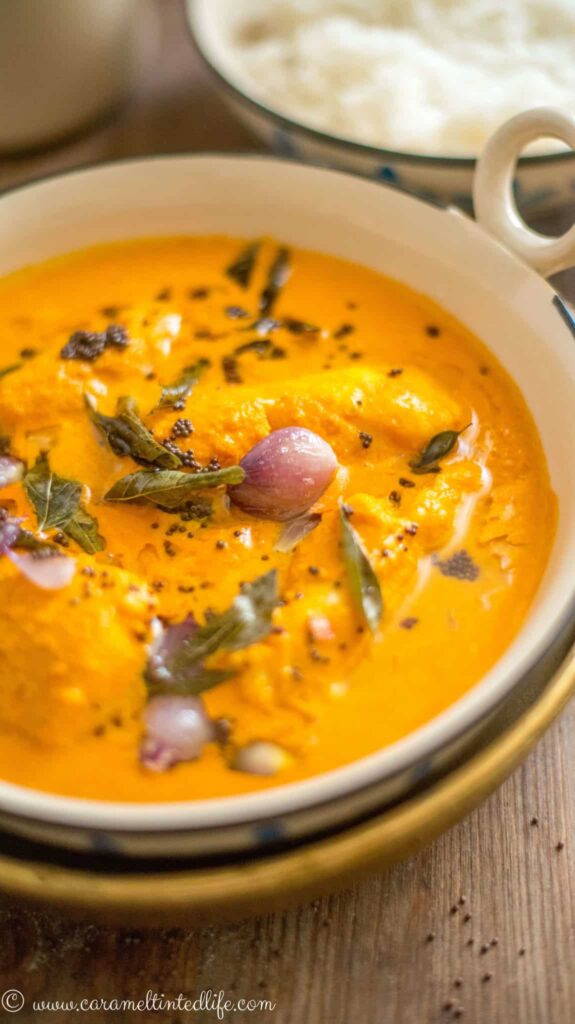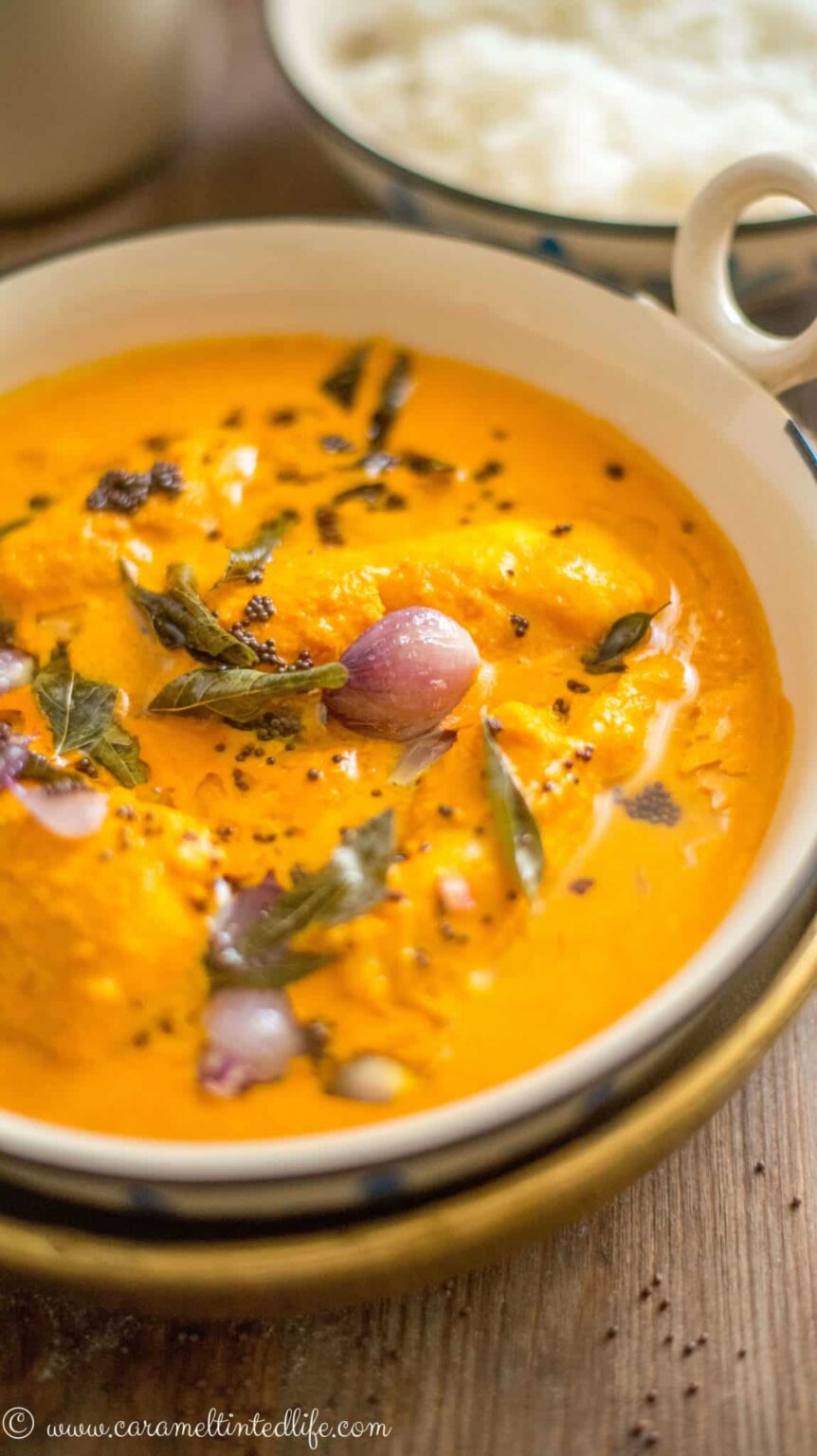 How to make South Indian Fish Curry?
The Fish: As I live in a land-locked country, my best bet for fish is found in the frozen aisle of my local supermarket. I used hake fillets for this recipe, ideally you should opt for any flaky white fish with a mild taste (cod is also an option). If I were living in India, I would have used kingfish steaks for this curry. Use fish that is locally available and doesn't have an overpowering taste.
The Gravy: The gravy for this dish is where all the flavour lies. Start by make a paste of onions, ginger, garlic and a green chilli in a blender. Sauté the paste in some oil in a heavy-bottomed vessel with high sides. Add tomato puree or canned tomatoes and cook on a low flame, stirring the gravy so that It doesn't stick to the bottom.
Season with red chili powder and turmeric powder and add coconut milk. At this stage, I like to use a stick blender to blend the gravy so that it is smooth (this is an optional step). Now, add your souring agent – I used kokum, but you can use tamarind as well. Season with salt and add the thawed fish fillets and let them simmer in the gravy until they are cooked. Finally, add the tempering that makes this curry sing with flavour.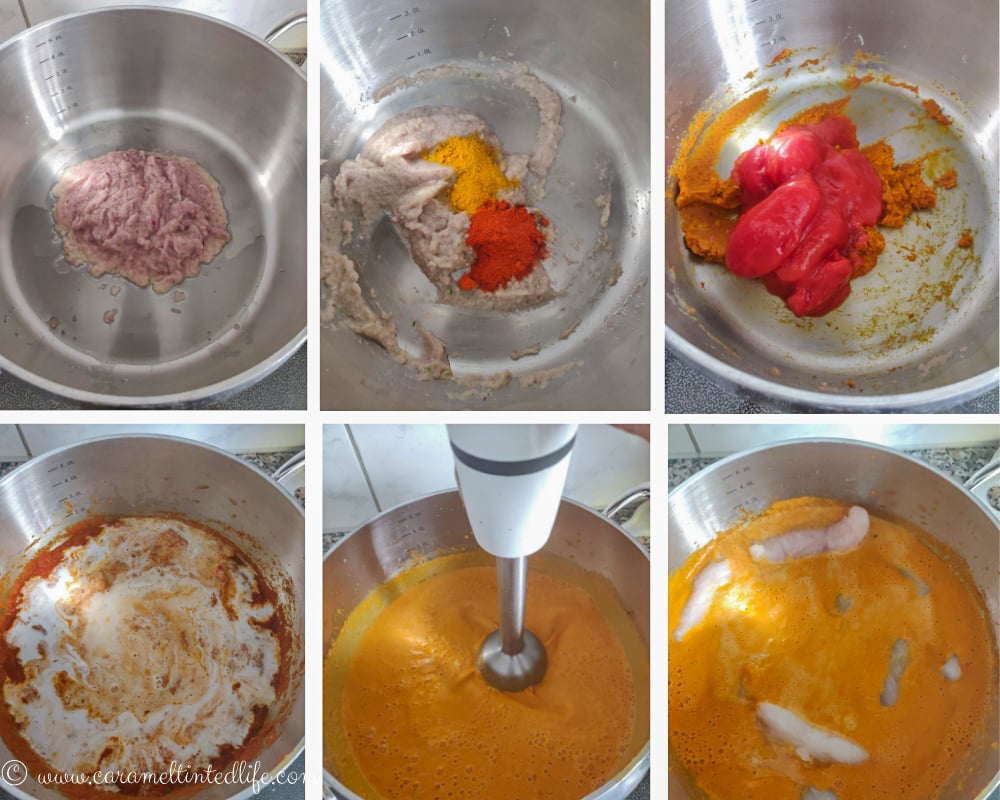 How to make the tempering for the South Indian Fish Curry?
A tempering adds that extra special zing to a curry. Typically, a South Indian Fish Curry will have a tempering of mustard seeds and curry leaves sizzled in oil. I used coconut oil as the base for the tempering.
Add the mustard seeds and let them heat till they begin to sizzle and pop, then add the curry leaves and pearl onions and heat them till the onions turn translucent. Your tempering is ready to give your curry that extra special touch. Serve this fish curry with a side of steamed rice and nothing else, it is perfect as it is!
More Indian Recipes
Instant Pot Chicken Tikka Masala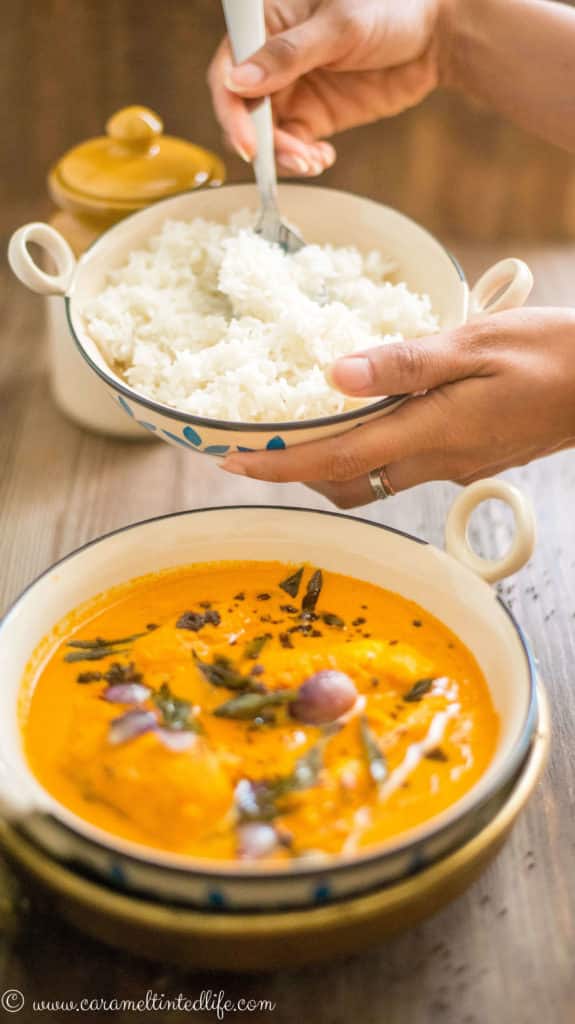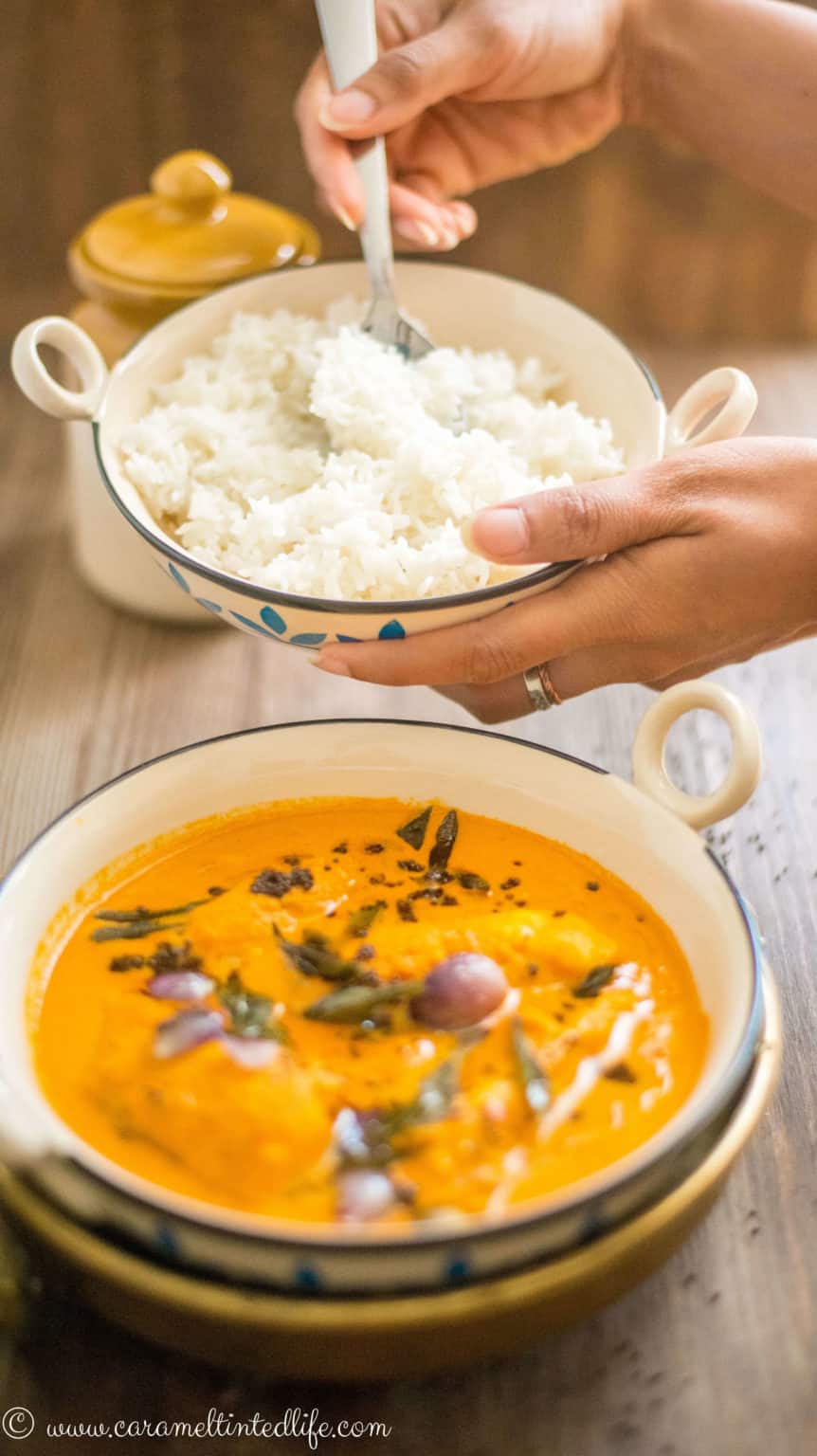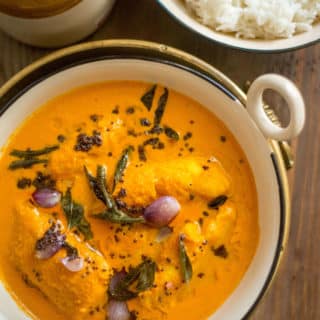 South Indian Fish Curry
An easy recipe for South Indian Fish Curry - one that comes together in under 40 minutes and can be made with simple ingredients
Ingredients
For the Fish Curry:
700

grams

fish fillets

(if using frozen, thaw them before cooking)

Salt to season the fish

and a little extra for the curry

1

large red onion

(peeled, cut into quarters)

1-

inch

piece of ginger

4-5

large garlic cloves

1

whole green chilli

2

tablespoons

vegetable oil

300

grams

canned tomato

(or you can use tomato puree)

1

teaspoon

red chili powder

1.5

teaspoon

turmeric powder

Souring agent of your choice – kokum or tamarind
Instructions
Prepare the Fish Curry:
Wash the fish fillets, pat them dry with kitchen paper. Sprinkle the fillets with salt to season and keep aside.

Blend together the red onion, ginger, garlic and green chilli in a spice blender or coffee grinder, untill it becomes paste-like.

Heat a heavy-bottomed pot with high sides on medium heat on the stovetop. Add the vegetable oil, followed by the blended onion paste. Sauté for a minute, stirring continuously.

Add the red chili and turmeric powders and stir again, sautéing for a minute more.

Now add the canned tomatoes or tomato puree, and mix well with the paste, letting it cook for a couple of minutes. I like to use a whisk to break down the tomatoes, so that it cooks evenly.

Now add the coconut milk and using a stick blender, blend together the gravy so that it has a smooth consistency. This is entirely optional, you can avoid this step if you like a little texture in your gravy.

Add the souring agent of your choice – I used kokum, but you can add tamarind (whole or paste) as well. Add the salt to season the gravy and stir to combine.

Add the fish to the gravy, and let it simmer on low heat for 7-10 minutes, until the fish is cooked.
Prepare the tempering:
In a small saucepan (I like to use

this tempering pan

) on the stovetop, bring the coconut oil to heat on medium heat. Now add the mustard seeds and let them heat until they start to crackle. Add the curry leaves and pearl onions to the pan. Let them heat until the pearl unions turn translucent, around 3 minutes.

Top up the fish curry with the tempering just before serving.
Nutrition
Calories:
219
kcal
Carbohydrates:
10
g
Protein:
25
g
Fat:
9
g
Saturated Fat:
7
g
Cholesterol:
58
mg
Sodium:
160
mg
Potassium:
608
mg
Fiber:
2
g
Sugar:
5
g
Vitamin A:
244
IU
Vitamin C:
29
mg
Calcium:
47
mg
Iron:
2
mg
If you liked this recipe, do comment below and rate the recipe! If you make this recipe, please post a pic on INSTAGRAM -tagging @carameltintedlife and follow along on FACEBOOK and PINTEREST