A light, vegetarian, and gluten-free meal, these stuffed bell peppers are easy to make, and are healthy as well!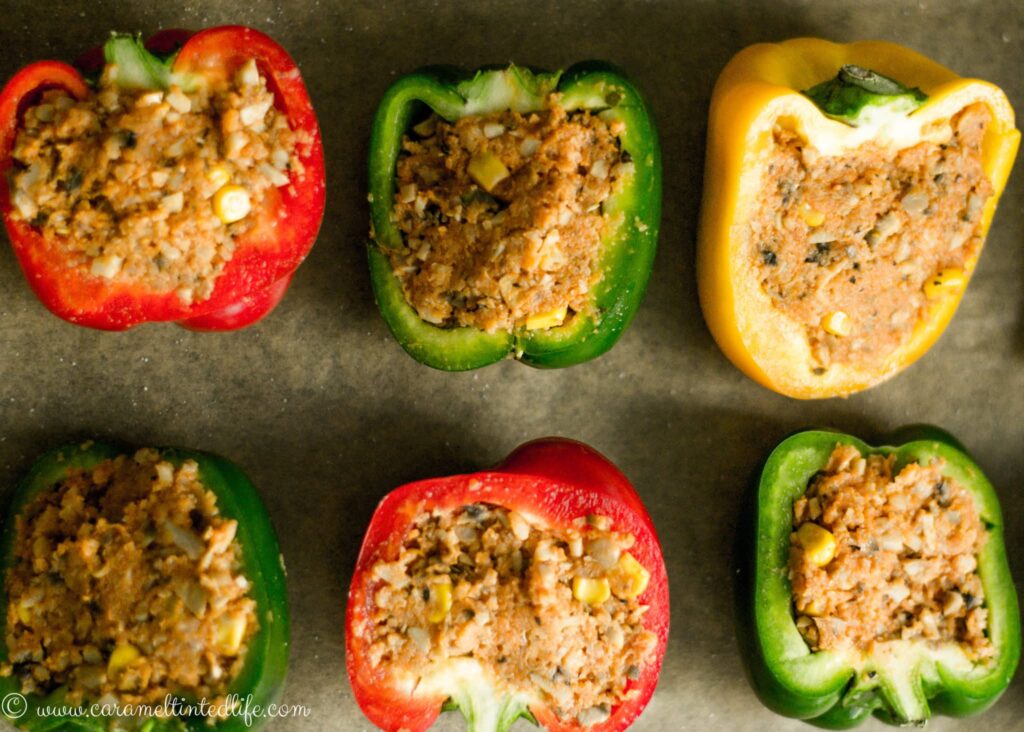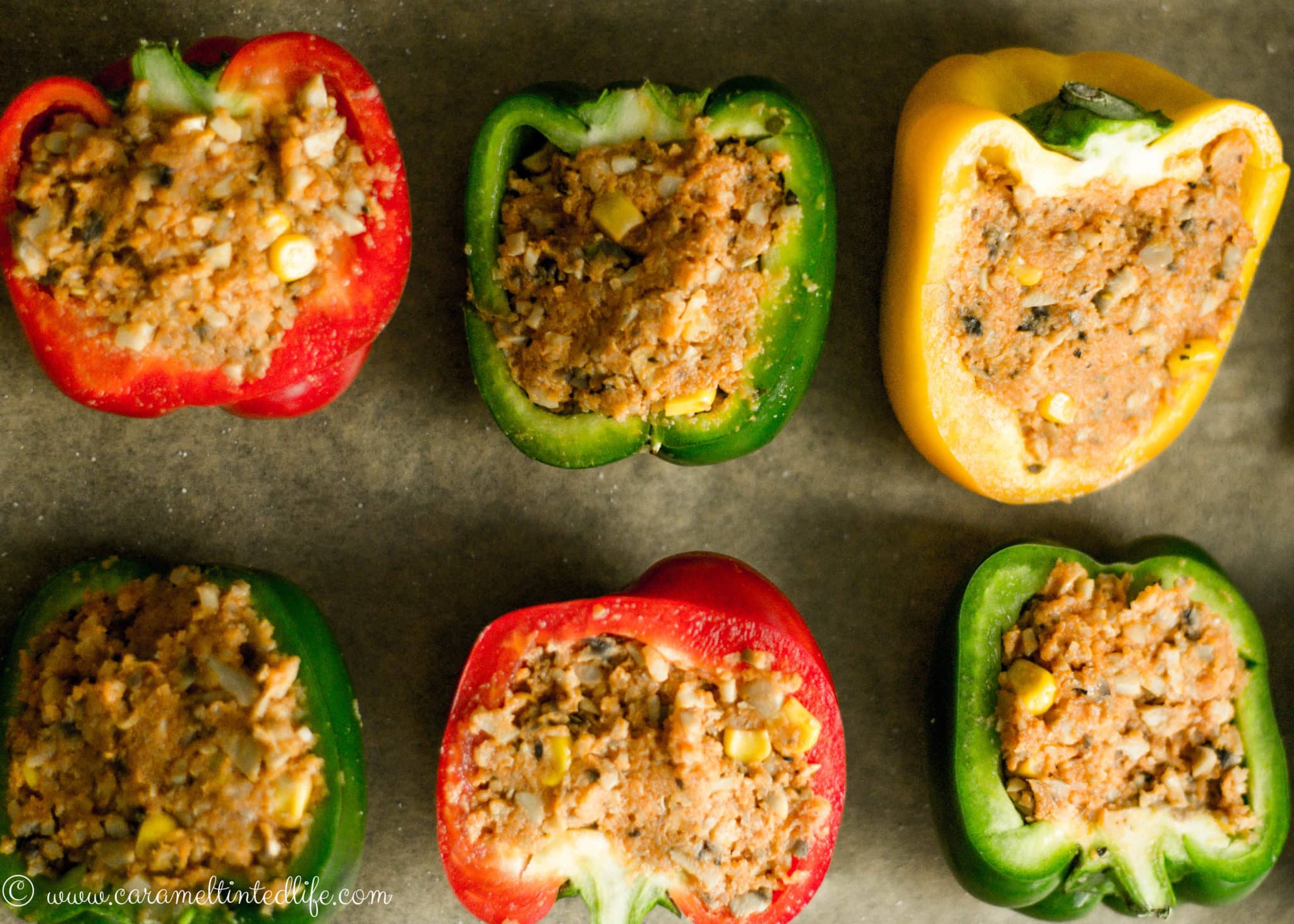 With summer well and truly set in, I'm tempted to live off grilled sausages and salads this entire summer. For a slightly more 'put-together' meal, I'd add these stuffed bell peppers to the mix. These are not just great to look at (just look at those gorgeous colors!), but are a breeze to make. And what's more, a perfect vehicle for just about any leftovers that are tucked away in the fridge.
Play around with the stuffing
The beauty of this dish is that there is no one set way to make it. You can play around with any combination of vegetables, rice or bread crumbs and mince meat. Or just go vegetarian and gluten-free like I did, and use cauliflower, which is a great low-carb substitute for rice, potatoes or bread crumbs. Add some grated cheddar and any of your favorite herbs and you have a filling that is high on flavor, and low on carbs and makes for a guilt-free, yet appetizing meal.
Cooking Tips:
You could cut the bell peppers either vertically into clean halves, or by cutting off the tops. I find that by cutting the bell peppers vertically, you preserve more of the pepper, and this reduces wastage considerably.
For a tad more flavor, sprinkle the insides of the hollowed-out bell pepper with some salt and brush the tops with olive oil.
To ensure that the peppers do not dry out, place the stuffed peppers in a baking pan to which some water is added. The steam created in the oven will keep the moisture intact.
Cover the peppers with a sheet of aluminium foil once they are in the oven. This prevents the peppers from browning too quickly.
These stuffed bell peppers are ideal for frozen dinners, and can be prepped and then kept frozen in an oven-proof dish, wrapped in foil. When you are ready to cook them, and transferred directly to the oven to cook.
Stuffed Bell Peppers
A light, vegetarian and gluten-free meal, these stuffed bell peppers are easy to make, and are healthy as well!
Ingredients
4

medium-sized colored bell peppers

2

garlic cloves

minced

1/2

head of large cauliflower

cut into florets

4-5

large mushrooms

finely chopped

1/3

cup

sweet corn kernels

1

tablespoon

chopped parsley

fresh or dried

1/2

teaspoon

oregano

fresh or dried

1

teaspoon

onion powder

1/4

teaspoon

nutmeg powder

1/2

teaspoon

paprika

1/2

cup

grated cheddar cheese

1/2

teaspoon

salt

as per your taste

For sprinkling over the stuffing:

1/3

cup

grated mozzarella cheese

Olive oil

to brush over the bell peppers
Instructions
Preheat the oven to 180 degrees C (350 degrees F). Prepare the bell peppers by cutting them vertically into clean halves, and scooping out the insides. Trim the stalks. Sprinkle some salt in the bell peppers and keep aside while you prepare the stuffing.

To prepare the stuffing, grind the cauliflower florets in a food processor, until they have broken down, into small granules.

In a pan, on the stove top, add some oil and heat it on medium heat. Add the ground cauliflower and the minced garlic. Cook this for around 5 minutes, stirring regularly, until the cauliflower releases its moisture and cooks down.

Add the diced mushrooms and combine, continue cooking for another 2 minutes.

Add the sweet corn, chopped parsley, oregano, onion powder, nutmeg powder, paprika, and combine well. Turn off the heat.

Add the grated cheddar cheese and salt, and mix together until the mixture is uniformly combined.

Using a spoon, stuff the insides of the bell peppers with the prepared mixture. Top the mixture with some mozzarella cheese, and brush the bell pepper with some olive oil.

To a baking pan, pour in some water. Place the bell peppers in the baking pan, leaving a little space between each pepper. Cover the dish loosely with aluminium foil.

Transfer the baking pan to the oven and bake for 35 minutes at 180 degrees C (350 degrees F) until the peppers are cooked and tender.
If you like this recipe, Pin here for later: