Gluten and refined sugar-free oats and banana waffles that are light on the inside and crisp on the outside!
Sunday morning in our household is something we all look forward to, as breakfast goes from being just another meal of the day to the one thing we all look forward to wake up to in the mornings. Sundays as ours' is as laid back as it can get.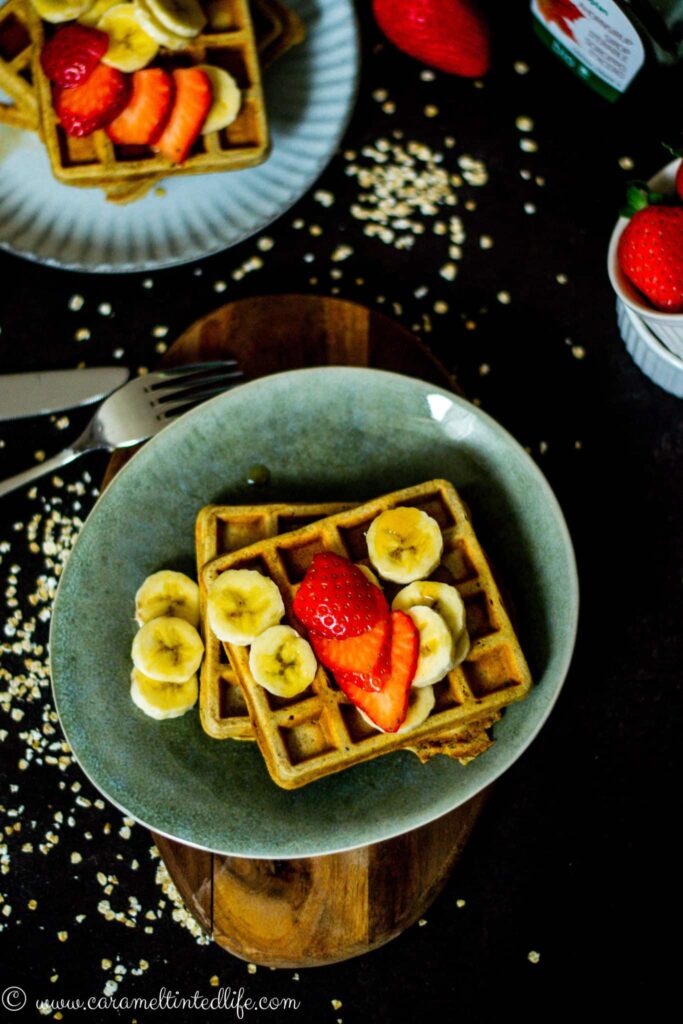 This recipe is one that I tried a few times before getting right, and when it comes to waffles, I am not easily pleased. Waffles need to be light and fluffy, yet golden and crispy on the outside, and good enough to eat on their own, without the need for lashings of chocolate syrup, or whipped cream or what have you. I like a drizzle of maple syrup or honey and occasionally, a dusting of powdered sugar on mine, and some fresh fruit is always welcome.
The only flour used in this recipe is oat flour, which is simply oats ground in a blender or food processor until it becomes flour-like. I've used coconut oil in the batter, but you can replace it with butter if you prefer. This recipe makes for a moist, yet fluffy waffle thanks to the use of mashed banana in the batter. The waffle crisps up beautifully on the outside, and develops a gorgeous golden color when cooked. I'll happy testify to how happy it makes me on a Sunday morning, when topped with a little maple syrup and some fresh fruit.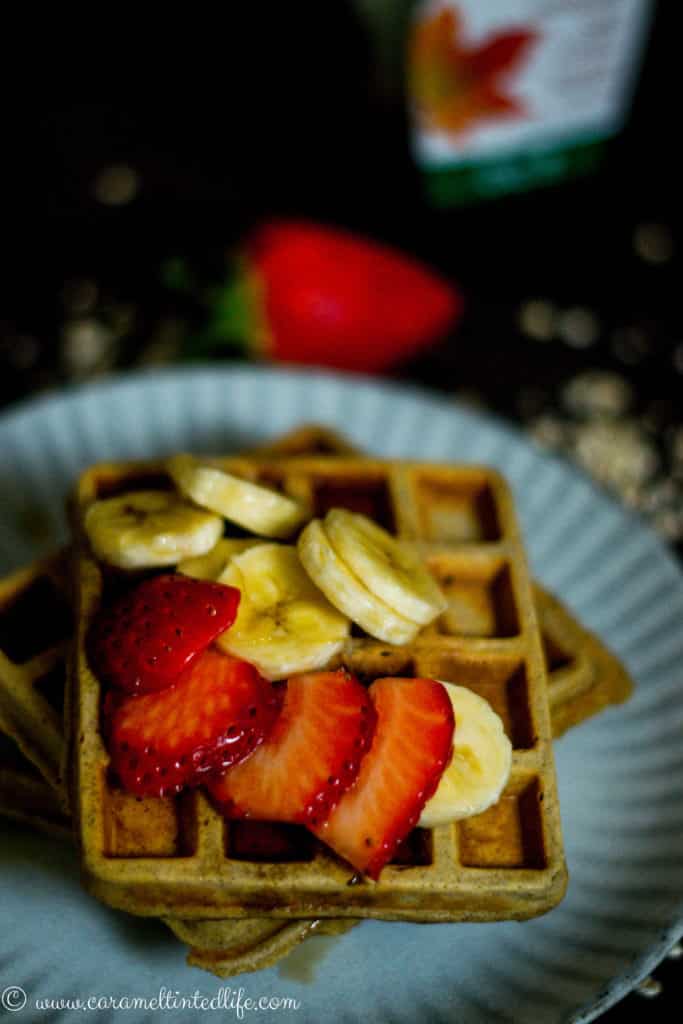 For more recipes using oats, take a look at:
CHERRY CHIA JAM WITH OVERNIGHT OATS:
OATS AND CARROTS MUFFINS
GRANOLA WITH GOJI BERRIES AND SPELT OATS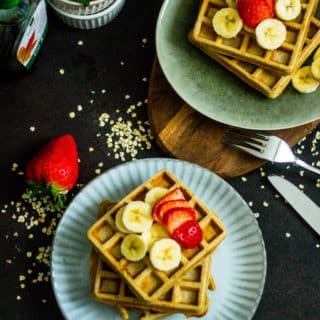 Gluten-Free Oats and Banana Waffles
Gluten-free oats and banana waffles that are light on the inside and crisp on the outside
Ingredients
2

cups

rolled oats

1

cup

milk

1/2

tsp

vanilla essence

2

eggs

1

mashed banana

1

teaspon cinnamon

1

teaspoon

baking powder

1

tablespon maple syrup

1

tablespoon

coconut oil

if solidified, warm it on the stove top to melt it

A pinch of salt
Instructions
Let your waffle iron heat up while you prepare your batter.

In a food-processor or blender, grind the oats until it becomes a fine flour.

In a mixing bowl, using a whisk, mix together the dry ingredients: oat flour, baking powder, salt and cinnamon. In another bowl, whisk together the wet ingredients: mashed banana, milk, coconut oil, eggs, maple syrup and vanilla extract.

Add the dry ingredients to the wet ingredients and combine until the batter is uniform.

Add the batter to the pre-heated waffle iron (use as much as recommended in the waffle maker instruction manual)

Let the waffle cook until crisp on the outside (around 5 minutes per waffle, depending on your waffle iron).

Serve with maple syrup, chopped bananas or your choice of fresh fruits.
If you like this recipe, Pin here for later: