Badam peda is a rich almond and milk fudge, a popular Indian 'mithai'. This recipe is a simple one that uses almonds and milk powder and comes together in less than 30 minutes.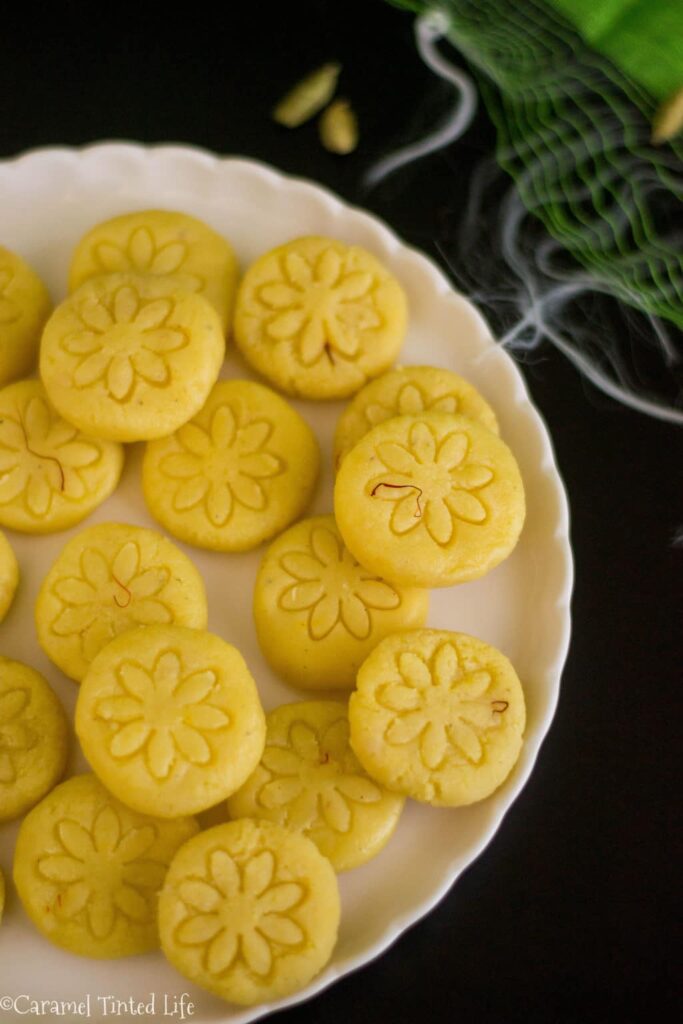 There is a misconception about Indian sweets being too sweet and high on the 'unsubtle' scale. I don't quite agree. Indian sweets are too far in number and too diverse in variety to be stereotyped. Fine patisserie may not be Indian cuisine's strong suite, but turning simple ingredients into palate-pleasing confections, that's what we do best!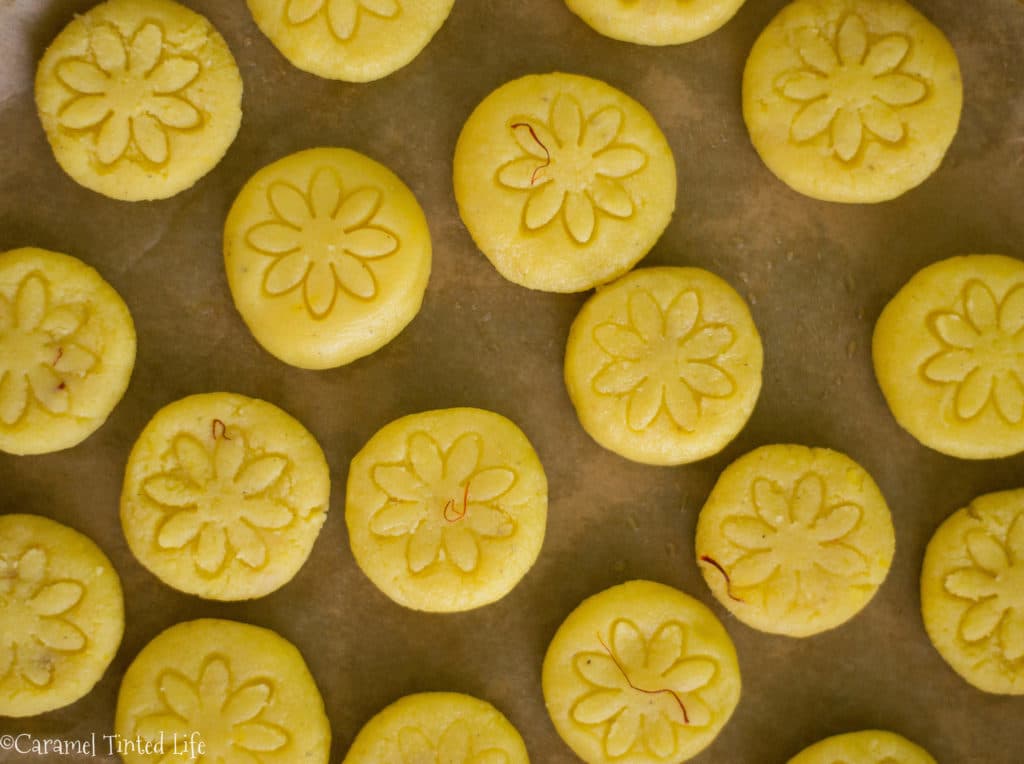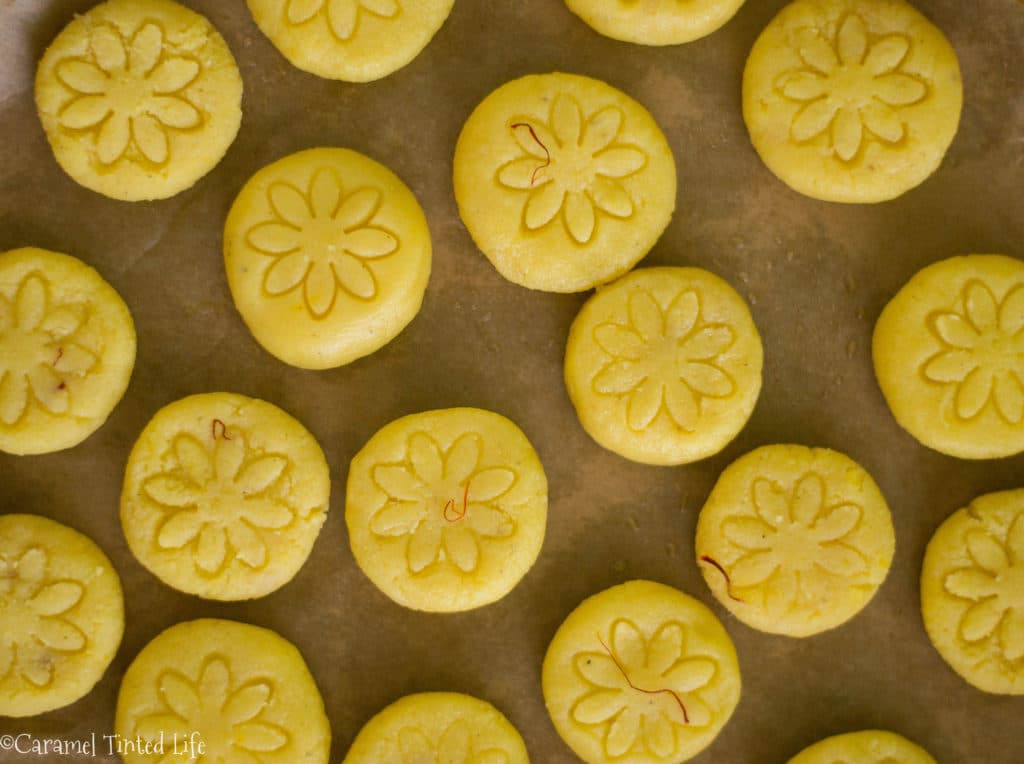 In continuing with recipes for this Diwali, I made these 'Badam pedas'. A peda can be described as a milk fudge disc that has a beautiful, smooth texture. There are a plethora of peda varieties, and this one, made with almonds is just one of many. The internet is full of 'peda' recipes that use milk powder or milk solids such as 'khoya' to simplify the time-consuming process of traditional sweet-making. This recipe uses ingredients available at any Swiss supermarket to make this very quintessential sweet treat.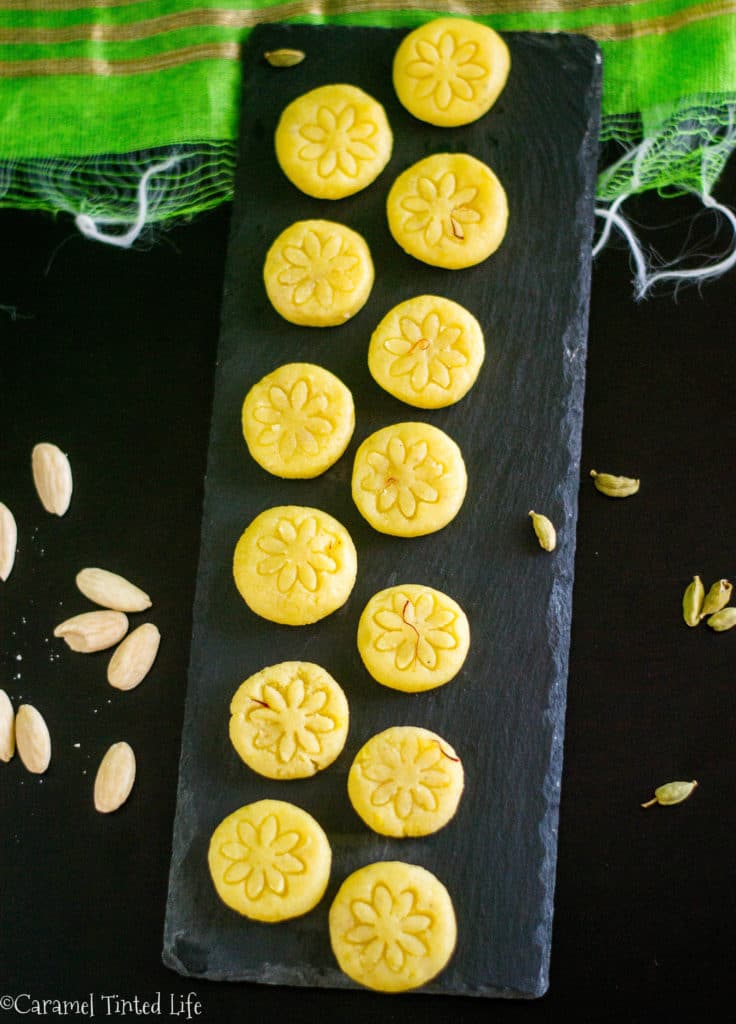 This milk peda recipe calls for just a teeny amount of sugar, and since it is almost entirely composed of nuts and milk and has no refined flour at all, I don't hesitate before I pop one of these into mine or my preschooler's mouth. I am all for sweets that use as many natural ingredients as possible. The health benefits of ghee, aka, clarified butter are well known. It is lactose-free and proven to be good for the metabolism. Of course, I am no nutrition expert and can't extol the nutritional values of ghee over butter, but I know one thing - the heavenly aroma of ghee is enough to win me over.
Give this recipe a try this Diwali or even as a special treat this winter, you can thank me later!
If you need some inspiration for Diwali sweets, take a look at my recipe for a twist on traditional 'kalakand' or Indian milk cake, my Diwali dessert jars, and my interpretation of a coconut 'ladoo' in a cake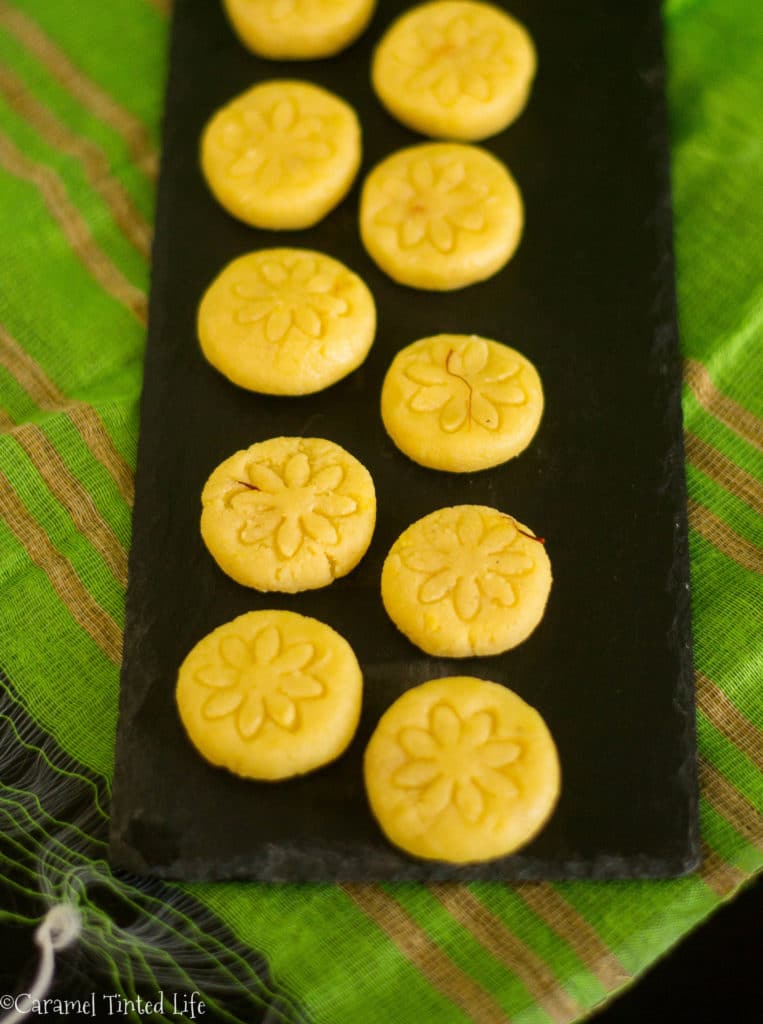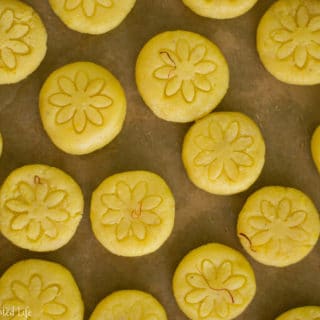 Badam Peda
Badam peda is a rich almond and milk fudge, a popular Indian 'mithai'. This recipe is a simple one that uses almonds and milk powder and comes together in less than 30 minutes
Ingredients
50

grams

or 1/3 cup skinned almonds (If skinned almonds are not available, you could soak the almonds in warm water for 20 minutes and peel off the skin easily)

30

grams

or 1/4 cup granulated sugar

3

tablespoons

milk

mildly warm

60

grams

or 1/2 cup milk powder

A pinch of cardamom powder

2

teaspoons

ghee + a little extra to shape the pedas
Instructions
Soak the almonds in warm water for 10 minutes to soften them.

Soak the saffron in the warm milk for 10-15 minutes.

Add the almonds and sugar in the jar of a fine grinder, and grind until the almonds release their oils and becomes a paste with the sugar.

Now add the saffron-milk into the jar and blend untill it becomes a smooth paste.

In a saucepan, add the paste along with the milk powder, ghee and cardamom powder.

Keep stirring it together on low-medium heat.

The paste will come together and start to come together like a mass. It took me five minutes of heating on low-medium heat.

Turn off the heat and let this mixture cool.

Grease your palms with some ghee and form mini-discs with the mixture.

You could add saffron and bits of almond as a garnish as well.

I gave the pedas a pattern using a cookie cutter, you could leave them plain as well.

Store them in a box and refrigerate if not consuming within 24 hours.
Notes
Tips:
Make sure you grease your hands with some ghee before shaping the pedas, else they might dry a little.
If you want the pedas to be uniform in size, measure each portion before shaping them, on a measuring scale.
If you like this recipe, pin here for later: