Moist date cake layered with caramelized apples and a rich caramel sauce is the perfect cake for Fall!
Completing a year of blogging deserves a celebration, and any celebration in my book calls for a layered cake! And caramel, lots of caramel.
So a year ago, when I first posted on my website about these pumpkin and caramel cupcakes, I was a tad bit uncertain about how consistent I'd be with posting regularly on this space. I had other things on my mind, such as finishing off those cupcakes of course, but also I'd also been an occasional food blogger for nearly 6 years, where I'd post as occasionally as once in six months!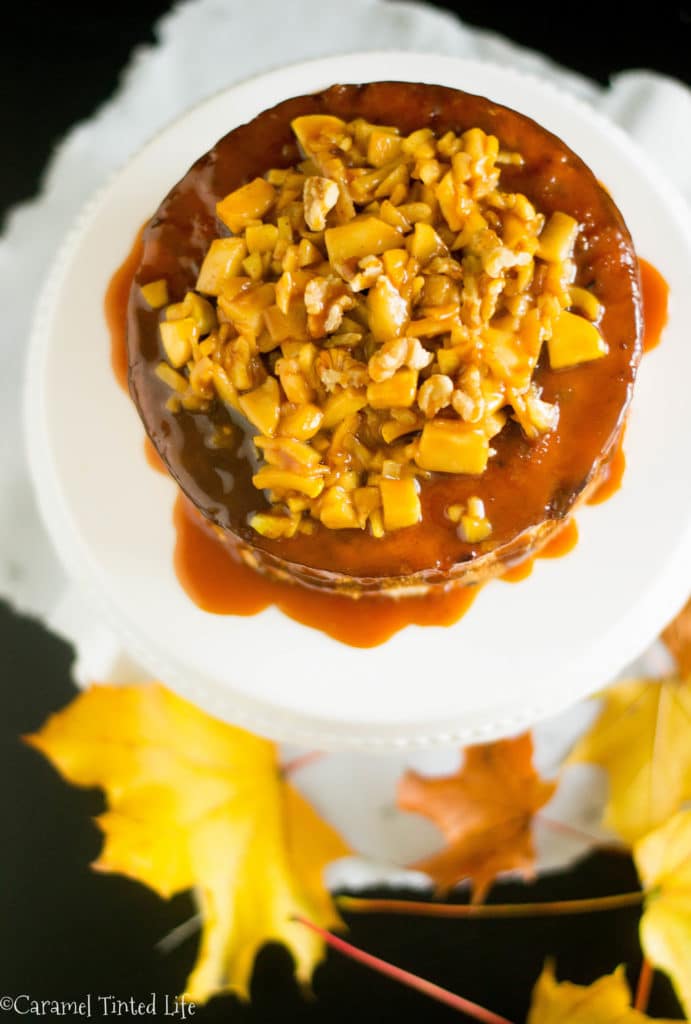 I've enjoyed this process, learning a thing of two about the world of blogging along the way, meeting some fun and talented folk, learning important life lessons (never leave a wok with oil on a hot stove and then take a call from your parents unless you are prepared for a soot-filled kitchen, and are happy to deal with Swiss insurance companies), learned how social media can be both your good friend and your worst enemy at the same time, and best of all, had some very good meals and a very contented family to show for it, and for the latter, I'm immensely grateful.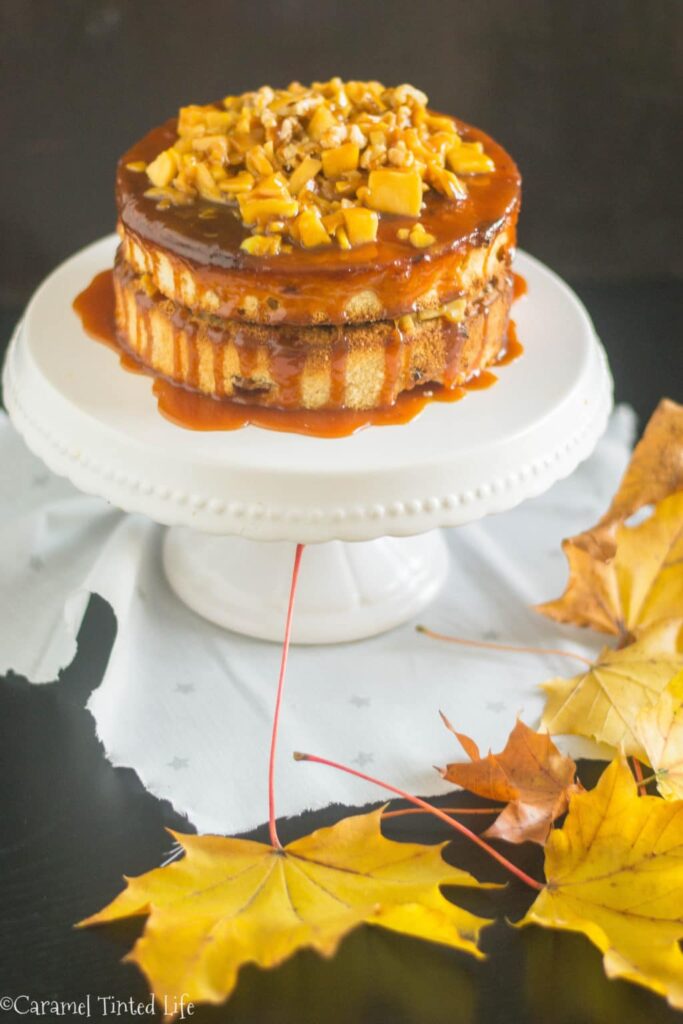 I've decided to dedicate this past year to my husband, who serves as food-taster (of course), hand-model, sauce-drizzler, and has also stood in for me and taken a picture or two. It takes a special kind of love to wait an hour extra for breakfast in the morning, and then be asked to drizzle toffee sauce on a stack of waffles while I click away. All without a complaint. But I do bake the spouse in question cake from time to time, and when your mouth's stuffed with cake, you can't really complain can you? Yes, cake is the answer to domestic problems and world peace.
Anyway, without further ado, here's my celebratory cake, which I think is perfect for this season of Fall. Layers of moist date cake with caramelized apples and a generous drizzle of caramel sauce. The components come together in perfect harmony, and for some texture, you could thrown on a few crushed walnuts or pecans on the top as well. I hope you enjoy!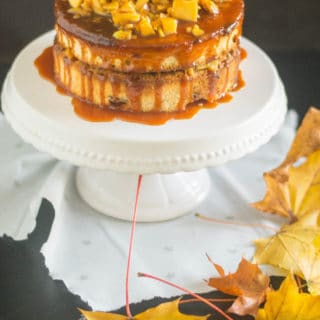 Date and Apple Cake with Caramel Sauce
Moist date cake layered with caramelized apples and a rich caramel sauce is the perfect cake for Fall!
Ingredients
300

grams

white flour

2

teaspoons

baking powder

1/4

teaspoon

salt

1/2

teaspoon

cinnamon

100

grams

butter

at room temperature

250

grams

light brown sugar

1

egg

100

ml

sour cream

150

ml

full-fat milk

60

grams

dates

seeded and chopped

1

teaspoon

of flour to coat the dates

For the caramel sauce:

200

grams

1 cup sugar

1/2

cup

cream

70

grams

butter

For the caramelized apples:

2

large apples

I recommend Golden Delicious, peeled, cored and diced

1

teaspoon

butter

1/2

teaspoon

cinnamon

1/2

teaspoon

light brown sugar
Instructions
To make the cake layers, begin by preheating the oven to 180 C, or 350 F. Prepare 2 X 6 inch cake pans by brushing the insides well with butter and dusting the coated surface with flour. Tap off the excess flour.

In a bowl, combine the flour, baking powder, salt and cinnamon. Using a whisk, give it a good whisk, combining all the ingredients. Keep the bowl aside.

In a small bowl, add a teaspoon of flour to the chopped dates and toss until the dates are coated with the flour. Dust off excess flour. Keep aside.

In the bowl of your stand mixer or using a hand mixer, beat the butter until pale and fluffy.

Add the sugar and beat on medium speed until well combined.

Add the egg and sour cream, and beat again on medium speed.

Add the dry ingredients to the bowl, alternating with the milk.

On medium speed, mix the ingredients until they are just combined.

Finally, add the dates to the mixture, and mix again till just combined.

Do not over-mix.

Transfer the batter to the prepared cake pans, in even amounts.

Bake at 180 C for 40 - 45 minutes, or until a skewer inserted into the cake comes out clean.

While the cakes are baking, prepare the caramel sauce.

In a heavy sided pan, heat the sugar on medium heat, until it melts and turns a light amber. Be cautious because the sugar can burn very quickly and goes from melted to burnt carbon.

Lower the heat and add the butter and mix, the mixture will foam gently.

Add the cream and keep stirring, till the mixture is evenly combined and turn off the heat.

Let the caramel cool, it thickens as it cools.

To prepare the caramelized apples:

In a frying pan, add the butter and the apples and cook on high to medium heat for 5 minutes, stirring occasionally. Once the apples start to brown, add the cinnamon and sugar give it a stir.

Let the apples cook for another minute and turn off the heat.

To assemble, place a date cake layer on a serving plate or cake board.

Top with caramelized apples and spoon a little sauce over it. Place the next date cake layer and repeat. Spoon over more caramel over the top of the cake.
Notes
Always use room-temperature ingredients, including eggs, milk, cream, butter. Keep your ingredients out of the fridge at least an hour before baking.
Its best to use a weighing scale to measure ingredients, including when you measure out the batter for the pans to ensure the cake layers are nearly equal in size.
Coating the dates in flour prevents them from sinking to the bottom of the batter.
Over-mixing the batter will lead to gluten formation and the cake with be chewy and dense.
The caramel sauce will thicken as it hardens. When it is still fluid, spoon it over the cake and it will set as it cools.
If you like this recipe, Pin here for later: