Saag paneer (Palak Paneer) is an Indian spinach dish made with cubes of paneer (firm cottage cheese) cooked in a sauce made with green leafy veggies. This recipe can be made in the Instant Pot or on the Stovetop and is better than the restaurant version!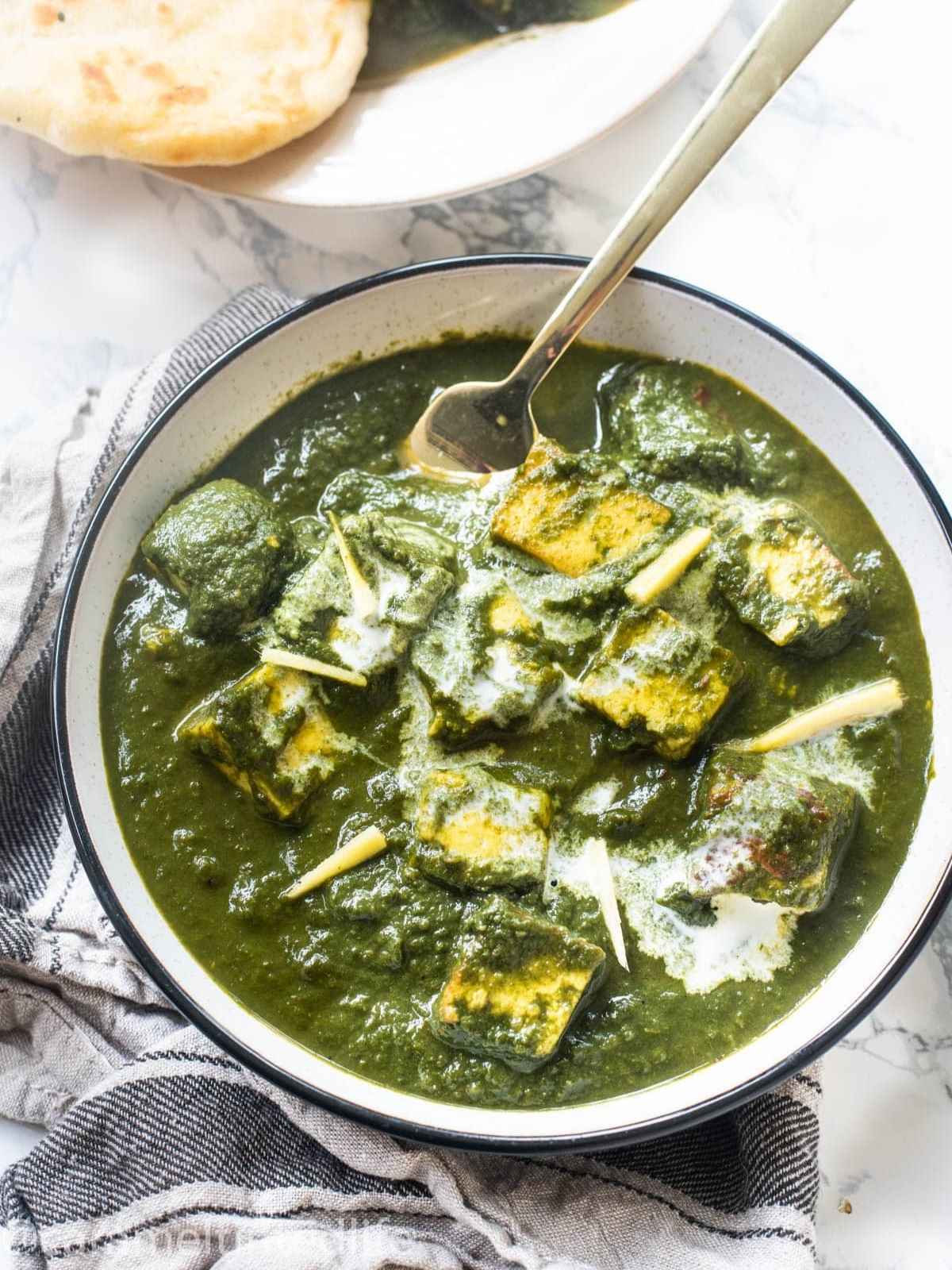 (This recipe was first published in June 2020 and has been updated)
Jump to:
Few things in life are as satisfying as tucking a piece of homemade Naan into a hearty warm dish of Saag Paneer. Paneer lovers will relate! If you are like me, and your eyes wander to the Paneer Kadai or the Paneer Kathi rolls at my favorite Indian restaurants, then you will love this recipe.
I love making Saag or Palak Paneer at home, and I prefer not to order it at restaurants, many of which are guilty of dunking way too much cream than is necessary into the sauce. I don't understand why so many Indian curries get the 'heavy cream treatment' at restaurants!
What is 'Saag'?
Saag means leaves and in India, saag refers to leafy greens that can be cooked - such as Mustard Greens (sarson ka saag) or Spinach (also known as palak). Saag can also refer to kale, collards, and other leafy greens. Saag Paneer and Saag Chicken are popular recipes that are made with Saag.
The beauty of a Saag dish is that it lets the flavor of the leafy greens stand out. The sauce or gravy is made with spinach or other leafy greens and the taste of the dish is quite earthy and unique. There is very little cream added as just a garnish. You can omit the cream entirely and the dish will still taste great!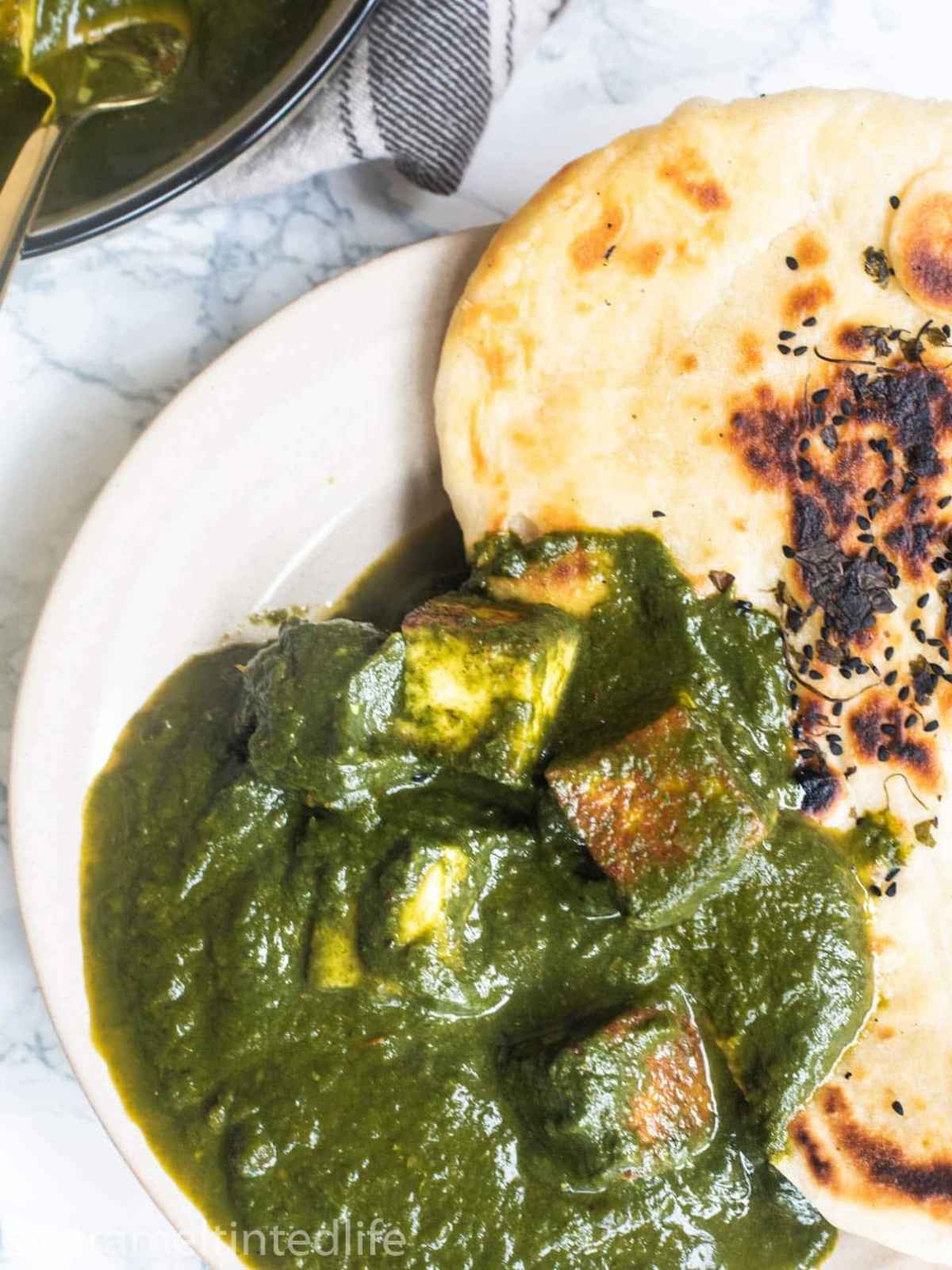 Why this recipe works
Healthy - packed with greens rich in iron and folic acid
Perfect side for a meal with Basmati rice or Naan
Easy to make - just 30 minutes in the Instant Pot or stovetop
Recipe Ingredients and Substitutions
To make Saag Paneer (Palak Paneer), we will need: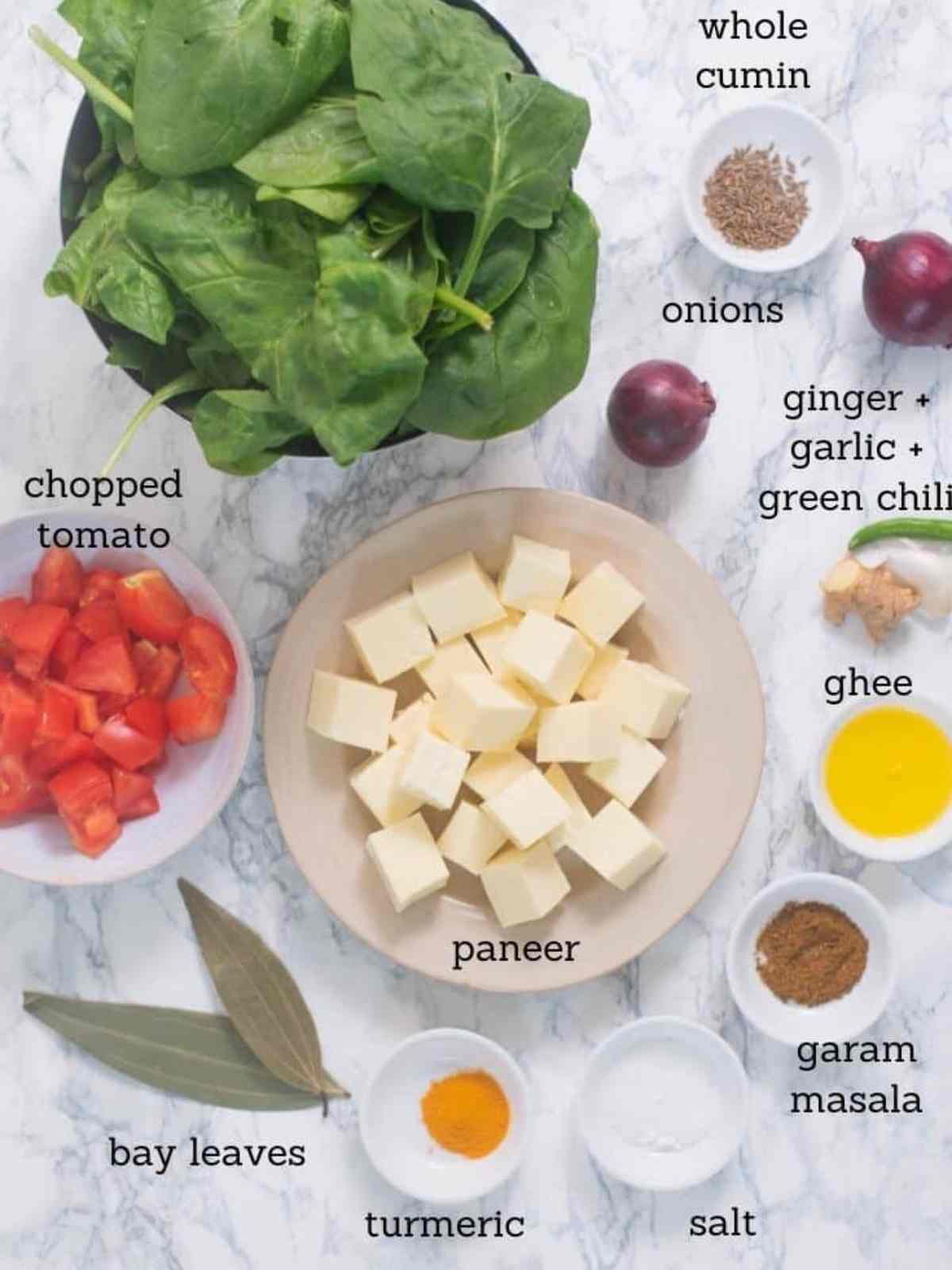 Fresh spinach: I prefer to use large spinach instead of baby spinach, but you can use baby spinach as well. Frozen spinach is a good substitute as well. If you want to use other leafy greens, you can also substitute spinach with mustard greens or kale.
Paneer: Use homemade or store-bought paneer. To make Vegan Saag paneer, use tofu as a substitute for paneer.
Tomatoes: Use fresh tomatoes rather than canned tomatoes. To retain the green color of the saag dish, avoid using canned as canned tomatoes.
Onions: Use red or white or yellow onions, chopped finely
Spices: Turmeric, garam masala, whole cumin
Ghee: Ghee adds good flavor to a saag dish, however, it can be replaced with vegetable oil to make vegan saag paneer.
Other ingredints: To add flavor to the Saag Paneer, we add minced ginger and garlic (or use homemade ginger garlic paste), and finely chopped green chili.
Step-By-Step Instructions
Start by browning the paneer on the stovetop - this is an optional step, but the sauteed paneer has a lot more flavor and texture as compared to the plain paneer. The browed paneer is then kept aside for later when it will be cooked with the spinach sauce.
Instant Pot Instructions
In the Instant Pot, we will be making the Saag sauce. In 'Saute' mode, heat up whole cumin and bay leaves in ghee until aromatic. Then add the chopped onions, green chili, ginger, and garlic. I like to add the onions, green chili, garlic, and ginger to a food processor to chop them all up together, finely.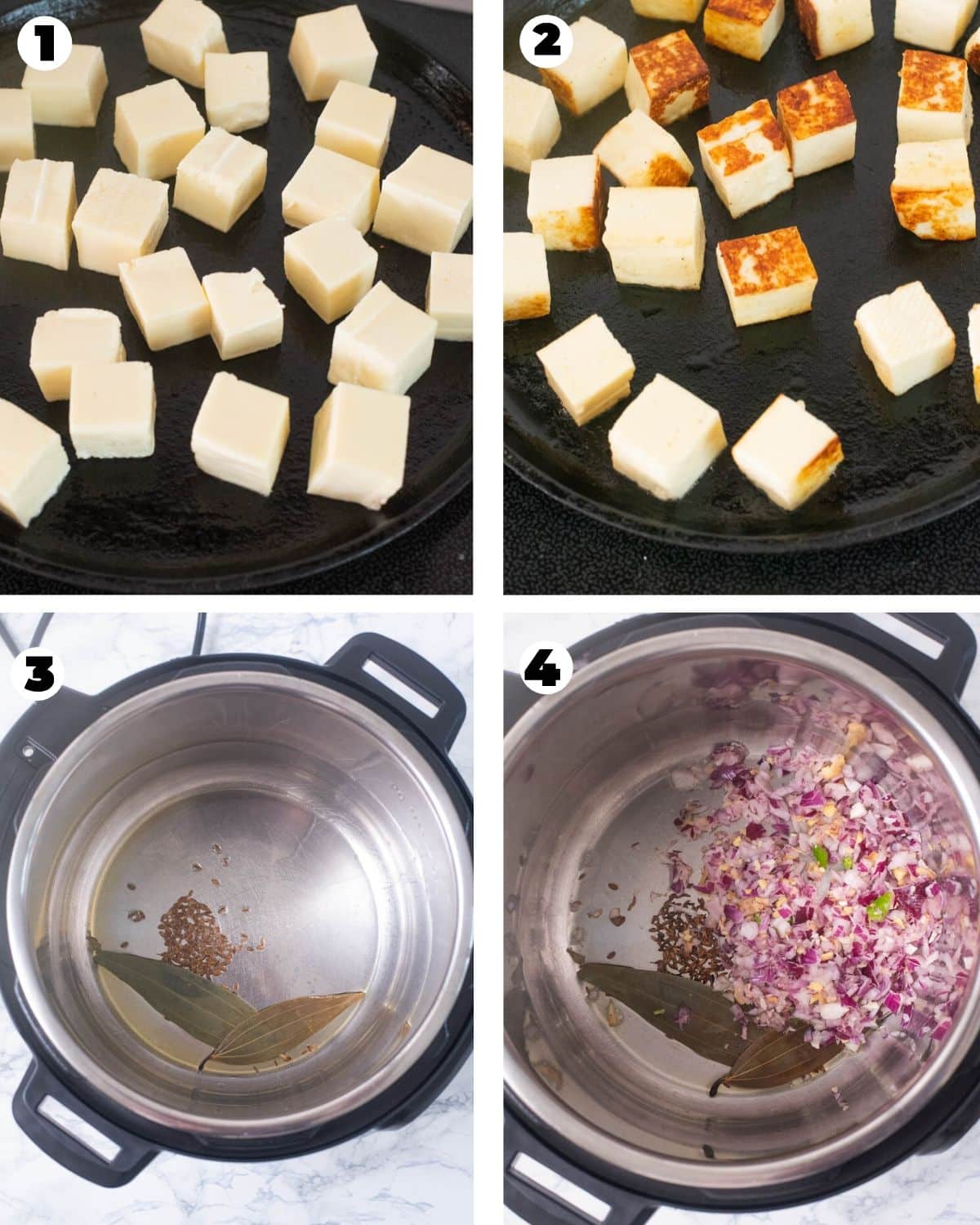 Saute until onions turn translucent. Then add one whole chopped tomato followed by the spice powders. I find that using canned tomatoes gives the sauce more of a red-brown color, so I prefer to use fresh whole tomato for this recipe instead of canned tomatoes.
Saute until the tomatoes soften, then add the rinsed spinach (palak) leaves. Cover the lid and pressure cook for 1 minute.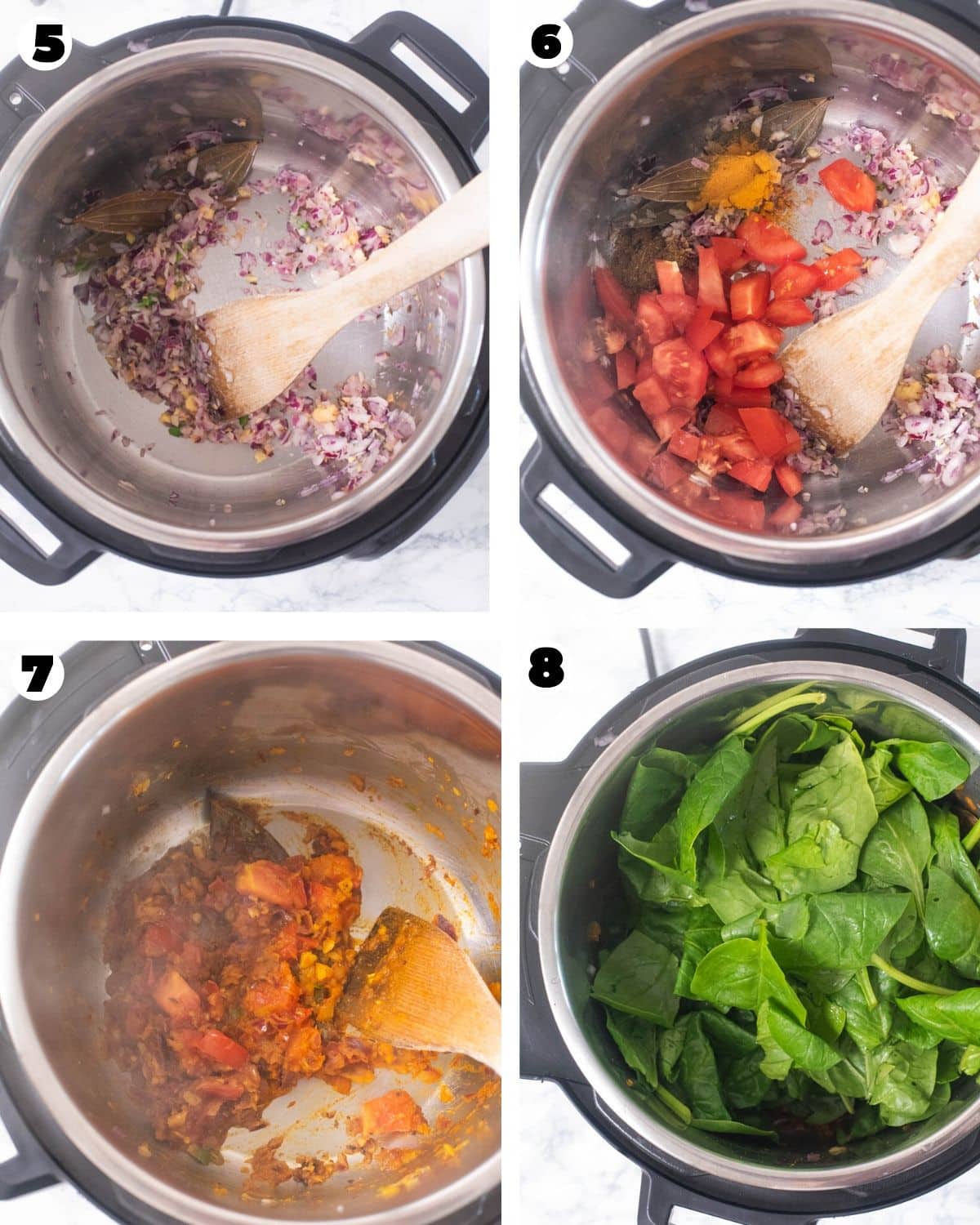 After one minute of cooking, the Instant Pot will beep to signal the end of the cooking cycle. Immediately, manually release pressure and take off the lid of the Instant Pot. Discard the bay leaves and use a hand blender to blend up the ingredients.
Pro Tip: Throw in 3-4 ice cubes into the pot at this stage of the recipe. This will help cool down the Saag sauce and retains the vibrant green color of the Saag!
Blend until the sauce is smooth. Some people prefer the sauce to be chunky - you can make it as smooth or chunky as you like. Finally, add in the paneer cubes and cook for 3-4 minutes on Saute mode.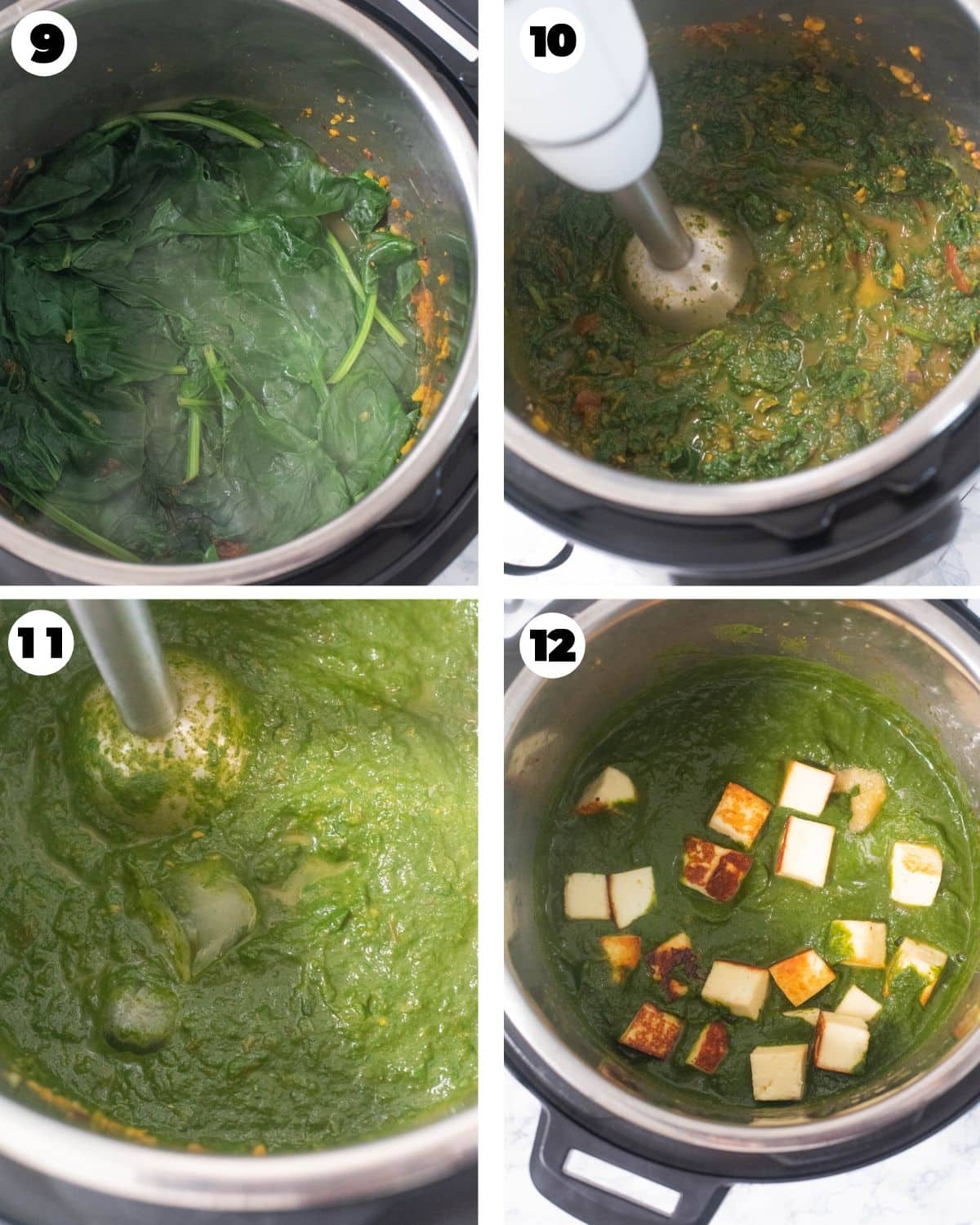 And that's it, the simplest way to delicious and hearty Saag Paneer! Garnish with some cream and serve warm with Naan or Basmati Rice.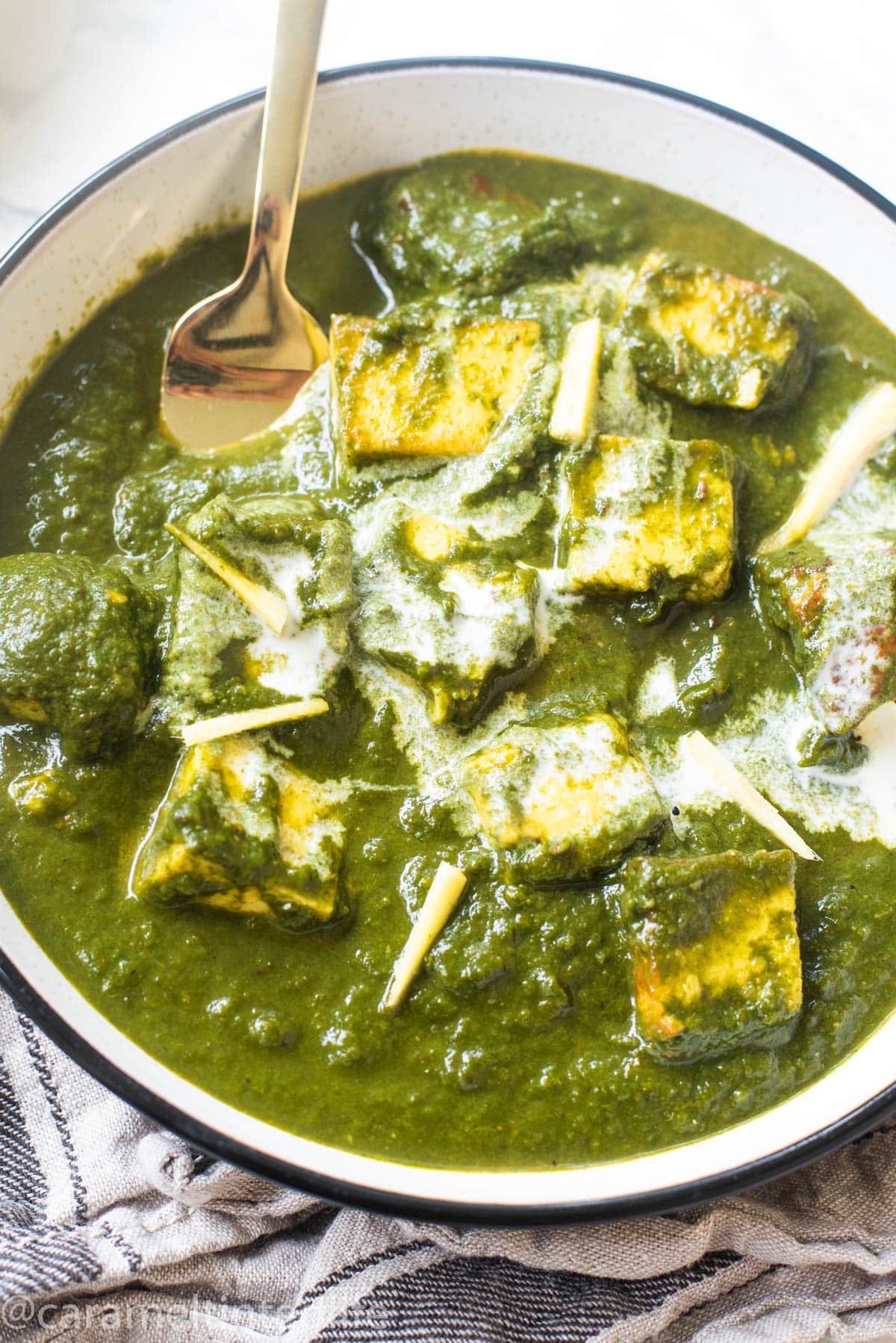 Stovetop Instructions
To make Saag or Palak Paneer on the stovetop, simply use a heavy bottom pot or dish with high sides. Heat it to medium heat, add ghee (or vegetable oil), and let that heat up. Add cumin seeds and bay leaves and heat until the cumin seeds start to crackle.
Then add the chopped onions, green chili, ginger, and garlic. Saute until onions turn translucent. Then add one whole chopped tomato followed by the spice powders.
Saute until the tomatoes soften, then add the rinsed spinach (palak) leaves.
Cook, covered for 4-5 minutes, until the spinach wilts. Turn off the heat, add salt to taste, take out the bay leaves and blend with a hand blender until you have a smooth sauce.
Add the browned paneer cubes and simmer for 4-5 minutes. Add cream to garnish and turn off the heat.
Recipe Tips
Add Ice Cubes to cool down the Spinach - To get that vibrant green color of Palak Paneer, simply add ice cubes to quickly cool down the cooked greens. This will help you retain the vibrant green color.
Use a Hand Blender - For quick and easy Saag, I like to use my hand blender (immersion blender) to blend the cooked ingredients. Pick out the bay leaves before blending for a smooth sauce.
Recipe Variations
Keto Saag Paneer - Saag paneer is a keto-friendly dish. You can serve it with cauliflower rice instead of Basmati rice or Naan if you are on a low-carb diet.
Vegan Saag Paneer - For a vegan option, simply replace the paneer with extra firm tofu and follow the recipe.
Saag Aloo - Saag Aloo is made by cooking 'Aloo' (Potatoes) in Saag. You can simply add browned potato cubes to the saag sauce and simmer them together to make Saag Aloo.
Frequently Asked Questions
What does 'Saag' mean?
'Saag' is a term used for leafy green vegetables common to India. In the Punjab region of India, saag refers to mustard greens aka, 'Sarson ka saag' which are a winter specialty. Traditionally, saag is a very simple, robust dish made with greens cooked with just some salt, green chilies, and ginger. The greens cook in their own liquids and are served with fresh, homemade butter.
In the absence of mustard greens, commonly used greens for making saag are spinach, fenugreek leaves (methi), collard greens, etc.
Saag Paneer vs Palak Paneer - What is the difference?
The names 'saag paneer' and 'palak paneer are used interchangeably, although 'saag' refers to a variety of leafy greens and 'palak' simply means spinach. All palak is saag but not all saag can be called palak!
More Indian Vegetarian Recipes
Instant Pot Paneer Tikka masala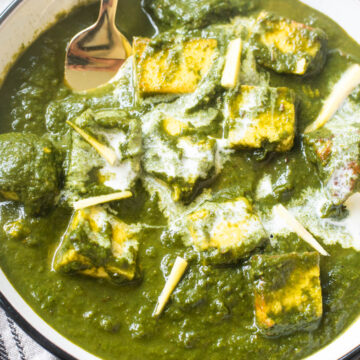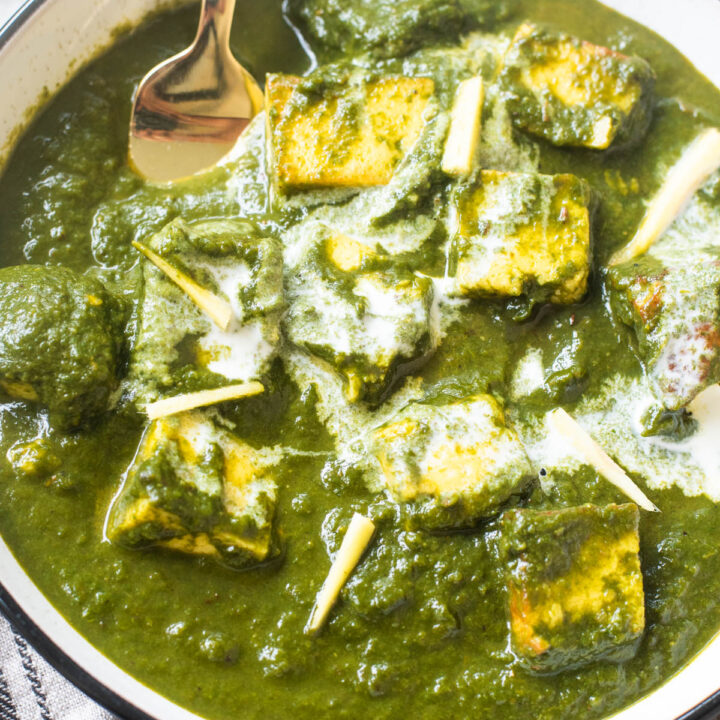 Saag Paneer Recipe
Saag paneer is traditionally made with cubes of paneer cooked in a sauce made of green leafy veggies. A delicious, comforting, vegetarian curry that is better than the restaurant version!
Ingredients
400

grams

Paneer

cut into cubes

350

grams

fresh spinach leaves

washed and rinsed (frozen spinach can be used as well)

1

large tomato

chopped

1

inch

fresh ginger

finely chopped

1

green chili

finely chopped

1

clove

garlic

finely chopped

2-3

bay leaves

¾

tablespoon

whole cumin

1½

tablespoon

Ghee

2

red onions

chopped

⅓

tablespoon

Turmeric

½

tablespoon

Garam masala

½

tablespoon

Salt to taste
Instructions
Start by browning the paneer. Heat a pan on the stovetop. Add a little ghee or vegetable oil and once hot, add the cubes of paneer. Let the paneer brown gently on one side, then and flip on each side to brown evenly. Once the paneer cubes are evenly browned, keep aside for later.

In the Instant Pot, add the ghee, and hit Sauté. Once hot, add the bay leaves and the whole cumin. Once the whole spices start turning aromatic (after 1 minute), add the chopped onions, ginger, garlic and green chilli.

Sauté for 3-4 minutes until onions start to turn translucent. Then add the chopped tomato, turmeric, garam masala. Sauté for a few minutes until the tomatoes start to soften. If they stick to the bottom of the pot, add a tablespoon of water and deglaze the pot. Any residue stuck to the pot can trigger the 'Burn' notice.

Add the spinach leaves. Give it a mix and put on the lid of the IP. Hit 'Pressure Cook' or 'Manual' mode and set the time for 1 minute. Once the cooking cycle is completed, immediately release pressure and open the lid of the Instant Pot (Quick Release).

D2i0card the bay leaves. Using a stick blender (hand blender), blend the cooked ingredients up to form the sauce.

Tip: add 3-4 ice cubes at this stage to quickly bring down the temperature of the sauce. This helps in retaining the green color of the spinach.

Add the sautéed paneer, add the salt and hit 'Saute'. Let the paneer simmer in the sauce for 3-4 minutes. Once cooked, garnish with cream and serve with naan or rice.
Notes
Spinach can be replaced with mustard green or with kale as well. The instructions for the recipe will remain the same.
For a vegan alternative, replace the paneer cubes with extra firm tofu, replace ghee with vegetable oil and omit the cream.
Nutrition
Calories:
384
kcal
Carbohydrates:
14
g
Protein:
18
g
Fat:
30
g
Saturated Fat:
17
g
Cholesterol:
76
mg
Sodium:
1010
mg
Potassium:
676
mg
Fiber:
4
g
Sugar:
4
g
Vitamin A:
8475
IU
Vitamin C:
34
mg
Calcium:
593
mg
Iron:
4
mg