Indian masala chai is an aromatic drink made with tea leaves brewed with milk, ginger, and crushed spices. It is a refreshing, anti-inflammatory drink with ayurvedic properties.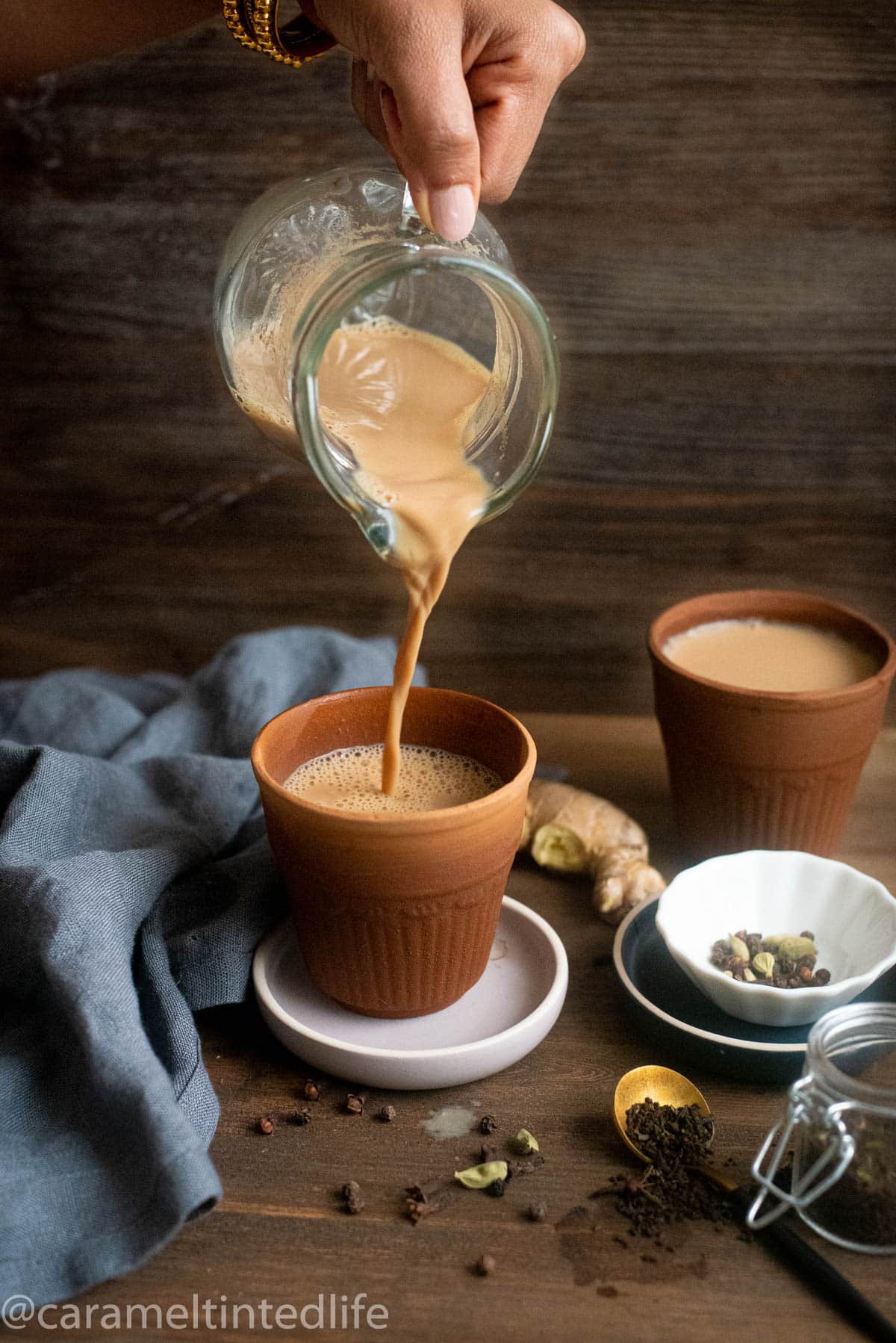 Jump to:
What is Masala Chai?
Masala chai is an aromatic brew made by brewing tea leaves with crushed whole spices, ginger, and milk. The chai or tea leaves are left to steep just enough to release their flavor. Milk is added, followed by a sweeter.
The use of whole spices and ginger is what sets this tea apart. The use of spices in a herbal decoction has its origins in Ayurveda. The spices are known to have anti-inflammatory and immunity -building properties. My recipe for ginger lemon tea also uses ingredients based on Ayurvedic principles, to build immunity.
The combination of spices used for Masala Chai can vary from recipe to recipe, but I love to use the following spices: Cloves, cardamom, cinnamon, fennel, peppercorns. The beauty of the recipe is that you can play around with spices and add more or less or each. Or make your own variation of this basic recipe, by adding ingredients such as lemongrass or star anise, etc.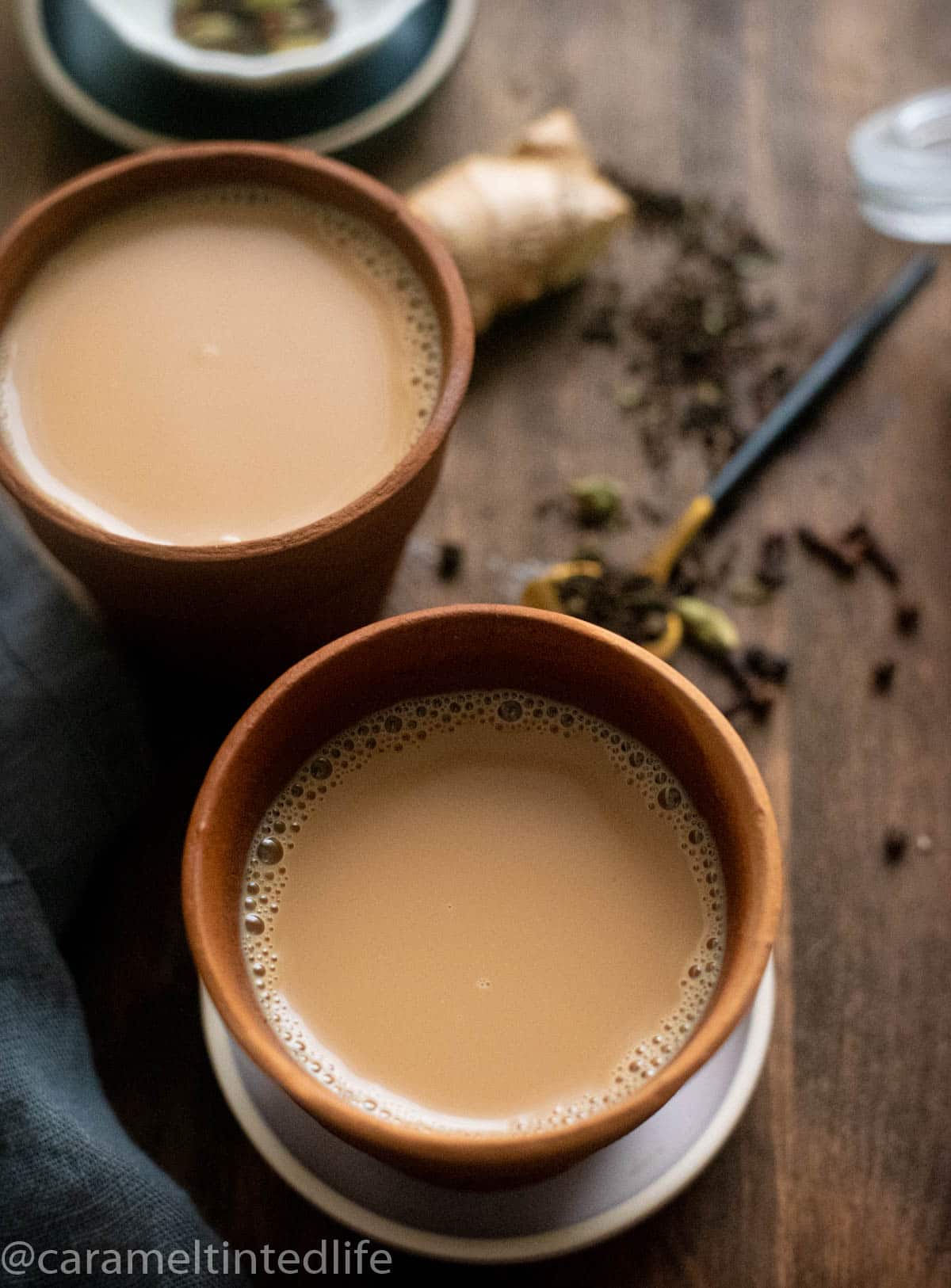 Why this recipe works
With Ayurvedic, anti-inflammatory properties, masala chai has several health benefits
An authentic recipe for Masala Chai spice blend - So much better than what you get at restaurants!
List of Ingredients for Masala Chai
To make masala chai, you will need: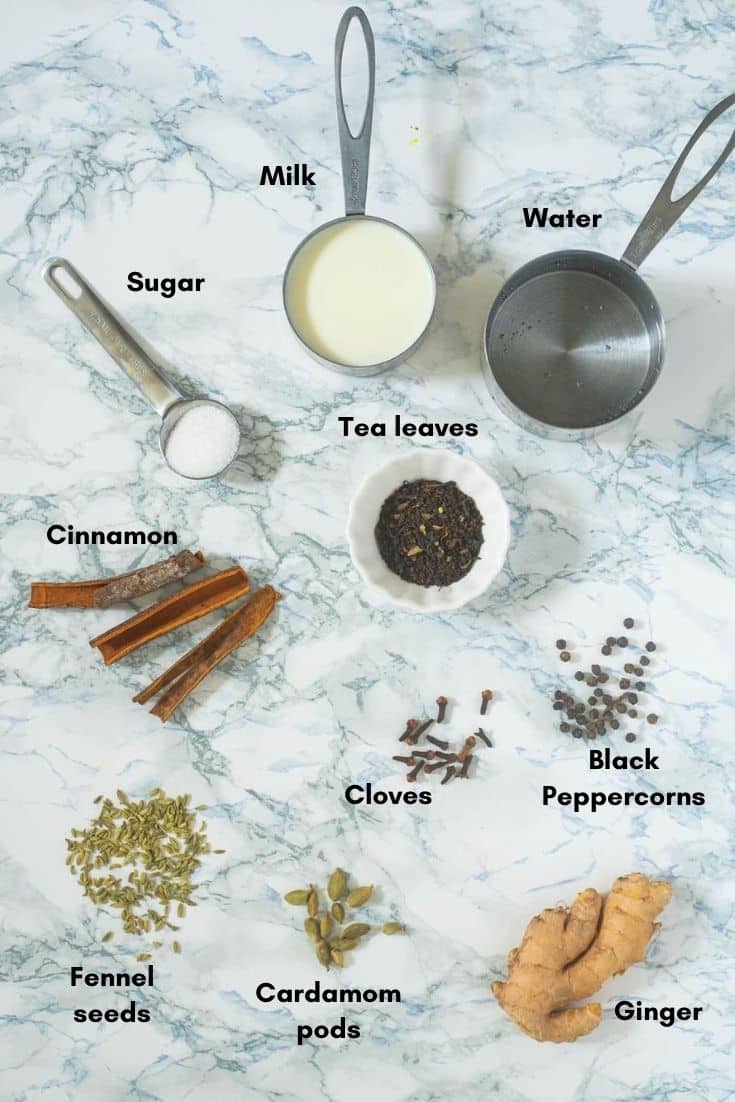 To make masala chai, we will need the following ingredients:
Black tea leaves – Preferably use long leafed, loose, Assam variety of tea leaves
Milk – Use any dairy or non-dairy milk of your choice
Sweetener – This is optional. I usually skip sugar, but you can add sugar, or any sweetener of your choice
Ginger – Use fresh ginger root, grated or crushed
Whole spices – Cloves, cardamom, cinnamon, fennel, peppercorns. You can also add lemon grass, star anise or nutmeg. To release the flavors, gently pound the spices with a mortar and pestle before adding them to the boiling water.
Step-by-step instructions
Making masala chai is a simple technique, however, it can easily be ruined by overcooking the tea leaves, and making the chai bitter. Follow these simple steps to make that perfect cup of masala chai!
To a saucepan on the stove, add water and turn on the heat. As it is heating, add the grated or crushed ginger, and the lightly pounded whole spices. Once the mixture comes to a boil, add the tea leaves.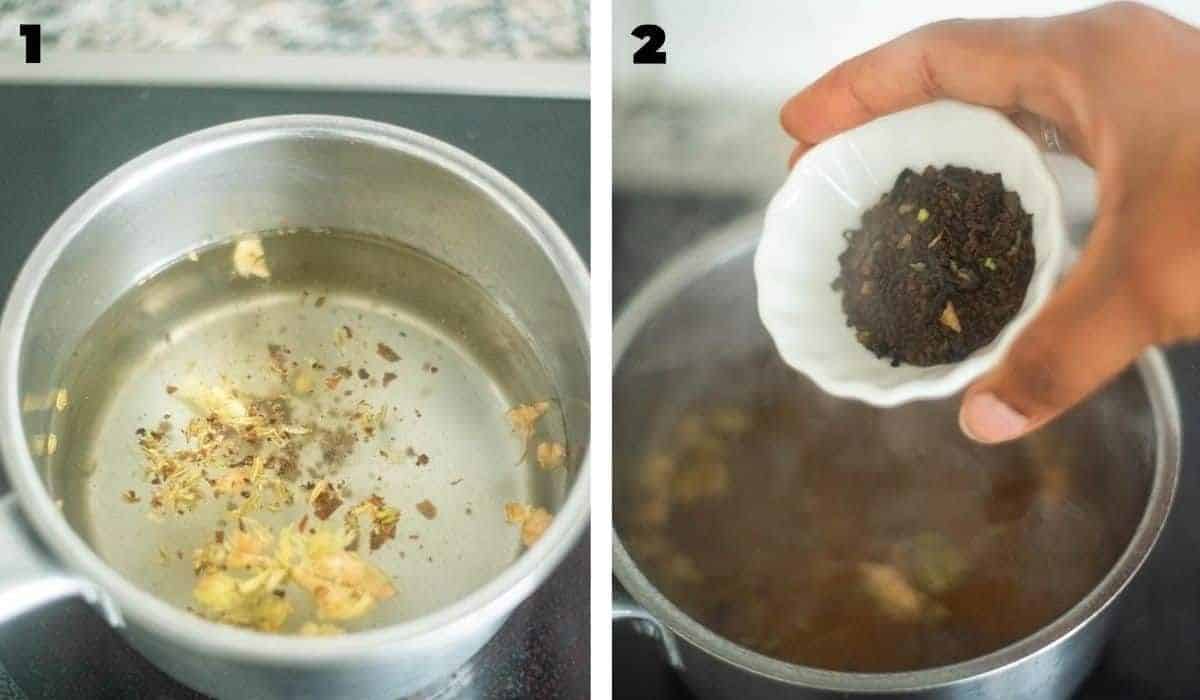 Let the tea leaves cook for just a minute. Overcooking the tea will make the tea leaves release their tannins and make the chai bitter. You want the tea leaves to just steep enough to release their flavors.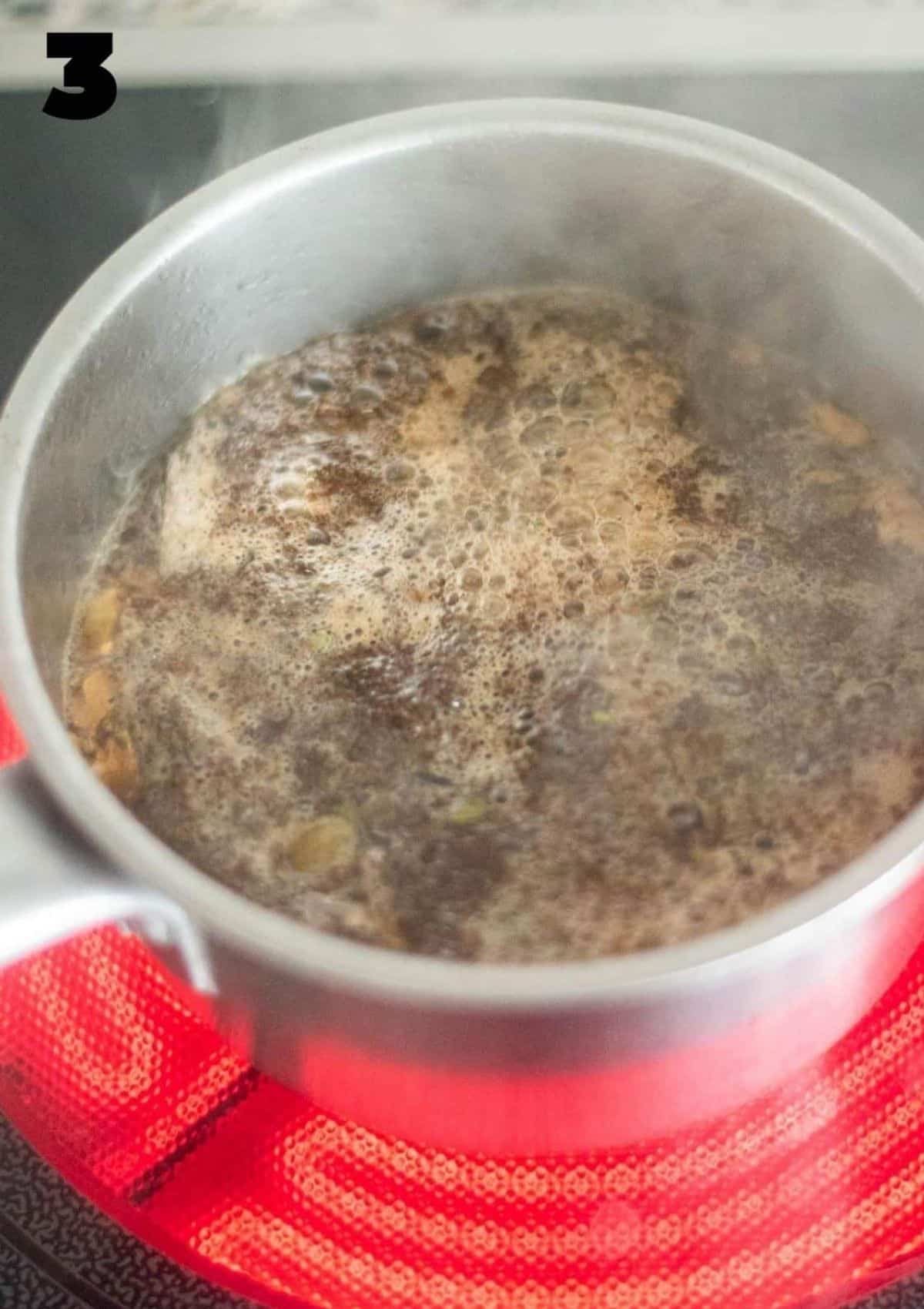 Add the milk, sugar (optional) and let this cook for a minute more. Then turn off the heat and let the chai sit for 3-4 minutes. Using a mesh strainer, strain the chai and serve hot. Your Masala Chai is ready!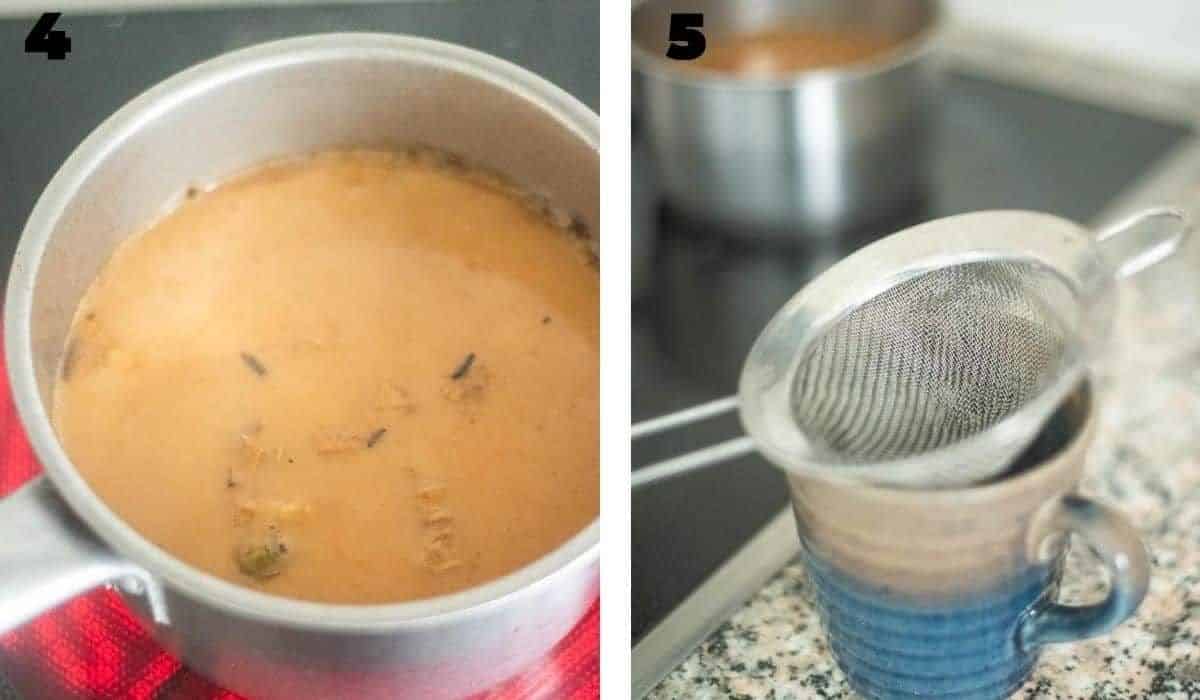 What is Chai made of?
Chai is a drink that originates from India. It is made by brewing tea leaves with water and milk. Often, chai is flavored with whole spices and sweetened with sugar.
What is the difference between Chai and Masala Chai?
Masala chai should not be confused with a chai latte, which is an adaptation of chai - which has more milk and lesser spices. Masala chai is stronger in flavor compared to the milder chai latte. A chai latte usually uses frothy steamed milk to replicate the feel of a latte with some of the flavors of masala chai.
How to choose tea leaves for Chai?
For Masala Chai, I recommend using tea leaves such as Assam tea, which has a deep, strong flavor. Darjeeling tea or Nilgiri tea leaves – which are some popular Indian tea varieties - have a milder flavor. I prefer to buy Indian brands of loose-leaf tea, but you could also use teabags as well. All Indian stores will stock well-known brands of loose Assam-origin tea.
Expert Tips for making Masala Chai
Don't let the tea leaves boil in the water - Tea can become bitter if you let the tea leaves boil in the water. Add the tea leaves to the boiling water and lower the heat. Let the leaves simmer for a minute, and add milk and sugar. Boiling the tea leaves for too long will release some of its tannins, which can make the tea bitter.
Use whole spices, not store-bought spice mix - It can be tempting to use a store-bought masala chai spice mix, but I highly recommend using whole spices - they are more potent and can make a huge difference to the taste.
Use good quality tea leaves - I love my loose-leaf Assam tea for making the perfect cup of masala chai. I like the Taj Mahal and Tata Tea Gold brands. You can also use chai tea bags, but the taste will not be as good.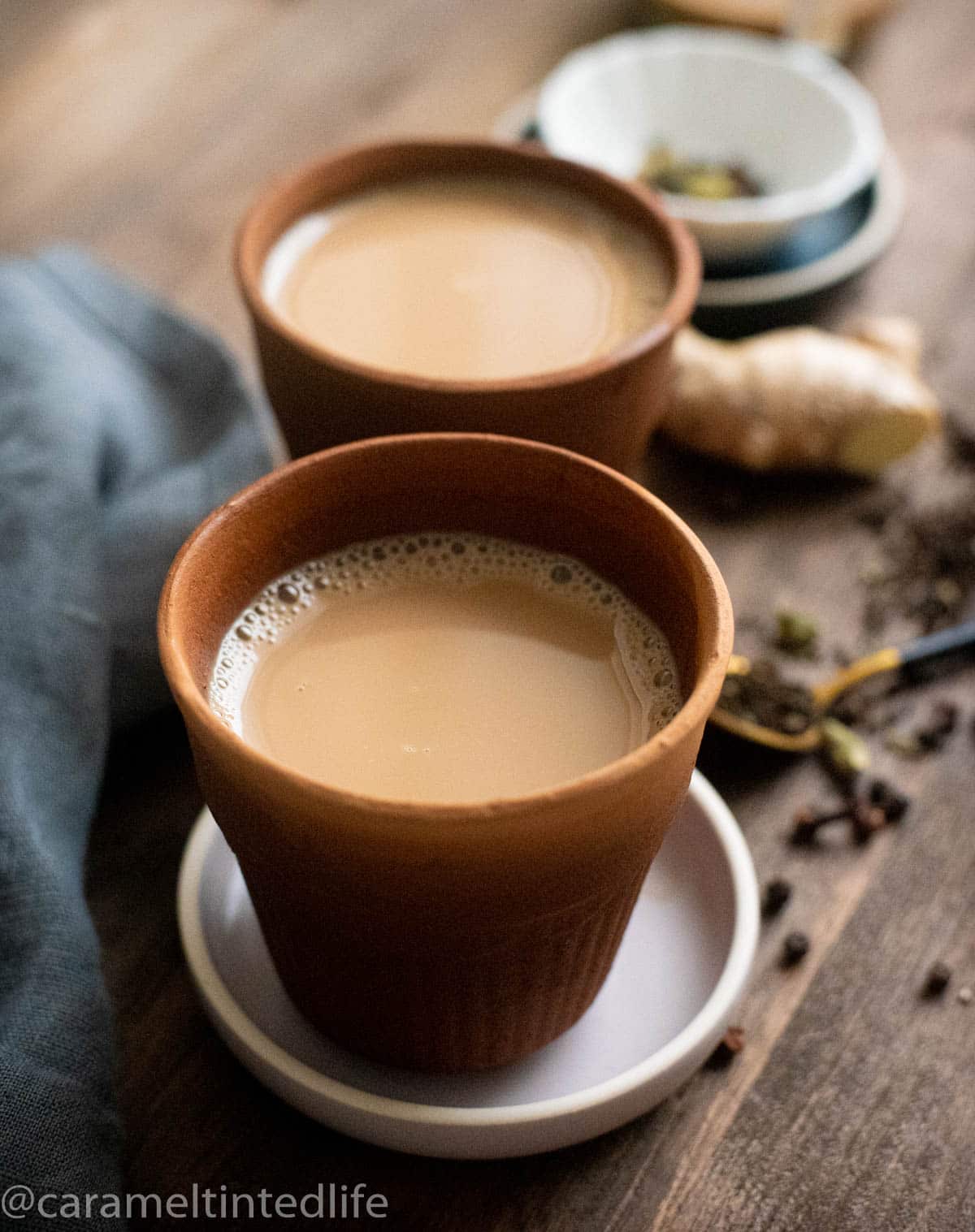 Serving Suggestions
Chai is best accompanied by some Indian snacks, a common evening ritual in many Indian households. Try these popular recipes to go with your evening cup of masala chai:
If you liked this recipe, do comment below and rate the recipe! If you make this recipe, please post a pic on INSTAGRAM -tagging @carameltintedlife and follow along on FACEBOOK and PINTEREST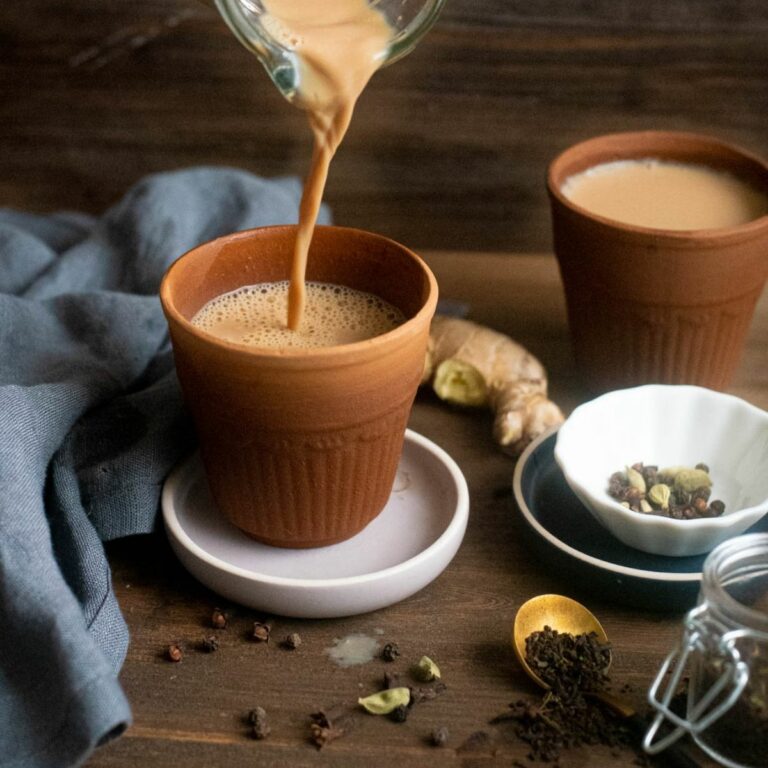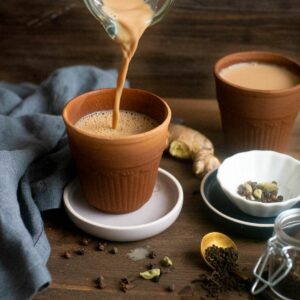 Masala Chai Recipe
Indian masala chai - tea brewed with milk, ginger, and crushed spices, a refreshing, anti-inflammatory drink with ayurvedic properties
Ingredients
2¼

cups

water

½

inch

ginger

use fresh ginger root

2-3

whole green cardamom

3-4

black peppercorns

2-3

cloves

½

inch

cinnamon stick

1

teaspoon

fennel seeds

1

tablespoon

black tea leaves

Preferably Assam tea

2

teaspoon

sugar

optional

½

cup

milk
Instructions
In a saucepan, add the water. Heat on the stovetop.

Grate the ginger or pound it using a mortar and pestle. Add to the water that is being heated.

Gently pound the whole spices (cardamom, cloves, cinnamon stick, peppercorns, fennel seeds) and add them to the water.

Let the water come to a boil.

Once the water starts boiling, lower the heat and add the tea leaves. Let it simmer or 1 minute.

Lower the heat, add the milk and sugar, and let it simmer for 1 more minutes .

Turn off the heat and let the chai sit for 3-4 minutes.

To serve, strain the chai using a mesh strainer. Serve hot.
Nutrition
Calories:
65
kcal
Carbohydrates:
10
g
Protein:
2
g
Fat:
2
g
Saturated Fat:
1
g
Cholesterol:
6
mg
Sodium:
42
mg
Potassium:
103
mg
Fiber:
1
g
Sugar:
7
g
Vitamin A:
99
IU
Vitamin C:
1
mg
Calcium:
97
mg
Iron:
1
mg