Make the best air fryer whole chicken - extra crispy skin on the outside, juicy and well-seasoned on the inside. This air fryer chicken recipe is perfect for Thanksgiving or Christmas or your Sunday table!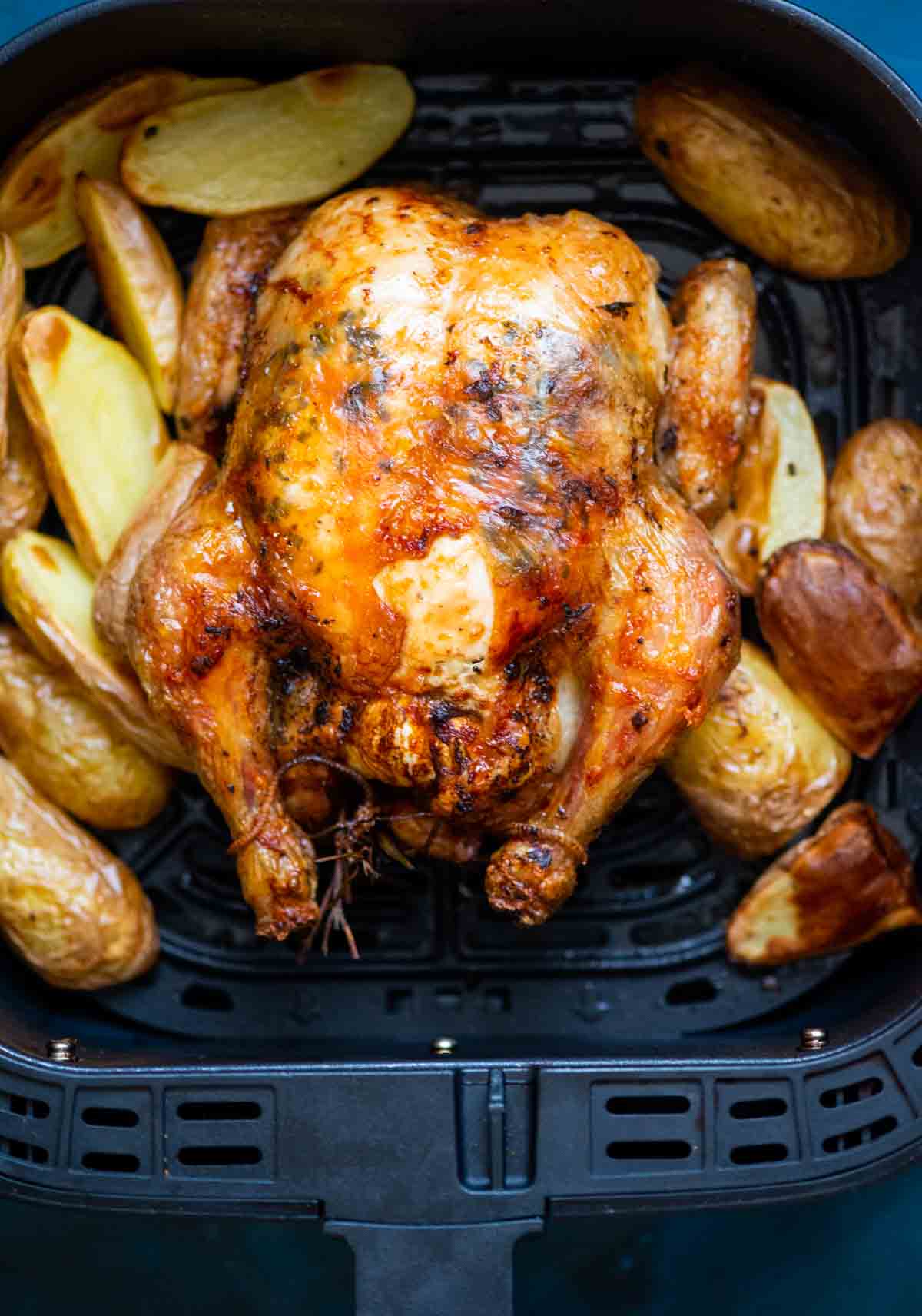 Jump to:
Confession - when I was testing this recipe, I was a bit skeptical. I didn't quite believe that air fryer whole chicken would turn out this good! I always believed that the air fryer was best used to crisp up food, and I use it most often as a replacement for a deep fryer, to make Aloo Tikki Chaat, or Dragon Chicken or Chicken 65 and to make other recipes which are usually deep-fried. I'm practically eating my words now that I've realized how well roasts can turn out in the air fryer!
You can air fry whole chicken perfectly, and it will turn out just as good, if not better than an oven-roasted whole chicken. If you're a fan of rotisserie-style roast chicken, let me tell you that this recipe is so much better!
You can also try making my recipe for classic Stuffed Roast Chicken with Herbs and Spices and use an air fryer instead of the oven.
What I particularly love about using the air fryer is that beautiful crispy skin! It's no secret that the air fryer can is perfect for crisping up food – and in this recipe, I used it to get this golden brown deliciously crispy skin on the whole roast chicken.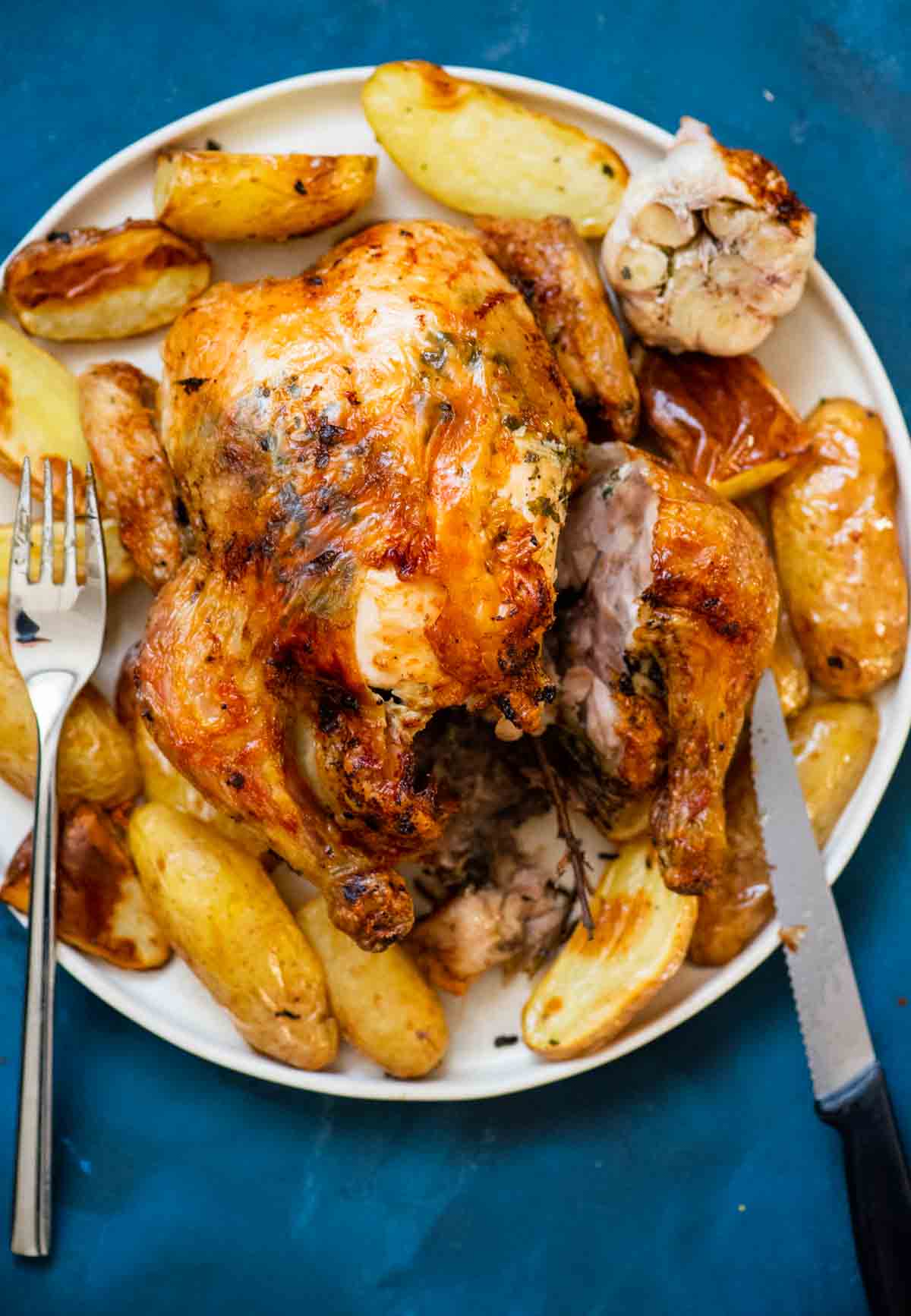 Why this recipe works
More flavorful than rotisserie chicken – butter, herbs garlic and lemon make this whole roast chicken incredibly flavorful
Doesn't dry out – the inside of the air fryer whole chicken remains juicy and succulent
Crispy skin – the air fryer makes chicken skin crisp up beautifully, better than traditional ovens
Make Air Fryer Chicken and Potatoes
Want to make Air fryer chicken and potatoes in one go? This recipe is for you. I threw in potatoes in the last 20 minutes, and they were roasted together with the chicken, saving me time. The chicken and potatoes both come out perfectly roasted, and well-seasoned.
It's so simple – I cranked up the heat to 400 F, and let the air fryer chicken and potatoes crisp up for an extra 5 minutes. Golden, crispy skin and perfectly roasted potatoes couldn't get easier than this!
Ingredients
To make whole roasted chicken in the air fryer, you will need: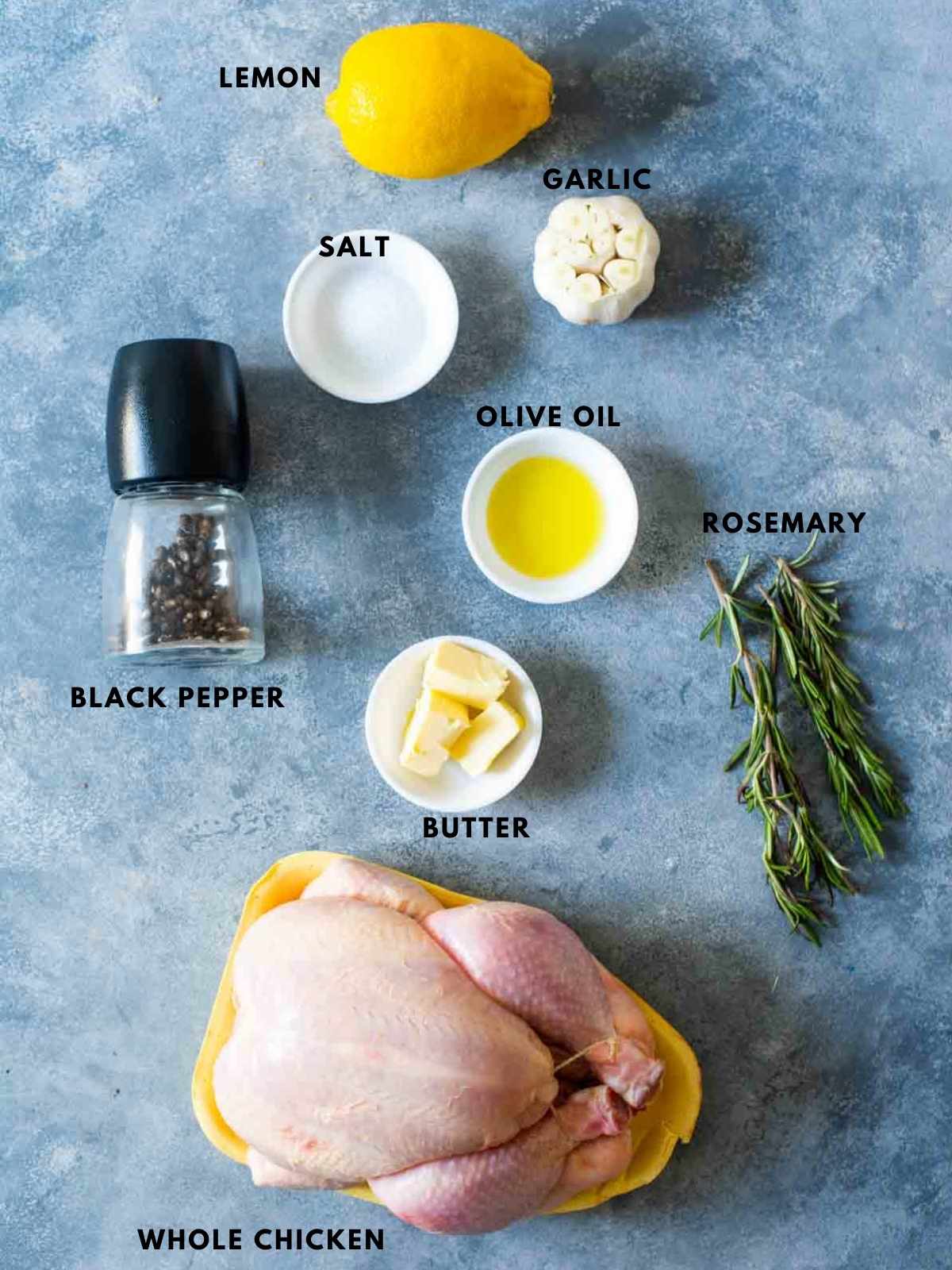 Whole chicken with skin on, giblets and neck removed, cavity cleaned
Butter softened
Herbs - I have used fresh rosemary, parsley. You can add sage and thyme as well
Lemon - You will need half an organic lemon
Garlic – 1 whole head of garlic, with the end chopped off
Olive oil - Use olive oil to brush the surface of the chicken, and to baste midway through the air frying cycle
Instructions
Start with softened butter, mixed in a small bowl with fresh, chopped-up herbs, and kosher salt. This herbed butter will be rubbed over and under the chicken skin. This will help in keeping the chicken skin nice and crispy, and super flavorful!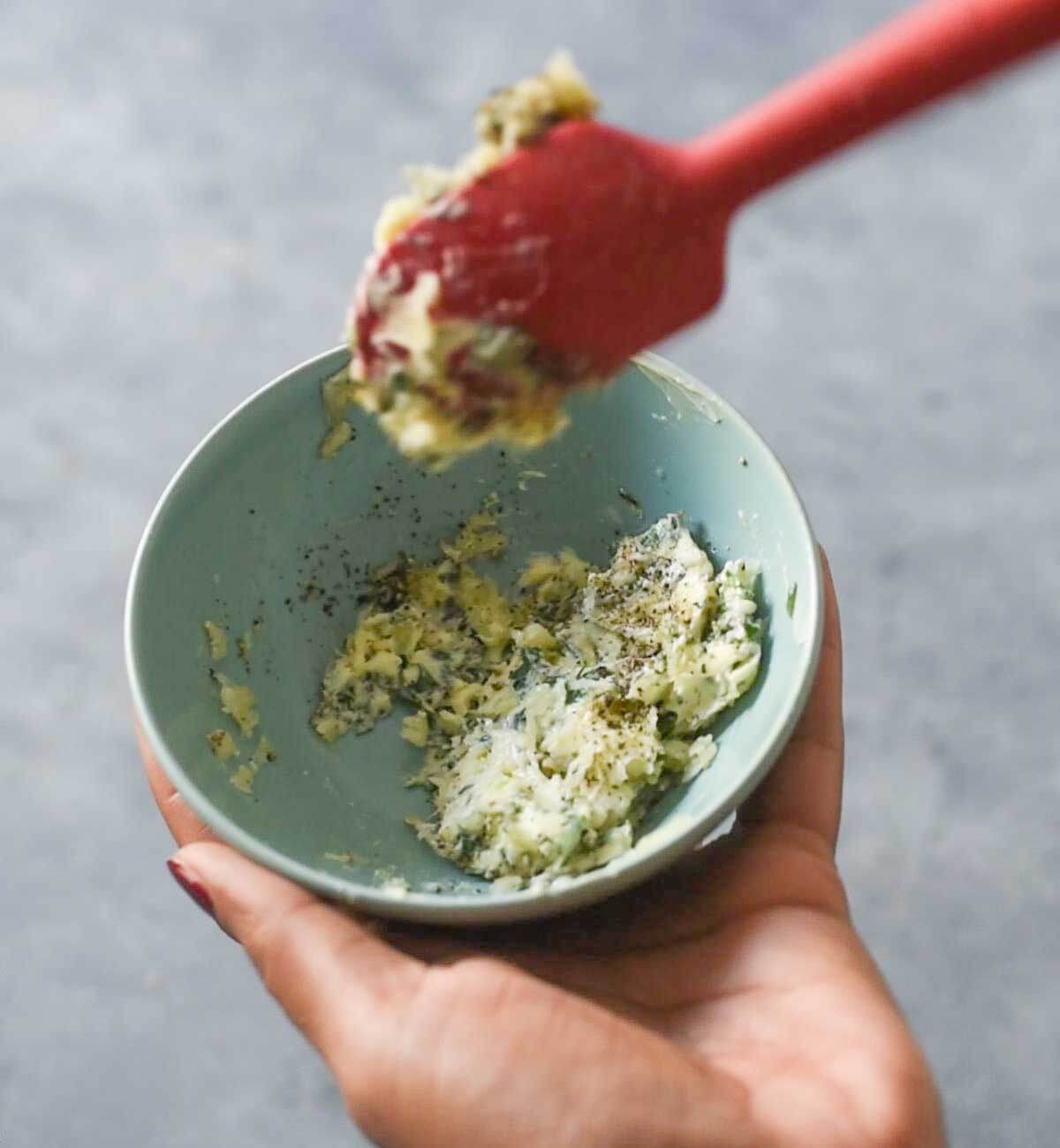 Once you've finished rubbing the chicken with the herbed butter, take a whole head of garlic, with the tips chopped off, as you can see in the image below.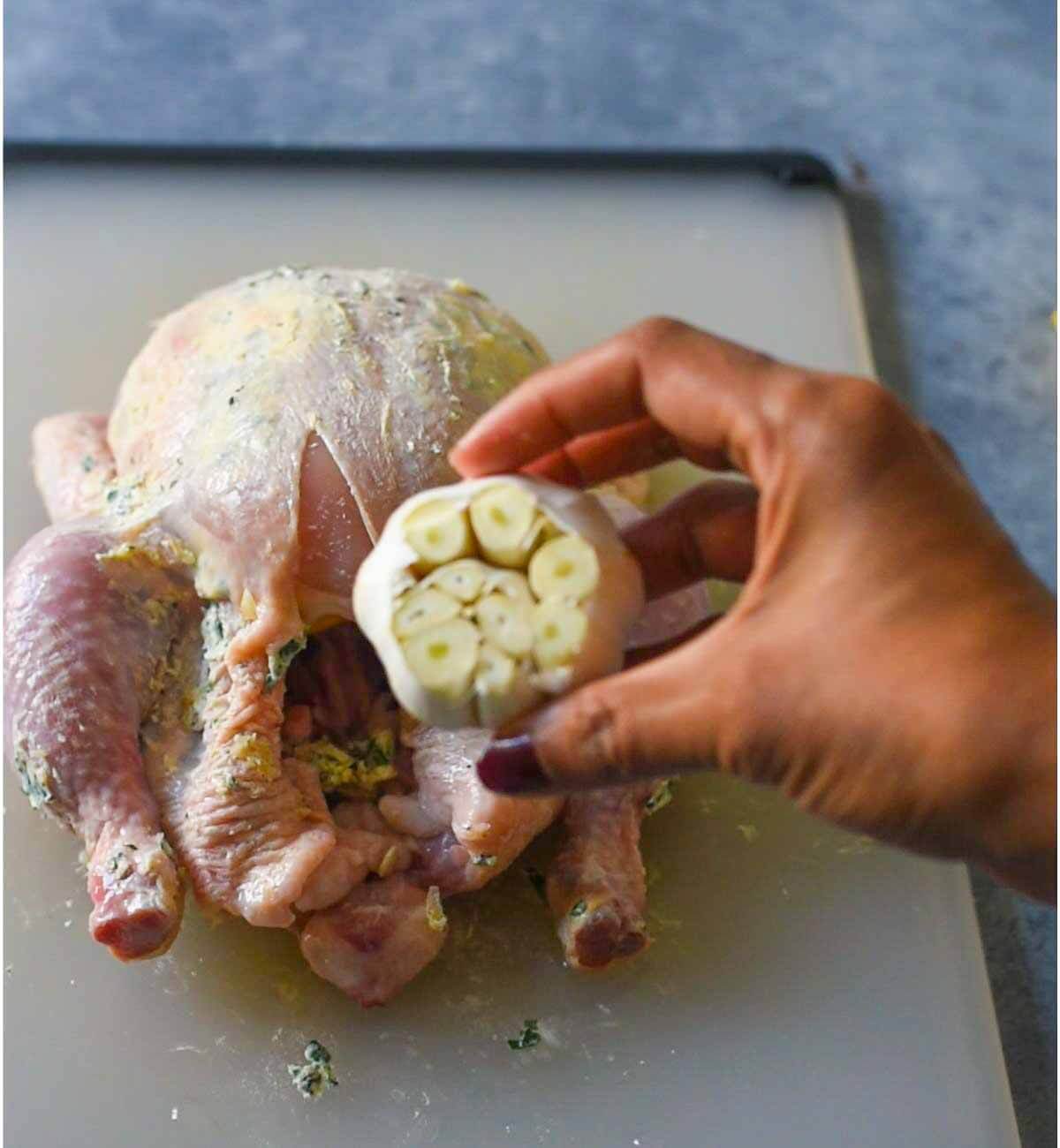 The cavity of the chicken is stuffed with the whole head of garlic and half a lemon. Truss up the chicken and preheat the air fryer at 370F.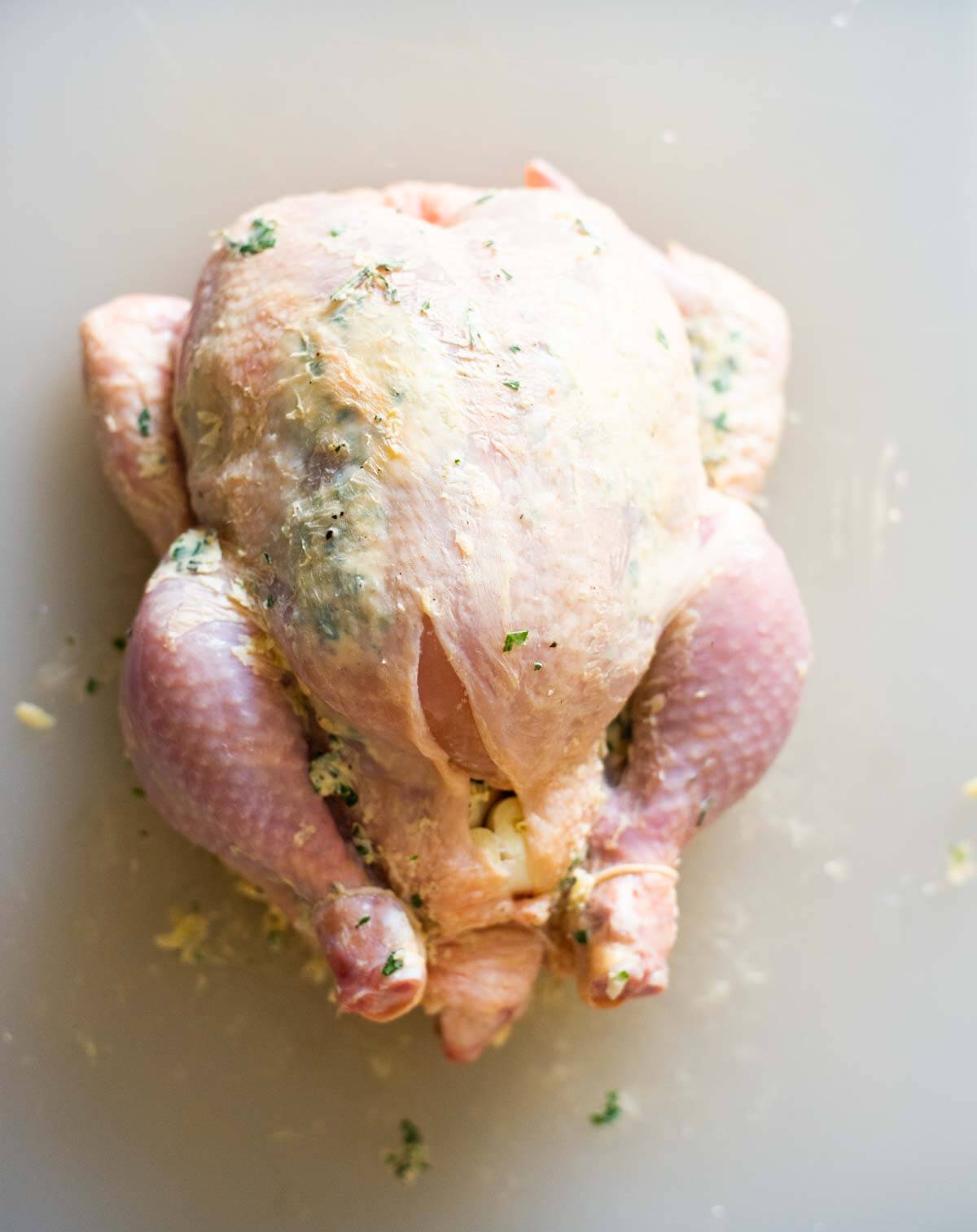 Once preheated, place the prepared chicken breast-side down, in the Air Fryer basket. Air Fry for 30 minutes at 370F.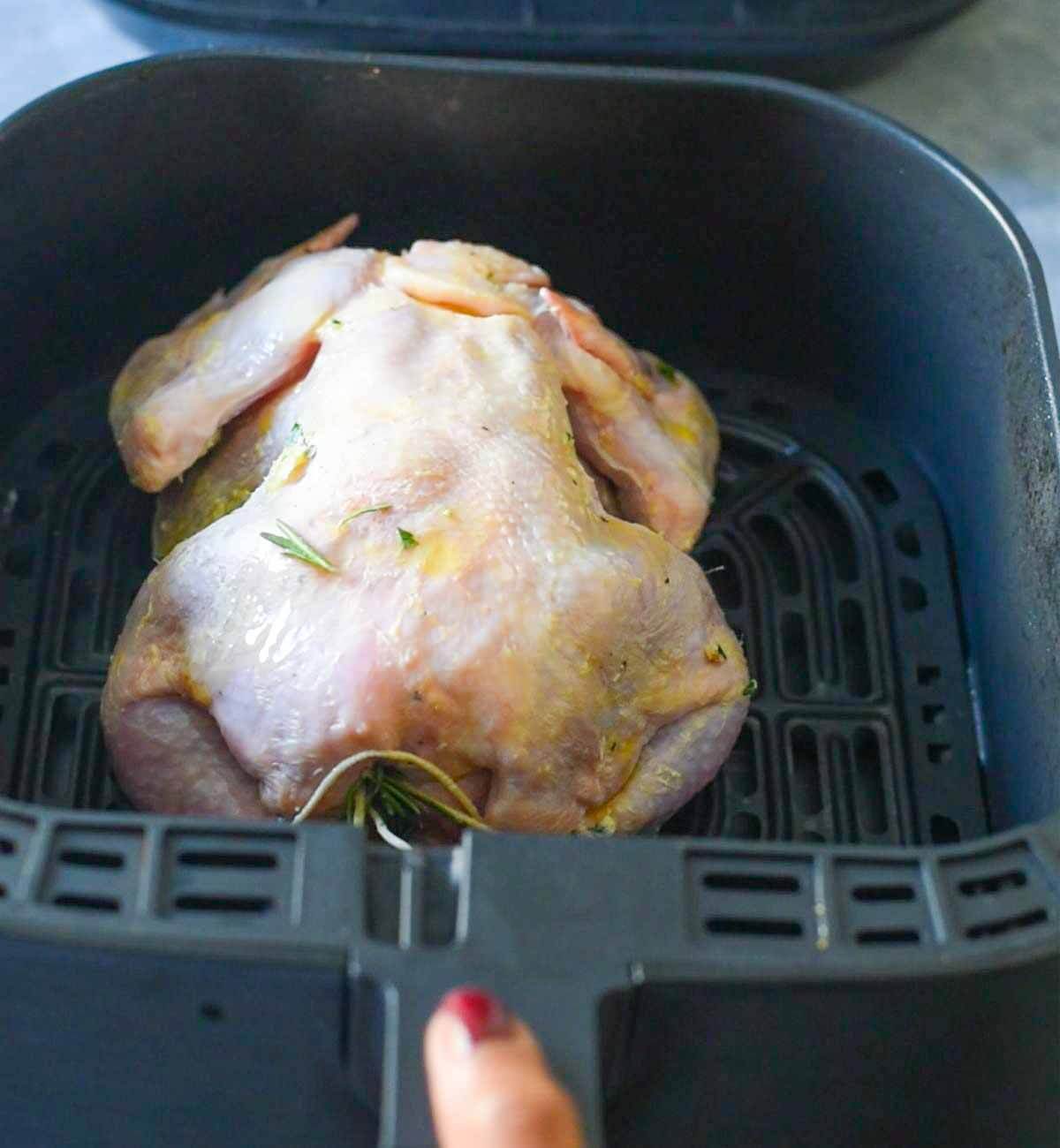 After 30 minutes, take out the basket, turn over the chicken with the help of a spatula (see video recipe). Using a pastry brush, baste the chicken skin with olive oil. Add the sliced potatoes and brush some olive oil over them.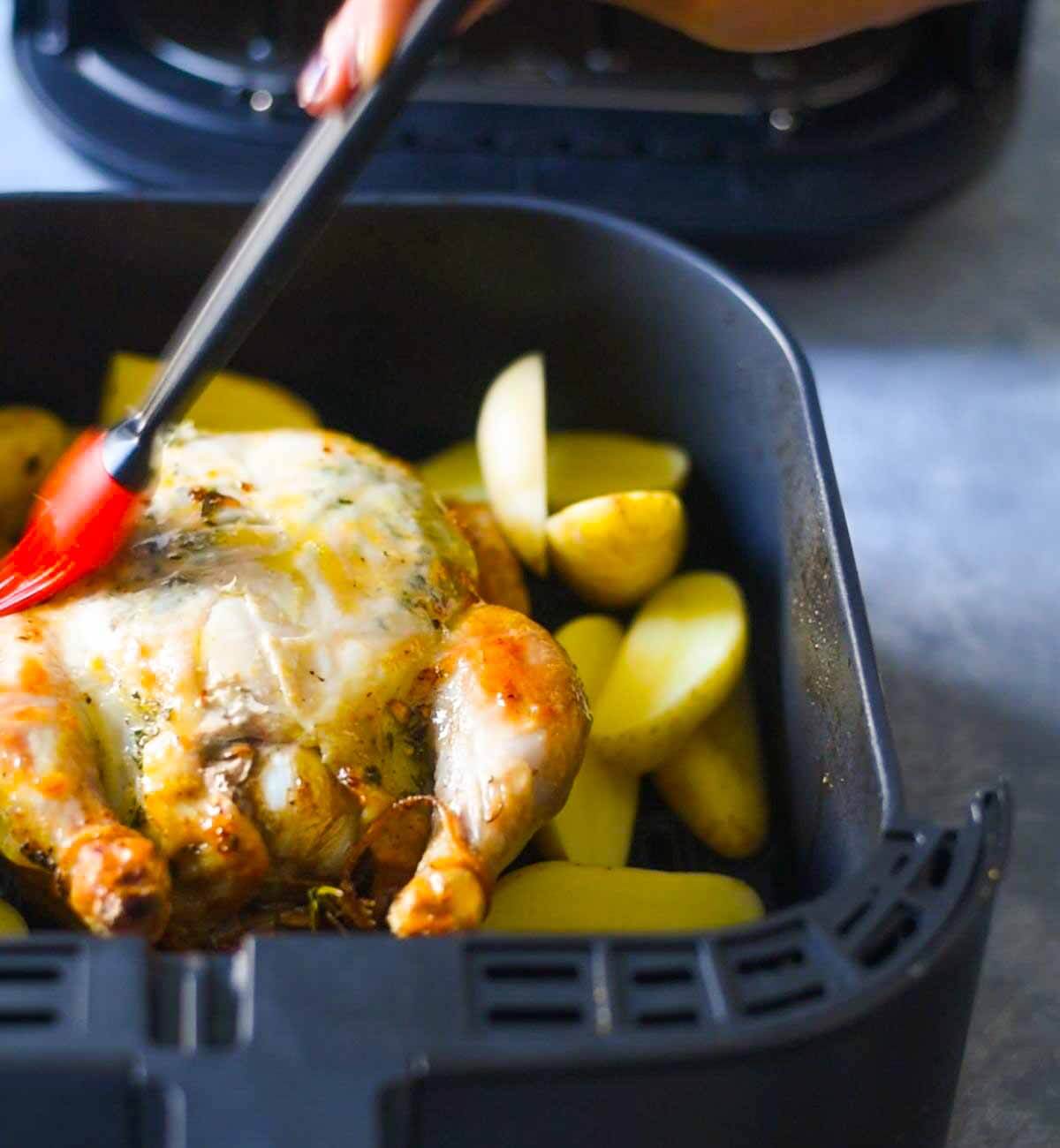 Return the air fryer basket into the air fryer, and air fry for a further 20 minutes at 370 F. Once done, turn up the heat to 400F and air fry for a further 5 minutes. This additional step will give you nicely golden brown chicken skin and perfectly roasted potatoes.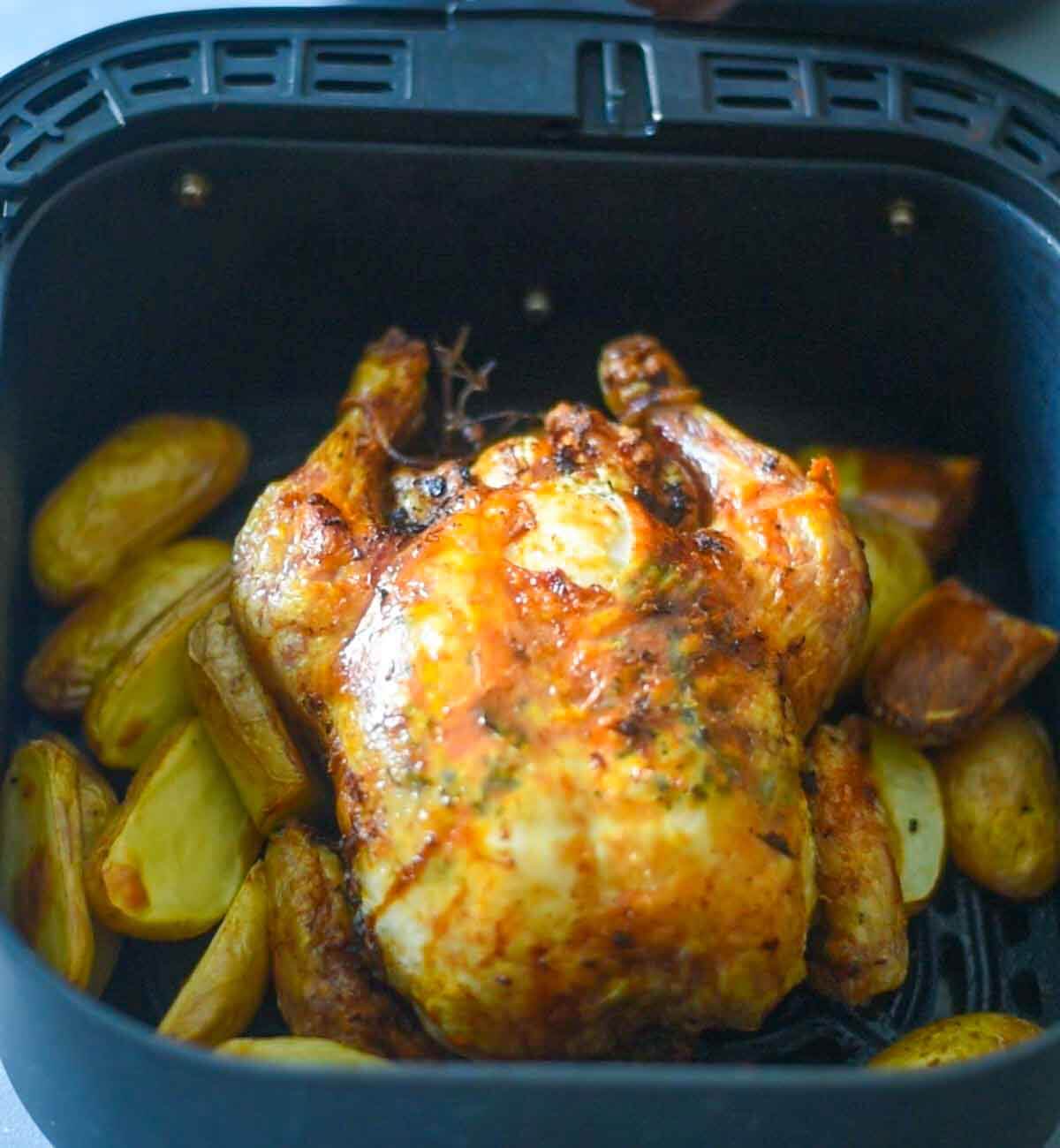 And that's it! Air Fryer whole chicken is ready to be served. I used the drippings from the chicken in the air fryer basket to make a gravy/sauce to serve on the side. You can read the recipe for the gravy in my post on Roast Chicken with Herbs and Spices.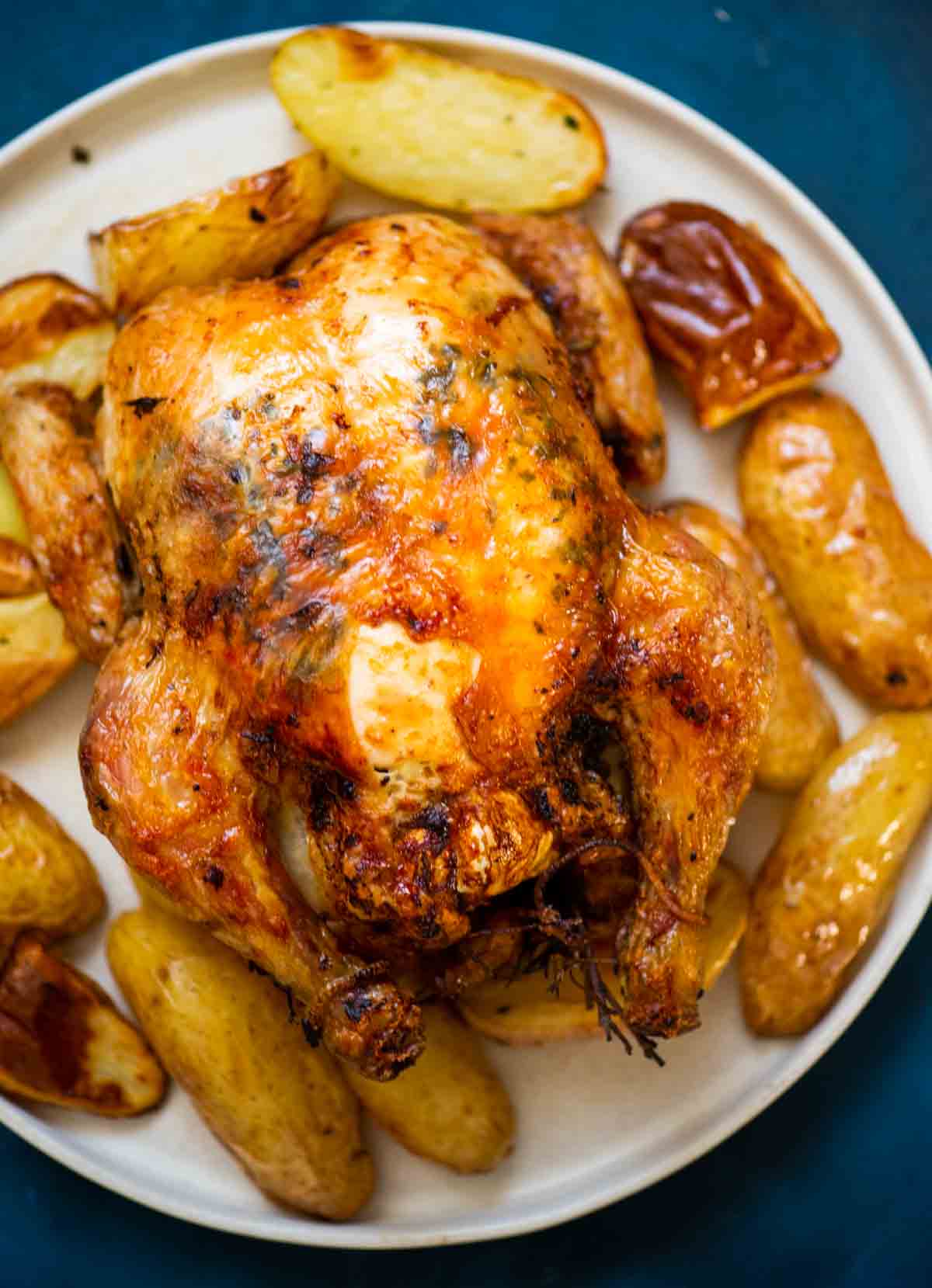 Tips for perfectly roasted whole chicken
Pat the chicken skin dry - The chicken skin should be as dry as possible for it to become crispy. Pat it with kitchen paper before you start to season with herbed butter. You can use chicken that's been refrigerated, and quickly pat dry. If using frozen chicken, thaw it to room temperature, and pat the skin dry before seasoning.
Place chicken breast-side down - Start the air frying cycle with the dressed chicken placed breast-side down. The breast is the first part to dry out, and doing this will make it juicier, as the juices from the inside of the chicken will run down into the breast.
Allow chicken to rest before taking it out: Always let the air fryer whole roasted chicken sit for at least 10 minutes before you take it out. This holds true for both the oven and air fryer. The juices will be absorbed into the meat and render it well.
Use a meat thermometer - To cook meat correctly in the oven or air fryer, its worthwhile to invest in a meat thermometer. Check to see if your air fryer whole chicken has reached a temperature of 165 degrees Fahrenheit at least.
Cooking chicken with potatoes - When adding in the potatoes, make sure you do not crowd them, otherwise, they will be undercooked or unevenly cooked. I sliced the potatoes so that they cook faster. You can slice then thinner if you like, for crispier edges and faster cooking.
Storage and leftovers - Leftover roast chicken is perfectly suited for storing in the fridge. Store leftovers in an air-tight container. Use leftover chicken in chicken sandwiches, or to make Chicken Stew. You can also add it to this White Bean Soup.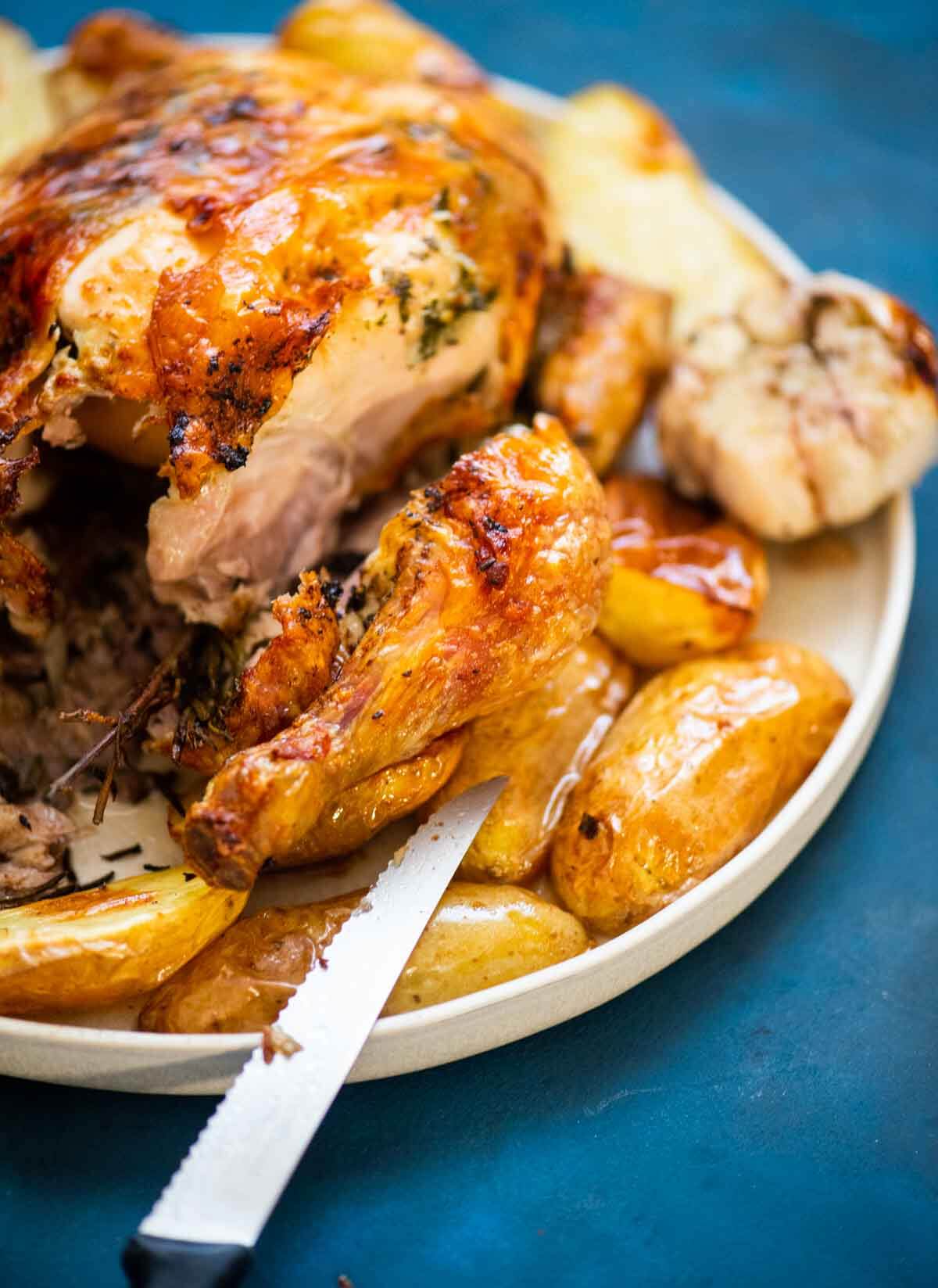 Frequently asked questions
How long should you cook chicken in air fryer?
The time taken to cook chicken varies by the type and size of the chicken being cooked. The chicken breast will take 12-15 minutes to cook in the air fryer, while chicken thighs and legs can take longer. Chicken wings take 12-15 minutes to air fry. A whole chicken can take upwards of 50 minutes of air frying time. A whole chicken that is stuffed will take 70-90 minutes to be done.
What temperature do you air fry chicken?
For a whole roasted chicken, the ideal temperature is 370 F. The heat is strong enough to cook the chicken in under an hour, yet not so high that the chicken dries out. For the last 5 minutes, I recommend turning up the heat to 400 F to crisp up the chicken skin.
What size air fryer cooks a whole chicken?
Depending on the size of the bird, you will need an air fryer that's at least 5.3 quarts and more. I use an Instant Vortex which has a 6-quart capacity, and it fits a whole chicken very comfortably.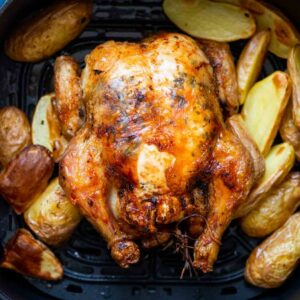 Air Fryer Whole Chicken Recipe
Make the best air fryer whole chicken - extra crispy skin on the outside, juicy and well-seasoned on the inside.
Instructions
Start by mixing together softened butter with chopped herbs and kosher salt.

Take the chicken, and using a tablespoon, push the skin gently. Using your fingers, gently rub the butter below the chicken skin, and smear it both over and under.

Slice off the top of the head of garlic. Put half a lemon and the whole head of garlic into the chicken cavity.

Truss the chicken, place it breast downward on the Air Fryer basket. Using a brush, brush olive oil all over.

Air fry at 370F for 30 minutes. After 30 minutes, take out the basket.

Flip the chicken over gently, with the help of a spatula or tongs. Then brush over more olive oil (or butter).

If you want to cook potatoes together with the chicken, add the sliced potatoes in the gap between the air fryer wall and the chicken. Do not over crowd. Brush with a little olive oil.

Continue to air fry for 20 minutes.

Once the 20 minute air frying cycle is complete, turn up the air fryer to 400 F and air fry for an extra 5 minutes. This extra step will make the chicken skin turn golden brown.

Air fryer whole chicken is ready to be served with roasted potatoes.
Nutrition
Calories:
434
kcal
Carbohydrates:
2
g
Protein:
27
g
Fat:
35
g
Saturated Fat:
10
g
Polyunsaturated Fat:
6
g
Monounsaturated Fat:
16
g
Trans Fat:
1
g
Cholesterol:
121
mg
Sodium:
842
mg
Potassium:
307
mg
Fiber:
1
g
Sugar:
1
g
Vitamin A:
359
IU
Vitamin C:
14
mg
Calcium:
26
mg
Iron:
2
mg