These red velvet cheesecake swirl brownies combine two of my favorite treats in one, making these an irresistible treat for the festive season!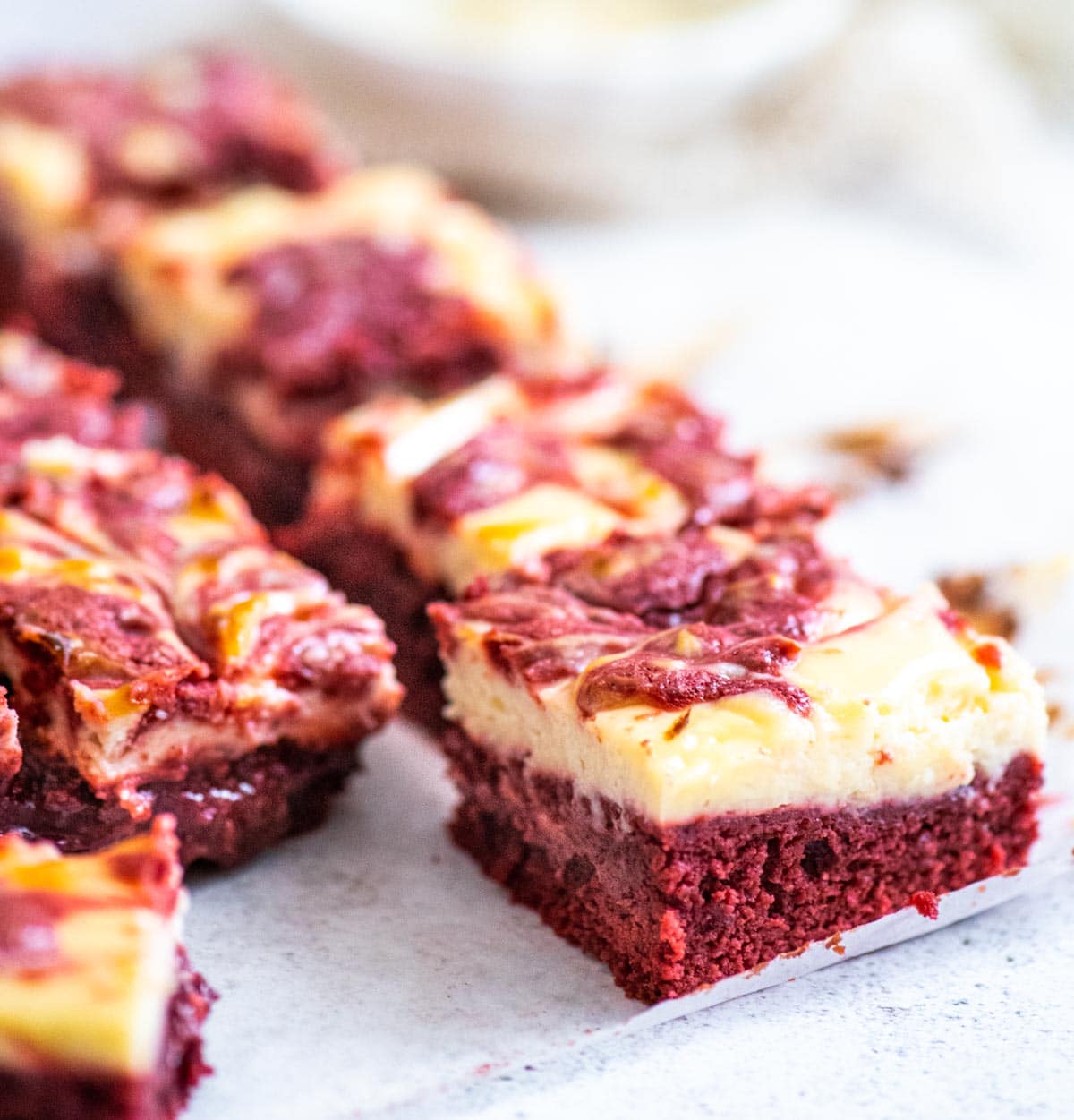 Jump to:
I love yummy, fudgy goodies! Brownies rule the roost in my book. Easy to make, no creaming, vigorous beating, no rising agents, and fuss-free, yet so blissfully good to eat! And a good cheesecake - what's not to love about how the sweet and tangy flavors tease your taste-buds?
Cheesecake is always my go-to dessert for festive parties, my favorite holiday desserts are this Cranberry and White Chocolate Cheesecake, and this 3-layered Red Velvet Cheesecake-Cake.
I've made classic cheesecake swirl brownies before, but pairing red velvet and cheesecake is just so much more visually appealing! And perfect for a Christmas treat!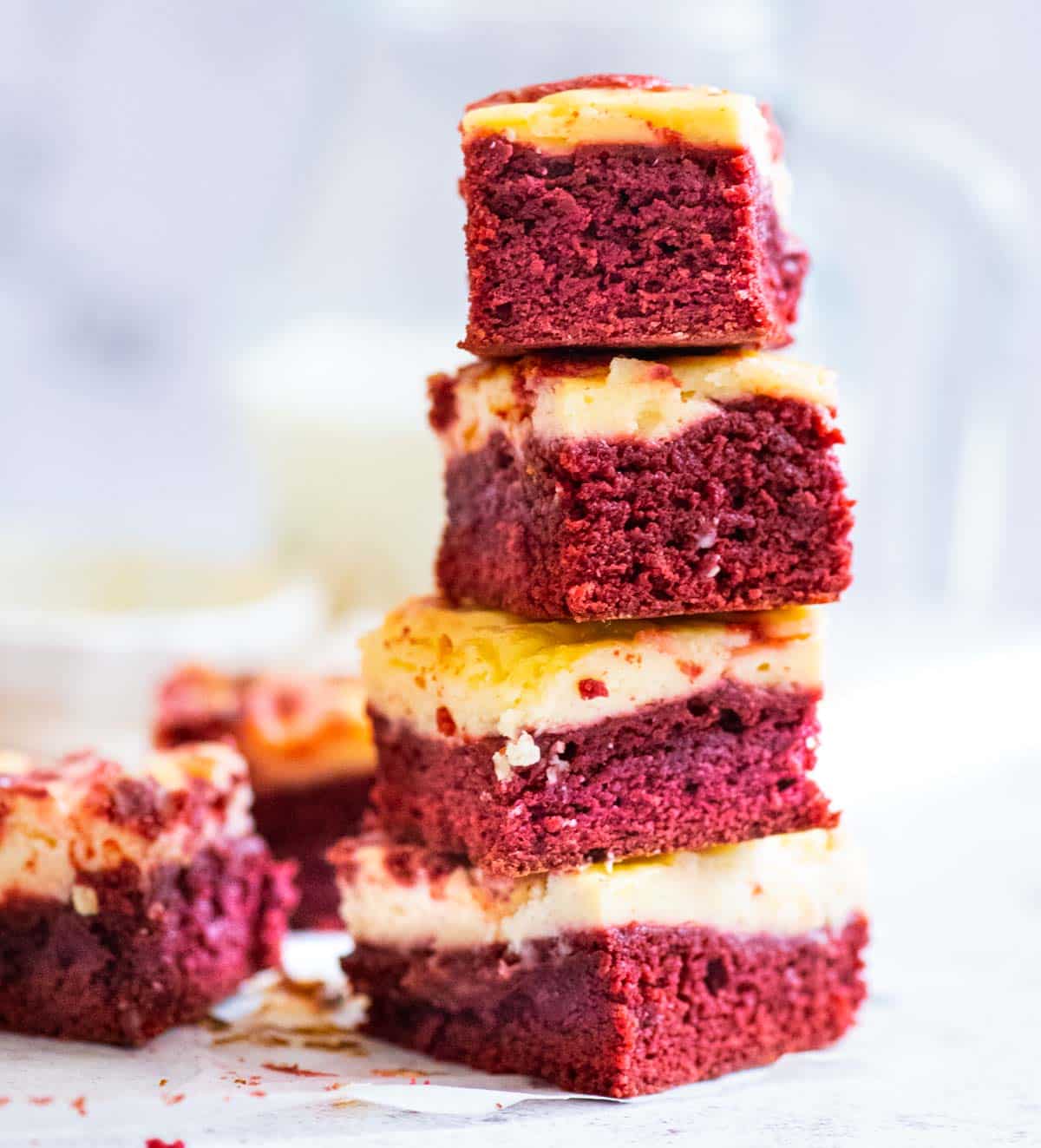 What you will love about this recipe
Perfect for the holiday!
Deliciously fudgy red velvet brownies AND classic cheesecake in one dessert!
Easy-to-follow recipe instructions
List of Ingredients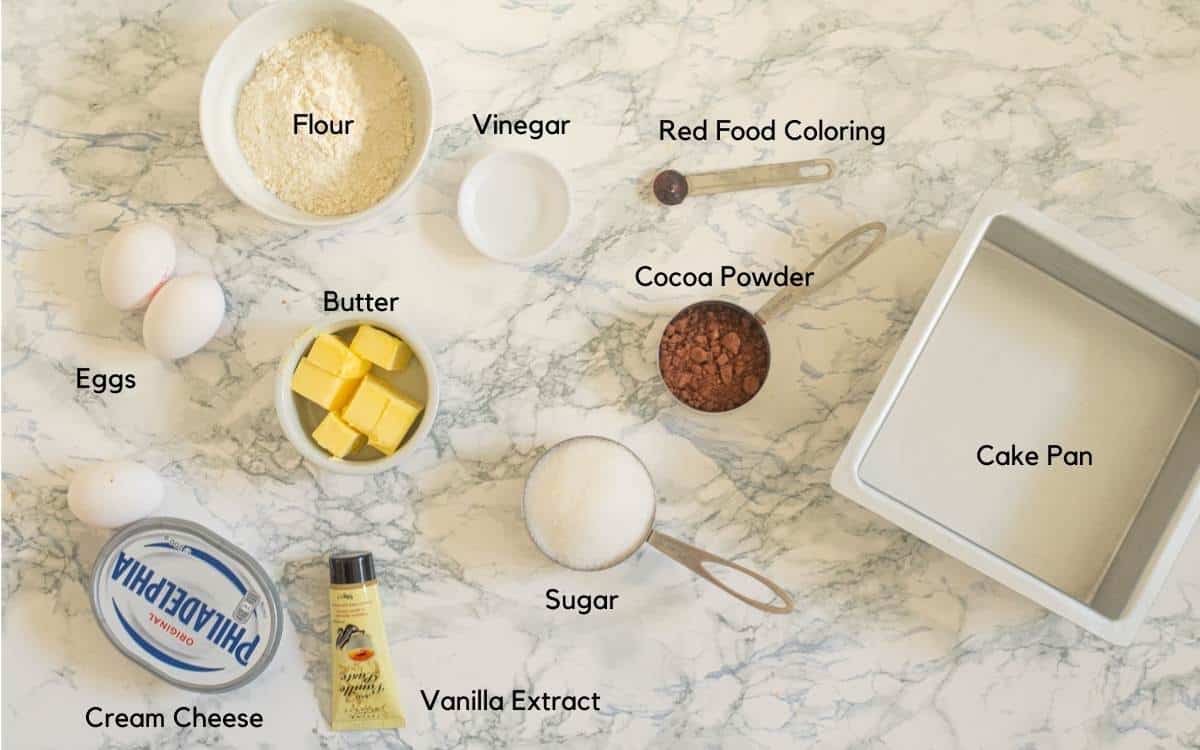 Red food color - For that distinct red color in red velvet cake, use a good quality gel food coloring. I use this SugarFlair gel color for the best results, but Wilton colors are good as well. Do not use a supermarket name brand, it will simply not work for this recipe!
Butter and eggs - Make sure your ingredients are at room temperature, you can keep the eggs and butter on the countertop for an hour or so before baking.
Creamcheese - Philadelphia cream cheese is always my go-to!
Vinegar - Use either regular distilled vinegar or white wine vinegar. Vinegar is an essential ingredient in making red velvet cake.
Cocoa Powder - Use a good quality of cocoa powder, and don't add more than 15 grams. The color could become more brown than red!
Cake Pan - I used a 7"x7" cake pan to make this recipe - which resulted in taller slices and more baking time. You can use an 8"x8" cake pan as well, for slightly shorter brownie slices and a quick bake time.
Cornstarch - Cornstarch helps to set the cheesecake layer. Just use a pinch or around 1/2 teaspoon.
Note: Buttermilk is usually added to the red velvet cake batter, however, for this brownie recipe, it doesn't work. Buttermilk will change the texture of the crumb and we want a fudgy, brownie-like texture, not a cake-texture. Skip the buttermilk!
Step-by-step recipe instructions
Start by preheating the oven to 350 F (180 C). Line a cake pan with baking paper and grease with softened butter. In the bowl of a stand mixer (or in a mixing bowl with a handheld whisk), beat the butter and sugar until just combined. Do not overbeat, as this will incorporate air into the batter.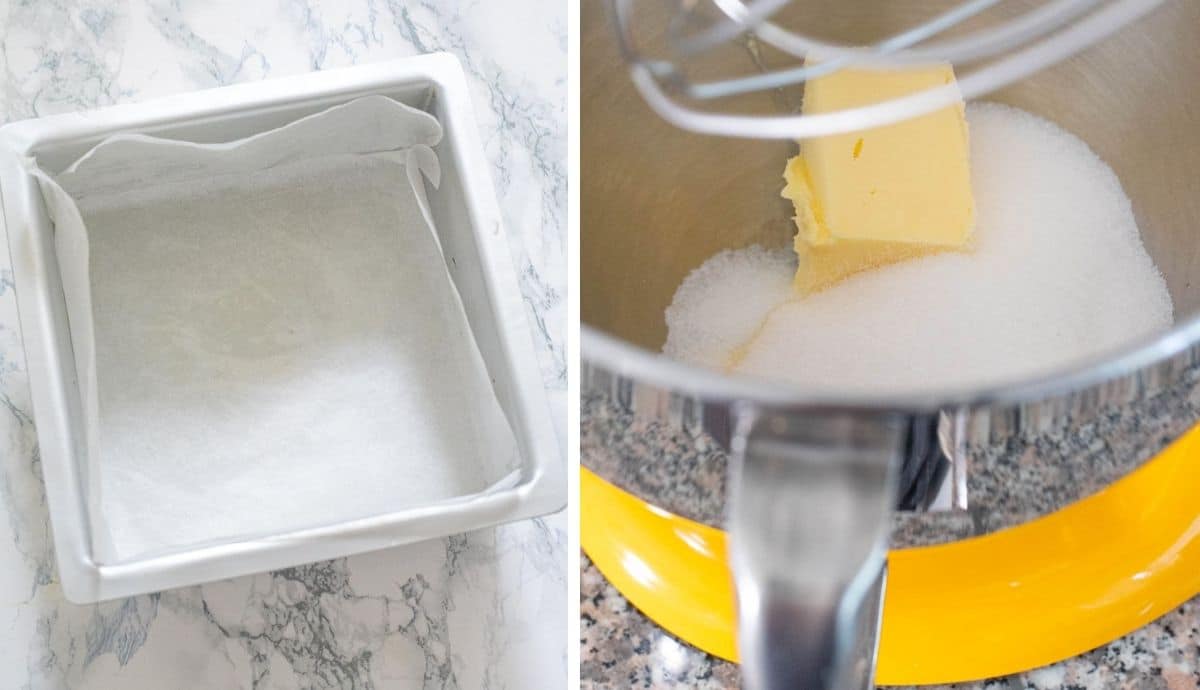 Add red food coloring, vanilla extract, and cocoa powder, followed by eggs. On a low speed, beat until just combined.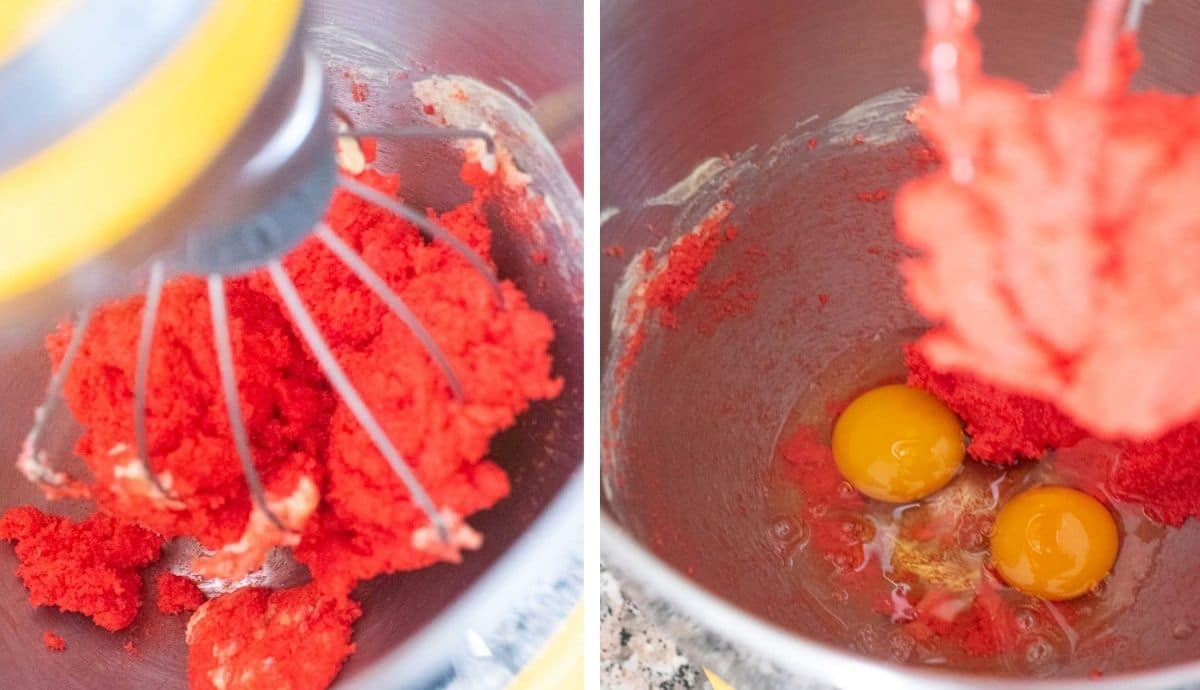 Add the flour and vinegar and mix until just combined. Make sure you do not overbeat the mixture.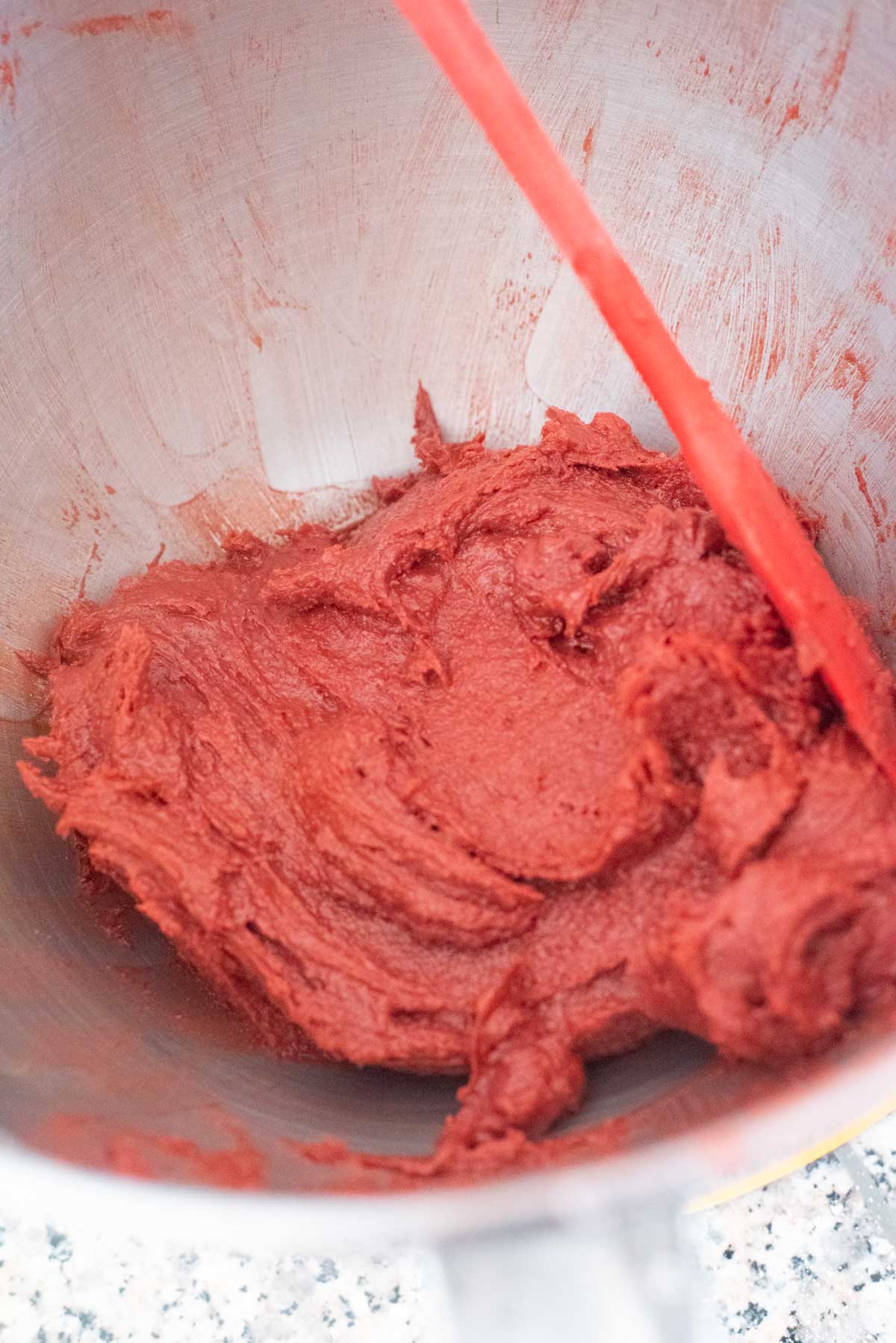 Prepare the cheesecake batter in a separate bowl. Add the cream cheese, vanilla extract, egg yolk, sugar, and a pinch of cornstarch to the bowl, and whisk using an electric or handheld whisk. Once the cream cheese is soft and fluffy, keep it aside.
Turn out the red velvet batter into the cake pan, reserving around 1/2 cup of batter for later. Spoon over the cheesecake batter.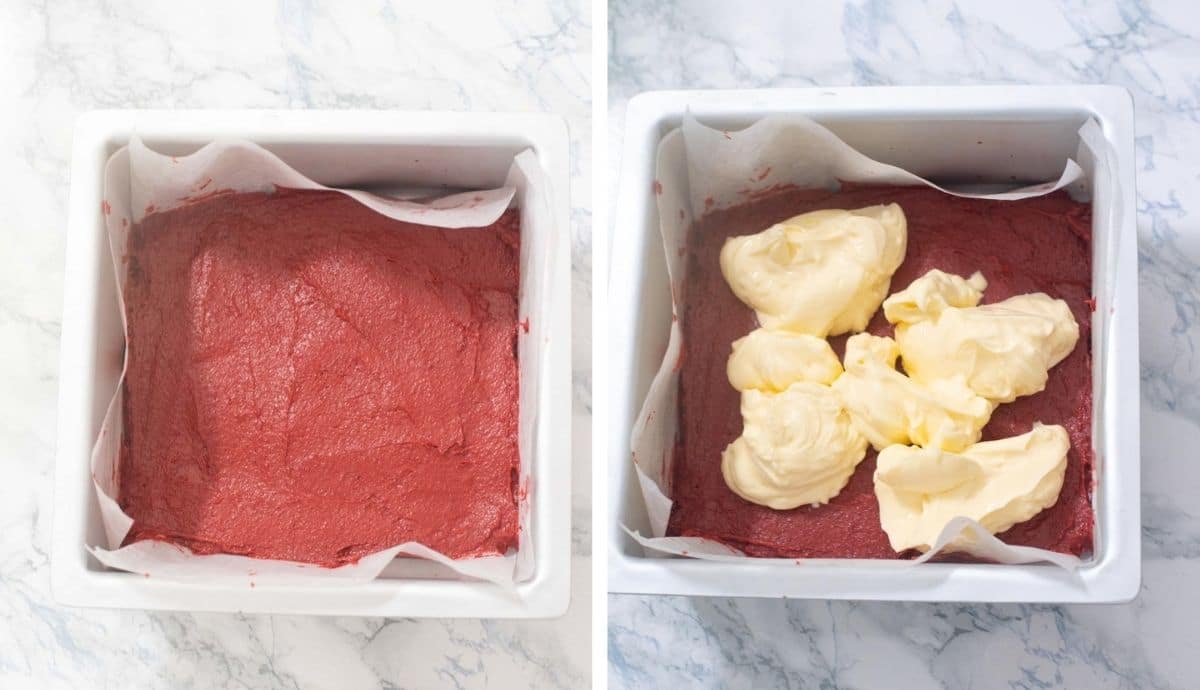 Smoothen the cheesecake batter, and dollop the reserved red velvet batter over it.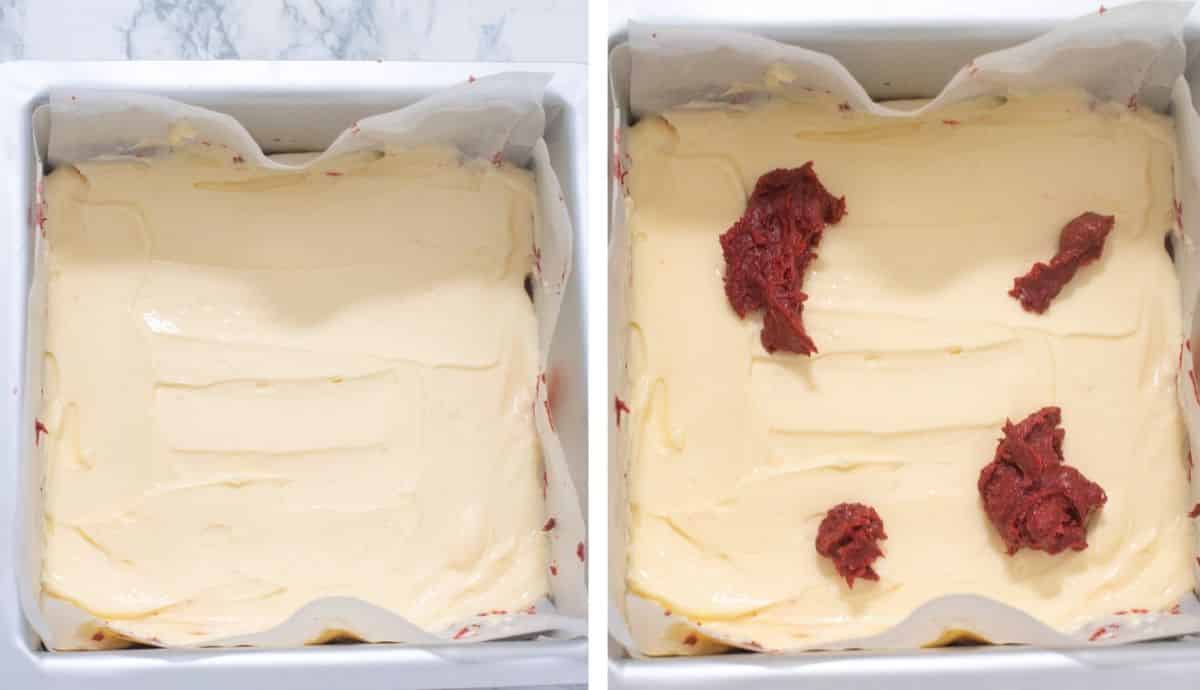 Use a toothpick to create red velvet swirls on the cheesecake layer.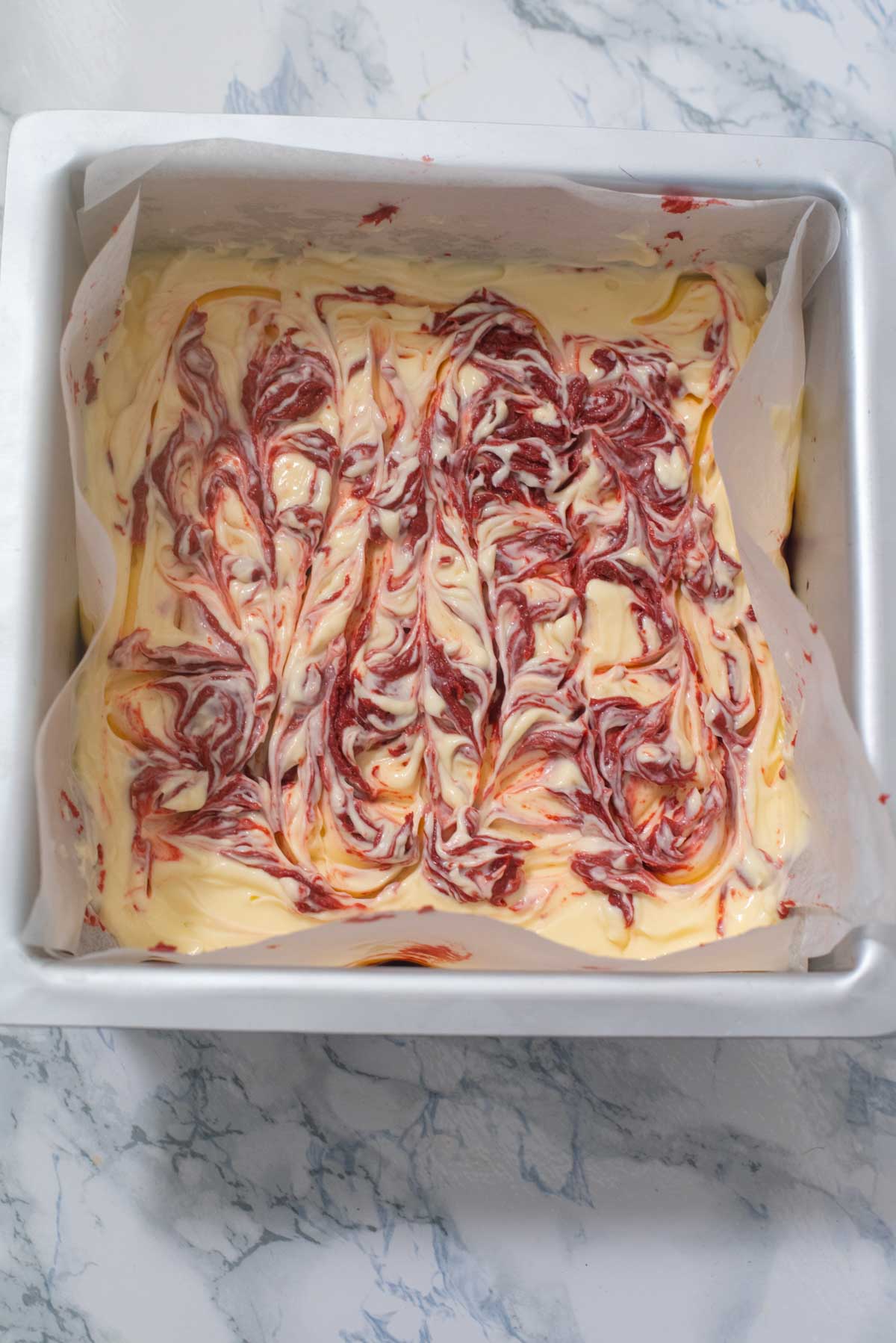 Bake at 350 F (180 C) for 50 minutes. At the halfway mark, you can cover the top with tin foil to prevent the cheesecake layer from browning. Note that if you are using a wider cake pan, you will need to cook for a lesser time.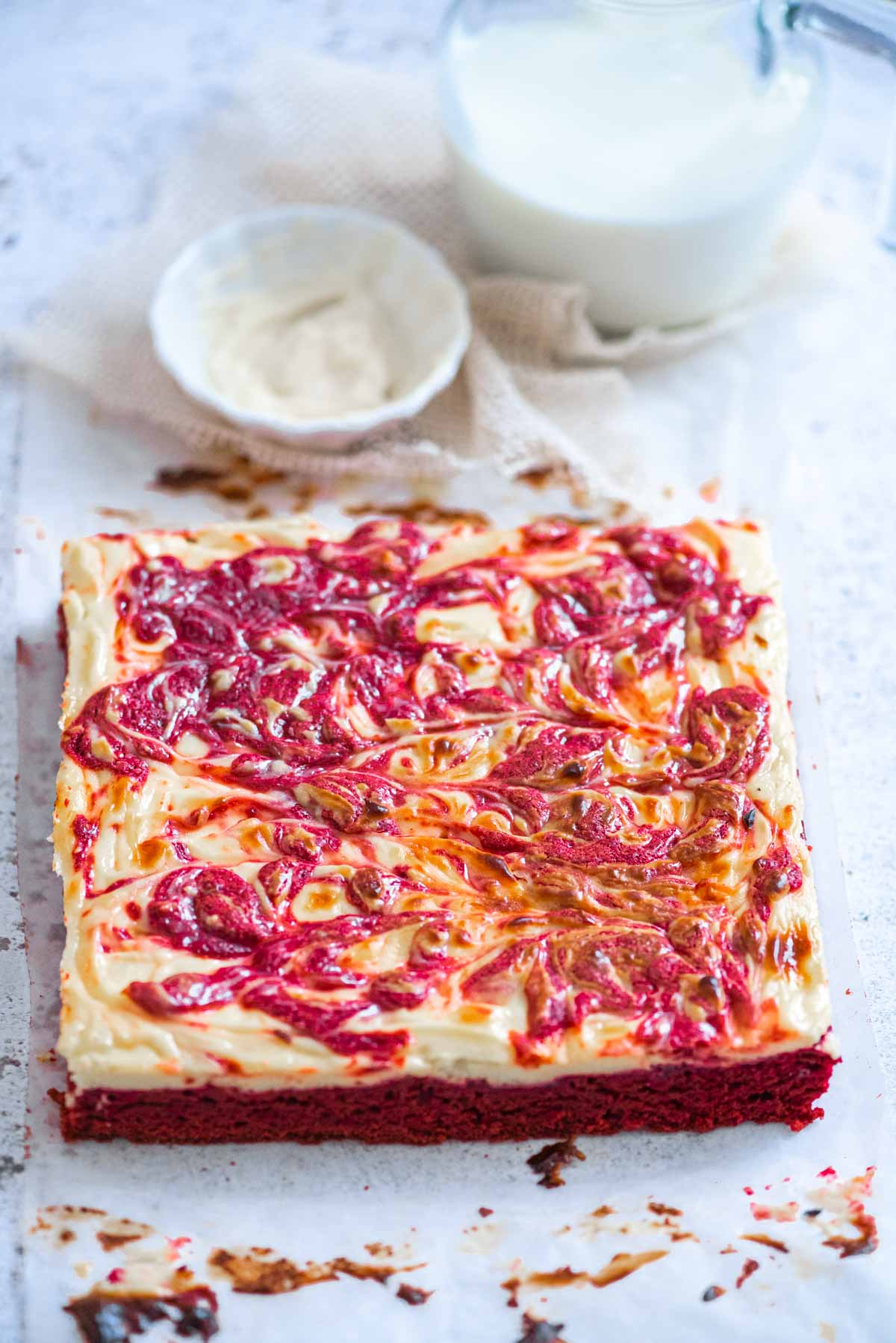 Expert Tips
Use Good Quality Gel Color: Use a good quality, concentrated gel food color to get that distinct red color for the brownies. I recommend Wilton or SugarFlair food colors. Using a supermarket brand or liquid food color will not give the same results.
Cool the brownies before cutting: As with every cake recipe, you need to let the cake pan cool down completely before you take out the brownie slab and slice it. Remember, the brownie slab is still cooking after you take it out and it needs enough time to rest.
Do not over-beat/ over-whisk: For the brownie batter, I recommend you use a handheld whisk or use an electric whisk on the lowest speed setting. Whisking it will incorporate air into the mixture and not give it that brownie-like texture.
Add Chopped Hazelnuts: I have made this recipe several times. I once added hazelnuts to the batter I think they were just perfect, a little nutty crunch to offset all that fudgy goodness. Omit the nuts if you're not a fan, but if you're like me, I say, the more the merrier!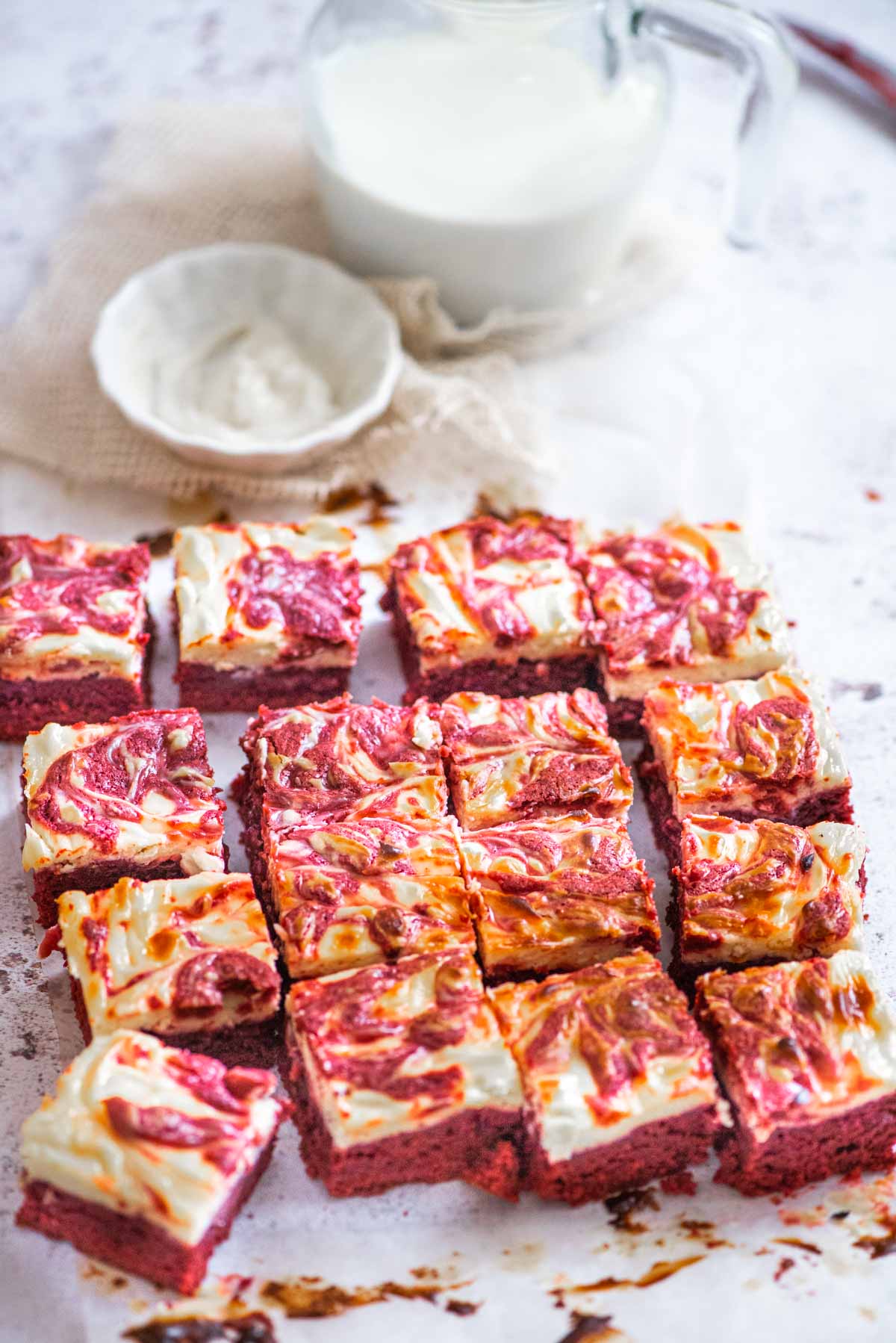 FAQs
What turns red velvet cake Red?
Classic red velvet cake uses red food coloring along with a combination of cocoa, vinegar, buttermilk, and baking soda. The combination of these ingredients creates the classic texture and tang of the red velvet cake. The combination of the red color and the cocoa in the recipe is what creates the classic red velvet color.
How can I store cheesecake brownies?
red velvet cheesecake brownies or any cheesecake brownies can be kept outside the refrigerator in an air-tight container for a day or two. After 2 days, transfer them to the fridge or wrap them in cling-wrap and store them in the freezer. If frozen, they can keep for up to a month.
More Holiday Dessert Recipes
Cranberry Chocolate Bundt Cake
Instant Pot Gingerbread Pudding Cake
Instant Pot Caramel Apple Cheesecake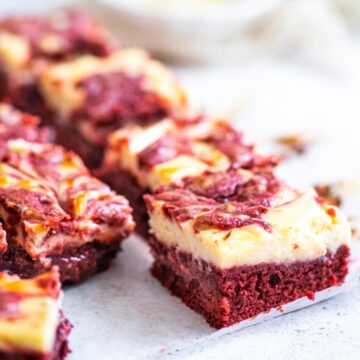 Red Velvet Cheesecake Swirl Brownies
These red velvet cheesecake swirl brownies combine red velvet brownies and classic cheesecake in one irrissitible dessert!
Ingredients
For the red velvet brownies
For the cheesecake topping:
Instructions
Preheat the oven to 350 F (180 C)

Prepare an 7inch x 7 inch cake pan by lining it with baking paper and greasing it with softened butter (see notes)
Make the red velvet brownie layer:
In a mixing bowl, beat the butter with the sugar until fluffy. Use a hand whisk or electric whisk. If using a stand mixer, beat at the lowest speed setting.

Add red food coloring, vanilla extract, and cocoa powder and whisk to just combine.

Add the eggs and whisk to combine. Do not overbeat.

Add the flour slowly, whisking to combine.

Tranfer around 90% of the batter into the prepared cake pan, reserve about ½ a cup of the red velvet batter for later.

Give the pan a few raps on the counter to get rid of any air bubbles.
Make the cheesecake layer:
In a stand mixer or using a handheld mixer, beat the cream cheese on medium speed until light and fluffy. Then add the sugar, egg yolk, vanilla extract and a pinch of cornstarch and beat it together until fluffy. The cheesecake batter is ready.

Now, spoon over the cheesecake mixture over the brownie batter.

Using a spatula or the back of a spoon, smoothen the cheesecake batter gently, forming a layer over the brownie batter.

Take the reserved red velvet batter and spoon it over the cheesecake batter.

Using a toothpick, make random swirls in the brownie batter.

Transfer the cake pan into the oven and bake for 45-50 minutes. You can cover the top with aluminum foil to prevent the cheesecake layer from browning.

Check for doneness by inserting a skewer into the brownie. It should come out clean.

Once baked, let the brownies cool completely for at least 30 minutes and cut into squares.
Notes
This recipe was made using a 7-inch x 7-inch baking pan. You can also use an 8-inch x 8-inch pan, and reduce the baking time to 40 minutes.
Use a good quality, concentrated red gel food color
You can add chopped hazelnuts to the brownies batter before baking
Make sure you do not overbeat or over whisk the batter, otherwise there will be too much aeration and the texture of the brownies will be more like that of a cake.
Nutrition
Calories:
178
kcal
Carbohydrates:
22
g
Protein:
2
g
Fat:
9
g
Saturated Fat:
5
g
Cholesterol:
56
mg
Sodium:
86
mg
Potassium:
38
mg
Fiber:
1
g
Sugar:
15
g
Vitamin A:
328
IU
Calcium:
17
mg
Iron:
1
mg