These stuffed bread rolls are made with very simple feta and preserved sun-dried tomato filling and are perfect to go alongside your coffee or tea on a chilly evening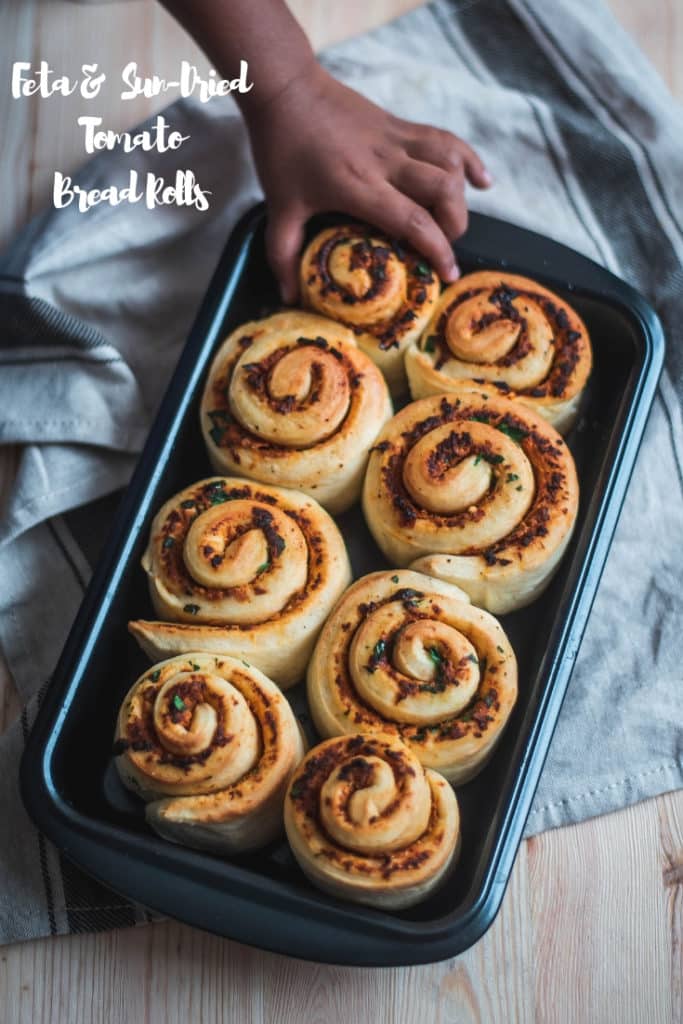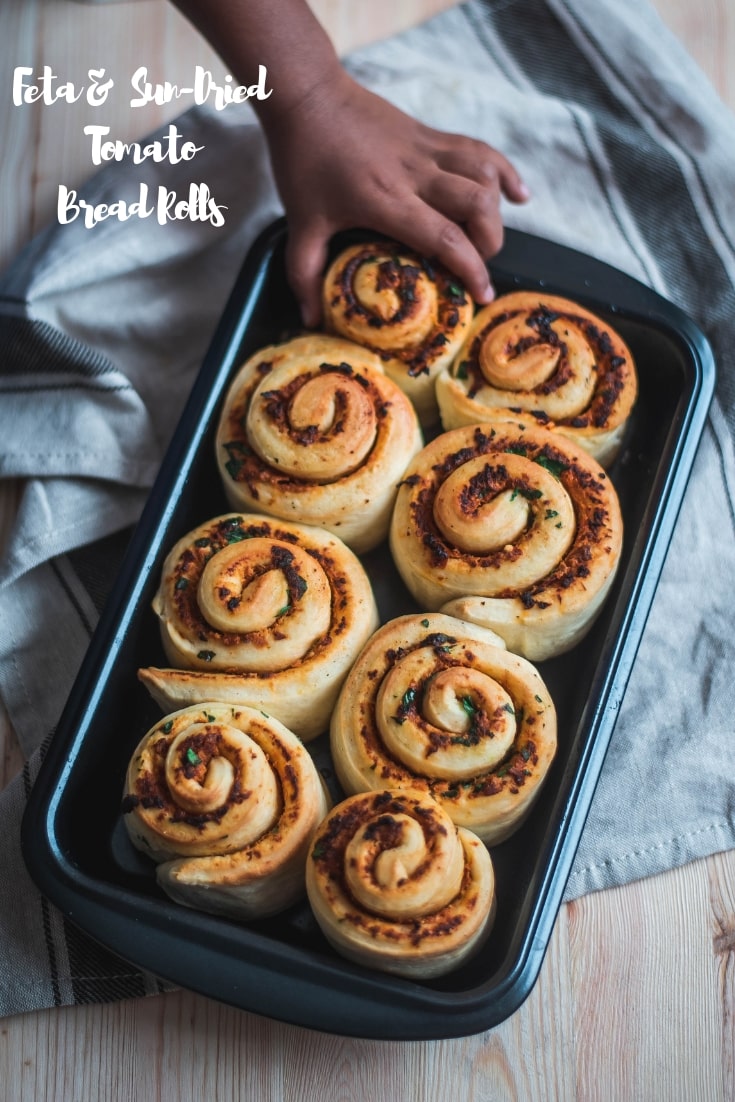 Baking bread is nothing short of therapy, the process of kneading the dough, shaping it, that slow build up to when the dough proves, and finally, the aroma of freshly baked bread that makes it all worth it. I make my bread with active dry yeast, which I find much more convenient to use than fresh yeast. The recipe for the bread itself is one that I use to make zopf (traditional Swiss plaited bread loaf). It remains my go-to recipe for baking bread.
I'm particularly fond of baking stuffed bread rolls, and after trying out the the internet's darling, pesto bread rolls, I tried out this recipe with a different filling, one made with 2 ingredients (well, three if you count the parsley garnish) - preserved sun-dried tomatoes and feta. This filling was inspired by a dip that I make very often - jarred bell peppers and feta. You just blitz together preserved bell peppers (drain them first) along with feta for a smooth dip that goes very well with carrots, baked potato fries or breadsticks.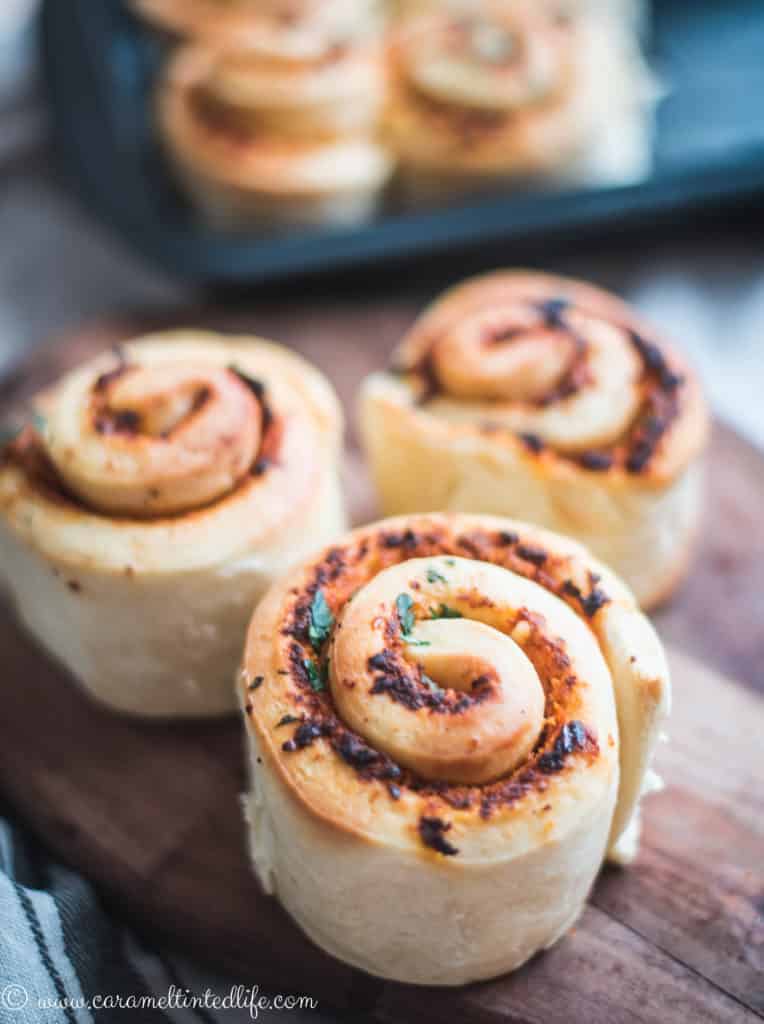 Making bread is a process that shold be savoured at leisure. After the first proof, the dough rises (it takes around 1 hour for the first rise), and then is beaten down, to be shaped. To shape the bread rolls, you basically roll out the dough untill it is around a quarter of an inch thick, then spread over the filling and top it with parsley. Cut the rolled out dough into strips like you see below, and then roll up the strips. Stack the rolls in a baking pan and let it rise for the seond time.
Without further ado, I'll leave you with the recipe, and hope you do bake it this Fall!
Bread Rolls with a Feta and Sun-Dried Tomato Filling
These stuffed bread rolls are made with a very simple feta and preserved sun-dried tomato filling, and are perfect to go alongside your coffee or tea on a chilly evening
Ingredients
For the bread:
For the filling:
½

cup

crumpled feta cheese

4-5

preserved sun-dried tomatoes

drained

1

teaspoon

finely chopped fresh parsley
Instructions
Warm the milk until it is a little over room temperature. Mix in the sugar and the sachet of yeast. Stir and let the yeast activate for 8-9 minutes. It should be frothy once activated.

In a mixing bowl, add the flour, the activated yeast+ milk mixture, the egg, salt and butter. Using a stand mixer or your hands, mix well until the mixture forms a dough.

Place the dough back in the mixing bowl and cover it with a cloth. Let it double in size (around 50-60 mins).

Take out the dough, and on a lightly floured surface, roll out the dough with a rolling pin until it is around ¼ inch thick and roughly shaped like a rectangle.

Spread out the filling (see recipe below) and sprinkle the chopped parsley over the top.

Using a knife, cut the dough into strips of similar width (2-3 cm wide).

Roll up each strip and stack them in a baking pan. This recipe makes 8 rolls that can be stacked in a 10 inch x 7 inch pan. Do not stack them too tight, as the dough will rise again.

Let the dough prove for the second time, for 40-45 minutes. During this time, you can pre-heat the oven and make the filling as well.

Brush the tops with beaten egg white (optional) and transfer to the pre-heated oven. Bake for 20 minutes until golden brown.
To make the filling:
In a food processor, pulse together the feta cheese and the drained sun-dried tomatoes untill well combined. This filling can be used inside the bread rolls, or even as a sandwich spread.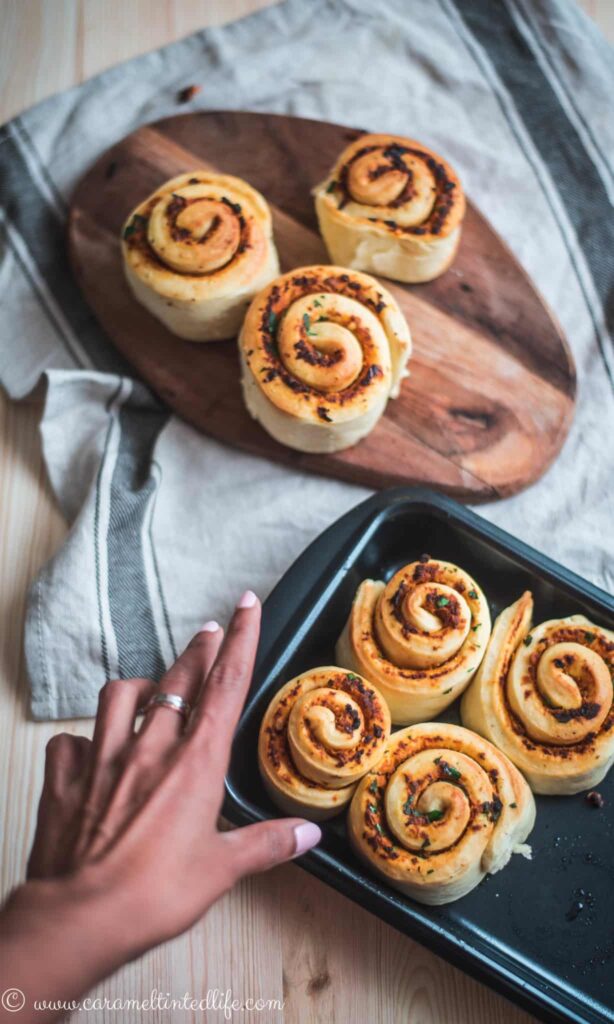 If you liked this recipe, do comment below and rate the recipe! If you make this recipe, please post a pic on INSTAGRAM -tagging @carameltintedlife and follow along on FACEBOOK and PINTEREST