A cake with layers of hazelnut biscuit, rich chocolate cake, white chocolate cheesecake and chocolate ganache, topped with assorted Lindt chocolates and hazelnut biscuits - truly a chocolate overload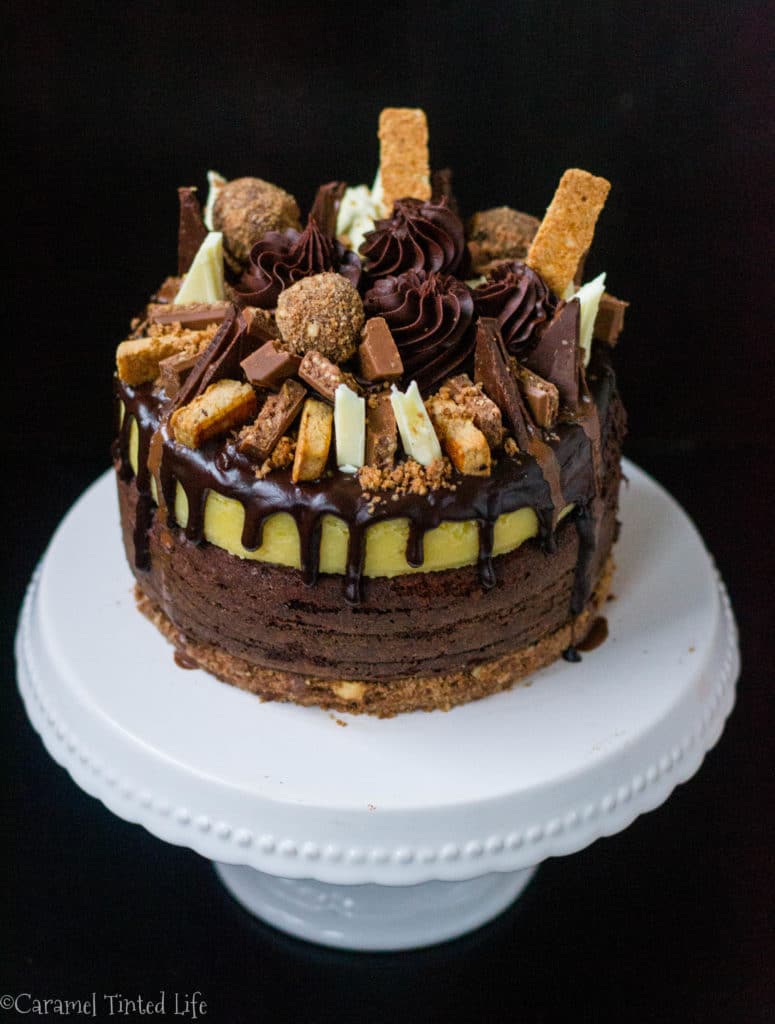 What makes a layer cake so special? I tend to express my emotions through cakes, and for me, a layer cake is a labour of love. I thoroughly enjoy investing a little extra time into a good cake for someone I love. A layer cake means more to me than just cake layers with a filling and a frosting. Every special moment in our lives has seen a layer cake. We cut through a layer cake at my wedding, birthdays, christenings, parents' retirement celebrations, etc. I firmly believe that a good layer cake has the kind of powers that can make people fall in love, stop wars and bring about world peace. It is the crowning glory of any celebration, and quite like closing a deal with a signature, no celebration in my book is complete without cutting through a layer cake.
Like all good things in life, a good layer cake takes time and some patience. It can get messy to make but in the end, it is worth all the trouble and yes, it is worth the messy kitchen too!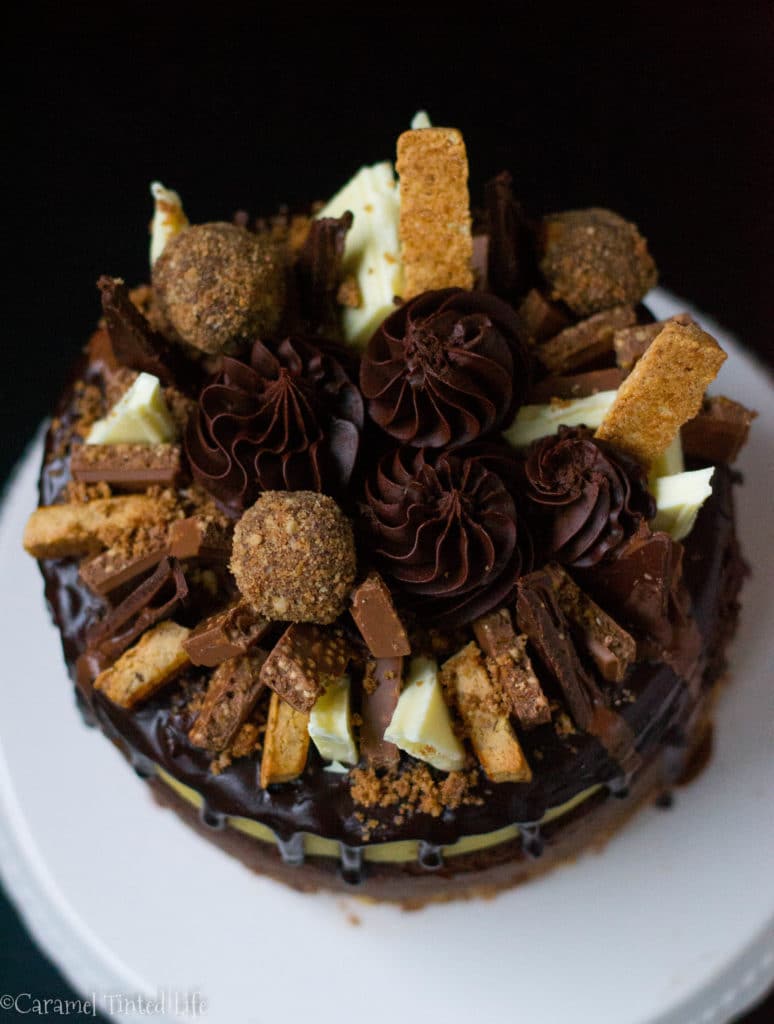 For me, a good layer cake should have flavours that complement each other, a fluffy cake layer to complement a rich filling or a fudgy cake with a light frosting. A layer cake should be a play on textures, so throw in some crushed nuts, bits of meringue, or cocoa nibs on top to make it extra special, use seasonal fruits or go overboard with the chocolate, like I did for my husband's birthday this week.
I think chocolate makes for the ultimate celebratory layer cake. I love the combination of hazelnut and chocolate and decided to make the base layer from haselnuss-stengeli (a Swiss hazelnut cookie) and crushed hazelnuts. The chocolate cake went on top. I layered the chocolate cakewith a white chocolate cheesecake. And to top it all, some chocolate ganache and a whole load of Lindt chocolates and some more haselnuss-stengeli, we love a chocolate overload in these parts!
I made a sketch of what I had in mind before I started baking, and as you can tell, I did deviate from the script and go a little overboard with the toppings. No regrets though! I think the best part is when you slice through a tall layer cake, with the anticipation of getting all those layers in a single slice. You certainly won't be able to eat a slice neatly with your hand, you have to lay it down on a plate and get down to business! You get to enjoy a variety of textures - crumbly base, moist chocolate cake, rich cheesecake and silky ganache. Take my advice - you might want to keep a napkin handy.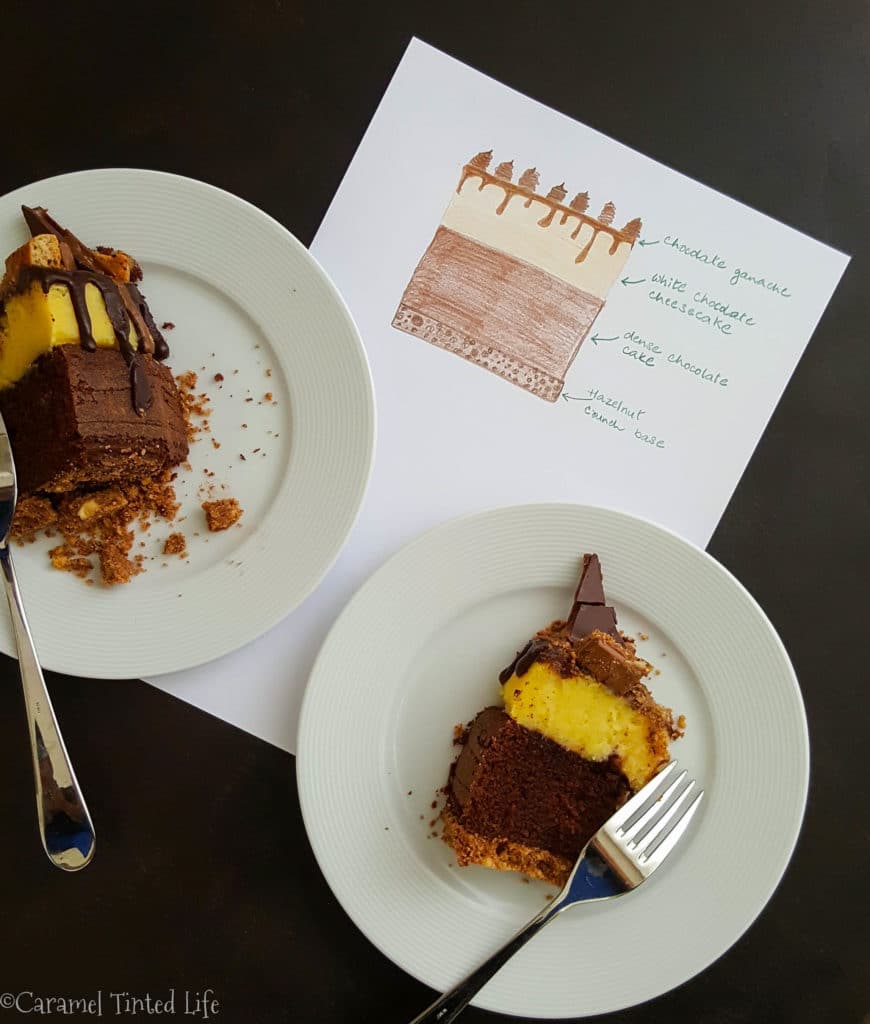 Now coming to the recipe for the chocolate cake itself. This is hands down my favourite chocolate cake recipe yet. It is moist, has a crumb that holds well, has a rich chocolate taste that comes from using both cocoa and dark chocolate. It keeps well for up to two days on the counter, in a cool place. Leftover cake can be refrigerated or frozen, and best enjoyed once brought back to room temperature. Although it is quite possible that you wouldn't want to refrigerate it at all, it is quite tempting to polish off slice after slice within a day!
Although the chocolate cake is truly the star here, it doesn't take anything away from the chocolate cheesecake which is quite a treat in itself. if you are making it by itself, then you could make the hazelnut biscuit base and bake the cheesecake on top of it is the same pan. They pair quite well.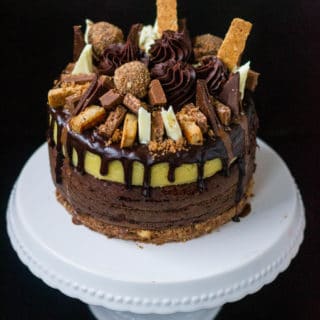 Chocolate Overload Cake
A cake with layers of hazelnut biscuit, rich chocolate cake, white chocolate cheesecake and chocolate ganache, topped with assorted Lindt chocolates and hazelnut biscuits - truly a chocolate overload
Ingredients
For the cake:

70

grams

dark chocolate

chocolate with at least 70 % cocoa, chopped

110

grams

all purpose flour

10

grams

cornflour

20

grams

cocoa powder

1/2

teaspoon

baking powder

1/4

teaspoon

baking soda

1

teaspoon

salt

100

grams

yoghurt

15

grams

water

100

grams

butter

200

grams

sugar

2

eggs

For the white chocolate cheesecake:

80

grams

white chocolate

chopped

300

grams

cream cheese

I use Philadelphia

2

eggs + 1 yolk

250

grams

confectioner's sugar

2

tablespoons

all-purpose flour

1

teaspoon

vanilla extract

1/4

cup

lemon juice

For the ganache:

200

grams

dark chocolate

70% cocoa

2/3

cup

whipping cream

1

teaspoon

butter

For the hazelnut biscuit base:

1/4

cup

hazelnuts

200

grams

hazelnut cookies

(or any cookie of your choice)

70

grams

softened butter
Instructions
To make the chocolate cake:

Preheat the oven to 150 C. Prepare a 7-inch cake pan by brushing it with butter and dusting the pan with flour. Tap off the excess flour.

Start by melting the dark chocolate Place a pan with an inch of water on the stove to heat. Once it starts to simmer, put the chopped dark chocolate in a heat-proof bowl and place this over the simmering water to melt. Alternatively, melt the dark chocolate in brief increments in a microwave.

Sieve together the flour, cornflour, cocoa powder, baking powder, baking soda and salt and keep this aside.

Whisk together the yoghurt and water in a small bowl and keep it aside.

In a large mixing bowl, using a hand-held mixer or a stand mixer, beat the butter and sugar together until the butter has lightened in colour.

Beat in one egg at a time, mixing well after adding each egg.

Add the melted and cooled dark chocolate and mix it in.

On low speed, alternately mix the dry ingredients and the beaten yoghurt until fully mixed into the batter. Start and end with the dry ingredients.

Bake for 45-40 minutes until a skewer inserted comes out clean. By baking at a low temperature (150 C) for a longer time, the cake rises evenly and doesn't have a mound in the centre.

To prepare the white chocolate cheesecake:

Prepare a springform pan by lining the bottom and sides with baking parchment.

Melt the white chocolate (similar to melting the dark chocolate) and keep aside to cool.

Preheat the oven to 160 C.

In a stand mixer or hand-held mixer, beat the cream cheese on high speed until fluffy. Add the flour slowly and mix on low speed till incorporated.

To this, add all the remaining ingredients and beat at low speed, until everything is well incorporated.

Prepare a water bath for the chesecake so that the surface does not crack. For this you need to line the springform pan with at least two layers of aluminium foil, and then place it in a baking tray filled with water (around 1 cm deep). Bake the cheesecake for 1 hour at 160 C untill set.

Using a double boiler, melt the chocolate, while the chocolate is still hot, add the cream and butter and whisk it. The ganache sets as it cools, so while it is at room temperature and still fluid, pour it over the cake and let it drip over the sides.

To prepare the hazelnut biscuit base:

Coarsely grind the hazelnuts and the cookies. Add the ground cookies and nuts to a bowl along with the softened butter and bring the mixture together like you would a dough. In a springform pan, press this mixture into the base of the pan and let it set in the fridge for at least 2 hours till set.

To Assemble:

Make sure that the cake and cheesecake are cool, and the biscuit base is set in the fridge. Gently take out the biscuit base, and place it on a cake pan Place the cake over it and the cheesecake over the cake. While the ganache is still semi-fluid, spoon it over the cake and using an off-set spatula, spread it over the top, letting it drip. Top the cake with assorted chocolates (I used Lindt bars and hazelnut cookies, and handmade chocolate truffles).
Notes
This recipe was used to make a 7-inch cake. If you would like to use it for a standard 9-inch cake round, then increase your ingredients by a third.
The ganache will cool as it sets. I used the semi-fluid (room temperature) ganache to top the cake. Once my ganache was firm, I used some of it to make some chocolate truffles. Simple take some ganache, roll it into a ball using the palm of your hands, and roll the ball on some ground nuts. I just rolled it in some of the biscuit crumble for the hazelnut biscuit base. Let chocolate truffles chill in the fridge before you serve them.
If you like this recipe pin here for later: