A super easy asparagus casserole made with a light bechamel sauce and added vegetables. The best way to use up your asparagus stash!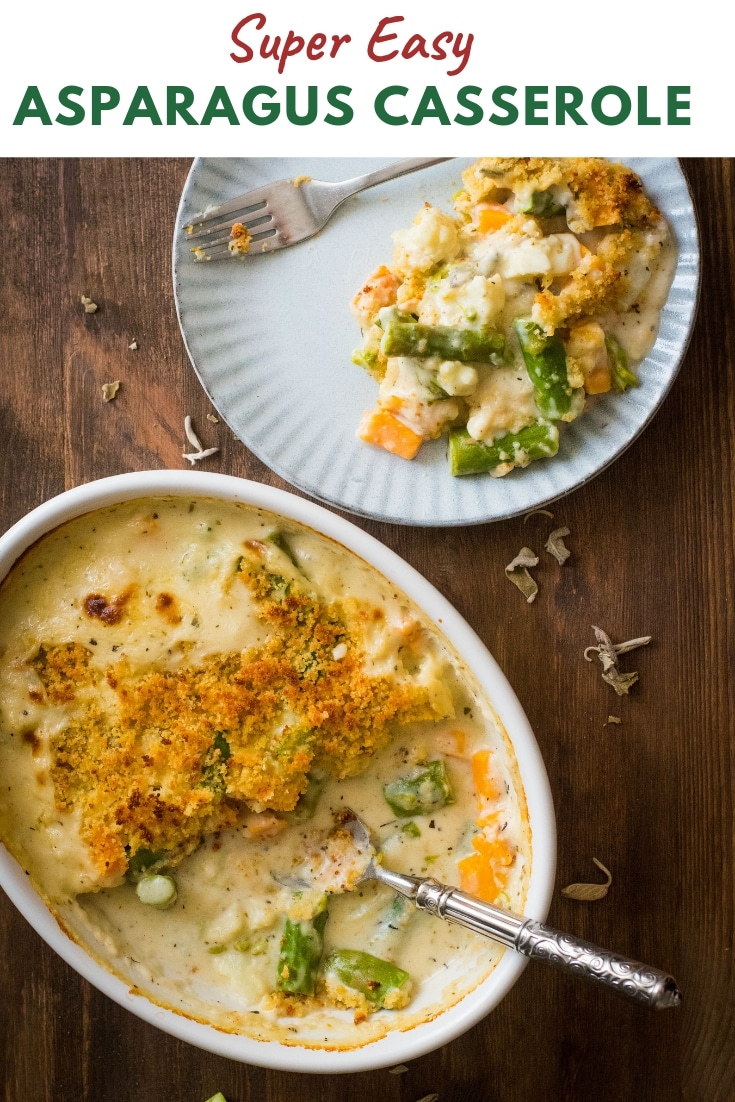 Give me a casserole any time of day, any day of the week, any time of year and I'll be a happy girl. There's some so comforting about the dish, with its cheesy sauce, crusty topping, baked filling and the fact that it comes together so easily is a huge plus too! I don't make casseroles that often, something I hope to remedy. They make for excellent freezer meals, and can be prepared well in advance and baked just before serving.
This casserole was the result of a good amount of asparagus that was sitting pretty in our fridge. After making several asparagus stir fries, an asparagus quiche and one-pot rice meals with asparagus, I was looking for other ways to get some asparagus in our meals. This casserole includes some lightly blanched asparagus, some sweet potatoes, a small head of cauliflower cut into florets. You can substitute any of these with vegetables that you have on hand, or even frozen veggies.
Tips for making an asparagus casserole
Choosing the right asparagus – I prefer green tender, thin asparagus stalks. Look for asparagus that are fresh and bright green.
To prepare the asparagus, trim the ends of the asparagus and chop them into inch-long pieces.
Use vegetables that have a similar cooking time. For example, I've used cauliflower florets and sweet potatoes along with the asparagus. Cook them in a pot of water for 4 minutes on the stove top, and then transfer to a pot with ice-cold water to stop them from cooking further.
Make the sauce – make a lighter version of a basic bechemel sauce – heat some minced garlic with olive oil on the stove top. Turn off the heat add some flour into olive oil (instead of butter) in a pan on the stovetop. Slowly add some milk and stir, let the sauce thicken oven low heat.
Season the sauce with nutmeg, assorted dried herbs, white pepper powder. Add in some grated gruyere or parmesan and some cheddar. Season with salt. Prepare a baking dish by brushing a little melted butter inside and adding the vegetables followed by the sauce.
Finally, prepare the crumb – and this is my favourite part, because of all that texture that goes on in the crump topping! Cheddar, bread crumbs and butter (you can use olive oil as well) are mixed together and sprinkled over the prepared casserole dish. Finally, bake away until the crumb is golden brown and the sauce is bubbling around the edges of the crumb.
This is the perfect dish to make in spring, especially during the colder days. Make ahead and freeze for later, or prep the veggies and sauce ahead and pop the dish into the oven when you're ready to bake. Now if only asparagus season was all year-round!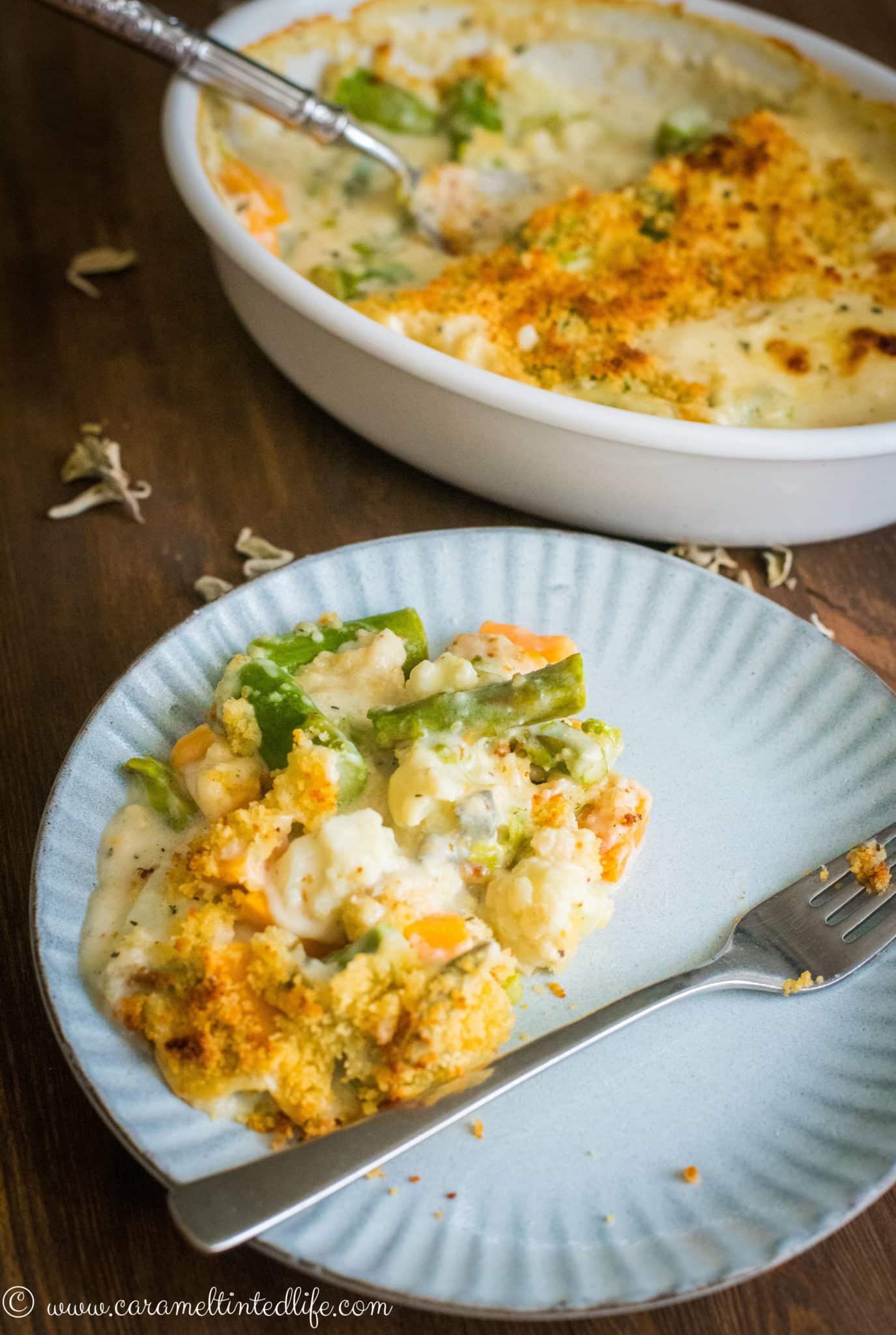 For more easy savory bakes and casseroles, take a look at:
Feta and sun-dried tomato stuffed bread rolls
Instant Pot Smashed herb-garlic potatoes
Sheet pan honey garlic chicken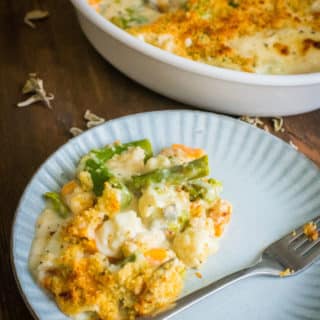 Asparagus Casserole
A super easy asparagus casserole made with a light bechemel sauce and added vegetables. A comfort meal that you'd crave all year round!
Ingredients
6-7

asparagus stalks

trimmed and cut into 1 inch pieces (green, tender asparagus are preferred for this recipe)

½

a large sweet potato

peeled and cut into bite-size cubes

1

small cauliflower head

cut into florets
For the Sauce:
⅓

cup

all-purpose flour

1

cup

milk

3

tablespoons

olive oil

2

garlic cloves

minced

½

teaspoon

Nutmeg

½

teaspoon

assorted dried herbs

I used sage, thyme, oregano

½

teaspoon

white pepper powder

½

teaspoon

onion powder

1/3

cup

grated gruyere cheese

can be substituted with grated parmesan cheese

¼

cup

grated cheddar cheese

Salt to season
For the Crumb Topping:
1/3

cup

grated cheddar cheese

½

cup

bread crumbs

1.5

tablespoon

melted butter

or use olive oil
Instructions
Preheat the oven to 180 C (350 F)

Prepare the vegetables by blanching them. Bring a pot of water to a boil on the stove top and let the vegetables cook for 5 minutes. Drain the water and transfer the vegetables to a pot of ice-cold water to stop the cooking process.
Prepare the sauce:
In a saucepan on the stovetop, heat the olive oil and add the garlic. Let the garlic sauté for a couple of minutes, until it loses its raw taste. Take the pan off the heat and add the flour, whisking it around.

Add the milk slowly, whisking continuously. Ensure that there are no lumps in the sauce. Return the pan to the heat and cook on low heat for 3-4 minutes until the sauce has thickened. Add the grated cheese (gruyere or parmesan and cheddar). Add salt to season and stir to combine. Keep this aside while you prepare the baking dish.

Butter the inside of an oven-safe baking dish (you can use olive oil as well). Transfer the vegetables to the baking dish. Pour the sauce over the vegetables.
Prepare the Crumb Topping:
Mix together the bread crumbs, cheddar and melted butter. Spread this topping over the vegetables and sauce.

Cover the dish with foil and bake in the oven at 180 C for 20-25 minutes until the crumb topping starts to turn golden brown and the sauce begins to bubble from the sides. Let the dish rest for 10 – 15 minutes before serving.
Notes
This dish is great for prepping ahead and freezing. Assemble the veggies and sauce and topping and freeze the dish for upto 1 month. You can thaw and bake the dish when you're ready to have it for a meal.
Asparagus is a seasonal vegetable, so you could made the dish with substitutes all through the year. Use vegetables with similar cooking times - carrots, corn, green beans are great subsititutes.