Egg puffs are made with boiled egg and a mildly-spiced onion filling, enclosed in crispy, flakey puff pastry. These Indian-bakery-style puffs go perfectly well with a cup of hot masala chai!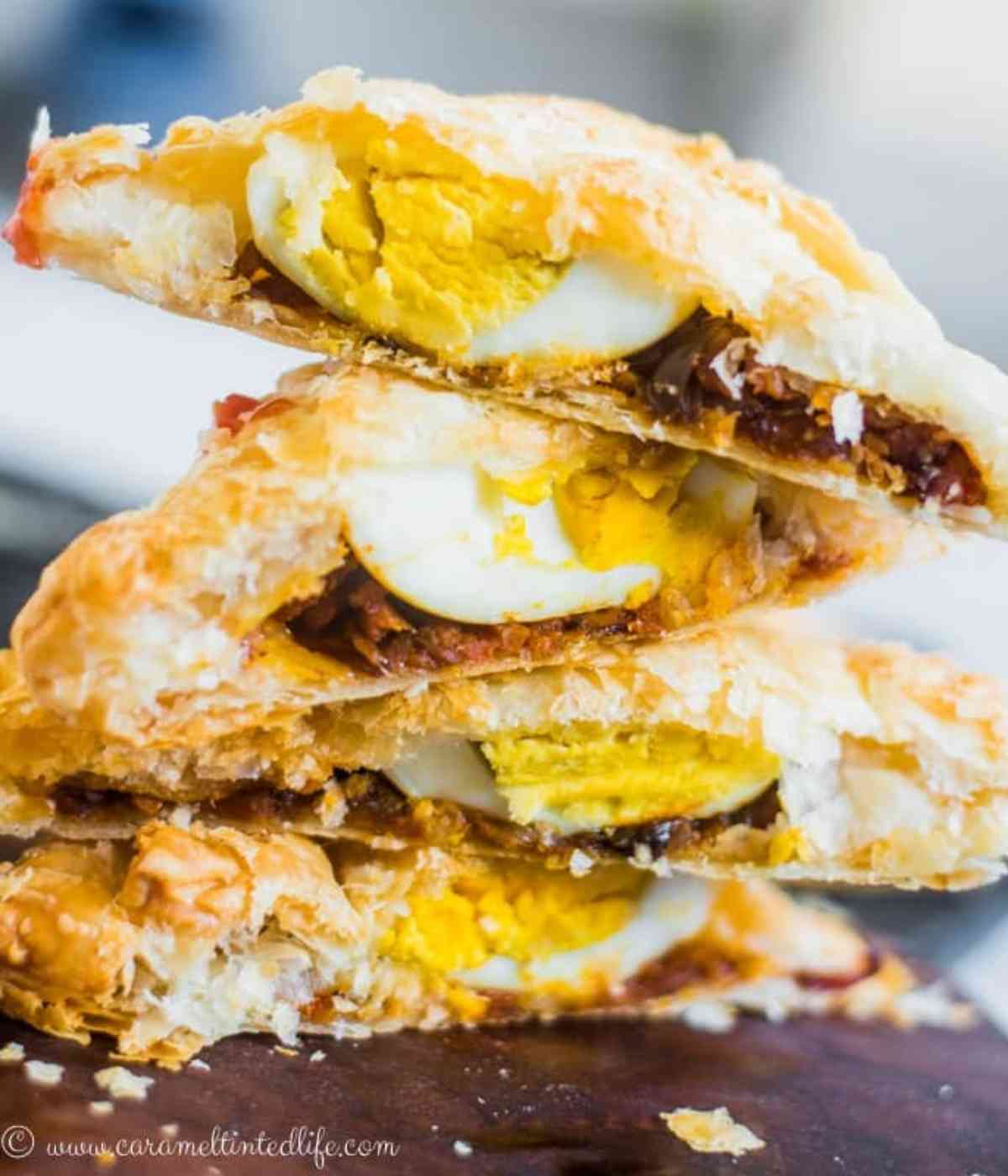 Jump to:
The custom of tea-time or chai-time in an Indian household is one that is woven into our social fabric. Chai-time is an integral part of forging friendships, and lasting relationships.
I certainly hold my chai-time rituals very close to my heart. We begin our day with a cup of masala chai, brewed with grated ginger, milk and sugar. This magical elixir helps me get through most of my day, until around 4 pm when its time for my second cuppa.
These Kerala-style egg puffs are a fitting accompaniment to a hot cup of tea. Puff pastry parcels packed with boiled egg and an onion-tomato masala, seasoned with spice powders. Perfect for unwinding on a long and tiring day, easy to whip up, and oh, so addictive. I also enjoy making these sweet potato and pea samosas, to go with my chai.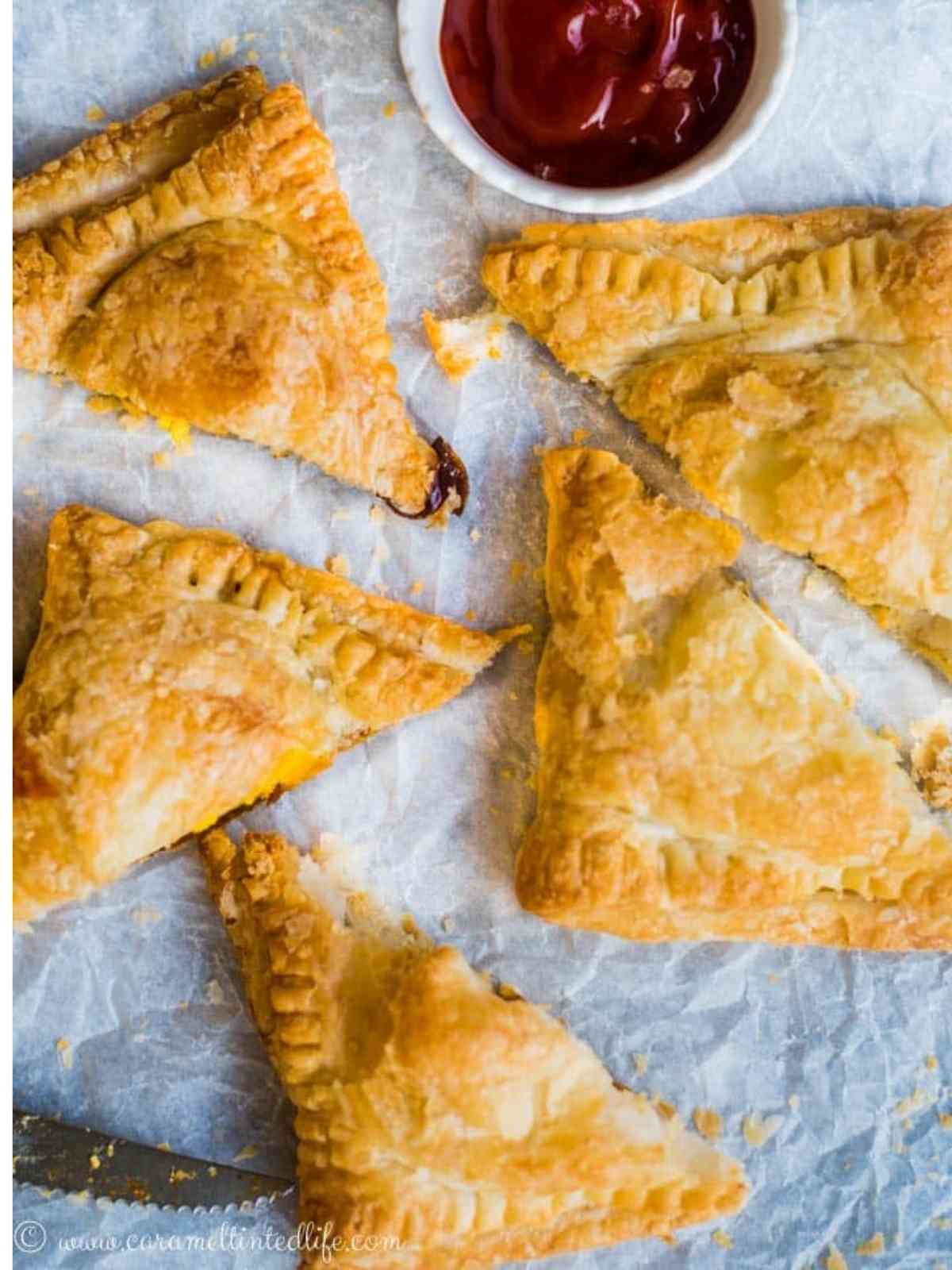 Ingredients
These egg puffs are a signature fixture in many bakeries in Kerala (in South India). Usually made with margarine, these puffs have a unique appeal about then and are especially popular among office-goers, who very often head to these bakeries for a tea-time break, and grab a steaming hot cup of chai to go with an egg puff.
Typically, bakery egg puffs are made with a filling that consists of a spicy onion-tomato mixture, seasoned with curry leaves. A hard-boiled egg is sliced and added to the filling. I prefer to make them with a lighter version of the same masala, and I love adding some grated carrots to the filling too, to give the filling more body.
Step by step instructions
To make egg puffs at home, you need just a few ingredients - store-bought puff pastry, onions, grated carrots, tomato paste, a few spice powders common to Indian cooking, and boiled eggs of course! I make my boiled eggs in the Instant Pot, and they cook perfectly every time.
Begin by making the 'masala' - as the onion mixture is called. Start by heating vegetable oil in a saucepan on the stovetop. To this, add sliced red onions and saute untill the onions are soft, but not caramelised.
Then add the grated carrots and saute for a few minutes. Add in the spice powders and cook the mixture for a few minutes more.
Add the tomato paste and mix well. Add salt and a pinch of sugar to season. Turn off the heat and keep the mixture aside to cool.
Boil the eggs - if using an Instant Pot, cook on Manual mode for 5 minutes, followed by Natural Pressure Release for 5 minutes, and then transfer the eggs to a bowl of cold water for a further 5 minutes. This 5-5-5 method is what I use to boil eggs perfectly every single time.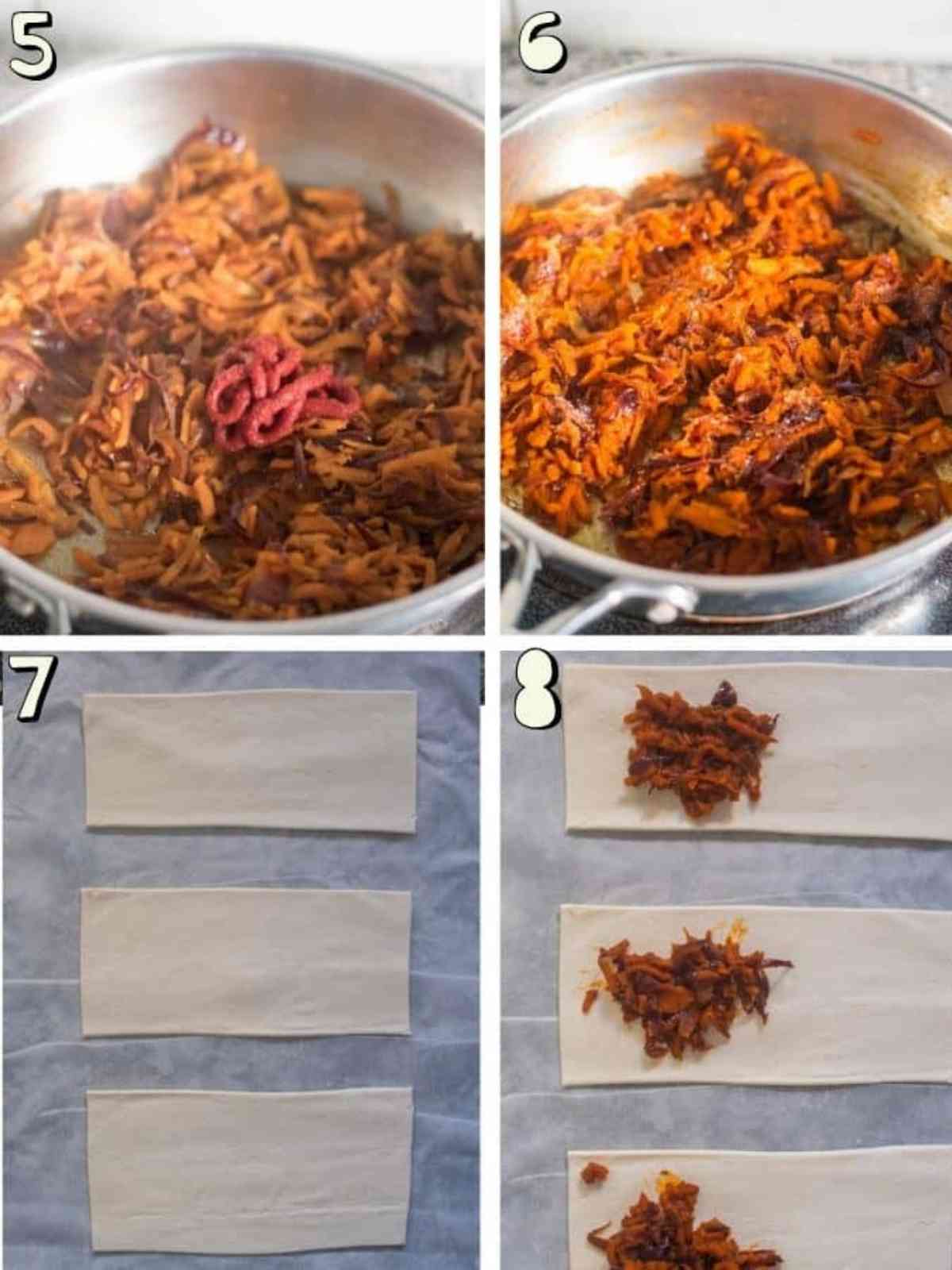 Pre-heat the oven. To assemble the egg puffs, Lay out a strip of puff pastry on parchment paper placed on a baking tray. Spoon out some of the masala on one half of the puff pastry strip. Place half an egg on the egg masala, and fold the strip of puff pastry over.
Using a fork, crimp the edges of the puff pastry to seal them. Finally, bake the egg puffs at 180 C for 15-20 minutes, untill the egg puffs are nice and golden brown. Optionally, brush over some beaten egg whites to make the puff pastry beautifully golden brown.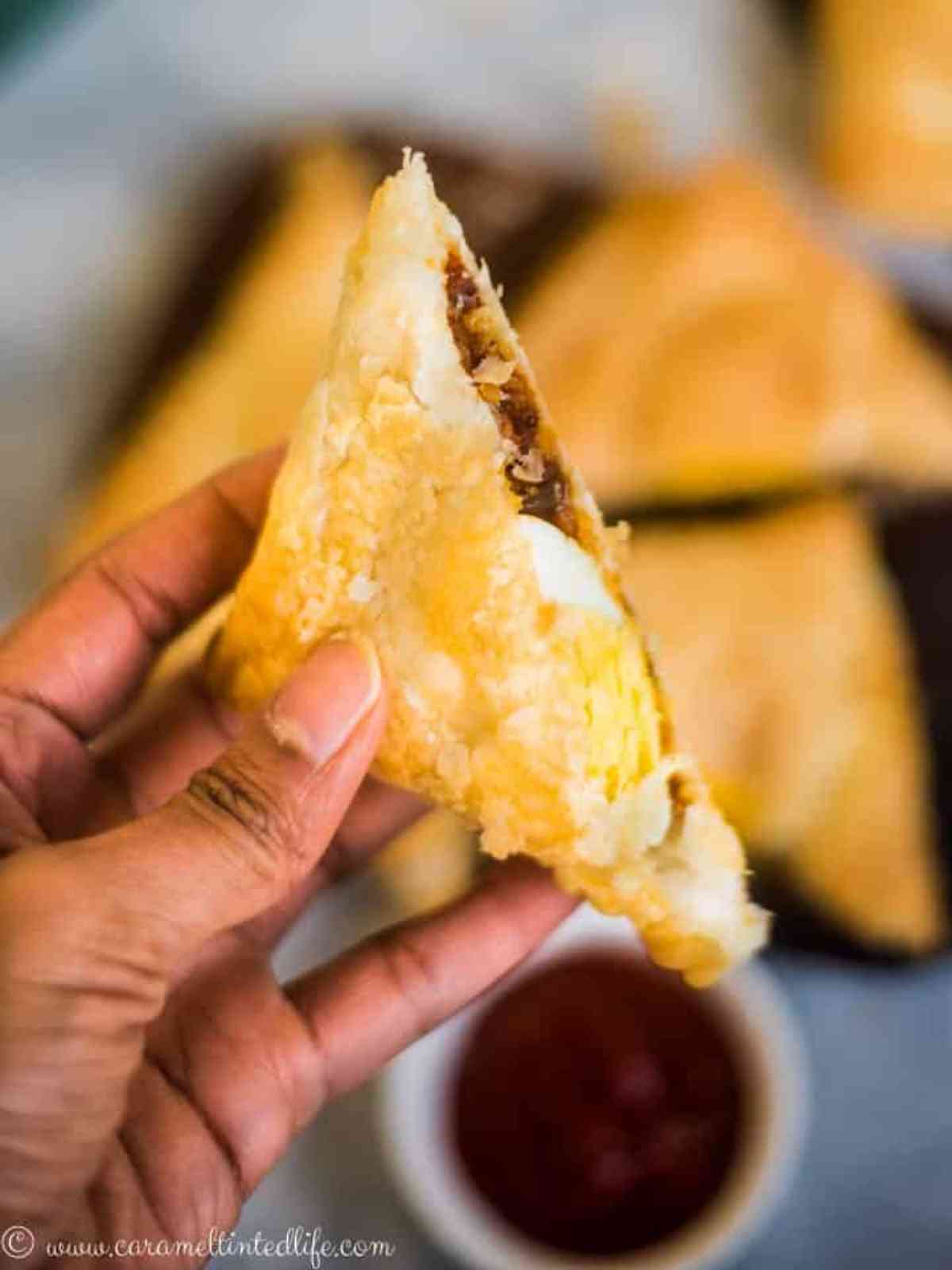 Egg Puffs
Egg puffs are made with boiled eggs and an onion-carrot stuffing, encased in crispy, flaky puff pastry. A quick and easy snack for kids and adults alike!
Instructions
Boil the eggs:
Instant Pot method: In the Instant Pot, cook the eggs on Manual or Pressure Cook mode for 5 minutes. Let the pressure release naturally for 5 minutes. After 5 minutes, perform a quick release of pressure and take out the eggs. Transfer eggs into a bowl of cold water for 5 minutes. The eggs will peel easily.

Stovetop method: Place eggs in a saucepan on the stovetop. Cover them with water and bring to a boil. After the water comes to a boil, continue boiling for 7 minutes for hard boiled eggs. Transfer to a bowl of cold water for 5 minutes to cool. Then peel the eggs.

Chop the eggs into half and keep aside for later.
Make the egg masala:
Heat the vegtable oil in a saucepan.

Saute the onions in the oil in a pan over medium heat, untill softened.

Add the grated carrots and saute for 2-3 minutes more.

Lower the heat add the spice powders.

Mix well, add the tomato paste, salt and sugar to season.

Turn off the heat and let the mixture cool.
Assemble the egg puffs:
Lay out the puff pastry sheet and cut into strips (approx. 5 inch x 10 inch).

Place a heaped tablespoon of masala on one half of the strip.

Place an egg half over the masala.

Fold the strip over, and use a fork to crimp the edges and seal them.
For the egg wash (optional):
Beat an egg with a little water to prepare the egg wash for the puff pastry.

Brush a little of the egg wash on the surface of each puff pastry parcel before you bake them.

Bake the parcels at 180C / 350 F for 15- 20 minutes, untill nice and golden brown.
Nutrition
Calories:
235
kcal
Carbohydrates:
18
g
Protein:
6
g
Fat:
16
g
Saturated Fat:
5
g
Cholesterol:
82
mg
Sodium:
148
mg
Potassium:
154
mg
Fiber:
1
g
Sugar:
3
g
Vitamin A:
1491
IU
Vitamin C:
3
mg
Calcium:
26
mg
Iron:
1
mg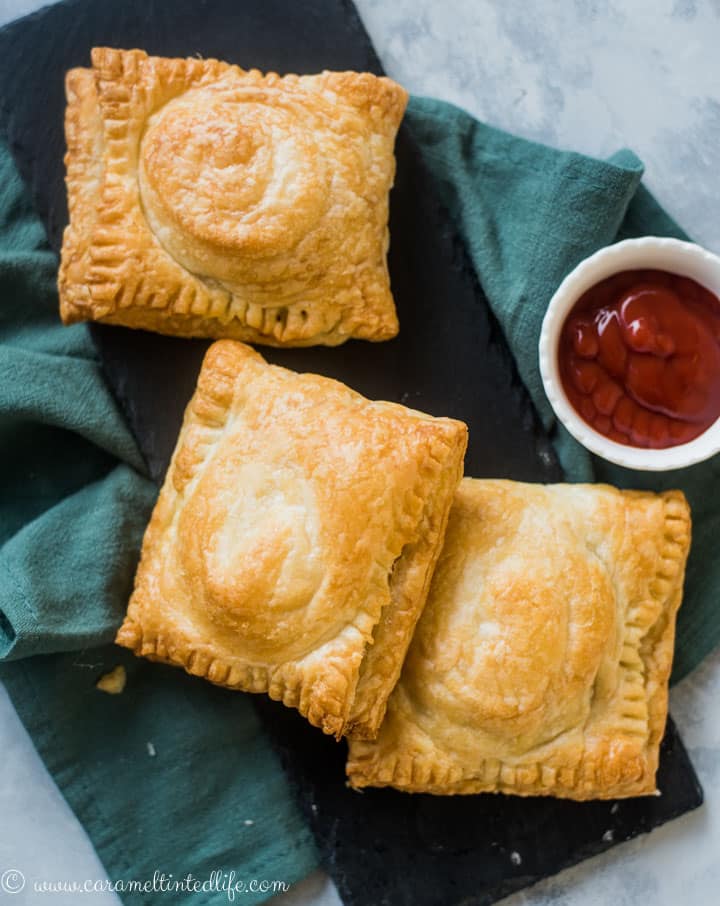 Caramel Tinted Life is a participant in the Amazon Services LLC Associates Program, an affiliate advertising program designed to provide a means for us to earn advertising fees by advertising and linking to amazon.com and affiliated sites.