Kalakand is a traditional Indian milk cake with a slightly grainy texture that simply melts in your mouth. This recipe for Rose kalakand is super quick and easy! Make it a fusion dessert by adding a cardamom-flavored shortbread base!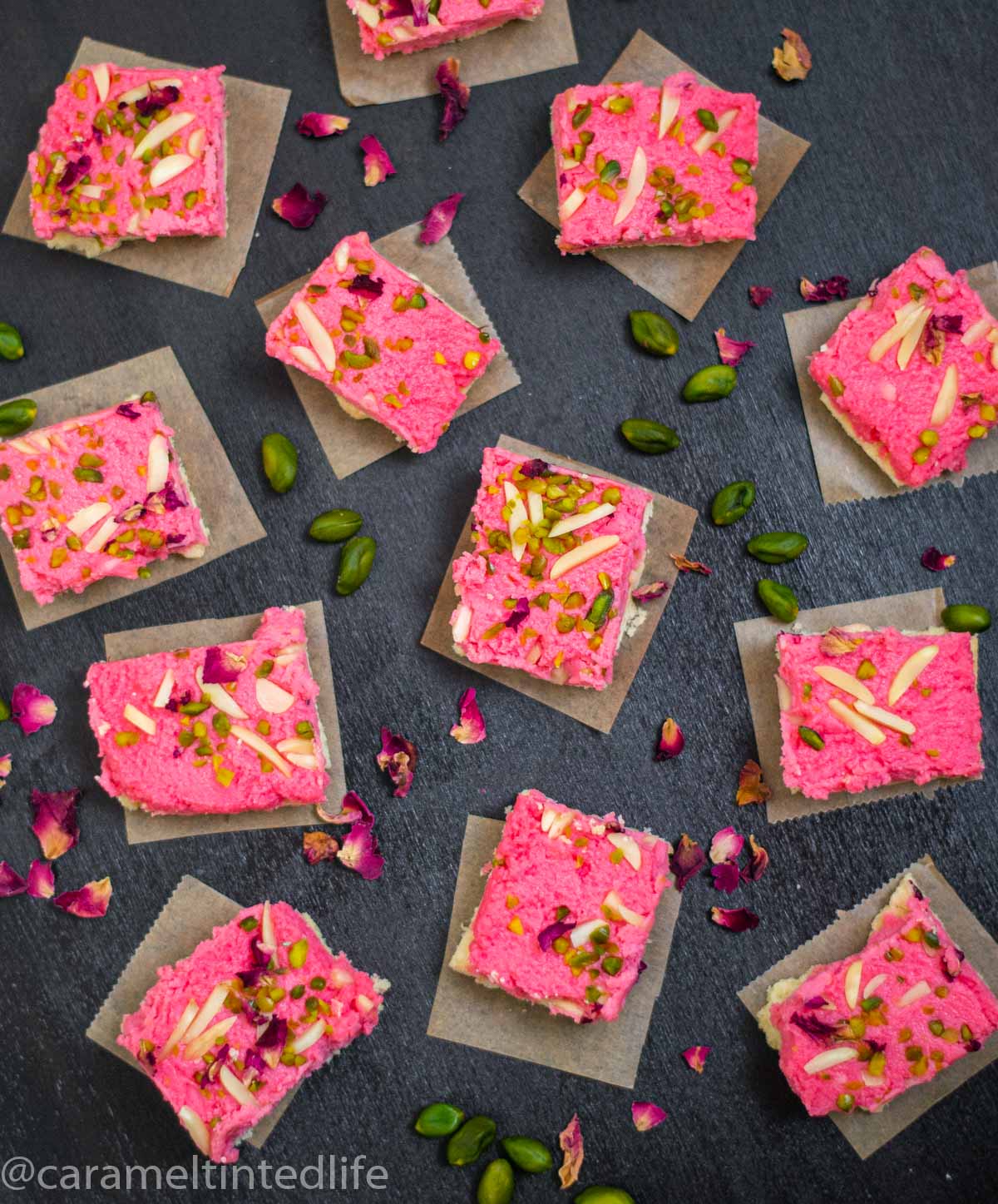 This recipe was first published in October 2017 and has been updated with detailed instructions and tips
Jump to:
Many Indian desserts are served as both a religious offering and celebratory dessert. Like any festive holiday, celebrating Diwali also means having friends and family over and indulging in food, glorious food!
We Indians are devoted towards sweets, and our centuries-old love-affair with 'mithai' or sweets has given form to a plethora of desserts that skillfully use a combination of milk-products, flour, fruits, honey, cane-sugar or jaggery, and even everyday vegetables!
Milk in its various forms can be transformed into rich and creamy desserts, which are formed into bite-size portions and packaged in brightly colored boxes, and are gifted to friends and family, during Diwali. This rose-flavored kalakand recipe is one that is sure to be a favorite with you and your family this Diwali!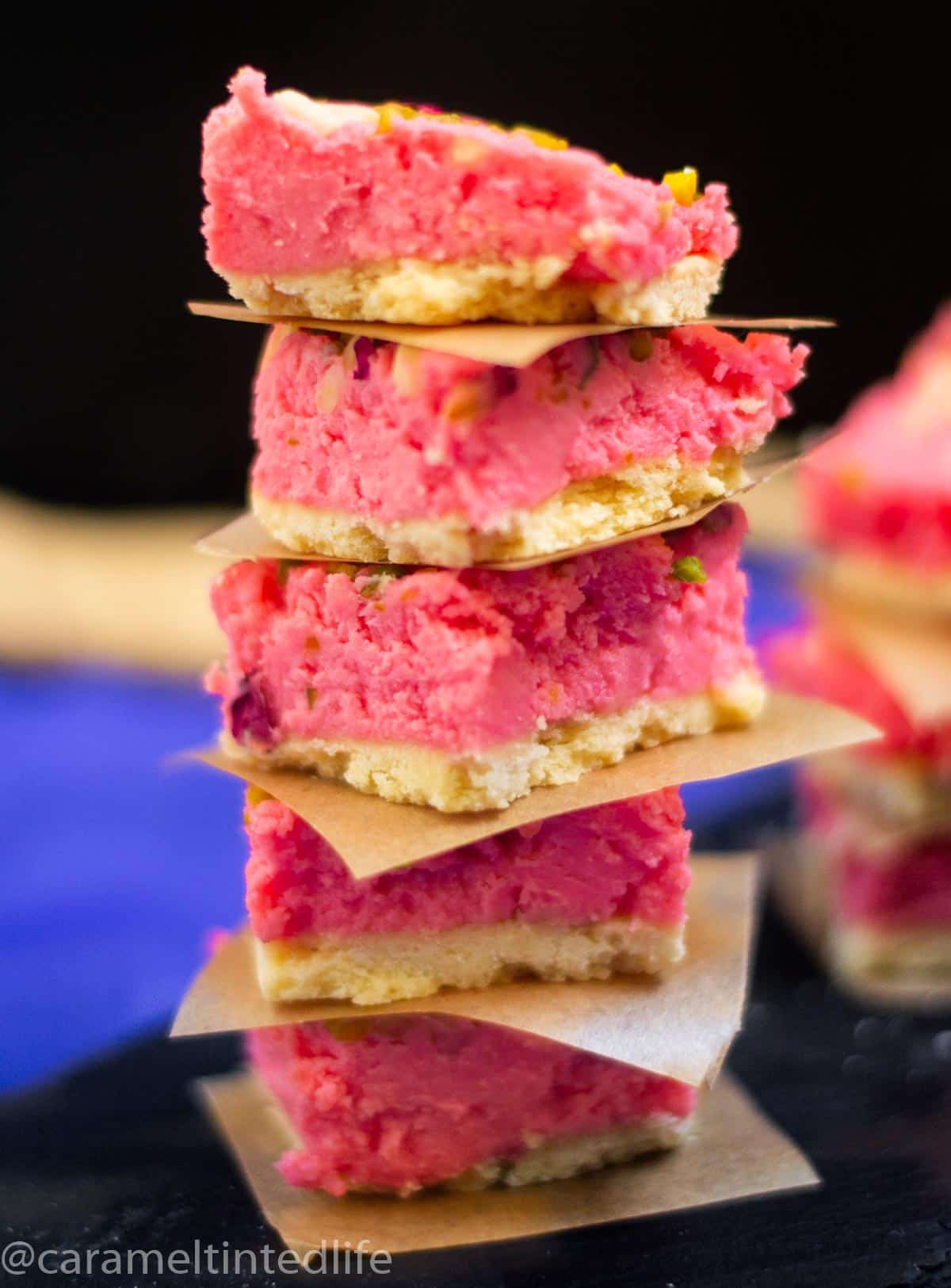 Fusion Indian Sweets
Over the years, the great Indian 'mithai' has undergone many transformations. While I love how some people have successfully innovated with traditional food, there is still the occasional disaster that I hear of in the name of Indian-fusion food (chocolate samosa, anyone?).
I personally like giving some of my much loved Indian flavors a twist, such as in this coconut-'ladoo' inspired cake, and pairing unconventional flavors, such as this Diwali dessert jar where I layered dulce-de-leche with Indian gajar halwa and kheer.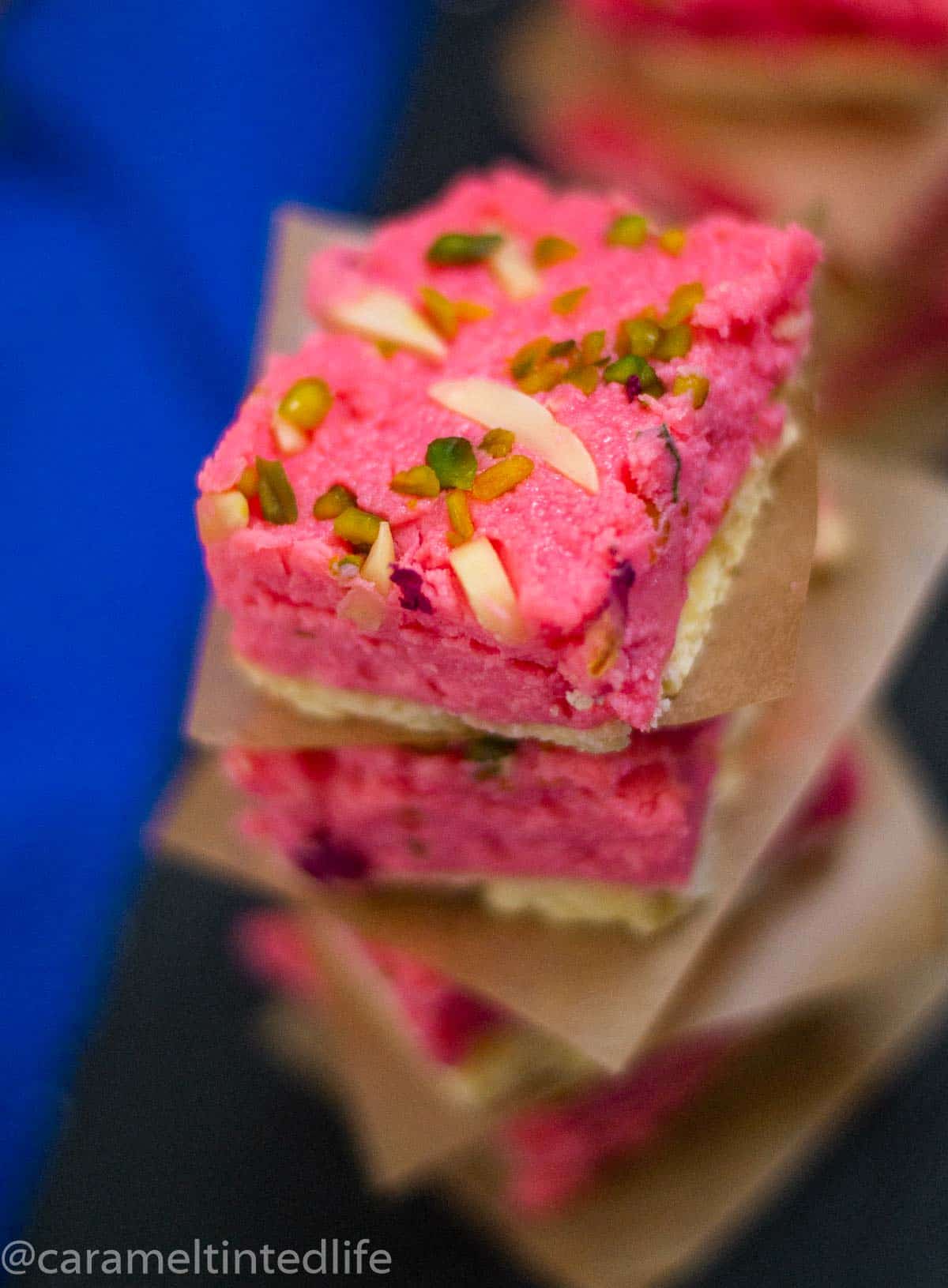 How to make this recipe
This rose kalakand with cardamom shortbread is a take on one of my favorite sweets, the Indian milk cake, 'Kalakand'. Kalakand is traditionally made by painstakingly stirring milk with sugar for hours over a stove. It has a coarse, almost grainy texture from the milk solids.
I made a version that comes close to the original kalakand, using store-bought ricotta cheese and milk powder. I couldn't resist adding a twist to the classic recipe and made a cardamom-flavored shortcrust base to give it texture and crunch. I flavored the milk cake with rose water and garnished it with pistachios and almonds.
This version of kalakand is smoother in texture but is just as delicious. All the ingredients, except the rose water and rose petals that you see in the images, were from my local grocery store. Give it a go if you are looking for a quick and easy version of Indian mithai, that transports you to Diwali in India!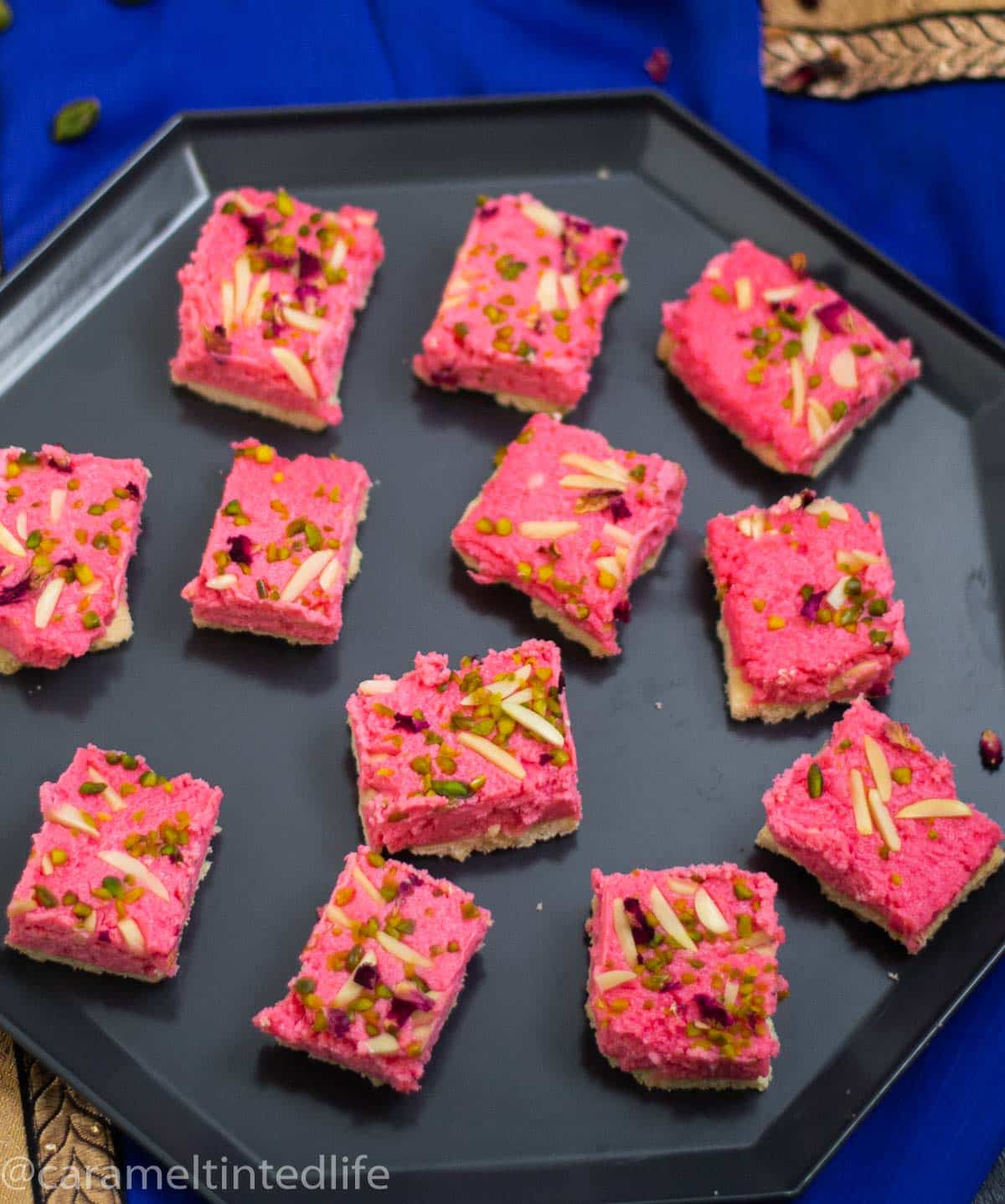 Expert Tips
Substitute Ricotta with Paneer Cheese
If you are unable to find ricotta, you can use paneer as well. Simple grate the paneer cheese or crumble it to a finely crumbled texture.
Cook Shortbread and Kalakand at the same time
To reduce time, you can prepare both the shortbread (in the oven) and the kalakand (on the stovetop) in parallel. Just be careful to not over-bake the shortbread, or let the kalakand overheat on the stovetop. Make sure you prick the shortbread with a fork, else it will puff up in the oven.
More Desserts For You To Try
Coconut and Almond Saffron Cake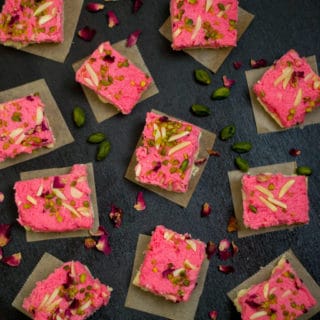 Easy Rose Kalakand
Kalakand is a traditional Indian milk cake, and this easy Rose Kalakand is made with the use of condensed milk, ricotta cheese and milk powder, flavored with rose water, and an added cardamom-flavored shortbread base for added texture
Ingredients
For the kalakand:
350

grams

ricotta cheese

I used Galbani ricotta, available at Coop stores in Switzerland

250

grams

sweetened condensed milk

1

tablespoon

rose water

available at an Indian stores or other ethnic stores

½

cup

crushed pistachios

½

cup

slivered almonds

Dried rose petals

optional

1

drop of pink food colouring

I used gel food colour

2

tablespoons

milk powder

Milk powder is available as Magermilchpulver in local Swiss stores
For the cardamom shortbread:
Instructions
Make the shortbread:
Start by preheating the oven to 180 C (350 F). Line a baking sheet or pan with parchment paper.

Prepare the shortbread base by combining the butter, cardamom powder, sugar and salt in the bowl of a stand mixer with a paddle attachment, or using a hand-held mixer.

Gradually add the flour, mixing till it is just combined.

The mixture will be a little crumbly.

Transfer the mixture into the prepared baking sheet or pan and spread by pressing the mixture down firmly, flattening it into an even layer.

Prick holes on the surface, using a fork.

Bake for 13 to 15 minutes, or until very lightly browned.

Keep the shortbread aside and let it cool before you layer it with the kalakand.

While the shortbread is baking, you can prepare the kalakand.
Make the Kalakand:
In a non-stick pan, on low-medium heat, add the ricotta cheese and condensed milk, stirring it gently using a silicone spatula.

Continue heating until the ricotta releases all its moisture and starts to thicken, and begins to form a thick mass. This should take around 12 minutes.

Now add 2 tablespoons of milk powder and stir again, cooking the mixture for a further 5 minutes.

The mixture should resemble more of a mass by now, and less of a paste.

Add the rose water, food color and turn off the heat.

Stir well, until the colour is uniformly incorporated.

Slowly, turn the mixture out over the cooled shortbread.

Add the nuts and rose petals if any, and press down on the mixture gently.

The kalakand will set as it cools.

You can cut it into pieces, using a knife greased in ghee. I got 12 pieces out of this recipe.

Refrigerate if not consuming within 24 hours.
Notes
You could prepare both the shortbread and the kalakand in parallel, just be careful to not over-bake the shortbread, or let the kalakand overheat on the stovetop.
Make sure you prick the shortbread with a fork, else it will puff up in the oven.
Nutrition
Calories:
271
kcal
Carbohydrates:
24
g
Protein:
8
g
Fat:
17
g
Saturated Fat:
8
g
Cholesterol:
39
mg
Sodium:
158
mg
Potassium:
215
mg
Fiber:
1
g
Sugar:
17
g
Vitamin A:
406
IU
Vitamin C:
1
mg
Calcium:
151
mg
Iron:
1
mg