Fennel, sweet corn, and bell pepper crumble with preserved tomatoes is the perfect brunch dish!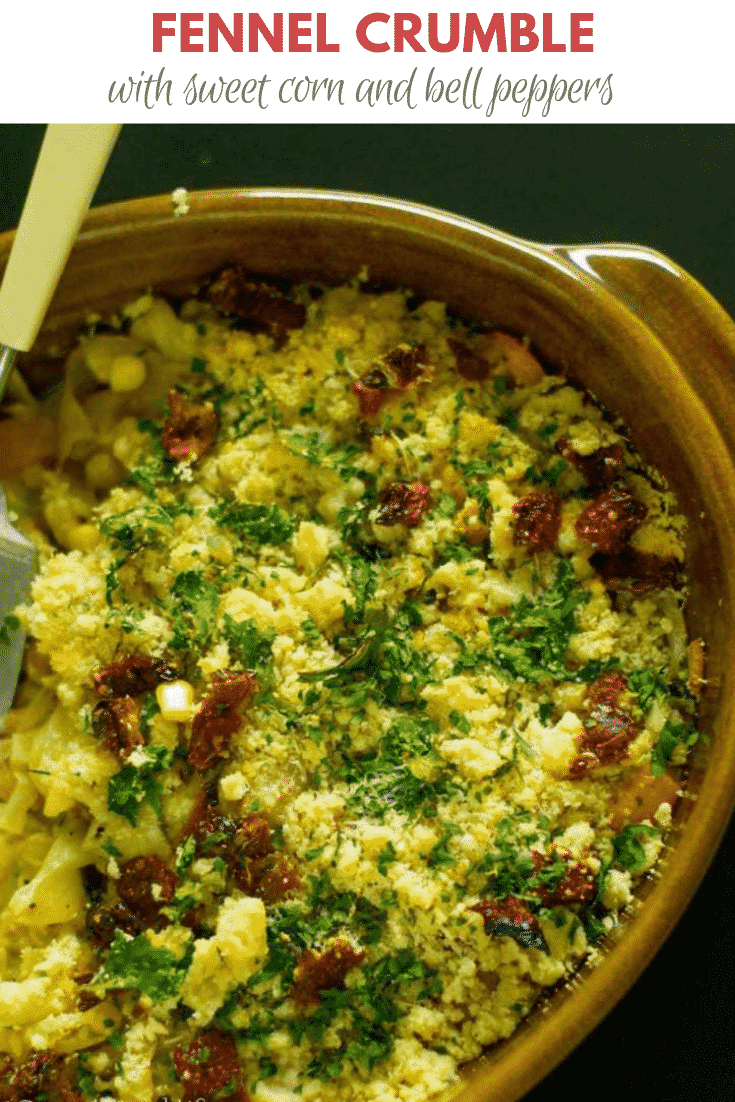 If you happened to look at our weekly meals, it is obvious that we love our vegetables - our weekday meals are usually vegetarian, with a meat or chicken dish making an appearance twice or thrice in a week. Lately, though, I've been sticking to familiar Indian vegetarian recipes for a weeknight dinner or a quick lunch. Indian vegetarian meals are quick to put together with a few staples that are always stocked in my pantry. And then there's also the variety! There are so many Indian vegetarian recipes to pick and choose from, one can never run out of inspiration!
A few weeks ago, wanting to try something new, and looking for some vegetarian inspiration from foreign shores, I thumbed through Ottolenghi's self-titled cookbook a recent cookbook buy. It's hard not to fall for Ottolenghi's style of cooking. The underlying theme is relaxed cooking, with simple ingredients. The pairing of flavours such as garlic, parsley - common ingredients to Mediterranean cooking, are expertly dealt with in the recipes. I have posted before about my love for Mediterranean cooking. The food itself, with bursts of colour, pops of flavour and generous sprinklings of herbs, look so inviting, you are almost tempted to call your friends and invite them over to join you!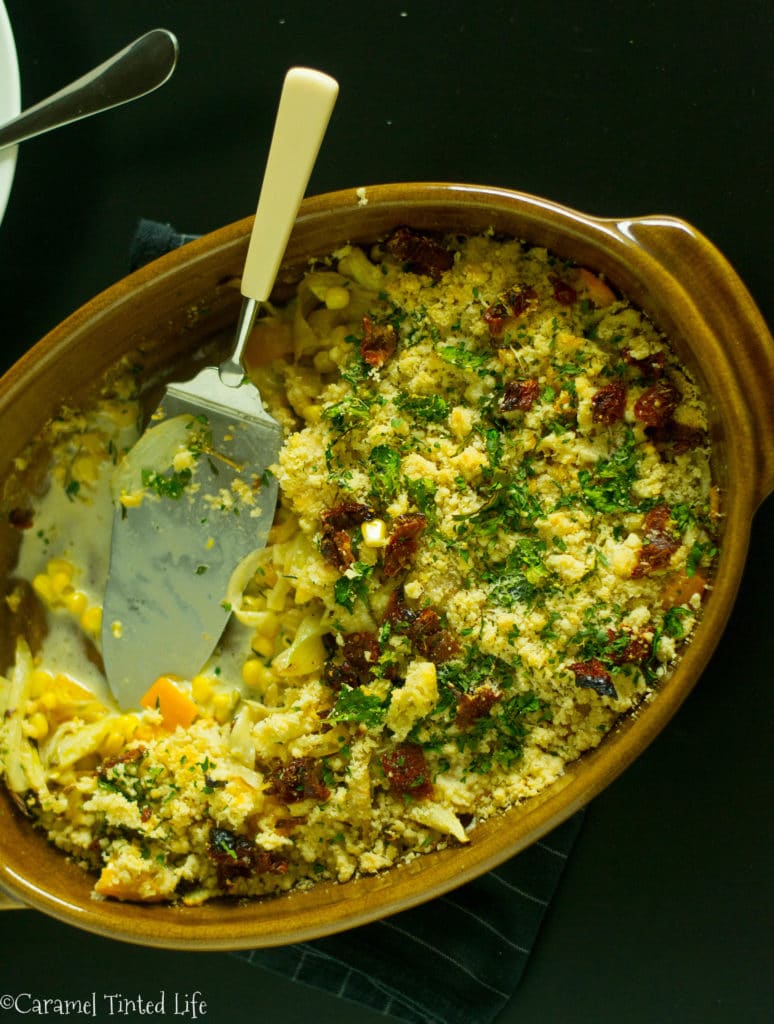 As I dove into Ottolenghi's wonderful book, I was drawn to this fennel crumble recipe. I love the aniseed flavour and subtle sweet tones of fennel. I wonder why I don't cook more often with fennel! I also like the fact that this crumble is on the lighter side and feels less like a heavy gratin and more like a hearty salad. A few weeks ago, I made the recipe, following the instructions in the book. The book calls for thinly sliced fennel to be baked in cream, with a crumble topping. The resultant dish is delicious, however, the fennel remained a little too crispy and firm for my liking. So I made it again, with a few tweaks, and a few additional ingredients thrown in, and I was mighty pleased with how it turned out!
How to make this fennel crumble:
I sauteed the fennel in a skillet with olive oil and chopped garlic, let it caramelise a little, and then added in some bell peppers, sweet corn and cream. I topped it with a crumble made of spelt flour instead of all-purpose flour. I threw on some dried and preserved tomatoes and chopped parsley and baked it. Verdict: I loved this version! The crumble topping is mildly sweet and cheesy, and the tomatoes give it just the right amount of savoury kick. I think this is a perfect dish for a brunch, with some dry white wine on hand. You could pair it with roast meat, as the two would make excellent bedfellows, but it certainly is a stand-out dish on its own!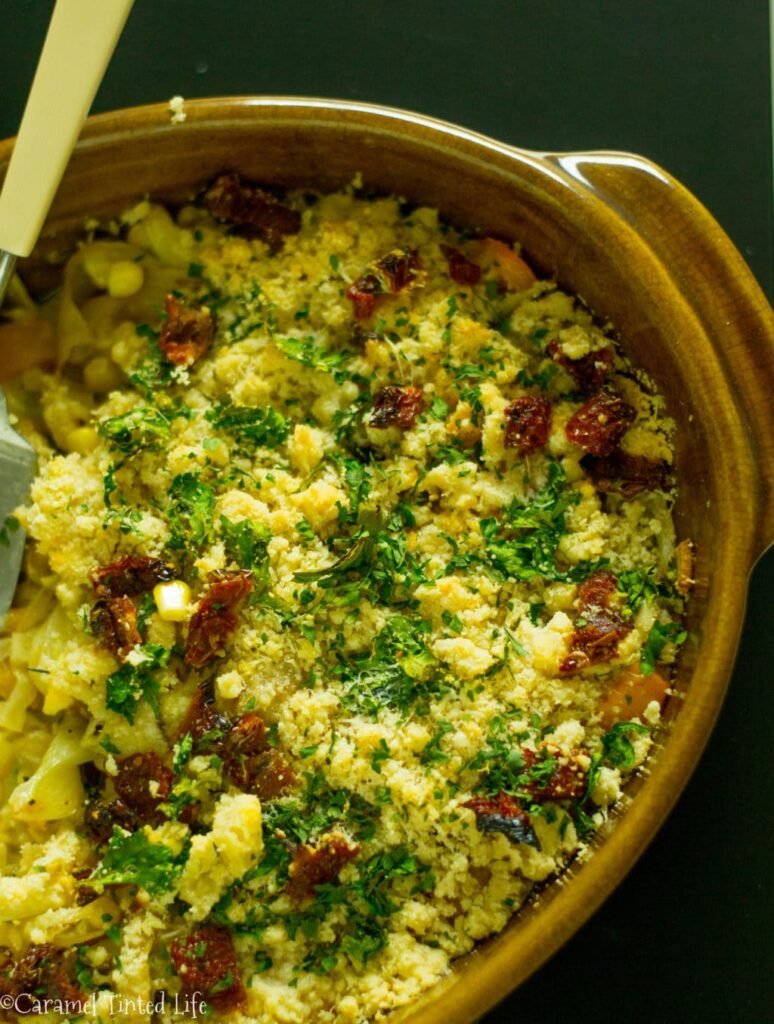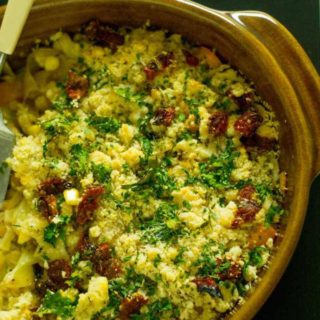 Fennel Crumble
Fennel, sweet corn and bell pepper crumble with preserved tomatoes is the perfect brunch dish!
Ingredients
2

fennel bulbs

2

garlic cloves

Olive oil

1 teaspoon

1

medium bell pepper

cubed

Corn kernels from 1 sweet corn

1/3 - 1/2 cup kernels

Salt and freshly ground pepper to taste

Around 2 tablespoons of finely chopped parsley

or used dried parsley

1

cup

heavy cream

35% fat content
For the crumble:
100

gm or 3.5 ounces flour

spelt flour or all purpose flour

70

gms or 2.5 ounces cold

cubed butter

1

teaspoon

sugar

50

gms or 1.7 ounces grated parmesan

2-3

dried and preserved tomatoes

chopped
Instructions
Finely slice the fennel, and finely dice the garlic cloves

Preheat the oven to 180 C.

Heat oil in a skillet.

On medium heat, saute the fennel with the garlic for around 7 minutes until the fennel shows a little caramelisation. It should have softened a little. Add the bell peppers and saute for another couple of minutes. Turn off the heat. Toss the fennel, garlic and bell pepper with some salt, pepper and 1 tablespoon parsley. Transfer it to a baking dish. Pour the cream over and keep aside.
Prepare the crumble:
In a food processor, or working quickly with your hands, process the flour with the butter and sugar. Make sure there are no lumps of butter. Mix in the cheese and combine.

Scatter the crumble over the fennel mixture, evenly. Sprinkle 1 tablespoon parsley over the crumble topping and scatter the chopped preserved tomatoes over.

Bake at 180 C for 15 minutes, until the topping has a light golden colour.