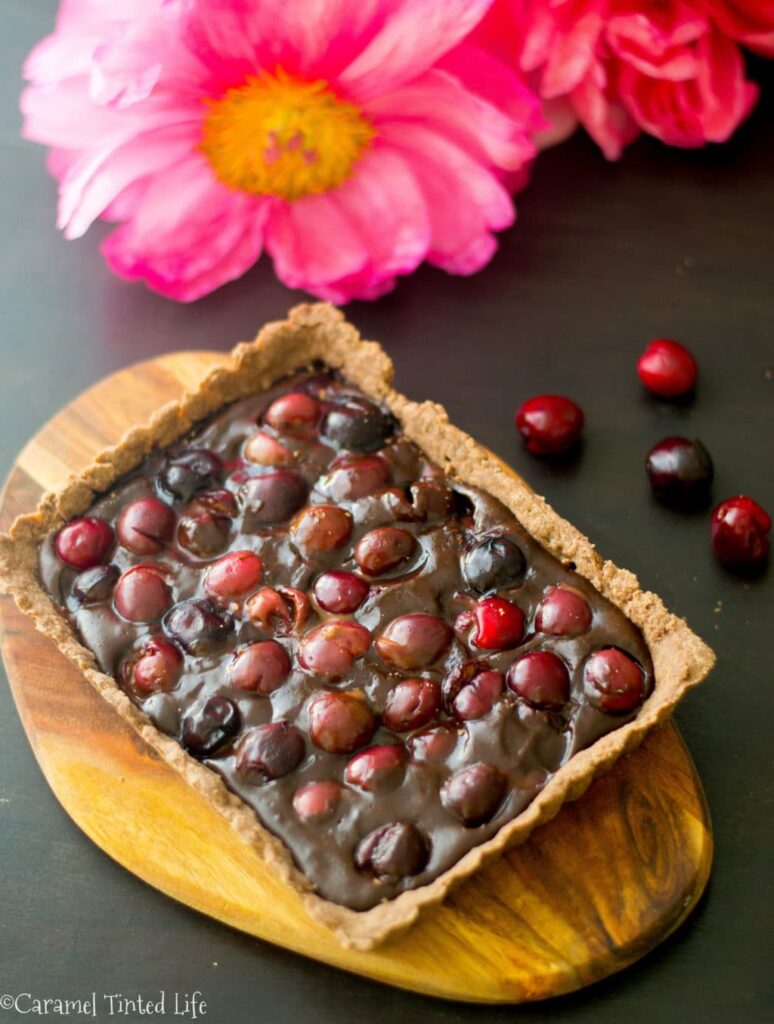 Cherry season has been on for more than a month now. I think this is my favorite seasonal fruit in this part of the world. In India, mango season is around the same time, and is usually a time for lazy summer holidays spent reading a comic, swatting the occasional fly, and sucking on juicy mangoes, unapologetic about the mango juice dribbling down and staining our clothes! In some ways the cherry season here is similar, except that there ain't any fly-swatting going on here.
Heaps of cherries have been brought home and devoured over many a lazy afternoon. We had a heat wave recently, which made me almost long for the cold weather. One has to be careful what one wishes for, we are now back to chilly days and rain-showers.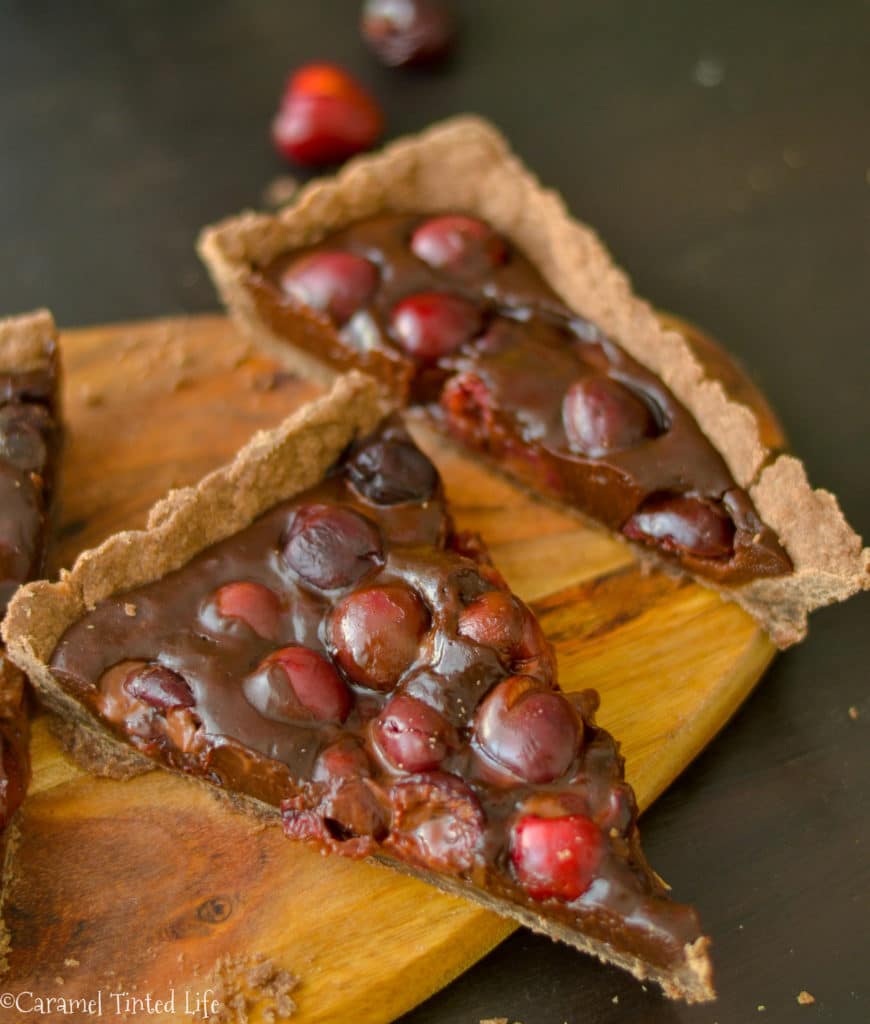 Some of those cherries found their way into this gorgeous soft-chocolate tart one day. I made this tart a few weeks ago, and completely delayed writing about it sooner. Good things shouldn't be made to wait around for too long!
Imagine biting into a tart with a firm, yet crumbly crust which yields a silky, soft chocolate filling, with some sweet and tart cherries cutting through the richness of the chocolate. You don't have to love chocolate like I do to enjoy this tart, it is such a tease of a tart, it knows just how to tempt you! What I personally like is that this tart isn't quite as rich or chocolate-dense as chocolate tarts typically are. The flavor of chocolate in in the crust is very subtle, using just some cocoa and the use of creme fraiche in the filling balances out the density of the chocolate.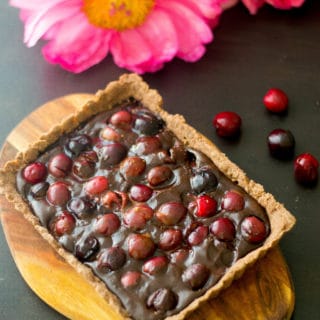 Soft chocolate and cherry tart
A play of contrasting textures, this tart is firm and crumbly on the outside and silky soft inside. A total tease!
Ingredients
For the Shortcrust Pastry:

200

grams

all-purpose flour

2

tablespoons

cocoa powder

2

tablespoons

icing sugar

1

pinch

of salt

150

g

very cold unsalted butter

diced

2

tablespoons

iced water

For the filling:

3

tablespoons

crème fraîche

200

grams

dark chocolate

at least 70% cocoa

25

grams

butter

1

teaspoon

granulated sugar

1

egg

1

cup

pitted cherries
Instructions
To Make the Shortcrust Pastry:

(This recipe is for making a 9 " pie crust, but I used a 4" x 6" pie pan, and used the leftover pie dough to make individual mini pies)

Transfer the cocoa powder, icing sugar, flour and salt into a mixing bowl, or into a food processor. Add the chilled butter. Use the tips of your fingers to mix in the ingredients so that the mixture resembles coarse breadcrumbs. Work quickly, so that the warmth of your fingers doesn't soften the butter. A tip I follow is to keep transferring the ingredients into the fridge if I feel they are warming up.

Add the iced water into the flour and butter mixture.

At this point, its best to work with a pastry cutter, but since I don't have one, I just use my hands to bring the dough together. The mixture should hold easily, once combined.

On a cool bench-top, lightly knead the pastry with your fingertips for a few seconds. Shape the pastry into a disc, wrap well in plastic wrap and place in the fridge for 20 minutes to rest.

Once rested, press the pastry dough into the pie pan you are using, instead of rolling it out. This helps in attaining a more crumbly crust.

Transfer the tart pan to the freezer and let it sit for 10 minutes. In the meantime, begin preheating the oven to 180C.

Once chilled, fill the crust with dried beans, and bake it at 180C for 20 minutes untill firm.

Once done, take out the pan, and let the crust cool down while you prepare the filling.

For the filling:

Melt the chocolate and the butter in a bowl over simmering water (also known as the double boiler method) stirring occasionally. As soon as it starts to melt, remove it from the heat and stir. Once there is no trace of any lumps, fold in the crème fraîche.

In a separate bowl whisk the egg and the sugar. Pour this into the chocolate mixture, mixing it well.

Pour this filling into the prepared and cooled crust, and bake for 6-7 minutes at 180C.

Then add the cherries on the top of the semi-baked tart filling and continue baking for a further 6-7 minutes at 150C.
Notes
When using ice-cold water for any pie crust, make sure this is not just cold water, but that the water that has plenty of ice in it. A tip here is to add ice to your measuring cup and then pour in as much water as the recipe calls for. You can use a little more than 2 tablespoons of water, to bring the dough together.
Make-ahead tip: make the tart crust well ahead in advance, and keep it in the freezer until you are ready to bake it.
If you like this recipe, Pin here for later: