Bacon is cooked down with cranberries, red onions, and molasses, and reduced to a sweet and savory relish that is perfect when served in mini vol-au-vents.

Its those last few days before Christmas and the holidays take over. Christmas in a Swiss town has its own charm. Baden has a gorgeous display of Christmas lights that are lit at the end of November and stay on till January 6. The local library hosts a 'Guetzli' or Swiss cookie decoration event and fondue huts make their appearance. And as a bonus, this year, we've had our fair share of snow before Christmas, a first for me.
Our Christmas menu is one that I usually plan well in advance, writing down menu ideas and making shopping lists. This year, we are taking a vacation during Christmas break - a first for us. So, no meal planning, no long shopping lists, just some good family time.
Not having to make an elaborate meal for Christmas doesn't mean that I stop recipe testing for Christmas. One ingredient that always makes its way to my Christmas menu is bacon. I usually make bacon-wrapped dates every year, every Christmas. This year, I tried making some bacon and cranberry jam, and served them in store-bought vol-au-vents.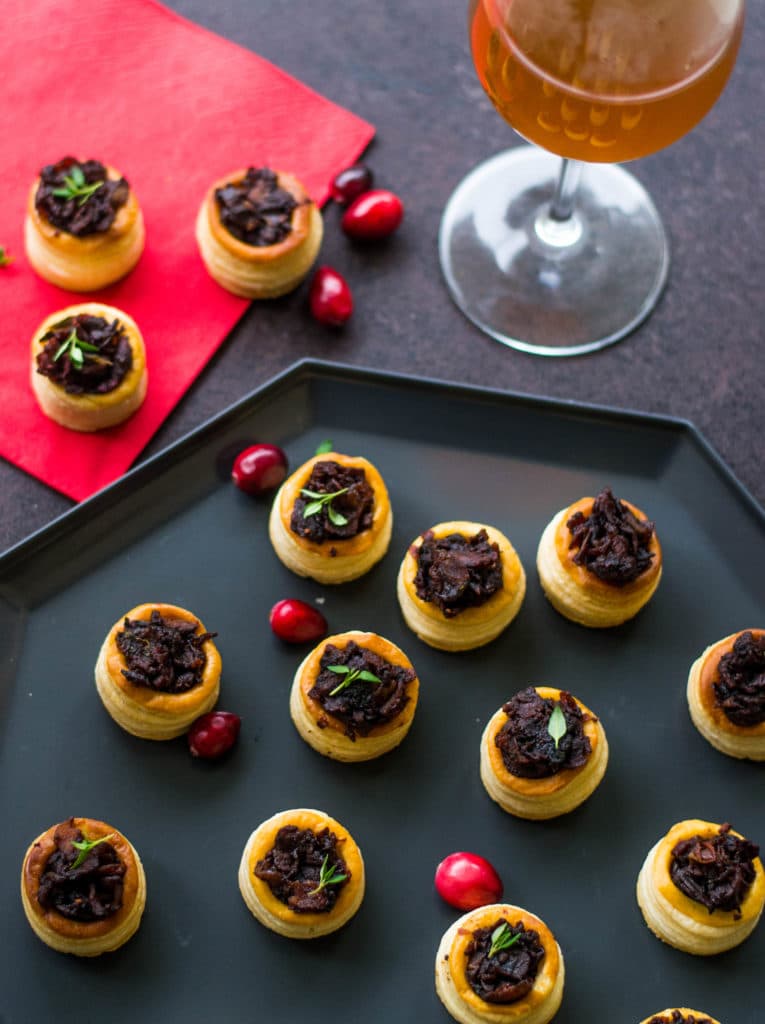 This relish is just as good as it sounds. Slow-simmered bacon, cranberries, red onions and spices come giving you a delicious mix of sweet, savoury, salty flavours in every bite. This jam makes for a fantastic topping for just about anything – crackers, bread, puff pastry, etc.
I imagine this jam would be perfect served in a sandwich, or just plain slathered on toast for breakfast. But I think serving it as an appetizer for a party would be just fitting. This recipe can be made ahead and stored in the refrigerator for up-to a month. On the day of the party, just fill up store-bought vol-au-vents with the jam, garnish with a sprig of thyme and there you have it - a winning appetizer without breaking into a sweat!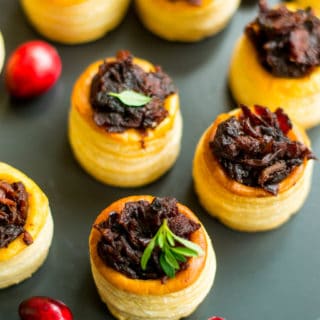 Bacon and Cranberry Jam vol-au-vents
Bacon is cooked down with cranberries, red onions and molasses, and reduced to a sweet and savory relish that is perfect when served in mini vol-au-vents.
Ingredients
230

grams

streaky bacon

1

large red onion

diced

1

large garlic clove

grated

1

cup

cranberries

fresh or dried

A teaspoon thyme leaves

fresh or dried and a few sprigs fresh thyme for garnishing

1

teaspoon

molasses

1/3

cup

apple cider vinegar

1 1/2

tablespoon

brown sugar

Freshly ground pepper

1/3

cup

water

Store-bought mini vol-au-vents
Instructions
Chop up the bacon and add it to a heavy-bottomed pan, cook it on medium heat until the fat renders and the bacon is crisp. This should take 8-10 minutes.

Now, empty the contents of the pan into a strainer with a bowl under it, to strain the rendered fat.

Once the bacon is drained of fat, transfer into the same pan,and add the onions, garlic and cook for another 10 minutes until the onions are translucent and soft.

Then add the cranberries, thyme leaves, molasses, apple cider vinegar, brown sugar and cook on low heat for an additional 10 minutes. Stir regularly, adding water a tablespoon at a time, to the pan, which will prevent the jam from drying out.

Once the mixture is reduced, add the pepper and stir it in.

After the mixture has cooled down, you could process it in a blender to give it a smooth, jam-like consistency, or leave it as is. I prefer retaining the jam as is. The texture of the crispy bacon and the soft onions go well together.
Notes
1. If you prefer, you could keep the bacon fat instead of draining it. Simply add the rest of the ingredients and continue cooking.
2. You could amp up the flavor by adding some balsamic as well. I simply didn't have this on hand, but I highly recommend you add a splash if you have some.
3. To make it more of a jam, transfer to a blender and pulse a few times. I prefer the jam as it is, but if you like a smoother texture, go ahead and blend the jam once it has cooled.
4. This recipe was just enough for 20 mini vol-au-vents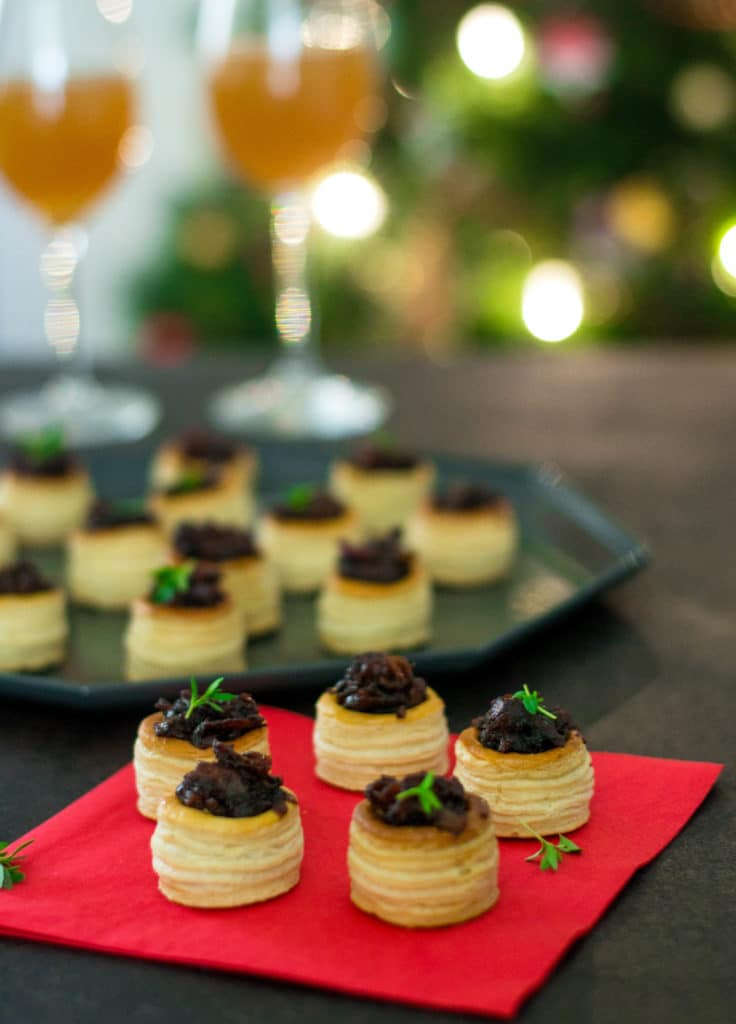 If you like this recipe, pin here for later: