Linzer cookies or Spitzbuben are classic Swiss cookies made with buttery almond shortbread cookies sandwiched with jam in the center. The cookies are finished with a dusting of powdered sugar, and are popular through the year, but especially at Christmas time.
Spitzbuben are such a classic treat for the holidays! Shortbread cookies made with ground almonds and flour and sandwiched with jam in the center, and finished off with a dusting of powdered sugar. My kids pick them over any other cookie at Christmas time. Its hard for me to pick a favorite cookie, but I definitely find thee jammy treats irresistible.
Also known as Linzer cookies in Austria and many other regions, the German and Swiss name for these cookies are Spitzbuben - which translates to 'little thugs'. The traditional recipe for Spitzbuben or Linzer cookies calls for raspberry or apricot jam in the center for the filling. In this recipe, I've replaced this with cherry jam and made one batch with mango jam.
I've seen some versions of Linzer cookies made with a Nutella filling. I definitely prefer the tarty jam filling over any other filling, but feel free to go for any filling of your choice.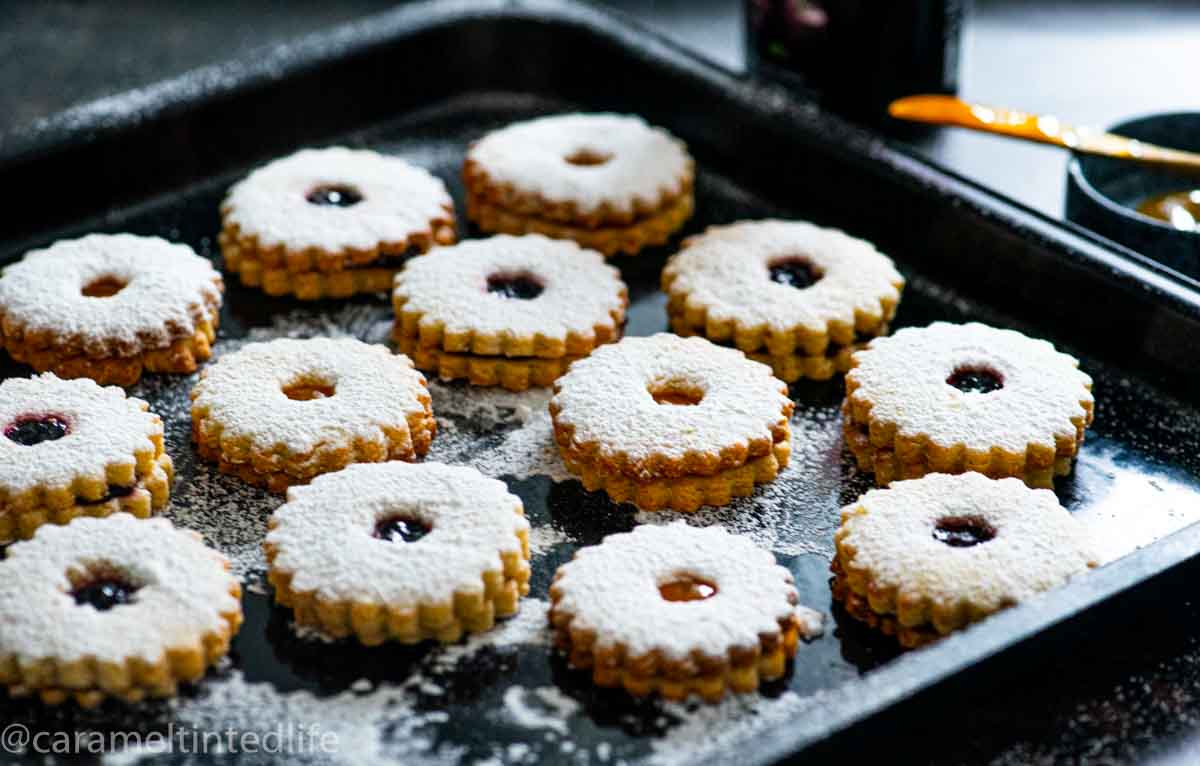 What sets apart Linzer cookies and makes them so unique are the combination of jammy center with buttery shortbread. The shortbread itself is made with ground almonds added to the flour - giving them that extra depth of flavor and nuttiness.
The shortbread is enriched with egg, in some recipes, only the egg yolk is added. I have adapted a recipe by Dorie Greenspan, which uses a whole egg, mixed with a little water.
The cookies keep well for upto a week, if stored in an air tight container at room temperature. The cookie dough can be frozen for upto 2 months.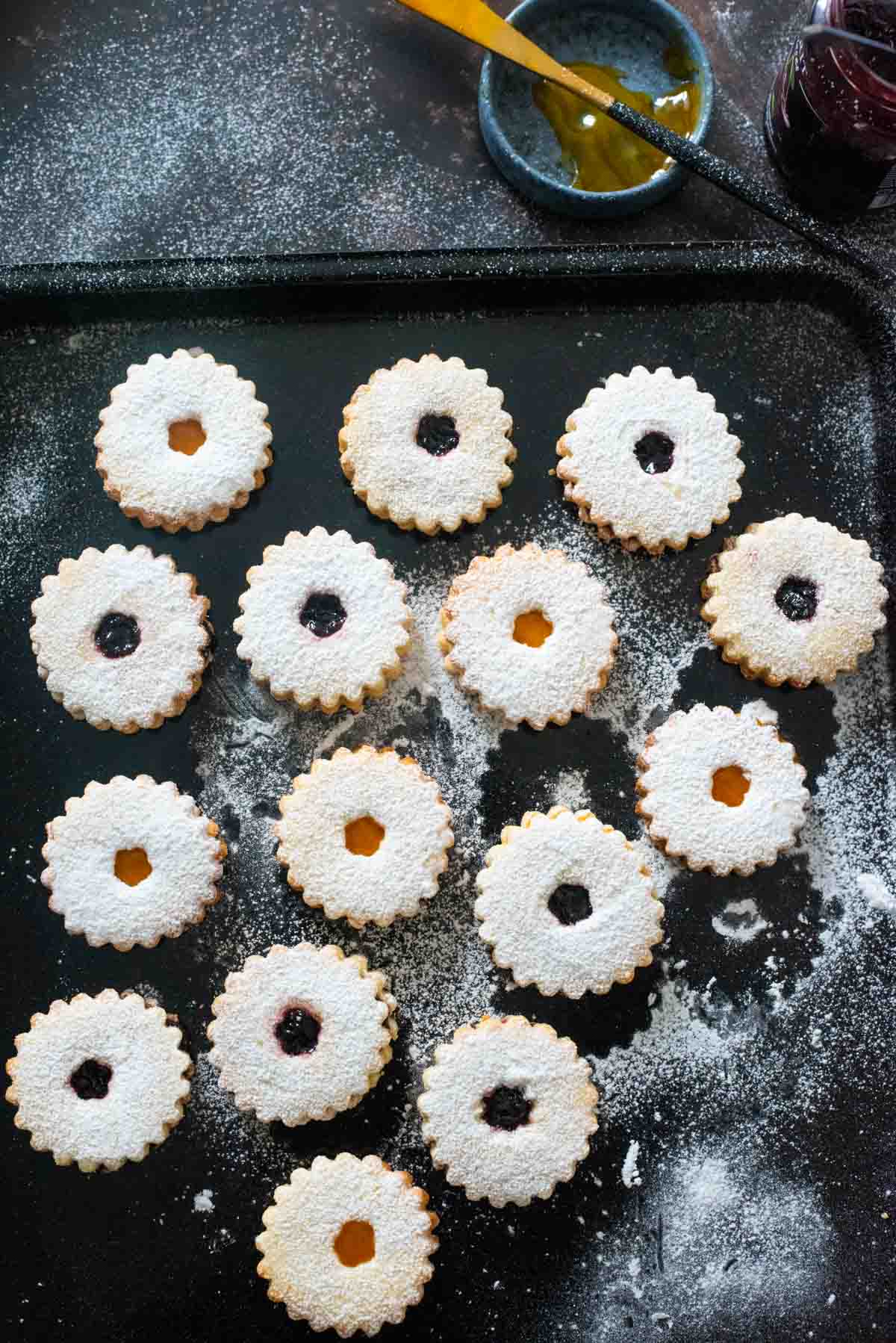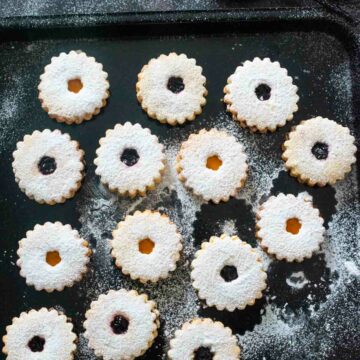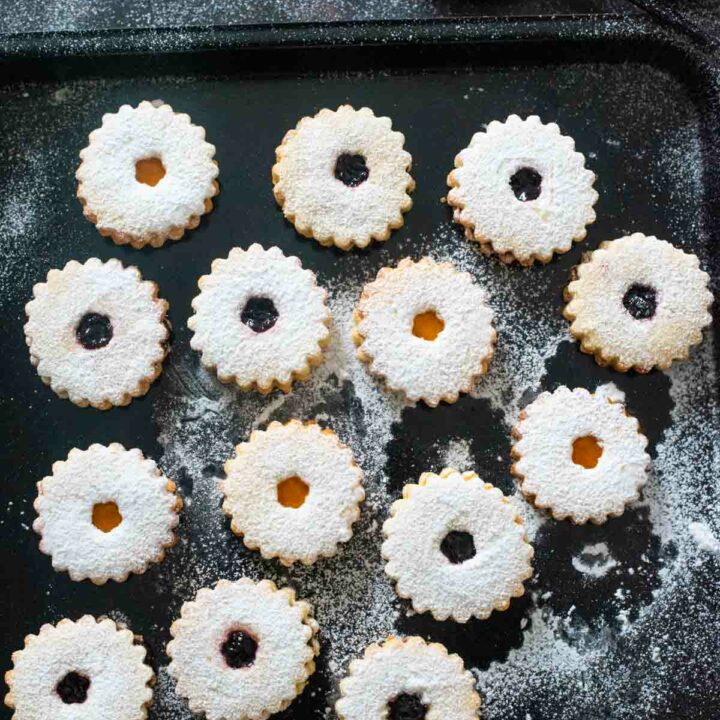 Linzer Cookies (Spitzbuben) Recipe
How to make Spitzbuben, aka Linzer Cookies
Ingredients
2

cup

All purpose flour

1

Ground almonds

1

stick

Butter

110 grams, room temperature

1

Egg

0.5

cup

Sugar

Jam

as needed

I

Icing Sugar

confectioners sugar/powdered sugar
Instructions
Add the ground almonds to the all purpose flour in a mixing bowl. Add salt, mix together and keep aside.

In a stand mixer or electric mixer bowl, add the butter and sugar. Beat until creamy, scrape down the bowl as needed.

In a mixing bowl, beat the egg with 2 teaspoons of water. Add this mixture to the bowl with the creamed sugar and butter.

Beat to just combine the egg mixture with the butter and sugar.

Add the dry ingredients that you kept aside in the first step, slowly to the bowl, in two batches. Mix to just combine, without overmixing. As soon as the dough comes together, stop mixing.

Divide the dough into two portions, shape them into balls and wrap in cling film. You can either refrigerate the balls for 2 hours of keep them in the freezer for 40 minutes to firm up.

Pre heat the oven to 375 F. Line a baking sheet with parchment paper.

Using cookie cutters, cut out shapes - classic linzer cookie shapes or any shape that you like. On alternate cookies, cut out the center using a smaller cookie cutter.

Bake the cookies for 10-12 minutes at 375 F. Take out the cookies and cool completely on a rack.

To finish the linzer cookies, dab a little jam on the center of a cookies, sandwich with a cookie with a cut-out center. Dust the sandwiched cookie with some icing powder.
Nutrition
Calories:
27
kcal
Carbohydrates:
6
g
Protein:
1
g
Fat:
1
g
Saturated Fat:
1
g
Polyunsaturated Fat:
1
g
Monounsaturated Fat:
1
g
Trans Fat:
1
g
Cholesterol:
8
mg
Sodium:
4
mg
Potassium:
3
mg
Fiber:
1
g
Sugar:
6
g
Vitamin A:
13
IU
Calcium:
1
mg
Iron:
1
mg