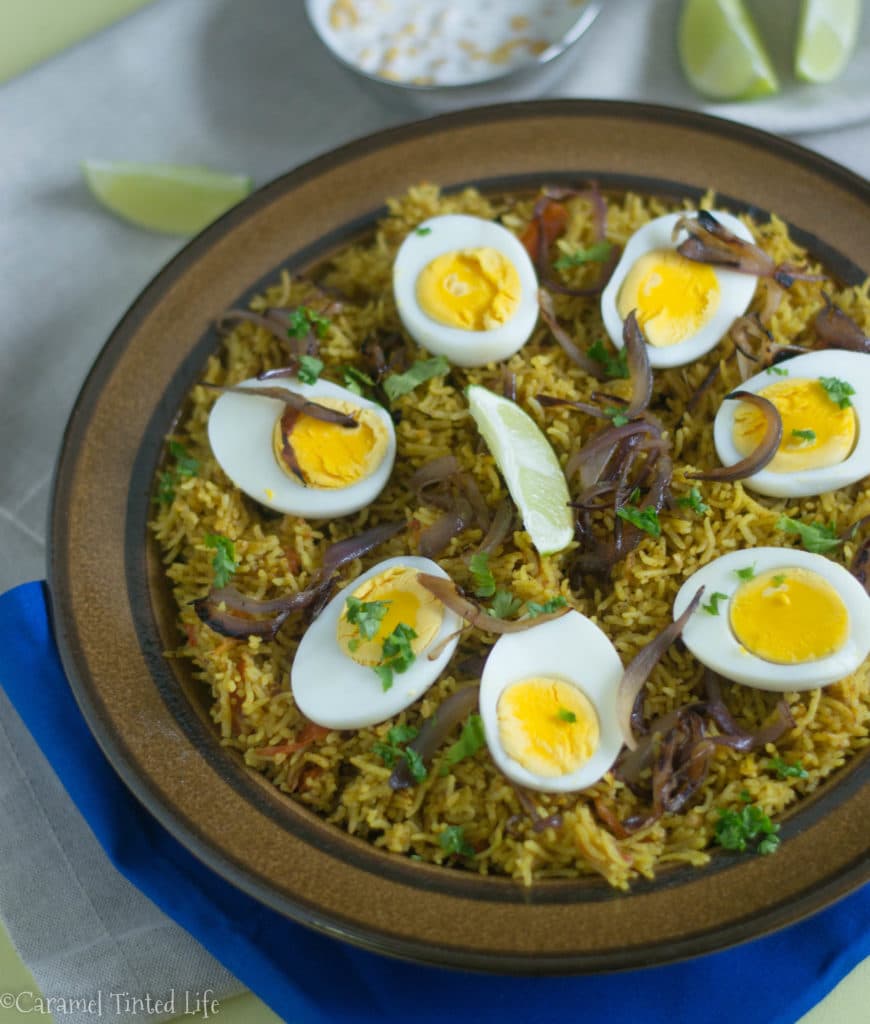 Some Sunday lunches are meant for elaborate meals, long brunches and lazy afternoon siestas. And on some Sundays, the spirit is more than tempted, but the body is weak, and certainly not in the mood to slave over the stove for more than an hour. This egg biryani came to the rescue this Sunday and checked most boxes - easy, leisurely and indulgent. I would't say its a quick recipe, because it did take an hour to make including prep time, but it really doesn't need much supervision, especially if you use a pressure cooker, or a rice cooker.
This biryani is a deviation from traditional biryani recipes. In India, there are numerous regional varieties of biryani. A very popular one is the dum biryani, which is made with in a pot sealed with home-made dough. The dough seals in moisture and the seal is broken at the dining table with flair, releasing all the delightful flavors trapped inside. Indian restaurants all over the world have popularized this dish.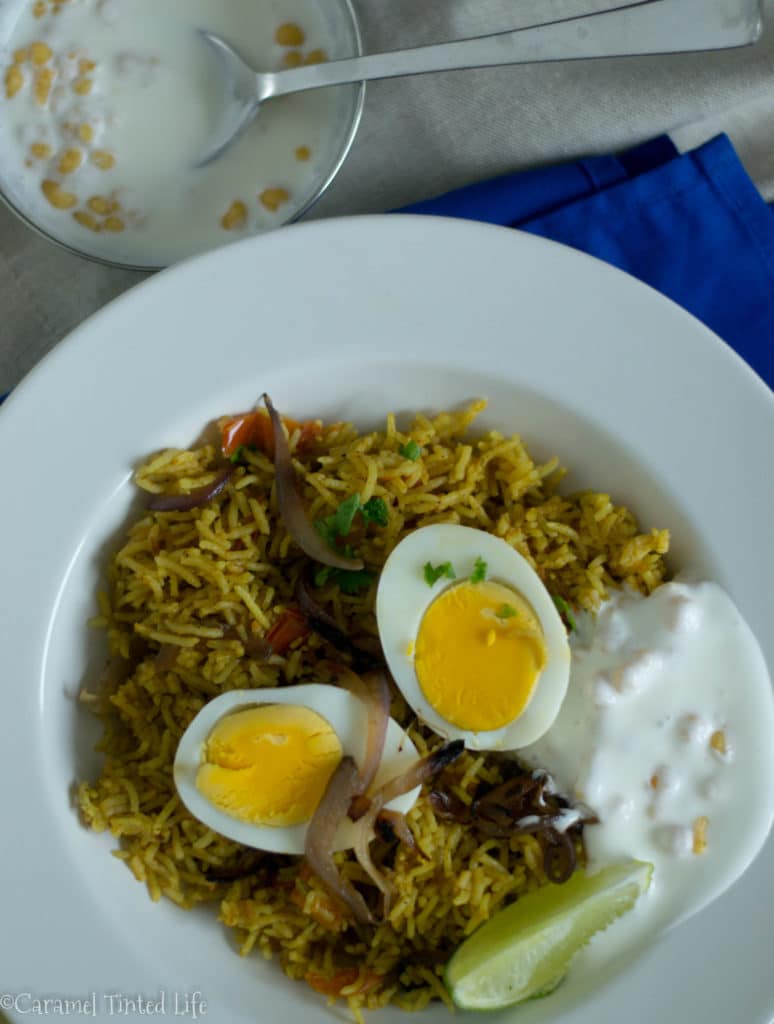 In Kolkata, biryani is often made with potatoes along with meat, very likely made this way originally to save on meat. In Calicut (Kerala), biryani is prepared with par-boiled rice instead of the more common basmati rice. Authentic biryani recipes can sometimes come across as very daunting, there is a fair amount of spices used, layering of meat and rice involved. Overcooking the rice is a cardinal error, and cooking times are crucial.
There are several stories behind the origins of Biryani in India, and one that I think sounds most rational is that biryani is derived from the dish 'pulao' which was brought to India via Muslim invaders and traders. The origins of this pulao are humble enough - pulao is said to have been an army dish in medieval Indi. The army, lacking sufficient equipment, would prepare a one-pot dish where they cooked rice with whichever meat was available. I like this story, regardless of whether it is true or not - this is exactly my kind of biryani, one that doesn't really take up much effort or planning, and still results in a perfectly delicious meal!


While I do make a more indulgent biryani on occasion, with chicken, lamb or shrimp, this one with boiled eggs is going to become a regular in our house without a doubt. We enjoy biryani usually with a side of spiced yogurt mixed with either vegetables of deep fried drops of chickpea flour. A squeeze of lime over the biryani, a dollop of raita and Sunday lunch becomes more than just an ordinary lunch.
Egg Biryani
A simplified biryani recipe, which tastes great and is perfect for a leisurely Sunday meal
Ingredients
6

hard boiled eggs

see notes on preparation

2

medium sized red onions

finely sliced

1

tsp

+ 1 tsp Ghee

butter can be used to substitute ghee

2

bay leaves

4 cloves, 4-6 pepper-corns

1

tsp

ginger paste

1/2

tsp

garic paste

1 to

mato

diced

1/2

tsp

corriander powder

1/2

turmeric powder

2

cups

basmati rice

soaked for 20 mins (I used a rice cooker measuring cup which is 180 ml)

Juice of 1/2 a lime

Approximately 1/2 cup corriander leaves

finely chopped

Garam masala

see notes

1

cup

coconut milk

1.5

cup

water

Rainsins and Cashewnuts

optional
Instructions
In a frying pan, fry the sliced onions in 1 tsp ghee, until lightly browned, turning them over every now and then to make sure they brown evenly

In a pressure cooker or rice cooker, heat 1 tsp ghee, and on low heat, fry the whole spices - bay leaves, cloves and peppercorns

Once the spices begin to release their aromas, add the garlic and ginger paste, and fry, stirring for a few minutes

Add the diced tomato and let this cook with the whole spices and ginger and garlic, until the tomatoes are softened. Add the coriander powder and turmeric powder and saute this for a minute more

At this stage, add the pre-soaked rice, along with the coconut milk, garam masala, corriander leaves, lemon juice, water and salt. gives this a good stir, ensuring the rice is mixed well and evenly with all the other ingredients in the cooker/ pot

Cook the rice mixture for 7 minutes in the pressure cooker

If you are using a stove-top pot, cook the rice for around 15 minutes on medium heat, stirring the rice gently, a couple of times, check to see if the rice and is sticking to the bottom. Turn off the heat and let the pot rest for at least 5 minutes before you open it.

The rice should be fluffy, and the grains should be intact

Once done, mix the browned onions into the rice and give it a gentle stir. reserve some onions to sprinkle on the top. Optionally, you could also fry some cashew nuts and raisins in ghee and sprinkle these on top of the rice.

Peel the hard-boiled eggs, slice them in half, and keep aside

To serve, plate the rice in a large serving bowl, garnish with extra browned onions, lime wedges, and the egg slices.

Serve with a bowl of beaten yogurt.
Notes
To make hard boiled eggs, place eggs into a saucepan and pour in water to cover. On high heat, let the water boil, as soon as it begins boiling, turn off heat, cover pan with a lid, and let stand for 12 minutes
I make my own garam masala in small batches and store it in an air tight-jar for use. I follow my mothers's recipe for garam masala - in frying pan, dry-roast (without oil) the following spices: 1/2 cup fennel seeds, 5-6 cardamoms, 6-7 cloves, a 2 inch piece cinnamon, 2-3 pieces of mace. Once the spices are heated, grind them in a high power blender, or coffee grinder. Store the ground spice mix in an air-tight jar and use as needed
A note on using a stove-top pot for cooking the biryani - adding an additional teaspoon of ghee will help in ensuring the rice at the bottom of the pot does not burn
If you like this recipe, pin the image below for later!

I am linking this simple egg biryani recipe to the fabulous folks at:
Full Plate Thursday hosted by Miz Helen