Raita is a delicious side that pairs well with biryani and most Indian rice dishes- from Vegetable Pulao to Dum Chicken Biryani. Made in under 10 minutes, super delicious too!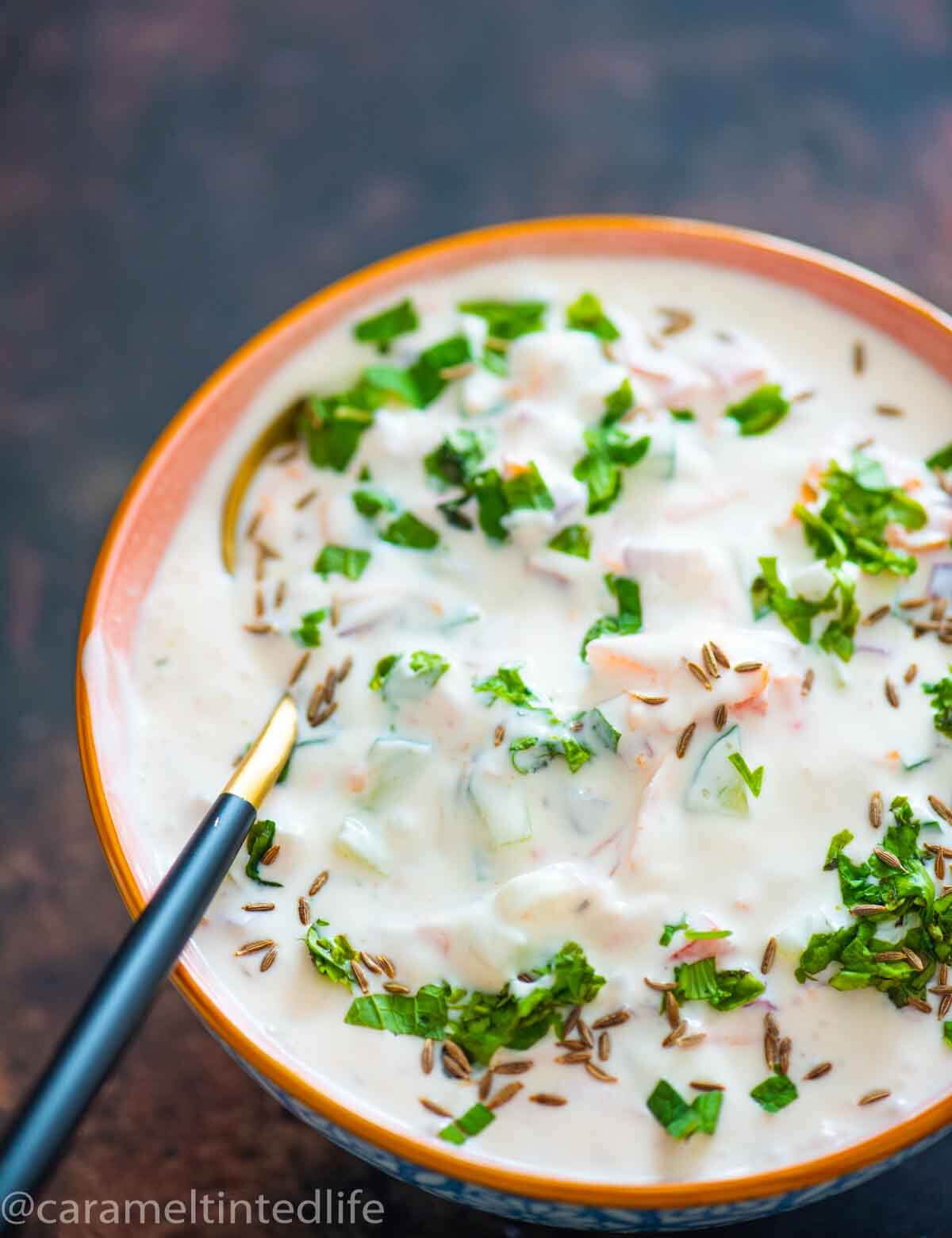 Jump to:
This recipe is too simple to even call a recipe, as it literally comes together in under 10 minutes and can be made by absolute beginners. This 10-minute recipe is super simple, yet such a classic side for Indian dishes.
Raita is the perfect complementary side to mains such as Chicken Biryani or Shrimp Biryani, or simply alongside meat-heavy dishes like Chicken Hariyali Tangdi Kabab or Chicken Kadai. To be honest, raita can be paired with pretty much any meal and you wouldn't go wrong!
My personal favorite pairing is to make raita for biryani. To me, biryani is just not complete with delicious raita to offset all those carbs, spice, and richness.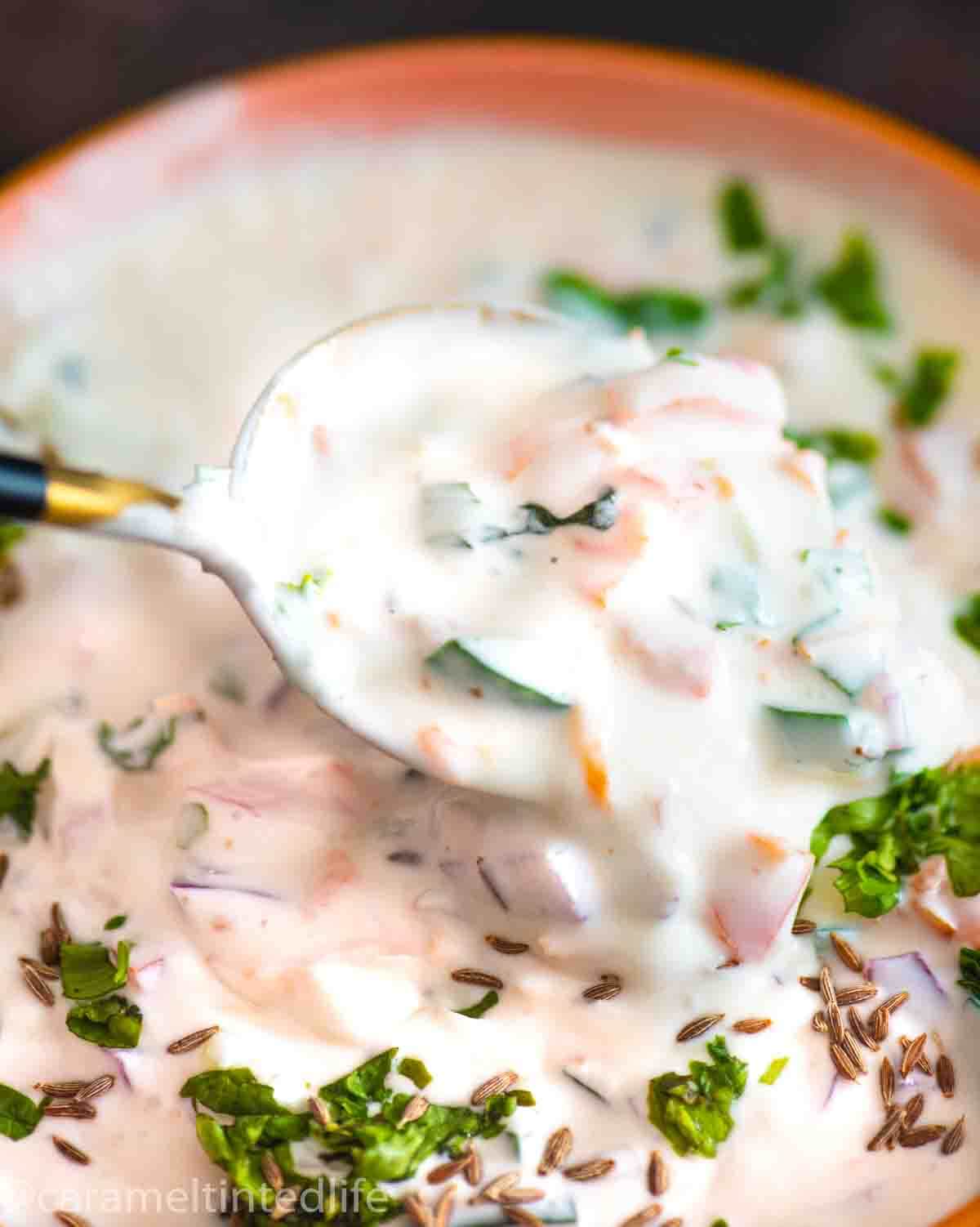 So if raita is so simple, why is it so easy to get it wrong? Raita is so much more than just yogurt mixed in with some veggies – the seasoning for raita can sometimes be difficult to get just right. In this recipe, I'll share my raita spice mix that will make your raita go from average to restaurant-quality!
Ingredients
To make Raita for Biryani, here is what you will need: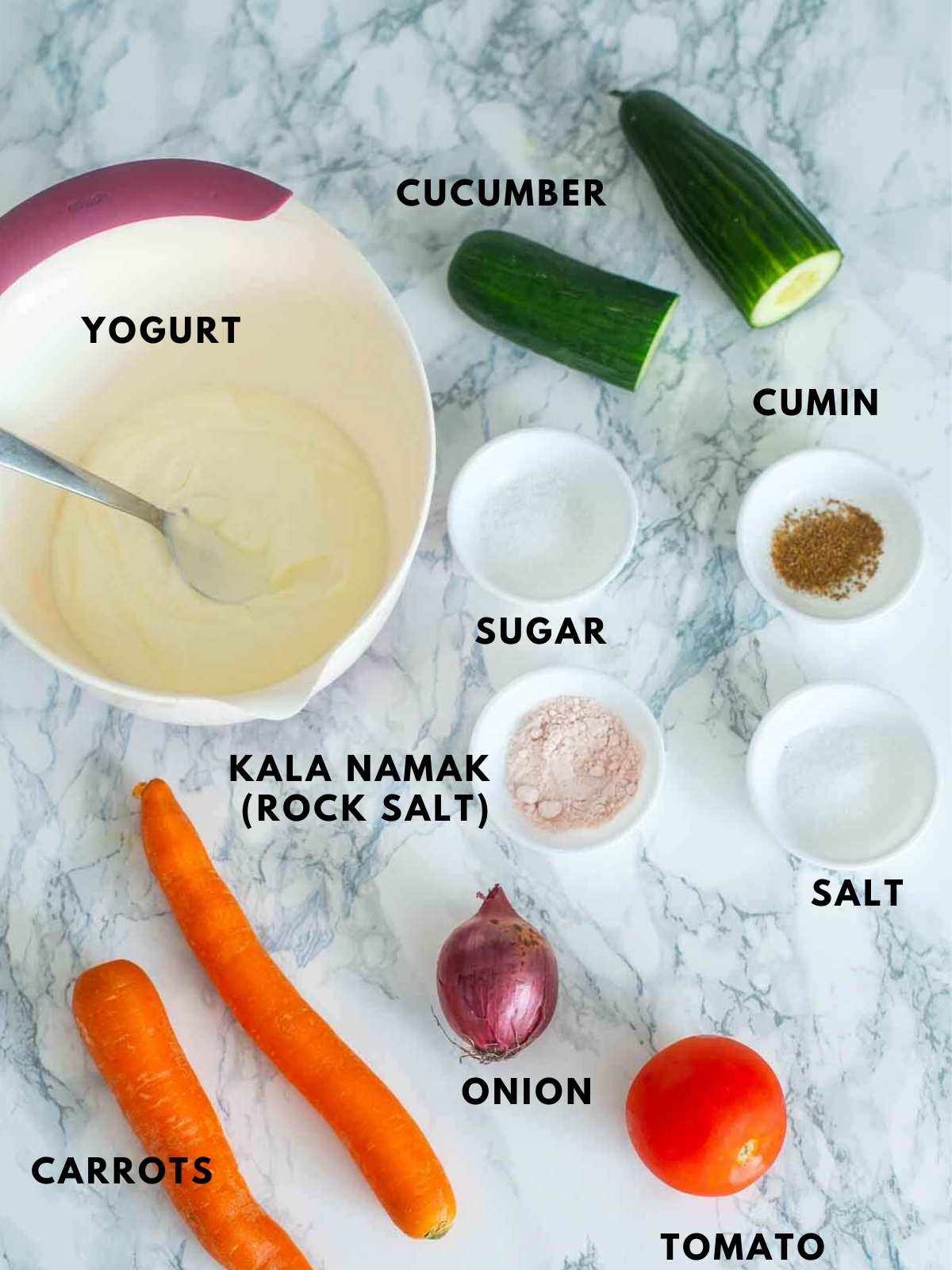 Ingredient Notes
Carrots - I like to gate the carrots (medium, not fine) instead of chopping them.
Yogurt - I use Greek yogurt and add a little water to thin it out, but you can use regular full fat or low-fat yogurt
Kala Namak - This is the one ingredient that really makes a big difference to the taste. Kala Namak is rock salt, aka Himalayan black salt. You can get it at the specialty aisle of most supermarkets or at your Indian grocer.
Veggies - Onion, tomatoes, cucumber, all finely diced.
Seasoning - Regular sea salt and a little sugar are added as per your taste preference. Sugar is optional, but I like a touch of sweetness and always add a little sugar to my onion raita.
Roasted Cumin powder - I always keep a spice jar or roasted cumin powder handy with me. You can make a small batch of powder by dry roasting cumin seeds on a pan until aromatic. Then simply use a mortar and pestle or spice grinder to grind the roasted cumin to a powder.
Step by Step Instructions
To start, keep a large mixing bowl handy. Add the yogurt and all the seasonings. Whisk or beat with a fork to combine to a smooth mixture.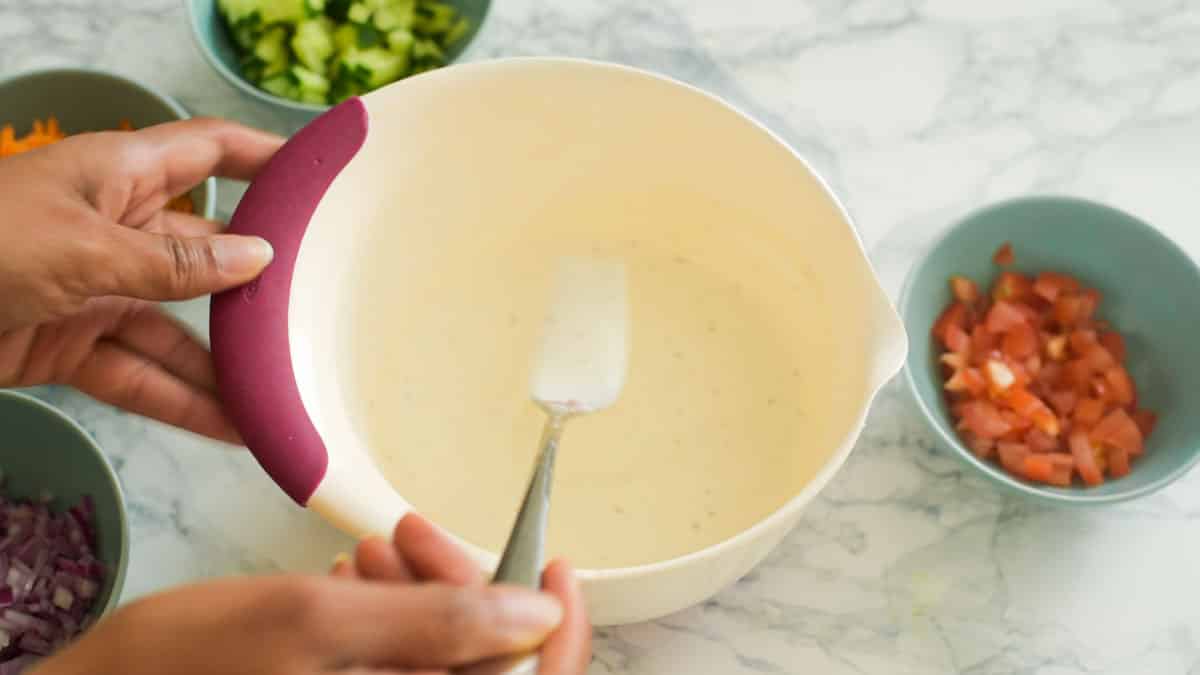 Add in all the veggies - grated carrots, diced tomatoes, onions, and cucumber.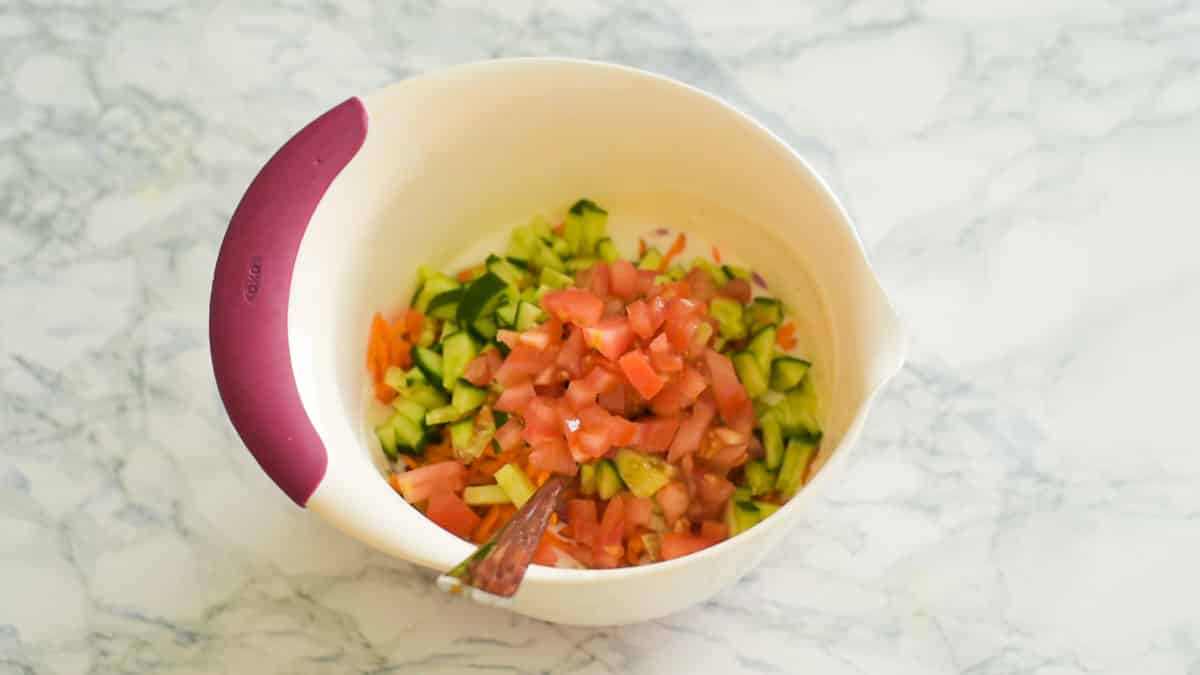 Mix well and combine like this: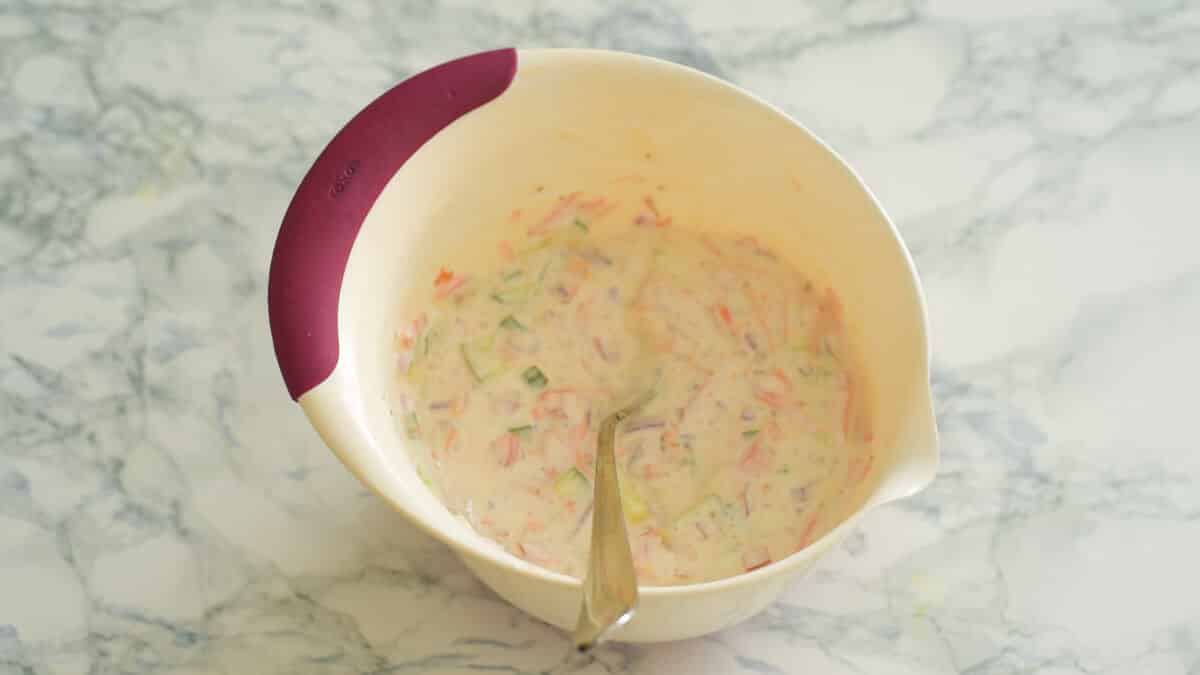 And that's it! Your raita is now ready to be enjoyed with some biryani or pair it with any of your favorite Indian recipes.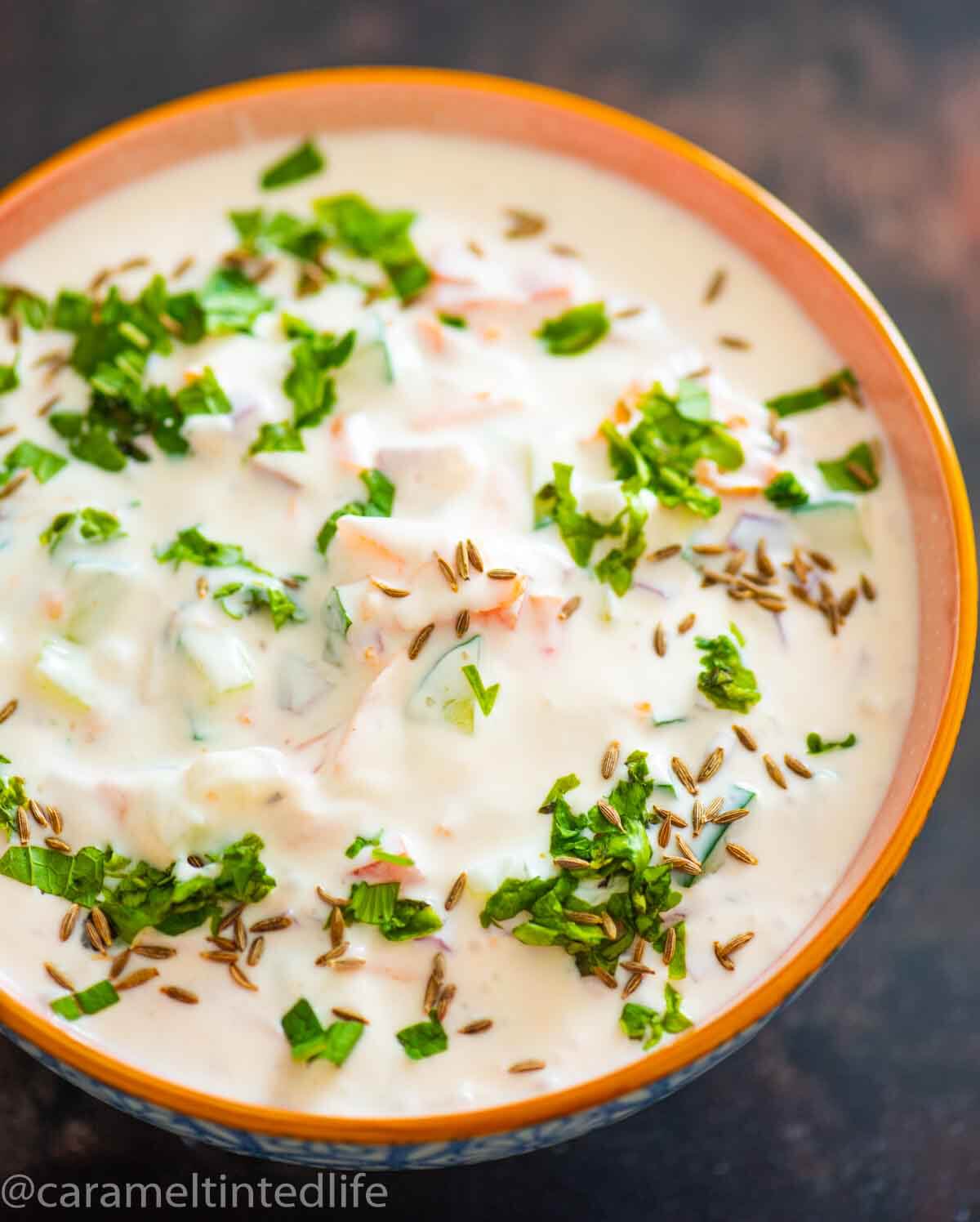 Recipe Variations
The number of raita variations is endless! I could share several here, but these are a few classic raita recipes that you can try:
Onion Raita - Can't go wrong with the classic Onion Raita! The recipe for the raita seasoning remains the same, just omit to add cucumber and carrot, and add just onions and tomatoes.
Cucumber Raita - This is another variation of the classic raita recipe, you can simply omit all other veggies and keep just the cucumber.
Boondi Raita - This recipe is made by adding boondi (deep-fried gram flour snack) to the seasoned yogurt. You can skip the cumin and cilantro garnish.
Burani Raita - Burani raita is a Hyderabadi-style raita, which pairs very well with Hyderabadi Dum Chicken Biryani. In this, minced garlic is added to the beaten yogurt and mixed in. The seasonings are the same.
Frequently Asked Questions
What do you eat raita with?
Raita is a side dish that is usually served with rice-based Indian main dishes or curries. Raita is also very popular is Pakistani and Bangladeshi cuisine for the same reasons - the yogurt helps to counter the spice and richness of the main dishes and balances the palate.
Is tzatziki the same as raita?
Both tzatziki and raita are very similar - both use yogurt as the base ingredient. However, tzatziki is always made with thick Greek yogurt and cucumber, and raita doesn't always have cucumber - there can be onions, or tomatoes or carrots or other ingredients too. Also, tzatziki is seasoned with herbs such as dill or mint or parsley and raita is seasoned with spice powders such as cumin and black salt and sometimes with cilantro.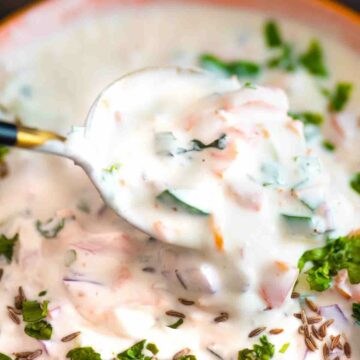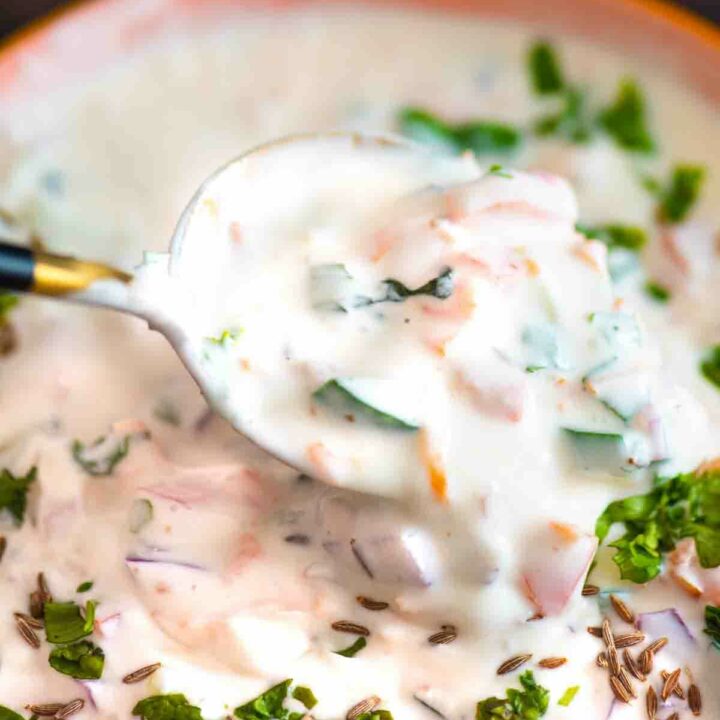 Raita for Biryani
Raita is a super easy and delicious side to many meals. This is an easy recipe for raita for biryani and is an integral side as part of an Indian menu.
Ingredients
2

cups

Yogurt

See notes

½

cup

Cucumber

Diced

½

cup

Tomato

Diced

½

cup

Carrot

Grated

1

teaspoon

Salt

½

teaspoon

Kala Namak

½

teaspoon

Roasted Cumin Powder

½

teaspoon

Sugar
Instructions
Add the yogurt to a large mixing bowl. If using Greek yogurt, dilute with a little water to thin it out.

Add the sugar, salt, Kala Namak, cumin powder and Kashmiri red chili powder, and chaat masala (if using). Using a whisk or a fork, beat to combine.

Add the veggies and mix with a fork to combine. Once mixed well, chill the raita in the fridge for at least 1 hour, and serve cold.
Notes
For the yogurt, regular full-fat yogurt works best. Optionally, you can use Greek yogurt diluted with a little water to thin it out, or use low-fat yogurt as a substitute.
Nutrition
Calories:
90
kcal
Carbohydrates:
9
g
Protein:
5
g
Fat:
4
g
Saturated Fat:
3
g
Polyunsaturated Fat:
1
g
Monounsaturated Fat:
1
g
Cholesterol:
16
mg
Sodium:
654
mg
Potassium:
313
mg
Fiber:
1
g
Sugar:
8
g
Vitamin A:
3035
IU
Vitamin C:
5
mg
Calcium:
159
mg
Iron:
1
mg