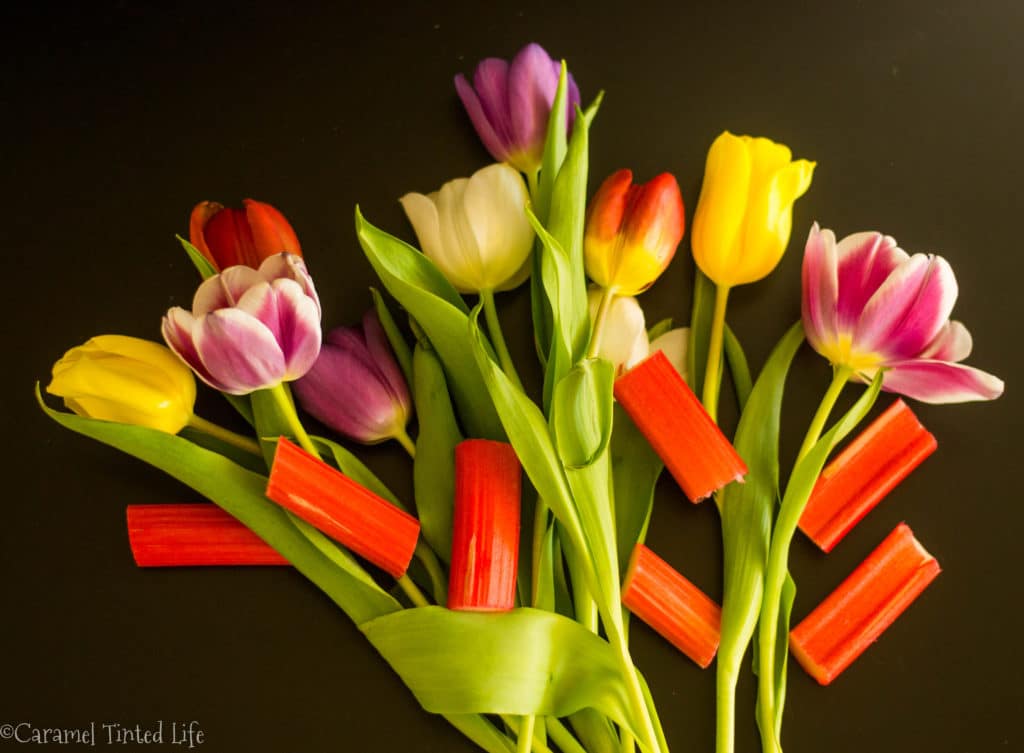 It's finally spring time! And on Monday we set our clocks back by an hour. While daylight savings does jolt our routine for a couple of days, that extra hour of sunshine is certainly worth it. Another thing I love about the season is the arrival of spring vegetables and fruit. Asparagus and rhubarb are everywhere now and are such a sight for sore eyes, or for people like me who are so glad that winter is finally over. My eyes practically lit up when I saw bunches of rhubarb last week at the local Migros.
Growing up, I didn't really know much at all about this wonder vegetable. It was an alien vegetable to me. It was after we moved to Switzerland that I began cooking with rhubarb. And I discovered what a versatile vegetable it is. No wonder, then, that it is quite the darling of spring produce. Rhubarb is such a dream to cook with. A fruit in a vegetable's guise. Very versatile and easy to cook and bake with. It is tart and tastes extraordinarily good when paired with berries or when sweetened with some sugar.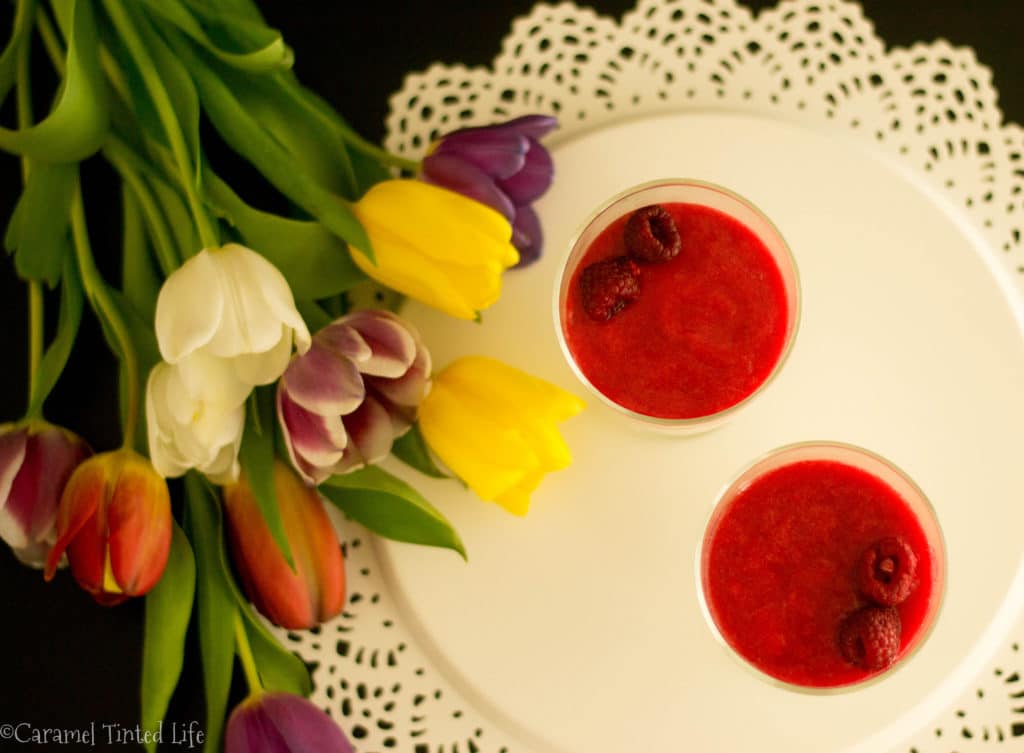 I made this easy dessert by pairing rhubarb with its longtime sidekick, raspberry. I made a compote with raspberries, rhubarb, sugar and a dash of lemon juice. I whipped up some cream cheese with sweetened whipping cream. And that was about it. The tartness of the compote contrasts very will with the sweet whipped cream.
Layer the compote and cream into a dessert glass, and enjoy the lightness of a dessert that screams 'spring'! This recipe is very similar to the classic British 'fool', which is essentially fruit puree mixed with whipping cream.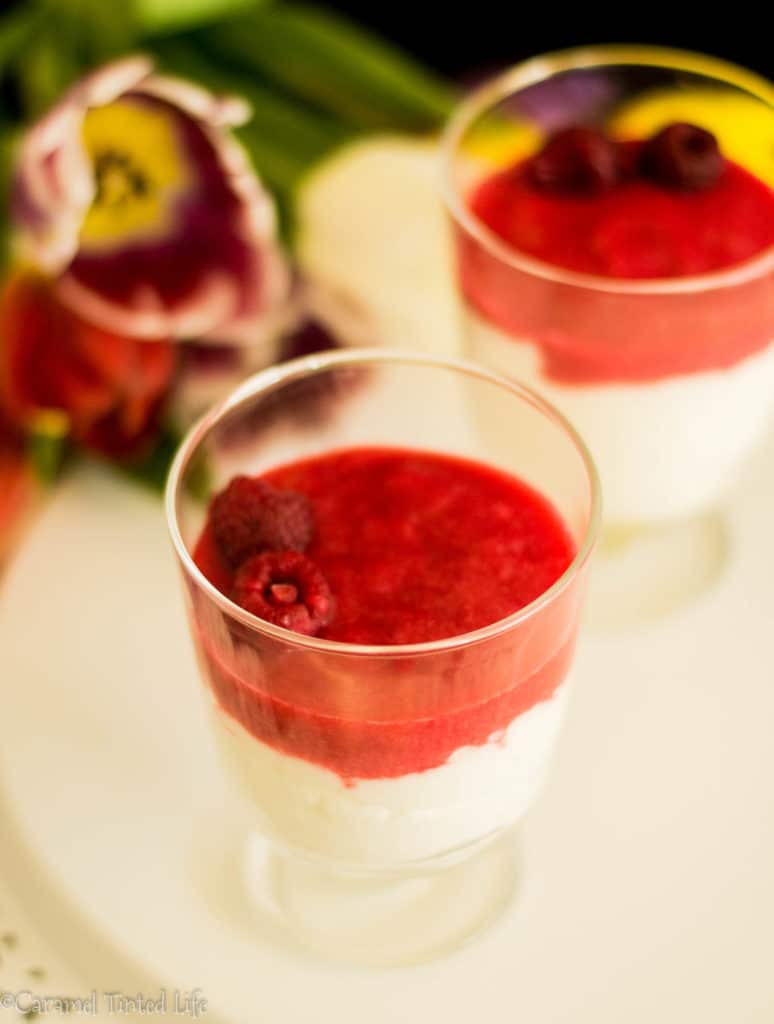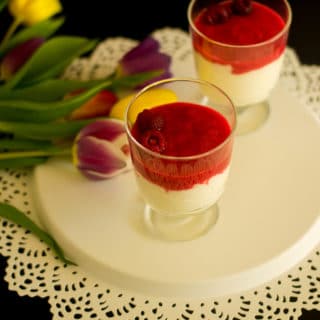 Rhubarb And Strawberry Compote with Whipped Cream
Tart and sweet rhubarb and raspberry compote sits atop a layer of sweetened cream cheese and whipped cream, for a light and delicious dessert that screams 'spring'!
Ingredients
For the rhubarb-raspberry compote:

2

cups

raspberries

fresh or frozen

3

stalks of rhubarb

ends trimmed and cut into 2" long pieces

1 1/2

cup

sugar

Juice of half a lime

For the cream:

1

cup

cream cheese

250

ml

whipping cream

3/4

cup

confectioners sugar
Instructions
Prepare the compote:

In a heavy-bottom saucepan, add the rhubarb, raspberries, sugar and lemon juice and cook on low heat. the rhubarb will soften and release its juices. Stir the mixture and let the fruit break down. In around 15 minutes, the juices would have thickened. Turn off the heat and let the cool to room temperature. Using a sieve, strain the compote if you prefer to have a smoother compote. If not, just give it a good whisk and use it as is.

Prepare the whipped cream:

In the bowl of a stand mixer of hand-held mixer, beat the whipped cream until it is stiff. Set this aside. In a large bowl combine cream cheese and sugar. Using your mixer, beat until smooth, then fold in the whipped cream untill well combined.

To serve:

Transfer the whipped cream into a piping bag, and pipe in the mixture into a serving glass. Spoon over the compote and top with raspberries. Keep it in the fridge intill ready to serve.
I am linking this ode to the 'season of new beginnings' to the lovely folks at: