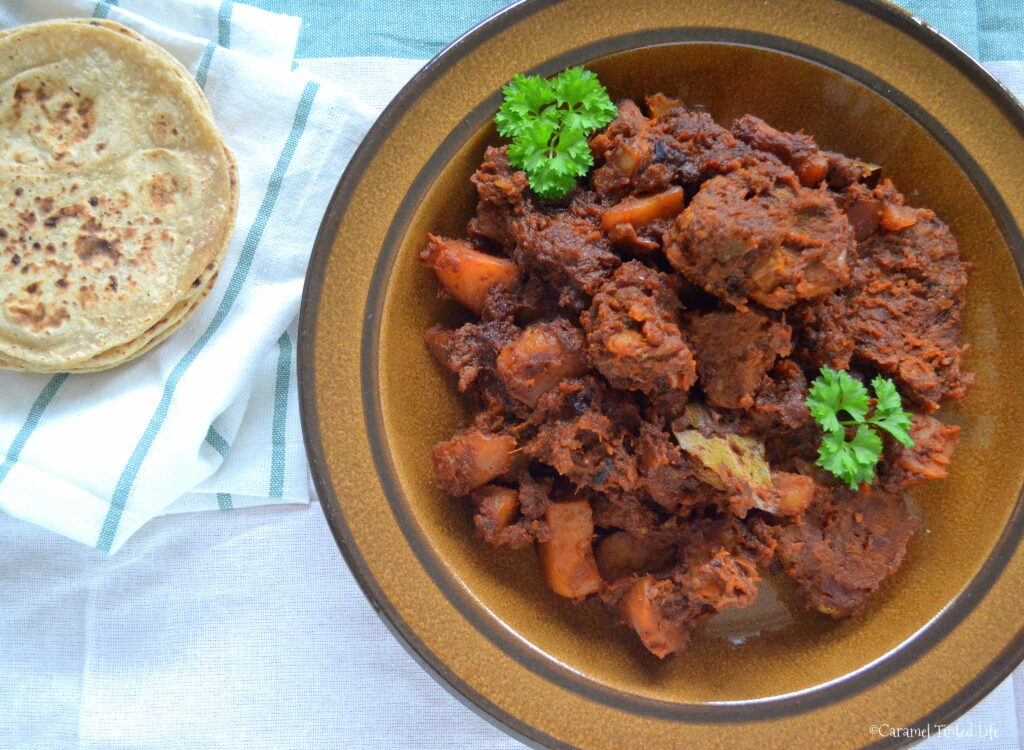 Curry is perhaps the best representation of India's gift to the culinary world - spices. There is a plethora of fascinating curries that are native to various states in India - some that I grew up on, such as Kerala-style chicken curry made with coconut milk, some curries that I enjoyed at restaurants or a friend's place and replicated at home, such as my authentic Karahi Gosht (lamb curry) or this butter chicken. There are many that I have heard of, but have not managed to experience yet. So my plan to fill this curry-shaped void in my life is to try out a new curry recipe from all over the country, a different curry every weekend.
I decided to start my weekend curry expeditions with a dish that some say is not actually a curry at all! Kosha mangsho, a dish made with mutton. In many parts of India, mutton refers to goat meat, considered by many to be meatier and less fatty than lamb meat. 'Kosha Mangsho' is native to the state of Bengal (East India) and the name literally translates to 'mutton curry'. Mutton is cooked in a thick gravy made with onions, tomato and spices. As there is no added water to the dish, it tends to be quite thick and is more of a meat dish coated in rich masala than a curry with a gravy.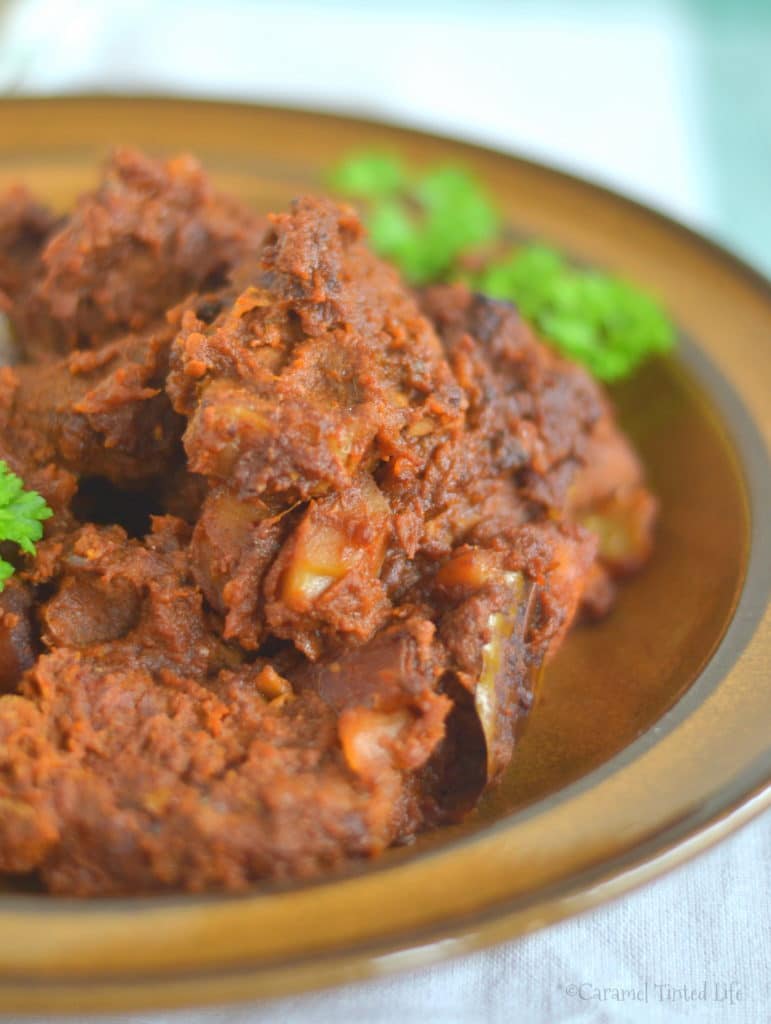 Kalyan Karmakar, blogger extraordinaire, describes this dish in his blog, finelychopped.net "Kosha mangsho is a quintessentially Bengali dish which means mutton which has been kosha'd (kosha means saute'd, bhuno'd) in a thick onion and spice paste"
Since I am myself quite unfamiliar with the dish, I read more about it and it slowly dawned on me that Kosha Mangsho is probably the most popular mutton dish in the Bengali community. And if there's one thing I know, it is to always trust a Bengali's judgement on food. Not many Indian communities take their food as seriously as Bengalis do.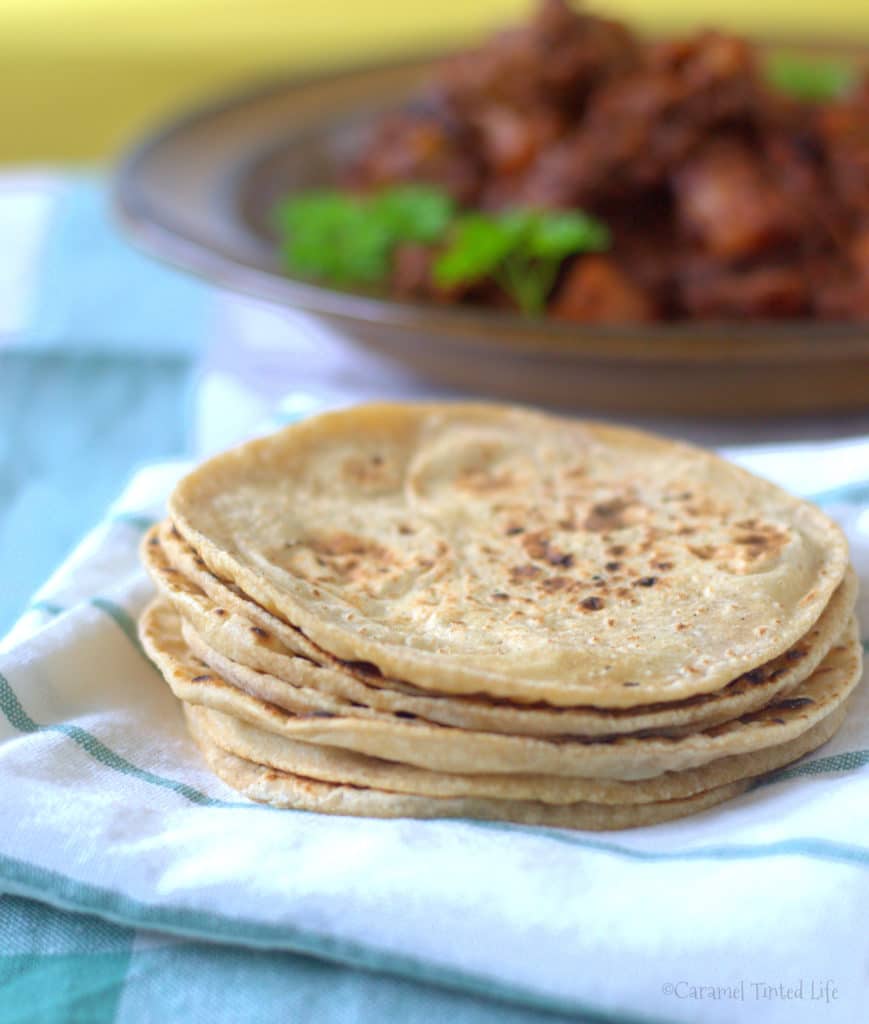 In this recipe, I have replaced mutton with lamb, and used vegetable oil in place of mustard oil. I would have liked to use mustard oil and mutton, in keeping with the traditional recipe, but rather than make a trip to the local Sri Lankan store and Turkish store for mustard oil and mutton respectively, I went with what I had at hand. And the results were truly spectacular. The lamb is coated evenly with the masala paste, and although the color of the masala paste is rather fiery, rest assured the spice level is not high. The color is thanks to Kashmiri chilly powder (similar to paprika powder), which doesn't give the masala much heat.
Serve these with some rotis or parathas or Bengali luchis (deep-fried flatbread). Forks and knives be damned, this dish is best eaten with your hands. Make this flavorful spiced meat dish for your Sunday lunch and watch your family lap it up, and ask for seconds. Go ahead, you can thank me later!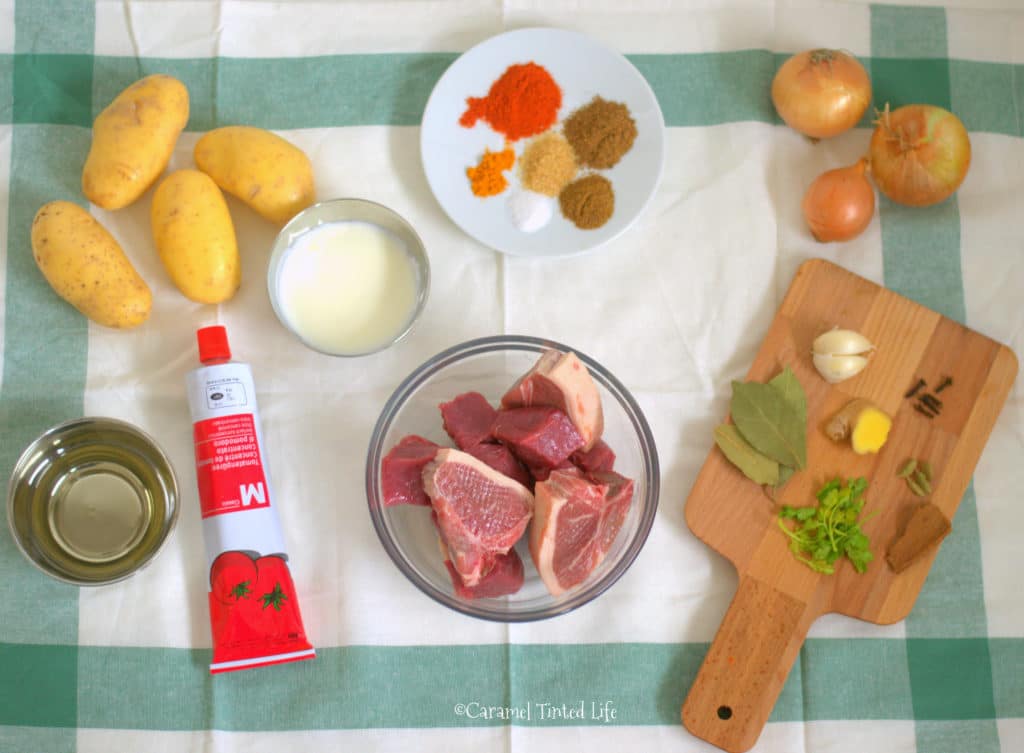 Kosha Mangsho / Lamb in Spiced Masala
Lamb marinated in a yoghurt and spice mix, cooked in an onion and tomato masala, till the meat is evenly coated in the spice mix and turns tender and succulent
Ingredients
500

grams

lamb

or mutton cut into chunks on the bone

For the Marinade:

3

tsp

curd

2

tsp

tomato puree

2

tsp

each of Kashmiri chilli powder

can be substituted with paprika powder, garam masala powder, cumin (jeera) powder

1/2

tsp

turmeric powder

haldi

1

tsp

salt

For the spiced masala:

2

tsp

vegetable oil

Mustard oil is the best option

Whole spices - 4 cardamom

1 small stick cinnamon, 4 cloves, 2-3 bay leaves

3

onions ground to paste

2

tbsp

of ginger paste

1

tbsp

of garlic paste

Pulp of 2 tomatoes - I blended 2 blanched tomatoes in my blender

3

potatoes cut into 1" cubes

1

tsp

sugar

1

tsp

chopped coriander leaves
Instructions
Marinate the lamb (or mutton) with all the ingredients listed under 'marinade' keep this for at least 1 hour, or overnight

If using a pressure cooker, turn on the heat and add oil in it

Saute the whole spices and bay leaves in the heated oil

Once the spices crackle, add the onion paste

Keep stirring until the onion paste is light brown (Kalyan stresses on this point, the onion paste has to be browned before the next step)

If the mixture sticks to the base, add half a cup water and stir

Add the ginger and garlic paste and stir the mixture

Add the tomato pulp and continue stirring

At this stage, add the marinated lamb along with the potato, chopped coriander leaves, sugar and stir the mixture together for about 5 minutes.

Pressure cook the lamb in the spices (there is no need to add water) for 10 minutes and let the steam release naturally

Once the pressure cooker is opened, saute for a few minutes until any residual water is evaporated

Serve with flatbread of your choice
Notes
I used an electric pressure cooker, which cooks at a lower pressure than a stove-top pressure cooker. If using a stove-top pressure cooker, add another 1/2 cup water and cook for 4-5 whistles