My biggest regret from our trip to Lisbon is that we should have stayed much longer, because 4 days just didn't cut it! We had several reasons to visit Lisbon in the winter. We were looking for a budget-friendly city break within Europe, a place with some sun, moderate climate, and great food. Lisbon, Europe's sunniest capital city is all that and much more, and it warms up to you by delivering a heady dose of old-world charm.
I also wanted to visit Portugal out of sheer curiosity - I grew up in Goa, which was a Portuguese colony for 450 years. Portuguese architecture, lifestyle and food is deeply ingrained in Goan life and I was curious to see how much of the former would remind me of the latter. Turns out, I couldn't turn a corner without seeing something that reminded me of Goa - from the street names, to the beautiful Azulejos tiles to the food, there was nostalgia at every corner.
Getting there and getting around
We flew from Zurich to Lisbon with TAP Air Portugal, and took a taxi from the airport to our apartment. Make the most of the cheap taxi fares in Lisbon, the cheapest I've seen in Europe so far, we paid €13 for our 20/minute taxi ride from the airport to our apartment in Bairro Alto.
Within the city, the metro is the best way to get around, and trams and buses are well connected. On the very few occasions that we didn't feel like walking around, we used the MyTaxi app to call for a cab.
To travel by the public transport system, we used a Viva Viagem card which can be purchased for €0.50, only at the metro-station kiosks. We purchased a day pass of €6 , for the three of us (children under 4 travel for free) which can be loaded onto the Viva Viagem card. The card allows for unlimited travel in the city within a period of 24 hours.
Where to stay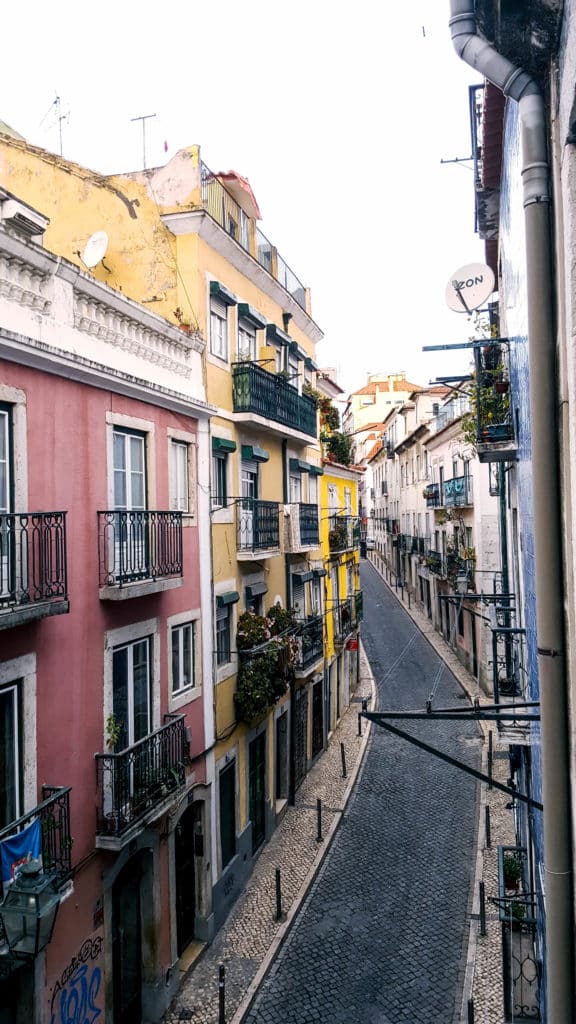 Whenever we travel, I usually prefer staying in an apartment, for the convenience of making our own meals as needed and for the benefit of additional space as compared to a hotel room. We stayed at this one that suited us perfectly. In the heart of the Bairro Alto neighborhood, the metro station was a five minute walk away. This way, we had enough time to explore the bustling neighborhood until late at night. We were also very close to many of the main sights in the Baixa area, and could walk up to the Praça do Comércio, the Elevador de Santa Justa, the Carmo Convent and many major shopping areas.
What to eat
The promise of good food was a huge reason why Lisbon was on top of our list of options for a winter break. None of our meals were disappointing, and we did go to Lisbon with high expectations of the food in general, and the seafood in particular. Here are some of my top picks of the food and drinks we tried in Lisbon:
Pastels de nata:
Lisbon, the home of the egg tart pastry, takes its Pastels de nata culture very seriously, so much so that there is an annual Pastel de Nata competition for the best pastel in the city. These egg pastries are served everywhere in the city, and have become synonymous with Lisbon itself. On the return leg of our trip, on the 1st January, we were served a very nice pastel in the flight as a new year treat, reminding me of the little bar of chocolate that has now become synonymous with all Swiss flights.

These two stores serve some of the best Pastels de nata in town:
Pastéis de Belém: The original makers of the egg custard tarts, here they are called by their original name, Pastéis de Belém. This place is said to be making the closely guarded original recipe since 1837. The store, situated right outside the Jerónimos Monastery, has long lines snaking down the sidewalk. We opted to look for a seat in one of their 5 dining halls. We got ourselves a round of pastels, and some of the snacks from the menu (psst...fellow Goans, they had prawn rissoles and beef croquettes just like the ones at T Center, Panjim). The pastels are best enjoyed at room temperature, with a sprinkling of cinnamon and powdered sugar. The pastels were not annoyingly sweet, and perfectly sized - we each had 2. We took some back to our apartment and had them for breakfast the next day. I quite enjoyed them cold.
Manteigaria: For three nights in a row, we passed by this store on our way back to the apartment, without realizing that it was THE Manteigaria, said to be the best destination for pastels de nata in all of Lisbon. Comparisons to Pastéis de Belém are only to be expected. The pastries here are larger and are cheaper, at €1 a piece to Pastéis de Belém's €1.10 a piece. The filling is noticeably sweeter, but even so, the sweetness felt just right. The store has another location at the Time Out Market.
Ginginha:

Ginginha or ginja, is a sour cherry liquor native to Portugal. We came accross Ginginha do Carmo, one of the many store-fronts that sell this local liqueur. Here you can get two shots of ginginha in a chocolate cup for €1.65. Regular shots of ginginja are also available for €1.35, but the chocolate cup was way more fun!
Seafood in its many forms:
Bacalhua: Bacalhua or codfish is a Portuguese favorite and you see it everywhere - from stores that sell dried and salted cod, to tinned cod, and on restaurant menus. We tried codfish cakes, omnipresent on restaurant menus, and make for a nice little appetizer.
Tinned seafood: The ultimate souvenir to get back from Lisbon, don't leave the city without a few of these. Tinned seafood is an art form here, with shops specializing in these beautifully packaged little tins of every kind of seafood the Atlantic has to offer. We shopped for tinned seafood at this store near the Baixa area. The staff (of which there were many) were happy to help and tell you about the history behind the canning industry.
Arroz de Marisco: If you had to order just one dish off the menu at any restaurant, may it be this one. Seafood rice or Arroz de Marisco, is a medley of seafood such as fish, mussels, prawns, and clams cooked with short grained rice. This dish bears only a passing resemblance to its famous cousin, paella. More like a stew, and intensely flavorful, we had this every day for at least one meal at various places.
--------------
I had several restaurants on my list, main among these being Cervejaria Ramiro, which many recommended to me as the best seafood restaurant in Lisbon. Unfortunately, we couldn't make it, as they do not accept reservations and foreseeing a lot of waiting time, we gave it a miss. Another highly recommended restaurant, Taberna Rua das Flores, was a minute's walk from our apartment, but again, didn't accept reservations over the phone. Both times we attempted to go here, we were told there was a waiting time of 3 hours! So we ate at places where we noticed the locals were eating, and where we could get a table without waiting. Here are some notable mentions:
Marisqueira M We ate here the day we landed, Christmas Day. We were walking around the Bairro Alto, expecting many restaurants to be closed. Surprisingly, many in the area were open. There wasn't a large crowd at this place, and the menu looked promising. We had codfish cakes (Pastéis de Bacalhau), mackeral on a bed of onions, garlic shrimp, and an outstanding arroz de marisco. I'd eat here again, if we go back another time.
Joao do Grao serves traditional Portuguese food with no frills, and stands out from the hordes of restaurants that hard sell to tourists along the road leading to the Baixa area of town. We tried Portugal's version of surf n turf, carne de porco Alentejana, based on recommendations I had read about. The dish was quite good. We also tried what had become our standard fare by then - arroz de marisco, which was a tad too salty.
Calcutta Yes, an Indian restaurant made the cut! It is completely out of nature for me to eat at an Indian restaurant when on vacation. But one night, we were tired out from walking up inclines all day, and looked for restaurants in the neighborhood. Calcutta was one of the few accepting reservations, and we were tempted after looking at some of their reviews online. The restaurant is highly rated on Tripadvisor, and for good reason. It is definitely one of the best Indian restaurants I've eaten in, outside India of course. Their lamb biryani, chicken curry and butter rotis and naans were top notch (which is more than what I can say about most Indian restaurants in Zurich). We ate here two nights in a row.
What to see
Lisbon takes pride in its role in Portugal's 'Age of Discoveries', being as it is the port from which navigators set sail for extensive overseas exploration. A short trip to Belem, which is on the outskirts of the city, gives you an insight into that age. This part of the city is ideal for a stroll along the Tagus river, and for some quality time dedicated to soaking in its history. Start from the Tower of Belem and make your way down to the Monument of the Discoveries, overlooking the Tagus river. Then head over to the Monastery of St Jerome to visit the tombs of explorers such as Vasco da Gama, and to marvel at the exteriors of the Gothic cathedral that houses the tombs. Don't forget to stop by the Pasteis de Belem once you are done.
Back in the city, visit the Castelo de Sao Jorge, in the beautifully rustic Alfama district for magnificent views of the city from the castle grounds.
In the bustling Baixa area, visit the Elevador de Santa Justa, a 19th century lift that takes passengers up to the ruins of the Carmo church that sits above on the hill, overlooking the city. A return trip in the elevator costs €5.15, which is covered in the 24-hour pass. A tip here is to avoid the lines for the lift and instead, walk your way up the hill to the Carmo convent. From here, you can walk straight up to the viewing platform above the elevator, paying €1.5 to take in the 360 degree views. I highly recommend doing this, as these were some of the best views of the hilly city we got to see.
Speaking of views, the city is all about viewpoints. Called miraduoros, or lookout points these viewpoints are usually located atop the many hills and have spaces to sit and make for plenty of photo-op moments.
A Day trip to Sintra
Sintra, a summer retreat for the Portuguese royalty, is a 40 minute train ride away from Lisbon's Rossio station. Try to make a two-day trip out of it if you have the time. Note that the Viva Viagem card isn't valid in Sintra. Here, to get around, your best option are the local Scotturb buses that take you to the sites you want to see.
The Scotturb bus route 434 tourist bus is perhaps the best route to see the main attractions of the region. This route connects the train station, town center and Royal Palace and the colouful Pena Palace. Tickets for this loop cost €5. The town center and the Palacio Nacional de Sintra and worth a visit. The Pena Palace and the Moors Castle are at an altitude, and unfortunately the day we visited, the rain and clouds dampened the experience, we couldn't really see much of the exterior of the the Pena Palace, which looks like pure eye candy in all the pictures I've seen.
If you're in the town centre and have some time to kill, stop by the popular dessert store, Piriquita. Take a token and wait in line for their famous Travesseiros, a dough-based pastry with egg cream and almond, and Queijadas de Sintra, littles pies made with the local queijo, or cheese. We brought back several for the train ride back home. They were well worth the hype.
What I would have done differently
In retrospect, like I said, I wish we had more days to spend in Lisbon, the city is certainly worth your time. There is plenty to see, eat and shop for. This is what I wish I had also done on the trip:
Visit the Azulejos museum - Azulejos, the beautiful hand-painted tiles that are onmipresent in Portugal, have a museum dedicated to them. We attempted to visit on the 26th December, and they were closed.
Bought more ceramics - We passed several ceramic stores in the Alfama district, and I picked up just a few souvenirs. Next time around, I think I'll dedicate more luggage space to cart some more back.
Visited the Oceanarium - Said to be among the best in the world, the Lisbon aquarium I'm sure would have been a surefire hit with my son.
I am sharing our Lisbon travel story over at Fiesta Friday, where I am co-hosting this week, along with Diann @ Of Goats and Greens. Come, join us!