Mulled apple juice is a non-alcoholic holiday drink, ideal to have by your side all winter long!
This week, winter showed up in all its relentless glory. The wind picked up velocity and there was a sprinkling of rain in many parts of Switzerland. I finally put away my son's soft shell jacket, and retired my Autumn coats, took out my gloves, and so on... you get the picture. So this Monday, when the heat went out in our apartment due to maintenance work, you can imagine why I wasn't exactly feeling on top of the world. The heat did come back the next day, but not after leaving in its wake some very grumpy residents.
On days like this, I would have loved to have a crackling fire going in the fire place, listening to some mellow music in the background. But for those of us who have to make do with a heater (which occassionaly does go out), we turn to other sources of comfort, such as a mulled drink flavored with whole spices, one that comforts you from the inside out.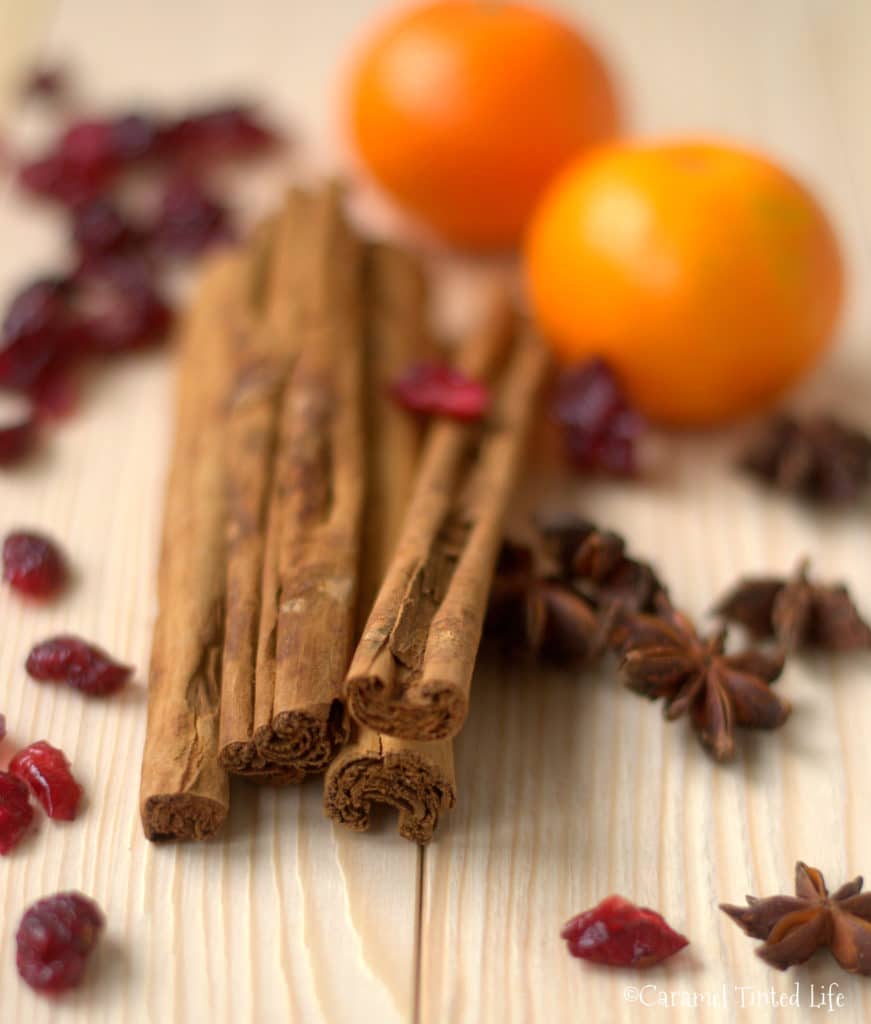 This mulled drink (more like a magic potion!) is loosely based on a Medieval English drink, Wassail. Wassail evolved from a mulled beer or mead spiced with nutmeg and raisins - a popular Medieval winter time drink to its more modern version which is made with apple cider. The word wassail has Anglo-Saxon origins and means "be thou hale". "Wassail", hence is also a verb in addition to being a noun, and is used to profess gratitude for companionship, much like the word "Cheers!"
The feeling you get after drinking a mulled drink on a cold day, is quite like that blissful feeling you get when you sink slowly into a warm bubble bath. It warmed me up, and I was immediately drawn out of my glum mood. I began to think Christmas decor, Christmas markets and all things festive. I started to imagine making an advent-calendar for the first time, and walking down Zurich's Bahnhofstrasse where they have the most amazing Christmas lights. Talk about non-alcoholic mood enhancers!
I had a couple of mugfuls, stepped out on my terrace and motioned to winter bring it on.
"Wassail" all ye folks!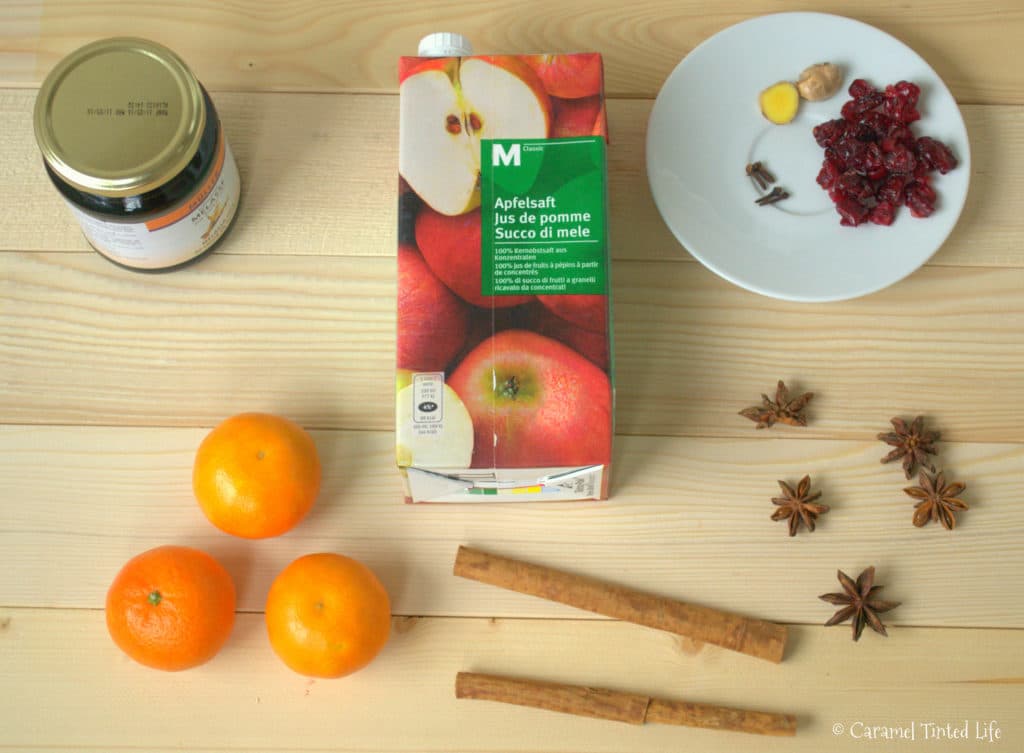 Mulled Apple Juice with Cranberry and Orange
A spiced apple juice, simmer with cranberry, orange slices, whole spices and molasses, which gets you right in the mood for the festive season
Ingredients
1

liter

Apple Juice

2-3

small oranges

I used sweet clementines

1

cup

cranberries fresh or dried

I used dried organic cranberries

1

inch

piece of ginger

grated

4

cloves

2

cinnamon sticks

4-5

star anise

1

teaspoon

molasses

If not available you can replace this with 1 tsp brown sugar
Instructions
Add the apple juice to a pot and start to cook on low heat

Slice the oranges and add them in

Add all the other ingredients and let simmer for 20-30 minutes on low heat

Serve warm, garnished with a slice of orange and a cranberry
Notes
I have replaced apple cider which is used in the original wassail recipe, with apple juice for a kid-friendly version
You can add apple cider instead of apple juice or even add 1 cup red wine of your choice (Cabernet Sauvignon tastes great in mulled wine)
If you like this recipe, pin here for later: