This simple Apple Jam recipe uses just 4 ingredients and no added pectin. In under 30 minutes, you can make a jam at home in your Instant Pot. Enjoy this delightful Autumn treat!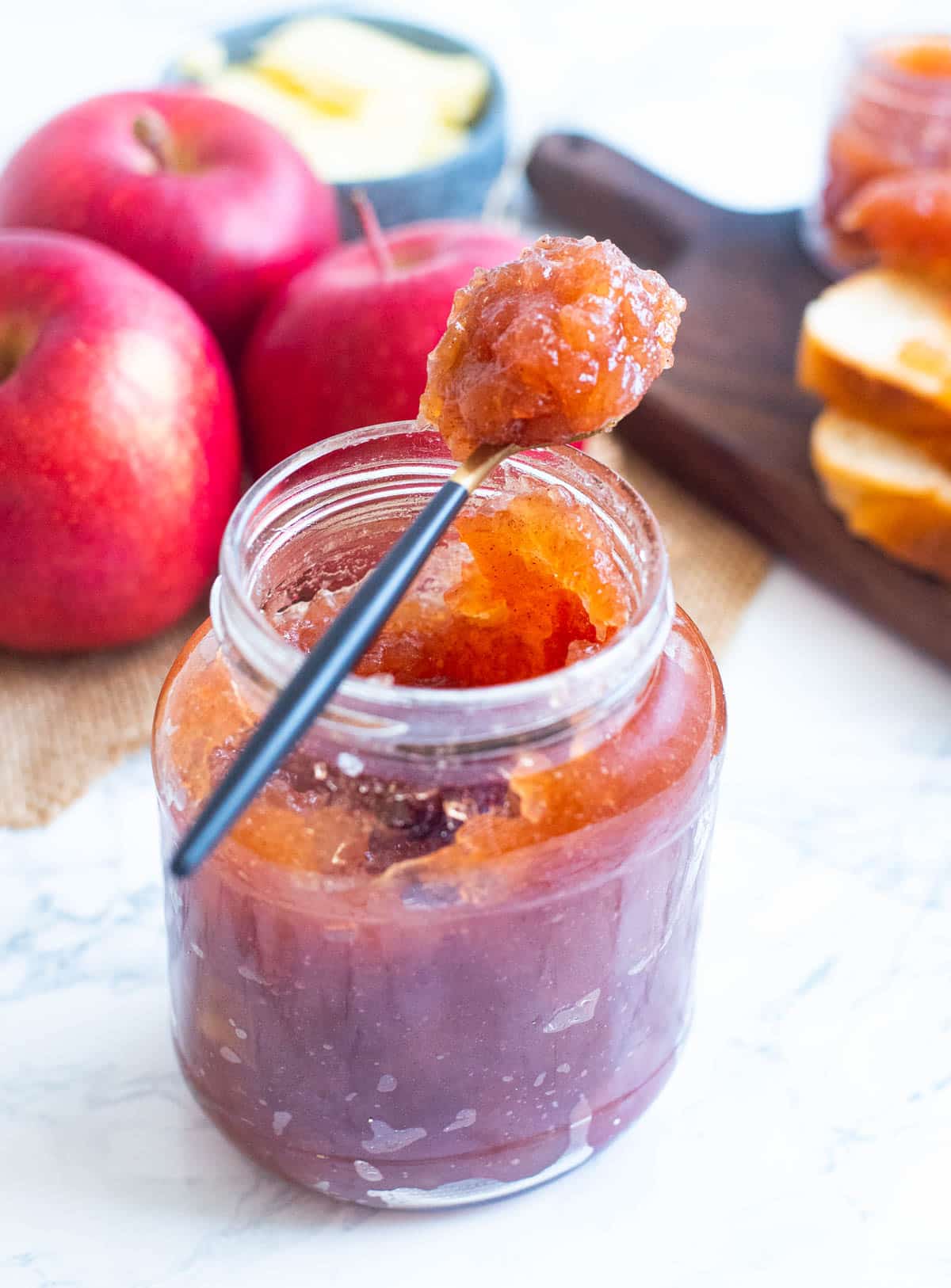 Jump to:
Autumn brings with it the most beautiful apple harvest, and I wanted to make apple jam for a change this year. You can tell that apples are definitely 'my jam' (please excuse the pun) going by the recipes I've previously shared, such as my favorite apple bundt cake and caramel apple cheesecake.
For the longest time, I've slotted jam making into a summer-time activity. Come summer, and I'll always make a few small batches of strawberry jam and my personal favorite peach, balsamic and saffron jam. But why make jam only in the summer?
This jam is now a firm favorite, we cannot let a day go by without slathering some homemade apple jam on toast with butter. Did I mention there's cinnamon in this apple jam? Gives me all those cozy Fall feels.
How to make jam with apples
Apples are high in naturally occuring pectin and this makes it a top contender for jam. Pectin is a setting agent used in jams and jellies and a commonly used ingredient which is present in ripe fruits (such as apples, strawberries, peaches, etc). Pectin can also be added separately to the fruit to give it a semi-solid texture that is characteristic of jam.
This recipe is actually a super simple one, without the need for added pectin. Unlike most recipes that call for added thickeners such as pectin or cornstarch, this recipe relies entirely on the natural pectic from the apples to set the jam. The apples are simply cored and chopped (leave the peels on), and then cooked down with lemon juice, sugar, and cinnamon. The natural pectin in the apples will make it thicken once completely cooled.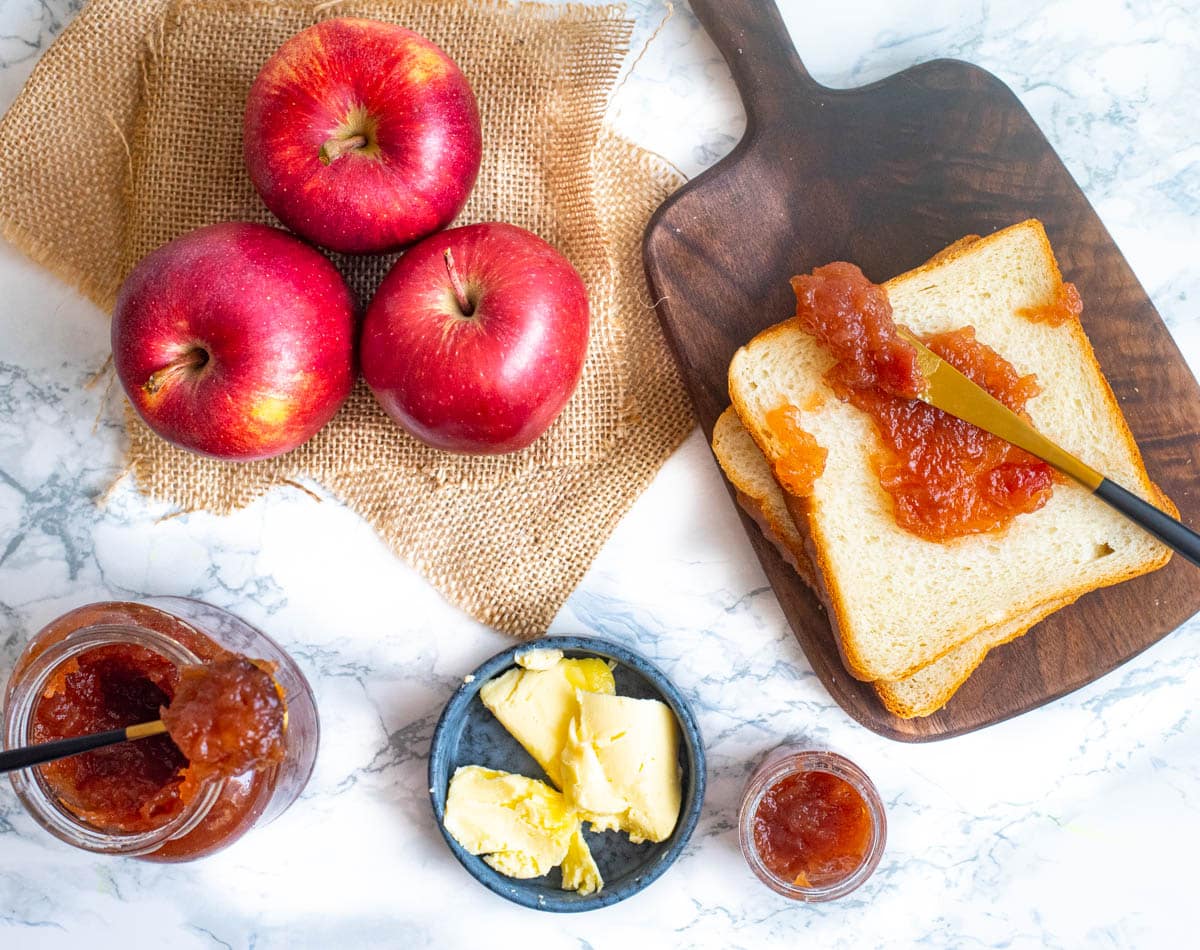 List of Ingredients
For this recipe we will need: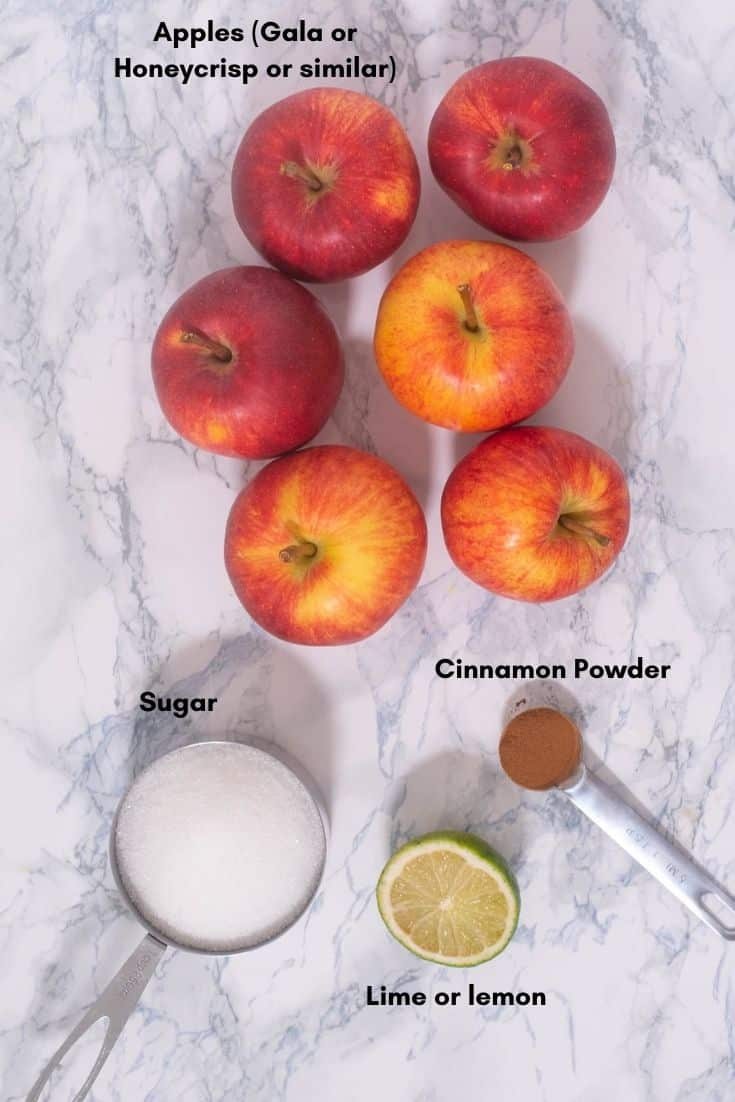 Apples - I used Gala apples, use any sweet variety of apples
Sugar
Lemon juice - lime juice can be used as well
Cinnamon powder - this is optional, but highly recommended!
Step-by-step instructions
Rinse the apples and chop them, discarding the stem and core. You do not have to peel the apples.
Transfer the chopped apples along with the lemon juice and sugar to the Instant Pot. Give it a stir and let it sit for 5-10 minutes - this step will help draw out the juices from the apples. Close the instant pot lid and secure the pressure release valve. Cook on high pressure for 5 minutes, followed by 10 minutes of natural release of pressure.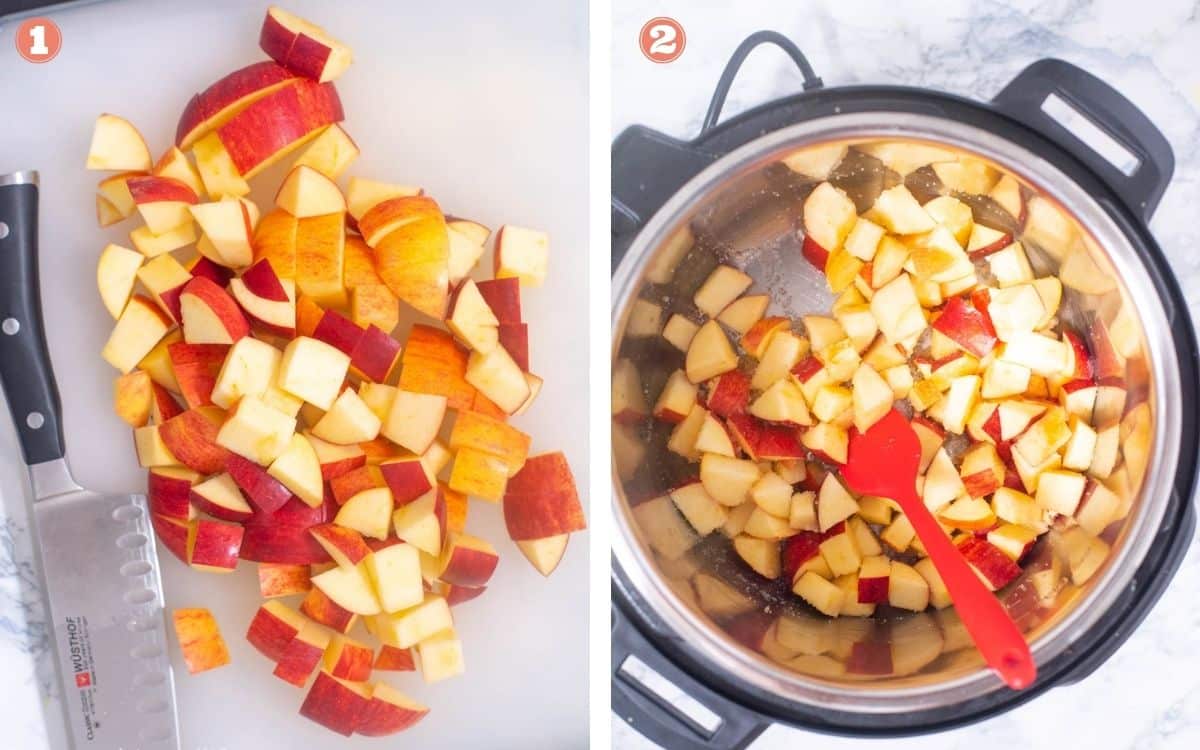 After 10 minutes of natural release of pressure, manually release pressure and open the lid of the Instant Pot. Add the cinnamon powder and mix. Hit 'Saute' function on the IP and let the apples cook down for 12-15 minutes. Stir at intervals so that the jam doesn't stick to the bottom of the pot.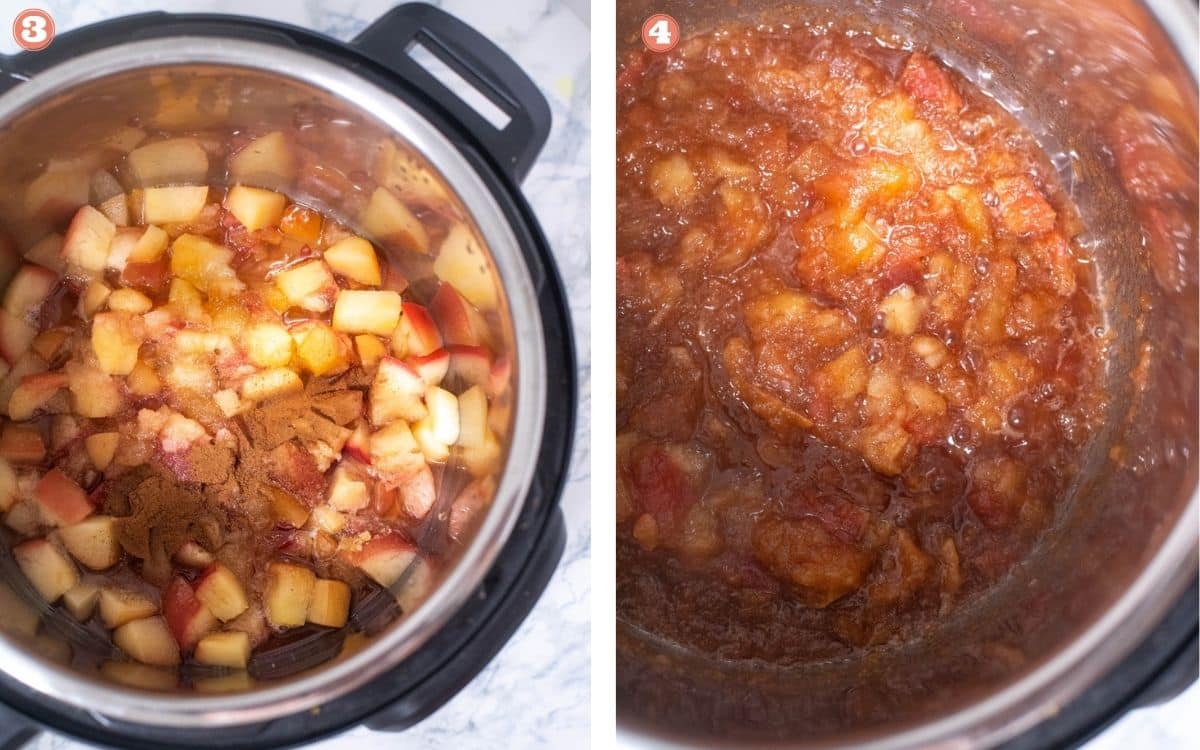 While the jam is cooking, you can use a masher to mash the apple chunks to make the jam smooth in consistency, or leave it chunky, as per your preference (I like chunky bits of apple in my jam!).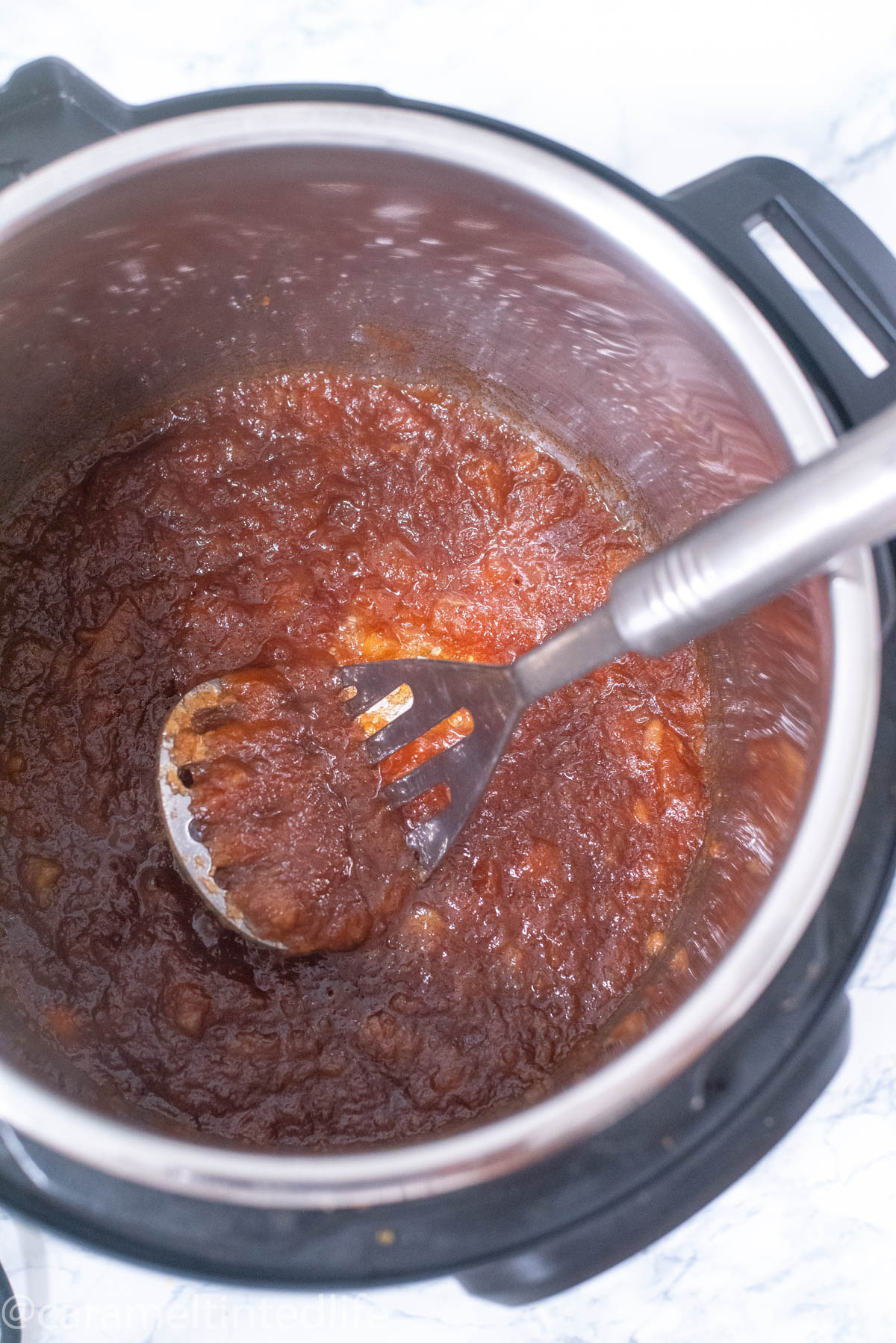 After 12-15 minutes, the jam will have thickened and reduced. Its texture will be almost jam-like. Let the jam cool completely, and it will thicken further as it cools down. Once completely cool, transfer to a clean and sterilized glass bottle and keep refrigerated.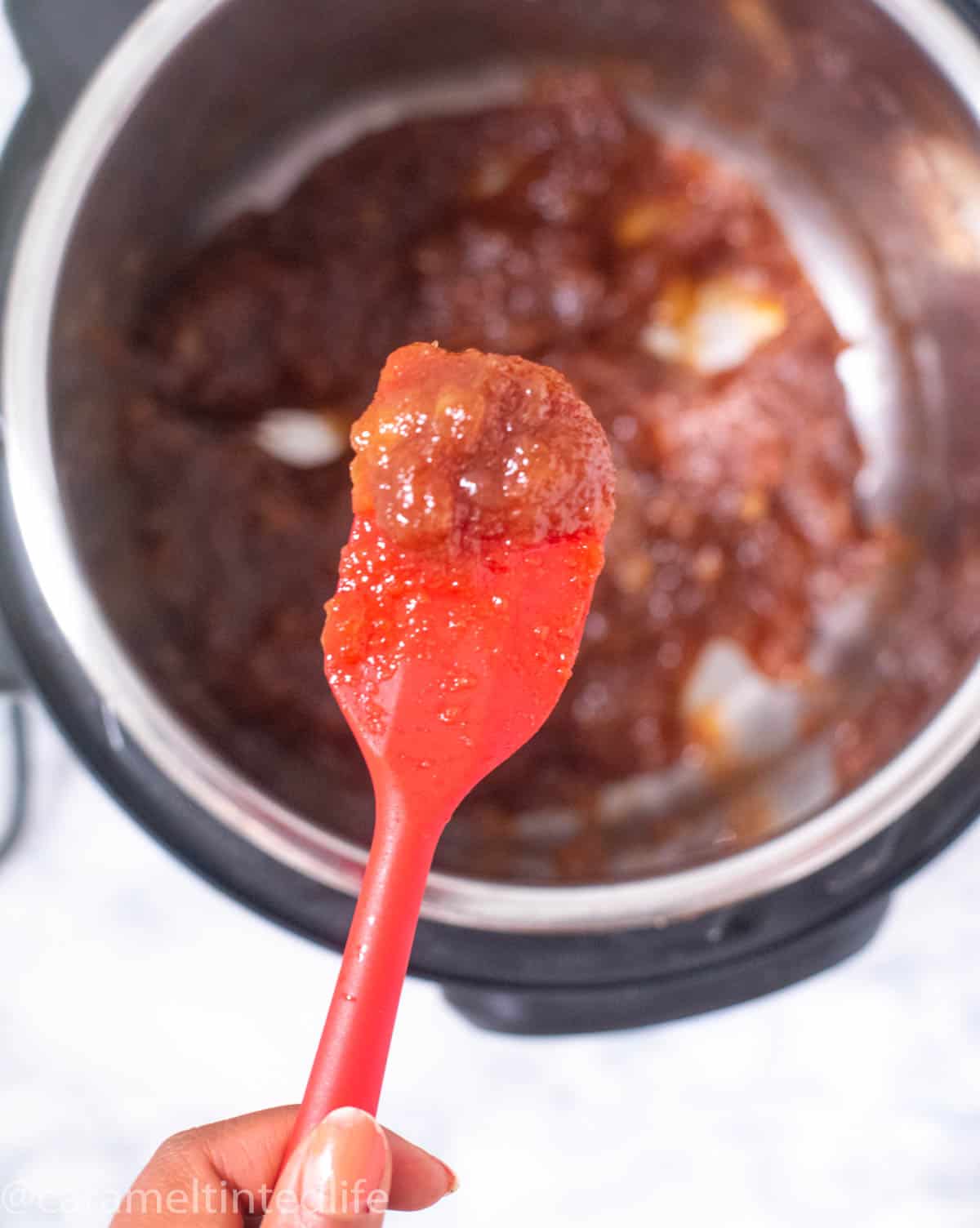 Frequently Asked Questions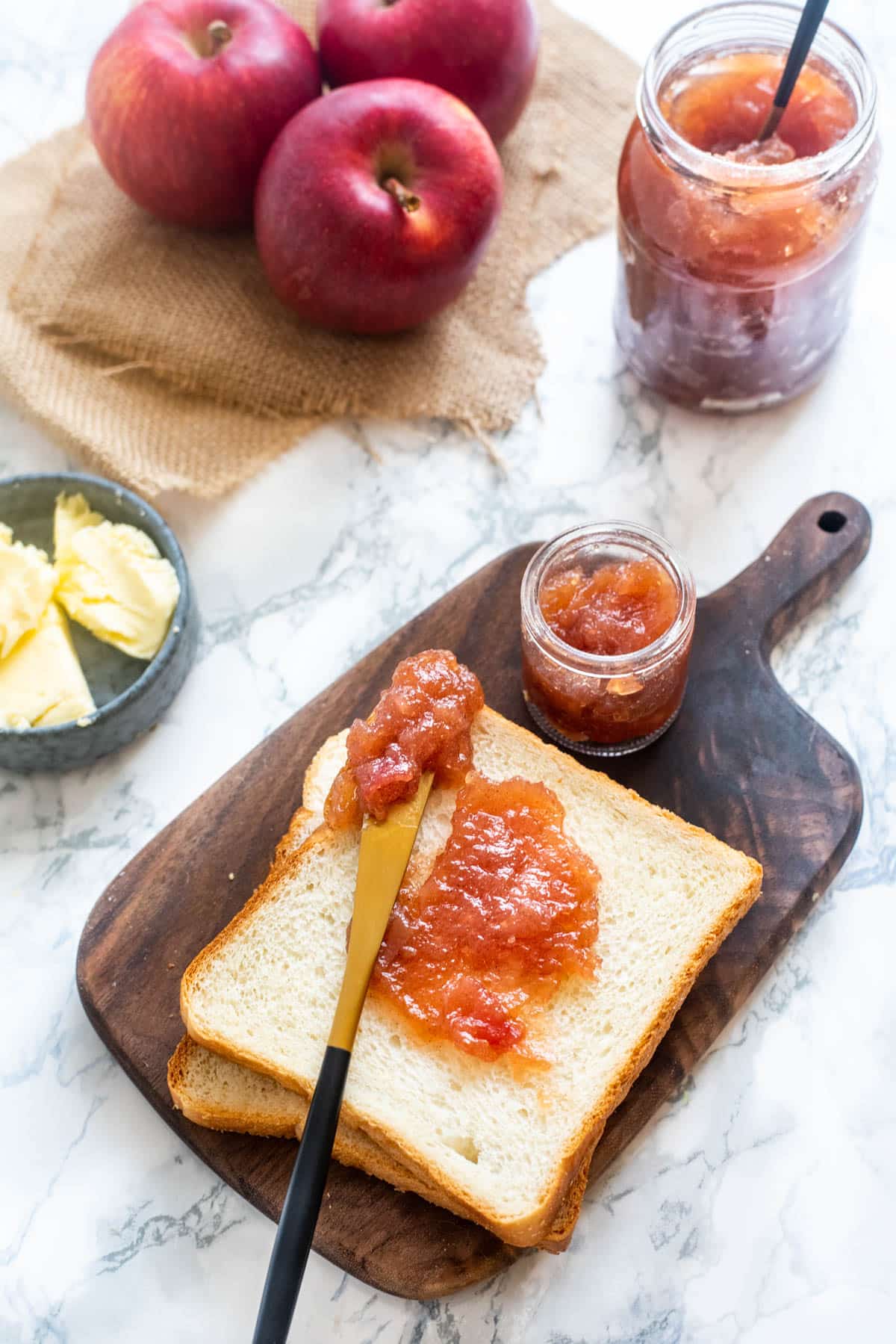 What apples are best for jam?
I recommend using Gala, Honeycrisp, Pink Lady, or even Granny Smith apples. Use any local variety of apples that are naturally sweet.
How to Double or Triple the Recipe
You can double or triple this recipe using the same cooking time, simple double or triple the ingredients and follow the same steps and cooking times.
Preserving and Storing
This jam is best refrigerated or stored frozen. You can store apple jam in the refrigerator for up to 3 weeks. The jam keeps well when frozen for up to 3 months.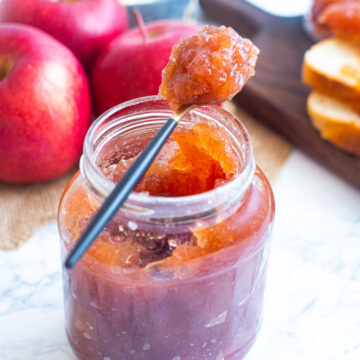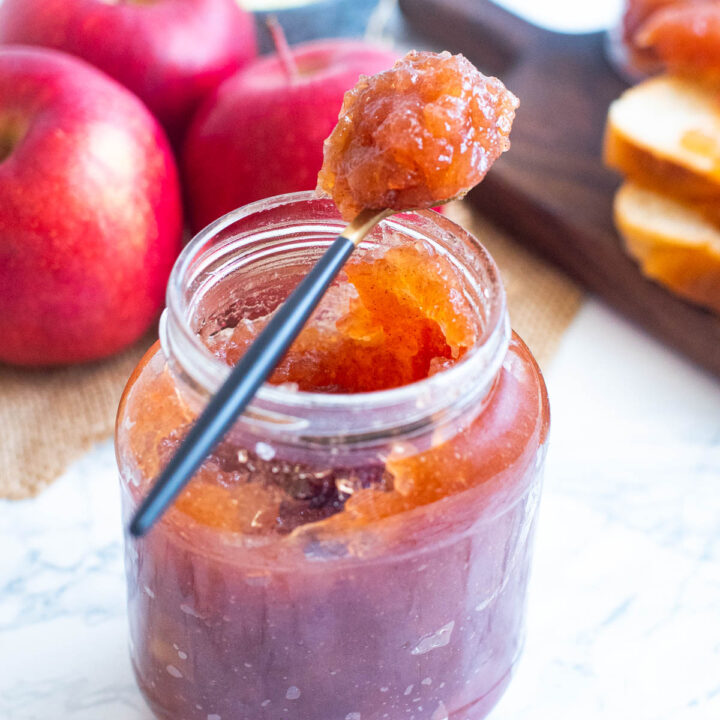 Instant Pot Apple Jam
This simple Apple Jam recipe uses just 4 ingredients and no added pectin or cornstarch. In under 30 minutes, you can make jam at home in your Instant Pot
Ingredients
1

lb

apples

1

cup

sugar

1

teaspoon

cinnamon powder

1

tablespoon

lemon juice
Instructions
Core and chop the apples. Add the apples to the Instant Pot along with lemon juice and sugar. Stir and let sit for 5-10 minutes to draw out the juices from the apples.

Cover the Instant Pot with the lid and hit 'Pressure Cook' or 'Manual' for 5 minutes. Let the pressure release naturally for 10 minutes, followed by manual pressure release.

Once the pressure has released and the valve has dropped, open the lid of the Instant Pot.

Hit 'Saute' function and cook the jam for 12-15 minutes until it thickens to a jam-like consistency. Using a spatula, stir the jam at intervals to prevent it from sticking to to bottom of the pot. While the jam is cooking, you can use a masher to break down the chunks of apples and make the jam smoother.

Once the jam is cooked, switch off the Instant Pot and allow the jam to cool completely. The jam will thicken further on cooling.

Transfer to a sterilized, clean jar and store in the refrigerator or freezer.
Nutrition
Calories:
170
kcal
Carbohydrates:
44
g
Protein:
1
g
Fat:
1
g
Saturated Fat:
1
g
Sodium:
1
mg
Potassium:
81
mg
Fiber:
2
g
Sugar:
41
g
Vitamin A:
41
IU
Vitamin C:
4
mg
Calcium:
8
mg
Iron:
1
mg