Instant Pot Kheer is a classic Indian rice pudding infused with cardamom and saffron. This is an easy, no-fuss recipe for rich, creamy, and delicious Instant Pot Rice Pudding!
(This recipe was first published in July 2018 and has been updated with new instructions and images)
Jump to:
Rice pudding is enjoyed universally, but I am partial to the Indian version of rice pudding aka, Kheer which is infused with the flavor of cardamom and saffron, making any other version of rice pudding pale in comparison! What makes it the perfect Instant Pot rice pudding, is that it is the perfect lazy man's indulgent dessert. It is a dump-and-go recipe for - with almost no effort at all!
Don't be fooled by the simplicity of this recipe. It tastes just like authentic 'Chawal ki Kheer' or Kheer made with rice. Indian rice pudding is traditionally made by simmering rice with cardamom and saffron-infused milk on the stovetop until cooked to perfection. However, in this easy recipe, we make kheer in the Instant Pot by cooking rice with milk, sugar, saffron, and cardamom in the pre-programmed 'Porridge' mode of the Instant Pot.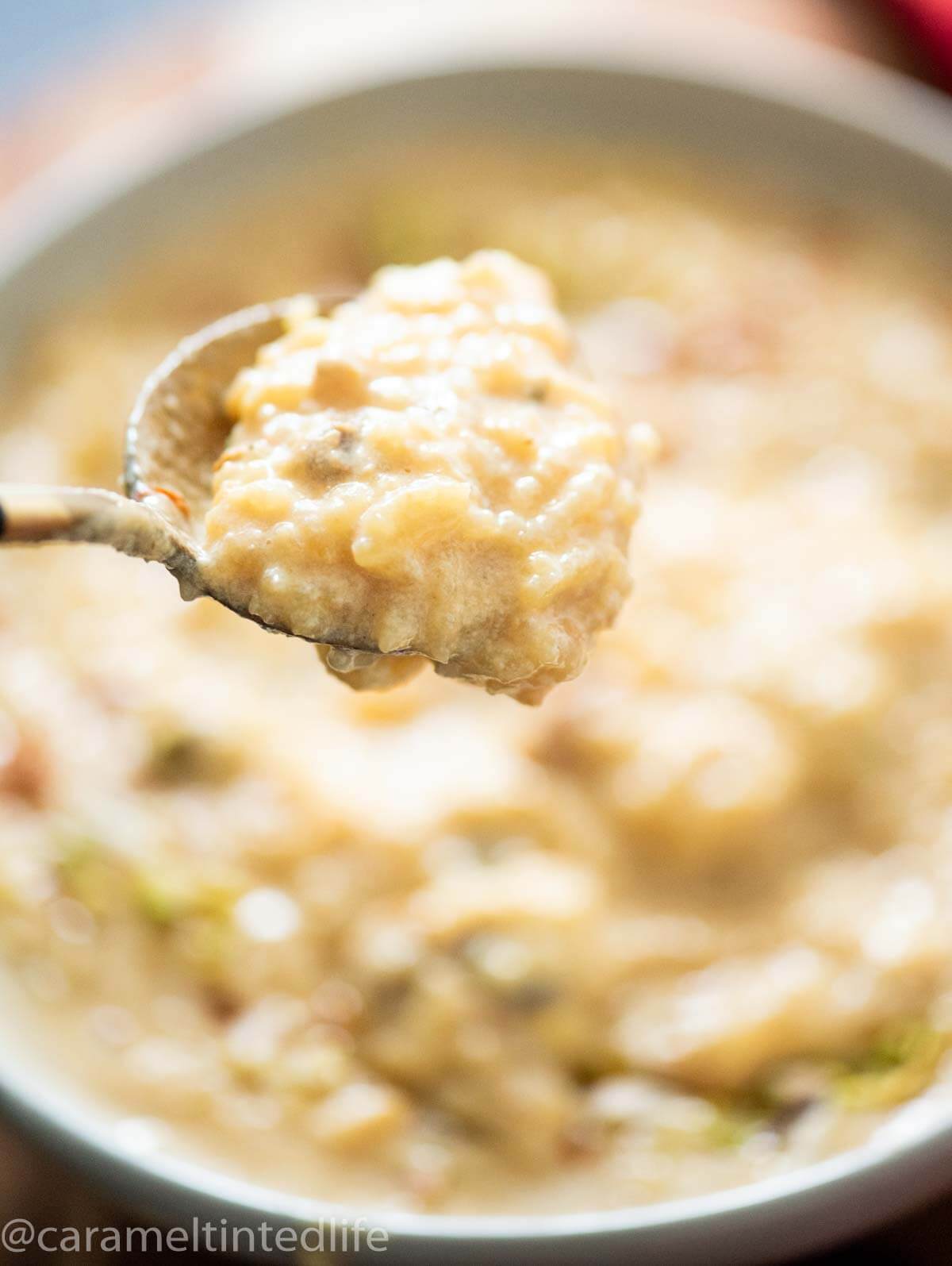 The Porridge Mode of the Instant Pot is perfectly suited to make this kheer. This is a preprogrammed mode for pressure cooking rice porridge. Definitely a quick and easy hack to making the best and easiest kheer!
My pro tip is to add just a little condensed milk right at the end of the pressure cooking cycle. This will let the porridge thicken and give it that rice kheer taste that replicates the traditional stovetop kheer recipe.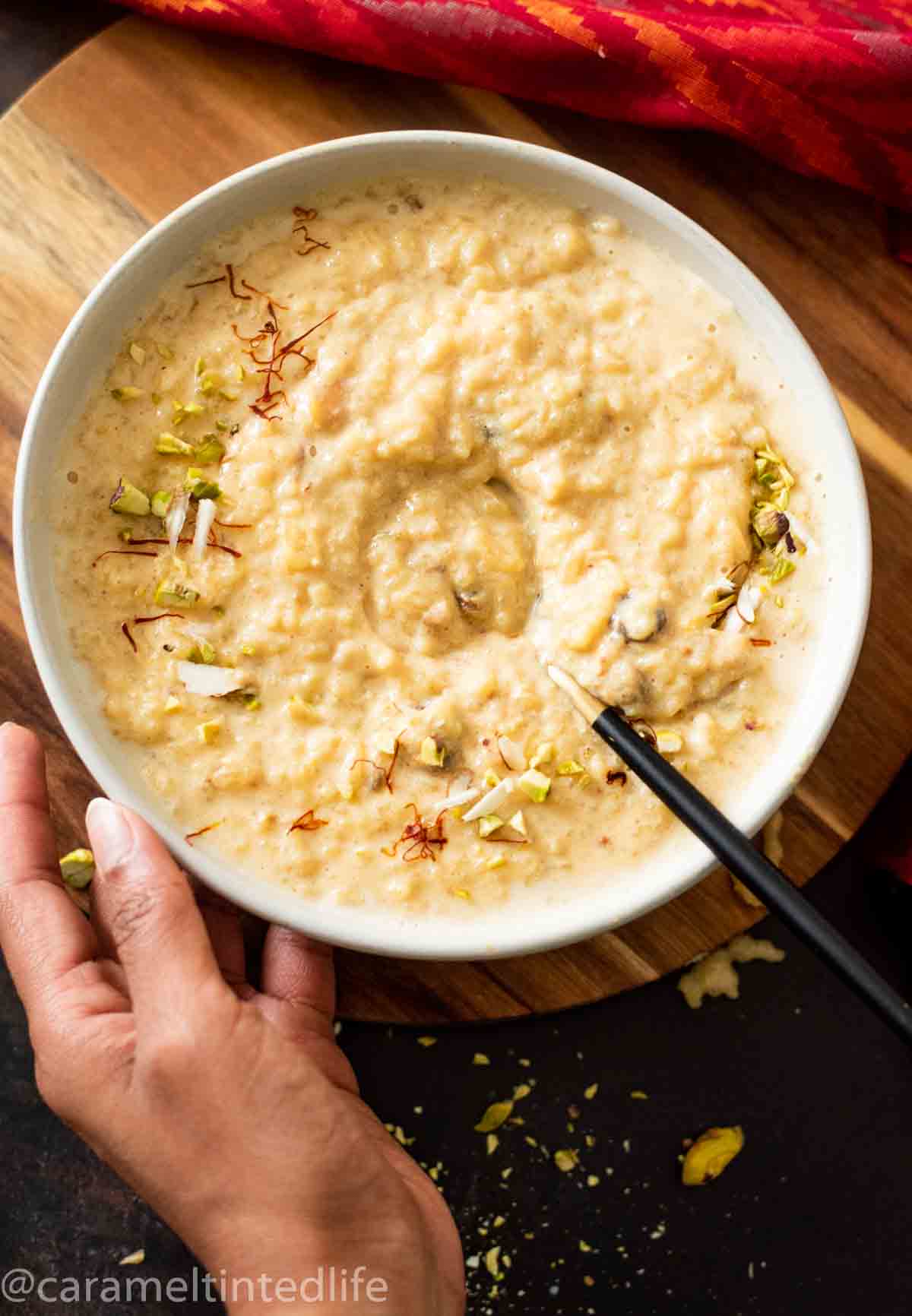 This recipe is almost entirely a chuck-it-and-forget-about-it recipe, do take a look at the video below to see how simple it is to make this classic Indian dessert.
Why this recipe works
No more stirring continuously on the stovetop
Hands-free, dump and go recipe
Rich, creamy, aromatic, just like authentic 'chawal ki kheer'
Ingredients
Here are all the ingredients you will need to make Instant Pot Kheer: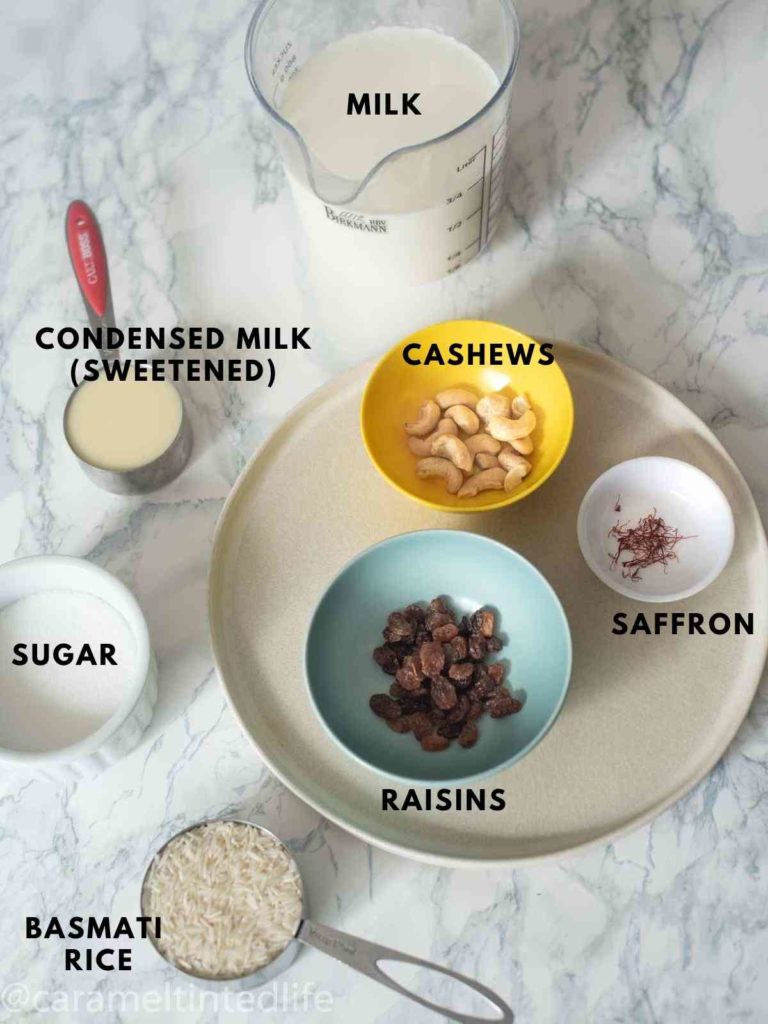 Ingredient Notes
Rice - For the best kheer, you need long-grained Basmati rice which has a slight aromatic taste and releases just enough starch to make a creamy textured kheer. Optionally, any white rice will do.
Milk - Use full-fat milk, To make it vegan, you can use cashew milk or almond milk as a substitute.
Nuts and Raisins - I like to saute cashews and raisins in ghee before pressure cooking the rice and milk. The nuts and raisins give the kheer so much more flavor.
Saffron - Authentic Chawal Ki Kheer is made with saffron and cardamom as aromatics. The saffron also lends a nice golden yellow tinge.
Cardamom - Unfortunately I missed it in the image above, but cardamom is a key ingredient for authentic kheer. Do not skip it if you can. The aroma and flavor it adds to the rice pudding is absolutely lovely.
Condensed Milk - This is a completely optional ingredient. I recommend adding it at the end and mixing it well with the finished kheer. It instantly makes the rice pudding creamier and richer.
Sugar - Traditionally, white sugar is used to make kheer. You can substitute with coconut sugar or jaggery. I have used both to make different versions of this recipe.
Step by Step Recipe Instructions
Start by setting the Instant Pot to 'Saute' mode. Add ghee.
Add the cashew nuts and raisins and saute until nuts are slightly browned.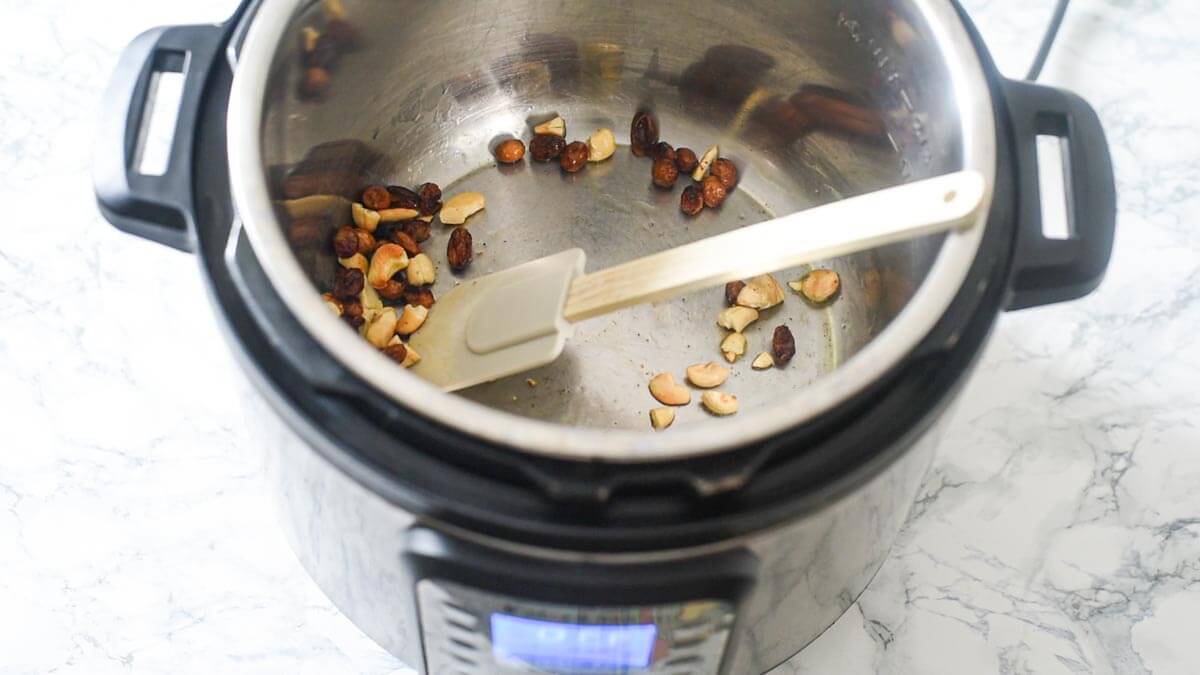 Hit 'Cancel' and add rice.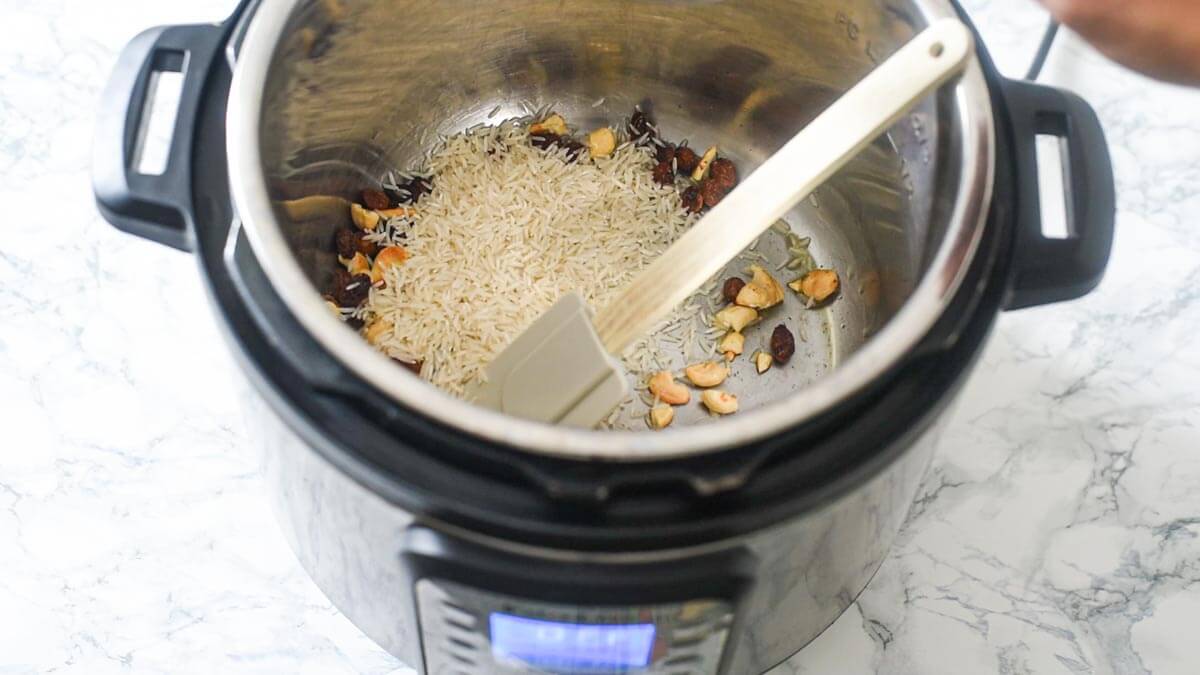 Add milk, cardamom powder, saffron, sugar, and mix well.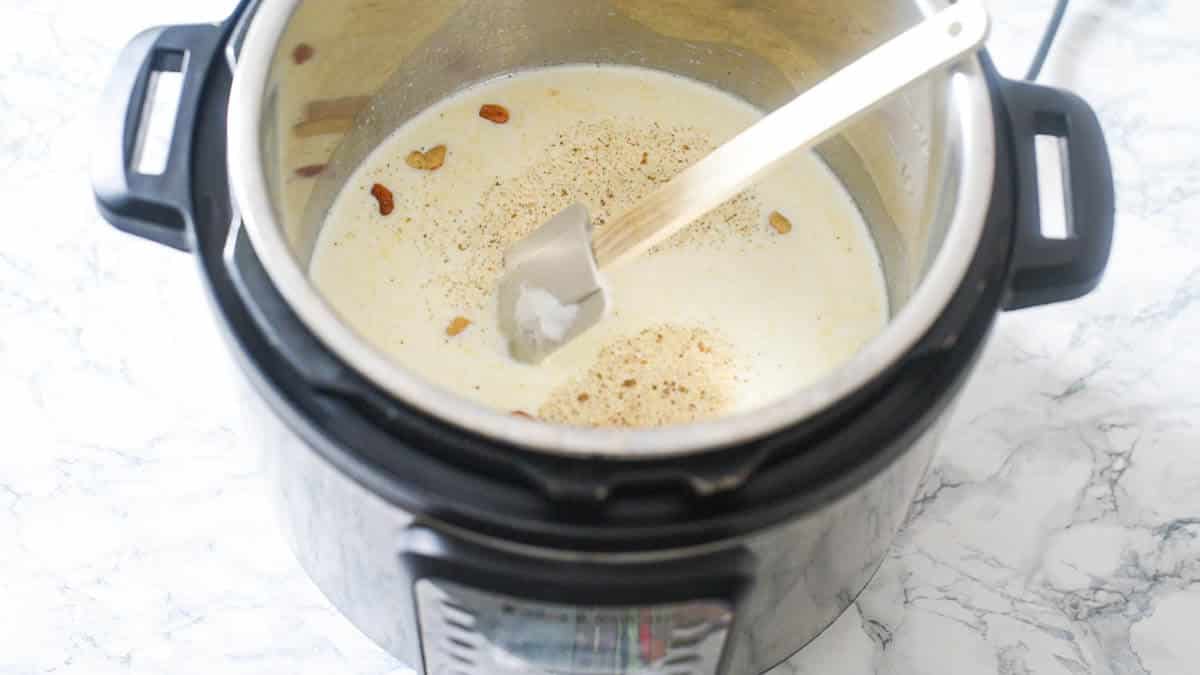 Set the Instant Pot to 'Porridge' mode. It will default to 20 minutes of pressure cooking time. Let the pressure cooking cycle complete.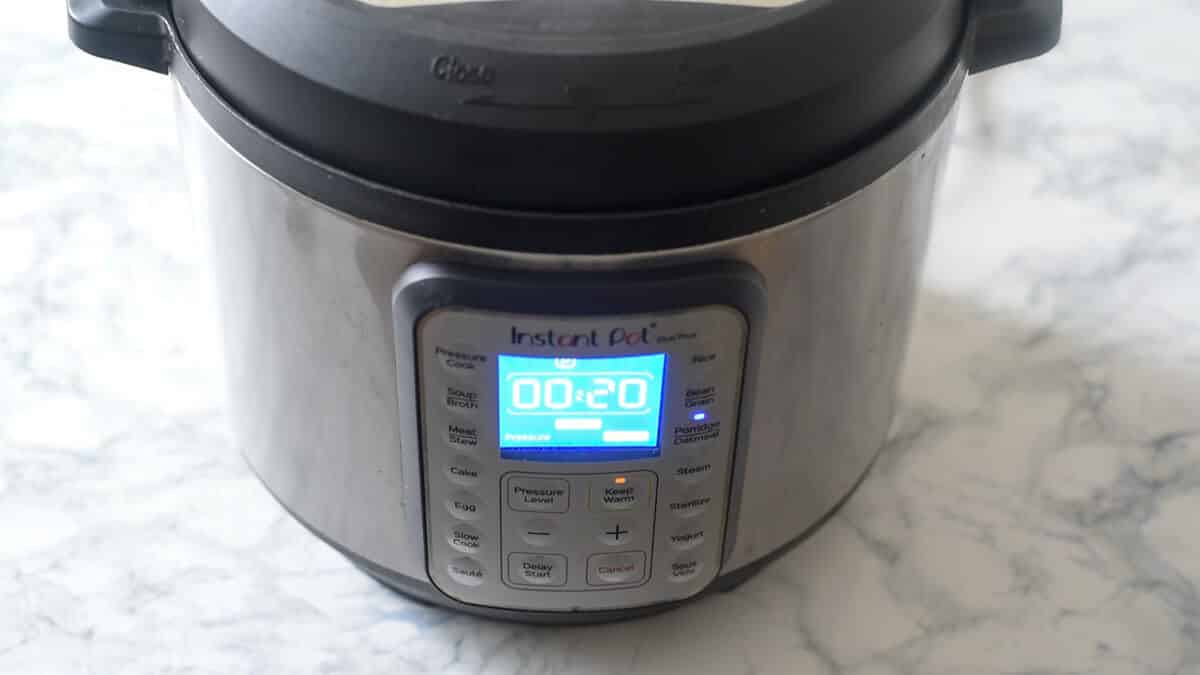 Once the cooking cycle is complete, let the pressure valve drop by itself (Natural Pressure Release - NPR). Then open the lid of the Instant Pot.
Pro Tip - This is optional, but a recommended step - Add 1/3 cup of condensed milk and mix well. Cover with the lid and let sit for 5 minutes before serving.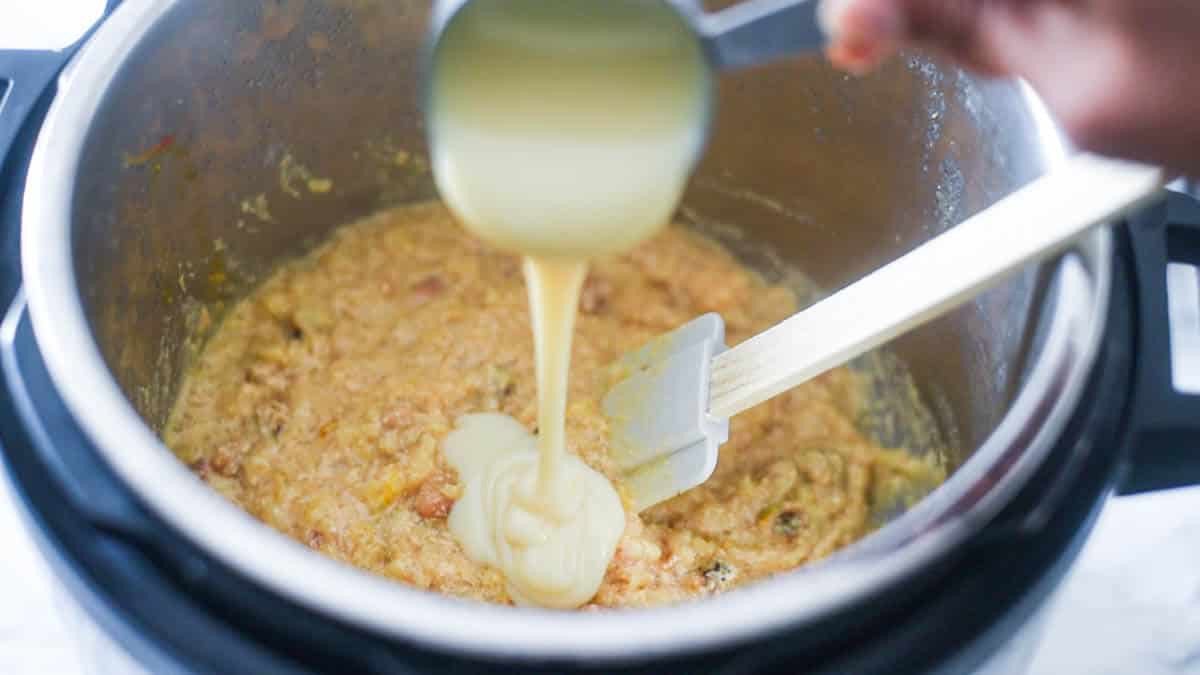 Once done, your Instant Pot kheer should look like this! Serve immediately or cool and refrigerate.
Frequently Asked Questions
Should I rinse the rice before cooking?
This is not necessary. Rinsing the rice gets rid of excess starch and impurities. In this recipe, we need that starch for that creamy texture. Rinsing is not recommended.
Why is Instant Pot kheer pink or brownish in color?
The kheer can take on a mild pinkish hue. This is because pressure cookers cause the sugars in the ingredients to caramelize, making the milk take on a light brownish-pink hue. If you've made dulce de leche in your pressure cooker, you'll relate to this. This is what is called the 'Maillard reaction' and is consistent with pressure cooking. I for one, love caramelized flavors, and I am partial to the slightly pinkish-brown color rendered by the caramelization in the Instant Pot. The taste of this kheer and its consistency is spot-on!
Which type of rice is good for kheer?
Basmati rice! This is the best rice you can use for kheer. Long-grained basmati rice has a nice aroma and is well suited to make kheer. You can optionally use any variety of white rice for this recipe. Remember that brown rice will take much longer to cook.
Is condensed milk and Milkmaid the same?
Yes! Condensed milk and milkmaid are the same. Milkmaid is a popular brand name for sweetened condensed milk. You can use any brand of condensed milk for this recipe.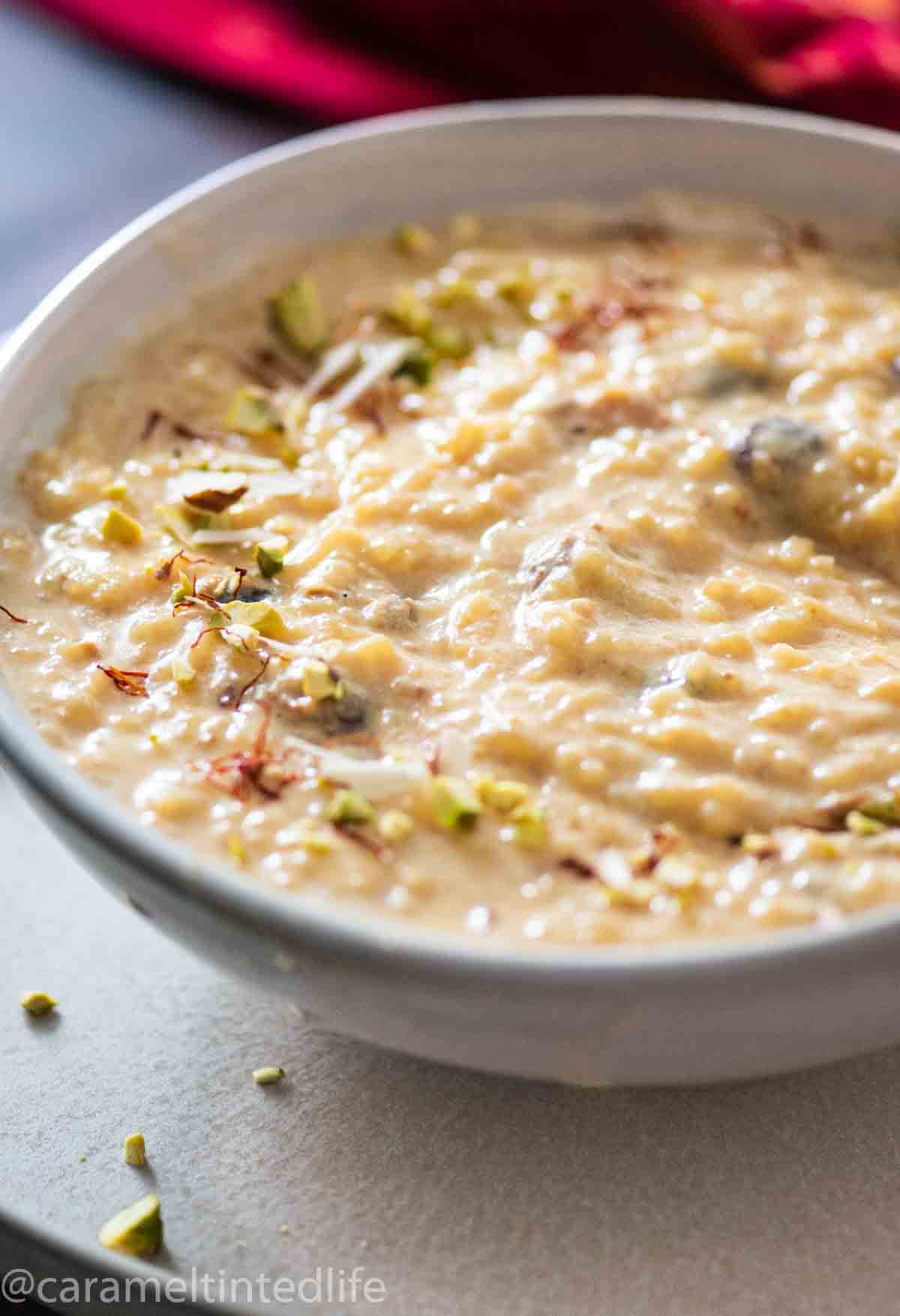 Similar Instant Pot Recipes
Instant Pot Lemon and Berry Pudding
Instant Pot Gingerbread Pudding Cake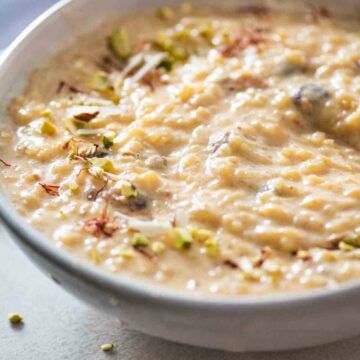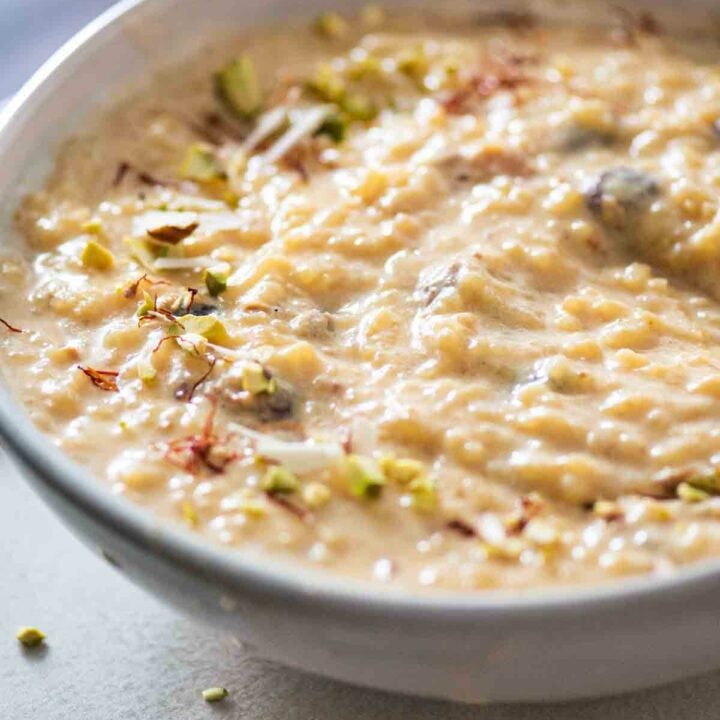 Instant Pot Kheer
Instant Pot Kheer is a classic Indian rice pudding infused with cardamom and saffron. This is an easy, no-fuss recipe for rich, creamy, and delicious Instant Pot Rice Pudding!
Ingredients
2

teaspoons

ghee

2

tablespoons

Cashews

chopped

2

tablespoons

Golden Raisins

½

cup

Basmati Rice

A few strands

saffron

4

cups

Milk

(full fat)

½

teaspoon

Cardamom Powder

⅓

cup

Sweetened Condensed Milk
Instructions
Turn on the IP in 'Saute' mode, in the 'More' setting.

Add the ghee, followed by the cashews and raisins. Saute for a minute or two until cashews start to brown.

Add the rice, followed by the milk, cardamom powder, sugar, and saffron. Mix well to combine.

Put on the lid of the IP, and set to 'Porridge' mode. This is a pre programmed setting for Pressure Cooking for 20 minutes.

Once the cooking cycle is complete, let the steam release on its own, and once the vent has come down, open the lid of the Instant Pot.

Add the condensed milk and stir. Cover with the lid and let it sit for 5 minutes. Serve warm or cool and refrigerate.
Notes
Condensed Milk is an optional ingredient. I recommend using it for extra creamy kheer.
Cardamom powder can be bought in Indian stores. To make your own, simple crush 4-5 cardamom pods. Remove the skins, and crush the seeds in a mortar and pestle until ground.
To make Vegan Kheer, substitute milk with cashew milk or almond milk. Skip the condensed milk.
You can also use jaggery or coconut sugar as a substitute for refined white sugar.
Nutrition
Calories:
388
kcal
Carbohydrates:
52
g
Protein:
13
g
Fat:
15
g
Saturated Fat:
8
g
Polyunsaturated Fat:
1
g
Monounsaturated Fat:
5
g
Cholesterol:
39
mg
Sodium:
140
mg
Potassium:
535
mg
Fiber:
1
g
Sugar:
31
g
Vitamin A:
463
IU
Vitamin C:
1
mg
Calcium:
361
mg
Iron:
1
mg