Mint Cilantro Chutney or Green chutney is a dip made with mint leaves, coriander leaves, and green chilies, often with added ingredients such as cashews or yogurt. Best served as an accompaniment to Indian snacks and appetizers. Make your own green chutney at home!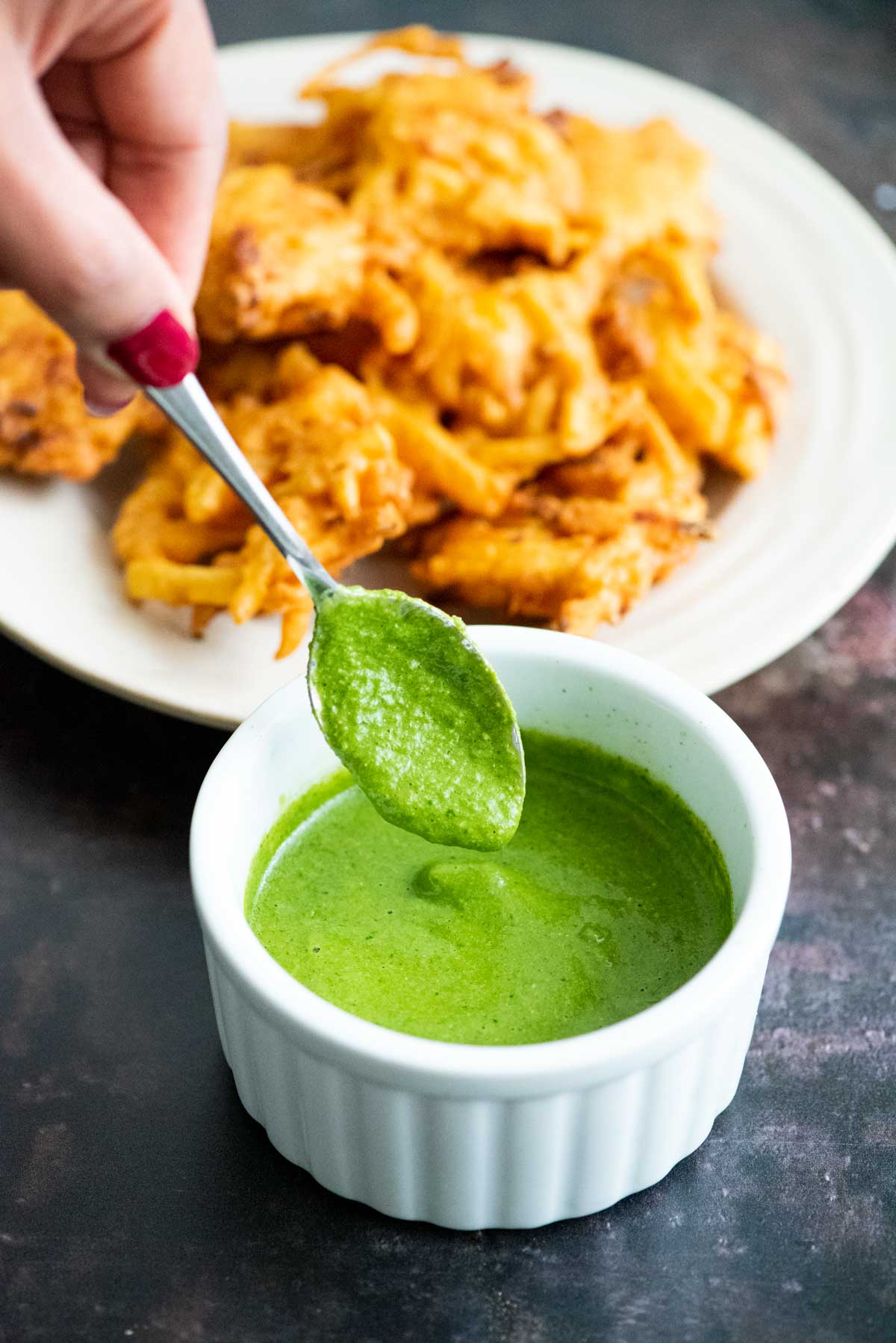 Jump to:
I use this mint cilantro chutney aka, green chutney so often as a side for my favorite Indian appetizers and sides, it was imperative that I published a full-fledged recipe!
What is Mint Cilantro Chutney?
Also known as Green Chutney, mint and cilantro chutney is a mildly spiced and seasoned dip that is vibrant and green in color. It is made with mint leaves, cilantro leaves, and green chilies at its base, and lime juice, green chilies, cumin, ginger, and garlic are also added for seasoning and flavor.
Most Indian households will have a jar of this green chutney handy in the fridge to use as needed. This green chutney is the perfect addition to add flavor to 'chaat' such as Bhel Puri or to accompany a side/appetizer such as Pakoras, Beetroot Tikkis or Paneer tikka. You can also simply spread it on white bread to make a delicious chutney sandwich.
Did you know that pudina (Mint) and dhaniya (cilantro) aid in digestion, and this chutney is not just a flavor enhancer, but also has digestive and anti-inflammatory properties?! Give me all the green chutney!
Why this recipe works
Versatile – perfect dip for most Indian sides and appetizers
Anti-Inflammatory - mint and cilantro are natural digestives
Can be made in 5 minutes!
Easy for meal prep and keeps well in the fridge
Recipe Ingredients
To make this mint cilantro green chutney recipe, you will need: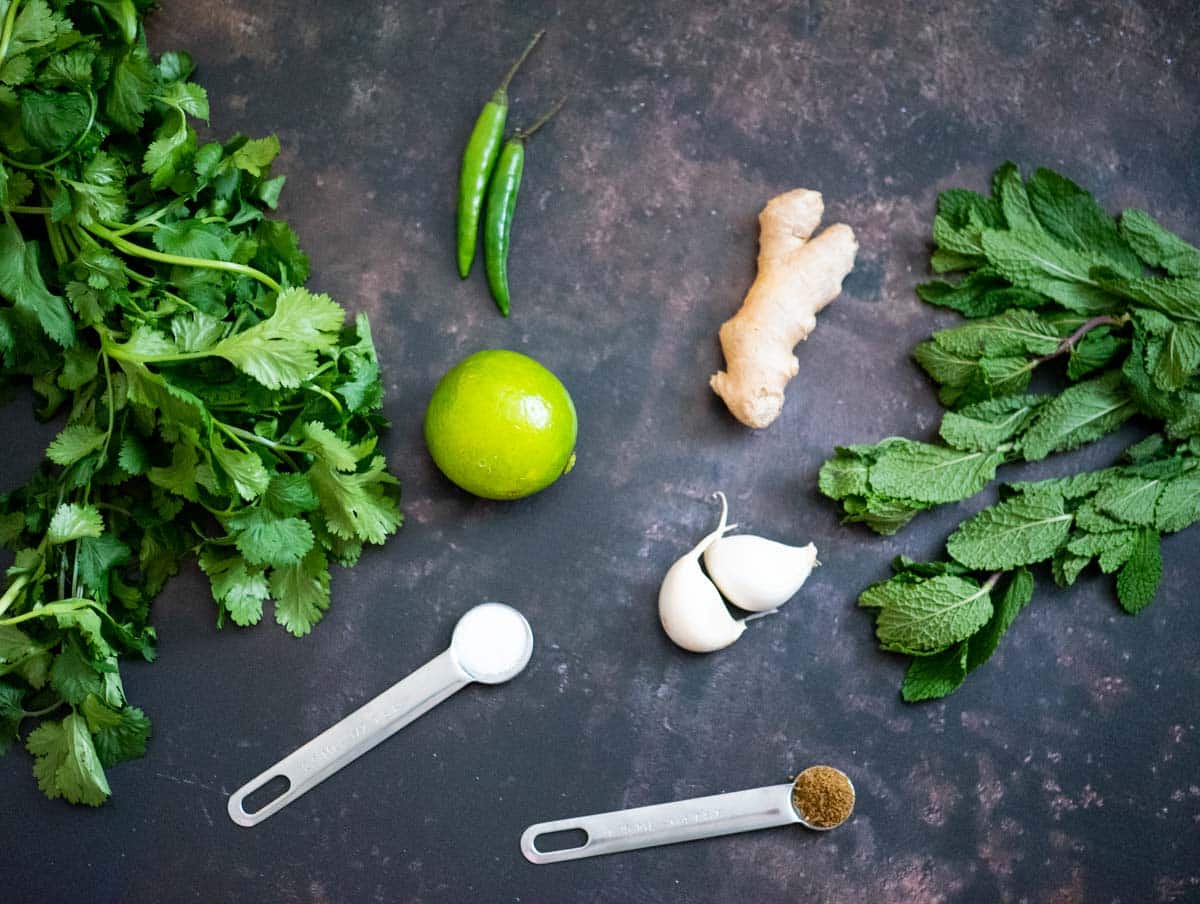 Essential ingredients to make basic green chutney
To make the most basic version of green chutney, you will need the following ingredients:
Cilantro (coriander) leaves
Mint leaves
Ginger
Garlic
Lime (not lemon)
Green chilies
Cumin
Salt and Sugar
Optional Ingredients
Any of these optional ingredients are great to add to the basic mint cilantro chutney recipe. Most of them need to be added to the blender along with the above ingredients for basic chutney, except yogurt, which can be stirred in later.
Chaat Masala – I always try to add a little chaat masala to green chutney, for that extra 'zing' (for more on chaat masala, you can read my guide to Indian spices).
Cashews – I love this as an addition to my green chutney! Soak the cashews in hot water for 20-30 minutes, and add it to the rest of the ingredients listed under 'essential ingredients'. The chutney will be mildly sweet and creamy, and slightly thick in consistency. Optionally, you can use soaked and peeled almonds.
Gram Flour – A teaspoon of lightly roasted gram flour is a great way to add body to the green chutney
Yogurt – This is the best way to add thickness and flavor to green chutney without much effort. Simply add a spoonful of full-fat yogurt to the basic green chutney and mix in.
Coconut – Another favorite addition of mine! Use grated fresh or frozen coconut or even desiccated coconut, along with the rest of the ingredients listed under 'essential ingredients.
Roasted peanuts – Add roasted peanuts before blending, to give the chutney more flavor. You can also use salted peanuts from a bag for a quick fix.
How to make perfect Mint Cilantro Chutney
It takes just a blender and your prepped ingredients to make this super simple green chutney!
Add all the ingredients required to make the basic green chutney, to a blender jar - rinsed and cleaned mint leaves (without the stem), rinsed and cleaned cilantro leaves (you can leave the tender stem on, but discard the thick stems), a piece of ginger root, cloves, whole green chili, salt, sugar, lime juice, cumin powder to the blender jar.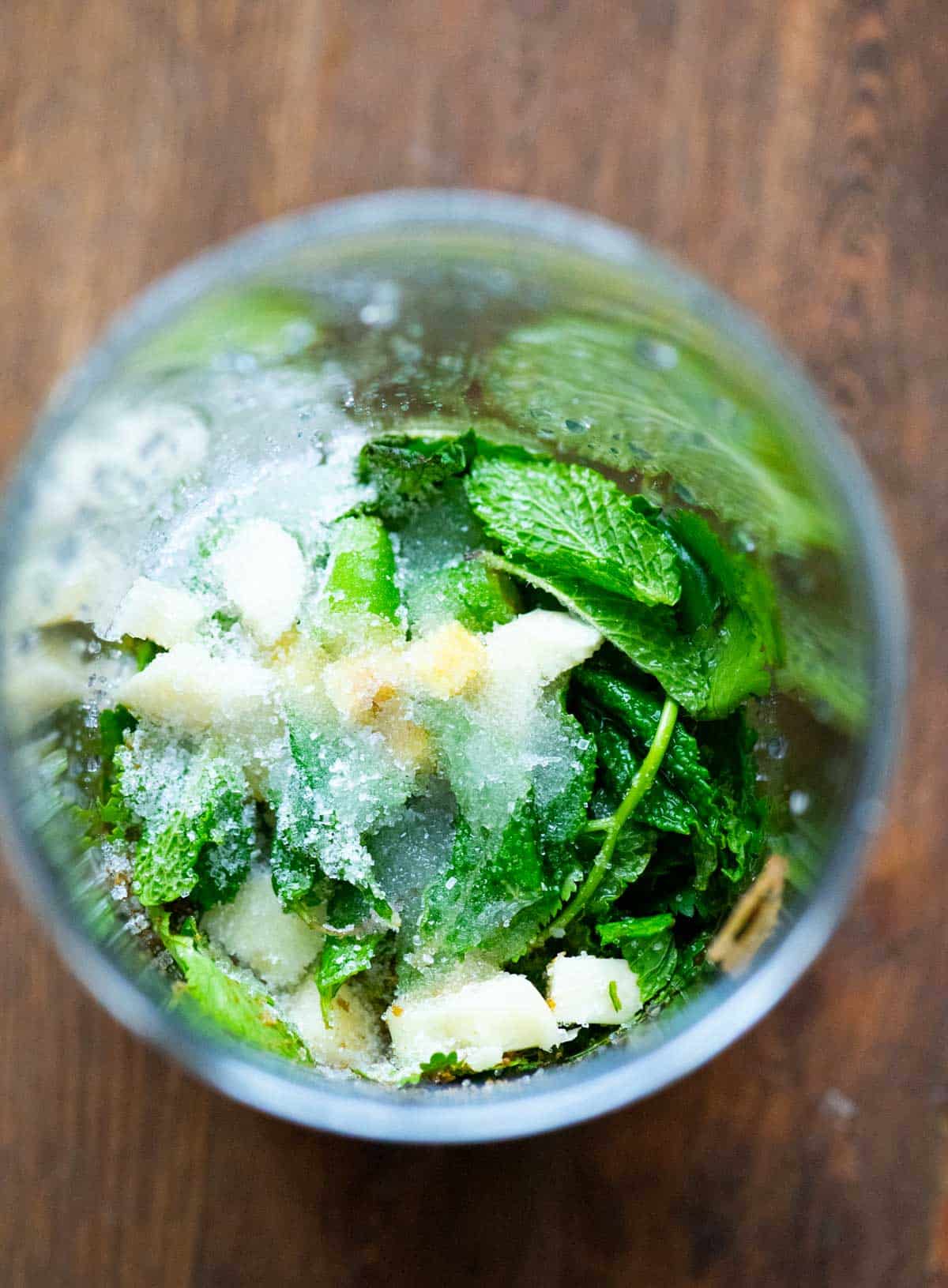 Add 1- 2 tablespoons of water, and blend to form a semi-thick chutney. This is the basic recipe for green chutney. I have made a couple of variations of this recipe that I love, and highly recommend you try.
Variation 1 - Add yogurt to the basic recipe. Sir in 1tablespoon of thick full-fat yogurt to the basic green chutney. It will look like this: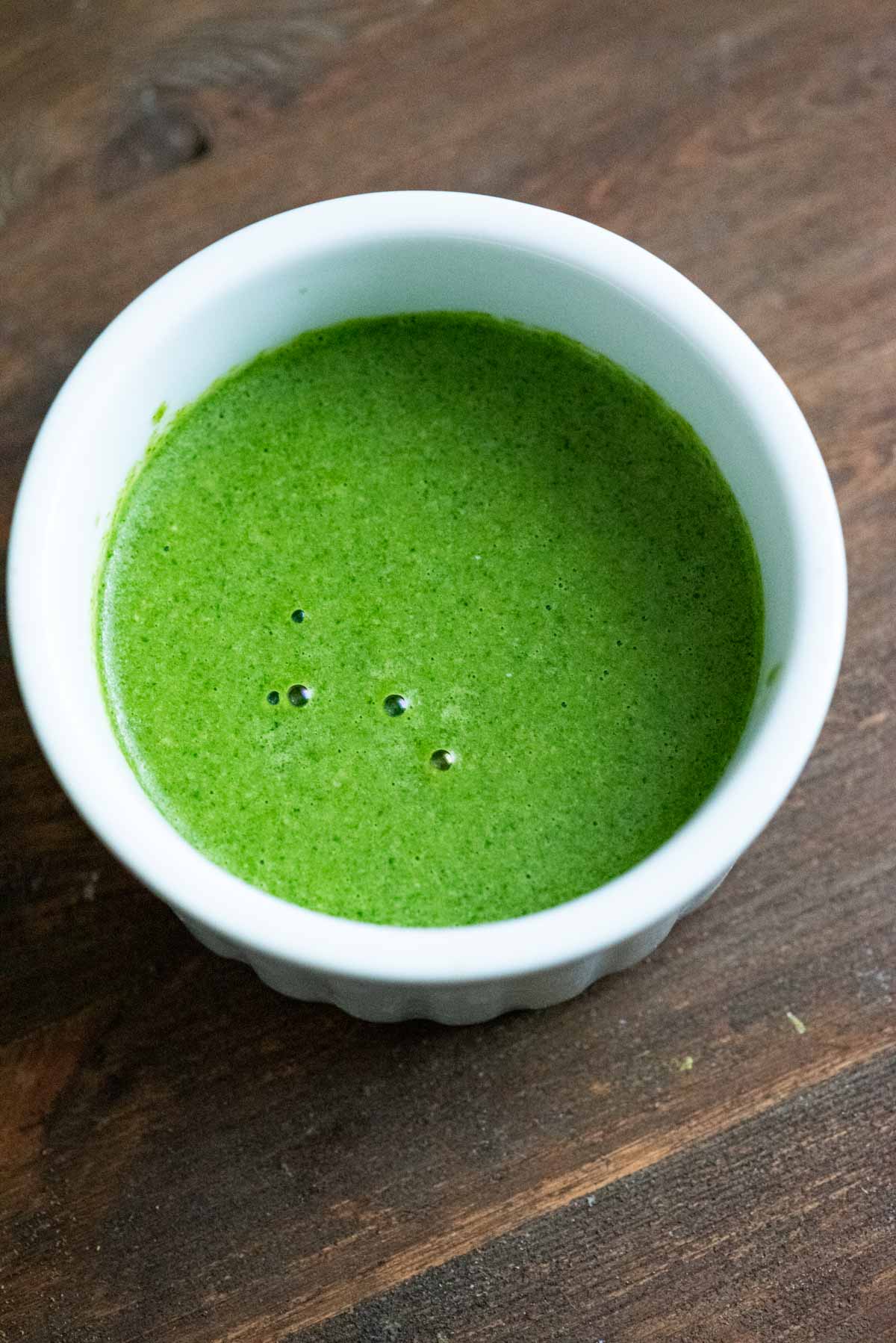 Variation 2 - Soak cashews in hot water for 20- 30 minutes. After soaking, add cashews along with the basic chutney ingredients to the blender jar. Add an extra tablespoon of water, otherwise, the chutney might become too thick.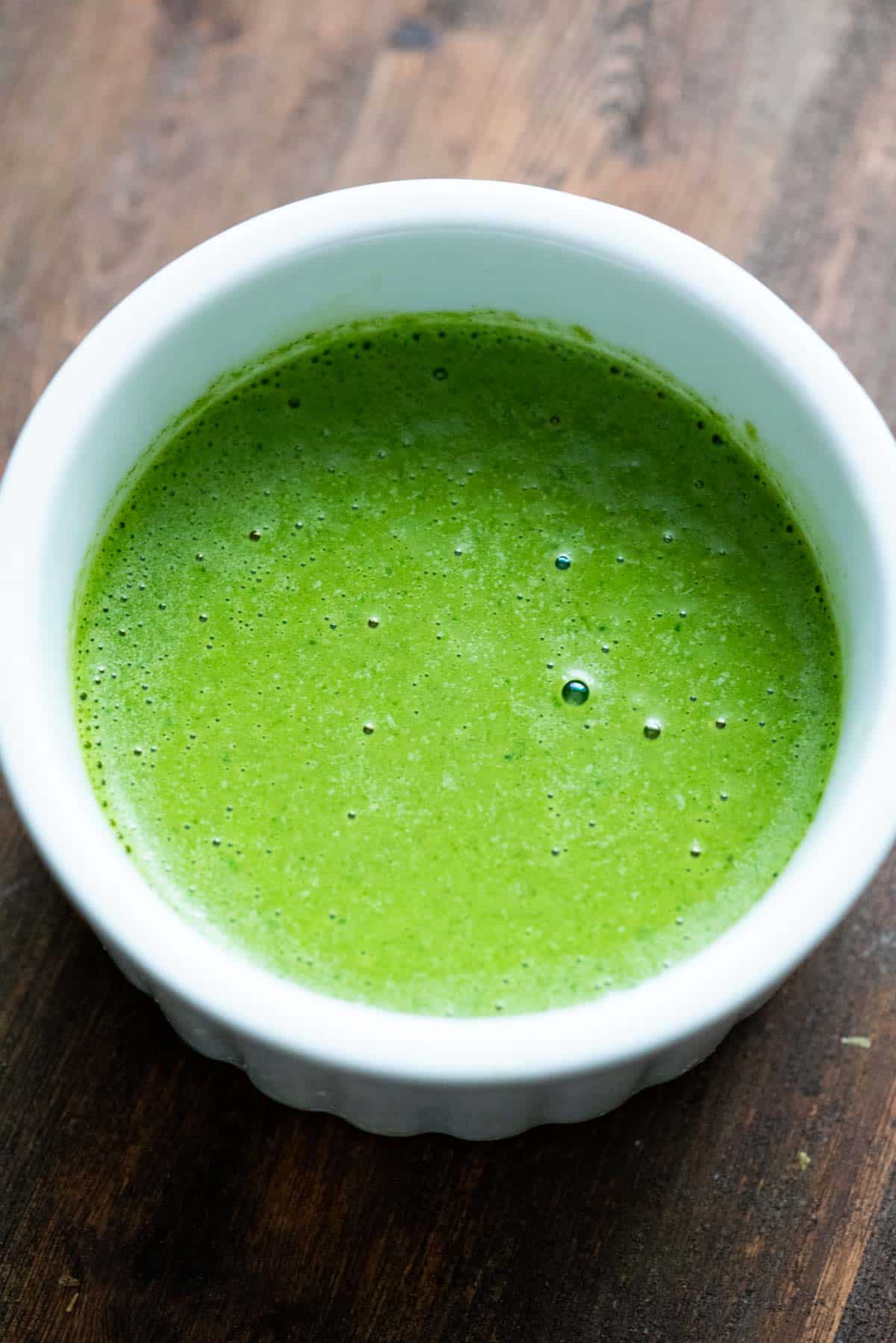 And you're done! Serve mint cilantro chutney as a dip with hot and crispy vegetable pakoras, or chicken pakoras, or use it in sandwiches or just about anything you fancy!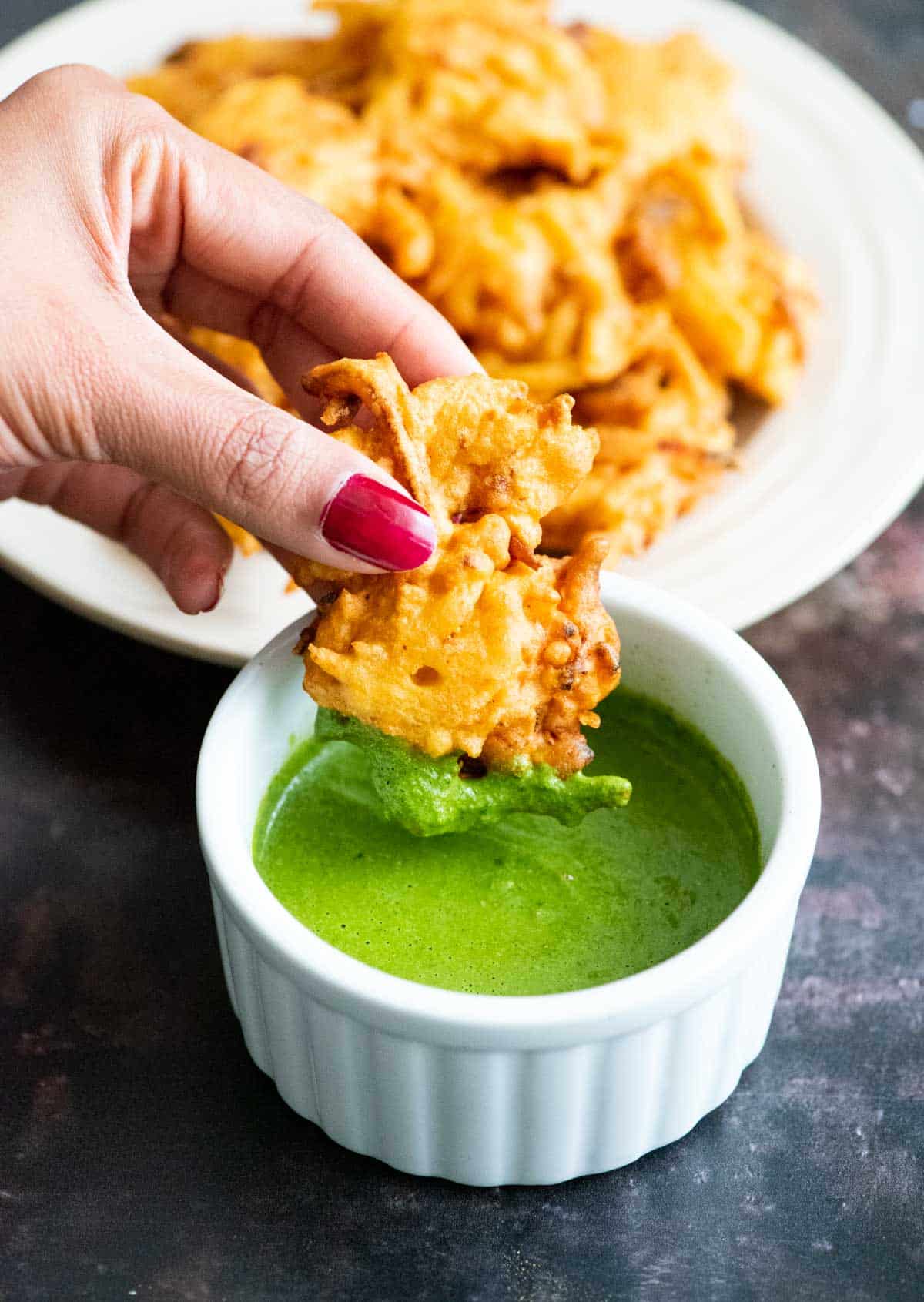 Tips for making green chutney
Go easy on the water – Make sure you are adding just a little water to avoid making the chutney too runny. I personally like a slightly runny chutney, however, if you prefer thick chutney that has the consistency of a dip, use 1-2 tablespoons of water while blending. Check to see consistency and more water if needed.
Control the spice level - Add just enough green chilies as per your spice tolerance. I like my chutney spicy, but we keep it mild as our kids eat it as well. I like to use 1 whole green chili with seeds – but you can use half if you want to cut down on the heat.
Troubleshooting this Recipe
Why is my green chutney bitter?
This can happen if the mint leaves are processed for too long in a blender jar. Blend just enough to combine the leaves. If you over-blend, the mint can turn bitter.
Why has my chutney turned dark?
Mint is the culprit again! Mint leaves oxidize quickly and can turn dark very soon. To help in preventing this, add enough lime juice – which is known to prevent oxidation. If you are storing the chutney in the fridge, make sure you are sealing the jar, otherwise the chutney will turn dark. The taste will not be impacted though!
How long does green chutney last?
If stored correctly, in an airtight container in the fridge, the green chutney lasts for upto a week. Green chutney can also be stored frozen – you can pour the chutney into ice cube trays and freeze. Transfer the frozen ice cubes into a zip lock bag and use as needed.
Is green chutney good for you?
The short answer is - Yes! Green chutney is pretty good for you. Mint leaves help aid in digestion and prevents flatulence. Ginger is known for its anti-inflammatory properties and coriander is also known to aid digestion.
Serving Suggestions
Green chutney pairs very well with the following Indian appetizers: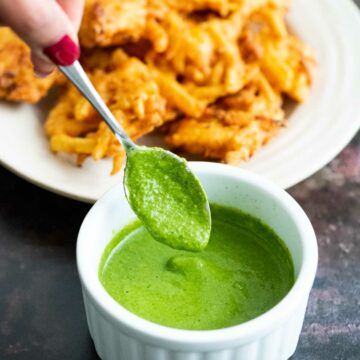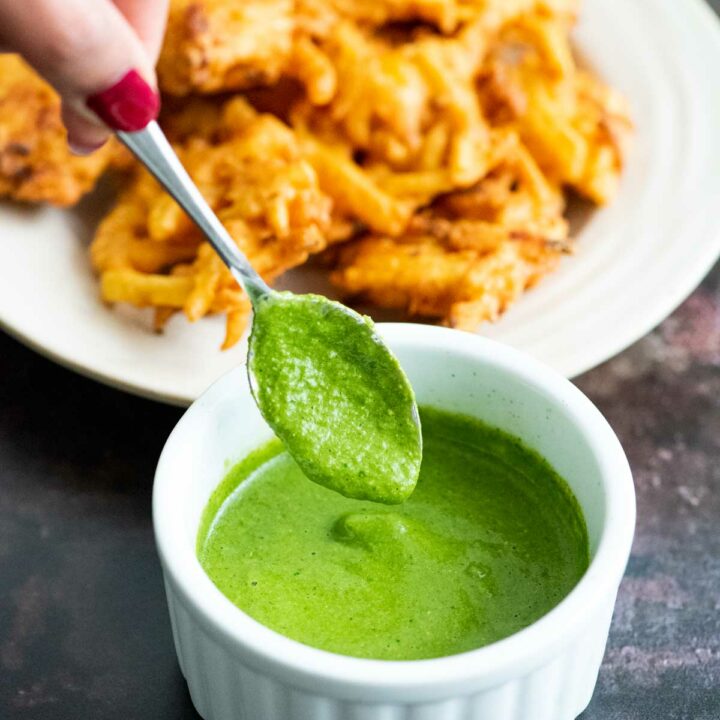 Mint Cilantro Chutney Recipe
Mint Cilantro Chutney, aka, Green Chutney is a dip made with mint leaves, coriander leaves, and green chilies, often with added ingredients such as cashews or yogurt. Best served as an accompaniment to Indian snacks and appetizers.
Ingredients
1½

cup

Cilantro leaves

aka, Coriander leaves

1

cup

Mint leaves

3

cloves

Garlic

1

inch

Ginger

1

Green chili

1

tbsp

Lime juice

1

tsp

salt

½

tbsp

sugar

½

tsp

cumin powder
Optional Ingredients (see notes)
Instructions
In a blender jar, add all the ingredients along with 2 tablespoons of water.

Blend until combined to a dip-like consistency. Do not overblend.

Taste and check for seasoning. Add more salt or lime juice or water as needed.
Notes
Optional ingredients - Instead of cashews, you can also use lightly roasted Gram Flour (besan), or full-fat yogurt, or coconut (fresh, frozen, or desiccated), or roasted peanuts.
To avoid a bitter-tasting green chutney, make sure you blend just enough to combine. Do not over-blend.
Discard the thick stems of coriander/cilantro leaves (you can keep the tender stem) and discard the stems of the mint leaves.
If refrigerating, make sure you are storing the chutney in an air-tight jar, otherwise, the chutney will turn dark.
Nutrition
Calories:
70
kcal
Carbohydrates:
8
g
Protein:
2
g
Fat:
4
g
Saturated Fat:
1
g
Sodium:
627
mg
Potassium:
158
mg
Fiber:
2
g
Sugar:
3
g
Vitamin A:
883
IU
Vitamin C:
8
mg
Calcium:
38
mg
Iron:
1
mg