A dessert that pairs the intense, moreish flavors of a traditional Indian carrot fudge dessert (gajar halwa) with a more restrained, elegant saffron white chocolate mousse.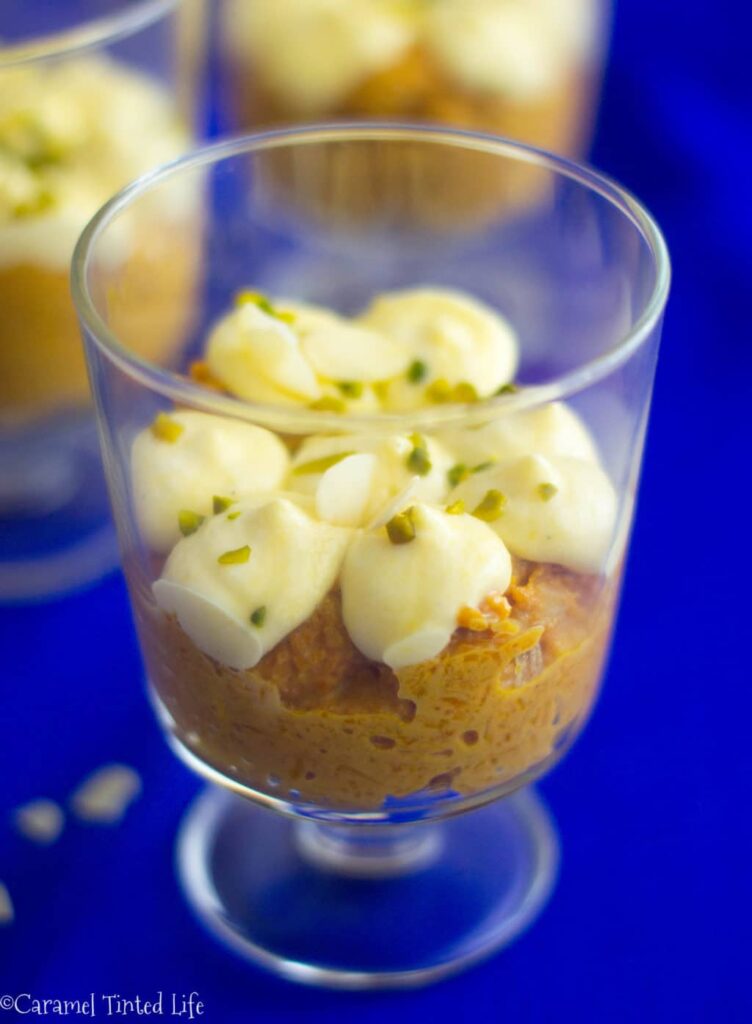 If you ask me, a piece of jewellery should have enough impact to change more than just an outfit. Personal style is unique to an individual, and the intimate nature of jewellery is what makes it a true representation of one's personal style. Whether you like making a splash with colorful gems, or you prefer to show your love for vintage with some timeless pieces that you've inherited from your grandmother, the jewelry you wear says a lot about the person you are.
When I first set my eyes on the collections of INVIN Jewellery, I fell instantly in love! INVIN Jewellery is a unique Switzerland-based brand that is inspired by founder Nataly Taranova's love of travel and jewellery. Set aside some time to browse their collections at leisure, like how I did, because you won't be able to take your eyes of your screen! Their collections are truly stunning and each piece is a visual treat, designed to mentally transport you into the place it is named after. Each piece is crafted with high-quality silver and gold and designed in Switzerland.
Isn't it a wonderful feeling to be able to be transported to an exotic land through the power of visual imagery? Some of my favorite picks from the INVIN collections are the Marrakesh Ring, the Cambridge earrings and the absolutely stunning Stockholm bracelet. I particularly love how the Stockholm bracelet combines elements of Scandinavian design to create a visual treat of a statement piece.
To add some seasonal color, take a look at the aptly named 'Spring in the Alps' earrings, the Madeira ring and the resplendent Summertime ring. Each of these would make such a great statement piece for any occasion.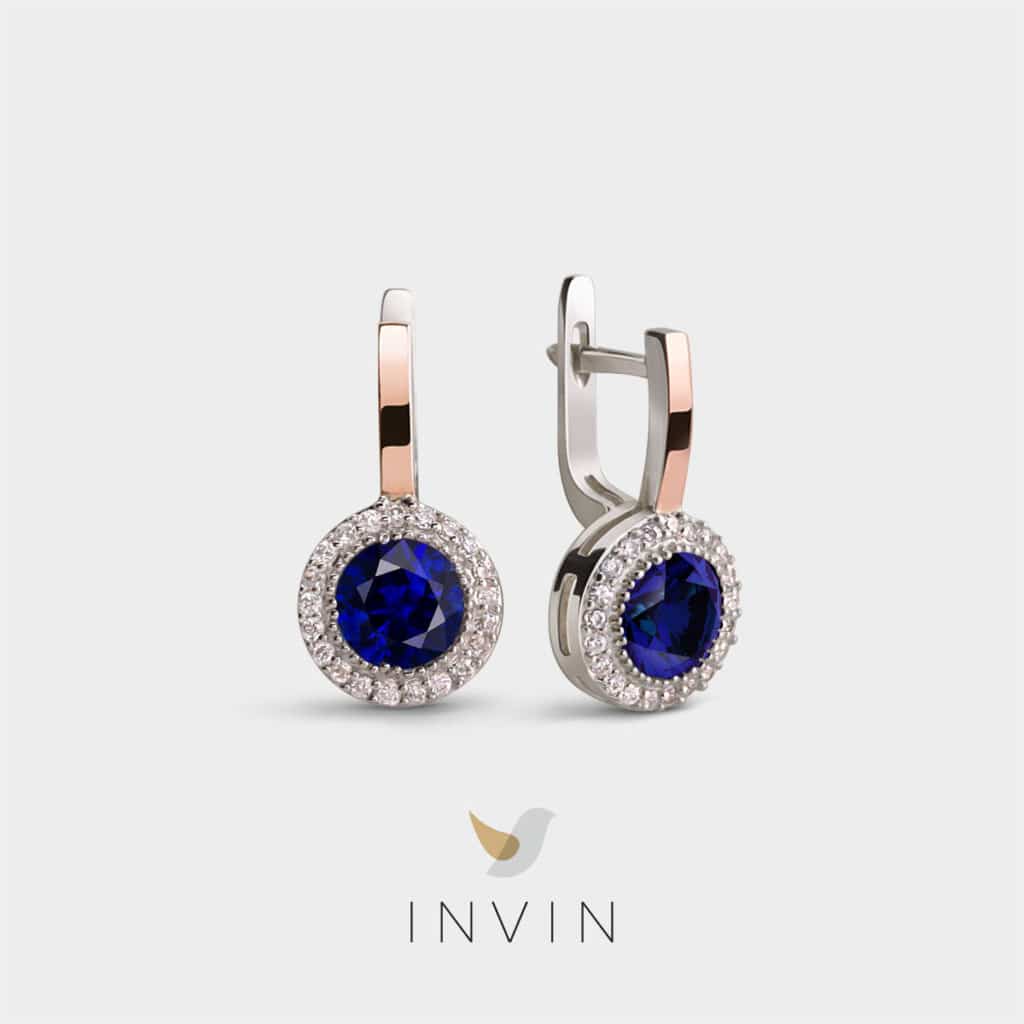 I thought it would be fitting to make a dessert that captured the elegance and vibrant designs of INVIN Jewellery. I was inspired by the way the designs capture the ethos of a place that is rich in history and traditions, and translate that into a beautiful piece of modern jewellery. This dessert is a pairing of the intense, moreish flavors of a traditional Indian carrot fudge dessert (gajar halwa) with a more restrained, elegant saffron white chocolate mousse.
I am delighted to share with my readers a special offer from the team at INVIN Jewellery. As a special promotion, INVIN Jewellery is offering a 20% discount for all products purchased through the website www.invinjewellery.com . You can enter the promo code Caramel20 when you check out to avail of this offer, before 31st July 2017.
(Disclaimer: all views expressed here are my own)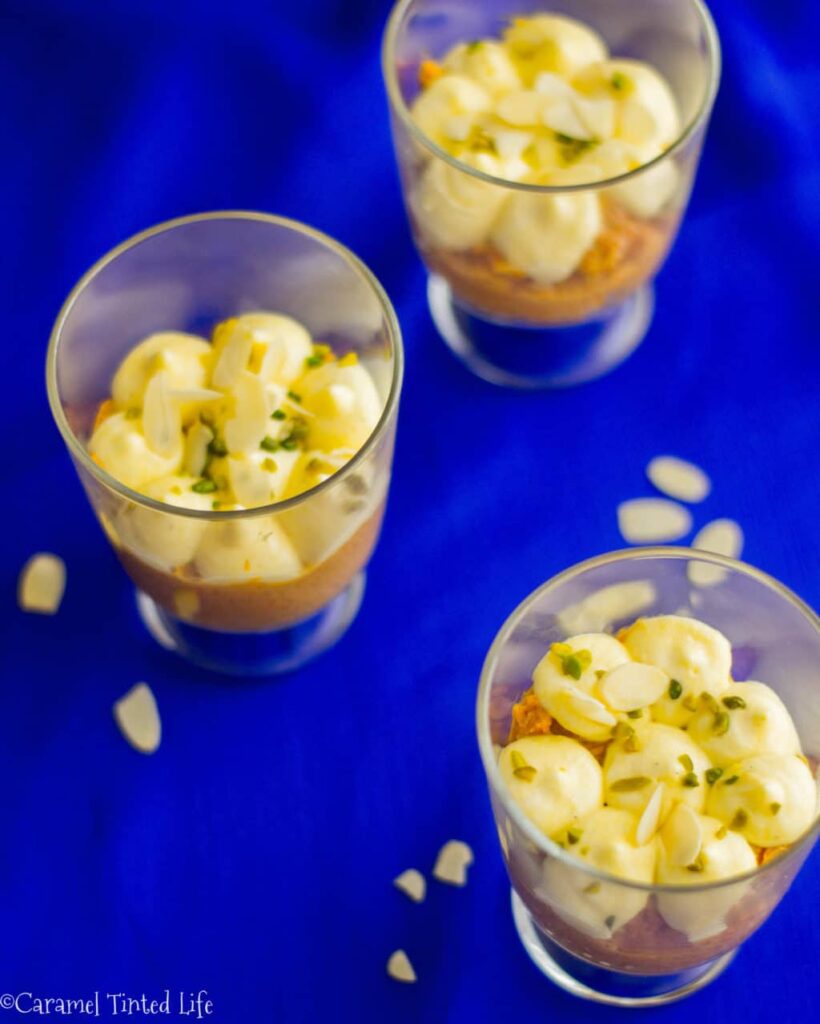 Carrot Fudge & White Chocolate Mousse - And a special offer from Invin Jewellery
A dessert that pairs the intense, moreish flavors of a traditional Indian carrot fudge dessert (gajar halwa) with a more restrained, elegant saffron white chocolate mousse.
Ingredients
To make 8-10 servings:

For the Gajar Halwa:

8

medium to large carrots

finely grated (you could also use your food processor to finely shred them)

1

can sweetened condensed milk

125

g

or 8 tbs butter

¾

cup

chopped almonds

¾

cup

raisins

1

tsp

cardamom powder

For the White Chocolate Saffron Mousse:

4

egg yolks

1/4

cup

sugar

1

cup

heave cream

35% fat content

100

grams

chopped white chocolate of white chocolate chips

1 1/2

cups

cups heavy cream

35% fat content

Chopped pistachios for garnishing
Instructions
To make the Carrot Fudge:

Sauté the grated carrots with butter in a heavy-bottomed pan for around 10 minutes.

You could either transfer the carrots to a slow cooker if you have one, or continue cooking in the pan on low heat.

Add saffron, powdered cardamom, condensed milk, chopped almonds, and raisins. If you are using a slow cooker, cook for 4 hours on low heat. If you are cooking on the stove-top, continue cooking on low heat for 3 to 4 hours, stirring every 20 minutes or so.

Once the carrots have been reduced to a fudge-like consistency, turn off the heat.

While the carrots have been slow-cooking, prepare the mousse.

To make the Saffron White Chocolate Mousse:

Beat egg yolks in small bowl with electric mixer on high speed about 3 minutes or until thick and lemon colored. Gradually beat in sugar.

Heat 1 cup of whipping cream in a pan with high sides over medium heat just until hot.

Gradually stir half of the cream into the egg yolk mixture, then stir this mixture back into the hot cream in the saucepan.

Add the strands of saffron and cook over low heat about 5 minutes, stirring constantly, until mixture thickens. Make sure the mixture doesn't boil.

Stir in the chopped white chocolate and continue to cook until melted. Cover and refrigerate about 2 hours, stirring occasionally, just until chilled.

Beat the remaining 1 1/2 cups whipping cream in chilled medium bowl with electric mixer (hand-help or stand-mixer) on high speed until stiff.

Fold the refrigerated mixture into the whipped cream, until well combined.

To serve, spoon the carrot fudge mixture into parfait glasses. Using a piping bag, pipe the mousse over the carrot fudge. Garnish with shopped pistachios.

This dessert is served best cold, so you could prepare the parfait glasses n advance and let them chill at least a hour before you serve them.
If you like my recipe, do pin this image for later: