This chicken tagine is a much-loved North-African stew made with chicken slow-cooked with spices, dried fruit, and nuts. Aromatic and flavorful, this stew is perfect for a festive meal!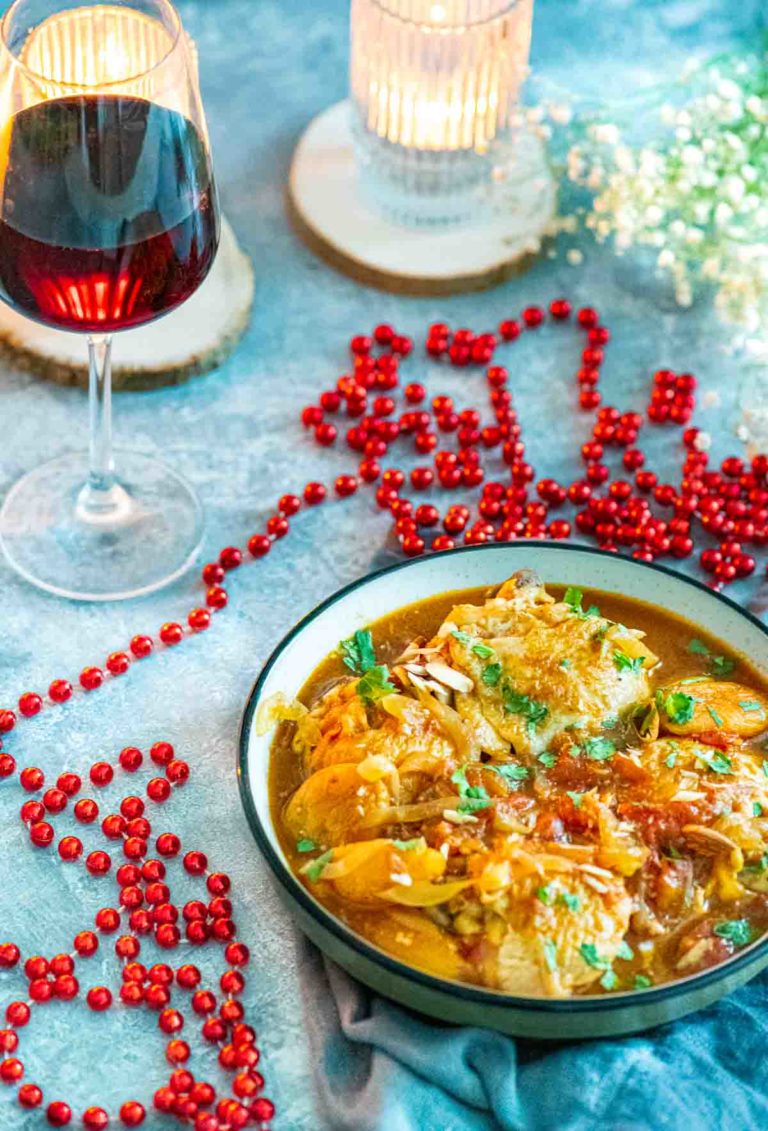 This post is sponsored by Farmy.ch
Jump to:
With my deep love for spices, it naturally follows that Moroccan food would rank high up among some of my favorite cuisines. Tagines are perhaps some of the more popularly known dishes from this region. And for good reason! This chicken tagine hits all the right notes with me - A slow-cooked stew that comes together with spices, dried fruits, and nuts - what's not to love?
Tagines are traditionally prepared in a terracotta conical pot that traps the heat in and provides a moist environment by trapping the steam that cooks the food evenly inside. I simply make tagine in the Instant Pot in the Slow Cook mode. You can also use a slow cooker or make it on the stovetop. Have you seen my chickpea tagine recipe, that I also make in the Instant Pot?
Why this recipe works
The perfect balance of complex flavors - sweet, sour, tangy, mildly spicy
Easy to make in the Instant Pot or slow cooker
Ideal main for a festive table!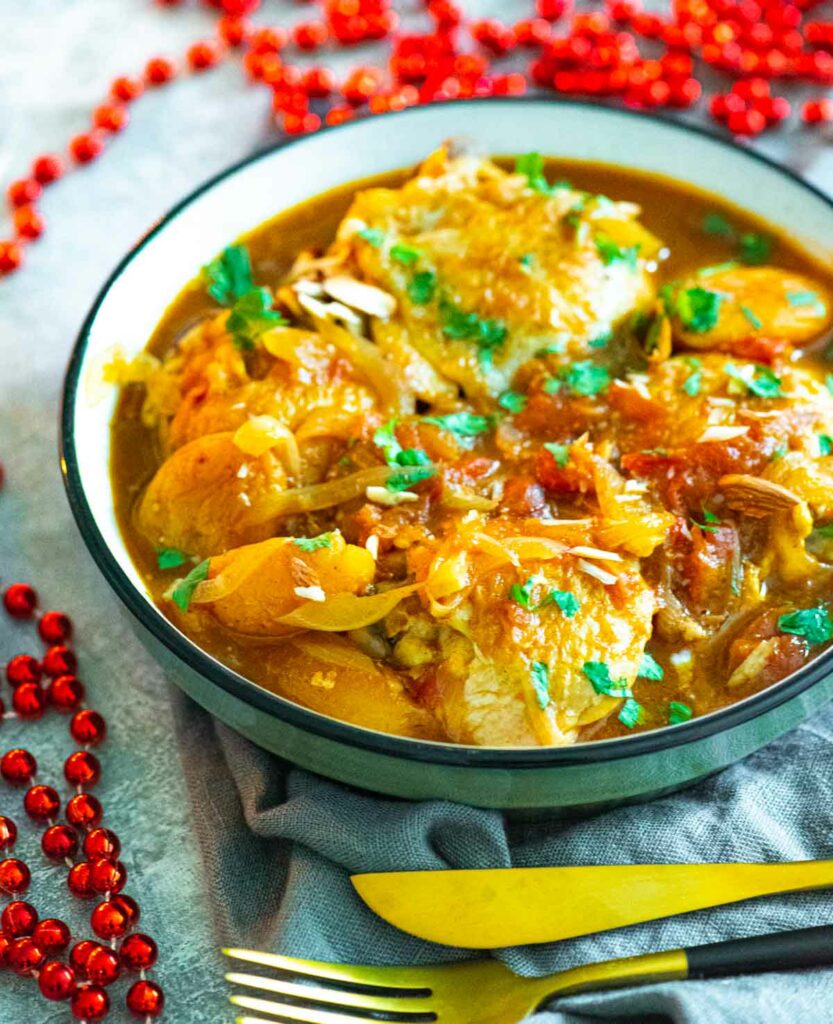 What goes into this recipe
For this chicken tagine recipe, we will need:
Optional additional ingredients:
Chicken stock or stock cubes
Parsley for garnishing
Recipe Instructions
Start by heating olive oil in the Instant Pot in 'Saute' mode. Once hot, add the chicken thighs and legs and let them brown on both sides for 7-8 minutes.
After browing the chicken pieces, keep them aside on a plate.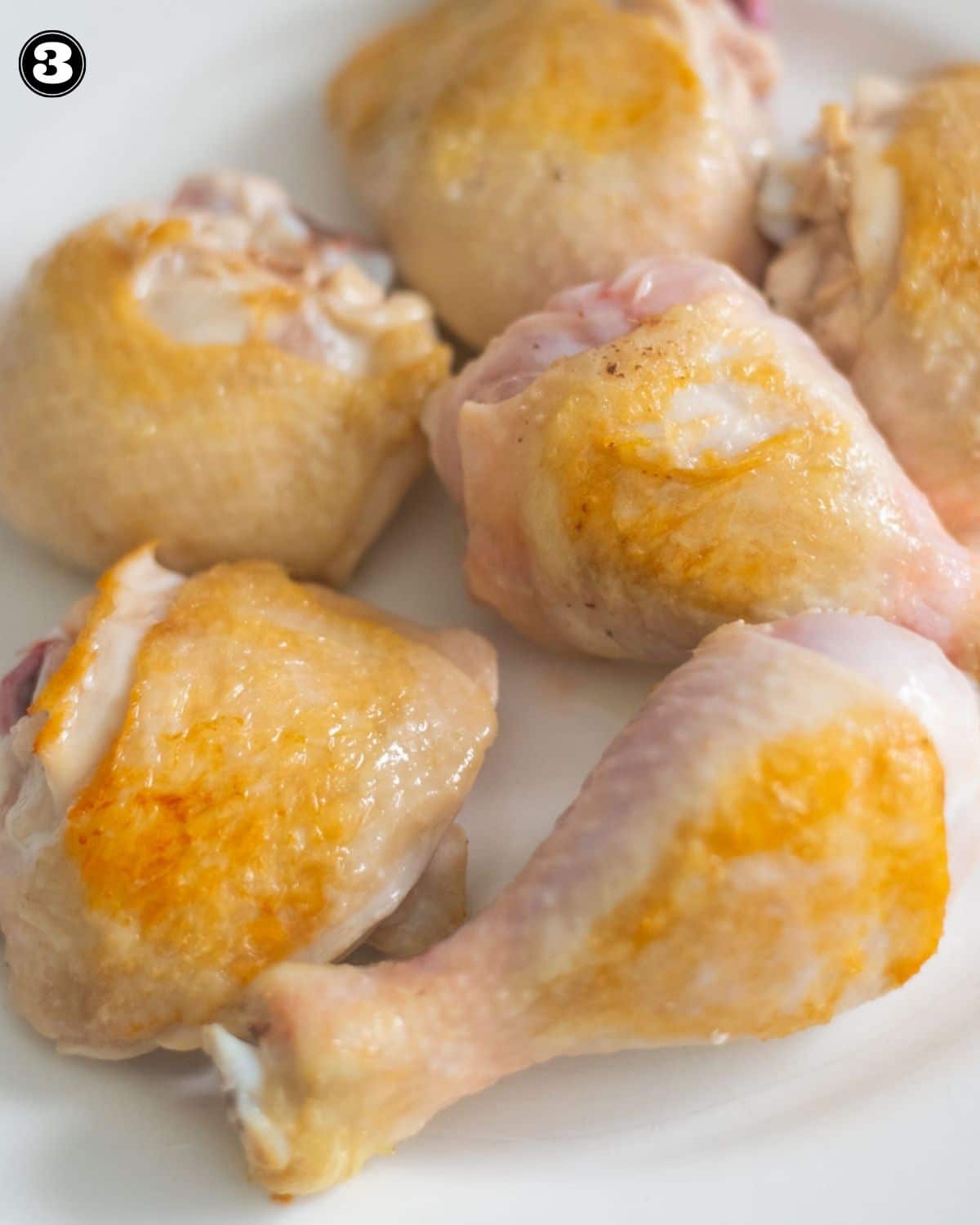 In the Instant Pot, add some more olive oil, then saute the onions, add the spices and ginger and garlic. Once the spices start to brown, add the chicken stock followed by the apricots. Deglaze the pot, making sure nothing sticks to the bottom.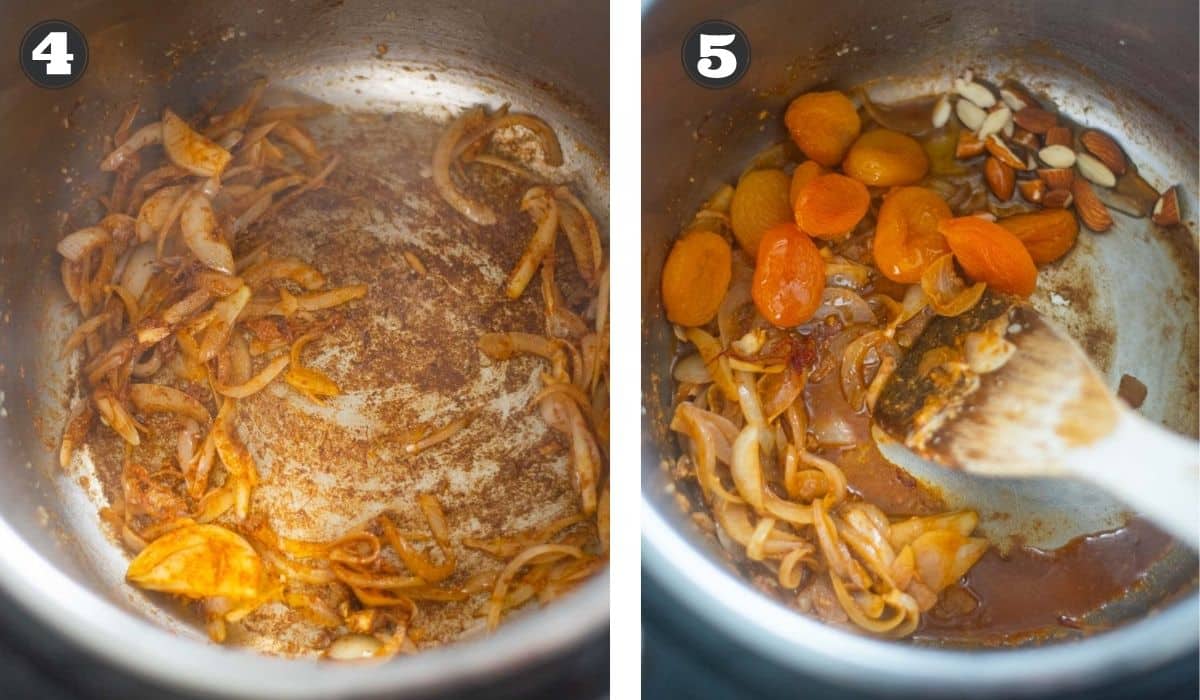 Add the tinned tomatoes, saffron strands and almonds, and add the browed chicken over this sauce.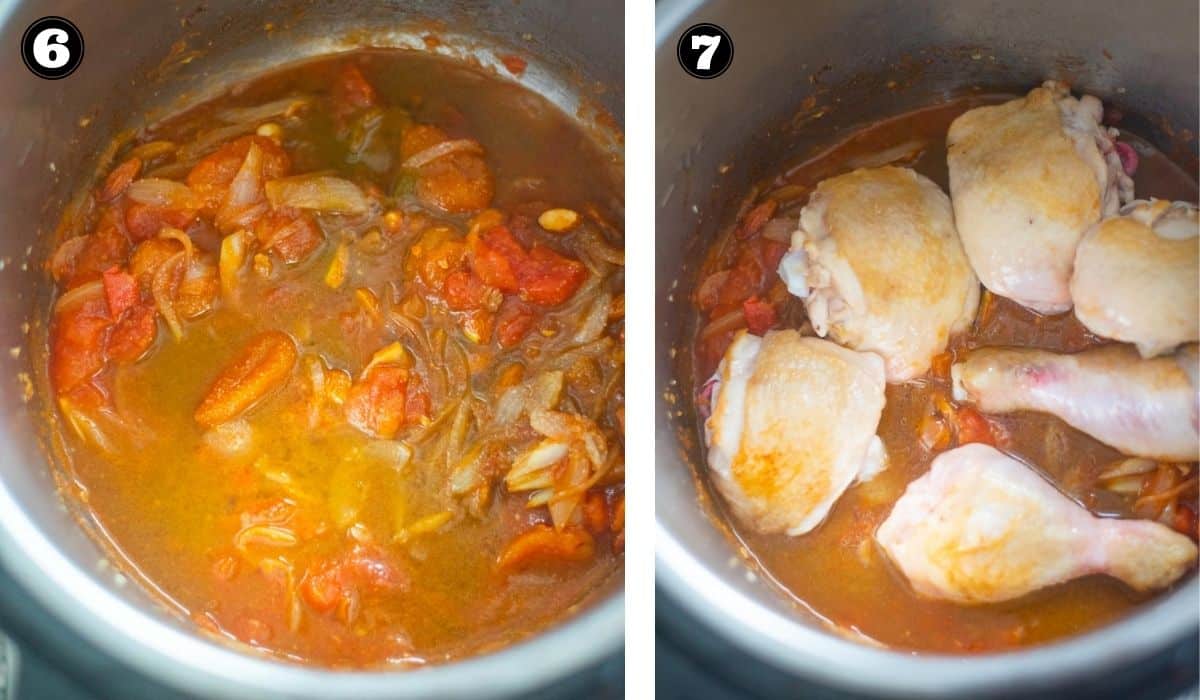 Switch to Slow Cook mode and cook in the 'More' setting for 1.5 hours.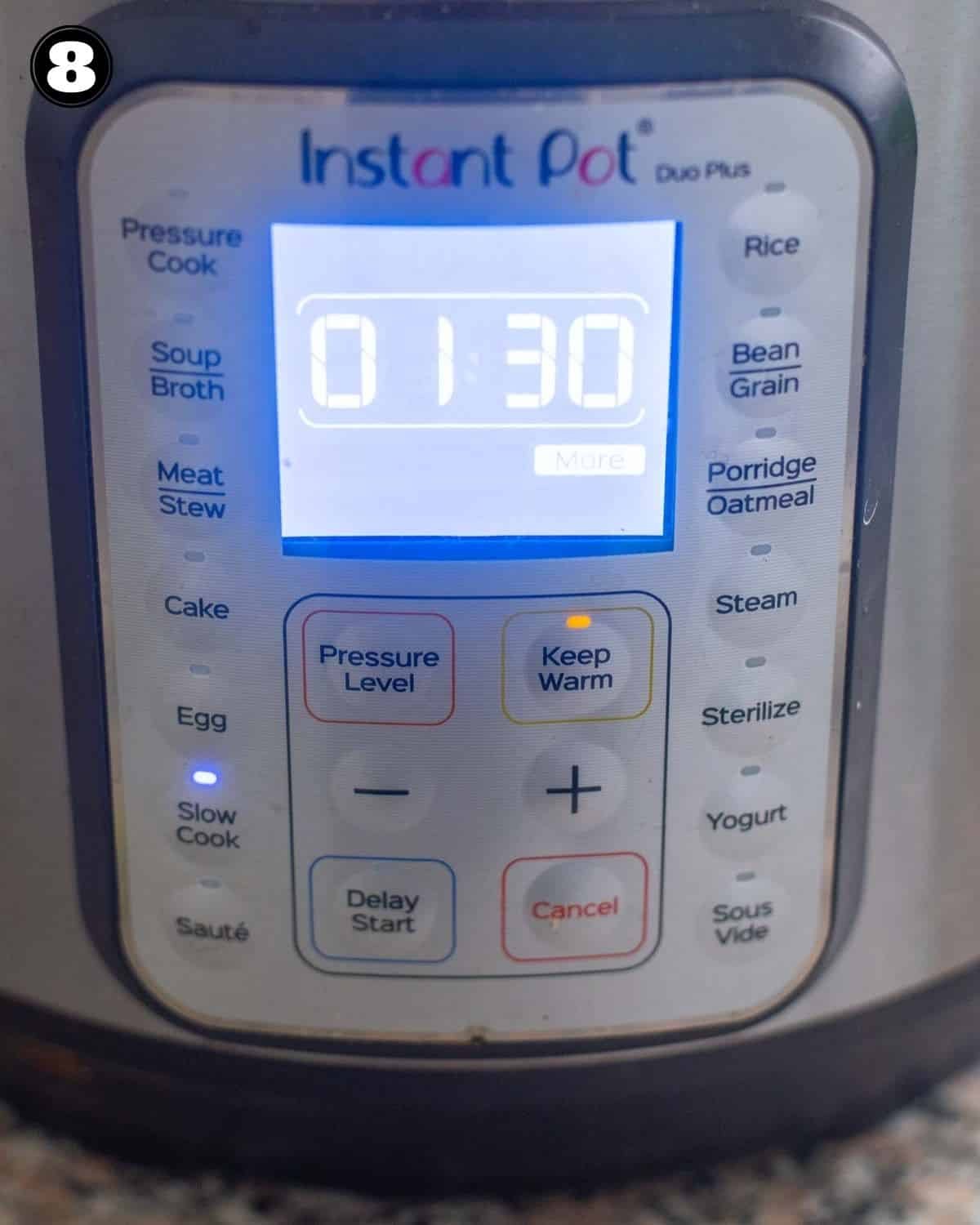 Once cooked, serve with a side of couscous, or crusty bread. Enjoy!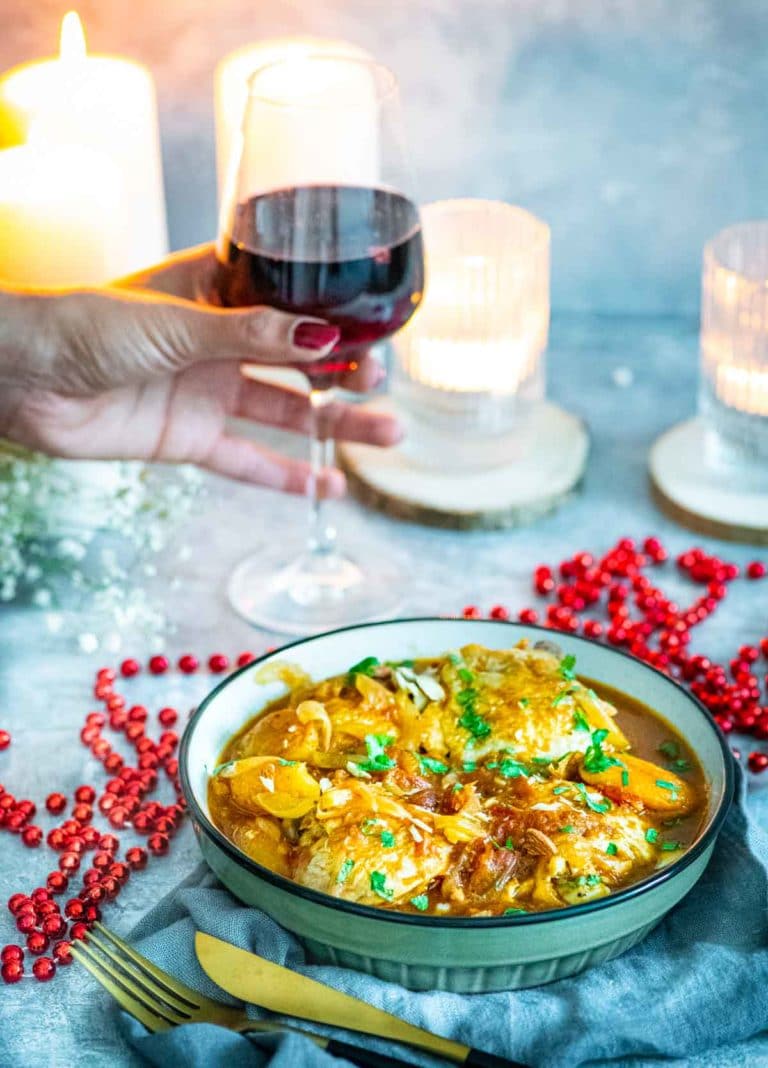 Expert Tips
Use bone-in, skin-on chicken - While you can easily use boneless chicken to make it easier for children to eat, I highly recommend going for bone-in, skin-on chicken legs, and thighs. The bone-in pieces give the sauce more flavor.
Brown the chicken - The skin is browned at the beginning to give it an extra depth of flavor. This extra step at the beginning makes a load of difference, so be sure not to miss this!
Slow-cooking - Tagines are traditionally slow-cooked to get those flavors to blend well together. Please don't rush this recipe and pressure cook it! Use your Instant Pot in the Slow Cook (not Pressure Cook) mode or simply use a slow cooker.
Recipe variations - This is an easy recipe to customize. For that characteristic balance of sweet and sour, I like to use any of the following ingredients:
Honey, dates, raisins, preserved lemons, olives, honey.
FAQs
What do you serve with a chicken tagine?
Just like any traditional stew recipe, you can serve chicken tagine with some crusty bread. On occasion, I like to serve this meal with couscous, or even rice.
Is tagine the same as a curry?
Although the process of making both a tagine curry are quite similar, the two are quite different. A tagine is a typical North African meal and curries are originally made in India. The tagine refers to both the conical vessel used to make the dish and the stew itself. The spices used in making curries are also different from the ones used to make tagines. There is no turmeric used in tagines, for example, which many curries (not all!) use turmeric.
More festive mains
Roast chicken with herbs and spices
If you liked this recipe, do comment below and rate the recipe! If you make this recipe, please post a pic on INSTAGRAM -tagging @carameltintedlife and follow along on FACEBOOK and PINTEREST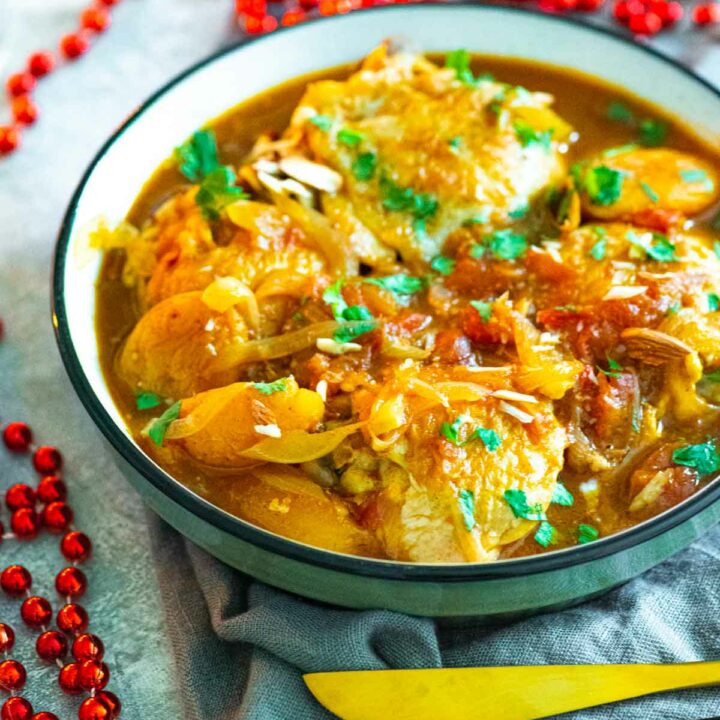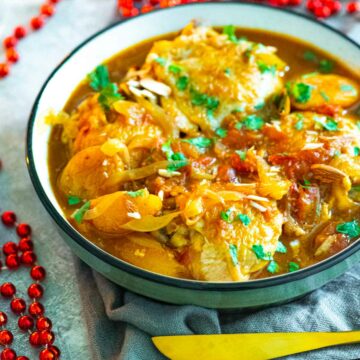 Chicken Tagine Recipe
This chicken tagine is a North-African stew of chicken, spices, dried fruit and nuts, that are slow-cooked together. With both Instant Pot and stovetop instructions.
Ingredients
600

grams

chicken thighs and legs

bone-in, skin-on

1½

tbsp

Olive oil

2

Yellow onions

sliced

2-3

cloves

garlic

grated

1

inch

piece of fresh ginger

grated

1

tsp

cumin powder

½

teaspoon

cinnamon powder

1

teaspoon

corriander powder

200

grams

tinned tomatoes

or use fresh tomatoes

½

cup

chicken stock

or use stock cubes

½

cup

dried apricots

1

tbsp

honey

⅓

cup

almonds

1

tsp

chopped parsley to garnish
Instructions
Instant Pot Instructions
Set the Instant Pot on 'Saute' mode and heat 1 tablespoon oilve oil. Once hot, add the chicken thighs and legs.

Brown the chicken on both sides for around 4-5 minutes on each side. Once browned, keep aside for later.

In the Instant Pot, add 1/2 tablespoon of olive oil. Add the sliced onions and saute until translucent. Then add the spice powder and minced ginger and garlic. Saute for a minute, do not overcook else the spices will burn.

Add the chicken stock (or use water mixed with stock / bouillon) and deglaze to make sure there is no residue at the bottom of the pot.

Add the apricots, tinned tomatoes, almonds, honey and saffron. Mix it all well together.

Close the lid of the Instant Pot and set it to 'Slow Cook' mode in the 'More' setting. Set the time for 1.5 hours.

Once the cooking cycle is complete, open the lid and serve the stew with a sprinkling of chopped parsley.
Stovetop Instructions
In a wide skillet, heat the oil on medium heat and add the chicken. Cooking on low to medium heat, brown the chicken on both sides, for a total of 8-10 minutes.

Once the chicken is browned, keep aside for later.

In a heavy-bottom pot or large saucepan, add a tablespoon olive oil and on medium heat, fry the onions untill translucent. Add the ginger, garlic, and the spices and saute for a minute.

Add the tinned tomatoes, saffron, stock, apricots, almonds and honey and let this come to a simmer.

To the pot, add the browned chicken and give it a mix.

Cover the pot and let it cook for 1 hour on low heat, giving a gentle stir every 15 minutes.

After an hour, the sauce would have reduced and the chicken would have become tender.

Serve the tagine with a sprinkling of chopped parsley.
Notes
Use bone-in, skin-on chicken pieces, instead of boneless chicken, for more flavor.
Serving suggestion: Serve the chicken tagine with some crusty bread, couscous or rice.
Recipe variations: You could also preserved lemons and olives and dates for added flavor.
Nutrition
Calories:
552
kcal
Carbohydrates:
28
g
Protein:
30
g
Fat:
37
g
Saturated Fat:
8
g
Cholesterol:
148
mg
Sodium:
230
mg
Potassium:
848
mg
Fiber:
5
g
Sugar:
19
g
Vitamin A:
810
IU
Vitamin C:
9
mg
Calcium:
89
mg
Iron:
3
mg
Caramel Tinted Life is a participant in the Amazon Services LLC Associates Program, an affiliate advertising program designed to provide a means for us to earn advertising fees by advertising and linking to amazon.com and affiliated sites.