No-churn Cherry and white chocolate ice cream made right at home, with simple ingredients, without an ice cream machine!

Considering how much I lust after ice-creams and sorbets on hot days when temperatures are in the early 30's (not that I am complaining, give me a heat wave over a cold winter day any time), I wonder why it took me so long to make some ice-cream at home. The short answer is that good quality ice cream is never in short supply here in Switzerland. I normally just pick up a tub of Mövenpick (mmmmm….Caramelita baby!) if the ice-cream urges strike.
During one particularly hot day last week, I decided to make a batch at home, and discovered how ridiculously easy it is to make ice cream without an ice-cream maker. An ice cream maker works on the principle of churning, which prevents ice crystals from forming, resulting in the creamy texture of ice-cream.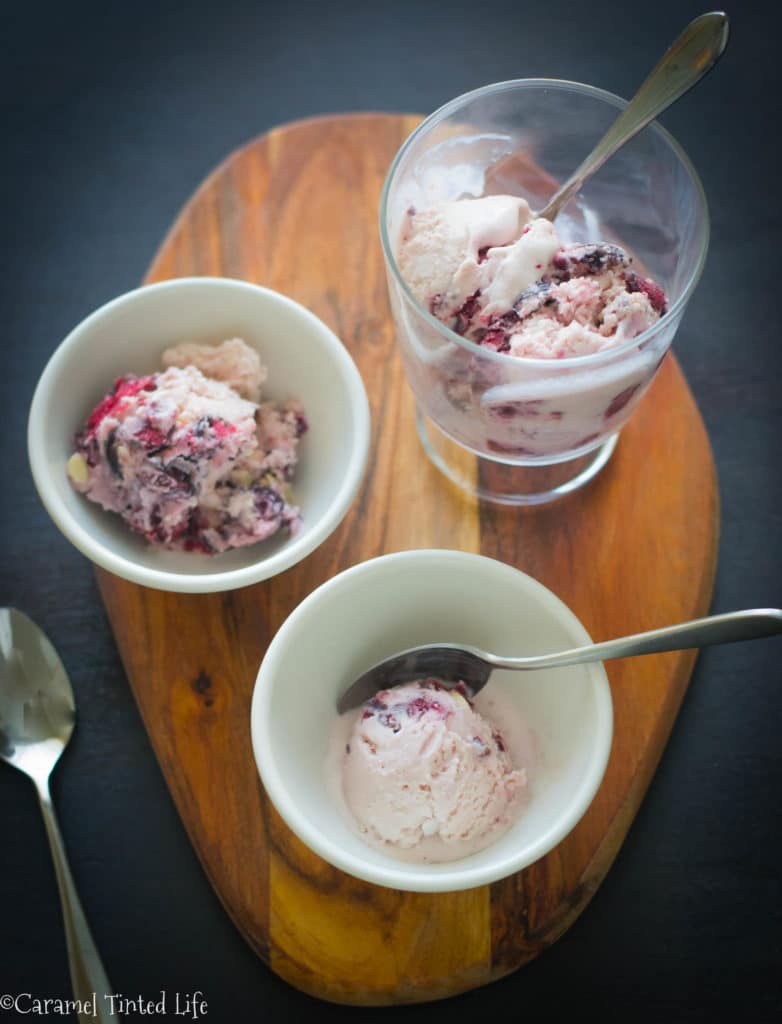 I read up on a few recipes and picked up on a few tips along the way. There are plenty of egg-based ice-cream recipes, which have a rich texture and have a lower propensity to form ice crystals. I opted not to use eggs, and use condensed milk and whipping cream instead. The key here is that the higher the fat content in the ice cream mix, the lesser the ice crystals that will be formed.
Freezing an ice cream mix – any ice cream mix - in the freezer will result in the formation of large ice crystals, and this is what we need to prevent when we make ice cream at home. The churning or agitation of mixture, which is the purpose of the ice cream machine, can be done by a few methods at home, in the absence of an ice cream machine.
The best way to aerate a mixture is to mix it on low speed for a long time with a hand mixer while it is placed in a bowl of ice. Here is a fantastic article on how you can do this without an ice cream machine.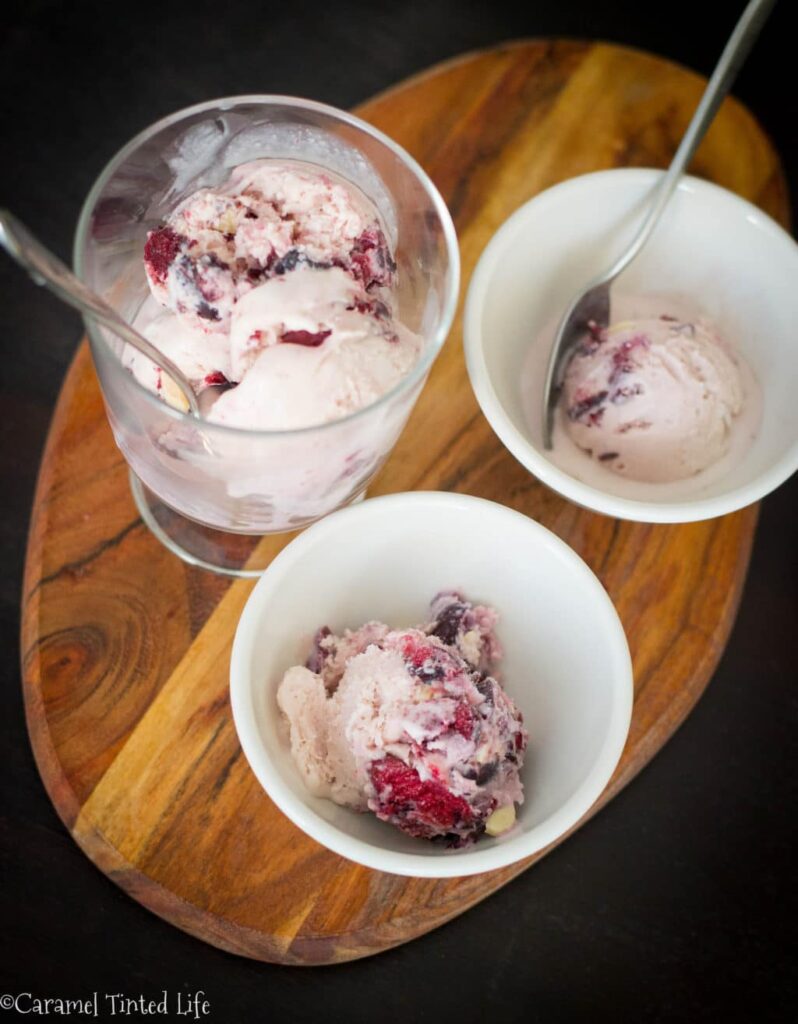 David Lebovitz recommends another, low-tech and simpler way to break up the ice crystals, simply stir the mixture every 30 minutes of so. I followed this method and this worked very well on my ice cream mix. Again, the high fat content of my condensed milk and whipping cream mix was key to reducing ice crystal formation, I doubt if this method would have worked on a milk-based recipe with a higher water content.
I will definitely be trying more ice cream recipes this summer, perhaps a balsamic-strawberry or this salted butter caramel one! Do you have a favourite ice cream flavour combination or a recipe you'd like to share? I'd love to hear from you.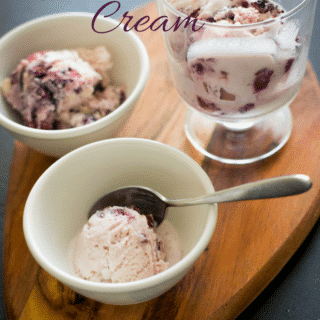 Cherry and White Chocolate Ice Cream
Cherry and white chocolate ice cream made right at home, with simple ingredients and without the need for an ice cream machine!
Ingredients
250

grams

condensed milk

250

ml

whipping cream

1

tablespoon

icing sugar

optional

1.5

cup

chopped cherries

frozen

50

grams

white chocolate chopped

1/2

teaspoon

vanilla extract
Instructions
In a large bowl, whip the cream using a stand mixer or a hand held mixer until stiff peaks are formed. You could optionally sift in the icing sugar if you like your ice cream sweeter. The condensed milk is sweet enough for the ice cream, but you can adjust the amount of icing sugar as per your preference.

In a separate bowl, mix together the condensed milk, cherries, chopped white chocolate and vanilla extract with a whisk.

Gently mix the whipped cream with the condensed milk mixture until well combined.

Transfer the mixture to a container and keep it in the freezer.

Every 30-40 minutes, using a fork, break up the mixture and give it a good stir.

The ice cream should be set in 4 hours.
Notes
Home made ice cream is best eaten as soon as it is served as it melts quicker than store-bought ice cream which contain stabilizers that prevent the ice cream from melting quickly