Spicy honey garlic shrimp is a delicious meal that can be made in under 20 minutes. The lip-smacking honey garlic sauce has sriracha to give it an added spicy boost!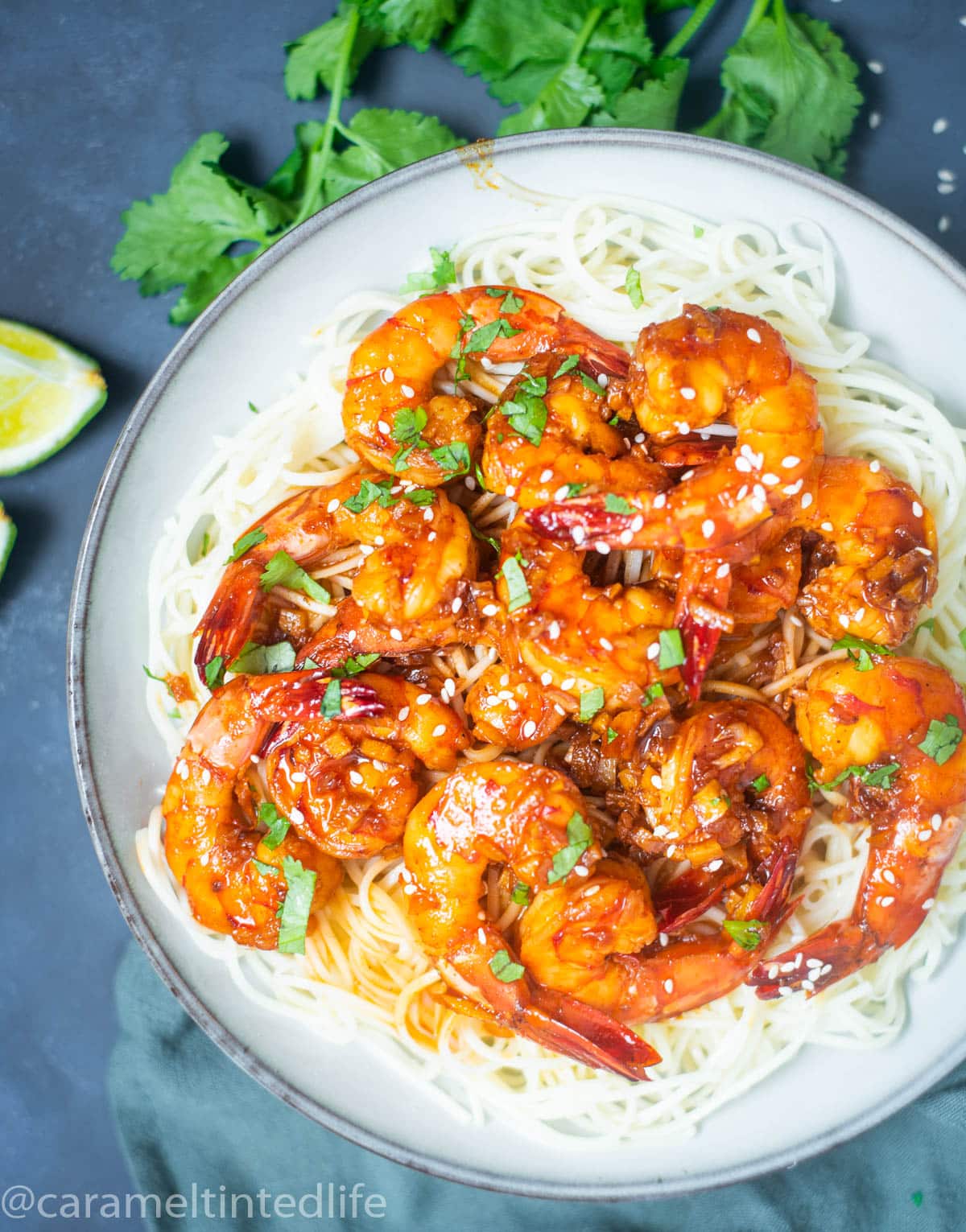 (This recipe was first published in June 2020 and has been updated)
Jump to:
What's better than honey garlic shrimp? Honey garlic shrimp in a spicy sticky sriracha sauce (try saying that quickly!). This is one of my favorite meals to put together for our family. I love everything about the flavors and considering that shrimp is my first love, this has got to be one of my top 5 favorite Asian-inspired recipes of all time, along with my other favorites - Sweet and Sour Cauliflower, Asian Noodle Bowls, Thai Noodle Soup, etc.
What makes this sauce so good? It's got loads of flavor from the soy sauce, ginger, garlic, sriracha, and honey. To round it all off, I love to add a squeeze of lime – the splash of lime juice really does make all these flavors sing! Serve over a bed of basil fried rice or plain jasmine rice or even cauliflower rice for a keto-friendly meal.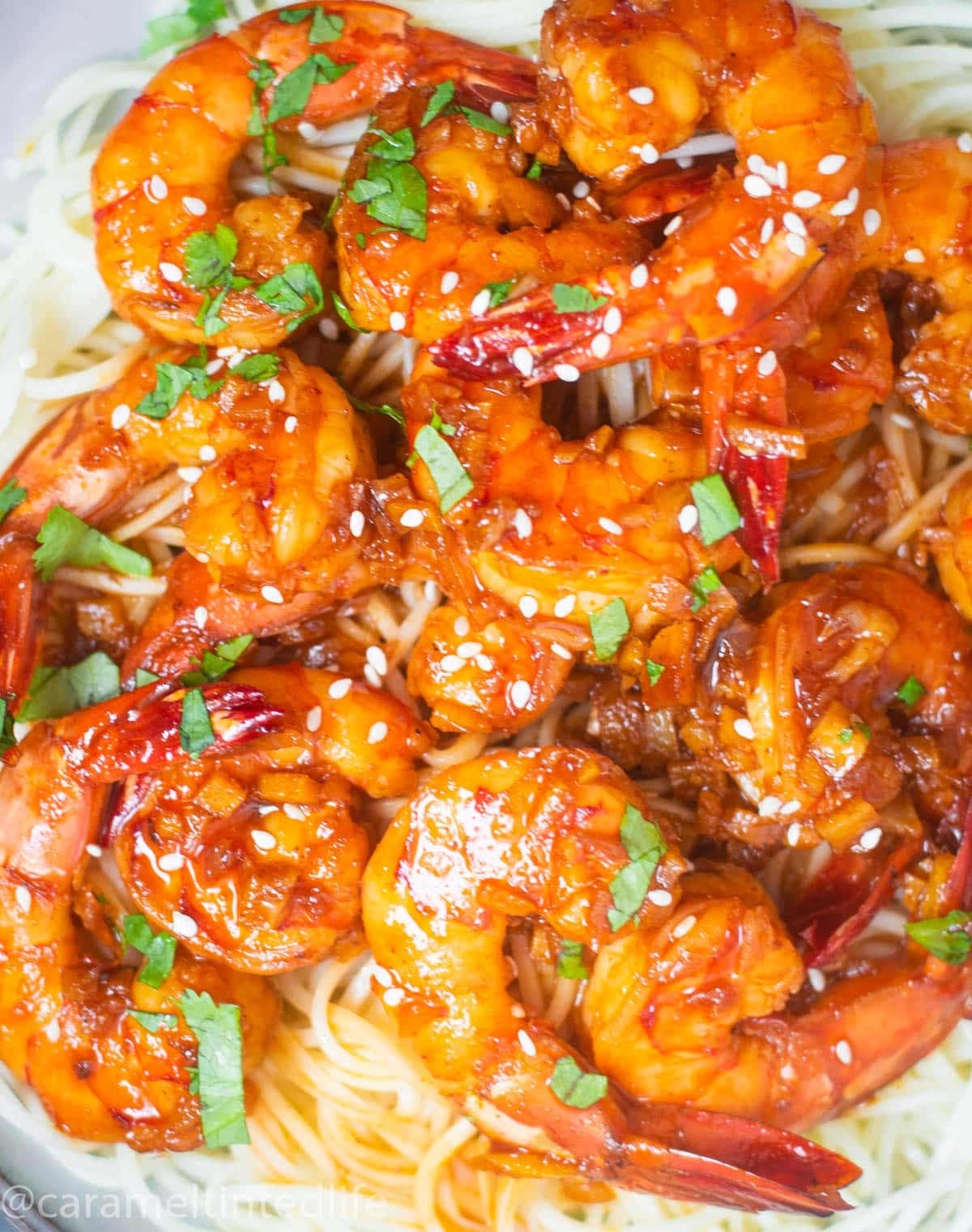 List of Ingredients
Here is all you will need to make this super easy spicy honey garlic shrimp recipe: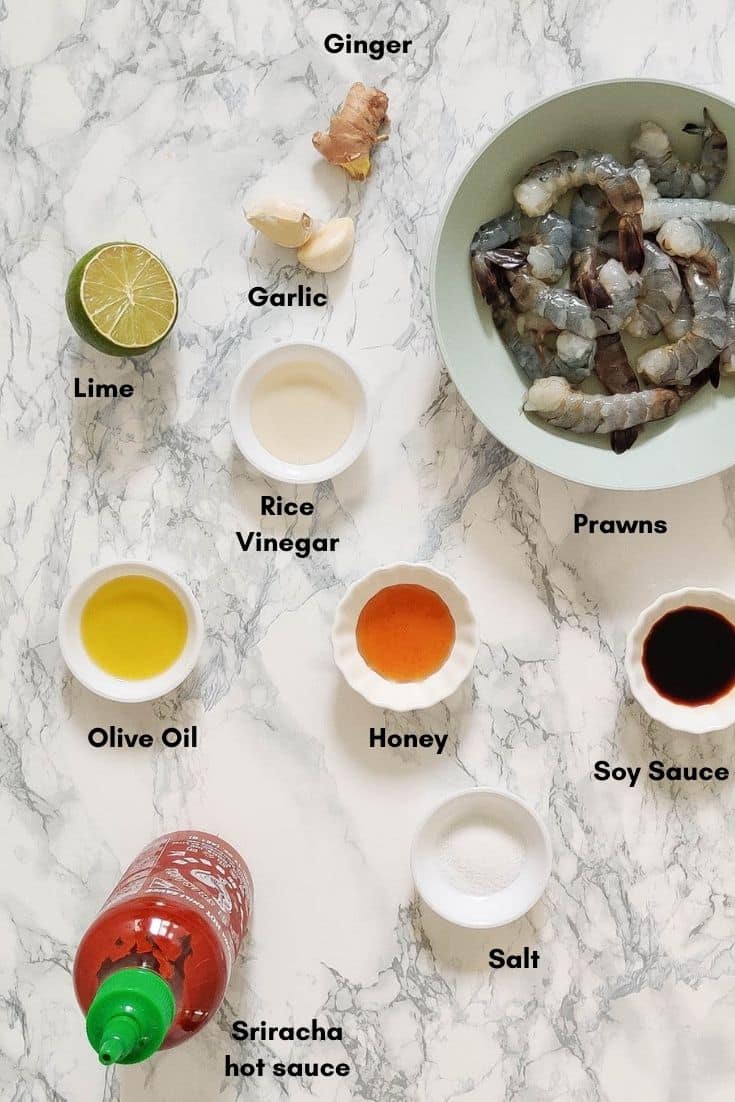 Step-by-Step Recipe Instructions
Start by marinating the shrimp in soy sauce and rice vinegar for 5 minutes. Preheat the skillet and heat olive oil in it. Once hot, add the shrimp and cook on each side for 3 minutes each side.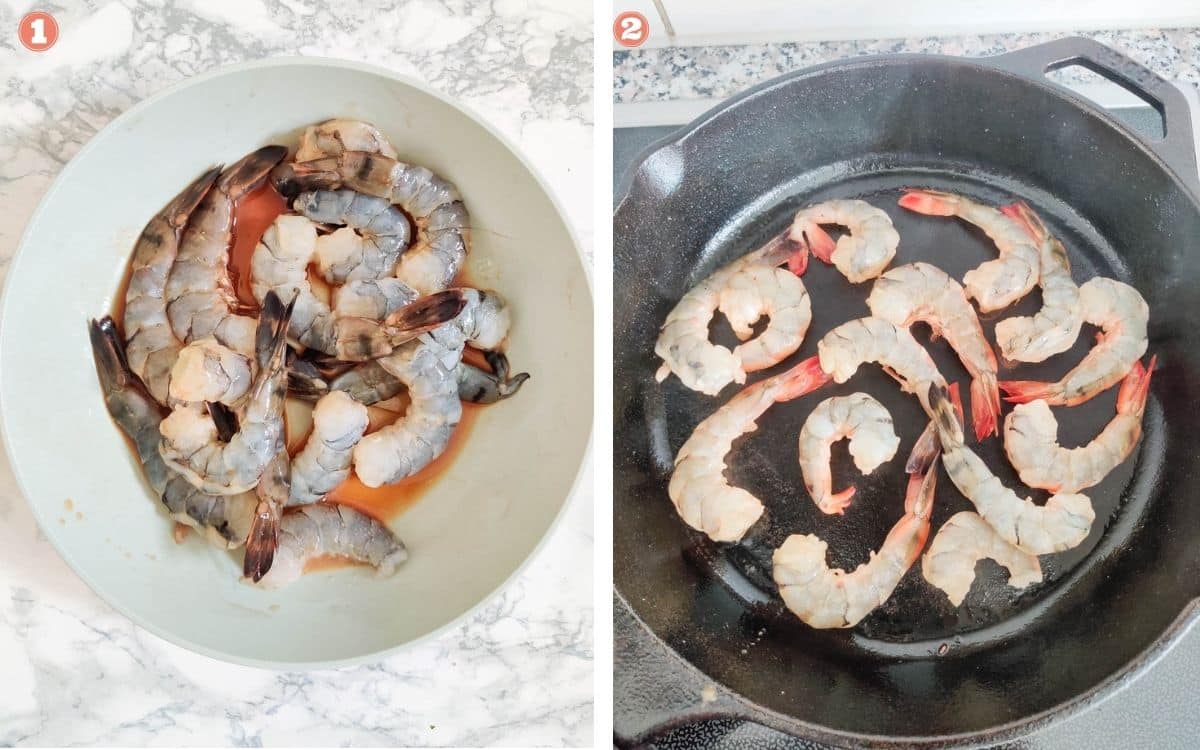 Once cooked, transfer shrimp to a plate and keep aside. In the same skillet, saute chopped ginger and garlic in olive oil, until garlic is lightly brown.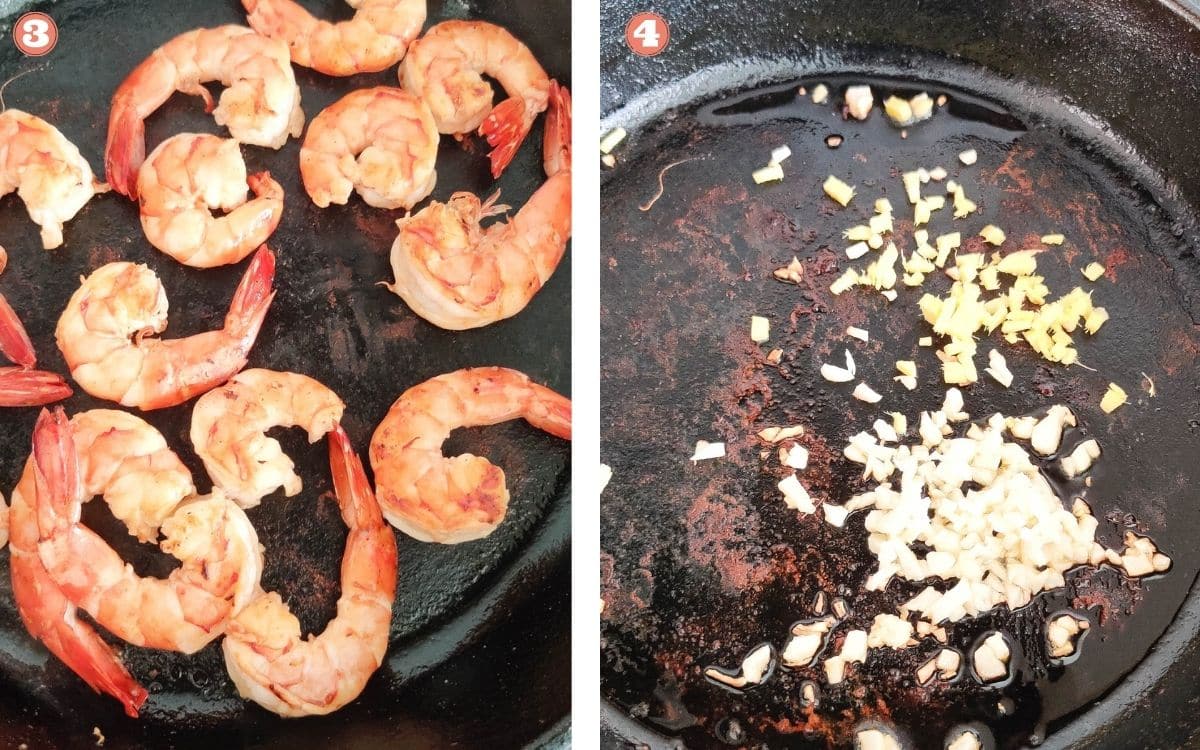 Add the sriracha sauce, honey, soy sauce, and rice vinegar and cook for a minute. Add the cooked shrimp back to this sauce and toss. Turn off the heat.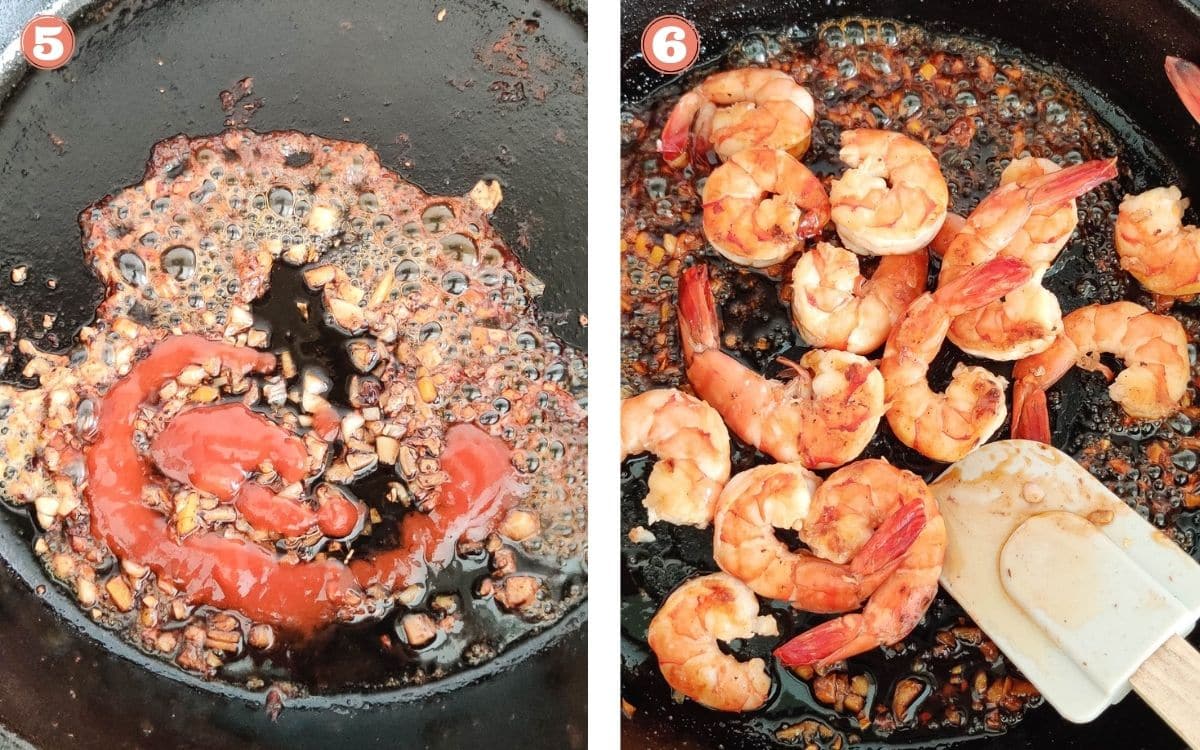 To finish the dish, add lime juice (around 1/2 tablespoon) into the sauce and mix well.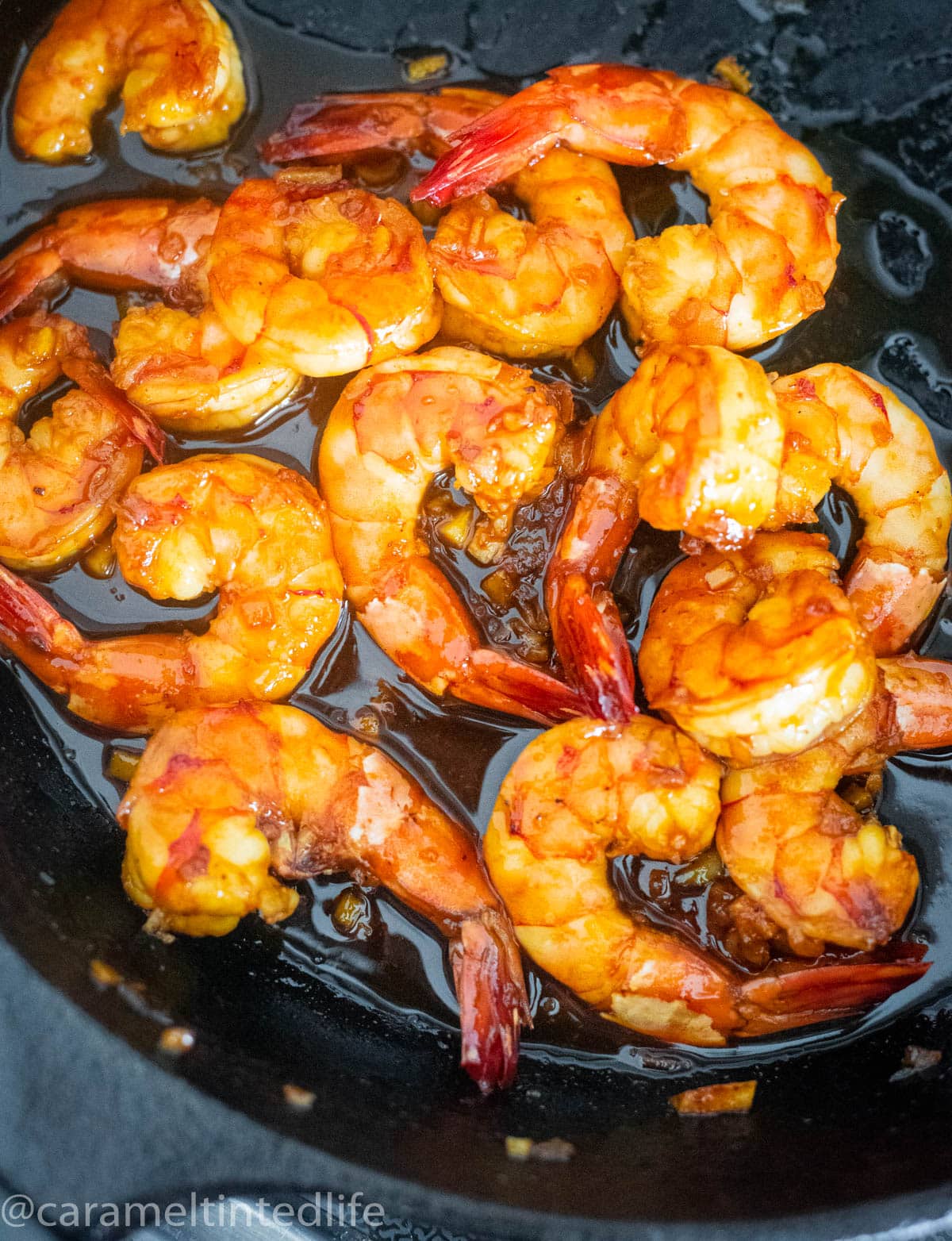 To serve the dish, garnish with fresh, chopped cilantro or coriander, or chopped green scallions and serve over a bed of noodles or rice.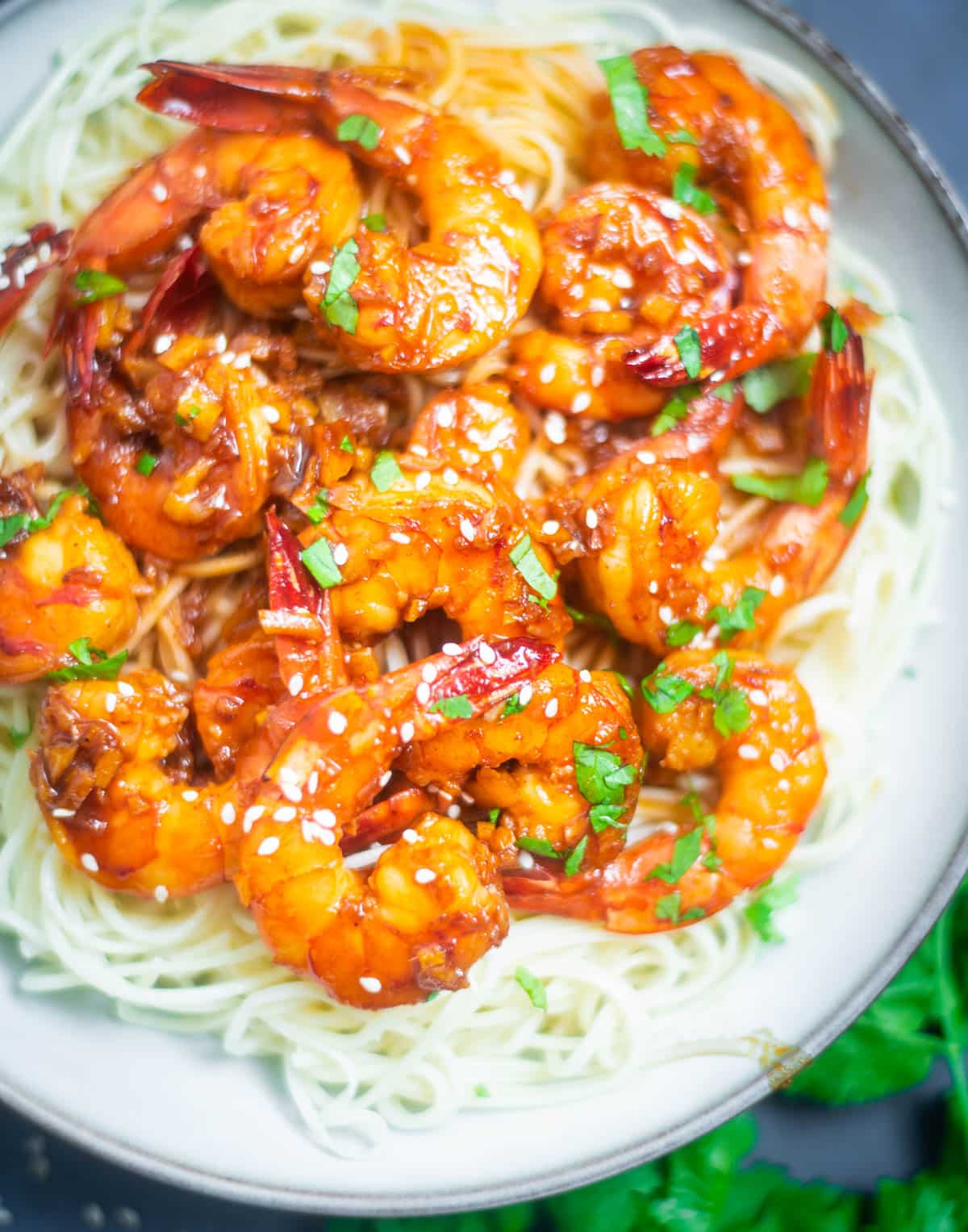 Serving suggestions
To serve your honey garlic shrimp, plate up cooked egg noodles or rice noodles and spoon the shrimp and sauce over the noodles. You can also serve this dish with some jasmine rice or brown rice, along with a side of sauteed mushroom or broccoli. I like to make extra sauce to spoon over the noodles or rice (I highly recommend making extra sauce!).
Expert Tips
Ginger + Garlic - As with so many authentic Asian recipes, you will need a good amount of fresh ginger and garlic to make the sauce for these honey garlic shrimp. The base of the sauce is made by sauteeing minced garlic (I like to use 4-5 cloves) and freshly minced ginger root. You could also use ginger garlic paste if you have a jar at hand.
Add your favorite Hot Sauce/ Chili Sauce -To make this sticky honey garlic sauce extra special, I like to add sriracha to give it a good hit of spice. You could also replace sriracha with any hot sauce of your choice. Chili paste such as Gochujang would be a great substitute as well.
Finish with lime juice - To make those flavors really stand out, add a squeeze of lime juice to finish.
Tips For Cooking With Frozen Shrimp
I have used frozen shrimp for this recipe. Use fresh or frozen, depending on what you can lay your hands on! Cooking frozen shrimp is such a breeze. Just follow these simple steps for perfectly cooked shrimp:
To thaw the shrimp, place the frozen shrimp in a bowl of room temperature water to completely cover the shrimp. Do not use hot water, as shrimp is such a delicate protein, there are chances that the shrimp will start to cook in hot water. Optionally, you can run cold water over the shrimp to thaw it.
The shrimp will thaw soon – in under 15 minutes, the shrimp should be soft to the touch.
Once the shrimp is thawed, clean it, and prep it for cooking. Before cooking the shrimp, marinate it in a little soy sauce, rice vinegar and salt. Let the shrimp or prawns marinate for just around 5 minutes, and will keep the shrimp tender and juicy when cooked.
Before you start cooking, preheat the skillet – use a non-stick or well-seasoned cast-iron skillet for best results. Add oil and once the oil is hot, add the shrimp.
Shrimp needs to be cooked for just under 3 minutes on each side. Once one side is done, it will turn pink, and that's how you know the shrimp needs to the flipped. Once the shrimp is cooked on each side, transfer to a plate and keep aside. Over-cooking the shrimp can make the shrimp tough, and unappetizing.
More Asian recipes for you
Instant Pot Chicken and Broccoli
Chicken Satay with Peanut Dipping Sauce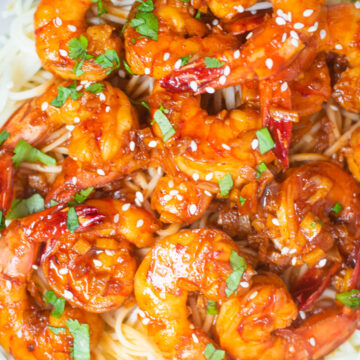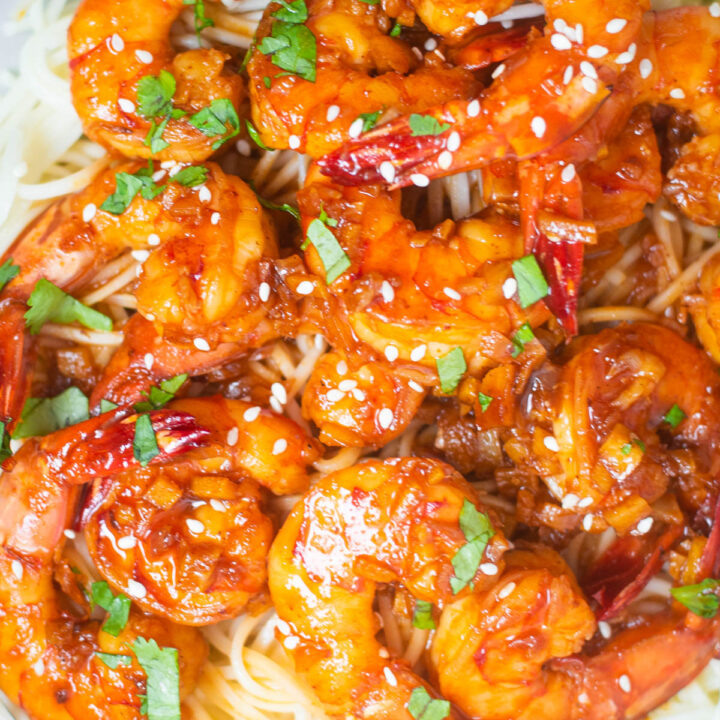 Spicy Honey Garlic Shrimp
Spicy honey garlic shrimp is a delicious keto-friendly meal that can be made in under 20 minutes. The lip-smacking honey garlic sauce has sriracha to give it an added spicy boost!
Ingredients
Optional Ingredients
Cilantro

finely chopped

Sping Onion/ Scallin

finely chopped
Instructions
Marinate the shrimp in ½ tablespoon rice vinegar (reserve the rest), 1 tablespoon soy sauce (reserve the rest) and salt. Keep aside for 5-10 minutes.

Preheat you skillet. Add 1 tablespoon olive oil and let the oil come to a heat.

Add the shrimp and cook on each side for 2-3 minutes until just cooked. The shrimp will turn pink once cooked. Do not overcook.

Once done, transfer shrimp to a plate a keep aside.

In the same skillet, and 1 tablespoon olive oil. Add the ginger and garlic and saute until the garlic is lightly browned. Lower the heat.

In a bowl, mix together the reserved rice vinegar and soy sauce, along with honey and sriracha sauce. Add the mixture to the skillet, combine with the garlic and ginger.

Cook the sauce for 1 minute and turn off the heat. Return the shrimp to the skillet and toss in the sauce. Finish with a little lime juice.

Serve with a garnish of chopped coriander or chopped scallions and sesame seeds.
Nutrition
Calories:
172
kcal
Carbohydrates:
8
g
Protein:
16
g
Fat:
8
g
Saturated Fat:
1
g
Cholesterol:
189
mg
Sodium:
1754
mg
Potassium:
79
mg
Fiber:
1
g
Sugar:
7
g
Vitamin C:
7
mg
Calcium:
111
mg
Iron:
2
mg